We spent some time exploring Doom Island in West Papua, Indonesia, also called Pulau Doom, yet pronounced "Dom" Island. It was one of those quite unexpected destinations – a serendipity moment if you like.
Why were we at Doom Island in West Papua?
We were on our way back to the port city of Sorong, West Papua after a week of exploring the archipelago of Raja Ampat, one of the most beautiful and largely undiscovered, eco-marine parks in the world. If you want to read more about it, just head to Raja Ampat – Where Nature PhotoShopped it For You and Your Questions Answered About Visiting Raja Ampat, West Papua
 
Where is Doom Island in West Papua, Indonesia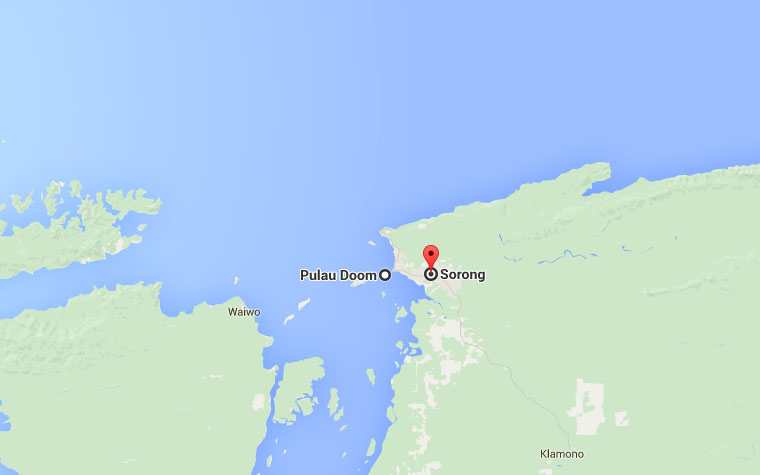 Sorong is the gateway into and out of Raja Ampat, and anyone who comes to visit will arrive at the airport in Sorong. The town of Sorong is located on the beak of the Bird's Head Peninsula in West Papua. Doom Island is just a 10-minute boat ride from Sorong, and totally worth the journey. The Sorong is famous for oil produce and has an interesting history, attracting significant interest from other countries.
First Impressions of Doom Island in West Papua, Indonesia
I will be the first to admit that as our boat pulled up to the wharf, I was wondering what we were there for. It is not the most inviting way to enter this island. In fact, it was very unappealing with litter, and walking through houses and sheds. It didn't help that it was so hot that the only thing I wanted was an air-conditioned anything. Maybe our fabulous captain of our boat for the past week had pulled up at the wrong place. However, Lokal Pier is the main wharf on Doom Island, and it handles the local ferries to and from Sorong. It is also used for cargo, containers and petroleum products, and that might, but doesn't, explain its appearance.
Second Impressions of Doom Island in West Papua, Indonesia
However …. And you could see this coming a mile off … what a transformation when we emerged onto the street. There was a line of brightly coloured becaks, which are like tuk-tuks, or more precisely pedicabs. Whatever you want to call them, I felt sorry for the men having to ride us through this heat, until we realised that this is the mode of transport that locals people use. This is exactly how the locals get around this very hot Doom Island because there are no cars on Doom Island.
This tour was organised for us, but as this is their normal mode of transport, it was not a tourist performance per se. It was just a lot more of us parading around this island, which measures just 4.5 kilometres to do a round trip.
The island is well laid out, and that is a nod to the influence of the Dutch on the island.
We have included a video at the end so that you see some of the journeys.
What we Noticed about Doom Island.
The first thing I saw as we got under the welcoming umbrella of the becak was a wall painting of Santa Claus, and Sinterklaas and Black Pete, or Zwarte Piet. The reason we know about this is that we have friends in the Netherlands in Zaandvort, who explained the tradition. We are also aware that political correctness has hammered a centuries-old tradition, but you can read about that here.
[clickToTweet tweet="I still want to know why are the people of Doom Island, West Papua obsessed with Christmas? #travel #indonesia" quote="I still want to know why are the people of Doom Island, West Papua obsessed with Christmas?"]
The next things to assuage our senses were the stunning gardens and flowers, and the brightly coloured houses. It was as if we were in a warp of some description. From litter and iffy conditions to this lush tropical island. And then one of the becak riders put on music – reggae or Zumba music as he told me. There is nothing like being on a hot tropical island, listening to music and see lush gardens, people at work and play, and discovering both mosques and Bethel churches co-existing harmoniously together. Apparently, the boys on Doom Island in West Papua, also like to dance and enter into b-boy competitions. Go Figure.
Some History of Doom Island in West Papua, Indonesia
Until 1965, the major city of this region was located on Doom Island, and when the population got too big for this little island, the city of Sorong came into being and was moved to the mainland. Source: Indonesian New Guinea Adventure Guide David Pickell (Editor) 
Sorong became an oil city when the Dutch arrived in 1908. Sorong town became known as a city by Heritage Attribute of Nederlands Neuw Guinea Maschcapeij (NNGPM), and evidence of the Dutch influence can be seen in Sorong, and most definitely on Doom Island. The NNGPM company began the oil drilling activity in Sorong in 1935.
Sorong remains an important oil city. Source.http://www.janesoceania.com/papua_history/index.htm
The grave sites on Doom Island, were prominent in our main loop around the island, showing many Dutch names. After the bombing of Pearl Harbour, the Dutch declared war on Japan, so the province became involved by virtue of its position and its resources, as part of the Dutch East Indies.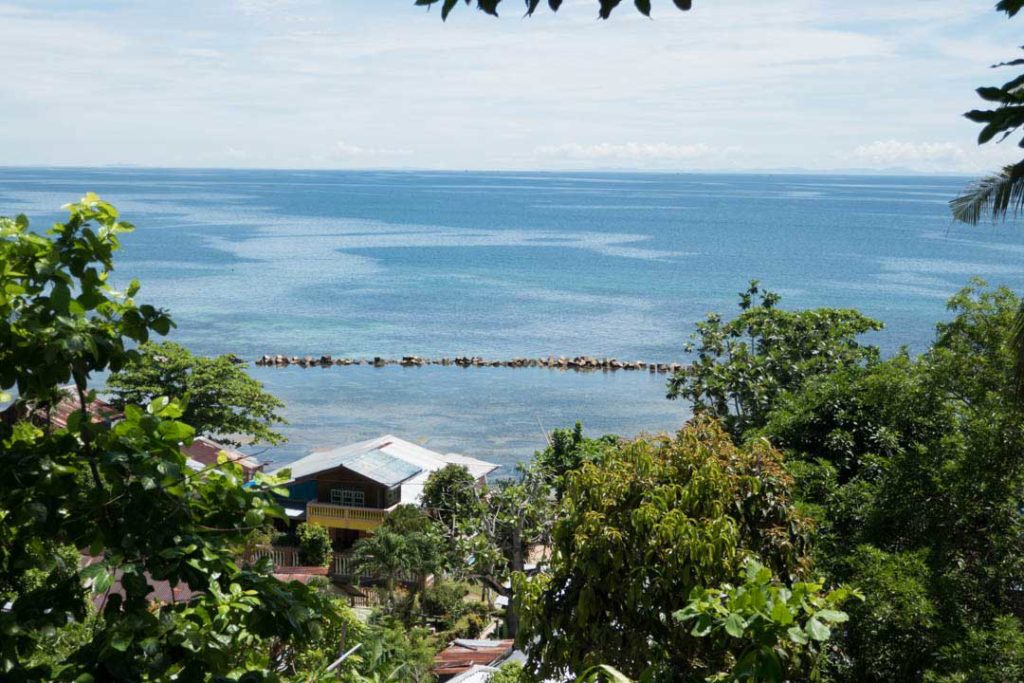 The Final and Best Impressions on Doom Island
What we saw on Doom Island, were children dressed immaculately coming and going to school. We saw a mix of children and adults of both Christian and Muslim faith interacting as one. We saw soccer fields, and goats grazing there.
We did visit some of the remnants of the Japanese presence on the island. On the island, we hear about dozens of man-made underground tunnel built during World War II. Remember that this was a very significant seaport and an obvious prize for many super powers. While some people have said it was a good thing to shake the yoke of the Dutch colonial rule, we were told quite plainly when we were looking at one of the Japanese caves on Doom Island, that "Dutch good, Japanese bad". We were also informed that the caves on the island were not where the Japanese hid, but where the locals hid from the Japanese. This was a verbal exchange with an older man who had lived his life on Doom Island and needs to be taken as such.
We saw Dutch heritage buildings, people shopping, people waving to one another in the pedicabs, and waving at us. We were told that the Dutch used to go to a place called the Fun House in the 1950's, where Dutch soldiers went to enjoy swimming, playing tennis, and dancing.Our becaks' stop and we walk to the top of a hill, and there is a white bethel church, stark against the vibrant blue of the sky. A bunch of school boys ask can they get selfies with us, and they do, and they run off laughing. The view from the church is totally amazing, and you can see the bright blues and greens that we had come to know as the waters of Raja Ampat.
Doom Island in West Papua was a delightful surprise. I started out unimpressed but after seeing what we did in a small amount of time, I highly recommend that when you come to Sorong as you will, to get to Raja Ampat, then go to Doom Island. This is a strange little Dutch influenced island, with beautiful gardens, colourful houses, happy people, music playing, and people dancing. It is well worth the time. We would return to both Raja Ampat, and we both agree that next time, we will spend a little more time on Doom Island in West Papua, Indonesia.
***Watch for the Reggae School Boy***
A Christmas Obsession?