Here are some examples of Art made from Recycled Materials in Japan. When you combine the recycling ethos of the Japanese and their love for all things cute, you get this recycled art in Nozawa Onsen, Japan. In fact, these are all used as flowering pots in the summer months, because to pay for the recycling of a ski boot, for example, costs $10 per boot. So not only do we have recycling in Japan, but street beautification as well as cost effectiveness.
Japan and Recycling
The Japanese are fanatical about recycling, despite the over packaging that is in evidence throughout the country. The resulting laws are complicated, but work, because if you do not recycle correctly, you may receive the red sticker of shame, which tells all of your neighbors that you do not care. The over packaging is because the Japanese love beautiful things, and they like cute. Think Hello Kitty, and the doe-eyed manga characters, not to mention all of the cute and fluffy things that abound.
Japan to make Olympics medals from electronics waste
Tokyo will be hosting the 2020 Summer Olympics. In the spirit of their recycling ethos – "Since the country lacks in mineral resources necessary to produce the hundreds of medals needed in the Olympics, organizers of the 2020 Tokyo Summer Olympic Games have announced a "green" initiative under which discarded electronics parts will be recycled to create materials for the Olympics including medals" Read the ret of the article here, it is innovative, responsible and interesting. International Business Times It also encourages the people to take some ownership in the Games.
Why is Japan so into recycling?
In essence, it has been from sheer necessity as Japan is a small island that is very densely populated. The land is precious and needs to be conserved. It may well have been during World War 11 when things were tight that people realized that they needed to be resourceful, and resourceful they are. The 2nd airport in Tokyo, Haneda Airport is built on an artificial island made of garbage. The first law regarding recycling, however, was not passed until the mid-1990s.
Known as bunbetsu, the separation of rubbish when recycling, is one of the first things that children at school learn about and that all Japanese do know about this, and strictly adhere to the rules.
There is also a Japanese saying that you don't want to hear, called Mottai nai that means wasteful. This is said if you dump rubbish in the streets or anywhere else. The Japanese people take their trash with them. You can read more about the complicated recycling laws in Japan, which makes sense, here.
Why do the Japanese love Cute so much?
The Japanese are also obsessive about all things cute, which is known in Japan as kawaii culture. The word kawaii comes from the word kawayushi. Kawayushi meant shy, pathetic, vulnerable, embarrassed, loveable, and small. There are various schools of thought on why the Japanese are so into cuteness. Some say that it is a very regimented society with many codes of behavior and that this is a release. Kawaii culture is a way to break out from the strict social norms and expectations.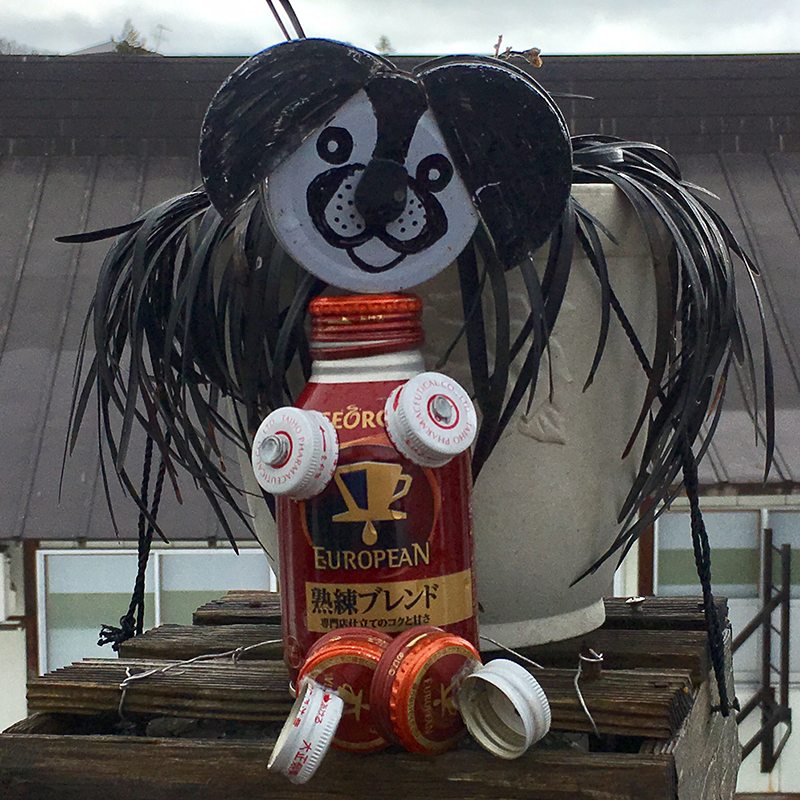 Art made from Recycled Materials in Japan in the village of Nozawa Onsen
So some of the villagers in Nozawa Onsen combined these two passions together and have created a street of recycled kawaii art. They have re-used many things that the village is famous for, including ski boots, as it is a premier ski resort, as well as golf balls, because when the slopes are not being skied people come to hit golf balls. Other recycled items include old hair spray tins, bottle tops, and a vacuum cleaner. It would not be Nozawa Onsen without a cat in the picture.