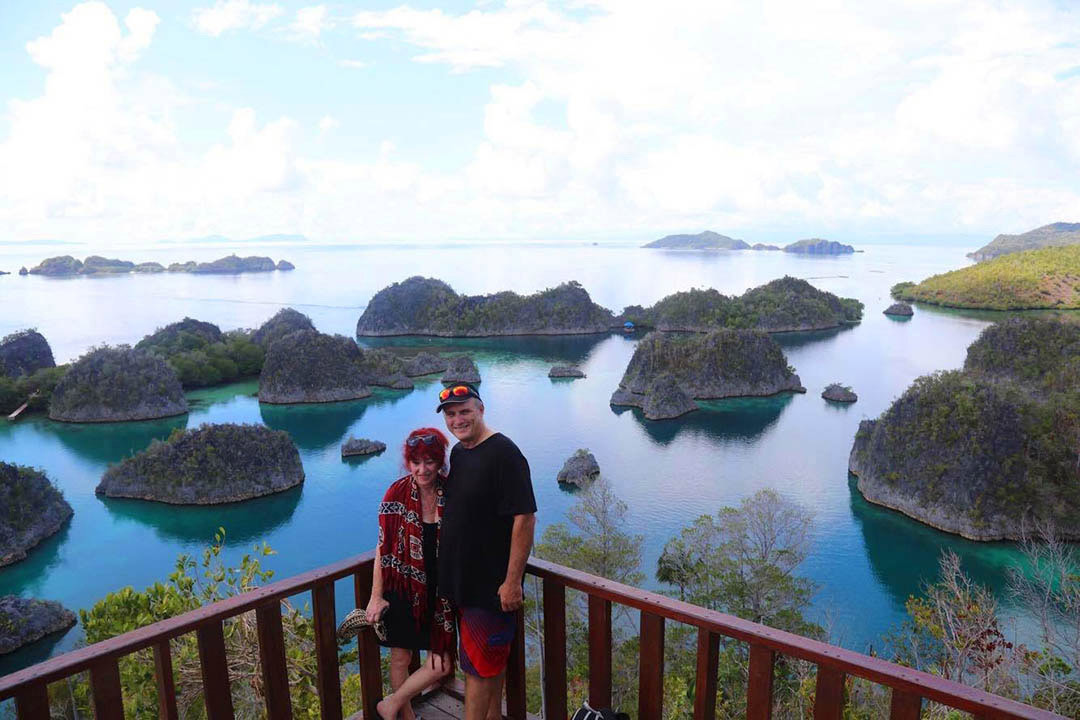 We are Gordon and Paula, and we are Destination & Experience Influencers and Marketers.
As Award Winning Professional Travel Writers at Contented Traveller, we love to travel and to share our expertise with you. Please read our candid 45 Best Travel Blogging Tips to assist you to become the very best professional travel blogger.
We have been travelling together for 13 years, and independently for a lot longer than that. We have both come from successful long-term careers. Gordon has been a mining engineer, and I was a teacher in a senior executive position for many years.
We are also married, and are best friends. Soppy but true. 
Contented Traveller is Paula and Gordon, it is us…and we are nice. Seriously we are. We are consummate professionals because we are passionate about what we do. 
Sitting comfortably next to our amazing Portfolio of who we have worked with, we also share with you the best street food in Bangkok, or how to get naked and have an onsen in Japan. This is why Contented Traveller is so successful. We know you have worked hard, and that you have earned it to Just Travel. We also know that one size does not fit all, and like you, we love the diversity that travel experiences can offer.
It is about staying at a beautiful 5-star hotel in Paris. It is about sharing a treehouse with a giraffe in a wildlife lodge in Canberra, Australia. It is about staying in a shabby chic houseboat in Amsterdam, a ryokan in Japan, and a cave house in Goreme, Turkey. We like to ski, to have backstreet massages in Chiang Mai and to have a drink with locals, and we love coffee shops and meeting people.
We love food and believe the food and travel are inextricably linked. We share street food, food vans, cooking schools in Sorrento and Chiang Mai, graduating from a paella academy in Spain and Michelin star dining. Coffee? Got you covered.
Of course, we see iconic things because we want to, and we love history and art. You will read about our different experiences interacting with local people, because that is what enhances your travel experiences.
When Gordon wanted to see a total eclipse of the sun, we went to Turkey. I wanted to see the Dosojin Fire Festival in Nozawa Onsen in Japan, and that gave us powder skiing, a traditional village, a Festival and our first onsen… separately.
While we always travel together, we don't always do everything together .. we are free to explore different things.
As destination and experience marketers, we are drawn to people. We find out more about the customs and beliefs of a place from the people we meet than from any book. We try to immerse ourselves in the very culture of the places we are visiting and then share that with you.
Ok, so now what are we really like?
We are BOHO CHIC TRAVELERS – so what does that mean?
Well, we like lovely things because we work hard and we can.

We also like to do alternate things, well ..because we can.
We grew up butting heads with authority, so why should things change. We are a little bit hippy and a little bit rock and roll. We have no issue that we can't be pigeon holed on our travel style. What we can be pinned on is our commitment to you our readers, and to the amazing companies that we work with. We work hard – really hard – because this is our job, and this is a super competitive industry, but better than that, it is our passion…and let's face it – it's not a bad job to explore the world on your behalf.  
Huffington Post called Gordon and I seniorpreneurs in an interview, so perhaps they think we are older than what we think we are.
We have worked too hard just to hand over our hard earned money to any middleman when we travel, unless we have made a considered choice. We are independent-minded and capable of organizing our own travels and hope to inspire and assist you to do the same.
As destination and experience marketers, we are experts in online travel marketing and publicity because travel is what we know best. We work with the best of the best in the world, to bring you a diversity of opportunities so that you can make considered travel decisions.
About Contented Traveller
Other than Gordon forgot to put the 's' on Traveller, we do have one of the top travel blogs in the industry because people have a high trust factor in what we say. Everything that we share is first hand. Where we go, what we do, what we see and what we eat. Where there are places that we have not been to yet, we ask only the best travel writers to share their expertise, so that we can help you to make decisions and to offer you ideas.
We don't sugar coat the fact that not everything is wonderful when you travel. We have missed our fair share of trains, argued in many places, and also got some things wrong. That is what travel is about ..though we hope you learn from some of our mistakes. Spoiler alert; if you are taking the train to Ghent in Belgium, the station is called Gand. Go figure. However, and this came from Gordon, it  is all about serendipity. It doesn't matter if we get some things wrong, they are often the best stories anyhow. Our motto is that travel and life are all about finding something valuable or delightful when you are not looking for it.
We have been featured on:
You – Our Readers
We are excited that you are joining our rapidly growing readership. We would love you to follow our antics with 13,000+ followers on Facebook, our 19,500+ fans on Instagram, our 32,000+ friends on Twitter and the 600,000K besties who share our pins on Pinterest each month. Please feel free to follow me (Paula) on Linkedin also.
Contented Traveller is aimed at the fit, free and financial traveller who wants to have experiences when they travel, but also wish to have the creature comforts that we have earned. Don't worry, we have you covered with some beautiful and unique places to stay. It is funny however, that a lot of our audience are younger than we seniorpreneurs, and who tell us that they want to be like us "when they grow up". I warn them that this is not an easy path, but it will be one you will never be bored with.
We know that experiential travel is a very important part of your travels, and our travels. Being a little left of center, is what we do best. We also know that sometimes it is the simplest experiences during your travels, which can provide the greatest memories and experiences. And that is why we embrace serendipity.
Kind Regards.
Paula and Gordon
We Would Love to Hear From You 🙂