To be quite honest Niagara Falls was not on my list of places to see when we visited Canada, but just occasionally I am a good wife and compromise. Gordon wanted to see Niagara Falls, and we were fortunate that both DoubleTree Fallsview Resort & Spa by Hilton – Niagara Falls and Niagara Parks were able to work with us, to share this amazing set of experiences.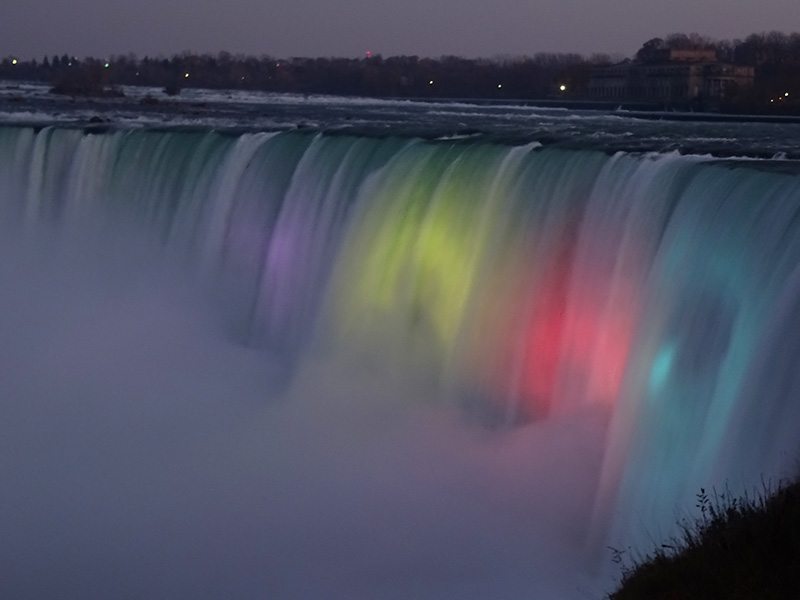 I suppose that I considered that it would be too touristy, and yes it is, with very good reason. For a start, the falls are unbelievable. Much as you might have seen the Eiffel Tower on a thousand tea towels or postcards, seeing it for real is totally and always more impressive.
This is the same with Niagara Falls. They are so much better than I had ever expected. The sheer volume of water for a start takes your breath away. Because we arrived at dusk, we immediately got to see the beginning of the Illumination of the Falls, made even more pertinent because it was coloured to honor both Remembrance Day in Canada and Veterans Day in the USA.
A Luxury Ski Lodge? No, a Hotel
We arrived at DoubleTree Fallsview Resort & Spa by Hilton – Niagara Falls located just a few minutes from the falls.
This hotel is like an upmarket hunting or ski lodge with a roaring open fire, and a lot of stone and woodwork giving it a very welcoming ambience.
When they presented us with a welcome warm chocolate chip cookie, the signature of this hotel, it completed this very welcoming picture.
There are plush lounges everywhere, and the use of public spaces gives it that lodge feels despite the fact that there are 224 rooms. We liked that there were living room set-ups all over the public spaces in the main and very ambient foyer. There is a coffee shop to the left as you walk in. With coffee and cookies, and roaring fires how you could we not feel at home.
Our Rooms
Check in was easy and pleasant and we were given our rooms.
Our suite of rooms were on the 19th floor with views over the American and Canadian Horseshoe Falls, and yes there are two falls, not just one as I had presumed. We had views of not just the Niagara Falls but also over the entire city. We could see the neon lights of both Niagara Falls in the US across the Niagara River and the neon lights of Niagara in Ontario, Canada. It is little like a Las Vegas with a lot of water, and the sound of the falls is amazing though from our rooms we were sufficiently removed not to be hearing it all of the time, not that I would have minded.
We also had a birds eye view of the Illumination of the Falls, Niagara, ON. This is a spectacle of coloured lights, on these magnificent falls.
We had a suite of rooms with a separate lounge area with sitting areas, desk and TV. There is a mini kitchen area with coffee making facilities. Closet and draw space exceeds other hotels we have been too. The bedroom is huge with large windows facing every which way giving us these magnificent views. There is a king size bed as well as another office area, and a lovely lounge area with footstool. The bathroom is separate again, so, all in all, these suites of rooms are highly recommended. They are immaculately clean and maintained as one always expects and receives from a Hilton hotel.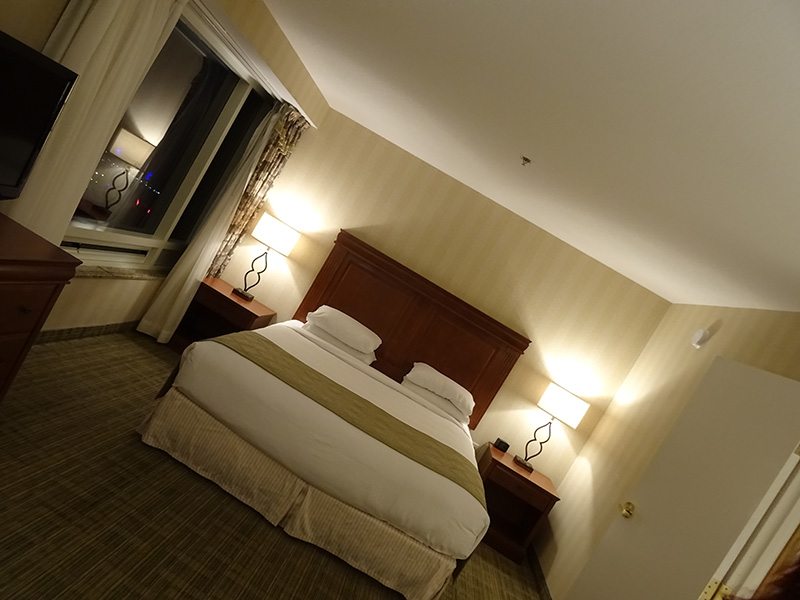 Location, Location, Location
We found the location ideal and that everything is easily accessible. Using the Wego transport bus would alleviate any concerns about any hills, but really this would only apply to people with significant mobility issues. Getting around is not difficult at all. I think it took us just a couple of minutes to walk back to the falls and a couple of minutes longer to get back because Gordon took me a different way through a bush track in the middle of the night. I have read criticisms of it being a long walk, and I would address these issues as being over inflated and dubious at best. Always read reviews discriminately – some people push an agenda. Our experience is that the location is ideal, and nothing is a difficult walk at all.
Eat at Buchanans at the hotel
This is extremely good food…as in very good. I would go out of my way to eat here again.
And When the Weather is Miserable
There is no better place to be if the weather is miserable as it was when we were here. The DoubleTree Fallsview Resort & Spa by Hilton – Niagara Falls has got everything to keep you happy when the weather just doesn't want you outside.
This is a spa resort and as such you will have many options for pampering
a chocolate chip cookie to get you going
Aveca Spa with daily specials and treatments
Fitness facility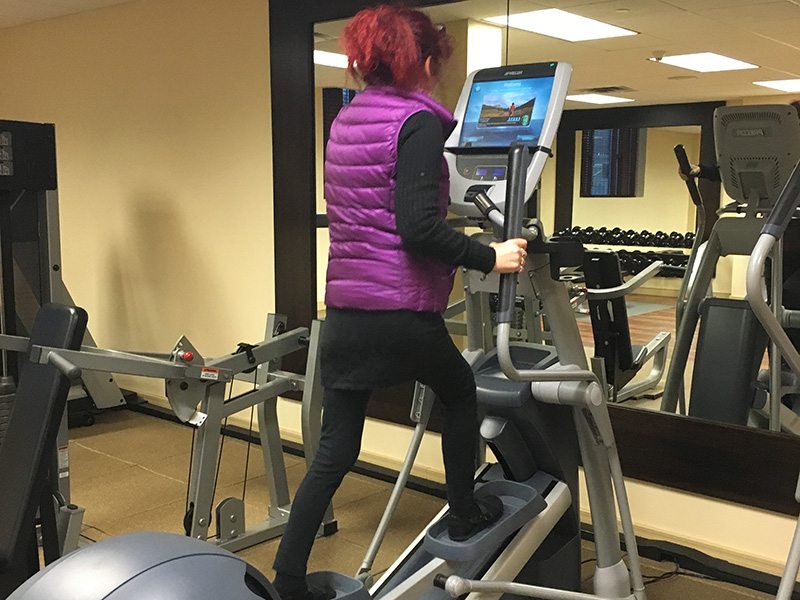 Indoor salt-water pool and having the lap pool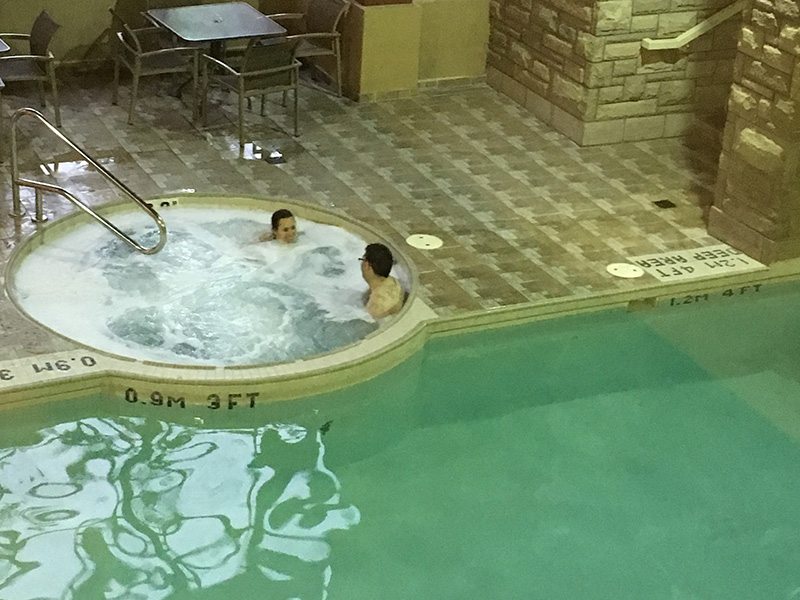 Garden sundeck and outdoor hot tub
Moose & Squirrel Pub serving Starbucks coffee inside of the hotel, go figure.
Jack Pyne Gift shop
Ochre Gallery – public art space

Recommendation
Our views are always our own. We had an excellent experience here at DoubleTree Fallsview Resort & Spa by Hilton – Niagara Falls. I like the real welcoming feel of this hotel. It has that pleasant atmosphere not often found in corporate hotels.
People flock to Niagara Falls, ON. The Falls are that incredible. If you are unsure as I was, don't be. It is a once in a lifetime experience.
Bonuses
Parking is right on sight
Wi-Fi and it is fast
Address
 6039 Fallsview Blvd, Niagara Falls, ON L2G 3V6, Canada