Sun Island Bali Group is totally on task with providing what the customer wants with its range of villas, suites and hotels in Bali. Sun Island Hotel Legian is not exception. We have had the pleasure of staying at two of their other properties, Sun Island Boutique Villas & Spa, Seminyak and Sun Island Suites in Gua Gong, Bali. There is a consistency in there vision. Each of the places is a fusion of both the local Balinese and with Western conveniences. All places are recognized by their unique décor on the orange and black colors of Sun Island Bali Group and also in the chic décor, suited to each area.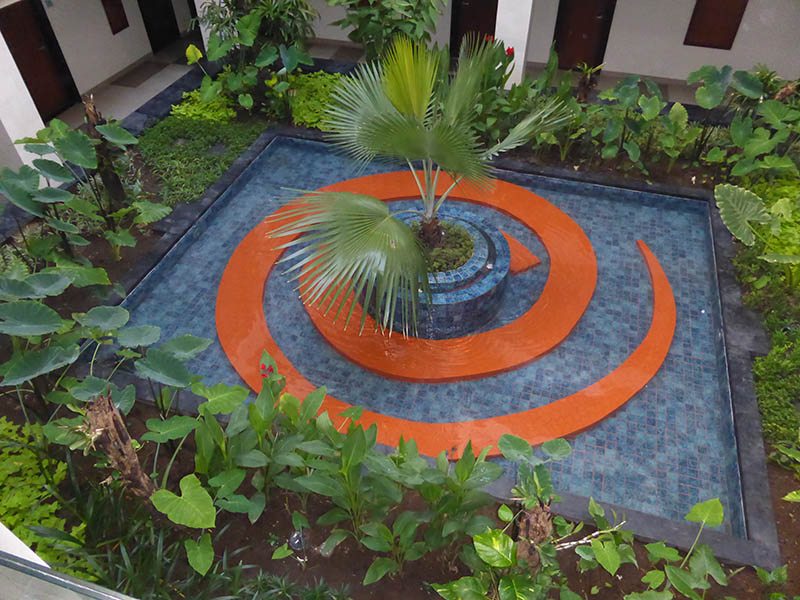 Location
Sun Island Hotel & Spa Legian is a hotel and is right in the middle of the action that characterizes Legian. Its location could not be better with Legian Street right out the front, and that means lots of life, laughter, shopping and food. It is a short and very pleasant walk to Legian Beach. It is not too far either to the popular beaches of Seminyak and to the malls and street markets of Kuta. If walking is not your thing, then the staff can easily order a taxi for you.
Check In
Excellent and actually beyond service. We had left some laundry at Sun Island Goa Gong and they told us they would take care of it, and had it delivered to us washed, ironed and folded. Very typically Balinese happy welcome.  Reception are is open plan with a lovely mix of industrial design and a blend of Balinese and contemporary architecture.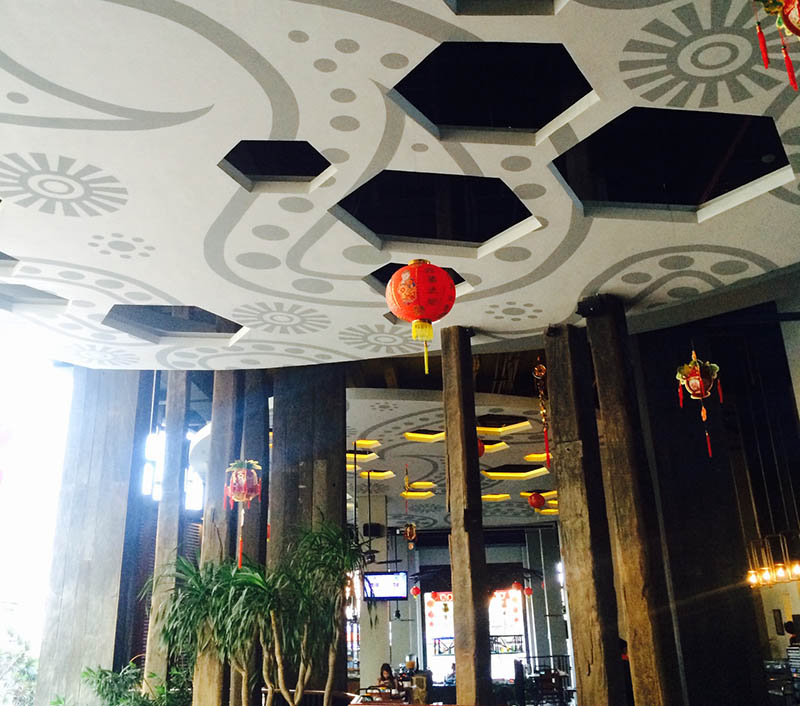 Rooms
We are in a suite, which is very large, as we have noted in all of their properties. Similarly the rooms and all of the common areas and gardens are immaculately clean. With a large bead, workspaces and an open plan bathroom and sitting area, it would be hard not to be happy with this. Other rooms on offer are standard rooms at a bargain cost.


Dining Options
There is an industrial come Balinese design to Sun Island Hotel & Spa Legian, which works. The outdoor and indoor dining areas are stunning. It is very easy to spend a lazy afternoon or evening watching life on the streets with some music playing. The Topix Asia Restaurant & Bar provides Asian inspired food and it is very good and it is where a full Asian and Western breakfast is available. All of the dining room tables have a bunch of bright yellow flowers on them, which work so well with the open brickwork of this area.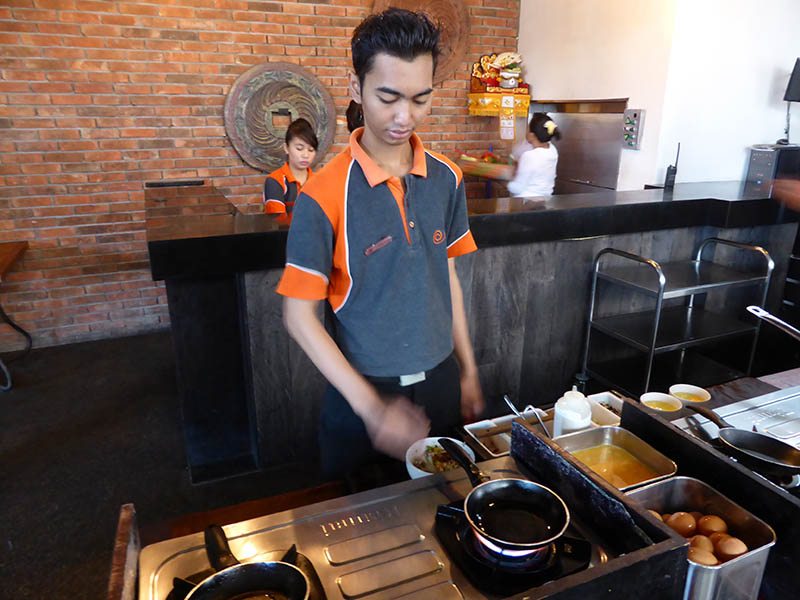 The Poolside Restaurant & the Sunken Bar offers food that matches the drinks and use locally sourced ingredients. The Skylight Rooftop Bar is a great place to watch the famous Bali sunsets, while sipping a cocktail and while dipping your toes into this rooftop whirl pool.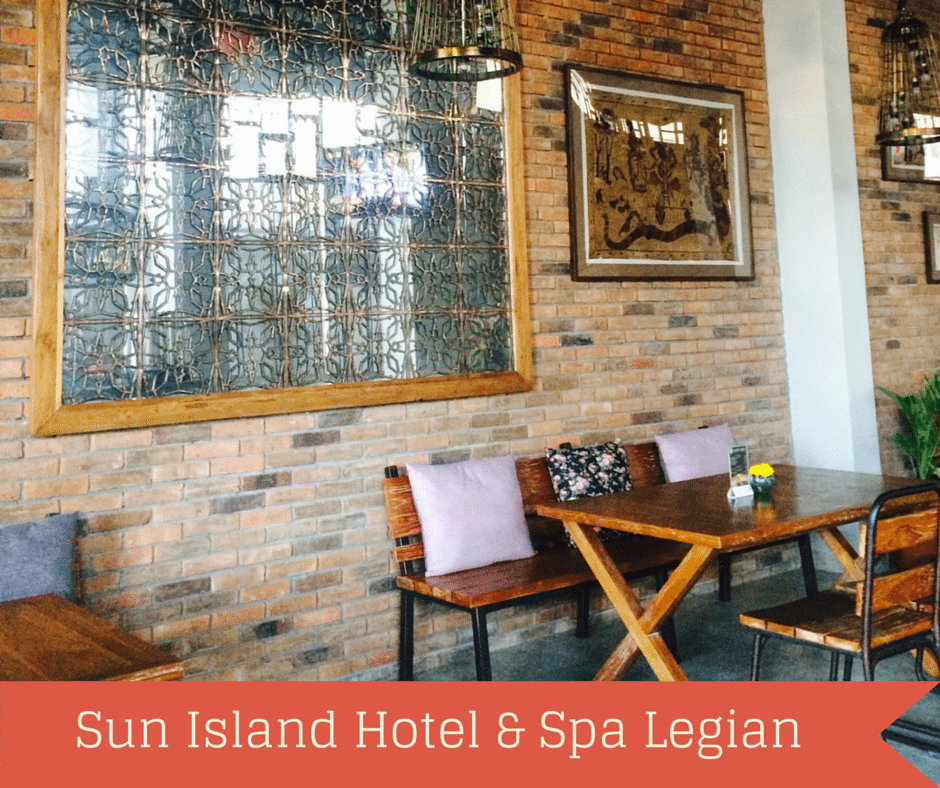 Pools and Spas
There are 2 pools and both are amazing, with the signature orange sun lounges of Sun Island. One is on the third floor, and has a large area to catch some rays, read a book, sip a cocktail while listening to some great music. The pool is an infinity pool and overlooks Jalan Legian.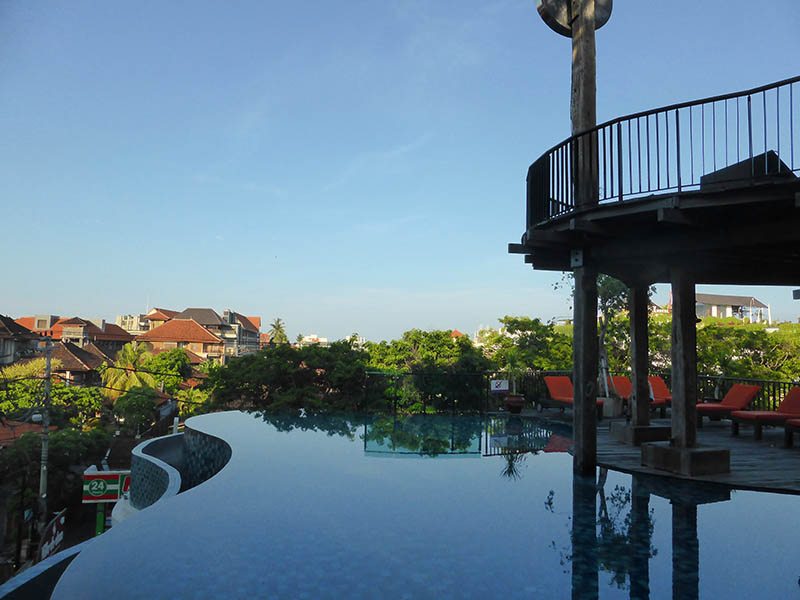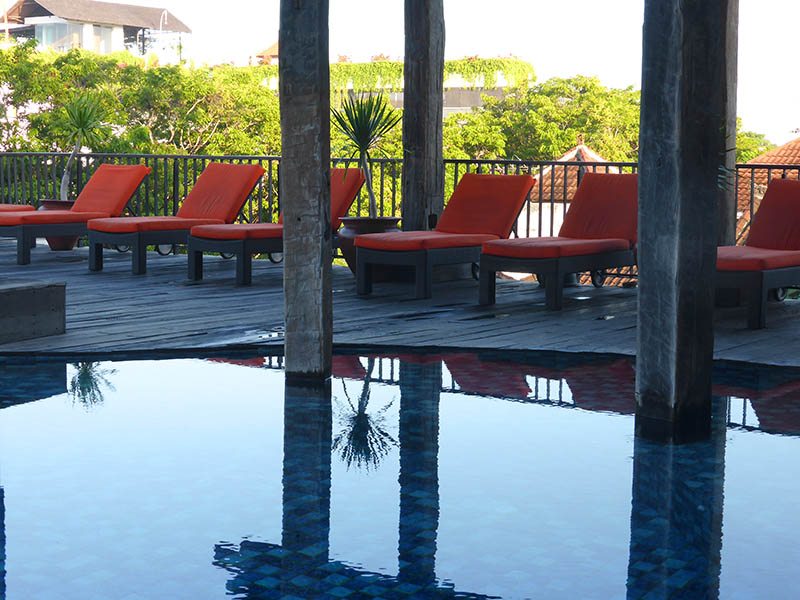 The Skylight Rooftop & Bar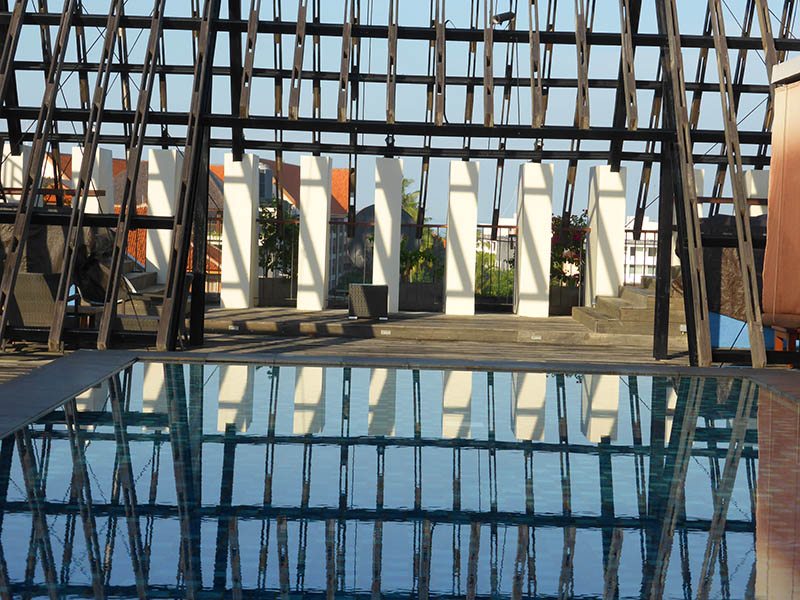 The Skylight Rooftop & Bar is managed by Sun Island and is instantly recognizable with its dramatic architectural structure. It has also used for weddings, because of the amazing architecture, the sunsets in the background and that Sun Island makes everything so romantic. As with everything that Sun Island does, it is chic, sophisticated and just plain beautiful. The photo will speak for itself.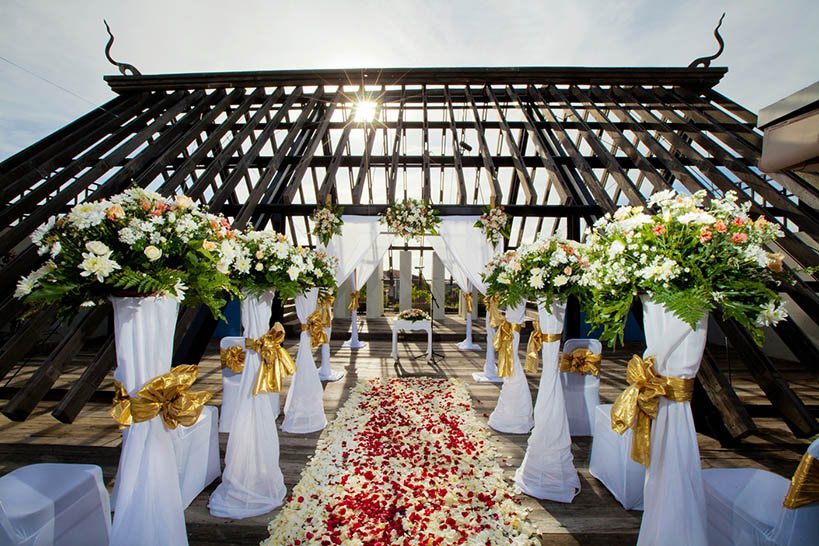 The Island Spa offers massages and treatments by professionally trained staff, noted for their skills and ability to make the customer feel special.
Sun Island Hotel & Spa Legian is exactly what a hotel should be, while so many aren't. This is a formula or a business model that works here at Sun at Sun Island Hotel & Spa Legian, and has worked at the other places that we have stayed in their portfolio.
We were the media guests of Sun Island Hotel & Spa Legian and all opinions our own