L'Art de Vivre: A Luxury Hotel Barge in France
I sat on the deck of the barge, thinking about all of the big decisions facing me. I gazed at the postcard-perfect French villages while seeking some inspiration to my many dilemmas. We were on the Canal du Nivernais in the Burgundy region of France, where big decisions weighed heavily on my mind. My husband had gone out to cycle along the towpath that runs alongside the canal. Apparently, he was also considering his issues.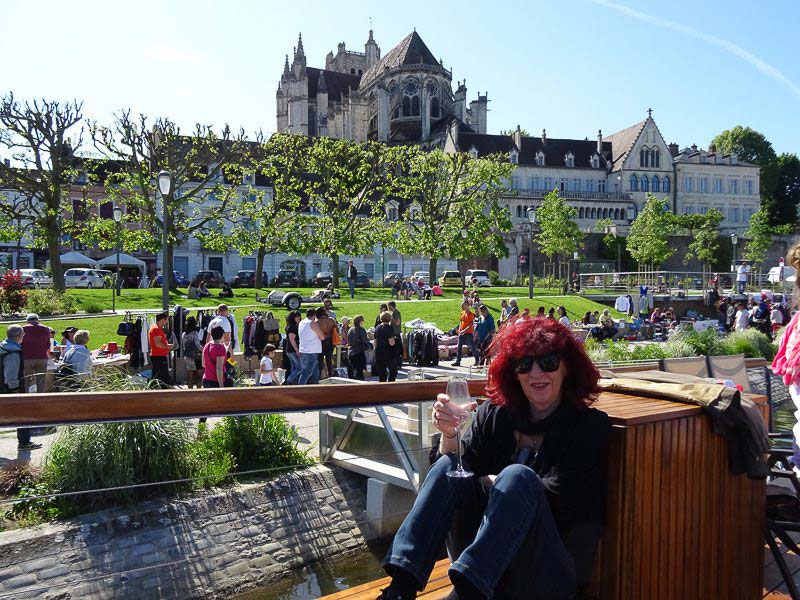 What were these dilemmas on L'Art de Vivre?
There were quite a few, actually. This is what a river cruise in France does to you.  Would I hop off at the next lock and explore a medieval village? Would I get into the jacuzzi on board the barge and drink something with bubbles? Maybe I would watch the swans gracefully performing a ballet on the water? Would I think about what the private chef on board was making for our next 4-course meal? Maybe I would ponder which wines and cheeses would be presented to us at both lunch and dinner. Perhaps I might chat to the charming deck hand, a French girl who also takes us exploring. Perhaps, I might practice my French on one of the lock keepers. Or maybe I might just admire the changing scenery in this beautiful part of France.
As one of the guests said as he watched life on the canal, "it is much like gazing into a roaring log fire; you don't tire of it." He was correct.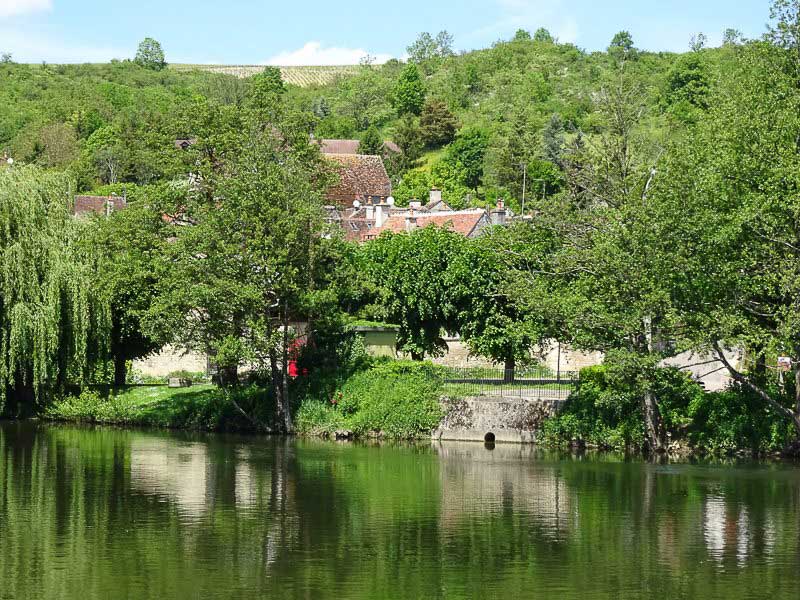 The Cause of such Dilemmas.
Gordon and I were aboard the hotel barge L'Art de Vivre, which translates to the 'Art of Living'. We were cruising on the Canal du Nivernais in the Burgundy region of France. Our barge cruise is one the many all-inclusive canal cruises that European Waterways offers in France. It has many others around Europe and each is a luxury' floating hotel'.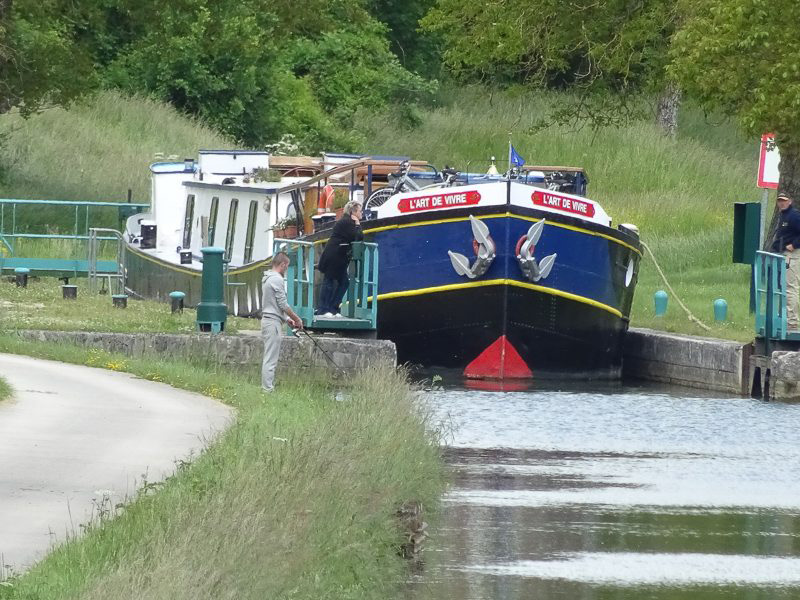 Is Barging for Everyone?
If you like excellent wines, delicious cheeses, gourmet food and beautiful countryside, meandering lazily along a canal on a stunningly restored barge – then the answer is probably yes.
Rick Stein certainly popularized barging in France, with such fine wines, gourmet foods, stunning scenery and this was our own French Odyssey.
We did indeed experience the 'art of living', L'Art de Vivre.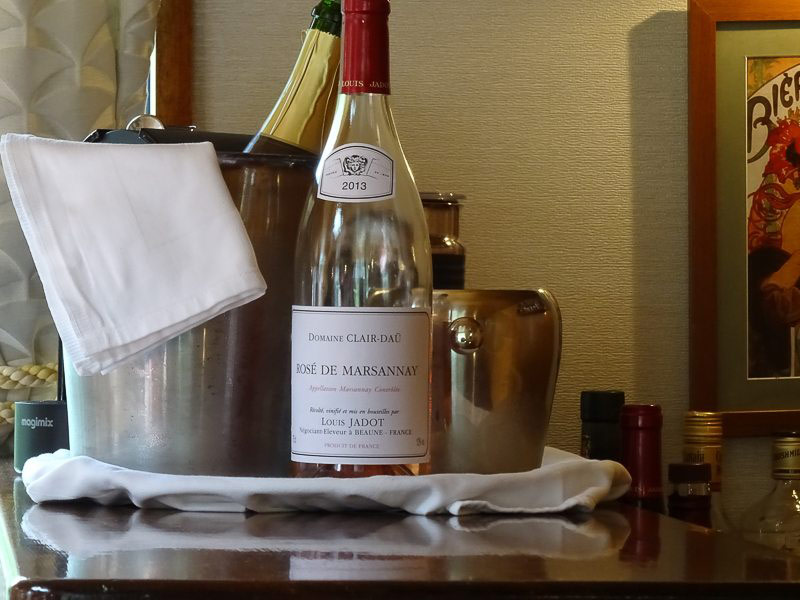 This was our first experience of barging and I wondered how I might cope with six nights aboard. To be quite honest, decadence and hedonism in both material and aesthetics sits very comfortably on my shoulders. The staff work hard and anticipate your every need. I have never slept so soundly from being so pampered and having had every one of my senses totally stimulated.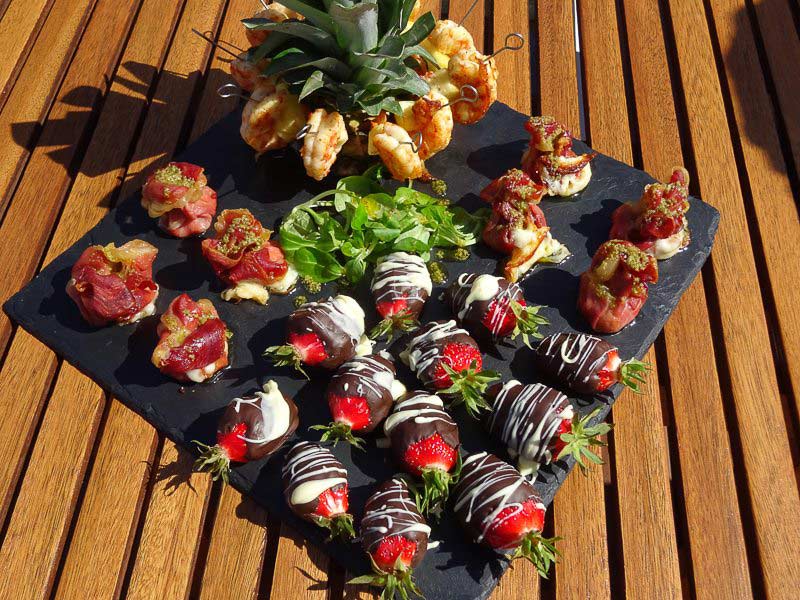 You can be as close to the other guests as you choose to be. You have the options to walk alongside the barge, cycle along the paths on bikes that are provided on board, and go together on the escorted visits organized. You can also just sit in the sun on the deck, or in the comfortable lounge area and do as much as you want or as little as you want.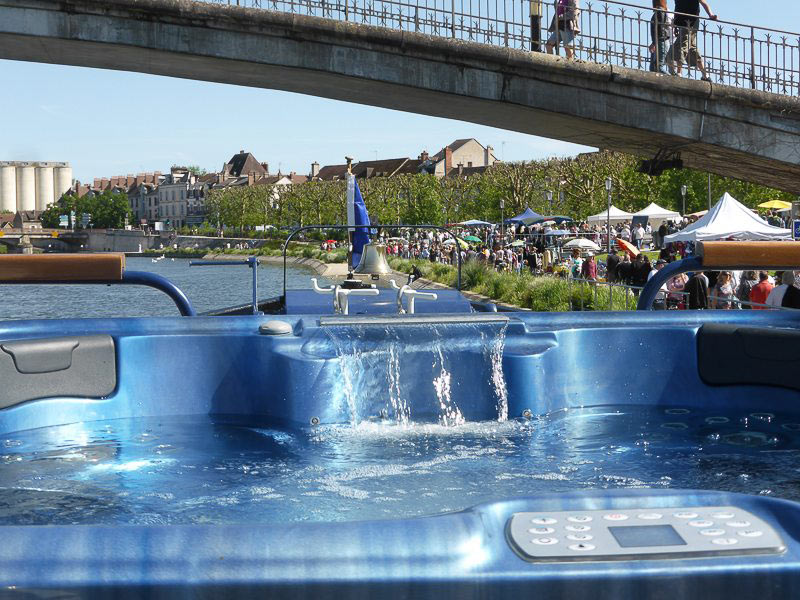 We mixed it up and thoroughly enjoyed our gourmet meals together, discussing what we had seen and done throughout the day. Sometimes we all sat on the sunny deck, each seeing something new and different along the canal.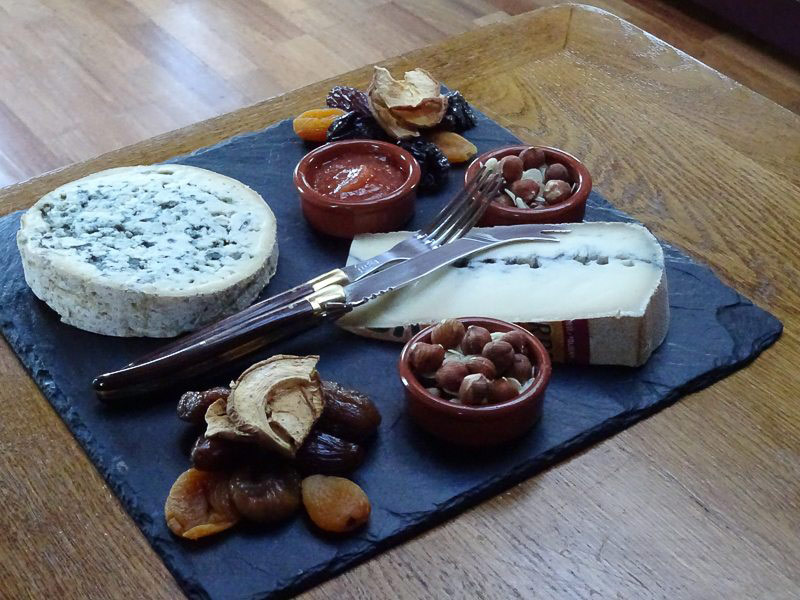 The landscape varies from forests to fields with the first buds starting to show. The Charolais cattle are in the background as we admire the French villages.
There are a lot of people who cycle the paths, and we all call out Bonjour! in our newly acquired French accents. This is a friendly cruise.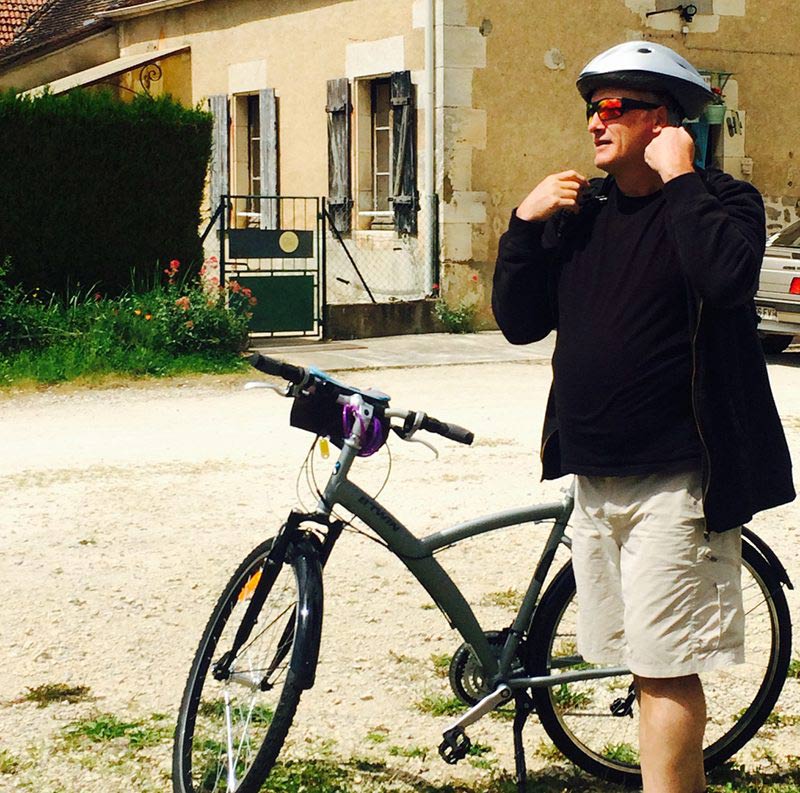 About L'Art de Vivre
L'Art de Vivre started life as a Scottish lumber carrier. It has been carefully renovated by skilled craftsmen into this barge, which is fitted out to celebrate the art of the good life. The recently refitted cabins have modern en suite bathrooms; there is a lovely saloon with contemporary leather and more traditional furnishings. In reality, the bedrooms are cabin size but are for sleeping, and we only ever saw them at night when we were turning in. Spring in France is the time of long daylight. The sun decides it just might call it a day at about 9.30 pm giving us plenty of time to eat, drink and watch the world go by from the large deck.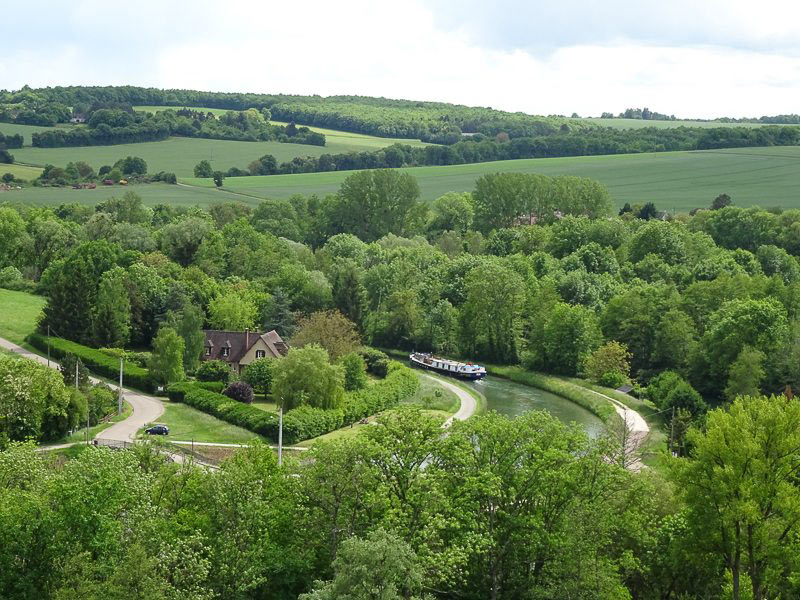 About our experiences on L'Art de Vivre
We were picked up by staff of Go Barging/European Waterways staff (they are one and the same company) at the Hotel Westminster Paris where we had stayed for 3 nights, then taken by luxury mini bus to the hotel barge moored in Auxerre, where we were greeted with canapés and champagne. On the banks of the RiverYonne, there was an antiques market with local music. It was a perfect sunny spring French day to start our journey.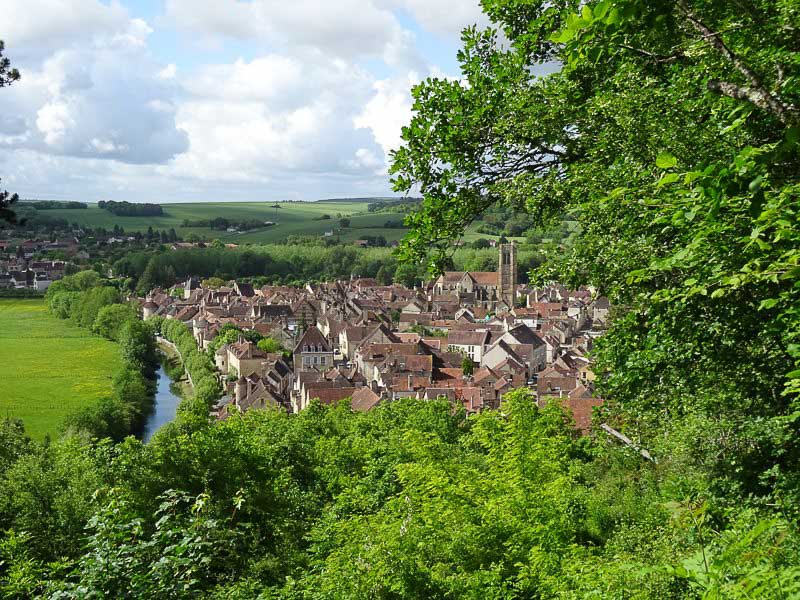 On our cruise, there were just four passengers, though the hotel barge can accommodate 8. There are 4 crew members – the Captain, a Master Chef, Deck Hand/Tour Guide and Hostess. They are all experienced and love the barge as much as we all do. We have a cooked breakfast every morning, as well as different cereals, fruits, yoghurts as well as fresh breads and croissants that the staff source locally each morning.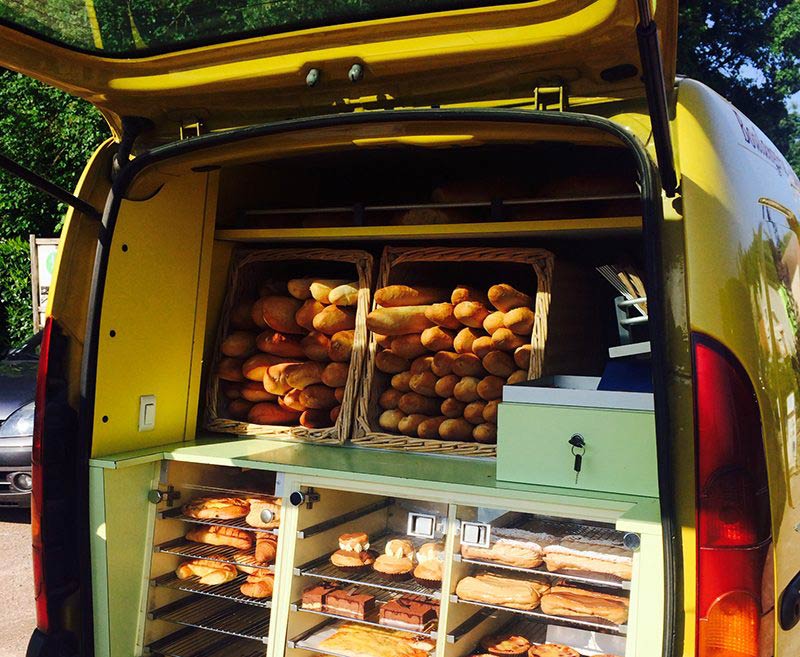 At lunch, we enjoy four courses, with matching red and white wines specifically selected to match the menu. For the evening meal, we have another 4-course meal, again with carefully selected wines and cheeses to exploit our taste buds.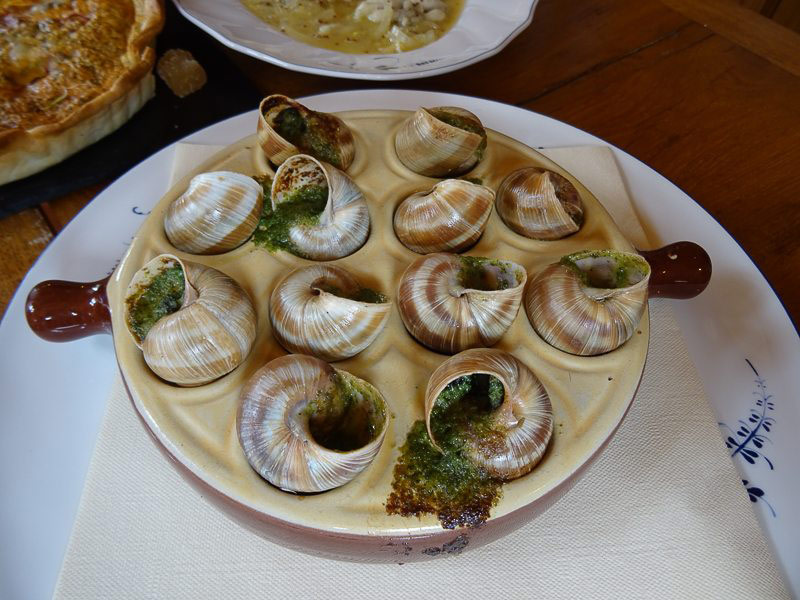 Getting on well with other people is very easy in such a stunning environment, and I mean both the beautiful barge and the Burgundian countryside. We are all in awe of the beauty and the luxurious experience.
Each barge cruise by European Waterways has wine and foods representative of the region in which they are sailing, so with L'Art de Vivre we are being feted with Burgundian wines and local foods.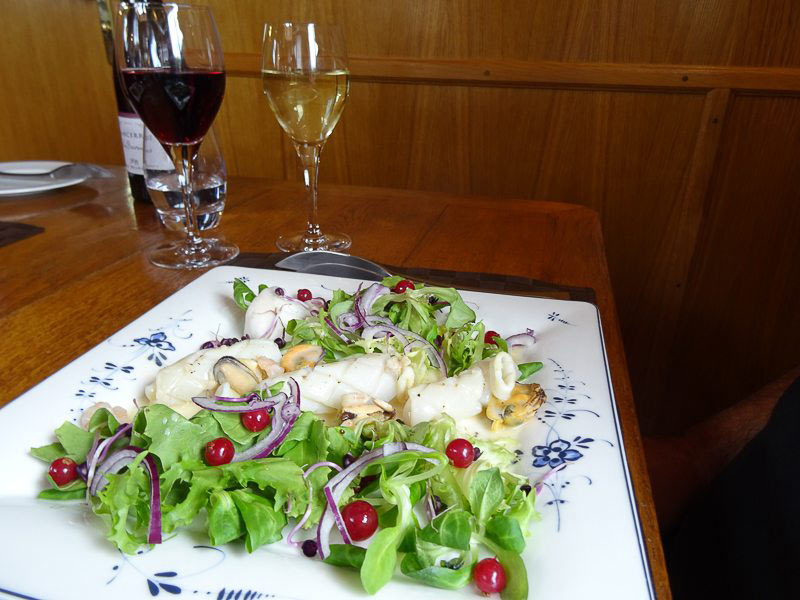 Where did we go?
The barge slowly cruises just 65kms from Auxerre to Chevroches and on alternate weeks navigates in the other direction. There are some 32 locks that the barge goes through, some so narrow that we marvel at Captian Fabrice's skill. Each day we sailed for a while before mooring at a selected location. Sometimes you sail in the morning and other times the afternoon. When the barge has moored, there are shore excursions.   The Captain is an excellent leader of the crew and is always working, as are his crew. All the crew speak English and, there are 2 French people and 2 British on board, catering to our every whim of which there are few since everything has been considered. Coffee awaits us in the morning, and our beds are turned down at night. Going through the locks is exciting and, you realize how very important the lock keepers are to the flow of traffic on the canal. The chef on our barge even gives cake and other tasty morsels to the lock keepers to keep in their good books.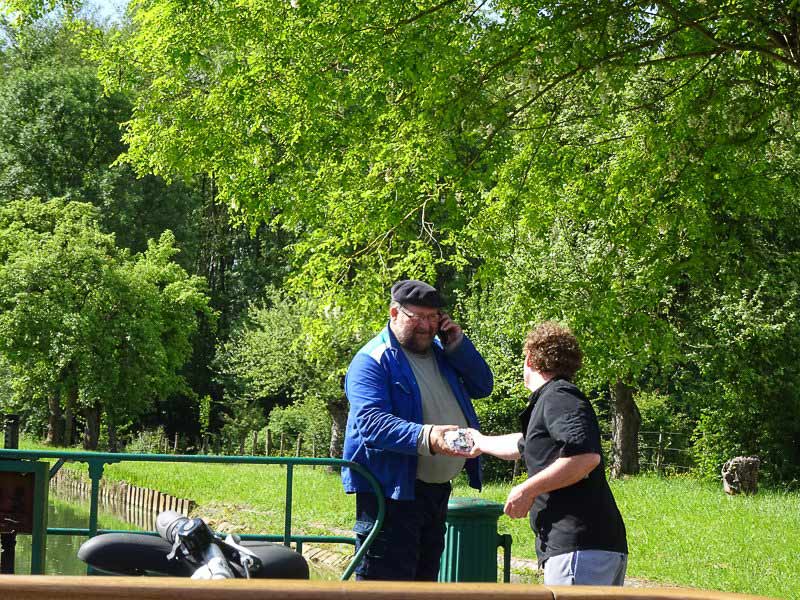 We pass a number of other barges at times, and at other times it is the local birdlife such as herons which overtake us.
Shore Excursions from L'Art de Vivre
There are trips to wineries, basilicas, chateaux and market villages.   The barge stops for the night at various villages along the way. We have guided visits and our own free time. We are driven around in a luxury minivan by our tour guide, the deckhand, who has excellent knowledge of the places that we visit and can field our varied questions. One of our first visits was to Auxerre, a city of 35,000 people with some amazing architecture and a huge medieval church and monastery.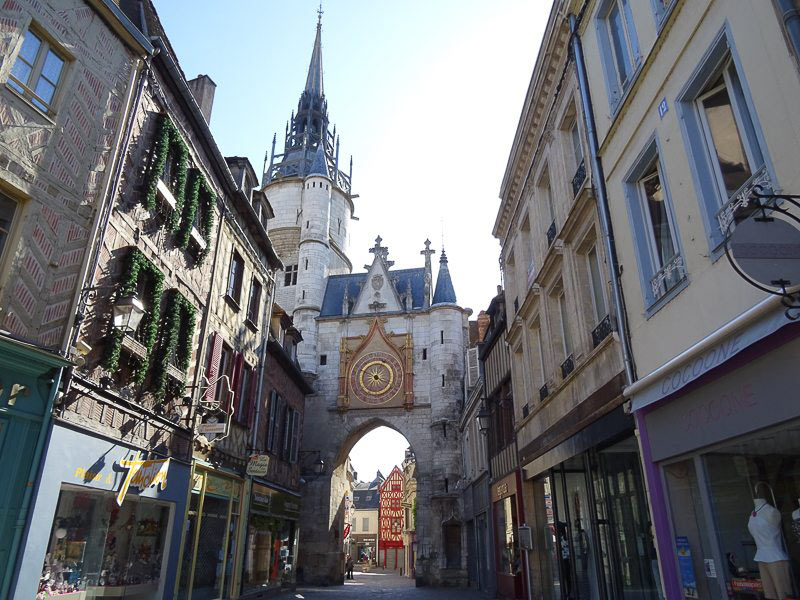 Another interesting trip was deep into Chablis country to the actual town of Chablis and a pioneer of Chablis wine, the William Fevre winery. Here we learn about the attention to detail that has made this such a refined wine. We learn all about how important the details are in the process. . We learn that you can pick a wine by taste and determine what side of the hill it was planted, and probably whether three virgins wearing yellow ribbons planted the vine. This is not too far from the truth such is the attention to detail. This limestone soil, has fossilized oyster shells in it, and that is why Chablis and seafood are a perfect match.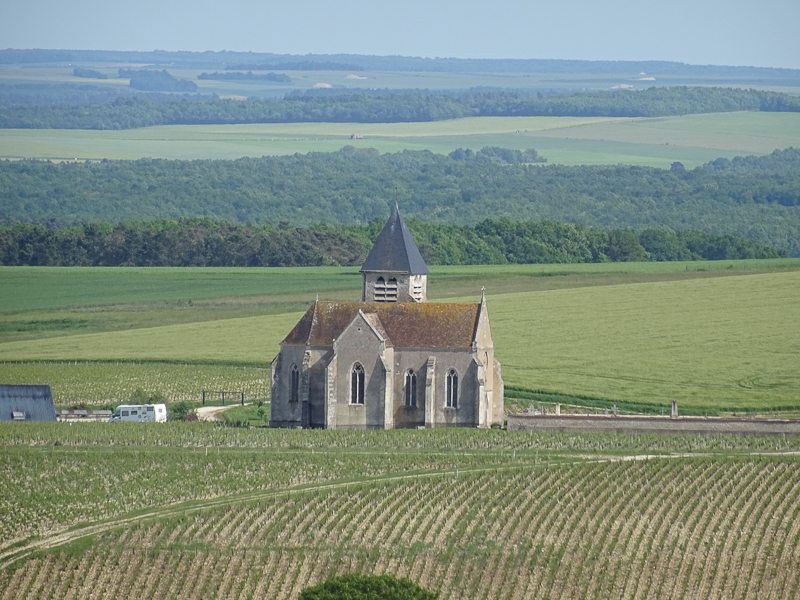 Another trip was into Noyers-sur-Serein, a cute village in Burgundy to the weekly market. Here we were invited to challenge the chef and to bring back ingredients for him to cook. Consequently, we arrived back with artichokes, turnips, and onions, to which he made a variety of dishes. There is one night where you go to a restaurant in a village that has been hand-selected by European Waterways to experience the regional French cuisine. We went to Auberge la Beursaudiere in the village of Nitry.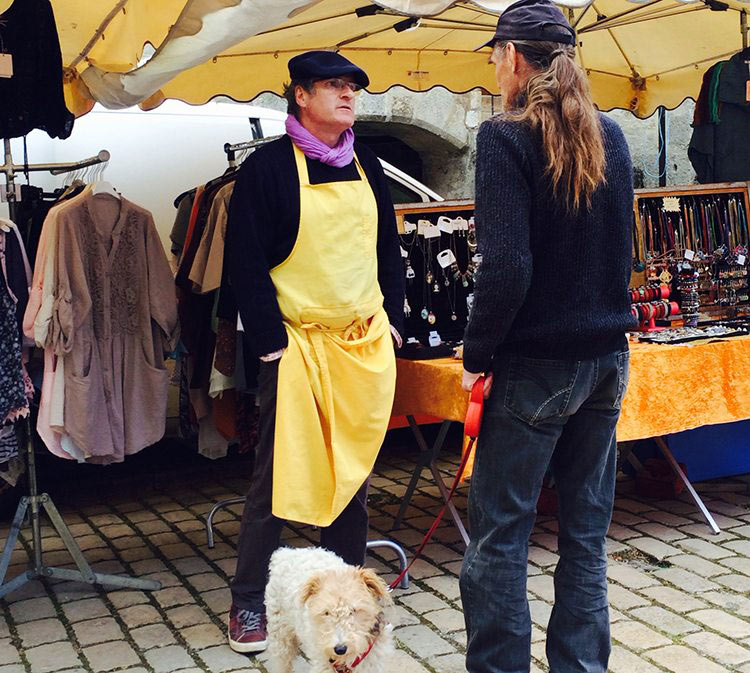 Another village visit was to Vezelay with its Romanesque Basilica of St Mary Magdalene. We explored the Château de Bazoches, the family residence of the Marshal de Vauban, and an extremely important man in French history.
Note well: This is a luxury hotel barge.
Hotel barge L'Art de Vivre is an incorrect name. It should be called Luxury Hotel Barge L'Art de Vivre; one could even go so far as to say it is Hedonistic Barge L'Art de Vivre because every need is attended to by the staff. The scenery and the excitement of the canal is a given.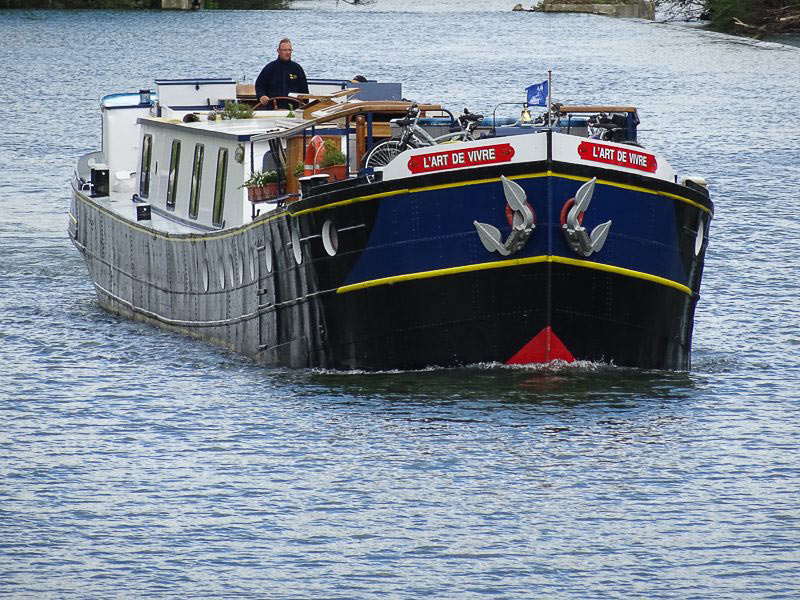 How you can enjoy this unique experience too
Prices and availability for all the different barge cruises by European Waterways can be seen on their website www.gobarging.com
They also have a YouTube Channel with a great selection of videos:
http://www.youtube.com/user/EuropeanWaterways?feature=g-all-u
And you can follow them on Facebook:
https://www.facebook.com/pages/European-Waterways-Ltd/78646381842?ref=tn_tnmn
Verdict
Would we go with European Waterways on another barge cruise and recommend them to everyone? A resounding yes. I can vouch for the fact that you will love it. It is an experience of a lifetime where you can have your own French Odyssey. It is intimate because there are so few passengers, and there are a lot of staff anticipating your wants and needs. It is all-inclusive so that once you have paid that is it.   I don't know who doesn't want to have some of these major dilemmas that I faced on my barge cruise with European Waterways, but I do know that because of it, I have an even greater appreciation of the 'art of the good life'.