The first hotel and experience we are bringing to you in our "You've Earned it. Luxury and Culture in Bali Series" for fit, free and financial baby boomers, is Le Méridien Bali in Jimbaran.
This resort is located on the delightful and famous Jimbaran Bay, which is on the southwest coastline of Bali. It is about 25 minutes from Ngurah Rai International Airport.
Stand out features of this resort
The design and layout of the entire resort and in each and every room. This has been very carefully considered in every aspect.
The breakfast is one of the best breakfasts that we have had; the gelato and eclairs are exceptional as is the BBQ.
The location is in a more traditional area of Bali, where people still wear traditional Balinese dress, and that is always a good thing in learning more about the culture.
Le Méridien Bali in Jimbaran gives back to the Balinese community.
The excellent and friendly service

Arrival at the Resort
A member of the hotel staff met us and a driver took us to Le Méridien Bali in Jimbaran, a Starwood Hotels. We drove through Jimbaran, which was awash with activity, and we could see local people working or having their dinner as the famed sunset started to put on a magnificent show.
Le Méridien Bali Jimbaran has expansive views of the Indian Ocean and Jimbaran Bay. It is just a 2-minute walk or a buggy ride to the beach. As the sun sets, this is prime real estate to view what many people come to Bali to experience. The phenomenal colors that this sunset produces, which are a photographer's dream.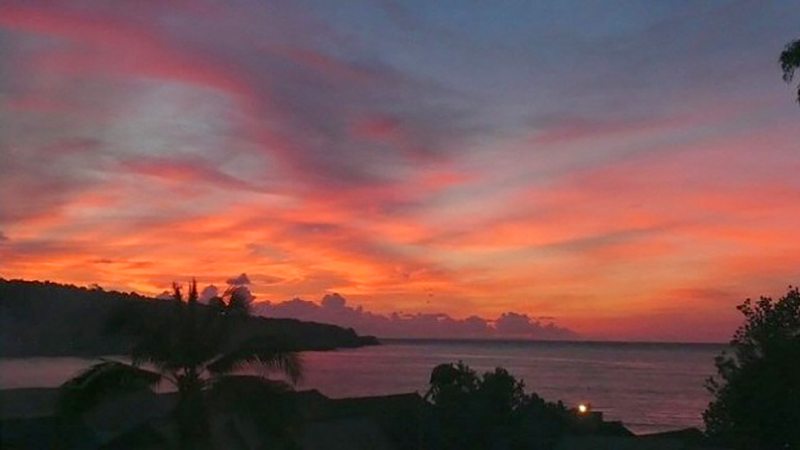 The first thing that we noticed when we arrived were the sculptures, which are a feature of this Starwood resort. The lobby is open to the pool area, the lagoon, below, and you instantly feel what a special property this is. Le Méridien Bali Jimbaran is a modern yet traditional resort, and it sets the tone with fans in the ceiling looking much like the frangipanis that can be seen all around the resort and indeed Bali.
We were then given cold hand washes and presented with our own frangipani, welcoming us to Le Méridien Bali Jimbaran and to Bali. We were warmly greeted by the manager and then were given our welcome drink, a berry mojito. This is one of those drinks that we will be making again and again as was so refreshing and delicious. I got the recipe there and then and am now sharing this magnificent find.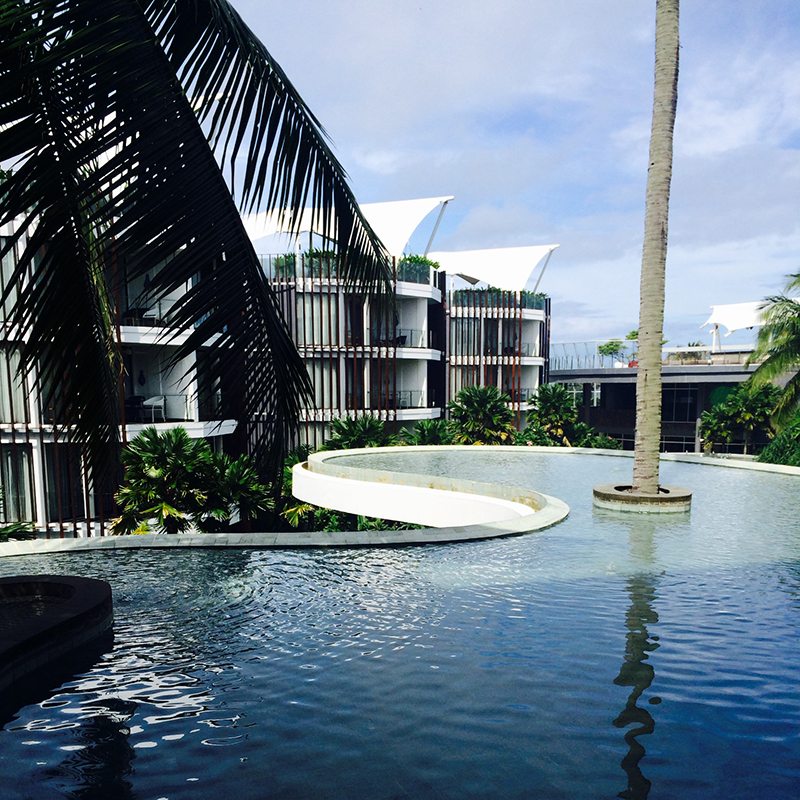 Recipe:
Strawberries. Raspberries. Blueberries – and ice – all blended. Lime juice added and then soda
The Resort's rooms and our stunningly beautiful villa
The resort has 75 guestrooms, 35 suites, 4 penthouses and 4 villas equipped with a lagoon sundeck. We were very fortunate to be to be sponsored by Le Méridien Bali Jimbaran in one of the villas with our own large plunge pool, a flower-strewn spa and magnificent views over the resort and onto the beach.
There is a signature 1,300 square-meter saltwater lagoon pools that we also watched over, as well as the 4 towers that make up one section of this vast complex. The sails were reminiscent of the Sydney Opera House.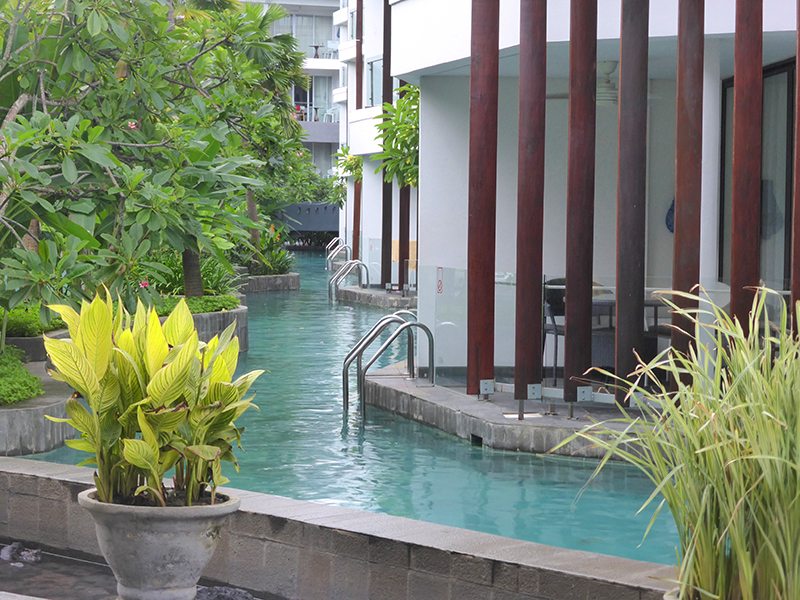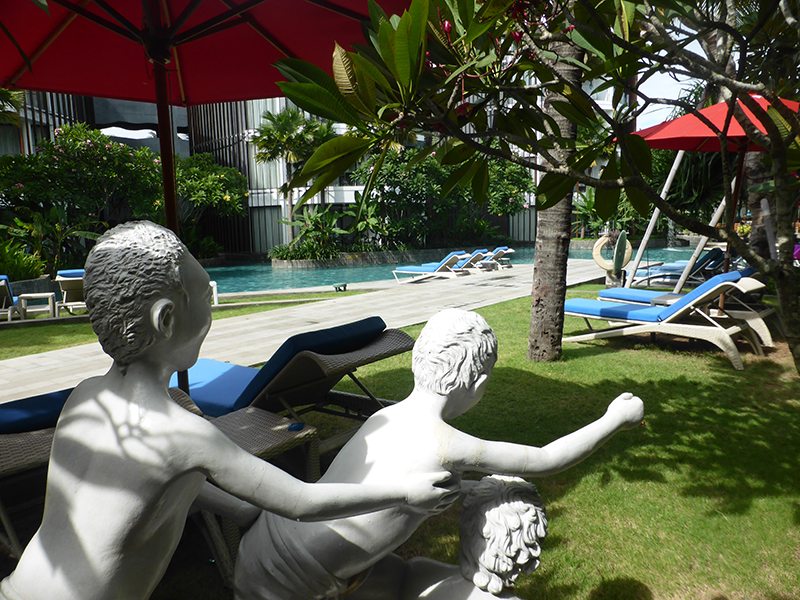 Our villa was vast. We entered though very Balinese doors and along a stoned walled curved path. Here we were greeted with the sights of the resort and our own infinity pool or plunge pool. Our garden was lush and green. We were shown into our villa and yes, it was a massive wow factor. The villa was huge and is actually called the Oceanic View Sky Villa. We immediately saw the Jacuzzi with the flower petals floating in it and the very large bed, which is a signature Le Méridien bed. The bed was strewn with flower petals, and the towels were woven in the shape of swans. There is an office area and seating area in traditional Balinese style. There was a traditional alang alang roof. The dressing room appealed immediately with its ample shelving and hanging space as well as mirrors.
The bathroom had an enormous showerhead and glass doors separated each section of the bathroom. The
There was also a 42-inch SMART 3D LED TV with integrated Internet access, but considering we had the plunge pool, the Jacuzzi and a typical Jimbaran seafood dinner awaiting us, the TV did not get turned on. There was also, and iPod or iPad docking station, which we used for mood music. WIFI is free, and we also had an Illy Coffee Espresso machine. Yes, we were very fortunate in this magnificent buy cialis viagra levitra room that was given to us by Le Méridien Bali in Jimbaran, and we thank them for this.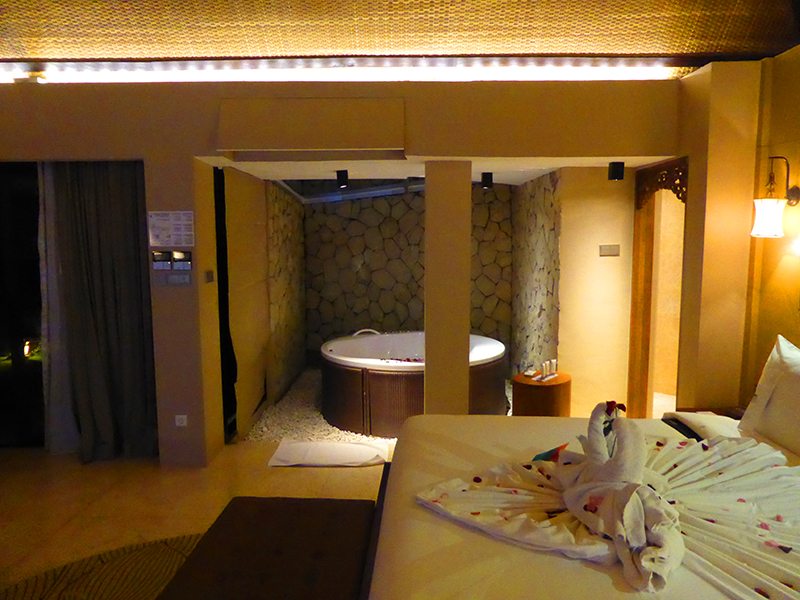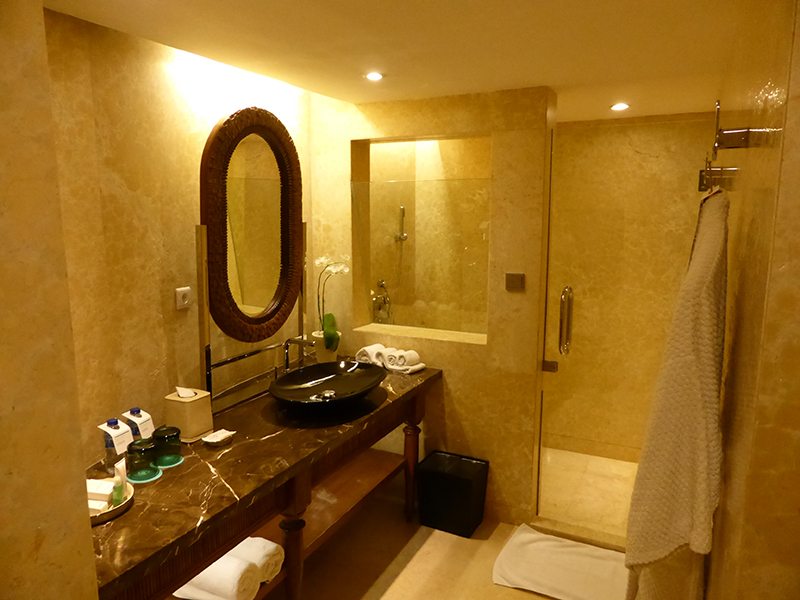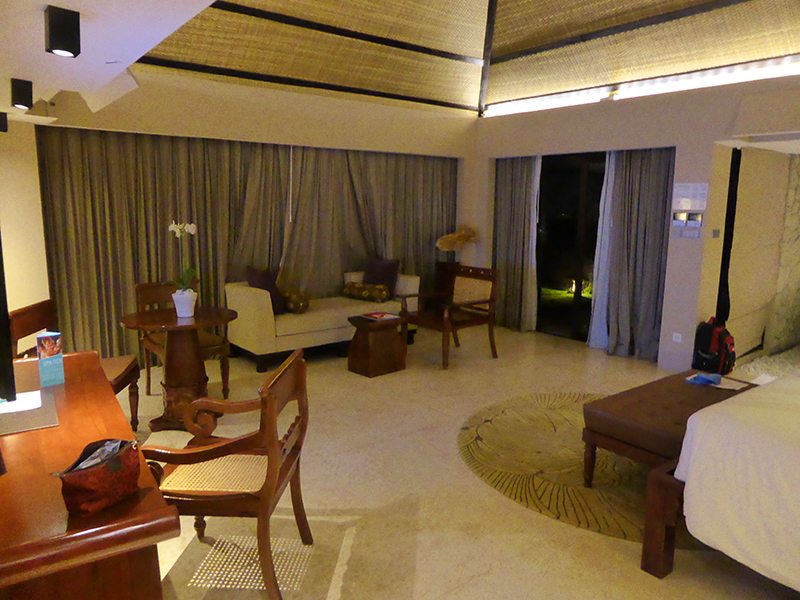 This is one of the chicest rooms that we have stayed in and so very well designed in every respect. Kudos to Starwood and Le Meridien for this.
We also had a look at the Lagoon Access Room. This is a literal description, as you walk straight from our balcony and into the lagoon or waterways that weave their way throughout the resort. Should you feel so inclined, you can just swim a very very small distance to the in-pool bar. These are split level rooms with an oceanic batik signature art piece, and lamps that reflect the Jimbaran fishermens' fishing nets.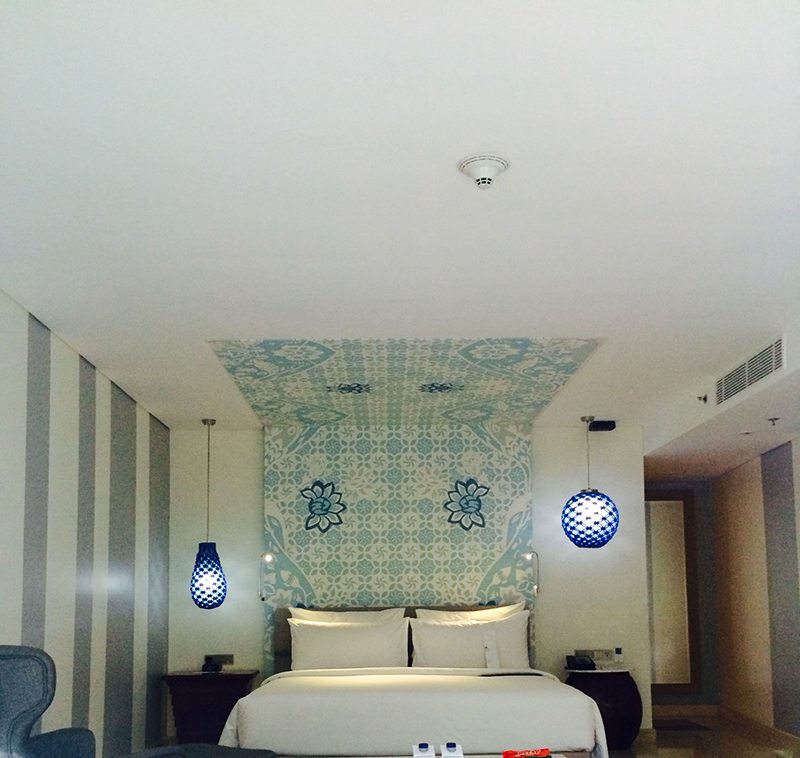 This is a seawater lagoon where the water is taken from the ocean, cleaned and then goes onto the lagoon. The water is then cleaned again and goes to the showers and then is cleaned again and is used to water the gardens. That is a lot of water recycling, and that is environmentally a very good thing for everyone.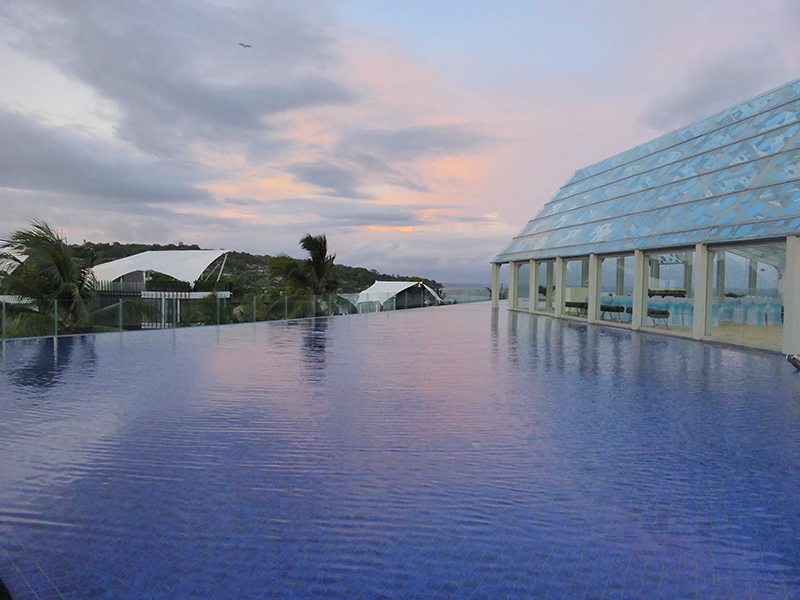 Le Méridien Bali in Jimbaran gives back to the community
Le Méridien Bali in Jimbaran. are very active in their local community and the island of Bali's community.
They are active in helping to clean up the beaches and the island and in helping the people to keep the island in as good a state as possible. This is an island that relies on tourism and for each to work together is a good thing. The staff is also involved in giving blood. They also assist by bringing in staff do do health checks on local Balinese.
Dining at Le Méridien Bali in Jimbaran.
Excellent, excellent and excellent. Smoqee Sky Bar is the place to experience the splendour of a famous Jimbaran sunset.
Dinner was a seafood and a meat BBQ as befits the Jimbaran location. We dined at Bamboo Chic, one of the resorts restaurants, which is a Pan-Asian fused with la lot of local Balinese cuisine.
This is what we ate.
Mushroom soup, followed by a Fish and a Meat BBQ
Fish catch of the day, lemon, Thai Basil
White sweet Pantai Prawns
Grilled lobster Bouillabaisse, tomato reduction
Calameretti a la Plancha
The meat dish was
Korean Grilled Wagyu Sirloin
Chicken Breast Teriyaki
Beef Hotdog
Lamb Roasted Chermoula
Sate Lilit Ayam
These were accompanied by a variety of salads and vegetables and yes followed by dessert.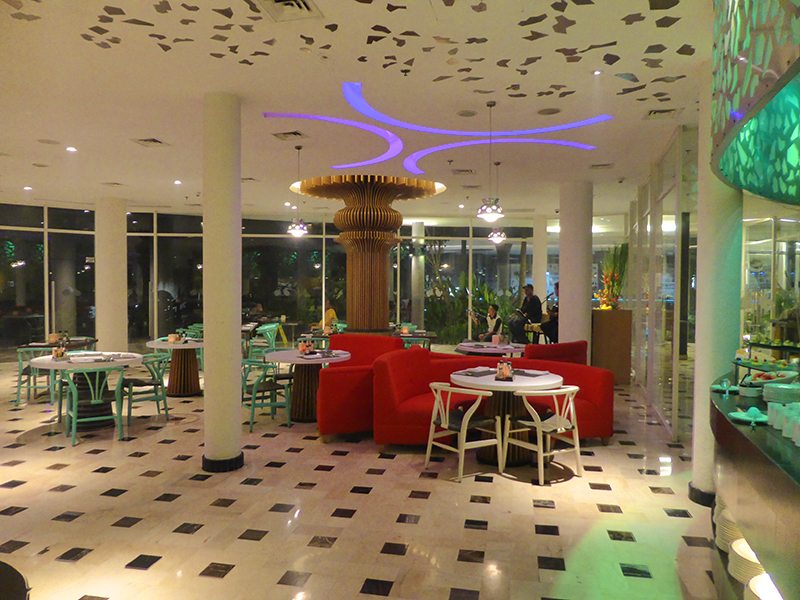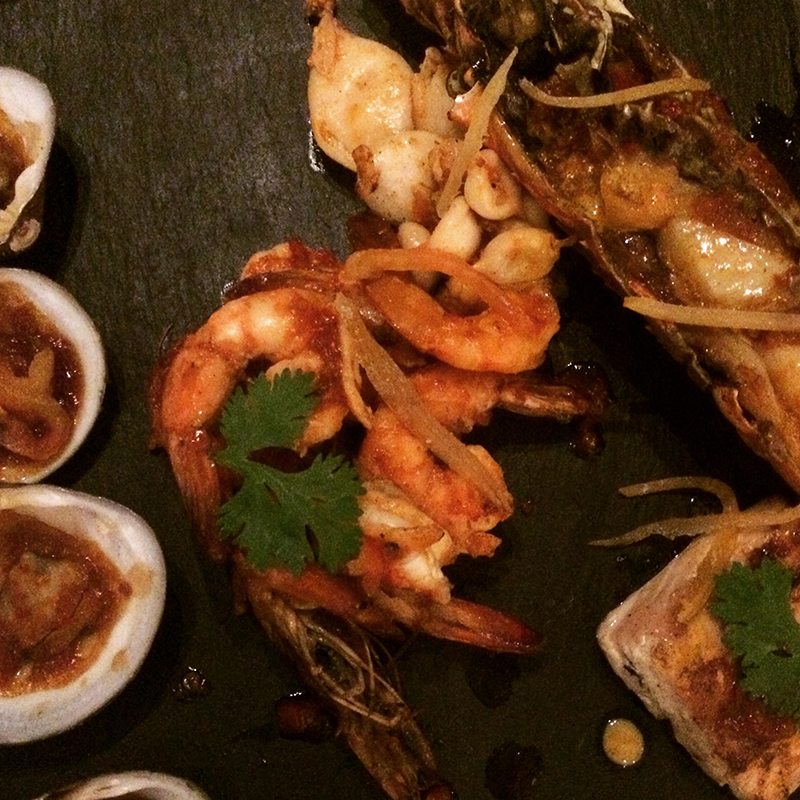 Breakfast.
This is probably the best breakfast we have had in a long time. There was so much choice and so many more options than what you normally see.
[clickToTweet tweet="Le Méridien Bali in Jimbaran has signature dishes and so of course we tried them. #food #Bali " quote="Le Méridien Bali in Jimbaran has signature dishes and so of course we tried them."]
I went with Poached Egg on Beef Rendang. Gordon had he Omelette Kari Ayam, which had fresh local eggs and chicken curry. The fact that I went and had cake for breakfast was because it was there. It was fresh and totally delicious. Oh and I had sushi between the poached egg and the cake. What can I say, other than food and travel is a match made in heaven.
Latitude 8 is the resort's lobby lounge and overlooks the lagoon offering cocktails, light snacks and evening tapas. It is here that you can see more of the artworks and the sculptures and design concepts that give Le Méridien Bali in Jimbaran its uniqueness.
WALA is where you can indulge in handcrafted gelato or taste the perfect cup of Illy coffee .. and yes, we did as well as sampling their signature éclairs. In all fairness, we got up at 6am and walked along the beach of Jimbaran Bay and through the fishing villages.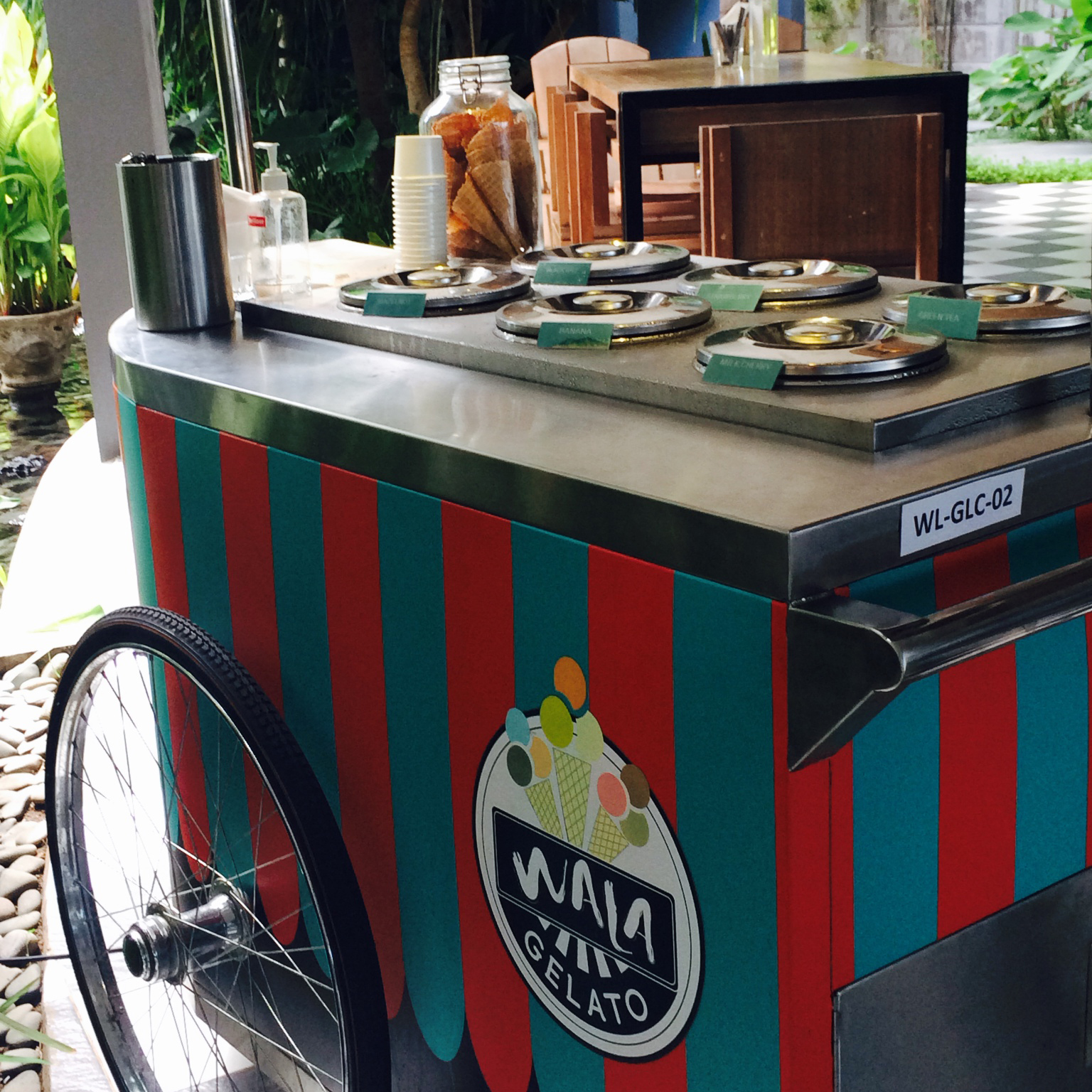 Spa and Gym
There is a fully equipped gym, which considering the amount that we ate, we should have gone to more, but we didn't ..but it looked pretty good with the internet hooked up the the treadmills, meaning I could have worked while I burned off the food intake. The Serenity Spa & Salon is a very large spa where many wellness treatments are available, used Le Meridien authorized products. There is also a yoga room.
This is a stunning resort visually. The fact that they also have their act together with their food and their service and are in a great location, makes it well worth the visit. We highly recommend Le Méridien Bali in Jimbaran, and again thank them for their generosity and hospitality in hosting us on our stay and for feeding us …so much.
Contact Information
Location: Jalan Bukit Permai · Jimbaran, Bali, 80361 · Indonesia
Phone: (62)(361) 8466888 ·
Webite http://www.lemeridienbalijimbaran.com