As I sat watching a small section of the megalopolis that is the capital city of the Philippines, I pondered, What Makes Manila any different from any other Asian city? I know that Philippine Tourism claims that "It's more fun in the Philippines" so I wanted to know if they included Manila in this.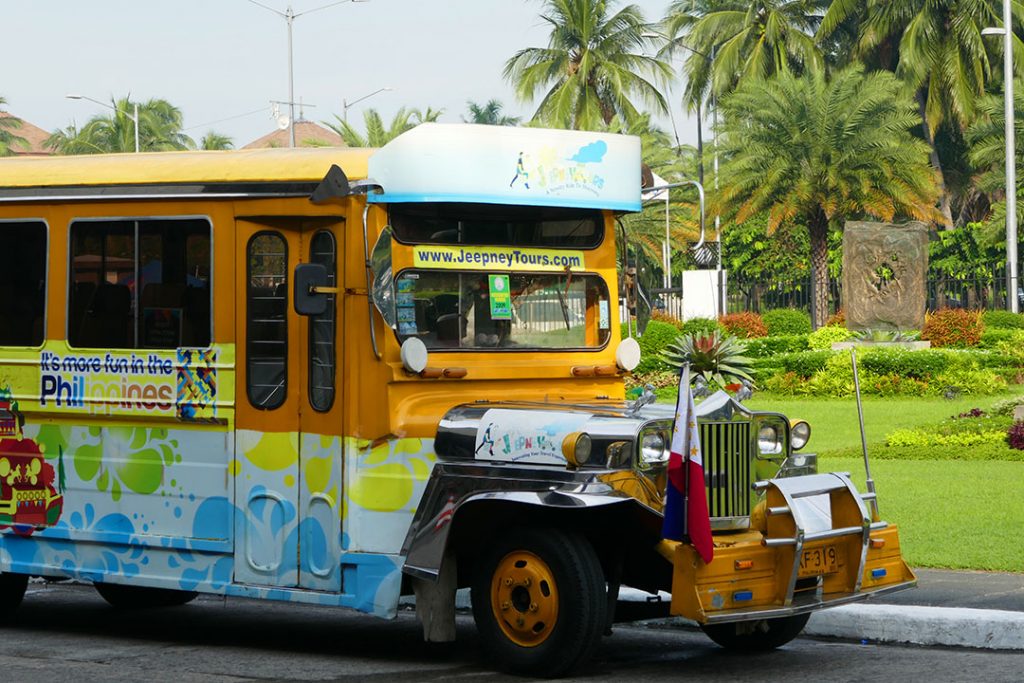 We were in Manila for eight days and eight nights for a TBEX conference, and because we were working with some other companies. While I do not think that this makes me an authority on Manila, it is a lot longer than most people stay in this city, before they head to the islands.
These are our perceptions of Manila.
Initial Thoughts?
The traffic in Manila is beyond horrific, and they own this. The smog permeates the air, and the innumerable construction zones are riddled with questionable OHS practices. Mold spreads throughout the city, as it does all over Asia. So, what makes Manila any different from Bangkok or Jakarta for example? At least there is some form of public transport in these other cities. However, when I checked some sources, Manila doesn't even make it into the World Cities With the Worst Traffic, 2016. I would have thought it should.
Someone said they drive like maniacs, but they have obviously never been to Sri Lanka or Vietnam. In fact, I was amazed at the lack of road rage in Manila, compared to Sydney for example, and believe that it comes down to the nature of the Filipino people. They are just that nice, smile at the peak hour traffic, and not let it get to them …and it could have something to do with having a rosary on their cars rear view mirror.
Unfortunately, the impact of the traffic is on the local people. We spoke to many many people who have a 2-3 hour commute daily – each way. Many leave home at 4 am and return at midnight, because they work longer hours than we do in the Western world, and because the traffic stinks. While I was up in arms about this, the local people just accepted this as it was. The temperament of the people is incredible.
A hot tip, only travel on the roads between 10.30am and 2.30pm, or after 9 pm at night to save your sanity.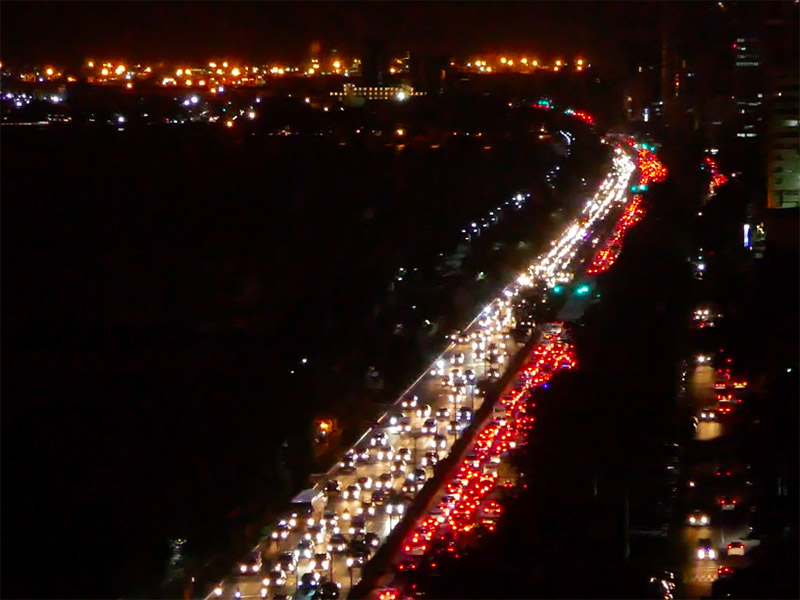 The Philippines has geographic issues
Manila is an odd city in many ways. It is a yin and yang city without a shadow of a doubt. The entire country of the Philippines is located on the Ring of Fire meaning that it is right in the line of fire for typhoons, earthquakes, and volcanic eruptions. It is like a sitting time bomb through no fault of their own other than geographic location. Typhoons happen often, and we waited while we were there, for two to hit, but they didn't. Local people accept this is what happens because of where they live, and they know what to do when it does it. Again, they smile and get on with it.
But, What Makes Manila any different from any other Asian city?
While the Philippines is an archipelago of 7,000 islands, and many idyllic ones at that, the capital city of Manila is located on the biggest island Luzon, and it is this city that has me thinking.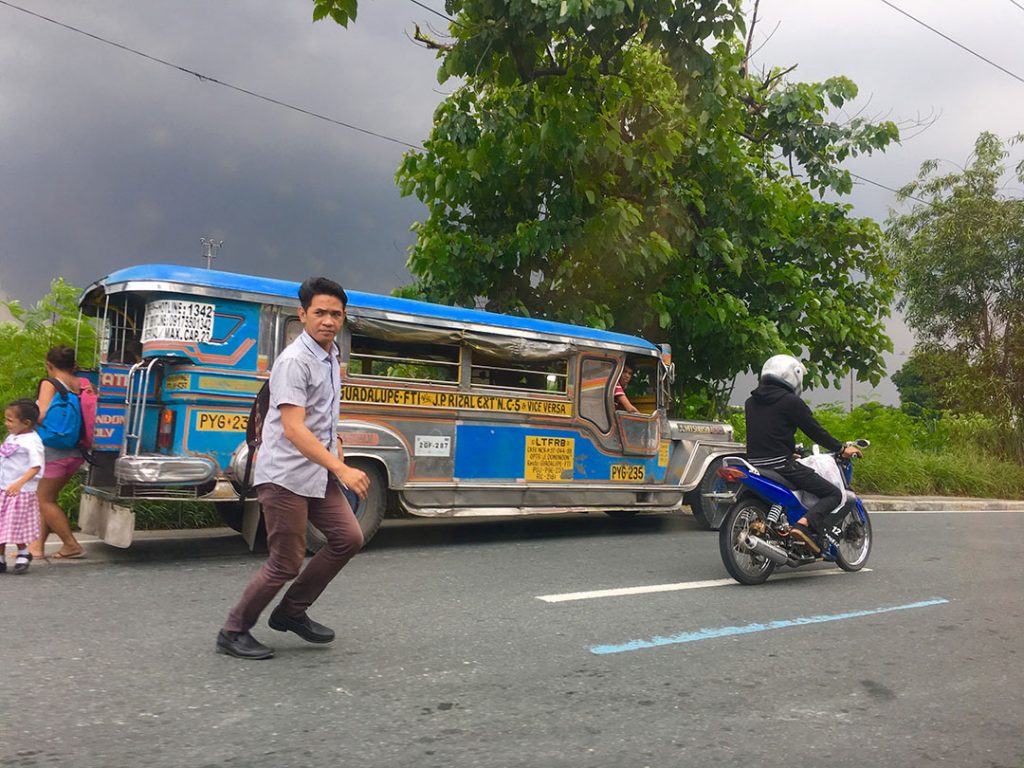 Manila is a melting pot shaped by its history
The Philippines and Manila, are naturally shaped by their history. It is a history of foreign powers controlling it in varying forms. It started with Chinese traders who had visited and lived in Manila long before the arrival of the Spanish. This may explain why the oldest China Town in the World – and you know that there is a Chinatown in every city – is located in Manila.
The Spanish
Then the Spanish held control of the country for over 300 years, with a brief stint where the British controlled this country in the late 1700's. You can see this in the old town of Intramuros; a 600-year-old walled city that the Spanish built, and a respite from the frenetic pace of Metro Manila.  In recognition of its efforts in protecting the Spanish colonial architecture in Manila, the Intramuros administration was honored with the Heritage Prize 2015 by the Association of UNESCO World Heritage Cities of Spain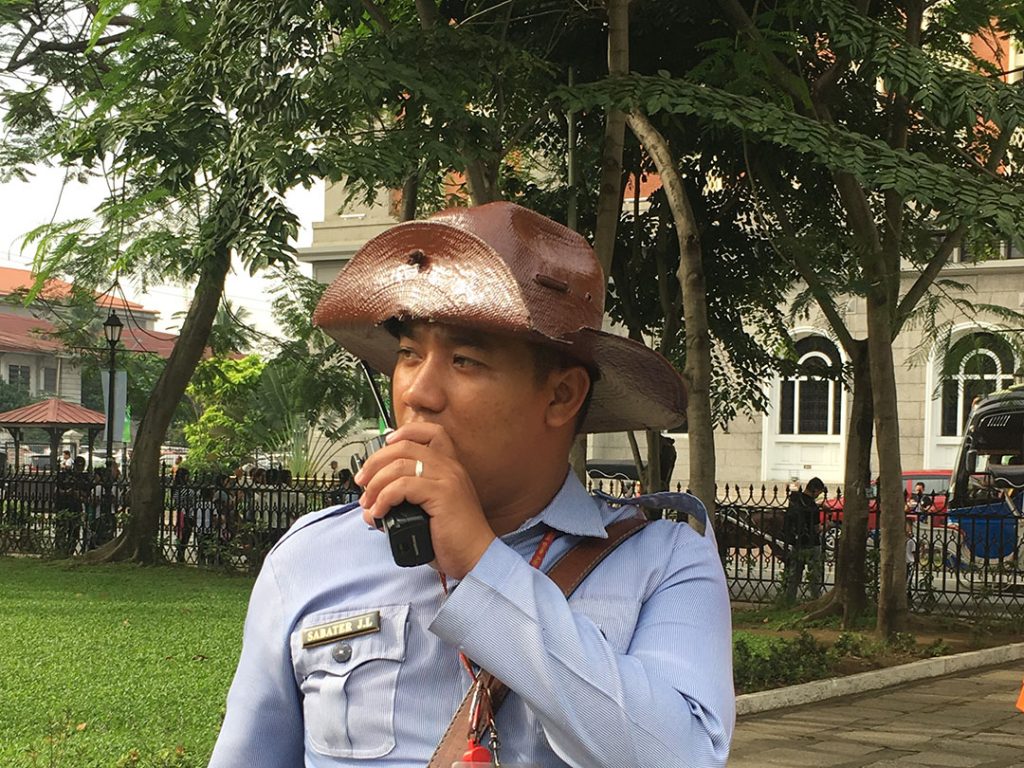 The USA
This was followed by a long stint of the 'paternalistic' US rule, and maybe explains the plethora of junk food outlets to be seen everywhere. I would hazard a guess that in this current political climate, the term paternalistic will be questioned.
The Japanese
The Japanese then wielded power for a little while in WW2 post-Pearl Harbour. The US General MacArthur returned to the Philippines with his army in late 1944, ready to defend the country. It was claimed that he knew what every Japanese lieutenant ate for breakfast and where they had their hair cut. He ousted the Japanese, but the Filipino people had suffered dreadfully.
Independence
The Philippines gained independence on July 4, 1946, due to the signing of the Treaty of Manila with the United States. Then came a lot of power struggle amongst the Filipinos themselves. There was undoubtedly corruption (Marcos), rebels (Aquino's), etc., and now to the present time of the somewhat controversial rule of President Rodrigo Duterte.
This may or may not help you, and me, to understand more about where the people of Manila or Metro Manila are coming from but it is definitely interesting. PS, the people of Manila are called Manileño.
Get your head around this – Manila is not really Manila
We all think that Manila is the capital city of the Philippines and it is. But …as Manila grew, so did the surrounding cities and towns. Metro Manila as it is called, ensued and is known as the National Capital Region. It is made up of 16 cities, one town, and eleven million people. Eleven million people who, in the main, seem to get on with one another live there.
Metro Manila
Metro Manila consists of the cities of Caloocan, Las Piñas, Makati, Malabon, Mandaluyong, Manila, Marikina, Muntinlupa, Navotas, Parañaque, Pasay, Pasig, Quezon, San Juan, Taguig, Valenzuela, and Pateros. In fact, Metro Manila was named in the top 30 megacities list, making it one of the world's most populous, productive and connected cities.
Compared to NYC
Metro Manila has a land mass of 636 square kilometers where all 11 million inhabitants live. To put this into perspective, there is less land in Metro Manila than in New York City. This means that Manila is twice as dense as New York City.
Yin and Yang of Metro Manila
We drive through abject poverty in Metro Manila to a crazy new place in McKinley Hill, Taguig City, Metro Manila. What we see along the way is some of the worst poverty I have seen, and some of the most atrocious living conditions.
We then arrive at a re-creation of the Grand Canal from Venice, replete with the Rialto Bridge and the gondolas waiting for gondoliers. There is even a time to feed pigeons, much as there is in St Marks Square. It is incongruous, to say the least, and a little weird to put it mildly.
We drive through more back streets to avoid the worst of the traffic and once again, through unfathomable poverty. In all fairness, people are smiling and waving to one another and to us, and we head to another OTT display of ostentatious wealth. We visit the City of Dreams Manila, the integrated resort, and casino, with three luxurious hotel brands as part of this complex. All of the six buildings gleam in the sun as they are supposed to. They are meant to represent gold bullion, and they do. The enormous Fortune Egg is also there for a reason; to bring you luck at the casino. This is Manila's own little piece of Las Vegas.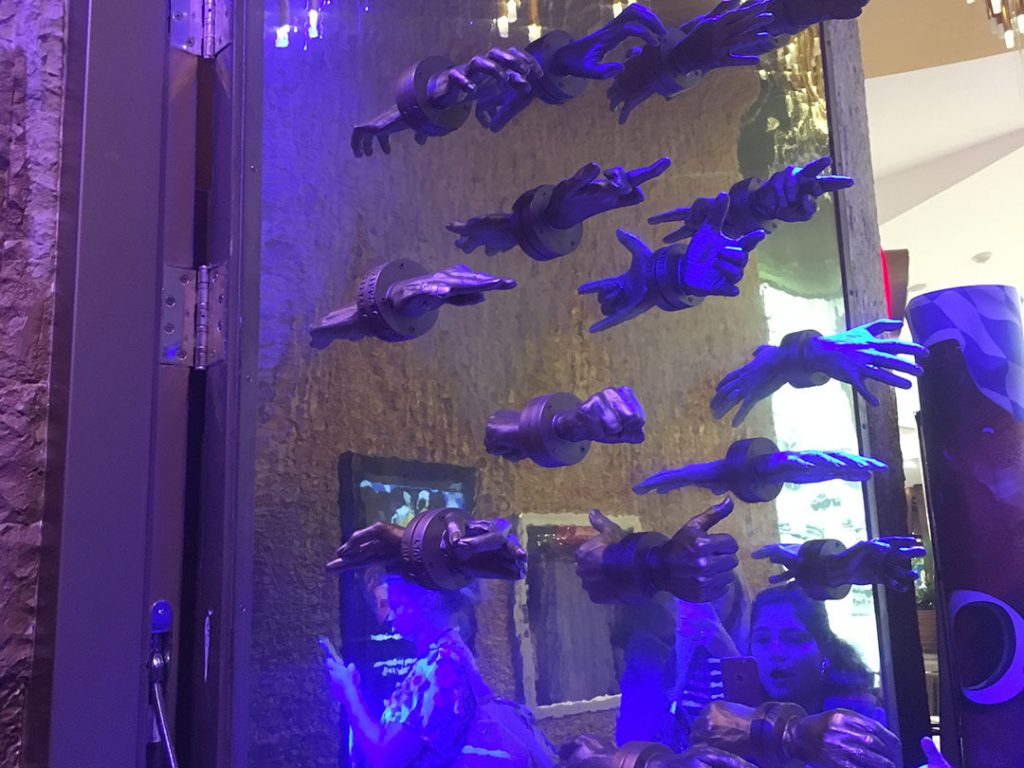 We didn't go to Smokey Mountain. Smokey Mountain is a slum constructed on top of landfill in Manila. Over 30,000 people make their living waiting for the garbage trucks to arrive, to forage through them to find food or something to sell. It is now on the tourist map, but what people say is that the people who live there are not unhappy.
Wealth and poverty sit side by side in Metro Manila, and it is hard to reconcile this, other than to say that Manila is a city of yin and yang.
Security
I do see a lot of security, and this started when we arrived at the airport gate to travel from Sydney to Manila. I don't think I have ever, in all of our travels, seen six security guards and a sniffer dog checking us out as we boarded in Australia. I don't think I have walked past so many security and sniffer dogs in our hotel in Manila, and nor have I actually made friends with a sniffer dog before, but I did. Security is everywhere you look.
Is it security theater as many pundits on the font of all knowledge Redditt believe it to be? Or is it a job, and therefore a means of creating employment in a country, where unemployment stands at 6.5 percent which is really quite good, and a ten-year low for the Philippines.
Some Things that are Unique to Manila
In a nutshell:
– The biggest asset by far is that the Filipino people who are some of the most hospitable people you will meet.
– Manila is cheap. It is one of the most reasonable priced cities in South East Asia. It blows places like Hong Kong and Singapore out of the water.
– English is widely spoken. Therefore everyone understands you. Throw in a word of Tagalog, like 'Kamusta' (hello) and get a Pinoy smile in return.
– They have very good amenities, and the internet speed is excellent.
– The food is amazing, despite the embryo eggs. Filipino people like to feed you .. a lot, and who is going to complain about that.
– The night life is seriously good. Yes, Chaos Night Club at City of Dreams and Long Bar at Raffles Makati, I am talking about you.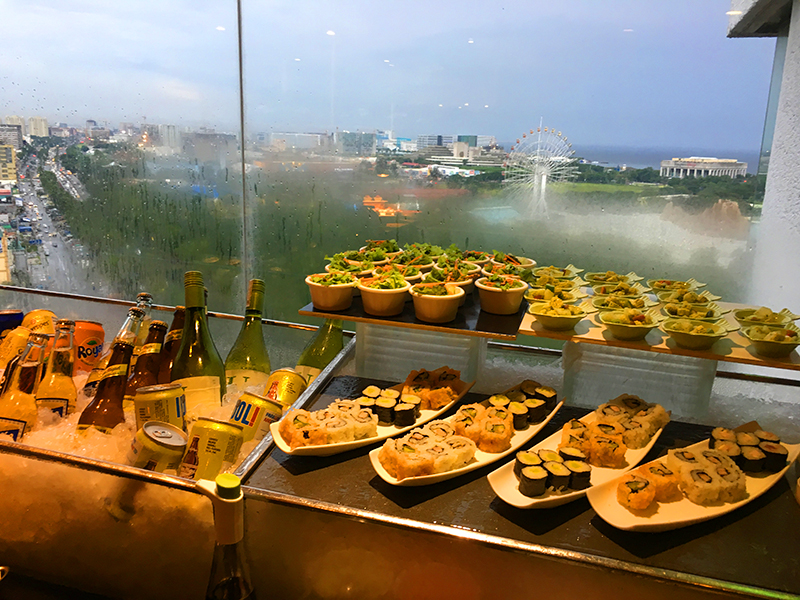 Education
88 percent of those over 15 years of age are literate. There is a huge emphasis placed on education and Manila has one of the largest numbers of learning institutes in the world, with the Big 4 universities, University of the Philippines, Ateneo de Manila University, De La Salle University-Manila, University of Santo Tomas being world class.
Metro Manila is also home to many smart and entrepreneurial people. This is where you start to see the East and West – the yin and yang advantages. Many start-up companies are being established in Manila and the Philippines, because it is cheap, they speak English, are easy people to get along with, but more than that, because the people are smart. We saw this at the TBEX conference with the students who worked with the Tourism Promotions Board Philippines. I would employ any or all of these people immediately..and maybe I did.
I liked the Jeepneys
Jeepneys are unique to the Philippines. They are the popular public transport of the people and the reminder of the American military presence in the Philippines during the second World War. I like the jeepneys and their colors. I like seeing the embarkation and destination routes written on the side, and I like seeing the local people sitting near the open windows. I like the ingenuity of the Filipinos who realized that by making these jeeps about two meters longer and by putting two long seats in it, one on each side from the front to the back, they could transport a lot more people, goods, and animals.
I see and met friendly people. The Filipino people that we met were nice, helpful, and ready for a chat and laugh. They do have that Pinoy smile thing happening, and that makes them very nice people to be around. Pinoy is the informal term that Filipino's call one another if they are ….well, Filipino.
Mall Republic
The Philippines is dubbed as a 'Mall Republic
3 of the nine largest malls in the world can be found in Manila -SM Megamall, SM North EDSA, and Mall of Asia. They are so big that they do not feel crowded, despite the fact that the people of Manila love to shop and love to promenade hand in hand around these mega malls. Bring a jumper as everything that is air conditioned in Manila, is set to a sub-artic temperature.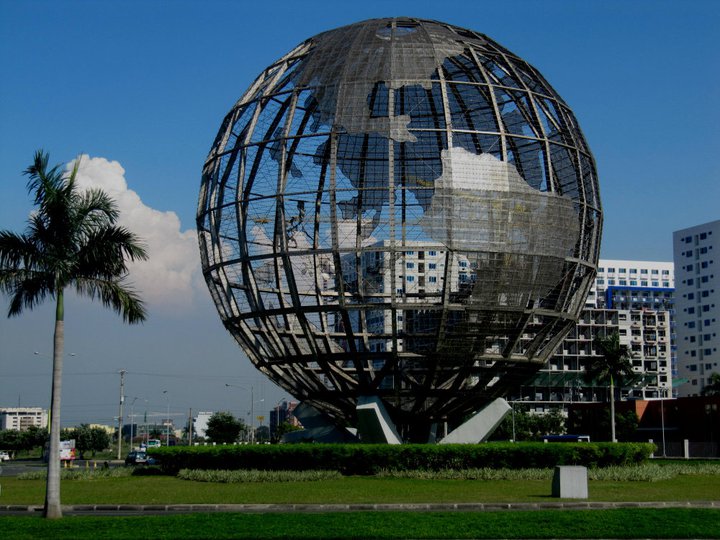 Night Life
Ok, so we partied a lot in Manila, because of the conference, and because Filipino people are fun. We went to night clubs and out to dinner, and to bars, etc. And this is where Metro Manila is a superstar. They love the nightlife, and they do karaoke. A Filipino named Roberto del Rosario made the karaoke machine in 1975, but a Japanese musician invented it four years earlier. Del Rosario, however, was the first to patent the product, which makes him the first patented producer of the karaoke…and this is probably why the Filipino and Japanese people love karaoke.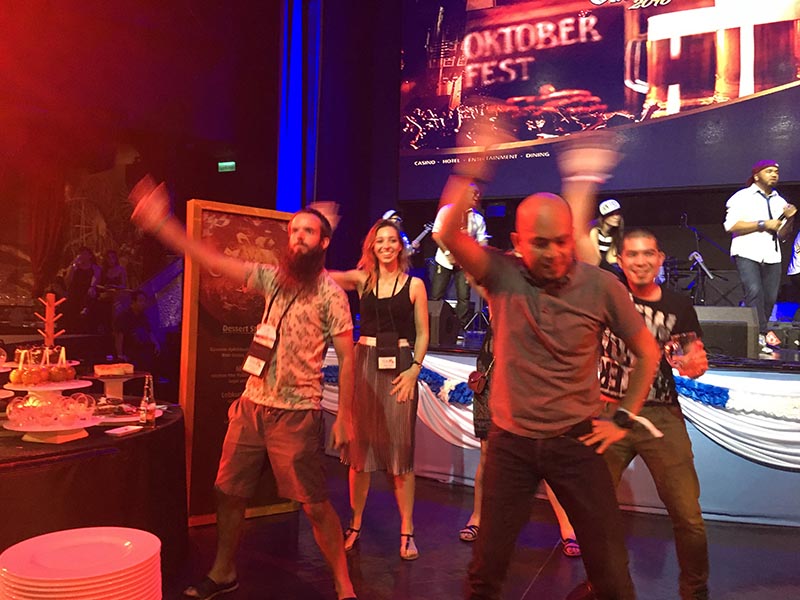 Random Fact
Filipinos celebrate the world's longest religious holiday. The Christmas season begins on September 1st, and Christmas carols start filling the air. It ends at the first week of January, during the Feast of the Three Kings. Why? I don't know but the people love family, and they love to celebrate, and they are as Catholic as anything so there could be something in that for all of us.
Random Fact
The Philippines has won at least eight major international beauty pageant titles: two for Miss Universe; five for Miss International and a Miss World. They are immensely proud of this.
Random Fact
Filipinos LOVE Basketball. Just thought I would toss that one in the ring.
So, What Makes Manila any different from any other Asian city?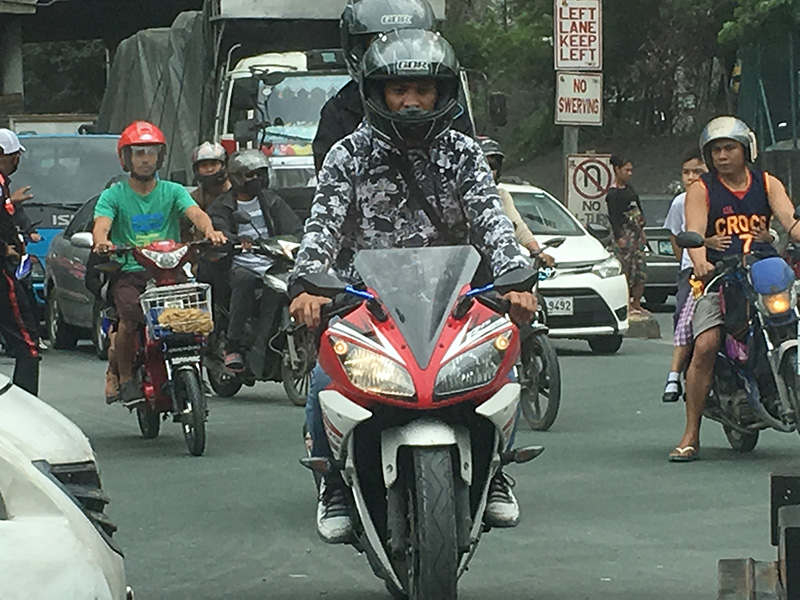 Did I reach a conclusion to my conundrum, What Makes Manila any different from any other Asian city? Maybe. The Filipino people we met in Manila are friendly, and they like one another, and they like visitors. They liked us, and we liked them. Just maybe it is this a sense of community in this crazy yin and yang metropolis that makes Manila a little different from any other Asian city.
Help me out with your thoughts.
Weekend Travel Inspiration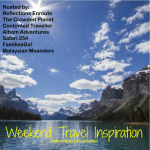 This post is shared for Weekend Travel Inspiration:
1. Link one of your inspirational travel photos or stories to this post by adding your info below.
2. Copy and paste our badge and a link to this page.
3. Please visit some of the other wonderful travel bloggers, read their posts, and leave a comment.
4. Please include the hashtag #wkendtravelinspiration if you share on Twitter.
[inlinkz_linkup id=661727 mode=1]