Discover more about Nanaimo, BC from locals who know their own town. Nanaimo, BC is a city and ferry port on the east coast of Vancouver Island, in British Columbia, Canada.
Outside my Front Door is a series of posts by fellow travel bloggers who share what is … outside of their own front door
---
Jane is a travel blogger who writes about her adventures with her husband Stephen on
My Five Acres.
They've just returned from a 22-country 10,000-mile bike ride through Europe and Asia and are already planning their next big adventure. In the meantime, Stephen is travelling the world teaching yoga while Jane creates websites for small businesses and works on My Five Acres.
---
Outside My Front Door, Nanaimo, BC
Two years ago Stephen and I left our home in LA to travel the world by bicycle. Almost 10,000 miles of cycling and 22 countries later, we were ready to find a new place to call home. We considered Berlin, Ubud, Shanghai, Chiang Mai, and Luang Prabang. We even toyed with the idea of living on a tropical island in Cambodia. But at the end of our journey only one place really called to us. That place was… wait for it…
---
Nanaimo, British Columbia.
What? You've never heard of it?
With its bigger and more touristy siblings, Vancouver and Victoria, just a ferry ride away, Nanaimo doesn't have much clout on the world tourism stage. Considering the main tourist attractions are a coal seam downtown (you can touch it!) and the China Steps (which are just a set of not-very-old stairs that don't lead anywhere) I can see why tourists aren't exactly flocking here.
And yet, outside my front door is a playground of natural beauty that is hard to top.
Being a work-at-home couple, Stephen and I try to get out once a day for a walk in our neighbourhood. If we head 5 minutes downhill, we come to Departure Bay, a small sheltered cove with a rocky beach. A stroll along the shore here always releases whatever stress my morning's work has created.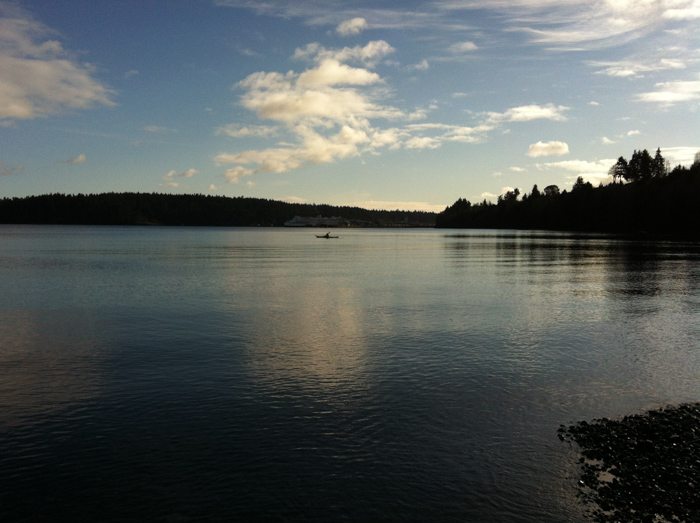 We watch seagulls play in the waves and imagine the seals, sea lions, dolphins, and even killer whales that are arcing and diving just offshore.
---
Sugarloaf Mountain Park
A short walk uphill from home takes us to Sugarloaf Mountain Park, where a set of rocky stairs carries us off the humble suburban street and into a world of bright green mosses, red arbutus trees and 360 degree views. To the south and west lie the modest homes clustered around the bay, to the north is the wilderness of Linley Valley park, and to the east is the open water of the Salish Sea.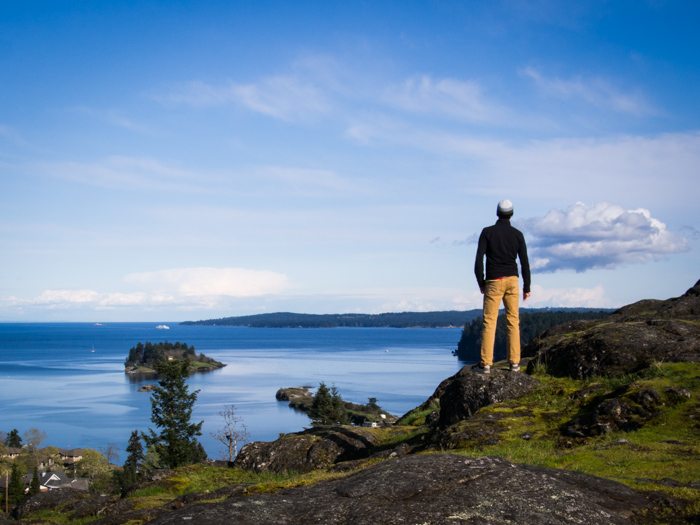 On a clear day, you can see the buildings of Vancouver glistening in the sun almost 40 miles away.
In the evening, all kinds of creatures come out to enjoy the views on Sugarloaf.
And also, there's a rope swing!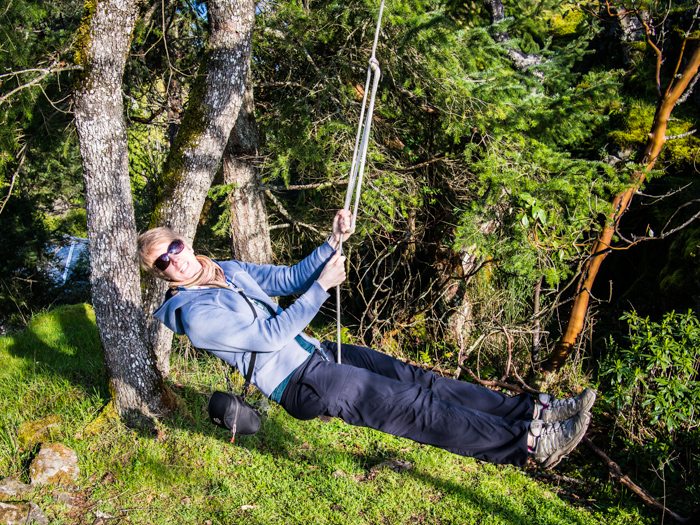 If we get on our bikes, we can go inland to visit one of the many lakes that dot the Nanaimo region.
---
Long Lake, Nanaimo, BC
The closest is Long Lake, which is home to kayakers and rowers year round, and a perfect place to play on the beach and swim in the summer.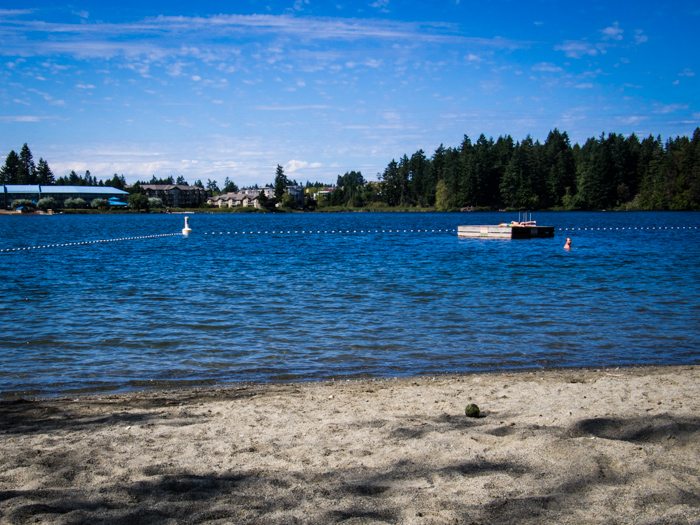 ---
Westwood Lake, Nanaimo, BC
Westwood Lake also has great swimming and a 6km hiking trail which winds through the forest offering peek-a-boo views of the glassy water.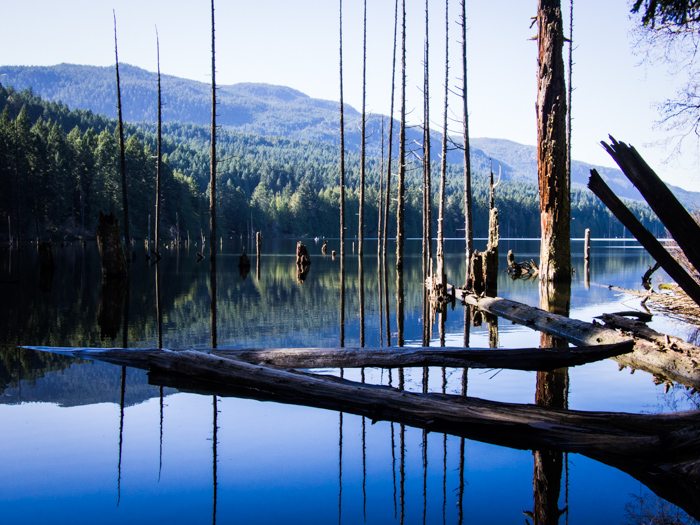 ---
Coffee at The Buzz, Nanaimo, BC
Working up a sweat at Westwood Lake is a great excuse to visit our favourite Nanaimo coffee shop, The Buzz. True to its name, this place is always a hive of activity. If you like your coffee sourced from independent roasters, The Buzz is a great place to bring your laptop and enjoy the company of Nanaimo's retirees, students, and entrepreneurs.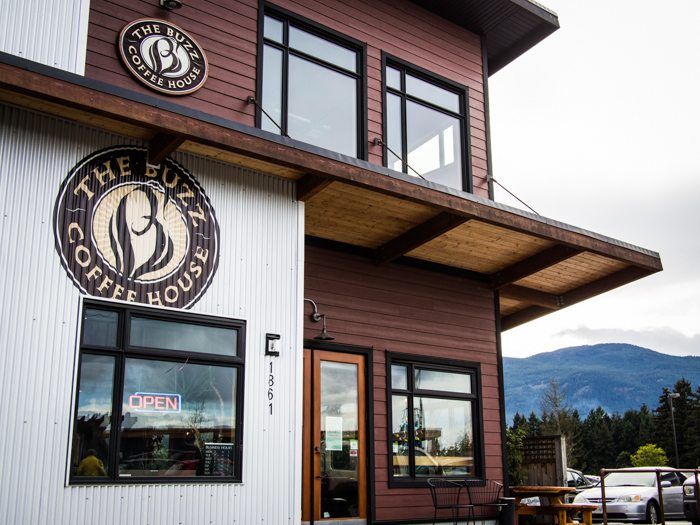 ---
Neck Point Park
A short bike ride along the coastline from our house brings us to Neck Point Park. If you come at the right time, you can watch a raft of sea lions dip and dive in the water while the males bark their way into the female's hearts.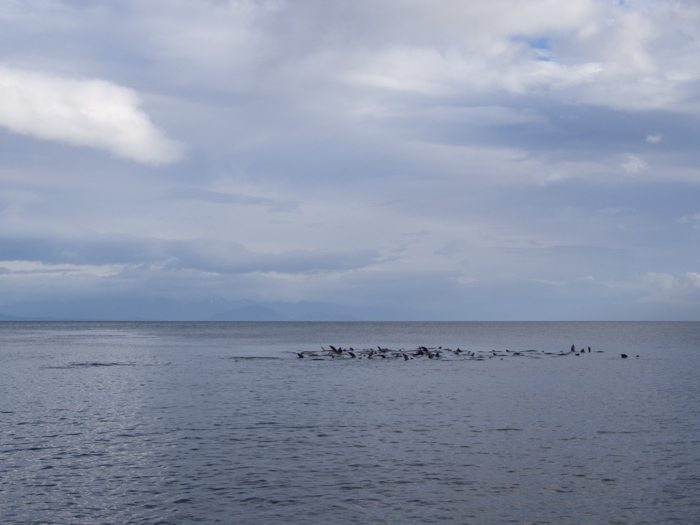 Just off Neck Point lies some of the world's best scuba diving territory. We have yet to learn, but it's on our bucket list.
---
Nanaimo hike at Piper's Cove
Our favourite Nanaimo hike is at Piper's Cove. When the tide's in, the small park is a great place to rock scramble or search for the perfect oyster shell (my 5-year-old niece has a huge collection going).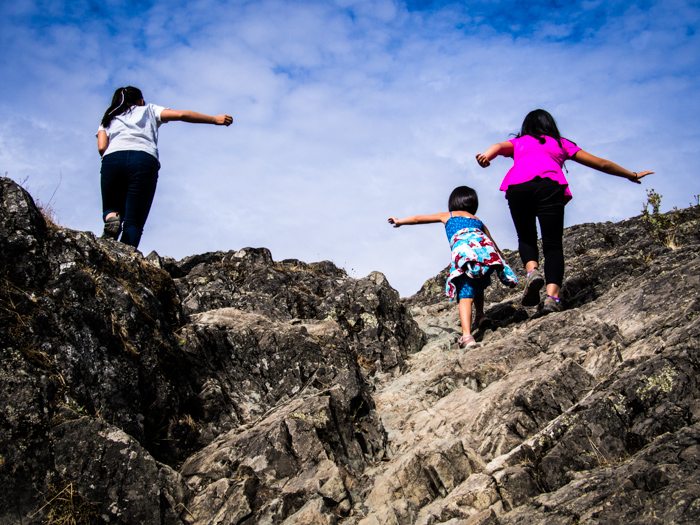 ---
Shack Island
When the tide is out, we cross on the temporary land bridge to Shack Island, where a smattering of wooden cabins clings to the rocky land.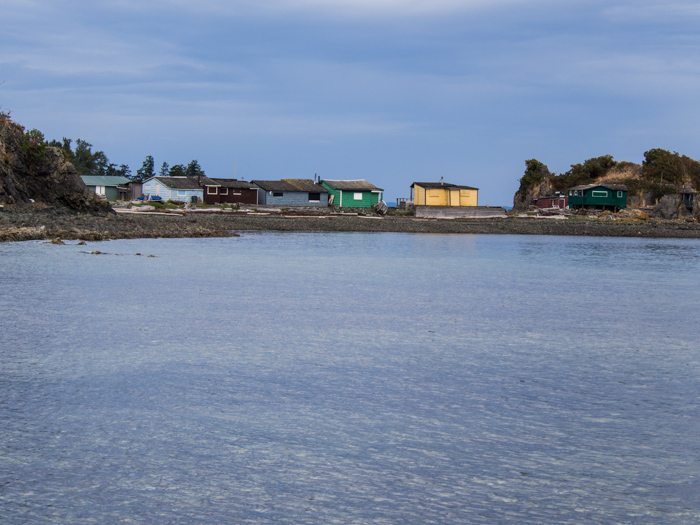 The Shack Island cabins have been passed down through families for generations. There is no running water or electricity on the island, and no new building is permitted. During the summer, cabin owners come here to retreat completely from our modern connected world.
And that's why we love Nanaimo. Right outside our front door, we can retreat from our laptops and our connected lives into a world of natural beauty that was here long before humans arrived and will be here long after we're gone.
---
Read more of our Outside my Front Door series right here