We arrived in Kuranda, the Village in the Rainforest just 25km northwest of Cairns in Far North Queensland, Australia.
We had previously been on the Skyrail Rainforest Cableway and the Kuranda Scenic Railway, both of which we enjoyed immensely and recommend. We were looking for something different and went to talk with Kuranda Tourism.
Gordon went to move the car, and the lady told me about a new company, the Rainforest & Orchard Tours Kuranda. They operate from Barron Falls Estate, which quite literally is on the majestic Barron Falls. I thought that this sounded like something a little different and I like fruit and rainforests, so this was a deep and meaningful reason for me to say yes. She asked would I like to ask my husband. I said, no.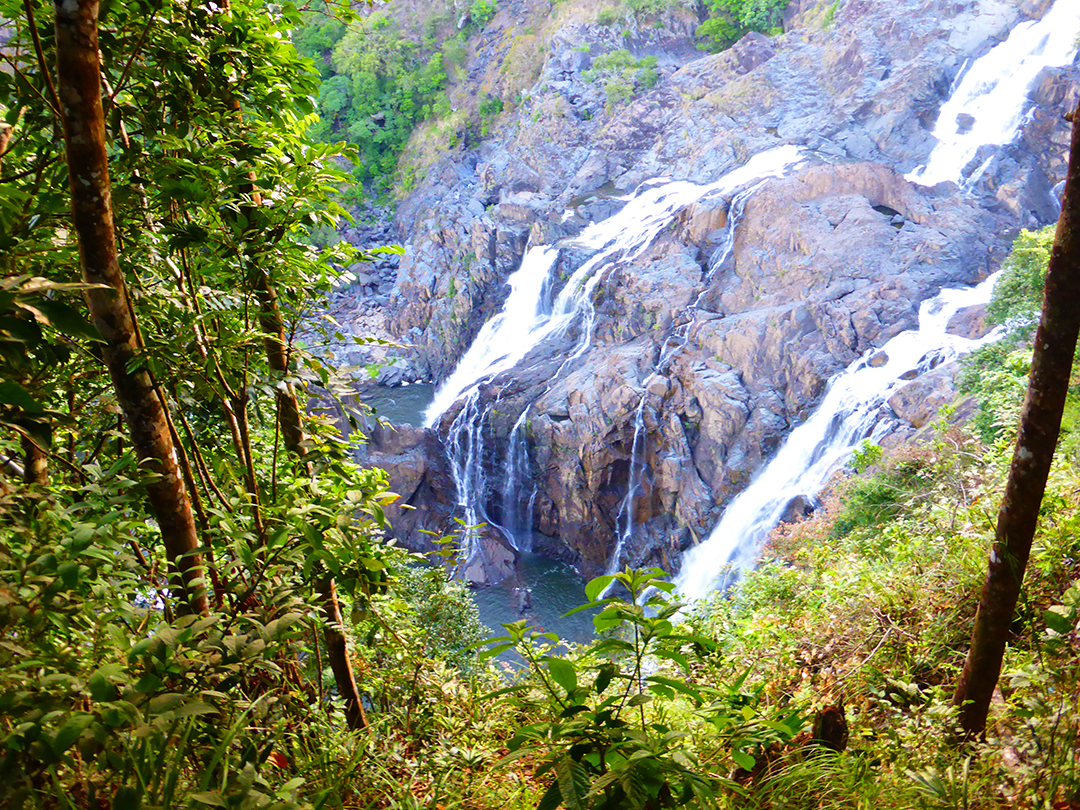 She rang Perry, the owner and operator of Rainforest & Orchard Tours Kuranda, who organized for us to visit at 3 pm that afternoon. I told Gordon when he got back. He was fine with this. Because the company is very young, there is not a lot of information available, but I did read something that said, you explore on ATV's.
I asked Gordon, "what is an ATV?" He said, "why?", I said because that is how we do this new tour. Then he told me that this is an All Terrian Vehicle and that I would be expected to ride it that afternoon for the 2-hour tour. Hmmm. I can't ride a two-wheel bike, so I can safely say I was a little worried.
We arrived at Barron Falls Estate, a couple of minutes from Kuranda. A man came roaring up the drive way on a quad bike. I said to Gordon, "I guess that is an ATV". We were joined by three other people. A family. The father just happens to be Alex de Waal, CEO of Tourism Tropical North Queensland. As a travel writer, you can understand that I wanted to give him my resume immediately, but I kept my cool.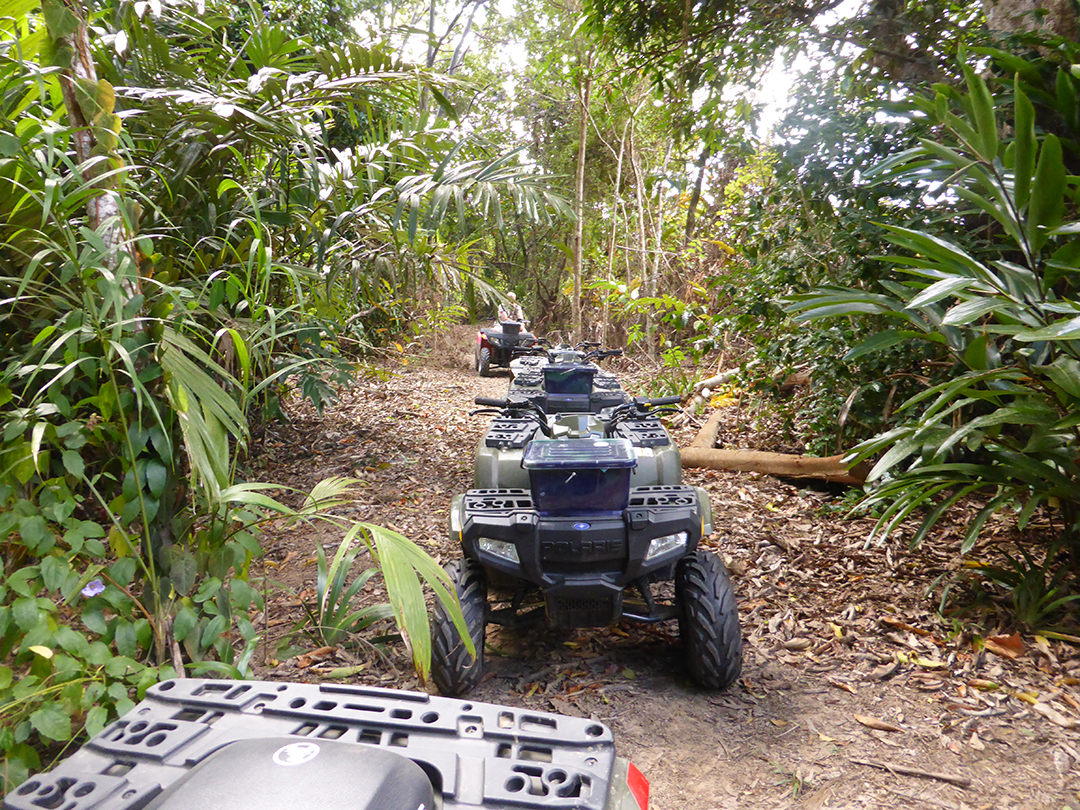 Rainforest & Orchard Tours Kuranda
The aim of the Rainforest & Orchard Tours Kuranda tour is to introduce you to the rainforest environment of the Barron landscape. The Barron Falls Estate is part of the Barron Gorge National Park where you will find the Barron Falls. These are a steeply tiered cascade waterfall on the Barron River located where the river descends from the Atherton Tablelands to the Cairns coastal plain, in Queensland, Australia. They are so close to Perry and his wife's house, that their windows shake when the river is in the flood.
Perry knows this land well having been brought up here. He knows every tree, plant, animal and legend associated with the land.
He is an educated man, in that laconic Australian way that makes being on tour with him very enjoyable and informative. We were also looking for Cass the Cassowary and her chicks, that Perry seemed concerned about since there have been wild dogs plaguing the wildlife here for some time.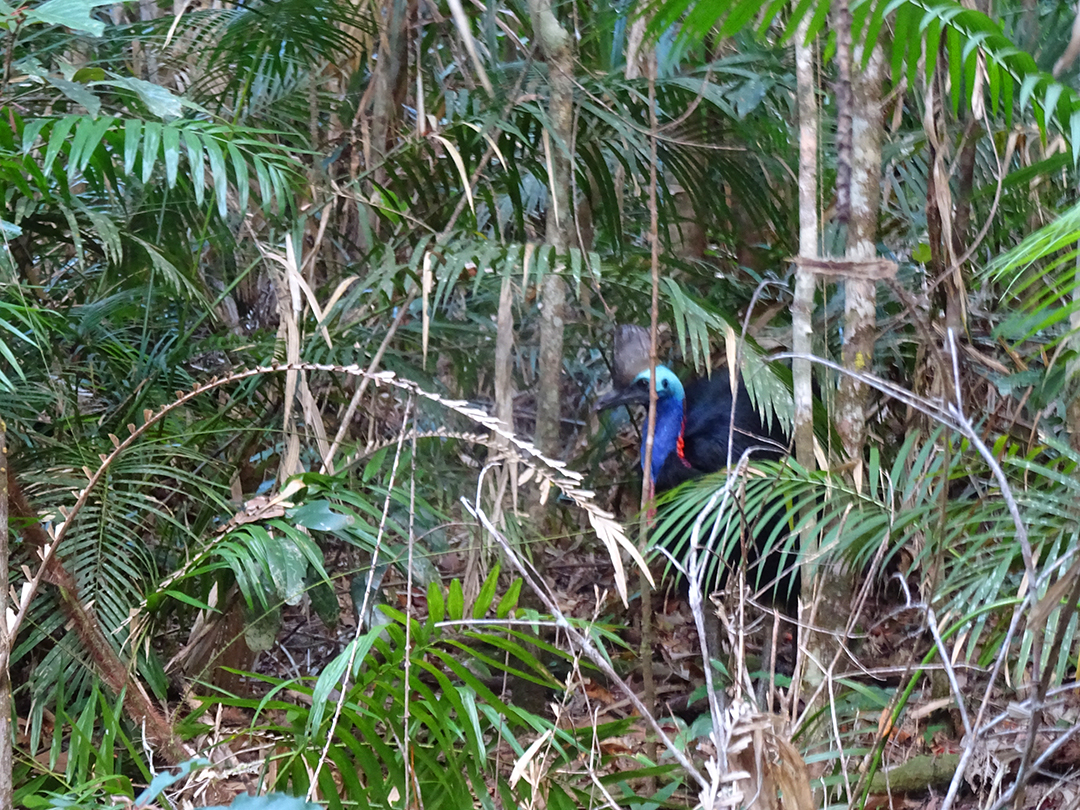 They have planted orchards of exotic fruits like lychee, and durian all of which are sold locally. There is even a still on the ground, but this is not moonshine, and the legal paperwork is being processed. Viewing the expansive grounds is by ATV – a quad bike.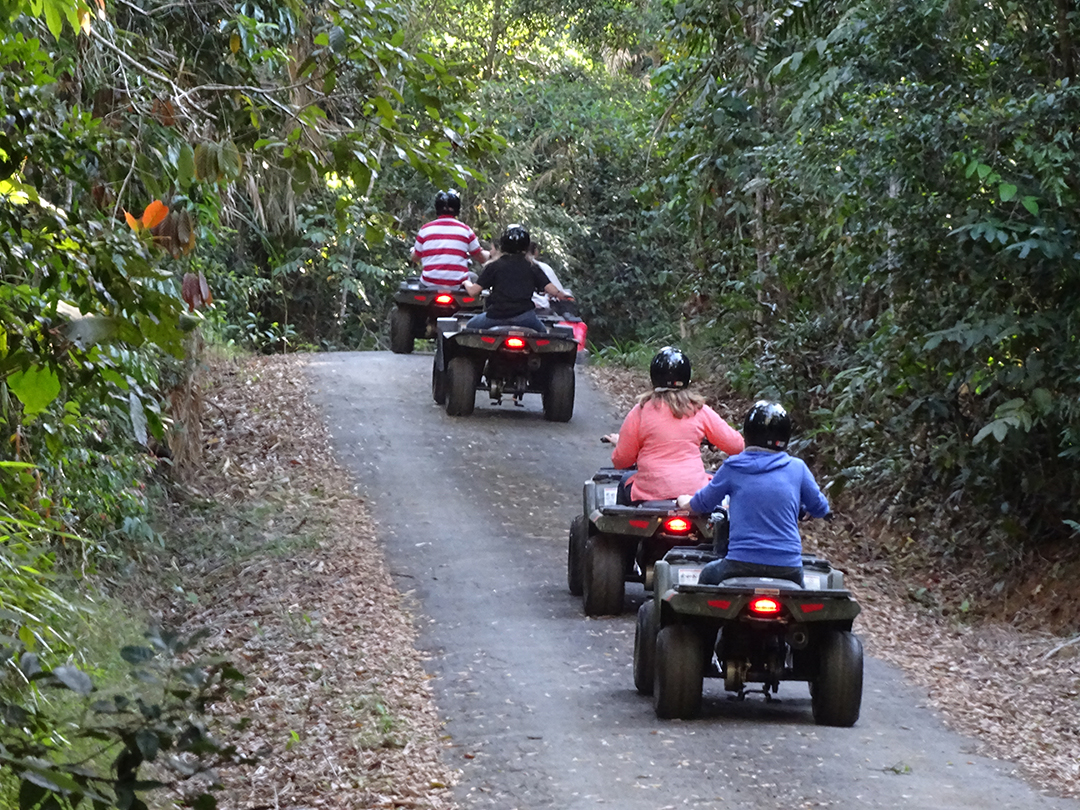 Paula learns to drive an ATV
We were introduced to our ATV. We then were given our hair nets and helmets and our safety instructions. There is also sunscreen and insect repellent, water, and a wet weather poncho supplied should you need it.
Then it was time to learn how to ride the quad bike.
Easy, said Perry.
1 – switch on engine
2 – hold brake
3 – hit the ignition button to turn the beast on.
Then it was release brake and smoothly press the throttle.
Perry walked us each through the stages, and we had some rounds on the front area of the house, to make sure he was happy with our abilities to handle the ATV.
After a couple of jerky moves, we all got it. I believe that I was a natural, and the banana is for the cassowary who love fruit.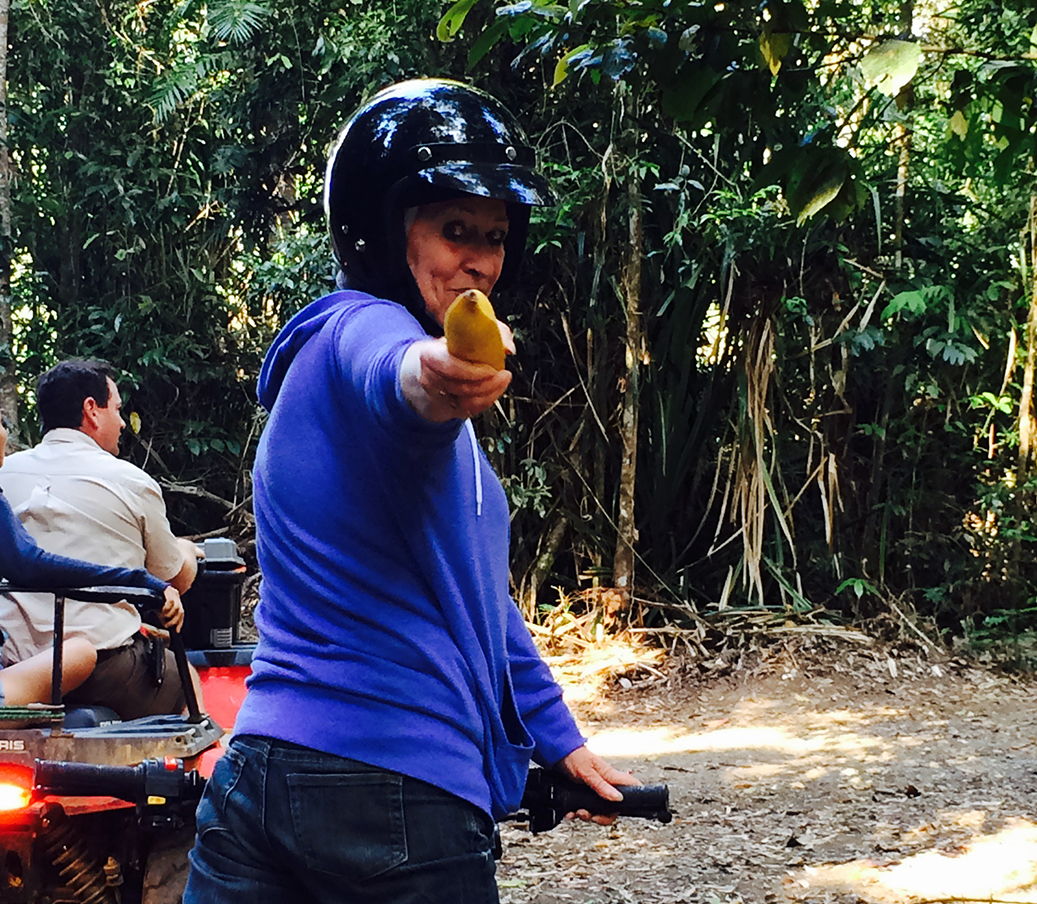 Off and Racing, and Learning
Strictly speaking we were not off and racing because that is not what this tour is about. The quad bikes have been modified so any people wanting to race them hard will not be able to. This aim is to enjoy the environment and to learn about the rainforest and the orchards in a fun and informative way, and we did.
There are stops where we learn about different trees, plants and animals, particular to the area, and to the history of Barron Falls Estate.  In other parts  you cross creeks, honing your AVT skills.
The bananas were for the cassowaries, whose diet is fruit based.
One of those most unique trees on the property is pictured below.
Rainforest & Orchard Tours Kuranda is an excellent product, and Perry is a knowledgeable and pleasant host. This company is an excellent addition to the offerings at Kuranda.
The tour should go for about 2 hours. However, we were well over 3 hours, because it was just too much fun to stop.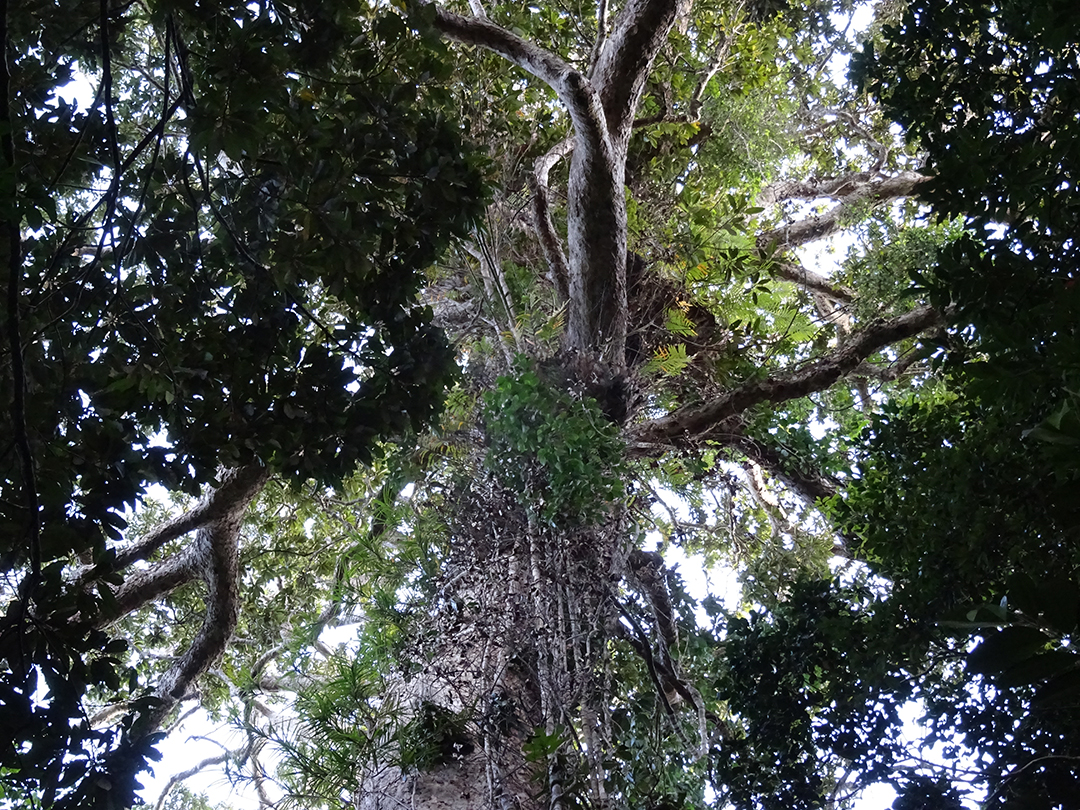 How did Paula handle the ATV?
I have never enjoyed myself so much. This was an amazing skill to learn and one that I will repeat. Gordon said I was a hoon, which is Australian for a reckless driver, but I wasn't. I just made him eat my dust ☺
And I didn't bother Alex because we were all having too much fun.
Details
You can access the tour from via Skyrail Rainforest Cableway, Cairns Australia
Details

perrycarne@hotmail.com or email: tours@barronfallsestate.com.au

Thank you Kuranda Tourism and Perry for this most amazing afternoon.

perrycarne@hotmail.com or email: tours@barronfallsestate.com.au

See the  Barron Falls Estate for further information.