I will admit that I was very excited about coming for an overnight stay to the 5-star luxury Jamala Wildlife Lodge, in Canberra, Australia. I think Gordon was also. Would we be sleeping aid ambien online no rx with the lions, the bears, a cheetah or a perhaps even a tiger? Just possibly we would be staying in one of Giraffe Treehouses.   What we did discover is that was so much more than a 5-star luxury stay in a unique location. It was the animals that captured our hearts. We found that we very quickly understood the entire concept about why the Jamala Wildlife Lodge is so critical.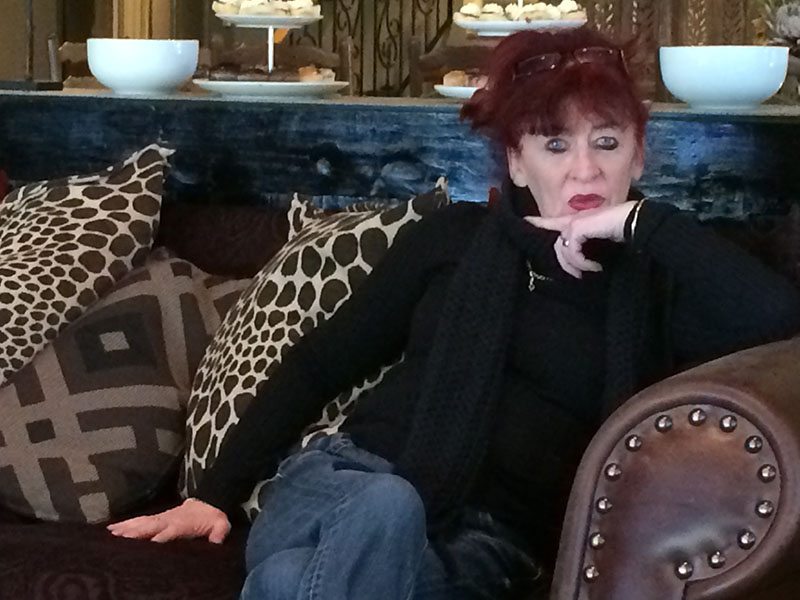 About Jamala Wildlife Lodge
Jamala Wildlife Lodge is Canberra's first 5-star luxury lodge experience located at the National Zoo and Aquarium. It is a zoo, meaning that it receives no government assistance. It is here that guests can sleep with the animals in the ultimate out of Africa experience.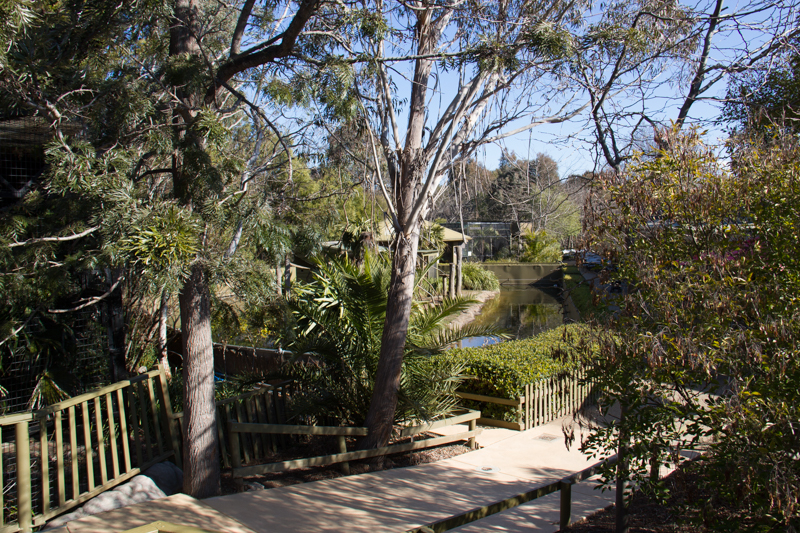 Jamala Wildlife Lodge opened in December 2014. It is the lifelong passion and dream of the owners, Richard Tindale and his wife, Maureen. They purchased what was the run down aquarium back in 1998, which they have developed into the National Zoo and Aquarium.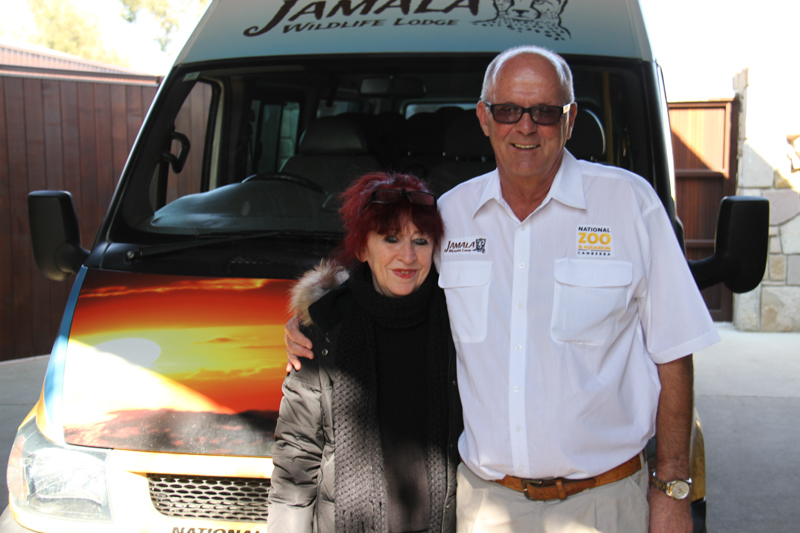 not Maureen, but me with Richard Jamala Wildlife Lodge was established to give guests a luxury experience. This is an up close and personal, one of a kind relationship, with the animals who are in the rooms so to speak with you, for your stay. The proceeds from staying at Jamala Wildlife Lodge go straight back into caring for the animals and to an extensive conservation and breeding program that is undertaken.   While this is total luxury from the start to the end, you do understand why this comes at a premium cost by the end of your stay.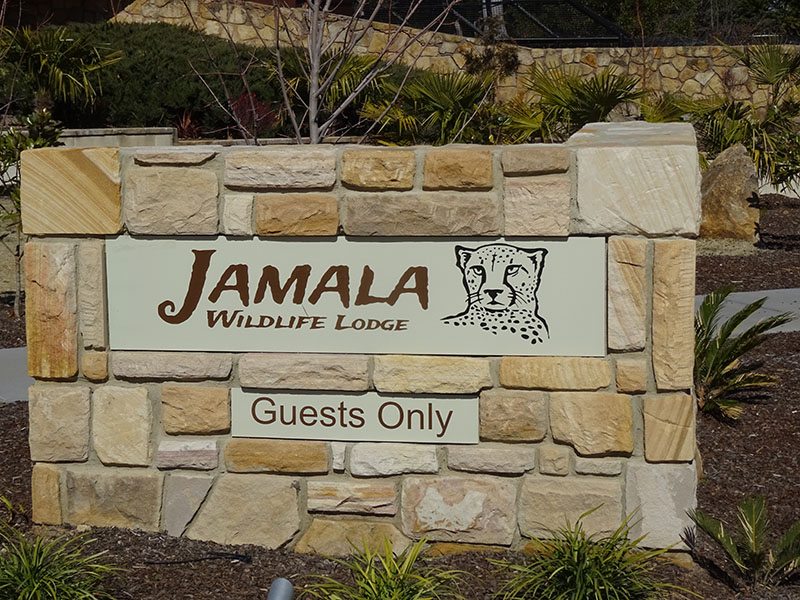 Our arrival
The National Zoo & Aquarium and Jamala Wildlife Lodge are just 10 minutes from the center of Canberra and located on the banks of the Molonglo River next to Scrivener Dam.   We arrived at Jamala Wildlife Lodge and entered the enormous uShaka Lodge. This was once the owners' residence. Your immediate impression is that you are in Africa. All items in Ushaka and all of the guest rooms are authentic African items that have collected on travels to Africa. The attention to authenticity and detail is staggering.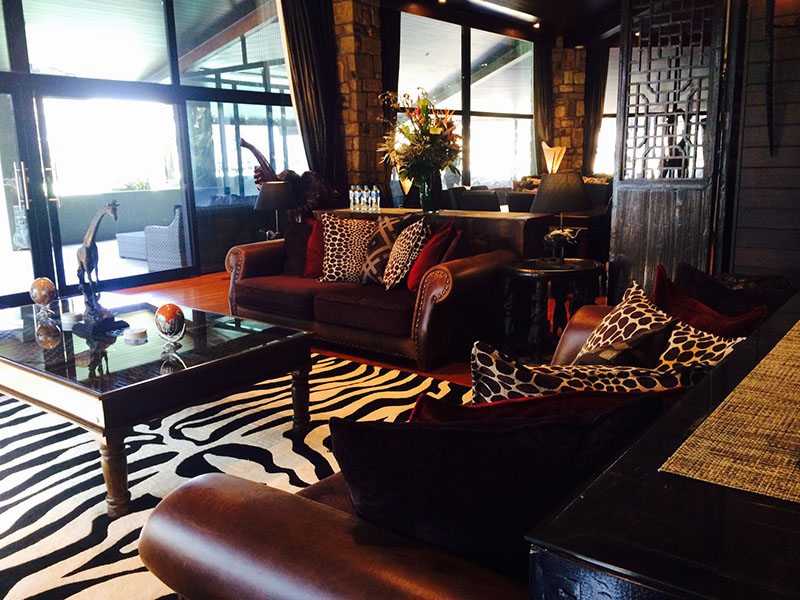 Immersion starts with the shark tank extending along the wall, where various species of sharks and marine life, swim past you, and one very large groper that seems to be the king of the domain. On the other side through glass windows, are Colobus monkeys who appear to enjoy playing games with each other and with us, as we watch their antics.   Ushaka is one of the accommodation options, and it sits amidst landscaped grounds and an infinity pool with views of the river. The background sounds are the lions, monkeys, birds and other animals.   On arrival, you are greeted with afternoon tea and a talk by the staff. One of the keepers brings in Bernie, a Burmese python so that the immersion continues. From here you are taken on a private tour of The National Zoo & Aquarium.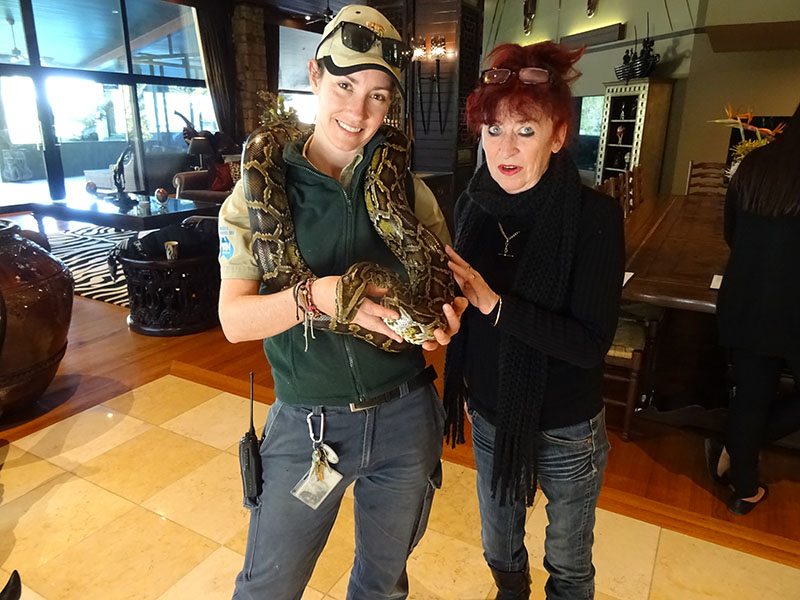 The tour of The National Zoo & Aquarium
This is when you start to understand so much more about this entire concept. All of the staff that we meet know all of the animals by name. They know about their behavior and their personalities. Many of the staff come in on their own time to visit the animals. They want to understand them better, and to ensure that are healthy and happy. The owners, Richard and Maureen's love of the animals seems to have rubbed off on all of the staff. Even the food and beverage staff are familiar with the animals and take care to know them, despite this not being a part of their job description.   We felt that we were a part of one big family, and we were becoming familiar with the animals by name and by circumstance. I think my heart broke when we came to the Malayan sun bears. One, known as Otay was rocking back and forth. They have a daughter who is with another Malayan sun bear Mr. Hobbs, at a Sydney zoo, and who was rescued like Otay from the same fate. Read more, in the Sydney Morning Herald, Meet Sydney's sun bear who almost became bear paw soup.   Otay is a much-loved part of the family at Jamala Wildlife Lodge.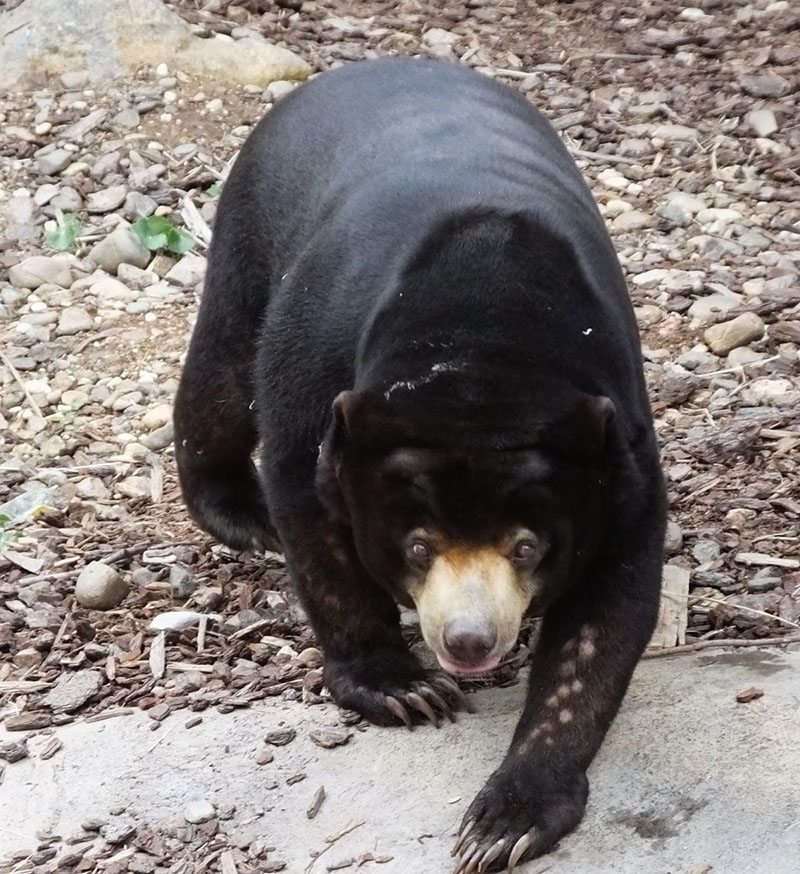 This is the sobering reality and why zoos are not a bad thing when they can give a better quality of life to an animal that has had none.   Slightly shaken by this story we head further and hear more tales but not always sad ones. The Colobus monkeys and the Meerkats are just plain fun. The emus are selective in who they like and who they don't.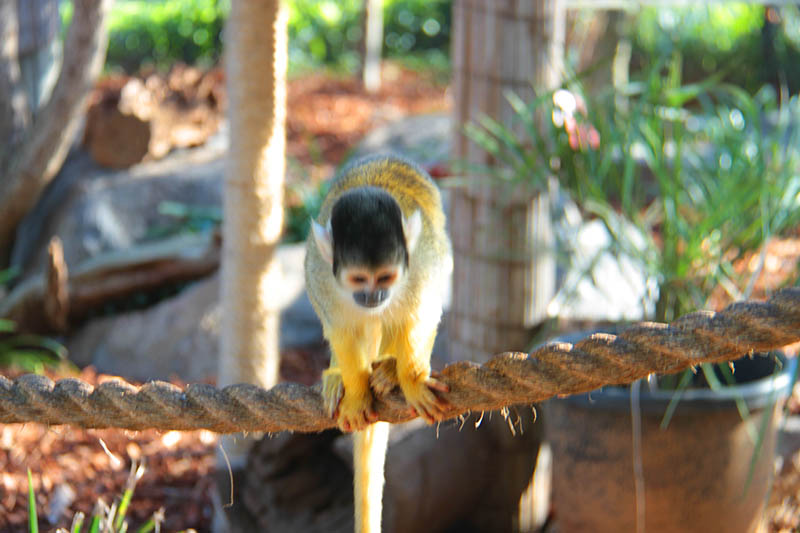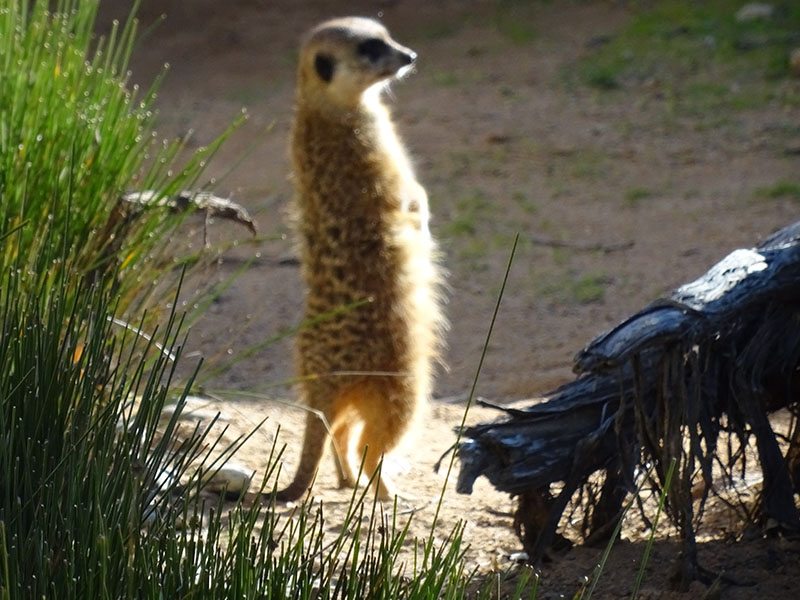 Where we all stay.
After this afternoon tour, we go to our various lodges around the park. There are just 18 rooms, which gives guests exclusive rights to exploring and understanding more about the function of both the National Zoo and Aquarium and Jamala Wildlife Lodge.   Jamala Wildlife Lodge offers three accommodation precincts: uShaka Lodge, Giraffe Treehouses and Jungle Bungalows, each with their unique wildlife experience.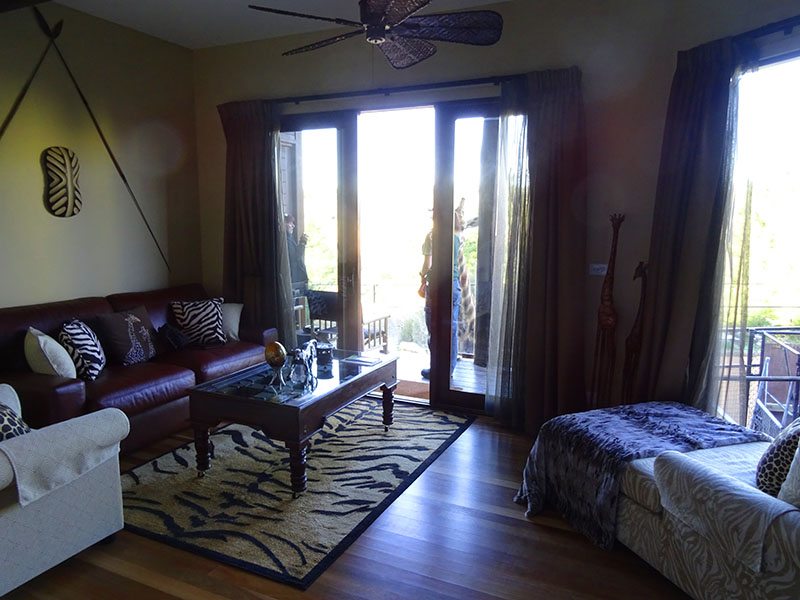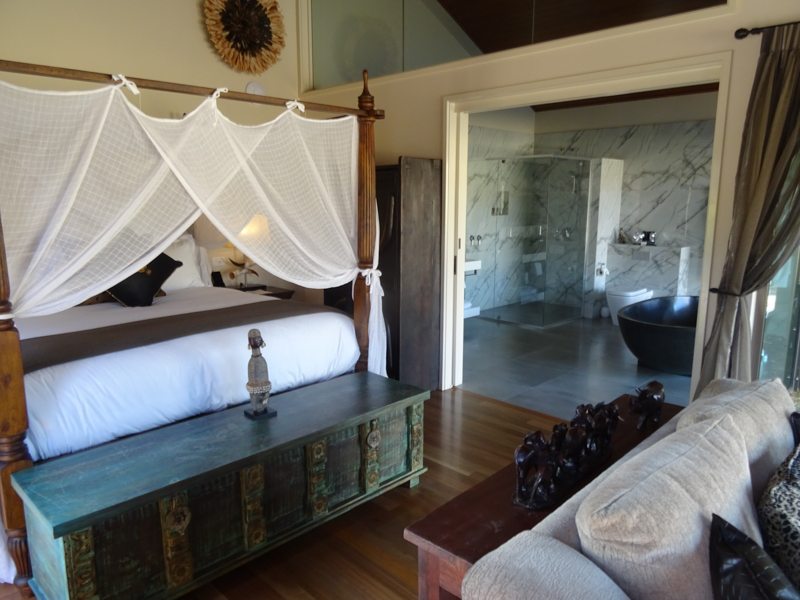 We go to the giraffe treehouse and met our roommate, a giraffe named Hummer. I was delighted. Hummer is short for Humbekhali. He is shy. Now he is very comfortable. However, I walked outside, forgot where I was, and got a slight shock when I was face to face with Hummer. I am reasonably sure he was amused.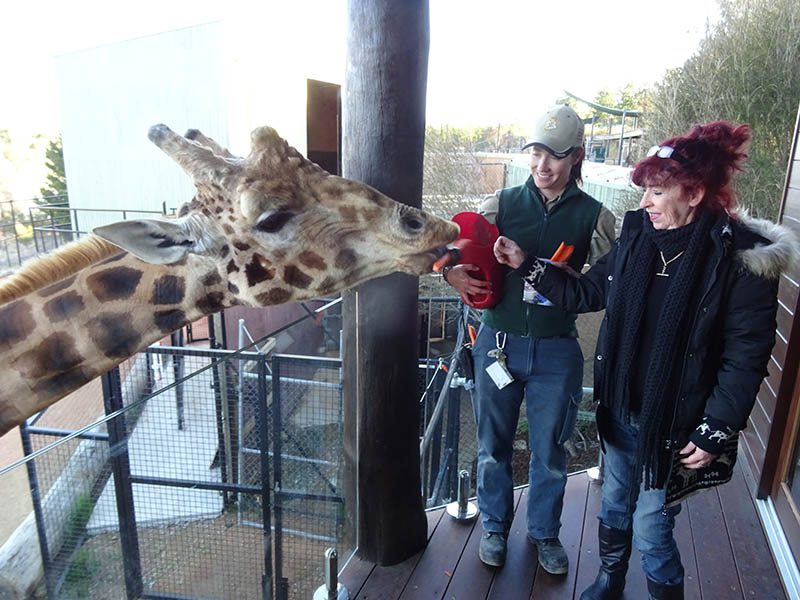 Our accommodation was amazing. It has all been hand decorated with the authentic items that from Africa. There has been total attention paid to every little detail, and it certainly its international rating because it is a one of a kind experience in the most luxurious environment. Our other neighbours in the front yard were llamas and deer who wandered around. I remember one was Sebastian, and another was Hannibal, and I kept away from him, just in case.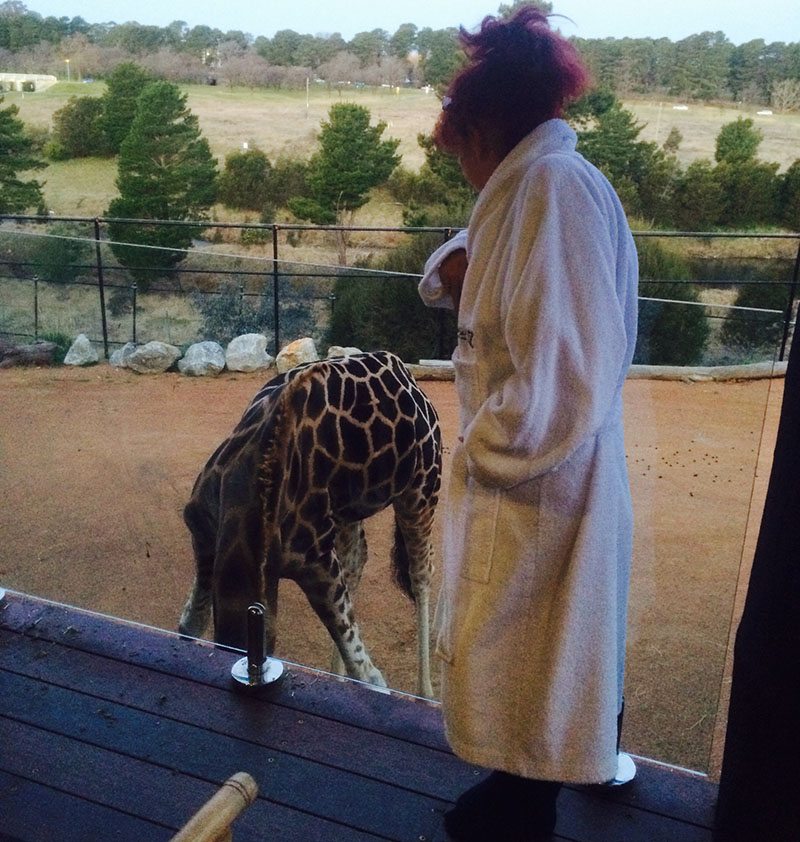 Of course, we soaked in a deep bath at Jamala Wildlife Lodge, and listened to the sounds of the animals all around.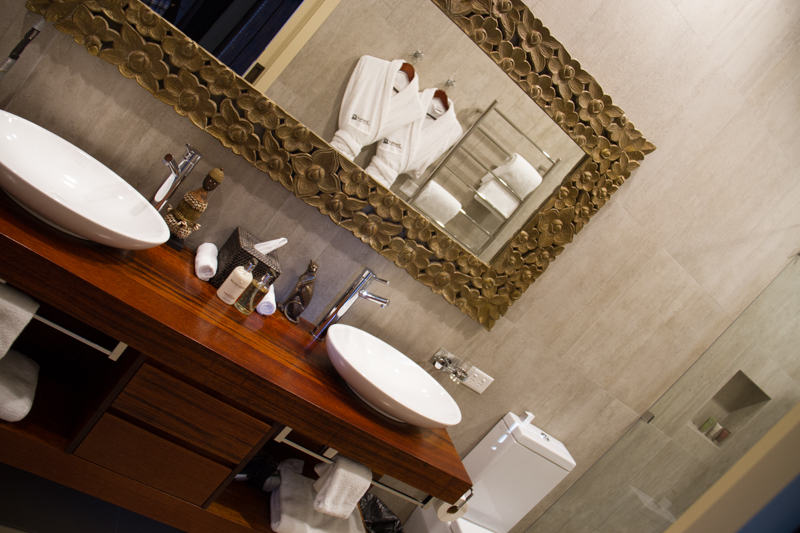 Other accommodation
There are the cheetah, lemur, lion, and hyena rooms. There is a Reef room as well as the Shark Grand Suite. All are designed for you to have a closer and more personal experience watching the animals during your overnight stay. There are 2 and 3-day itineraries, and I do believe that a 2-night stay would be the ideal. Ask to change rooms and have 2 nights with 2 different animals as well as other different experiences organised by Jamala.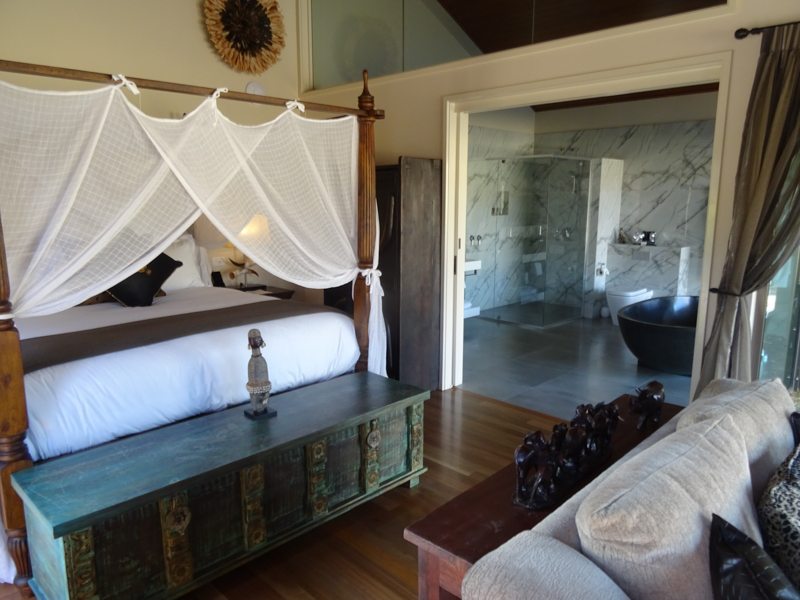 Dinner at the Rainforest Cave at Jamala Wildlife Lodge
This is the ultimate African Dining Experience. The bus picks the guests up from around the park in a little bus, because this is a zoo and wandering off the paths in the middle of the night is not a great idea.   Because this is a luxury resort, you start with pre-dinner drinks on the terrace of the Rainforest Cave where the hyenas watched us in anticipation. They were fed by the keeper as we learned more about them. We entered the cave for our 4-course African-inspired dinner, accompanied by the finest wines. There are glassed areas where the animals wander past, lie down for a rest and do what animals do, much to our amusement as we enjoyed one another's company and the beautiful food.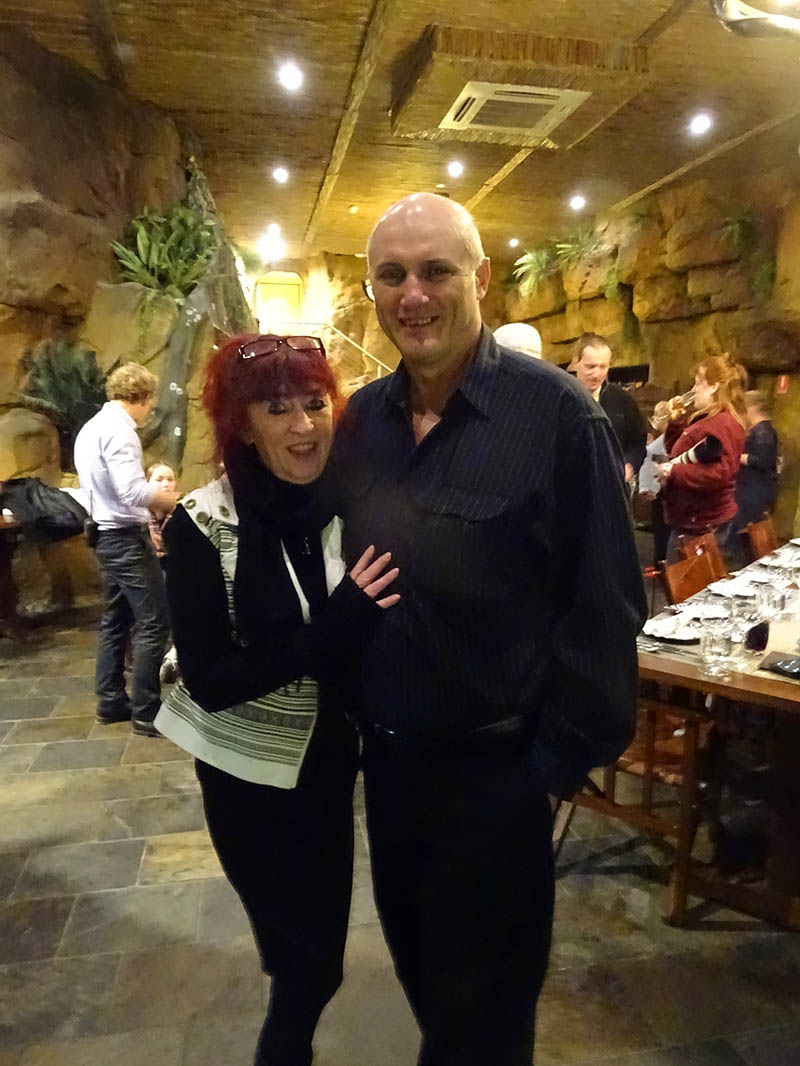 Breakfast and the morning tour of the zoo.
We all regrouped in the Rainforest Cave for a cooked breakfast after a night listening to lions talk and other different sounds. We then headed with one of the keepers, further into the zoo to watch the animals have their breakfast and to see the new and as yet unopened areas. Here we saw 3 white rhinoceros who were just settling into their new area.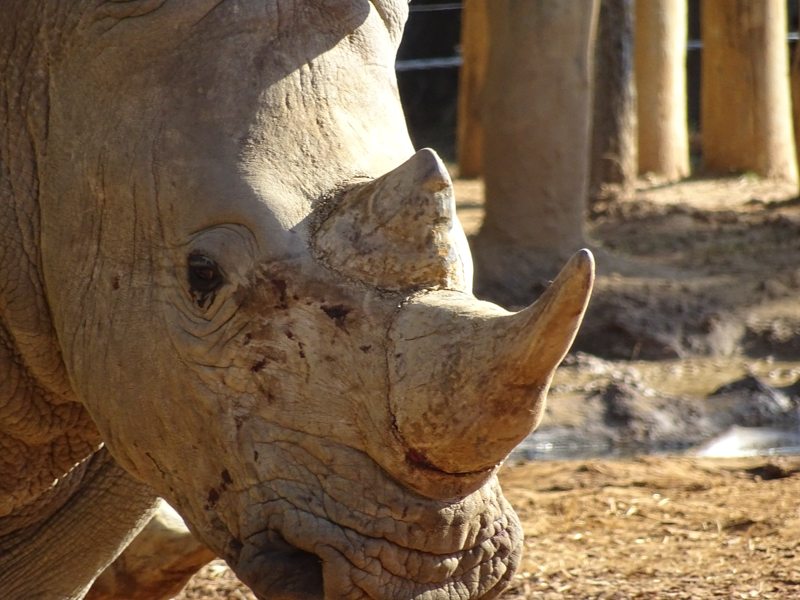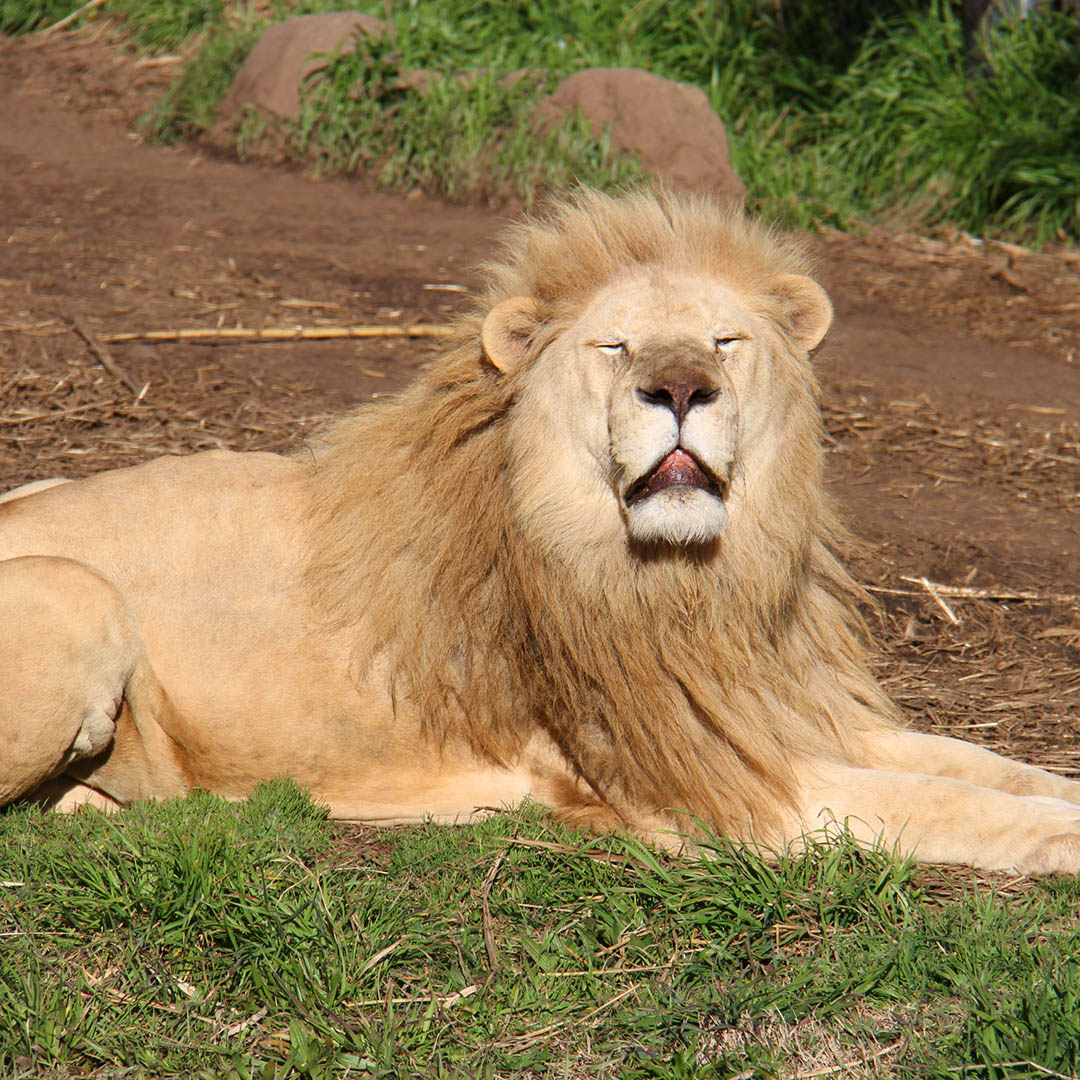 I came to Jamala Wildlife Lodge excited about the unique factor of having an Out of Africa experience and one where we were able to have an animal in our room. I also like luxury, and I got it in bucket loads. I did not expect to walk away, with a better understanding of the needs of the animals at risk.
I get what Richard and Maureen are doing. I get why the staff are so passionate about what they do. I get that Otay the sun bear, is in a happier place.
I also get that Jamala Wildlife Lodge is unique, that it is luxurious, and I really get that we are helping to keep these animals in a happier place than many of them have been.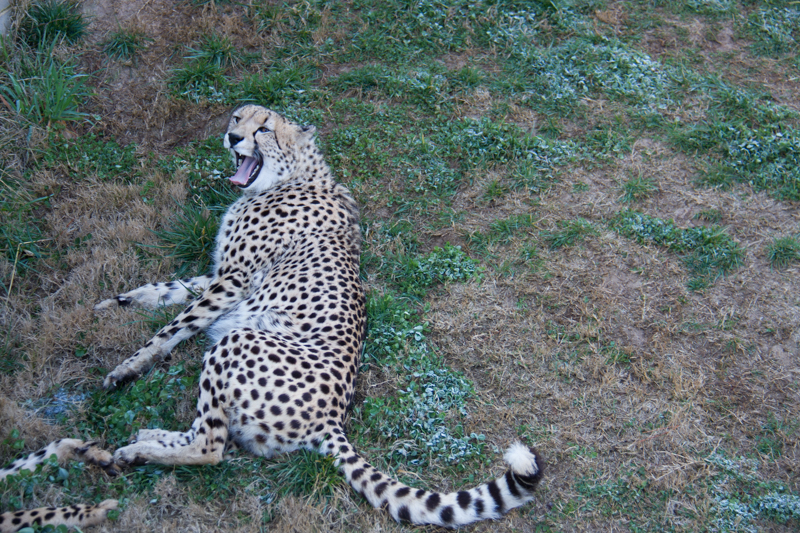 Jamala Wildlife Lodge National Zoo & Aquarium 999 Lady Denman Drive, Weston Creek ACT 2611 Australia T +61 2 6287 8444 F +61 2 6287 8403