Every hotel has a signature, that little something that makes them a bit different from everybody else. However, not every hotel has a culture all of its own. Hotel Jen Manila does.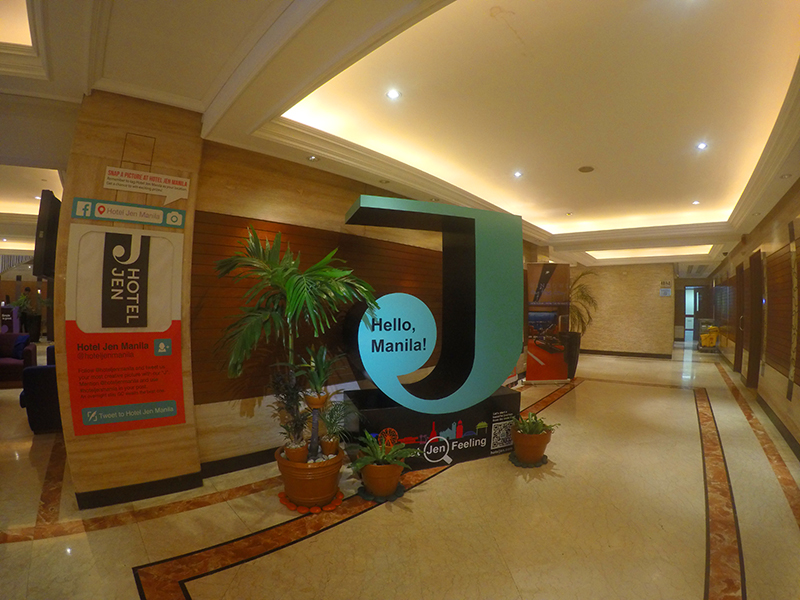 Why we were staying at Hotel Jen Manila
We had the pleasure of staying at Hotel Jen Manila for eight days on a recent trip to the capital of the Philippines. Now we know that most people only spend a couple of days in Manila on their way to the paradisiacal islands of Boracay, Palawan, and Bohol, but we were here for a conference. It was not ordinary conference either but rather The Aisa Pacific Conference of international travel writers and industry professionals, know as the Travel Bloggers Exchange. This is where we saw so much Filipino hospitality from the Tourism Promotions Board Philippines.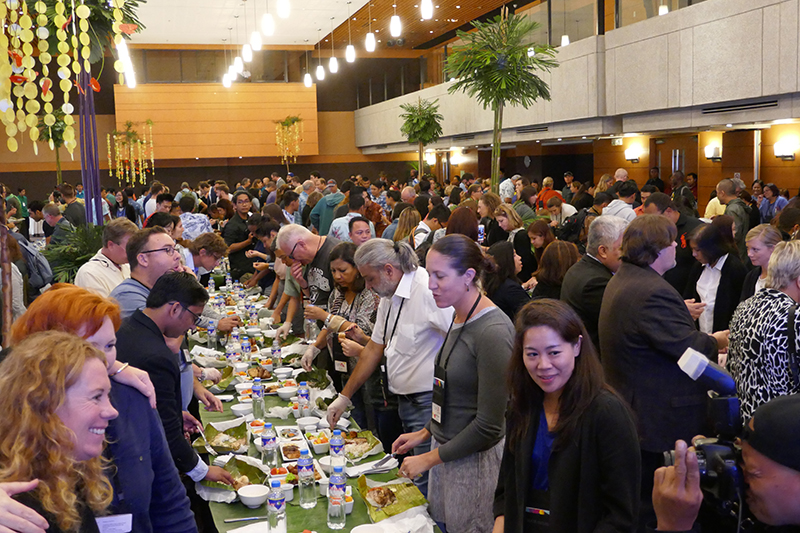 In 8 days you get to know a hotel very well, and more than that you get to know the exact culture of that hotel. For those not acquainted with us, my husband Gordon and I do this for a living. We are Destination and Experience Marketers here at Contented Traveller, and we have an extensive portfolio of beautiful hotels we have worked with around the world. We know hotels. We know what they get right, and ever so diplomatically, what they can do a little better.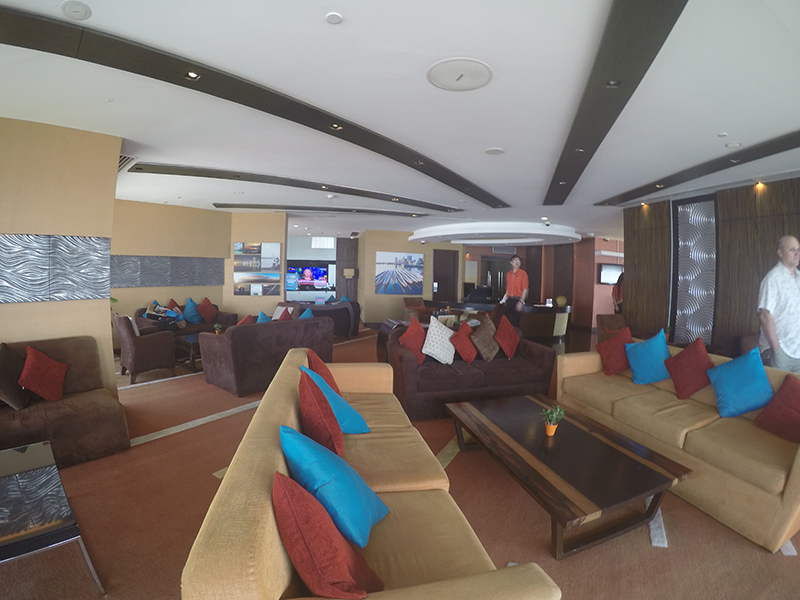 Where is Hotel Jen Manila?
Hotel Jen Manila is in Pasay. Pasay is one of the cities in Metro Manila. We stayed there because it is close to both the Philippine International Convention Center where our convention was held, and to the Cultural Center of the Philippines. For this reason, Hotel Jen Manila is popular with business travelers. It is also close to the Mall of Asia, one of the mega malls of Manila. Shopping is huge in Metro Manila, with many of the world's largest supermalls. Undoubtedly, this is because of the American influence, but Manileños love their malls.
Getting to Hotel Jen Manila
We had a seamless flight with Cebu Pacific Air from Sydney to Manila. Our flight was a pleasant 8 hours, and you can read more about this impressive budget airline here. Our bags came out quickly, and we were on our way…or so we thought.
Bloody Manila Traffic
Technically we were only 7km from Ninoy Aquino International Airport to Hotel Jen Manila, but this 7kms was our introduction to the most dreadful traffic of any city other than Jakarta. What should have taken about 15 minutes took nearly 2 hours.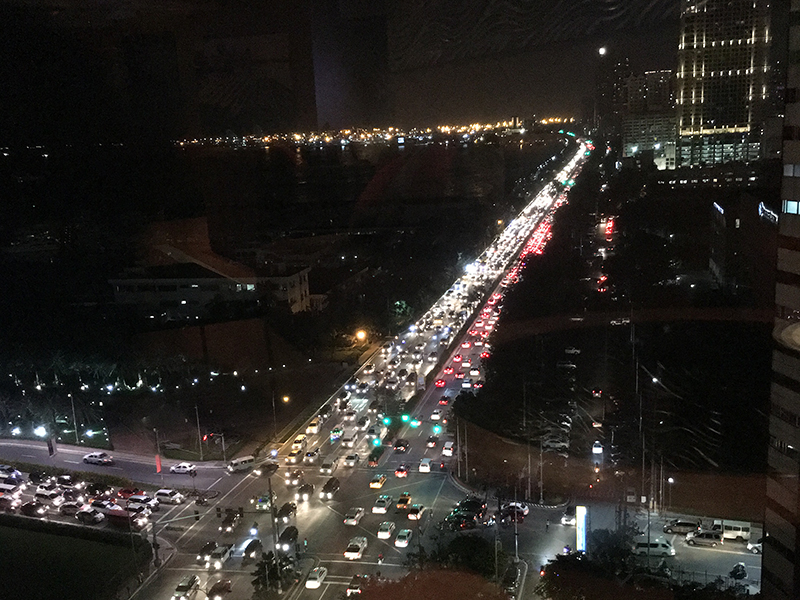 After 8 hours in the air, the last thing we wanted was to be stuck in traffic. We eventually arrived at the hotel and went through security. This is stock standard everywhere in Manila, and you just get used to it. I don't mind, as it means that someone is looking after my welfare, though I tend to think that the overkill of security may well be for job creations.
First impressions
We entered into the bright and spacious foyer and began to see color. Hotel Jen Manila do not shy away from color, and that is a good thing. There was a coffee shop to our right, and again, a coffee shop is always welcome.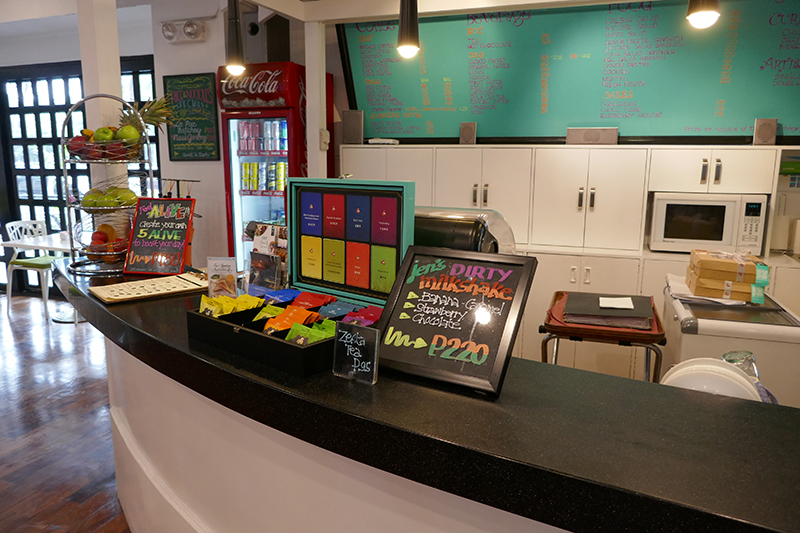 There was even an artisan ice cream cart ..calling my name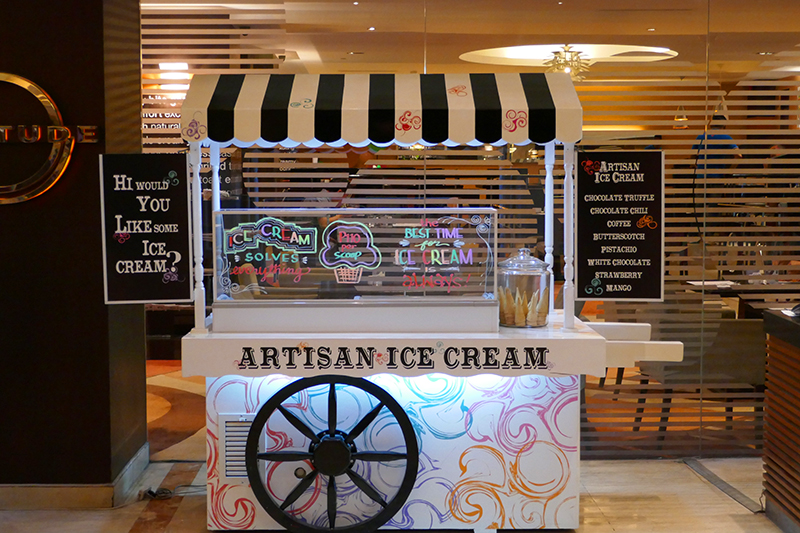 Further through the foyer was the Latitude Restaurant. This is a bright and colorful dining space. To our left was another colorful room and dotted around were bright lounge areas and some bamboo bikes. Yes, bamboo bikes are the Bambike we had read about in Manila This is a socio-ecological enterprise that create hand-makes bamboo bicycles.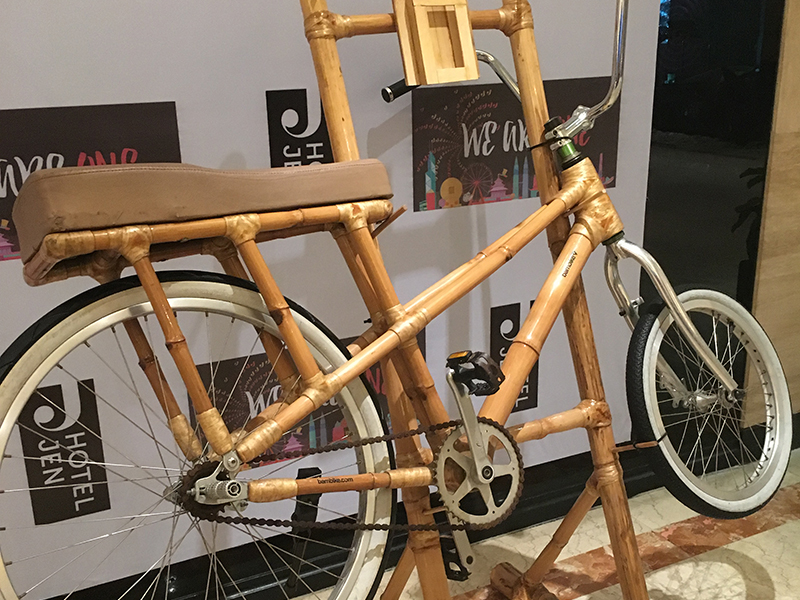 Easy Check In with Style
Our frustration at being caught up in the traffic was starting to wane with the riot of color. We went to the check in desk and were immediately whisked to the 19th floor for our bespoke check in.
Before we even did any paperwork, we were asked if we would like beer, a white or red wine or anything. We did. We were seated at a cozy lounge overlooking the rotten traffic, and a crazy multicolored Ferris wheel spinning across the park from us. Slowly, the trauma of the traffic was receeding.
Hotel Jen Manila is smart. They know their traffic in Manila sucks, and they know how to calm you down very quickly. There was no rush on checking us in, but an emphasis on introducing us to the culture of the Hotel Jen Manila experience immediately, which is that of Filipino hospitality.
The staff, dressed in the bright orange uniforms, suggested that maybe we might like something to eat with our wines, and a selection of fruits, cheeses, sushi, and cakes were available. We had a chance to admire the Club Lounge. Again color and cushions, lounges and views, food and wines.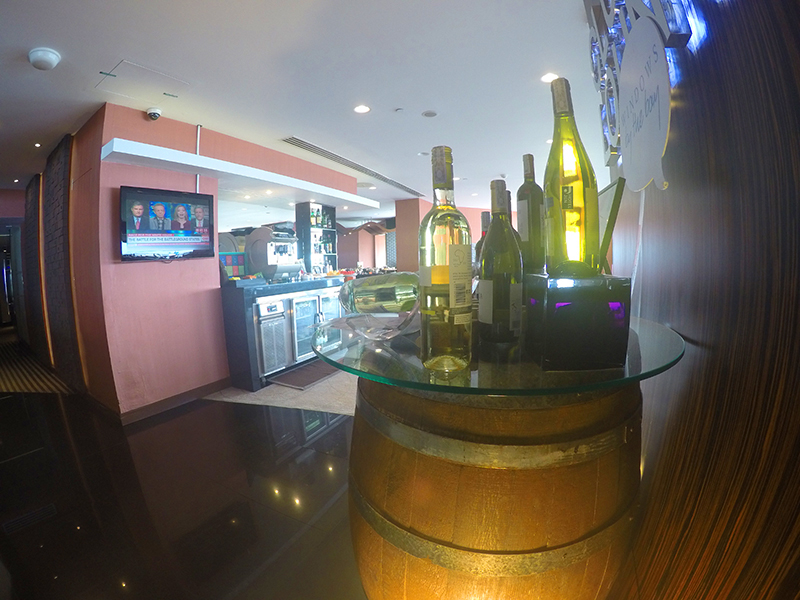 The Culture of Hotel Jen Manila
Hotel Jen Manila is located in Pasay, a city within Metro Manila. It is situated on the frenetic Roxas Boulevard.
The opening statement or tagline of Hotel Jen Manila, is to "Leave Boring Behind."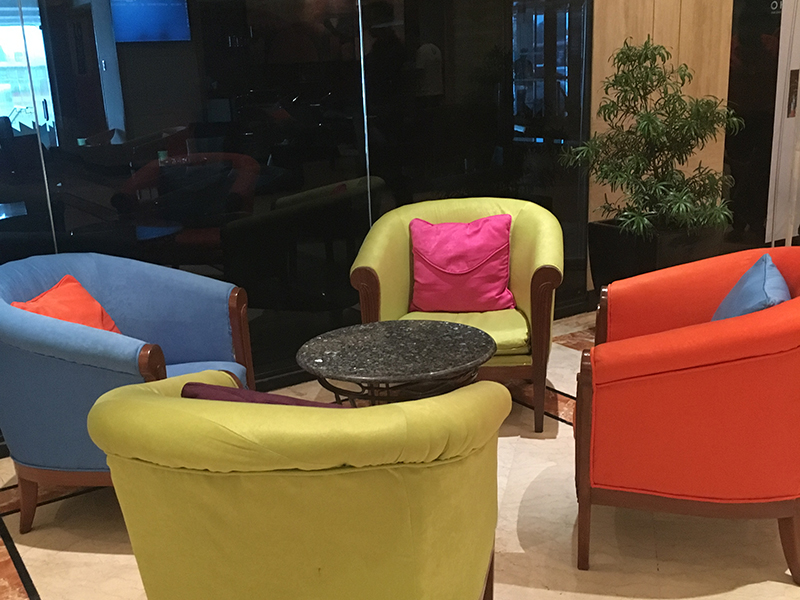 There are Hotel Jen's in Brisbane, two in Beijing, Shenyang, Hong Kong, Johor, Penang, Manila, Maldives and two in Singapore.
Hotel Jen Manila was once known as the Traders Hotel Manila. It has always been a part of the Shangri-La stable of hotels but has undergone a re-brand.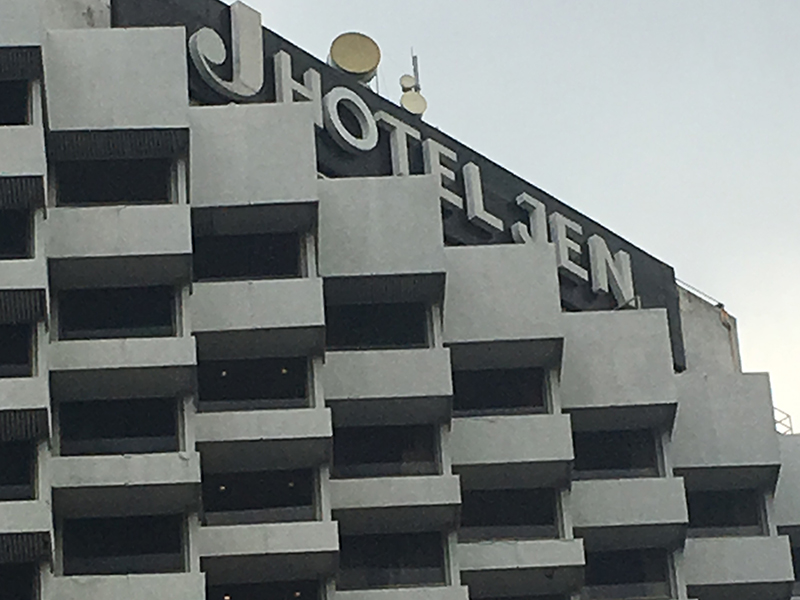 Hotel Jen speaks to you in the first person, having taken the persona of Jen. Jen is a virtual persona, who is a professional hotelier who loves life, travel and the adventure of discovering new places. It is aimed at a new 'Jeneration' of independently minded business and leisure travelers,
"Hello Traveller!
If you're a lover of life, fun, adventure and discovery, then you'll love staying with me. My four-star hotels can be found in the best spots in Asia Pacific, where a world of adventure awaits.
Whether you're travelling for fun, for work, for a night or for a week – I'm here to help you feel fantastic doing it. At my hotels, comfortable rooms and honest, authentic service are just the start. Hotel Jen captures the spirit of travel, relishing the adventure, celebrating the culture, smoothing out the frustrations. I hope you'll love it as much as I do.
Do come and stay soon,
Jen
Greg Dogan, president and CEO of Shangri-La Hotels and Resorts, claims "The Hotel Jen experience delivers what matters most to guests with a millennial mind set. They appreciate important things done well; demand quality, comfort and value, together with honest, authentic service; and want privacy and efficiency without unnecessary fuss or intrusion,"
This bothered me ever so slightly that the hotel was designed for a younger demographic than Gordon and me. The General Manager of Hotel Jen Manila, Edward Kollmer put this to rest when I questioned him. He explained that Hotel Jen Manila is for the 'young at heart.' After dancing at Chaos Night Club at the City of Dreams for a few nights – I decided we qualified.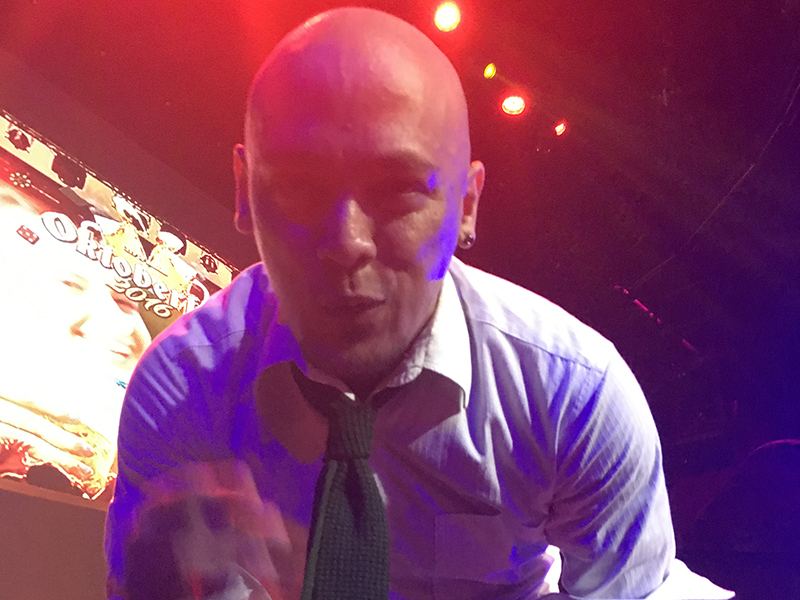 Our Room
True to form in Manila, we were met with an arctic blast from the air conditioner. I have no idea why Manila runs their air conditioners so cold, but my hot tip is to pack a jumper. We were able to turn the air conditioner right down and off, and different guests we met had to do the same.
The club suite room is a spacious 36 square meters, with a great view over the harbor and a sunken ship that kept me intrigued for days.
There is a flat-screen TV welcoming us with a "Mabuhay" on the screen. This is the traditional welcome greeting by the Filipino people. There was a large a king-sized bed and a couch plus a long desk for working. The bed was super comfortable, and we slept well, and that may or may not have anything to do with the fact that we worked and partied hard at TBEX.
It made us laugh that the minibar was a paper bag. In it were two packets of Oreos, of a can of coke, a local and Pringles It was just another example of the Hotel Jen Manila culture of fun and warmth.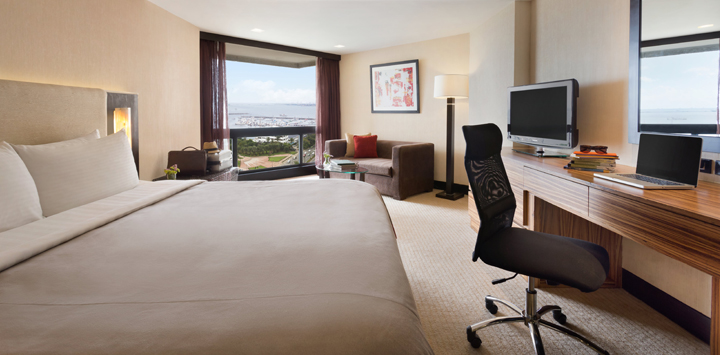 Internet
As travel writers our most important life source is good the internet, and the internet access at Hotel Jen Manila was perfect, all of the time. Never did it have slow patches as mine does at home (NBN Australia you actually suck).
There were robes but never enough coat hangers. Luckily because I bought so many party dresses, which I needed, I had also bought the coat hangers with me.
Bathroom
The bathroom is functional with the Hotel Jen shampoos, conditioners, etc. The light is not great, however, and putting on makeup meant I had to go to the mini bar area where there was a mirror…and an Oreo.
What Facilities Does Hotel Jen Manila Have
Swimming Pool
Hotel Jen Manila has a stunning and colorful outdoor pool, with a bar. All lounge chairs come with their own esky, which is a nice touch in the humid climate. The staff is on hand to look after you. You can also have a poolside massage for Php 600 (~US$14)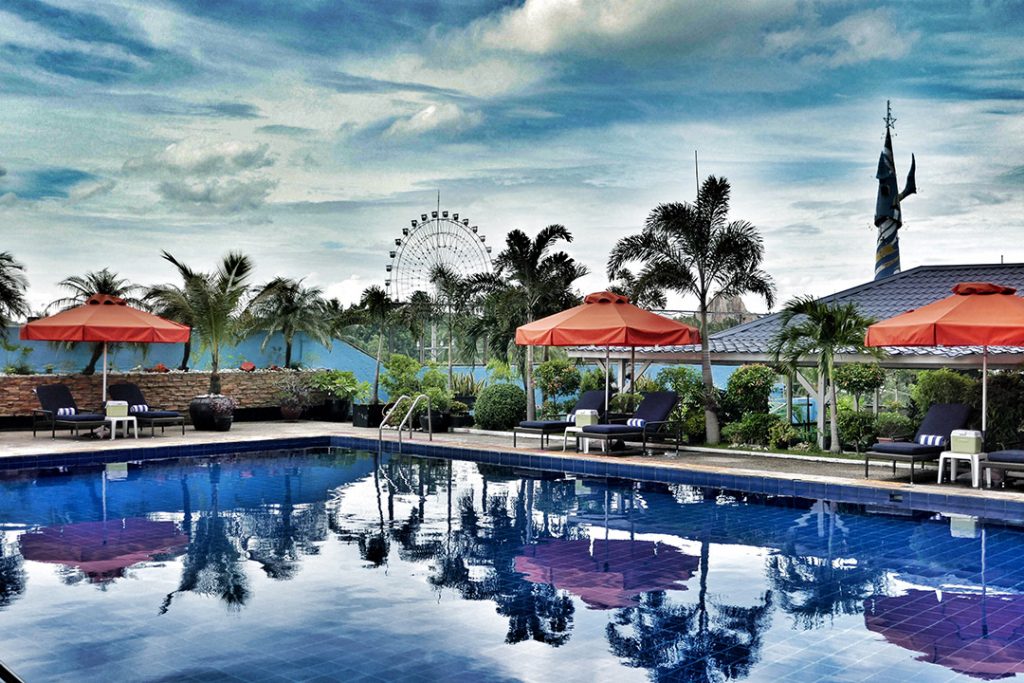 Health Club
#BeLeJendary
There is a health club with lots of gym equipment to work off the food from breakfast, lunch, dinner, afternoon tea and cocktails and snacks at the 19th Floor Club Lounge.
Breakfast
"First we eat, and then we do everything else."
You have the option of having it at either the club lounge on the 19th Floor or at Latitude, the hotel's all-day dining restaurant. We did a bit of both, thoroughly enjoying being spoilt in both places.
Staff member Erika, you are one of the loveliest ladies and we hugged it out each morning when we went for breakfast. Therein lies the key to the culture that is Hotel Jen. We were able to hug the staff because we wanted to, and they wanted to, all the while maintaining total professionalism. I think that this works best in a place where the people are naturally warm and demonstrative. In fact, we spent a lot of time enjoying the company of the staff.
The choices are vast in both restaurants, with possibly a few more options in Latitude, but a quieter area on the 19th floor. The top floor is such a nice area to have a lazy start to the day and to read one of the many free papers available. They even have paper placemats with some of the best travel quotes to get your day off to a positive start. This is also quite strategic to help you realize that in the scale of life, that crazy traffic that awaits you, is pretty irrelevant.
One of the sayings on the breakfast placemat was:
"Three things are needed for a good life, good friends, good food, and good song." Jason Zebehazy
My only criticism – and at least I am consistent – is the coffee. By Australian standards it is ordinary. By American standards, it is probably acceptable. You need to know that we are coffee snobs. Read about it here.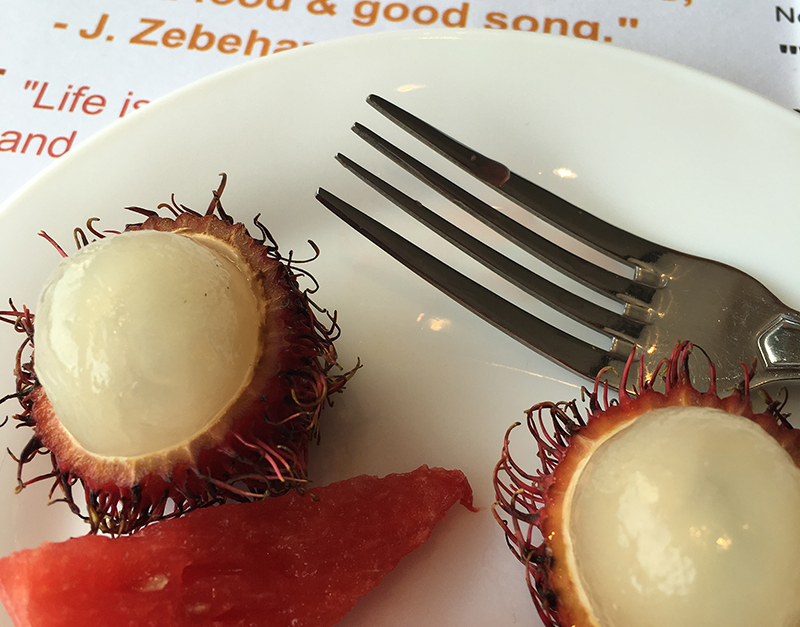 Lunch
You can eat at the Latitude restaurant which has a huge selection of foods from around the globe. You can also go into the coffee shop, called Coffee.com and have a sandwich or snack. The coffee shop seems a very popular venue for young university students studying with such intent.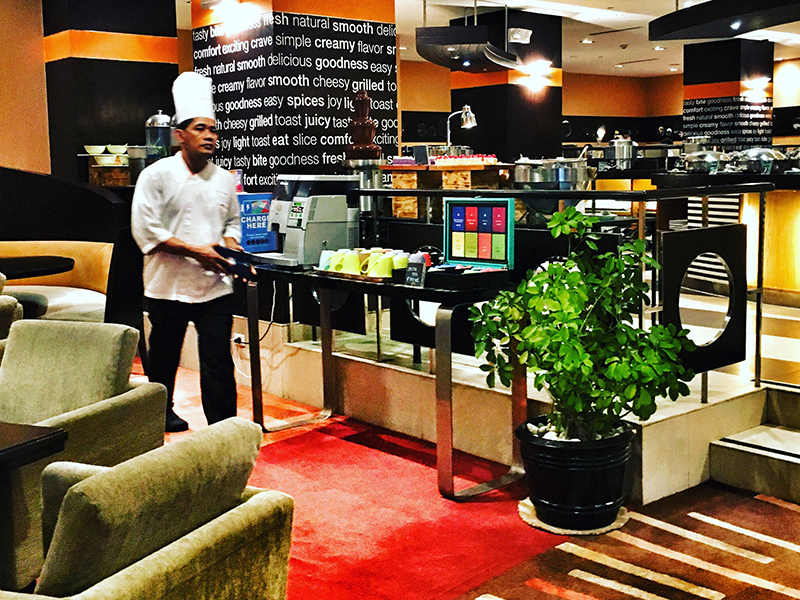 Dinner
We were out a lot with the convention. We could have had dinner at Latitude, or at the Japanese restaurant Kitso, which was, unfortunately being renovated at the time. We could similarly have eaten at Windows by the Bay on the 19th floor. Truth be told we hit the afternoon tea from 2 pm- 4 pm, and then returned for cocktail hour and more food from 5pm-7pm, so we had already eaten a lot.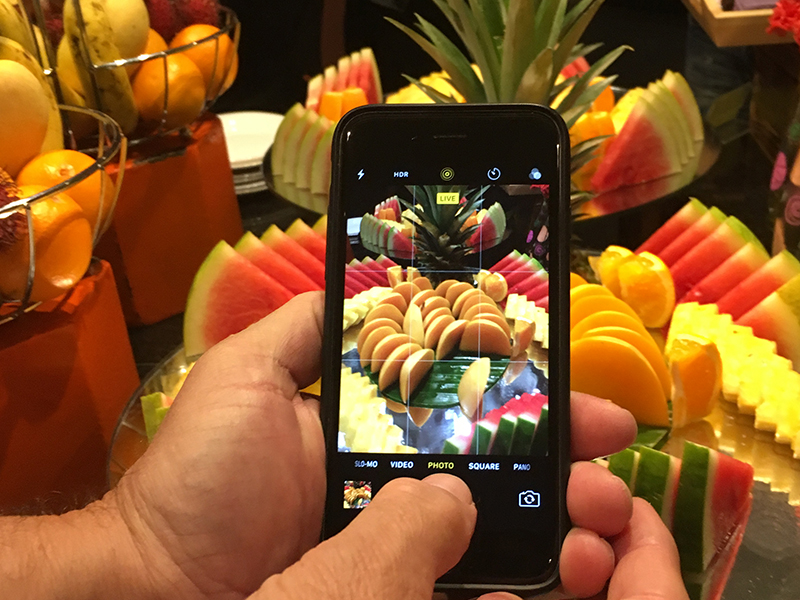 Professional Development at Hotel Jen Manila
A group of some of the world's leading travel influencers had joined us on the 19th floor to discuss our profession. The senior management of the hotel all joined as and added to our discussions about the changing nature of the travel industry. Not only were they on point in their discussions, but they wined us and dined us throughout this professional development activity ..and I am sticking to that. It is always good to hear what the clients want from travel influencers, and undoubtedly good for them to know what we do and how we can influence people through sharing stories and information about destinations and experiences.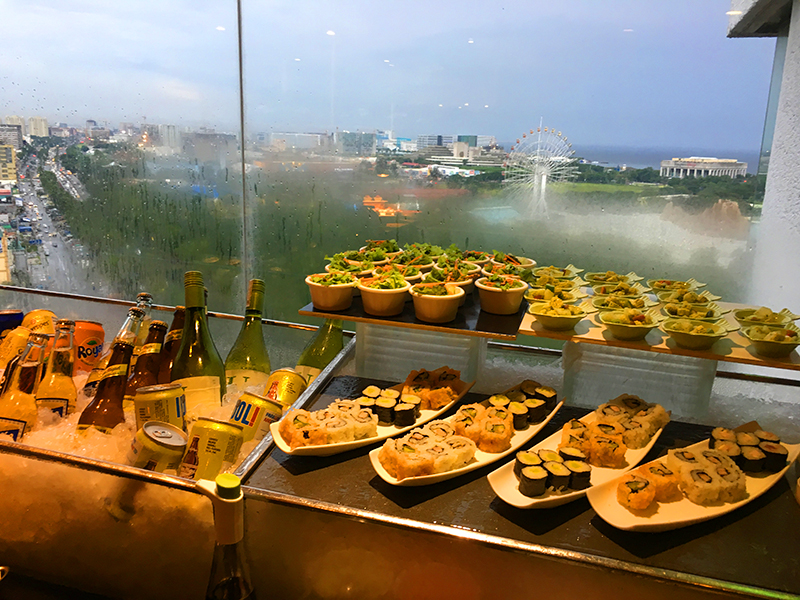 Hot Tip
Get a Club room and access to one of the best club lounges we have been to.
• Exclusive check-in and check-out,
• A concierge to help you get the most out of your stay.
• Free drinks and snacks all day long, and you can choose to have breakfast here or at the Latitude Restaurant
• Afternoon Tea, 2pm-4pm
• Evening cocktail hour 5pm-7pm
• One piece of free laundry pressing per stay
• Free local calls
• Lounge facilities
• PressReader access to over 2,500 newspapers and magazines
• Internet surfing desk and high-speed WiFi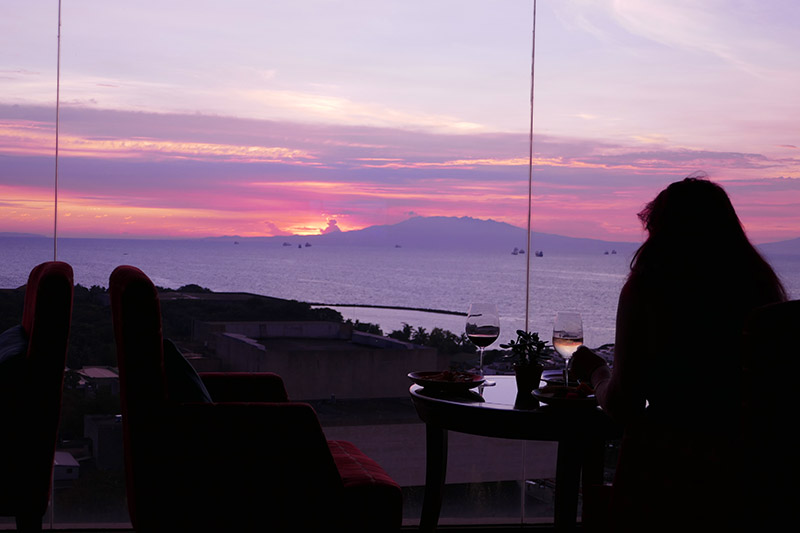 The Pinoy People
Hotel Jen Manila was our introduction to the warmth of the Filipino people. This was constantly reaffirmed throughout our stay. The Pinoy people (the informal name for Filipino) are kind, as in warm and friendly. My initial thoughts were that yes, they are in the service industry and are paid to be nice, but they just happen to be friendly people – regardless of their jobs. If you have heard of the Filipino or Pinoy smile, you will understand that their warmth is an innate thing. Who are the beneficiaries? Well, Gordon and me for a start, and all of the guests of this hotel.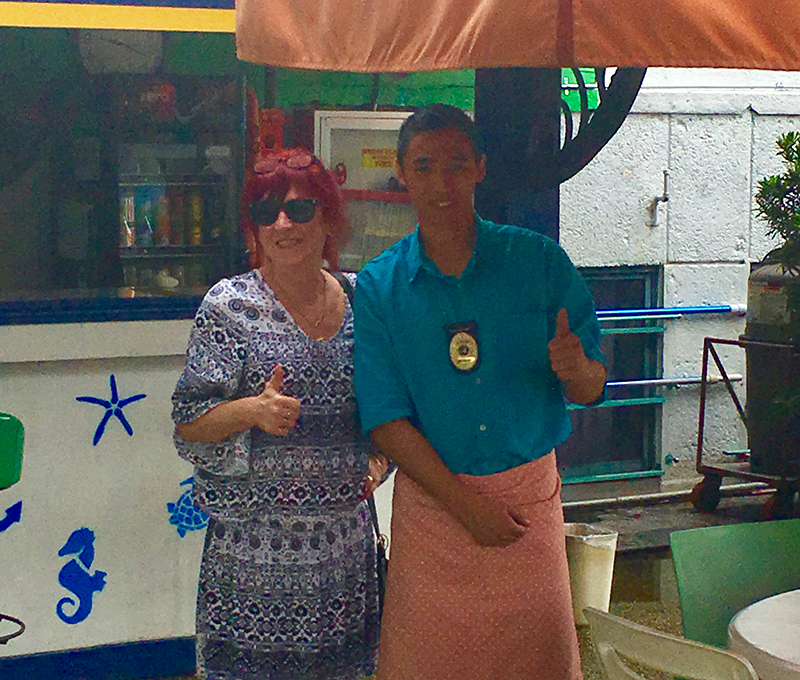 One last thing
It was birthday when I was at Hotel Jen Manila
I received three cakes throughout the day. They were presented to me by the staff accompanied by singing and dancing to celebrate this momentous event. It was just plain beautiful and personable. It said a lot about the relationship we had developed and a lot about the hotel brand and the Hotel Jen Manila culture, that takes it that extra step. Thank you.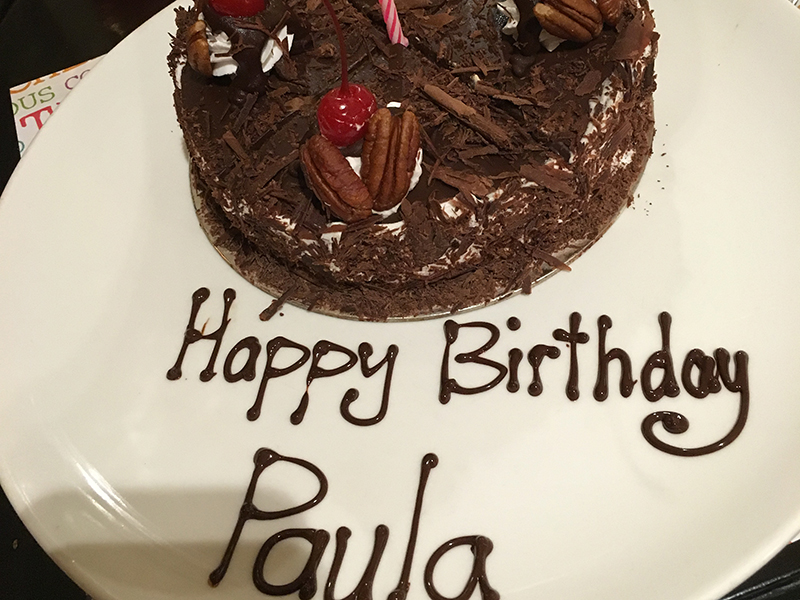 The culture of Hotel Jen Manila is the embodiment of what comes naturally to the Filipino people – warmth and professionalism. I will look forward to experiencing another Hotel Jen cultural experience in a different location to see if this is endemic across the bran. I also like the pithy sayings all over the place. I love the colors everywhere, and the fact that you feel good staying there. Would we return to Hotel Jen Manila? Definitely.
Hotel Jen Manila
3001 Roxas Boulevard
Pasay 1305
Metro Manila, Philippines
+63 2 795 8888
 
How to Get to the Manila – Cebu Pacific flies five times weekly from Sydney to Manila, with seat sale fares from AUD$99 and lowest year-round fares from AUD$399. Read more about this fun airline right here.
Staying in Manila – Hotel Jen Manila Address: 3001 Roxas Blvd, Pasay City, Manila, Metro Manila, Philippines
How to get Around Manila – Traffic is so so bad. If you want to go 10kms away, leave 60 minutes before when the traffic is heavy. Sunday is the best day to be on the roads, because everyone goes to Church and no one drives much that day. Use Grab, and or Uber, and or METERED Taxi. Make sure you get a metered taxi, or get scammed as we did. Public Transport Not really.
Weather – Humid, expect rain most days. Expect to freeze in the air-conditioned everything. PACK A JUMPER. Costs – Cheap. Religion – Catholic to the core.
Security – Manila seemed to be safe. There are security guards EVERYWHERE. Expect to go through many many security scanners. Better to be safe than sorry.