The Golden Key Hotel Concierge is the Ultimate Insider, who belongs to an organisation called Les Clefs d'Or
A concierge of a hotel is there to help with directions, suggestions and dinner recommendation.
Is that it?
If you delve a little deeper, a concierge can be one of the most valuable assets in your travels. Would you like to walk a pink poodle along the streets of Paris? When are the latest Jimmy Choo shoes hitting the stores and can you have the first viewing? How about tickets to the sold out concert, or entry to the latest club? Then ask away.
About The Golden Key Hotel Concierge – Les Clefs d'Or
If you see a concierge wearing a pin in their lapel, with two crossed golden keys, then you have hit the jackpot.
These are the elite concierges, the Golden Key Hotel Concierges who are part of an association called Les Clefs d'Or, which means the keys of gold – because these golden keys can open any door.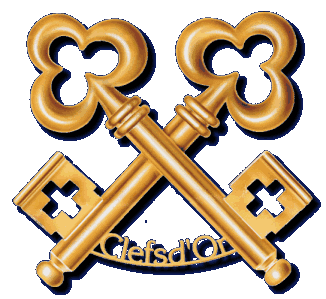 Les Clefs d'Or
Les Clefs d'Or is a famous association of the best of the best concierges, and concierges worldwide aspire to be a part of this elite group. However, it is not that easy. The Golden Key Hotel Concierge is the ultimate insider. These concierges have the skills and the contacts to open doors that no others can. And no is not in their vocabulary.
If you want something, they will get it. Not can get it, but will get it.
The Golden Key Hotel Concierge is for Everyone
I guess that we were never aware that the concierges could be our friend. We have never really utilized the services of hotel concierges let alone a Golden Key Hotel Concierge. However, things change, and we really should have considered how valuable these people are to all travelers, and let's face it, for us travel writers, totally invaluable.
I think that our rationale had always been that concierges were for the Kardashians of this world, and not for ordinary travelers.
We were wrong. Concierges are there to help everyone, and they pride themselves on making things happen from the simplest to the most complex requests.
Meeting a Golden Key Hotel Concierge
We had the pleasure of talking with Nicolas Fresneau at Hotel Westminster Paris, a Membre des Clefs d'Or France Ancien Vise Président du Bureau Paris – Ile de France Clefs d'Or. In basic terms, this means that he is important. More than that, he was lovely.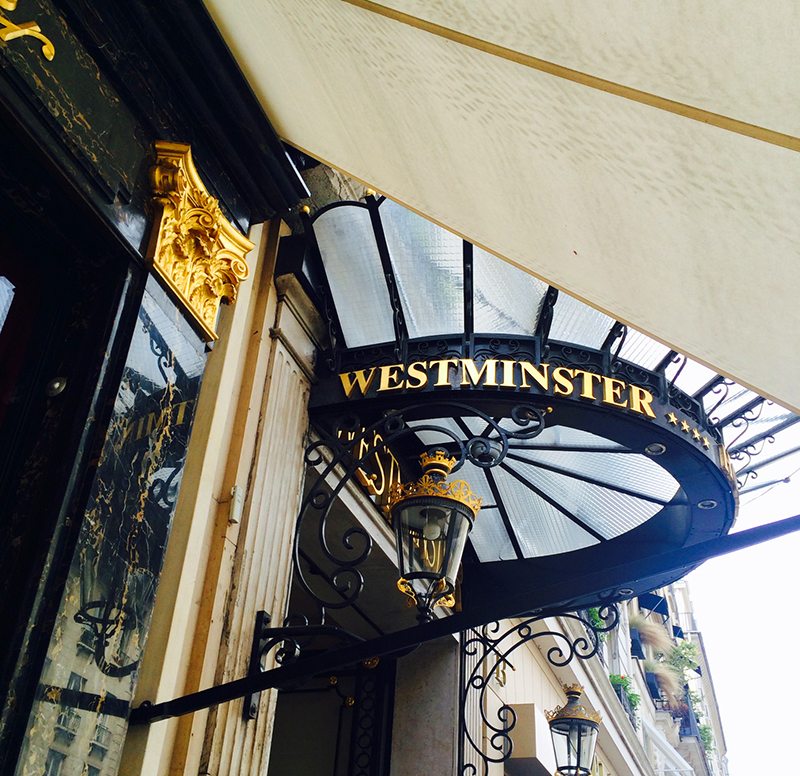 At The Westin Palace Madrid, 3 of their concierges hold this title of Golden Key Hotel Concierge, and that is a huge accolade to the hotel. These Golden Key Hotel Concierges are to be found all over the world, and the membership to Les Clefs d'Or is the holy grail of the hotel world.
The Golden Key Hotel Concierge knows everybody and everything, and anything that they don't know, they find out. People, not just guests, want to be friends with these powerful people.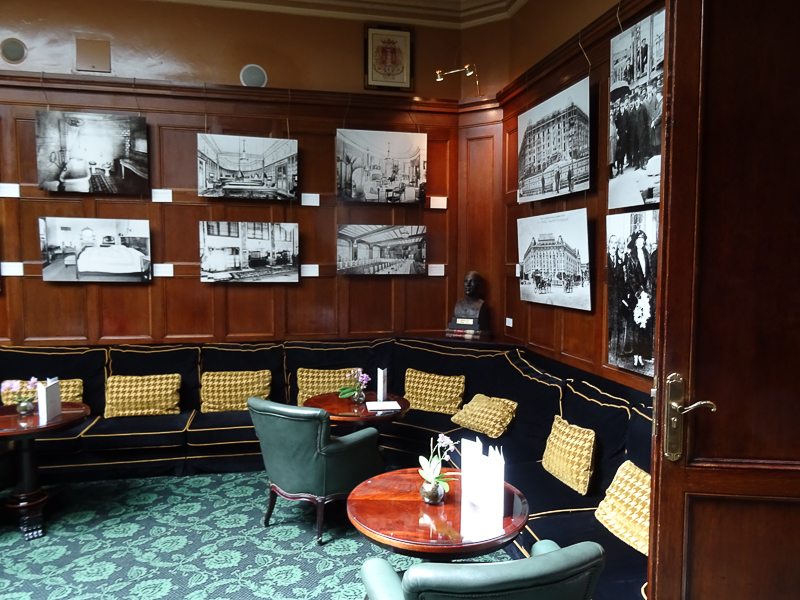 The Beginning of the Golden Keys, or Les Clefs d'Or
The association was founded in 1929 in Paris, where concierges could work together to help their guests. This is the key to the organization. They are a tight group that holds a lot of power. Our Sicilian friend Nicolas Fresneau told us that many people saw them as the mafia of the hotel world, and his cultural background made us all laugh at this statement.
In 1953, the society adopted the Golden Keys for their badge. In 1998, the Swiss jeweler Bucherer created the official version that you now see on the lapels of the selected few in the Les Clefs d'Or.
Attributes of a Golden Key Hotel Concierge
Keep your ear to the ground. Do not work regular work hours. Make friends with the chefs at elite restaurants as they are finishing up their dinner service and are sitting down for a red wine. Know the theatre personnel, and know who can get the tickets to the sold out concert. Know and hear everything. Who is in town? What do they like? What might charm them to stay with you?
There are National chapters under an international umbrella with about 3,800 members in total.  There is a strict hierarchical structure. The group vows to "accommodate every guest request so long as it is morally, legally, and humanly possible." And that is a point that may well be crossed at times depending upon your definitions of the terms.
The concierge is the most discreet person that you will meet.
How to Become a Member of the Les Clefs d'Or
Concierges have to be at least 21 and have worked five years in a hotel. For 3 of these years, they must have been a concierge before they can apply. Some chapters also administer a written exam that tests their knowledge of anything and everything that their guests may desire, and some requests are totally out there. Where do you get that pink poodle at 3am?
You need to provide letters of reference from the past and present employers. You also need to provide letters of introduction from two active members of the Society.
So immediately upon aspiring to be a concierge and to join eventually the Les Clefs d'Or, you need to make friends with them.
In Paris, only 25% of all applicants are successful.
How to Become Friends with The Golden Key Hotel Concierge
Chances are they will know who you are already and what you like and don't like. It does not matter who you are; it is within their best interests to have some understanding of what you want and need. However, no doubt the more important you are, the more that you would have been stalked…in a good way, because they do want to make your visit the ultimate experience, and for you to tell your friends how fantastic not just the concierge was, but the hotel who was smart enough to hire him or her.
When you arrive, introduce yourself to the Concierge, and particularly to the one with the golden crossed keys in their lapels. We didn't need anything from Nicolas other than enjoying his company and learning more about this Les Clefs d'Or, and his prestigious role in it. We were just chatting really and enjoying the conversation. In Madrid, however, we did need the delightful Golden Key concierge to help us out with some last minutes tickets.
Concierges are lovely. They have to be.
They would get nowhere in the hospitality industry if they didn't know how to look after guests, and to get the ultimate insider information and bring glory to the hotel. And they do.
The hotels all aspire to have a Nicolas or any of the 3 concierges in at The Westin Palace, Madrid. It is not just a lapel of honour to the concierge, but a huge kudos to the hotel. And Golden Key concierges are picky on which job that they will accept. They can have virtually any job that they want, and should a vacancy not exist, well the non mafia Clef d'Ors could possibly fix it. Just joking.
They stay very close to each other, and whoever finds new information sends it out and shares it immediately. The motto of Les Clefs d'Or is Service through Friendship, so with this friendship, all of the members help each other.
Around the World
The Clefs d'Or are across most countries. This is not just a men's club, as women can also become elected to the Clefs d'Or association. Virginia Casale and Ms. Marjorie Silverman, both served as President of Les Clefs d'Or USA.
Now, Sydney's Shangri-La Hotel concierge Colin Toomey has become the International President of the International Congress of the Union Internationale des Concierges d'Hôtels (UICH) on 13 April 2015. Mr Toomey is only the second Australian to hold the position. The newly elected International President "Les Clefs d'Or" is  Simon Thomas the Head Concierge The Lanesborough Hyde Park Corner.
Nicolas Fresneau, our friend, was awarded the Palmes d'Or in December 2014 because he has worked as a concierge for 25 years, and this man knows everything…literally.
On a recent note, I met on LinkedIn, David-Hervé Lemaire, Concierge at The Langham, New York, Fifth Avenue who is going through the gruelling progress of being admitted to Les Clefs d'Or, and we wish him so much luck. Ironically he connected with me after reading this article, which is amazing.
It pays to know the concierges and particularly those with the prestigious honor of being a Golden Key Hotel Concierge.