¡Hola!
I really just wanted to write that as I can, and it has no relevance to cold soups in Spain.
When it hit 36 degrees in Madrid, we had a good indication of what summer would bring, and one of these was that cold soups in Spain are amazing. What a magnificent idea this proved to be a we saw that cold soups are a popular inclusion on menus where we went. As we were there at the beginning of the summer months, there was no doubt that these would become more and more a staple of the daily diet.
According to Cristino Álvarez, one of the most prestigious Spanish food journalists, "The origins of gazpacho are found, "in the eating habits of Andalusian farmers, who had to endure hard days of working in the fields and extremely high temperatures." From gazpacho, cold soups have advanced. With the plethora of fresh ingredients in this country, it is hardly surprising that the cold soup movement has taken off.
The cold soups of Spain are at new and different level all over the country and are not to be lightly dismissed. Teamed with iced tintos de verano, a mix of dry red wine and La Casera, or a beer or even straight wine, a compulsory accompaniment to meals and some good crusty bread, you will find that the soups are a definite meal in themselves.
We tried cold soups in the three cities that we visited.
1. Salmorejo
We first tried Salmorejo or Spanish chilled tomato soup in Barcelona, where the days were hot, and appropriately enough Salmorejo, a richer variety of gazpacho was welcomed. Named Salmorejo this soup is made with tomatoes, garlic, onion, cherry tomatoes and with egg and Jamon Iberico or Iberian ham. Whether you eat this with an iced tintos de verano or beer, you must have the baguette to mop op the deliciousness of this deceptively hearty cold soup in Spain. If it is prepared the night before, then it gains more flavor as it intensifies in flavor as we were told by the cafe owners.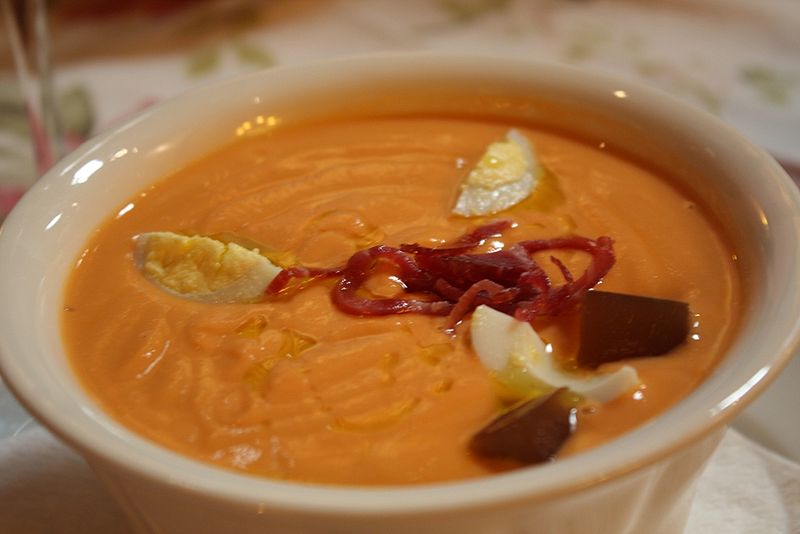 2. Crema Fria de Coliflor con su caviar y ceviche de Bacalao
This was one of the most delicious soups that I tried in Valencia – one of my new favorite cities in Spain. The soup is a cold cream of cauliflower with a ceviche of cod, topped with caviar and a few other things. Apparently this dish must be accompanied by a good champagne.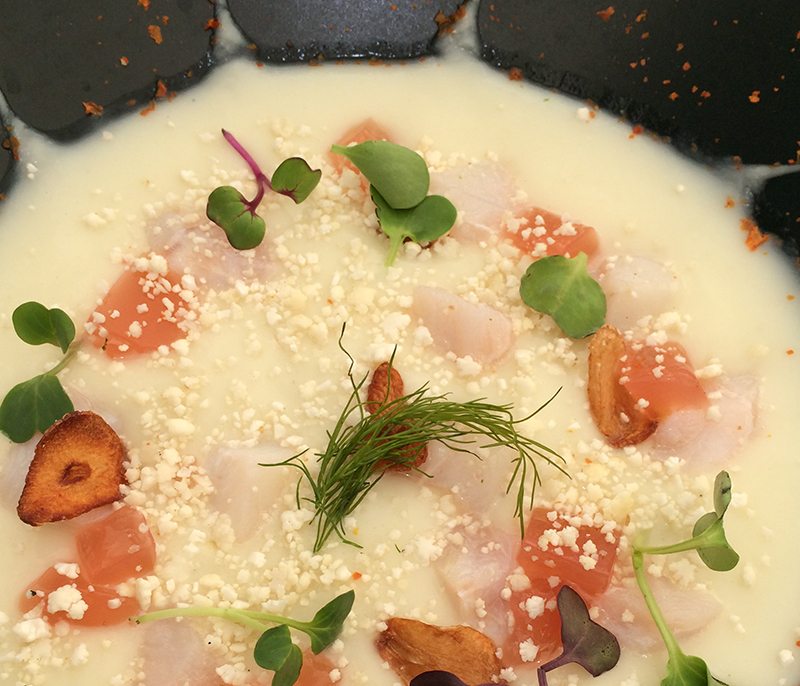 3. Gazpacho – one of the ultimate cold soups in Spain
We cannot mention cold soups in Spain without talking about gazpacho. Made with tomatoes, cucumbers, sweet peppers, extra virgin olive oil and a hint of Spanish sherry vinegar, it was particularly refreshing in the hot weather of Madrid. The amount of fresh produce in Spain makes this soup a no brainer.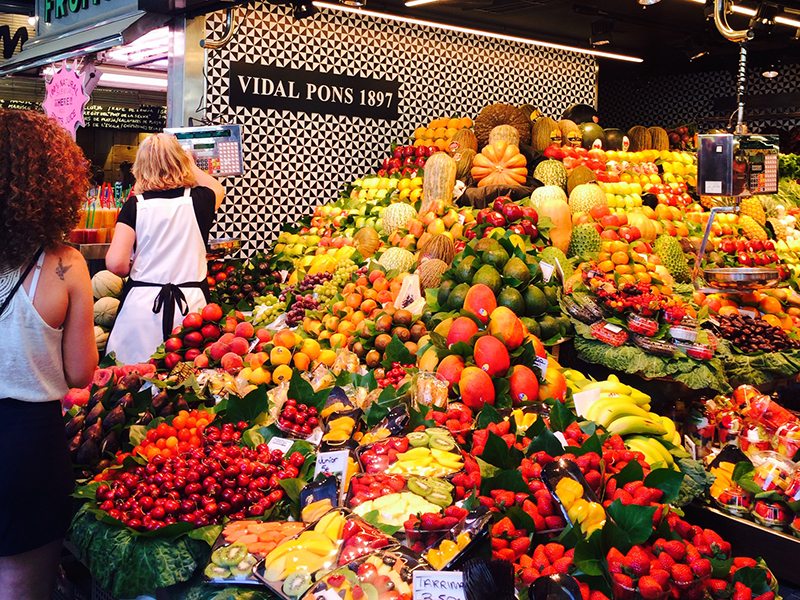 4. Sopa de AjoBlanco
Sopa de AjoBlanco is a Cold white garlic soup. It is not made from dairy products but from almonds that are blended to a paste with bread and garlic. Oil is then gradually added and passed through a sieve to get this very velvety and unusual texture. We were fortunate to experience the Almond and garlic cream soup with Palo Cortado sherry ice cream at The Westin Palace Madrid, where the chef Fernando Sáenz, pairs meals with various ice creams.
5. Crema de Esparrago Soup
This is a seasonal dish, and we tried the creamy asparagus soup, which used the white asparagus currently growing prolifically in Spain. It has an excellent hit of paprika and only a small amount of milk as the creaminess comes from the potatoes and the asparagus. Where did we eat this? Trying to remember but believe it was Valencia.
6. Cold Melon-Cucumber Soup Recipe – Sopa Fria de Melon
Made with watermelon, a fruit called the Queen of the Summer, this is an easy soup to eat and to make and perhaps is more like a real juice. This can be done with some cream, and if you liked topped with jambon. It is an excellent soup come drink to help you to rehydrate and this we tried in Barcelona.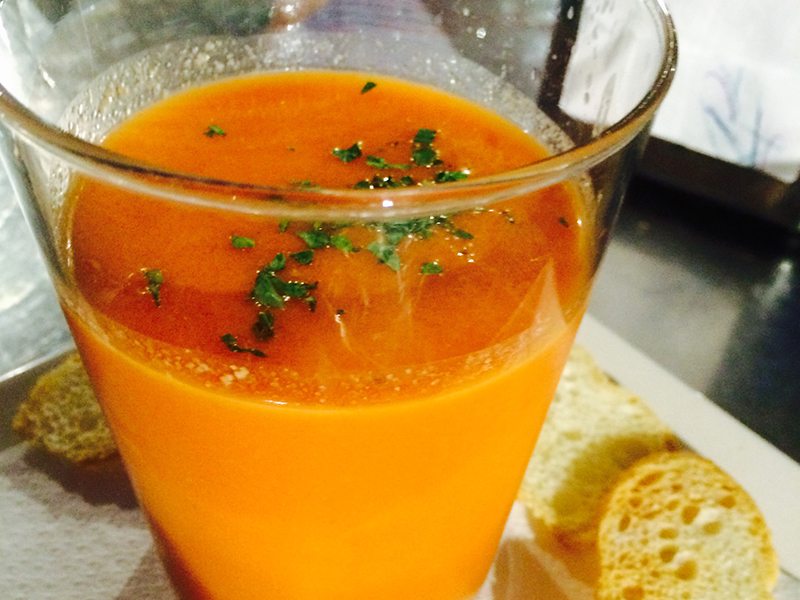 7. Sopa Fría de Tomate, Naranja y Frambuesa
This is Cold Tomato-Orange-Raspberry Soup, often called the "Every Little Thing's Gonna Be Alright". The soup is simple to make and big in flavor, and quite filling. It contains ripe tomatoes, raspberries, red bell peppers, orange juice, water, sherry vinegar and, of course, extra virgin Spanish olive oil. There is often friend jambon put on top to give it crunch. Always, add a dash of olive oil to the soup.
These 7 Cold soups of Spain are a very pleasing addition to the delectable food scene in this country. They are all easy to make, totally nutritious and will take you back to your Spanish experiences…in a very good way.