Hondarribia is in the Gipuzkoa region of northern Spain, and just 23km from San Sebastian, and here are some of the Things to do and Eat in Hondarribia, Spain
This is Basque country at its best. We went to Hondarribia purely because a lady from our gym hails from there and told us to. That is what it is all about, serendipity. What we discovered was an amazing town, and one we now recommend to you.
About Hondarribia, Spain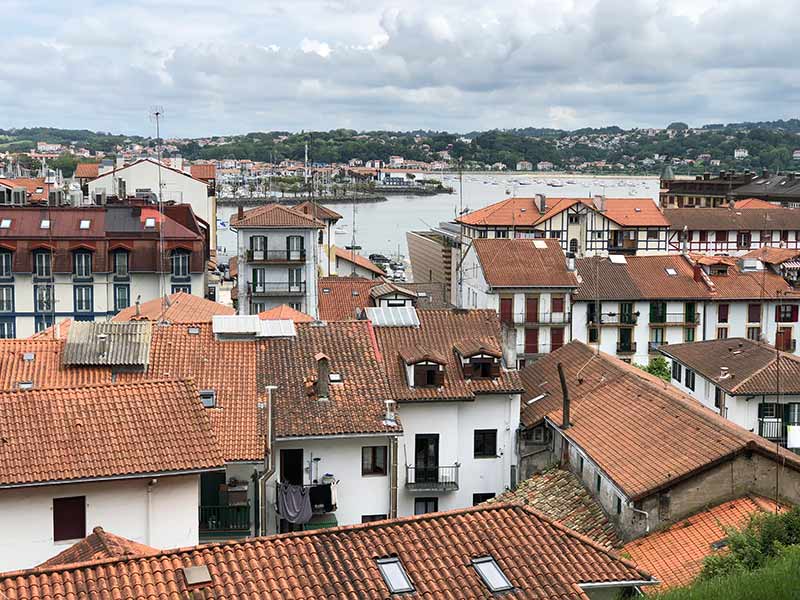 Hondarribia has become a tourist attraction in its own right. The fishing village with its Old Town and Marina has quaint and cute written all over the cobblestone streets, the plazas, colourful shutters, wood-carved eaves and wrought iron balconies. The fact that France is 2.5km across the water is just interesting. 
Gastronomy and Hondarribia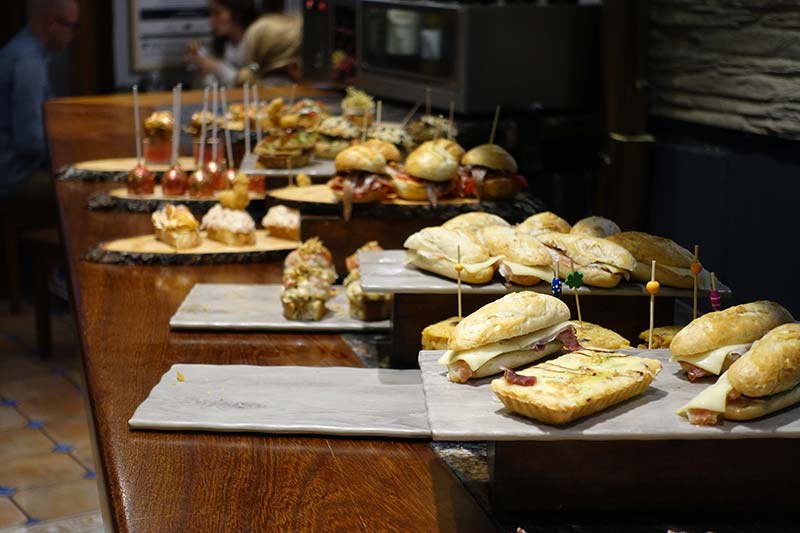 What has totally put Hondarribia on the map is its gastronomy and specifically the pintxos of the town. Often called just pintxo in this fiercely Basque town, it is an epicurean centre of these little bite-sized pieces of food, meant to be eaten with drinks and friends, and meant as a way to visit many pintxo cafes in a day or a night. 
Pintxo and Hondarribia
We spent a few days in beautiful Hondarribia, Spain trying the local food, and some of the best restaurants in Hondarribia, and eating as many pintxo as we could. 
The fact that one of the days we were there was Thursday, which is Pintxo Pote or Pintxo Pot day, when cafes sell their Pintxo for 2 euro, and plazas have stalls of Pintxo set up, made our job both easier and harder.
We had been in Bilbao, another stunning Basque city where we had fallen totally for the Pintxos. We were not sorry to be sampling another perspective of these powerful little spiked Pintxos, which is what differentiates them from Spanish Tapas. 
Pintxos means pierced, though in all honesty many in this Basque area, don't always use the sticks to spike their Pintxo. This used to be the way that the cafes and restaurants could tell how many Pintxo you had – they would count the sticks on your plate and charge accordingly.
Before telling you the best places to eat Pintxo in Hondarribia, there are other things to see and do in Hondarribia, and you will need to know this so that you can walk off the excesses of your gastronome experiences.
Best things to see and do in Hondarribia
Hondarribia is a beautiful Basque town in a stunning natural setting, overlooking the Bidasoa River, Txingudi Bay, and looking at Hendaye in France. There is a patrolled beach and views from Hondarribia to Mount Aia and Mount Jaizkibel. These are some of the things you must in between eating in Hondarribia.
The two parts of Hondarribia
The city is basically divided into the Old Town and the Marina District. The Old Town is on top of the hill, and the Marina District is down on the waterfront. This is not a difficult walk between the two areas, nowhere near the steep steps of the prettiest towns in Spain of Morella, which you can read about here, and Albarracin, which you can read about here. In fact, the city has installed lifts and elevators all over the town connecting the two sections and making both of Hondarribia's districts accessible to all.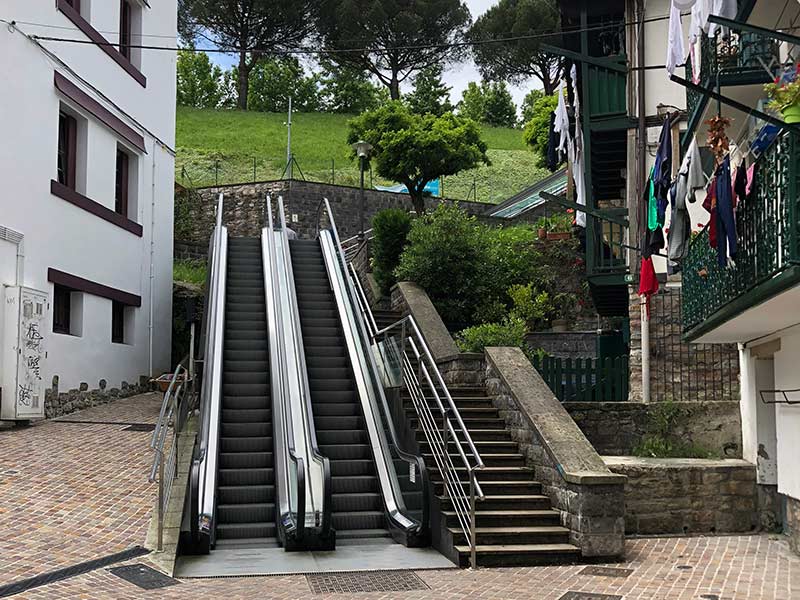 Exploring the Old Town, Casco Histórico of Hondarribia
Hondarribia's walled historic centre, Histórico dates to the 15th and 16th centuries and has peaceful plazas, cobbled stoned streets, and lovely old buildings festooned with flower boxes of colourful geraniums. The wood-carved eaves of the buildings and the ornate wrought iron balconies, make it very attractive. The focal squares are Plaza de Armas, and Plaza de Gipuzkoa, which is just plain lovely.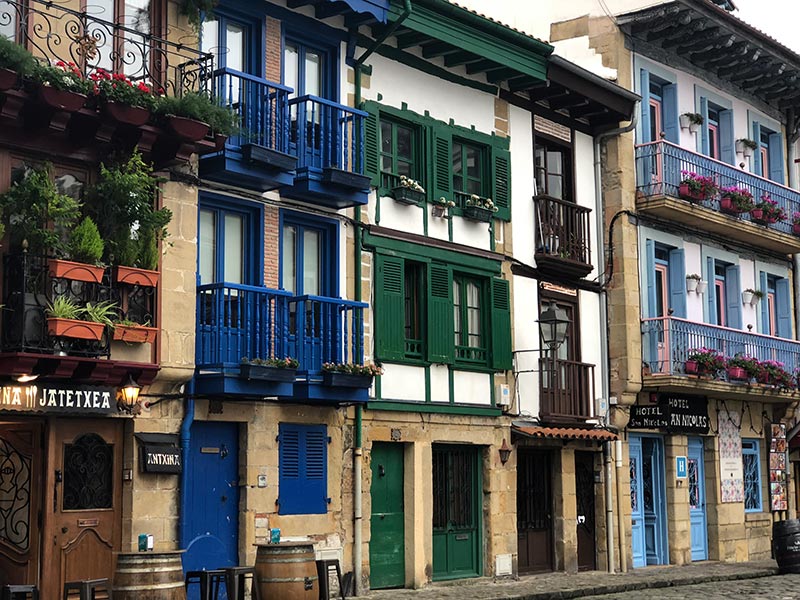 Sculpture of Hachero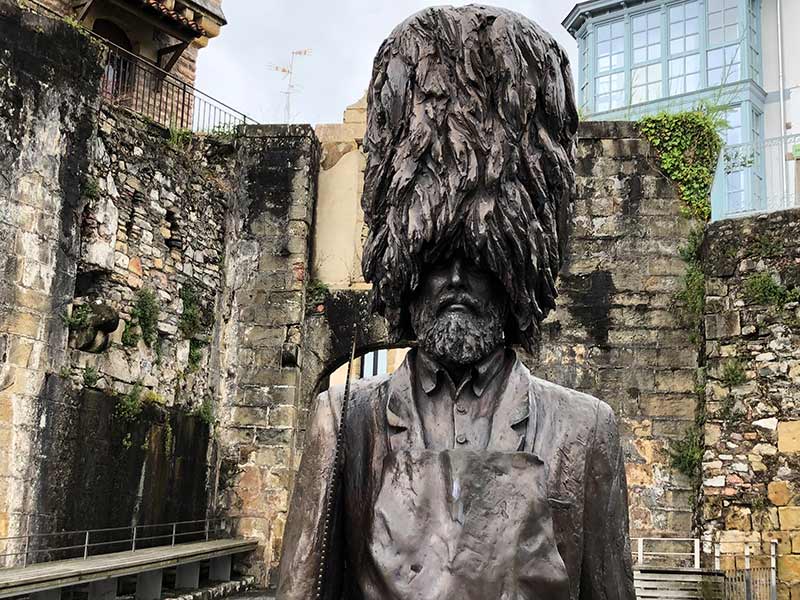 Here you will find the sculpture of "Hatxero" or 'Hachero'. This represents an axeman, and a soldier who opened the way for the troops. 
"On September the 8th, the Virgin of Guadalupe Day, the traditional "Alarde" is held in the coastal town of Hondarribia. The alarde is a military procession that is held every year to celebrate the vows made to the Virgin of Guadalupe in 1639 in gratitude for breaking the siege imposed on the town by French troops", and they are led by the men like this sculpture. Source 
Kale Nagusia is the Main Street in Casco Histórico where you see many of these beautiful buildings. You will also find the imposing Church of Santa María de la Asunción y del Manzano where the bells ring during the day to indicate the time. 
The Castle of Charles V is now the Parador Hotel Hondarribia and is located in Plaza de Armas, which means Weapons Square
Visiting Puerta de Santa María.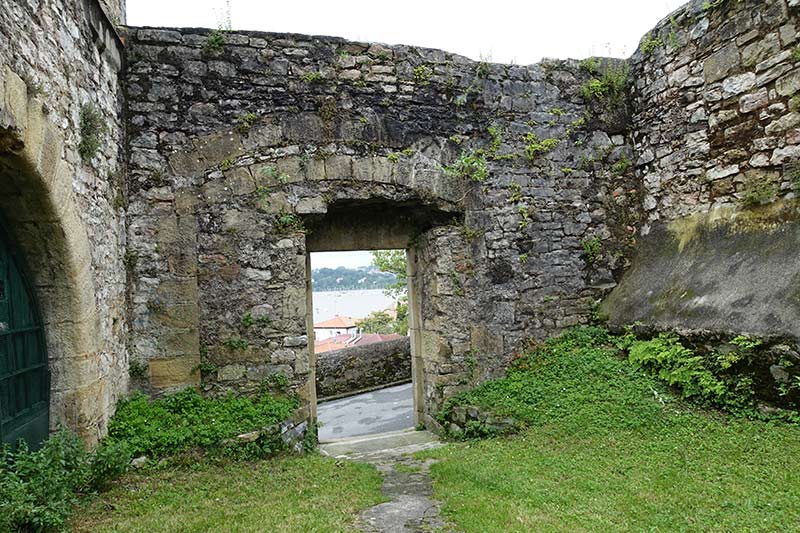 Puerta de Santa María is one of the two main entrances that Hondarribia once had. It used to have a drawbridge, and a chapel. You can see the coat of arms of Hondarribia from the year 1694
Exploring the Marina District of Hondarribia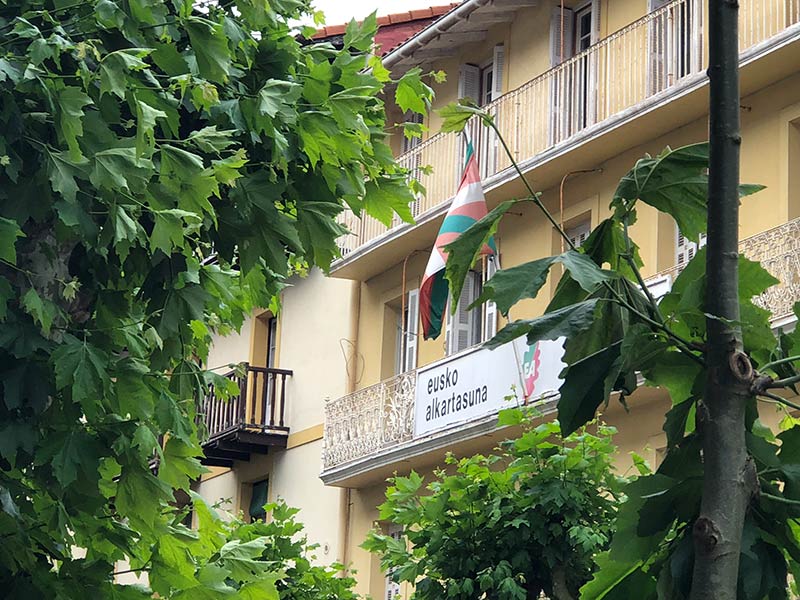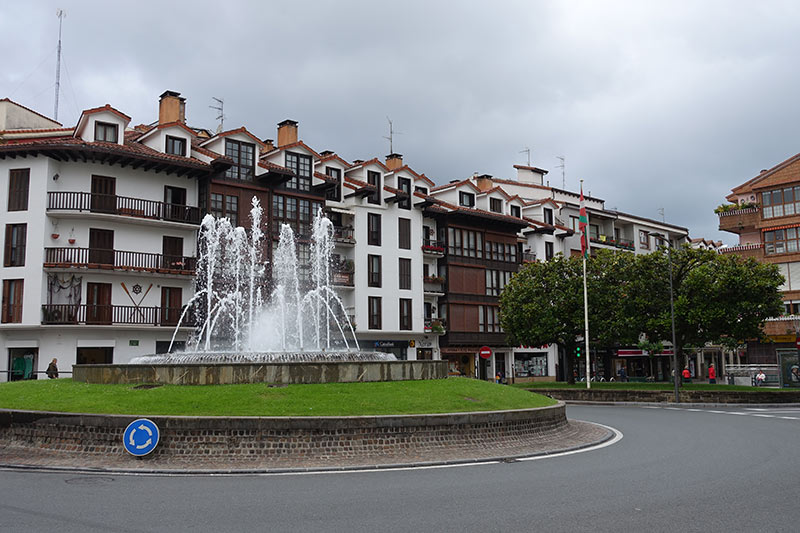 Calle San Pedro
The main drag of Hondarribia's Marina district is Calle San Pedro.  This is a pedestrian-only street with colourful fishermen's houses, painted in different bright colours and again with the flower boxes. This is where you can find many of the pintxos bars and restaurants. For some reason it is spelt as either pintxos or pintxo. No idea why.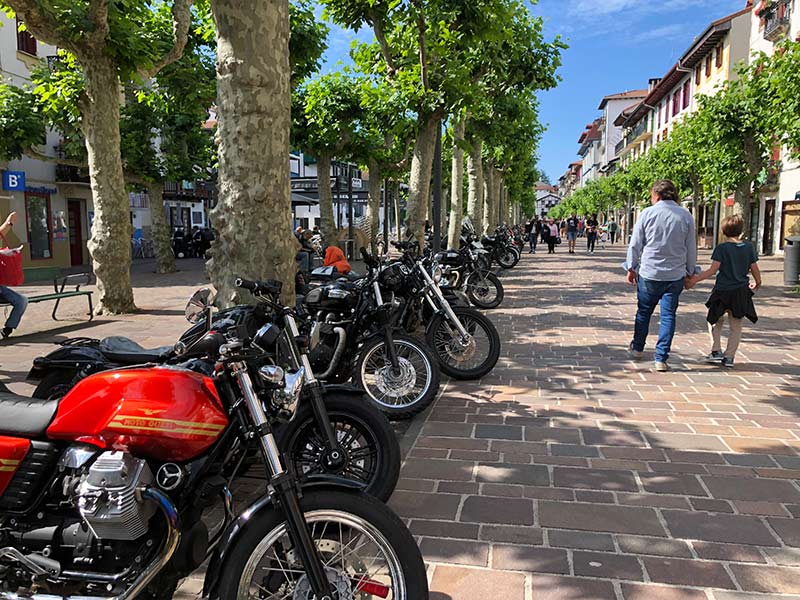 Where to eat in Hondarribia
Bar Gran Sol
Bar Gran Sol have won so many Pintxos awards, in what is a highly competitive industry in the fiercely Basque country, that they have every right to be very proud of their accomplishments.
What can I say. This is Basque cuisine at its best. People flock from nearby San Sebastian and in fact all over the world for their famous pintxos. The most amazing experience and straight out of left field, though to be honest we had read that many chefs who had trained under some of the finest Michelin chefs in the world, had set up in Hondarribia. 
Fancy foie gras with white chocolate? Then you are in the right place. Fancy one of the best red wines ever to have with your pintxo, then again you are in the right place. Their pintxo(s) are works of art. The Jaizkibel is a delicious mushroom filled with cheese mousse, dried ham and ali oli.
"Smoked cod toast with sweet red pepper, foie and preserved peaches", the pintxo that we call Hondarribia is one of our most successful creations. It has won us many prizes and brought us great satisfaction" 
Must try is txacoli (pronounced cha-ko-lee) particular to the fiercely independent Basque Country. It is poured from height into a large tumbler style glass and is a sparkling and dry wine. 
You can order from the menu or select from the counter. You cannot go wrong. 
Address: Calle San Pedro, 63
http://www.bargransol.com/en/the-pintxos/
Gastroteka Danontzat Hondarribia
Gastroteka Danontzat is one of the trendy restaurants in the Old Town of Hondarribia, and you will need to book to dine there. Some of the best dishes are the smoked sardines, anchovies or crab pudding, and the signature dish is the cow tongue. You can order the food either as a pintxos, half order or a full order. The staff know their food and guide you through your choices. 
Address: Denda Kalea N0 6 
Batzokia Jatetxea, Hondarribia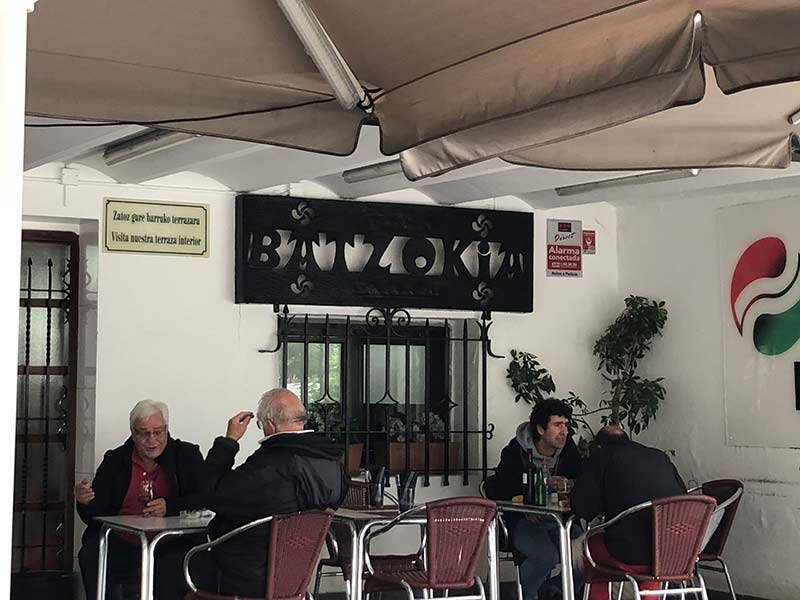 Totally local experience, to the point that if you don't speak Basque you will have some difficulty with the menu. Note: when using Google translate, don't go from Spanish to English or whatever, but from Basque to English. Regardless, if you just point and hope you will not be disappointed, especially with the meal of the day, which is three courses from a menu with choices. It said it came with a wine. While we were expecting a glass of wine, we each got a full bottle. Awesome staff, even when we didn't speak the same language.  
Address: Calle Damarri 2, Mouriscot Etxea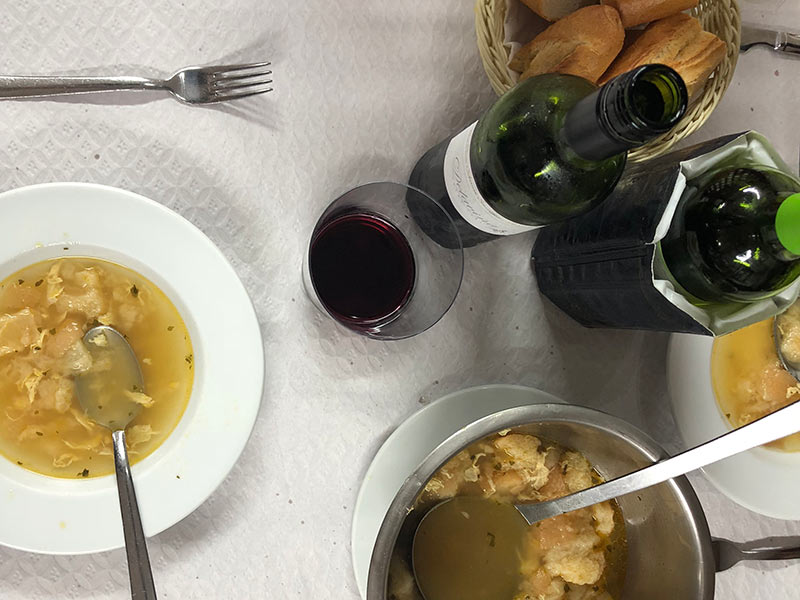 Eat Pintxo Pote or "Pintxo-pot" on a Thursday
Thursdays are Pintxo Pote, which means many Pintxo place will give you a pintxo and a drink for only 2 euros.  This only lasts until midnight though, so it is a good way to lead into a fun Thursday night.
Pintxo Pote are to be found all over Hondarribia. We did try 
Restaurante Zabala on San Pedro street but found it lacking.
"Something that has become more popular in recent years is the pintxo-pote. In Basque, pote means drink. On Thursday evenings, bars often have special deals to have a pintxo and a drink for a reduced price. It's a great way to enjoy them and it's effective from an economic point of view." Source
Where to stay in Hondaribbia?
Luxury at Parador de Hondarribia

 
What was once the Castle of Charles V is now a luxury parador. A parador is a luxury hotel, located in a converted historic building such as a monastery or castle. Parador de Hondarribia is located on Plaza de Armas with all the heraldry and décor that befits a castle. It overlooks the water and the boats in the harbour.
Latest reviews and prices from TripAdvisor
Basque Hospitality at St Nikolas Hotel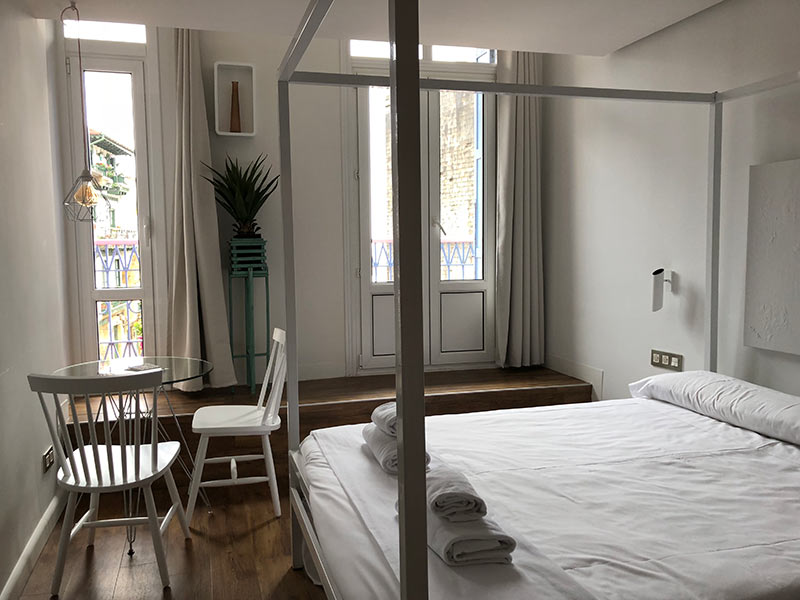 Also located on Plaza de Armas, is the picture postcard perfect St Nikolas Hotel with its pinks and blue colouring, and its overflowing flower boxes. Rooms are deceptively modern and white, and immaculately clean. From the moment you walk in you are embraced with Basque friendliness. With parking and breakfast included, you can't complain about this lovely hotel typical of the Old Town of Hondarribia, Spain. This is where we stayed, and we highly recommend it.
Latest reviews and prices from TripAdvisor
These are some of Things to do and Eat in Hondarribia, Spain. It is well worth the visit to this delightful Basque town for its beauty and most definitely for the food.