Ever wondered What Female Travellers Should Wear when visiting Muslim Countries? Packing is never easy at the best of times, but when females are visiting a Muslim country it requires thought, preparation and cultural respect. We have travelled to many Muslim countries, so I think we have a good take on what is the correct thing to do..in various situations. This is aimed at female travellers to Muslim countries. 
Countries with a large Muslim Population include:
Islam is world's second largest religion having 1.57 billion followers, and Muslims make over 23% of world's populatio
Indonesia
Pakistan
India
Bangladesh
Egypt
Nigeria
Iran
Algeria
Morocco
As a side note: Bali is part of Indonesia, but 90% of Balinese are Hindu and around five per cent Muslim. Yet, while they may be used to tourists walking around in beach gear, you must be respectful when entering any temples. They will have sarongs for you at the temple gates. You can read more here, on the 54 Do's and Don'ts When Visiting Bali.
The neighboring island of Lombok on the other hand, is predominantly Muslim and you will need to be more aware of what you wear.
Other popular destinations with large Muslim populations:
Malaysia – 61.3 percent of the population practices Islam
United Arab Emirates – Islam is the majority religion in the United Arab Emirates, so people who stop over in Dubai or Abu Dhabi for example, need to be aware that they need to dress appropriately.
This is what I have learned from travelling to Muslim countries, and share with what other female travellers should wear when visiting Muslim Countries
and researched to help you with your packing list
Some Do's and Don't when Visiting a Muslim Country
You are not expected to wear a hijab, burqa or even chador, but for interest sake read about how Muslim, Hijabi women wear the the Islamic head-covering respectfully called Hijab. And learn the difference between the hijab, niqab and burka in Travel Tips For Every Hijabi.
You might like to read Pew's Research into what they expect their local women to wear BUT you might also like to read more specific information on each country in Air France headscarf row: what not to wear when visiting Muslim countries
However, because you are visiting as a guest, you need to respect the country and their beliefs and dress appropriately when traveling to a Muslim country.
Each Muslim country will be a little different depending on how many western tourists they see. It appears that we we westerners do influence what you can wear in a Muslim country, but this is only appropriate in the resorts or tourist hot spots. If the country you are going to is more remote, you will need to be more aware and respectful with what you wear.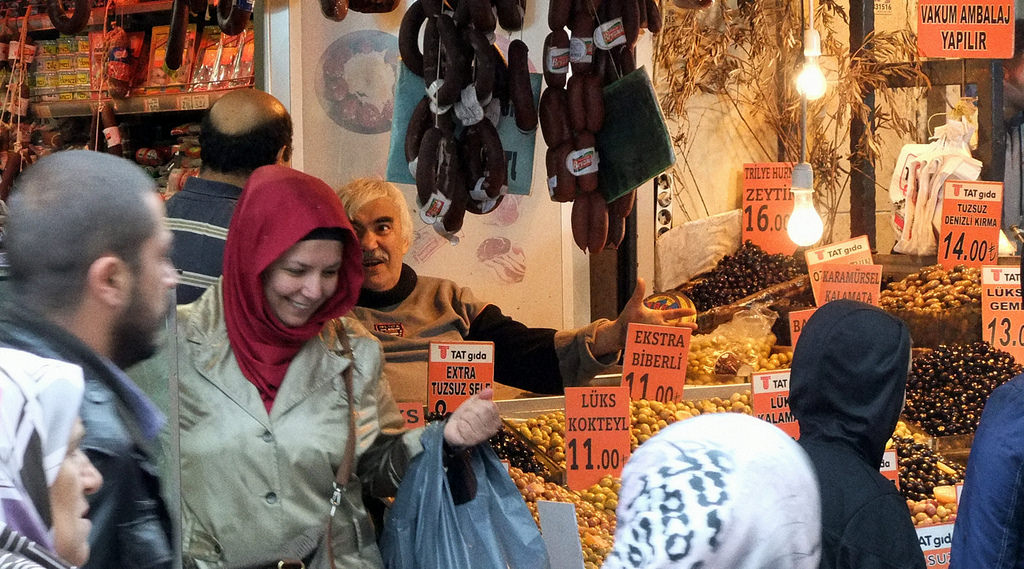 What to Wear when Visiting a Muslim Country
Unless you stay at a resort and do not leave it, as can happen in Modern Dubai for example, the answer is to dress conservatively when visiting a Muslim country and to dress for comfort if it is a hot climate. If you were visiting Old Dubai, then that is a different dress code.you need to be more modest. This is always the case when visiting a church or a mosque.
The answer is cotton when the climate is hot, and covering up as much as possible. Also, consider removing a lot of jewelry that says wealth if you are in countries, which are not so affluent.
Skirts
Skirts need to be covering the knees. Choose cotton because it is lighter and more forgiving in a hot and often humid climate. A sarong can work if tied correctly and not showing too much leg, and a sarong can be used as your scarf too.
Scarves and Sarongs are essential when travelling to any Muslim country.
A Dupatta is a long scarf, much the same as a sarong, and can be used to cover head and shoulders. You must cover your shoulders which is required in most Muslim countries, and definitely when entering any scared place of worship. In my case,I can also use it to cover my bright red hair, should you or I, not want to attract too much attention. Scarves and sarongs are also multipurpose so take a few, or better still buy a lot. You can use them to cover shoulders and cleavages, and also as a headpiece, or even as a shopping bag. You might like to read, The sarong – a unisex travel essential.
Pants/Trousers
Denim Jeans – you will die in the heat and humidity. They are way too hot for the climates, unless you are going to a particularly cold part and/or it is winter. You are better to go with a light fitting cotton pair of pants, which are relatively neutral in colour. Whites, and dare I say that awful word beige, work well in hot climates.
Shirts/Tops
It depends on the country. Those who see more Western tourists will probably let you get away with spaghetti strapped tops, as long as you have a scarf or pashmina to cover your shoulders. Otherwise, you will need long sleeved cotton shirts.
Dresses
Maxi dresses are fantastic particularly if they are loose and can let the air circulate. A pashmina, light weight, scarf or even a sarong can be placed around the shoulders. A knee length dress with a scarf also works.
Shoes
You will get away with flip flops (thongs in Australian), and light sandals. Go for comfort.
Hair in Hot Climates – good luck with that one.
If like me, your hair is prone to frizziness in hot and humid climates – well all I can say is 'good luck with that one." It seems no amount of anti-frizz can save my afro, so the scarf comes in very handy or tying it up as tight as you can.
Taking Prescription and other over the counter Medications
I have written about taking prescription medications into other countries, and not just female traveller but all travellers need to be aware of these.
In a nutshell, if you are taking prescription medication overseas on holidays, it requires …for your safety
1. Check with your doctor
2. Check with the Embassy if necessary
3. Get a detailed letter from your doctor
4. Keep viagra online without prescription medications and over the counter medication in original packaging.
5. Declare everything. Be open and honest.
4. Separate your prescription
Over the counter Medications
I will give you an example but it pays to do your homework.
Japan
This also applies to some over the counter tablets etc. For example, "products that contain stimulants (medicines that contain Pseudoephedrine, such as Actifed, Sudafed, and Vicks inhalers), or Codeine are prohibited" see more details Bringing Medication into Japan for Personal Use
They key to what to wear when you are Visiting a Muslim Country is lightweight and breathable clothes, that cover your shoulders and knees.It is a mark of respect to the country that you recognise their culture, and religion when you visit. Be modest, wear lightweight and breathable clothes, cover your shoulders and your knees, and have fun. The hair – well that may be a lost cause. Scarves, sarongs, and pashminas are your best friends.
Pin it