London has many things to see and to do and here we and fellow travel writers share 16 Things To Do In London that we know that you will enjoy.
1. Walk or Bike London with name-your-own-price Walking Tours
London has many walking and bike tours. These are fun and also provide you with a lot of information about the city from people who know their own city very well.
Tip:  Free Tours by Foot have historical walks and rides, street art walks and rides, and even pub crawls.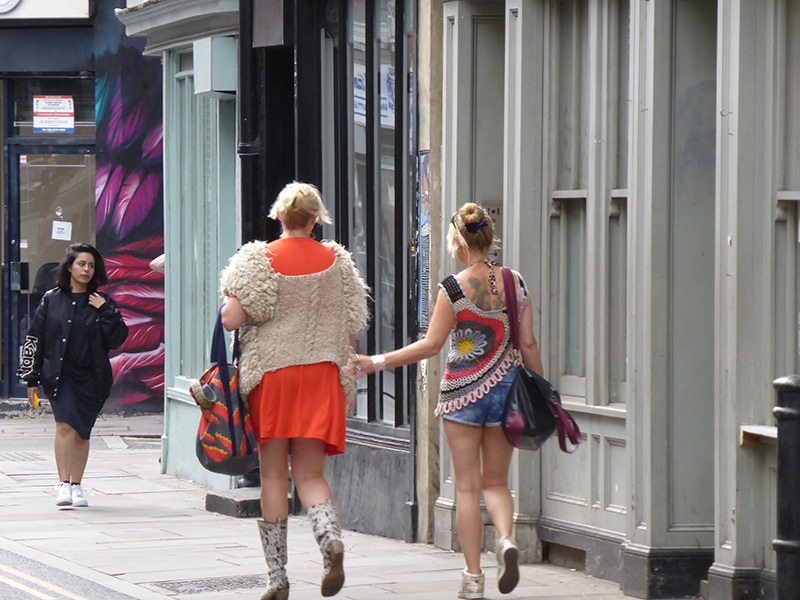 2. Changing of the Guards
This is one of those must see events if you go to London. While we often advocate that you don't have to see everything at a destination, I think that you will find that this is one of those very colourful and amazing sites, that really is worth the effort.
Tip: Get the insider royal information from Fun Tours London with Matt, who knows all of the best vantage points.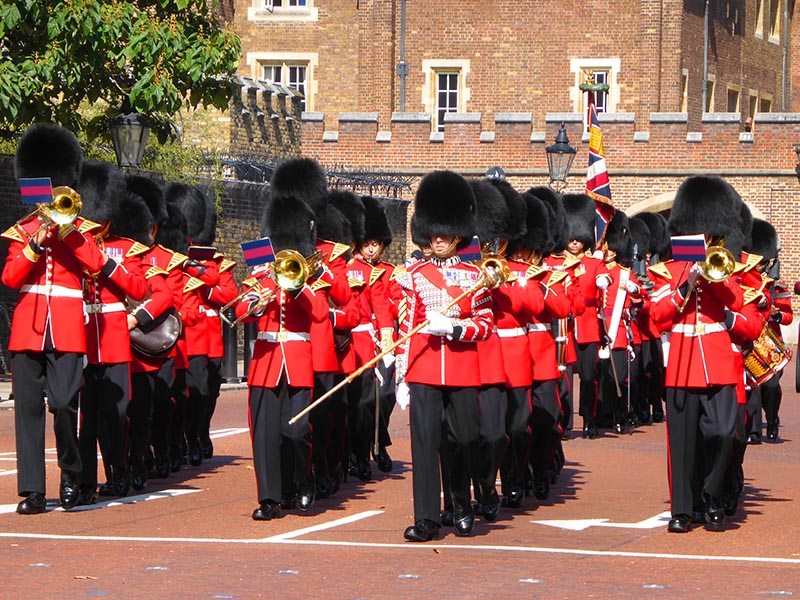 3. Visit Churches for Free
London and churches were made for one another. If you want to see Westminster Abbey or any other churches, and you probably do, and you hate queuing and we all do ..
Tip: Go to a church service. This will be an amazing experience no matter what your religion or non religion because it will be unique and interesting.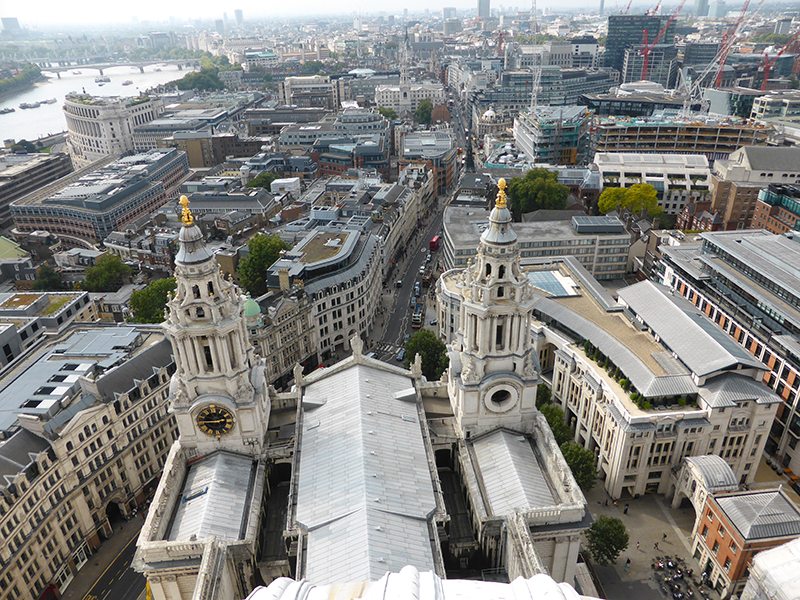 There's more to London than just Buckingham Palace and Tower Bridge. Branch out from the central tourist hot spots and discover the green spaces that the capital has to offer to those craving some time out from concrete and cameras.
Hampstead Heath
As well as showcasing uplifting views of the London skyline, Hampstead Heath is home to three bathing ponds ideal for those looking to get closer to nature and cleanse themselves of those commuter germs. Open all year round, these ponds are life-guarded and have showers and rustic changing rooms. There is no locker storage so valuables are best left at home, although the loungers tend to be a trusty bunch! For £1.50 a plop, you can take the plunge into the natural waters and immerse yourself in an outdoor oasis. Perfect for hot summer days with friends (and on early winter mornings if you have a wetsuit!), the ponds attract a varied crowd, with female only, male only and mixed options. One request: if you need the latter with your partner, please go easy on the PDA!
Richmond Park
Richmond Park is a lovely place for anyone wanting to walk, run, cycle and even horse-ride in the fresh air. Autumn is the best time to visit, as a shawl of trees rich in red, bronze and gold stretches over the landscape. Complimenting these royal colours are herds of protected fellow deer with their quiet, timid presence. This park is based in south-west London, accessible either by the District Line on the Underground or otherwise a 15 minute walk from Norbiton, to where trains run from Waterloo. Just make sure you keep Fenton on a lead…
Wimbledon Common
Not to be confused with Wimbledon Park, the home of the famous Tennis Championships, Wimbledon Common is another idyllic setting located in south-west London. Looking for somewhere quiet to read, write or paint? Wonder down through the woodland to Queen's Mere and say hello to the ducks relaxing in this quiet hidden haven. In this peaceful environment it would be easy to doze off, but warning: if you stay too late the midges might find you! Take a train to Wimbledon and bus or walk to Windmill Road where the iconic structure awaits you.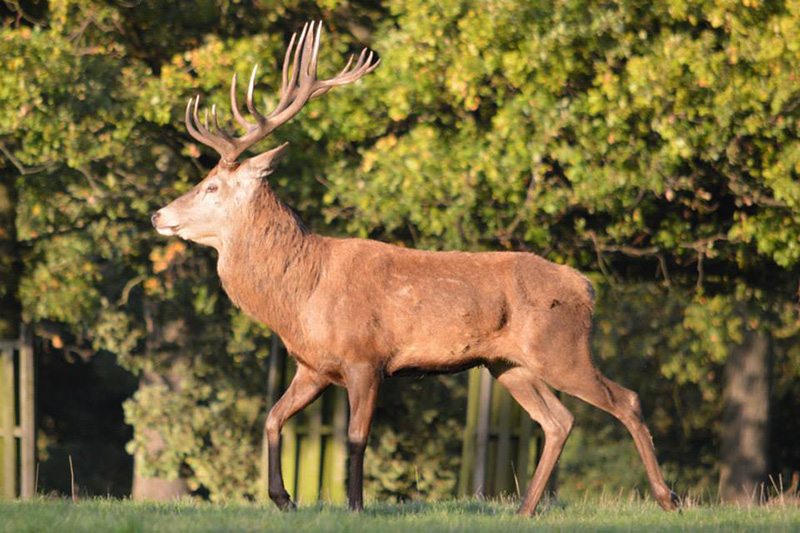 Fascinating for many, an alternate paradise for the ones who are familiar with the London city inside-out, CAMDEN TOWN, is all about living the dark subcultures we once read in our history books – live! Be it gothic, emo, punk or hippie, the youthful market is never short of people who not only visit the place for its unique underground feel, but also drop in simply to while away their time looking at the strange trippy world around them.
While  I was a student in London back in 2009, I could never spend a better weekend than in Camden, especially for the junk food that came in all varieties be it Mexican, Japanese, Lebanese or Chinese, made in the most delicious looking live food stalls with the most authentic tastes of each cuisine. Contrastingly different from all things normal – one can find the craziest and the most innovative things in Camden. Be it numerous variety of vintage posters on coffee, planes, golf and whiskey, or canvas paintings with graphic portraits of iconic retro stars, music tapes and records that date back to the long gone era's, all sorts of costumes, stockings, junk jewelry and masks…one trip to this place can never be good enough for an wild exploring soul…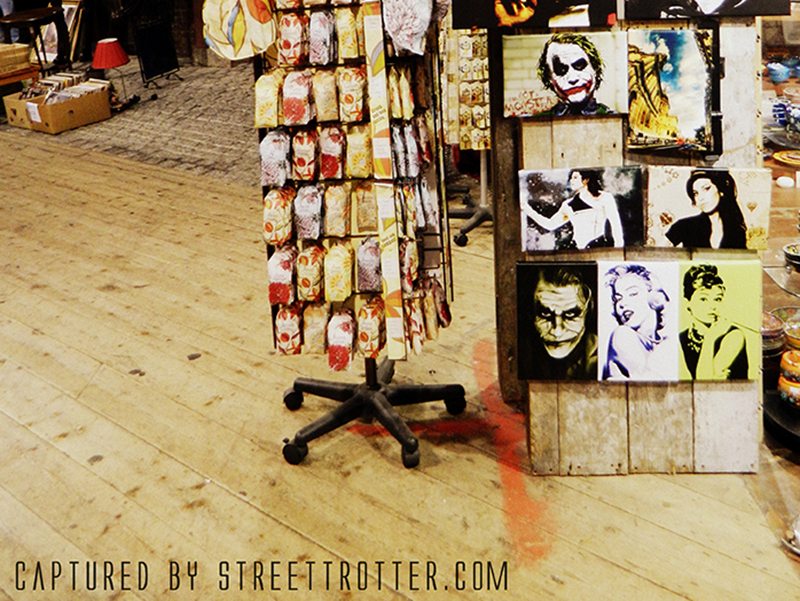 6. Visit Trinity Buoy Wharf by Every Steph
Tucked away in the Docklands area and hidden to the sight, Trinity Buoy Wharf is truly a world apart.
It's easy to reach the site from central London, yet it feels so far way: the wharf is an enclave for creative minds, bustling with spray painters, skaters and parcourers.
Trinity Buoy Wharf is a quirky destinations that offers, all in the same place, London's smallest museum, great views over the o2 Arena and the one and only city lighthouse. Not only: what about an original american diner from the 60's, and a real container city inhabited by artists and musicians?
Trinity Buoy Wharf is well worth a visit, especially for those who want to escape the crowds and go off the beaten path.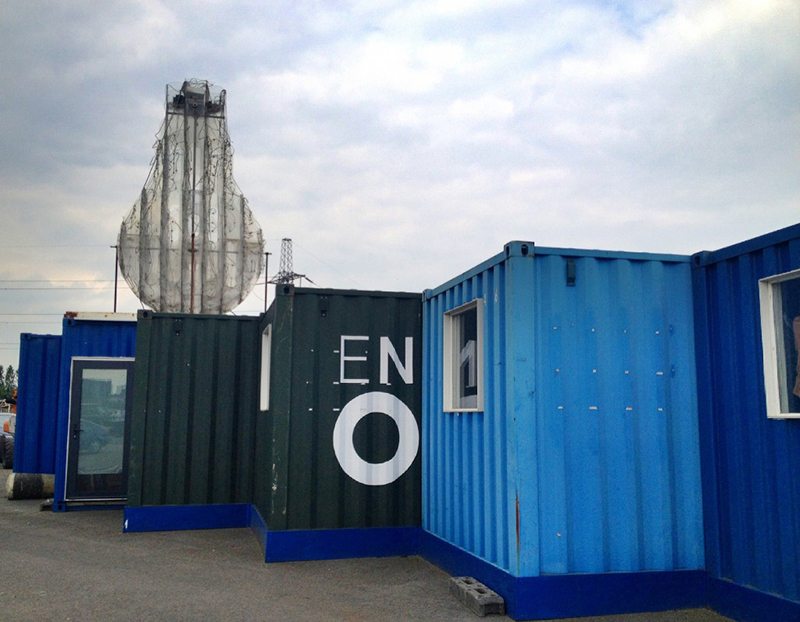 Served by the District line, and between the stations of Turnham Green and Acton Town,
Chiswick Park Tube Station Served by the District line, and between the stations of Turnham Green and Acton Town, Chiswick Park Tube Station was opened on 1 July 1879. The original name was Acton Green, but in 1887 it was renamed Chiswick Park and Acton Green. The station building was designed by Charles Holden and it is in a modern European style, reflecting that of the Krumme Lanke station in Berlin, which uses bricks, reinforced concrete and glass. The station serves the area of Chiswick, a district of West London in the borough of Hounslow. It is a charming neighbourhood, full of places of interest such as the Chiswick House and Christ Church. The area is simply lovely for a stroll, away from all the frenzy and traffic of London, with plenty of parks, charming cafés and lovely pubs and restaurants.
I am the biggest wimp every but I am also a history geek, so when my friend asked if I wanted to join her on the Haunted London Pub Tour, I reluctantly agreed. Well I am glad I did as it was one of the most interesting, fact packed tours I have been on in London, with amazing architecture and sights to boot.
Every Wednesday for £20 this tour will take you to the former barber shop of the real Sweeny Todd, let you stand inside a spine-chilling cell of a notorious Victorian prison and takes you into an authentic Gin Palace and ex Opium den, to name but a few.
The stories where intriguing and terrifying at the same time. I slept with the light on for more than a few nights after this.
The tour meets at Temple station at 7pm and lasts for 3 hours, finishing at Farringdon station. I advise you to take someone brave with you so you can hold their hand.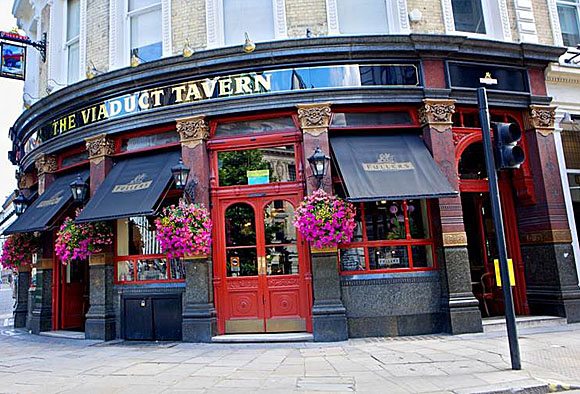 9. Scare yourself with a Jack the Ripper Tour by Rebekah Esme Travels
If you're interested at an alternative look at British history then I highly recommend checking out the Jack the Ripper Tour during your stay in London. Not for the faint hearted, the Jack the Ripper Tour has visitors strolling the streets of the East End, retracing the steps of the killer and his victims.
Tour guides are knowledgeable and immerse themselves in the role of 'story teller', projectors are used to display gruesome images on the streets as you pass through, this imagery really does enhance your experience and allow visitors to get a true feel for the horrors experienced by the East London killer.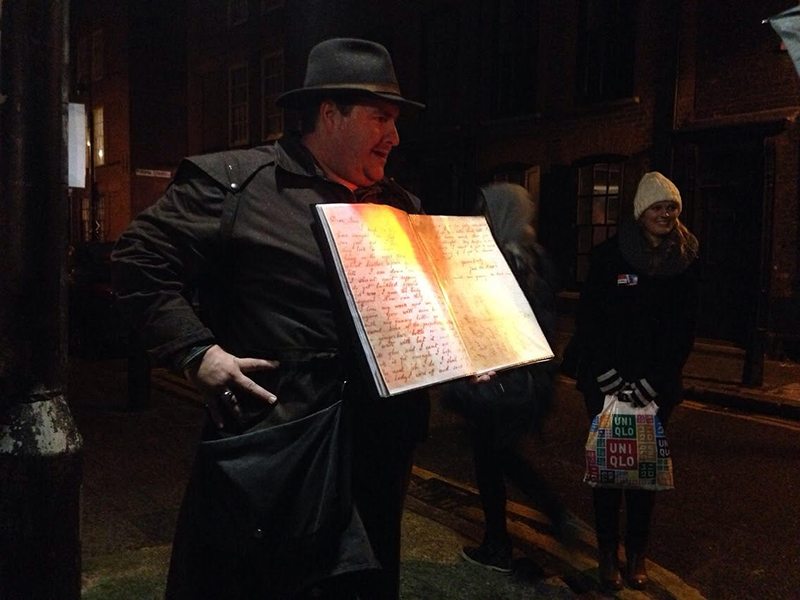 10. Eat at a Vegetarian and Vegan at tibits on Heddon Street, Soho – by Dale and Franca of AngloItalian 
The Swiss vegetarian restaurant of tibits on Heddon Street, Soho may be in one of the most popular districts of Greater London, but not nearly enough people know about how fantastic the vegetarian food is there.
As part of the healthy living ethos that the restaurant promotes, the culinary team behind the scenes always goes to great lengths to create interesting dishes based on their own Swiss cookbook, whilst also trying to replicate great British classics such as Sticky Toffee Pudding.
Above all else, the best and most unique part of tibits is that you pay by the weight of your plate, and not per menu item, leaving with you with the choice of just how much you'd like to pile your plate.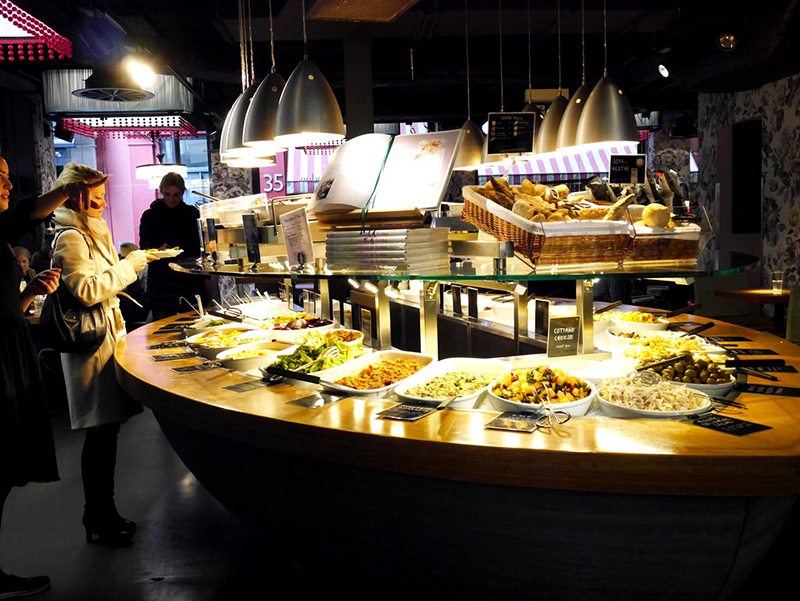 11. Try A Full English Breakfast at Polo Bar – 24 Hour Great British Cafe, LONDON by Best Little Coffee Shops
It looks pretty innocuous from the front but that has never deterred us at all. This is your archetypal greasy spoon caf and that is not said in a derogatory way at all. It is was it is – a 24 hour caf serving up British staples at all hours of the day and the night.
Having opening back in 1953 they self proclaim that the Polo Bar – 24 Hour Great British Café have been,
serving great quality British cafe fare to hungry City worker, commuter, builder and hard working policemen and women from the Bishopsgate Police Station two doors down." One wonders whether that is a threat or just to let you know that this is a café that knows how to serve the common people.
And you know what? It does.
If you want a great British breakfast of sausage, bacon, fried eggs, black pudding, tomato, mushrooms, beans and thick buttered toast washed down with either a brew of tea or a coffee, then the Polo Bar – 24 Hour Great British Café is the place to go. The staff is lovely, and there is no need to finish and leave immediately, which is always a good thing.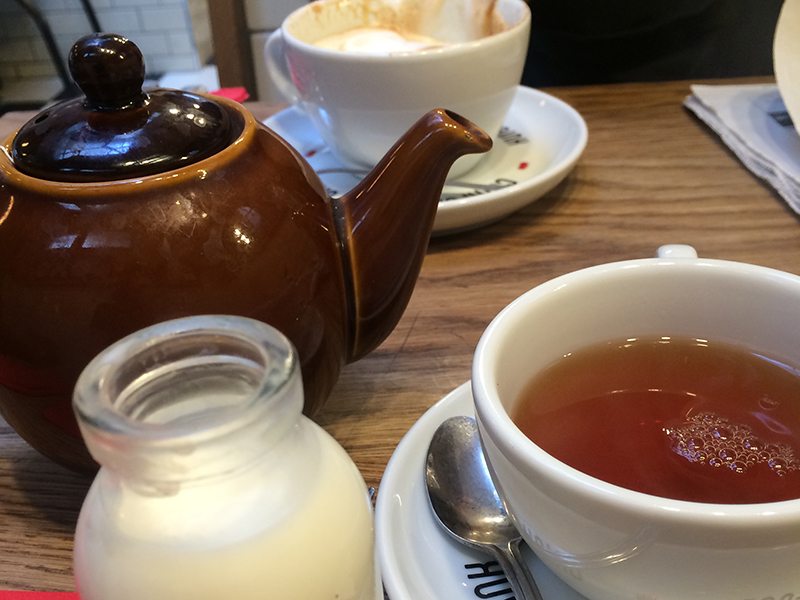 Brick Lane Coffee have a fantastic tagline – 'Come Happy Leave Edgy' .  On their website, they claim
Welcome to Brick Lane Coffee, where all organic milk and getting your order wrong has been our standard of excellence since 1999. We don't preach about coffee we make coffee. We've got three shops scattered about the lowbrow areas (where all the action is) of the big smoke. Come find us. We'll be waiting.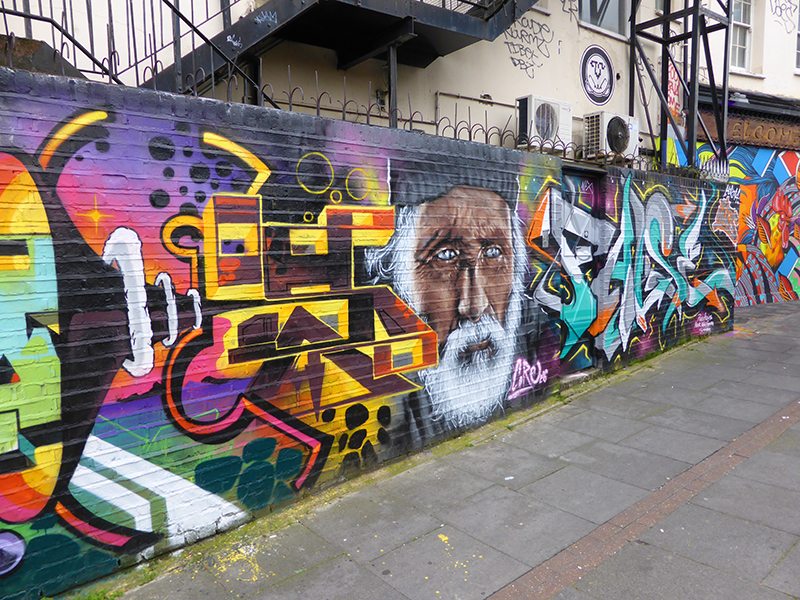 If you want to have a unique drinking experience in London then make sure you head to G
ordon's Wine Bar.
 This was a recommendation from my brother who is known as a bit of a wine connoisseur so we had a feeling this would be a goodie…and it was! Think supping wine in London's oldest wine bar…which just so happens to be a candlelit underground cave dating back to the 1800's. Uber cool!
As you duck your head to miss the doorway you head into Dickensian London, it's truly like stepping back in time! That would usually be enough to draw us in but there's more. Not only does this place have one of the premier wine lists in London but best thing about this place is it's cheese bar with a choice of over 20 different cheeses. For under a tenner you can get a cheese board with delicious fresh bread! Cheese and wine together is one of the best things ever so make sure you add this place was top of your list!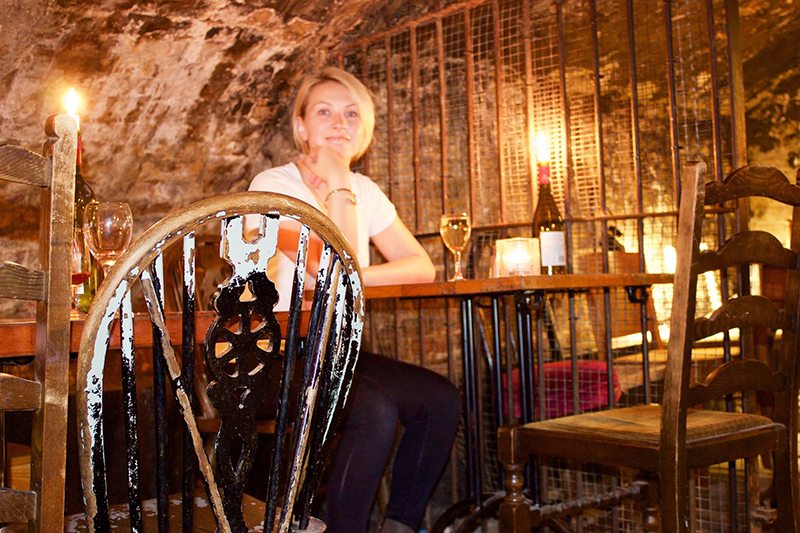 14. Take a Pub Crawl with Alternative London
They offer a pub crawl around London's East End pubs.  Not only will you get to know a lot about beer but you will also get to see more of the street art in Brick Lane.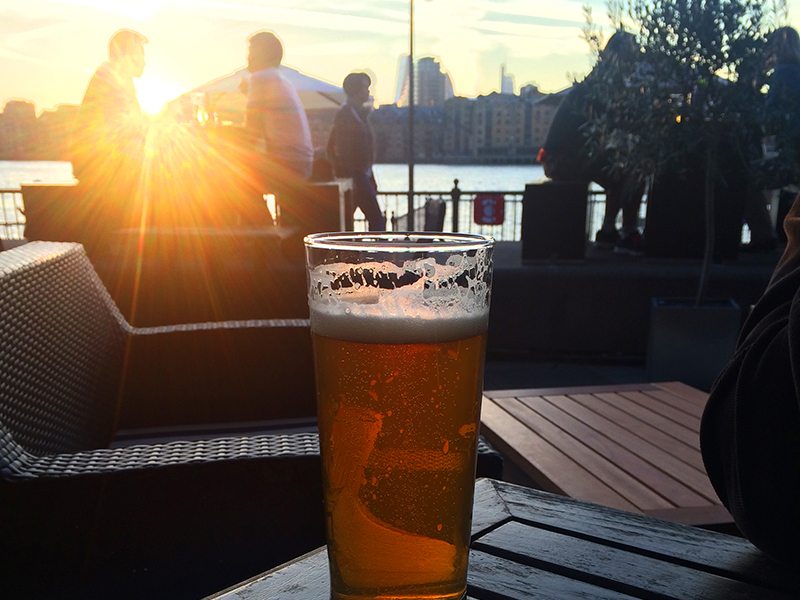 15. See some Street Art
Head out to Shoreditch and see a regenerated London, with enough street art to intrigue for a long time. Go for lunch in one of the Shoreditche's coffee shops , have a cup of tea, coffee and a biscuit and chill out a bit.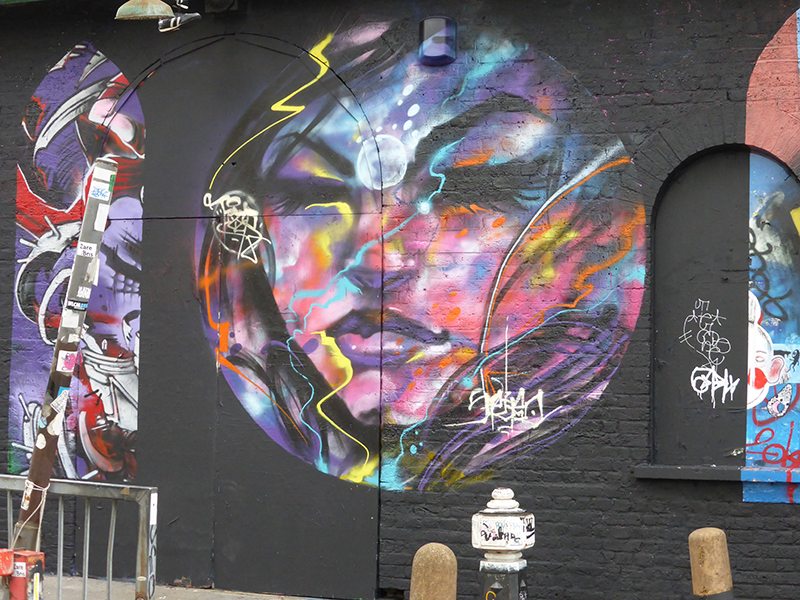 16.  See a last-minute West End show.
There are a lot of brokers in the West End and also the theatres have last minute tickets. You should pay no more than £20 and could scoop some amazing shows.
*Bonus
Don't forget that you can see a lot of London, when you have a layover or a stopover. Travel Addicts have shared there tips " You've decided not to spend those 13 hours wandering around Heathrow's Terminal 5 and want to get out into the sunshine and see a little of England. So how much of London can you see on a Heathrow layover? It turns out, the answer is a lot."
Read exactly what you can achieve on a layover by reading Seeing London on a long Heathrow Layover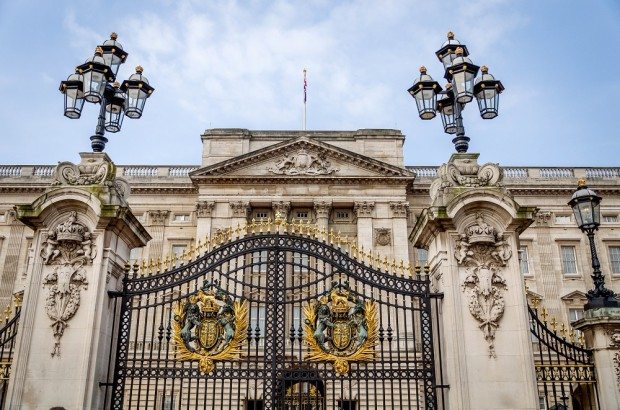 ***And another Bonus
The Trusted Traveller has shared the National Trails Thames Path, and I can vouch that this is an amazing walk
Few visitors to London know about the National Trail Thames Path that runs for 180 miles along the banks of the river Thames. The path begins at the Thames Flood Barrier at Woolwich in South East London and runs along the banks of the Thames past some of the city's most famous landmarks to Kemble in Gloucestershire. It's any easy walk that is mostly flat with the occasional set of stairs that take you over bridges to cross to the other side of the river. Obviously you don't need to walk the whole trail, but why not head out to greater London for a few hours and walk along some of the lesser known parts of the Thames. I always found it to be a recharging, peaceful walk with beautiful scenery.