These are the 9 Best Outdoor Adventures in Africa as nominated by travel writers from all over the world. If you like adventure activities and a rush of adrenaline, then these ideas will point you in the right direction.  There are some of the top outdoor activities and adventures that you can enjoy in Africa, for anyone of any ability.
Exploring Erta Ale Volcano in Northern Ethiopia
from Live Limitless 
Words can't describe the moment I laid eyes on the permanent lava lake of Erta Ale volcano in Northern Ethiopia. Ever since I was a kid making my own volcanoes out of baking soda and vinegar, I've been fascinated with these incredible forces of nature that I like to think of as Earth's pimples. It was what brought me to the beautiful country of Ethiopia and now I had made it. In front of me was a boiling pool of liquid magma occasionally erupting into the air.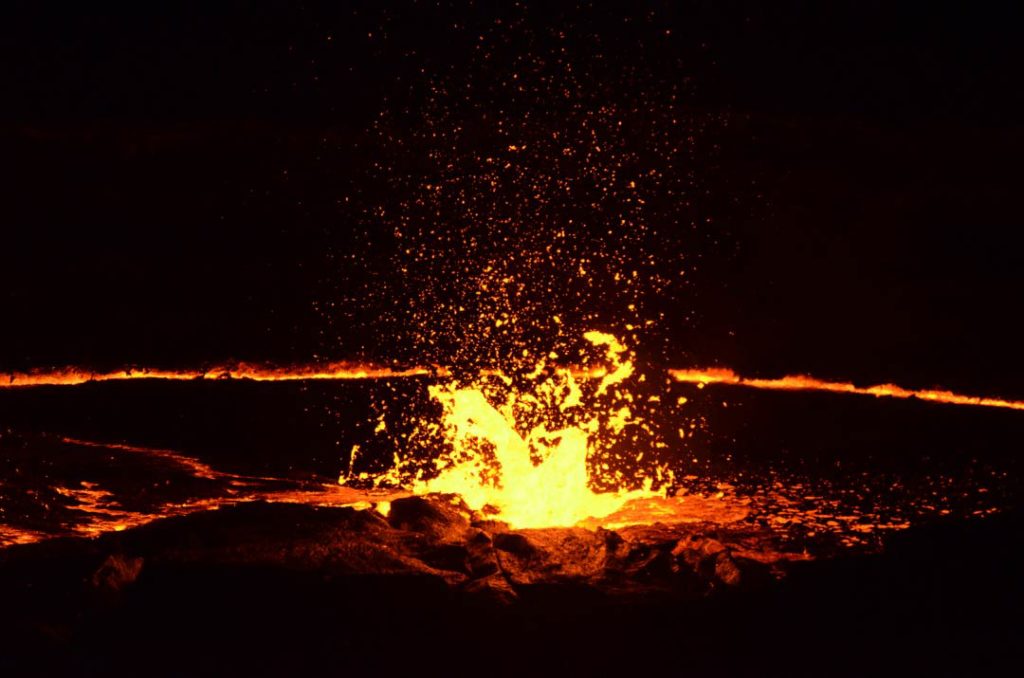 A Microlight Flight over Victoria Falls in Zambia
Visitors flock to Livingstone, Zambia for a view of raging Victoria Falls – also known as "the smoke that thunders".  If the weather cooperates and isn't too windy, keen adventurers can view the falls via a microlight flight.  For an exciting 30 minutes, you experience the falls up close while flying through "the smoke".  Not only do you get unobstructed views of Victoria Falls and the Zambezi River but the flight caps off with a swoop over Mosi-oa-Tunya Zoological Park for some game viewing.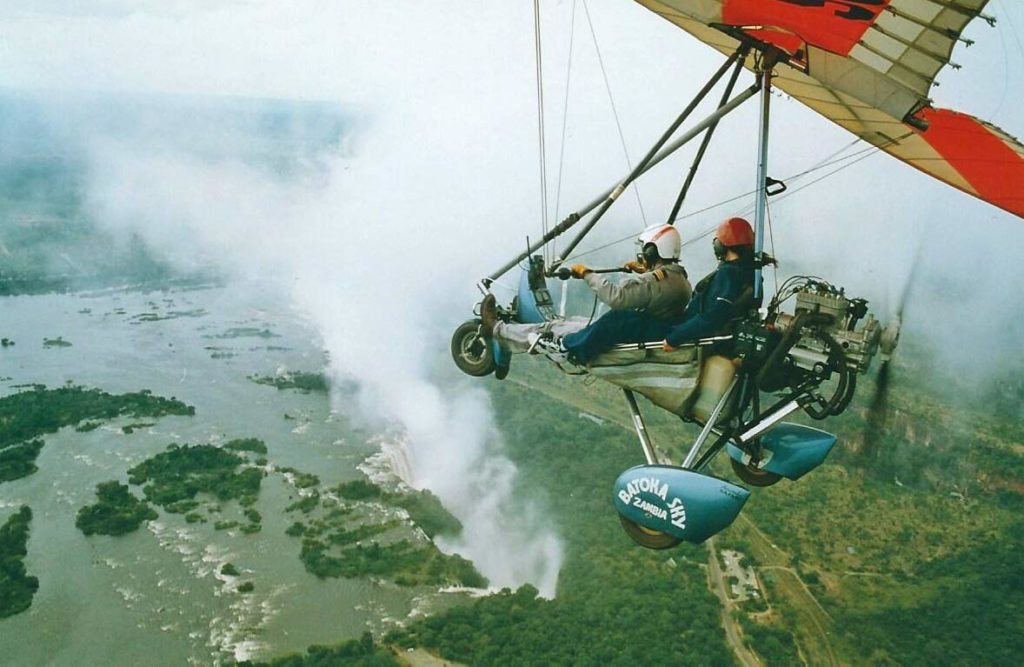 Camel Riding in the Sahara Desert in Morocco
from  Eternal Arrival 
I recently went camel riding in the Sahara Desert in Morocco, and it was one of the best adventures of my life! We traveled by camel for two hours through enormous sand dunes as the sun set, watching as the changing light cast magical glows on the sand all around us. We arrived at night in a Berber campsite, ate tagine and couscous, and slept under the most star-filled sky I've ever seen. Waking up early in the morning, we saw a breathtaking sunrise before trekking back to civilization via camel. It was an experience I'll never forget.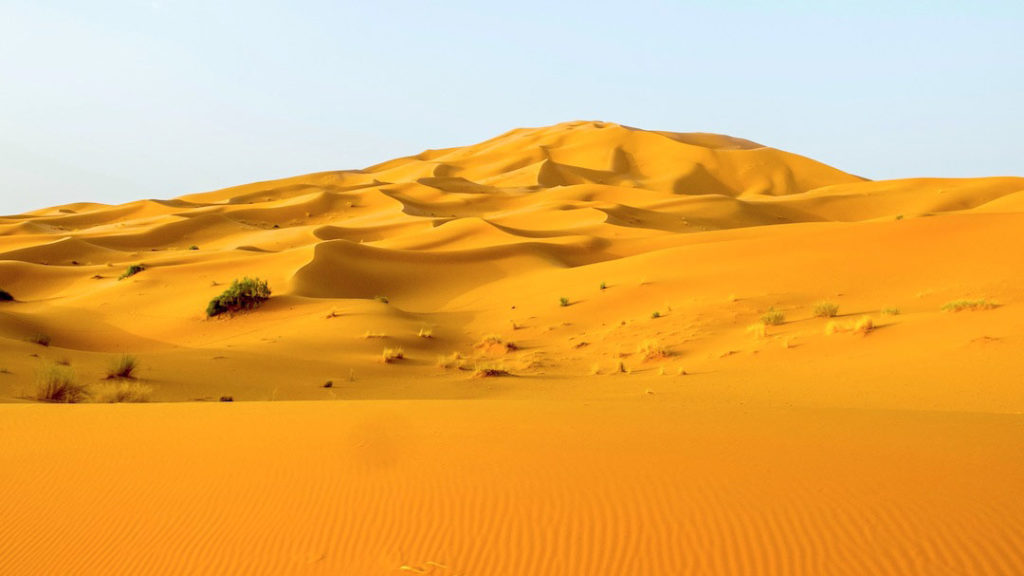 Diving in Egypt
Egypt is one of the most spectacular places to dive around the World. Diving in the Red Sea is like swimming in a colorful aquarium, where the water is crystal clear with a very concentrated ocean life. It s the perfect place for divers as the visibility is great and the water is warm. There are many parrot fish and lion fish everywhere. The lion fish spread their wings and look like butterflies. Clown fish and moray eels were also very common. Lucky divers can also catch a large mammal called dugong in the deep water. Diving in Egypt is a must for everyone who loves underwater life.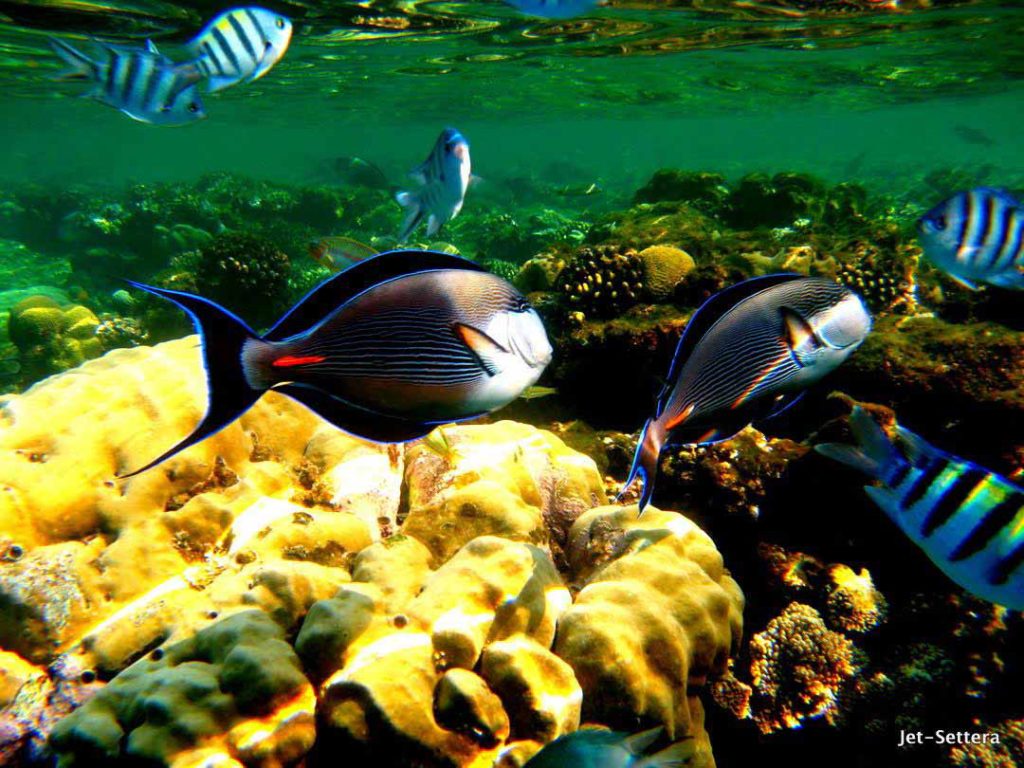 110 Nights Camping in Africa
from Getting Stamped
One of the most amazing & life changing experiences is going on an overland African safari. We have spent 110 nights camping in Africa, there is something special about laying underneath a million stars and hearing the lions roaring in the distance. The wildlife you encounter is out of this world, lions for days in the Serengeti. Once you go on a safari you will never be able to visit a zoo again. Don't forget there are some amazing beaches in Zanzibar and the lesser discovered Mozambique!
Paragliding, Cape Town, South Africa
from Non Stop Destination
While in Cape Town, my boyfriend surprised me with an adventurous gift: Paragliding. I've always wanted to soar through the air but once I was all suited up and ready to run off the hill, fear did take hold of me. I was too late to chicken out, and soon I found myself floating above Sea Point in Cape Town, with Table Mountain behind us and the South Atlantic Ocean in front of us. It only lasted 5 minutes, but it was an experience I won't forget anytime soon.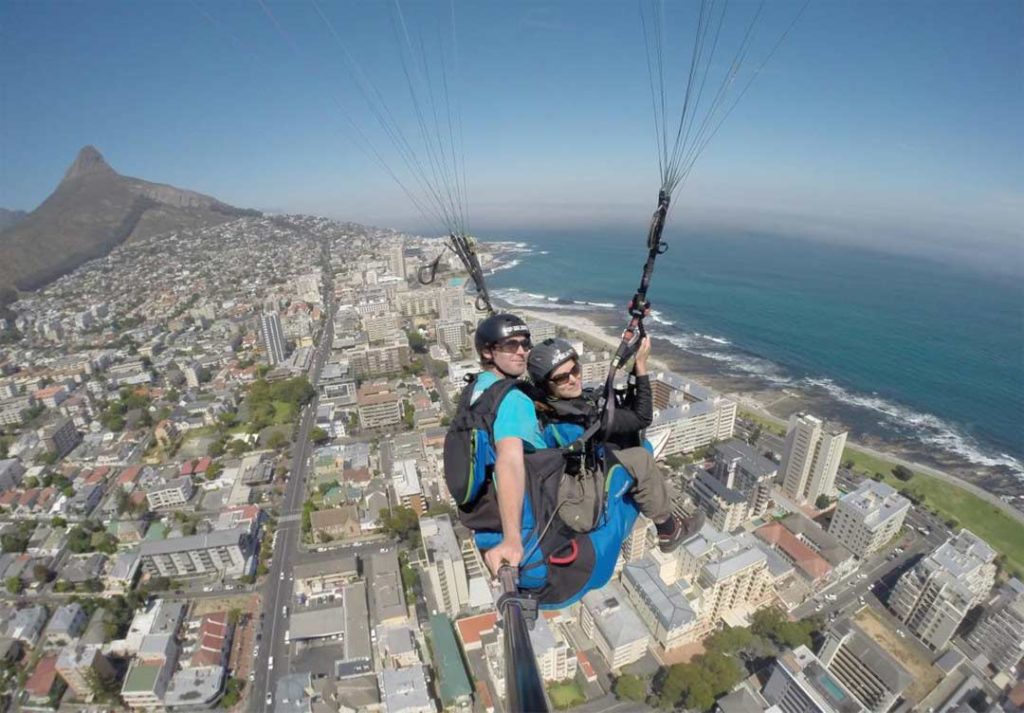 Hot-air Ballooning in Tanzania
from More Time to Travel
Imagine floating in a hot-air balloon over Serengeti National Park, home to the largest concentration of wildlife in the world. In the Masai language, serengeti means endless plains. This is an apt description of this 5700-square mile park inhabited by  two million wildebeests, hundreds of thousands of gazelles and zebras—as well as threatened species that include black rhinos, elephants, wild dogs and cheetahs.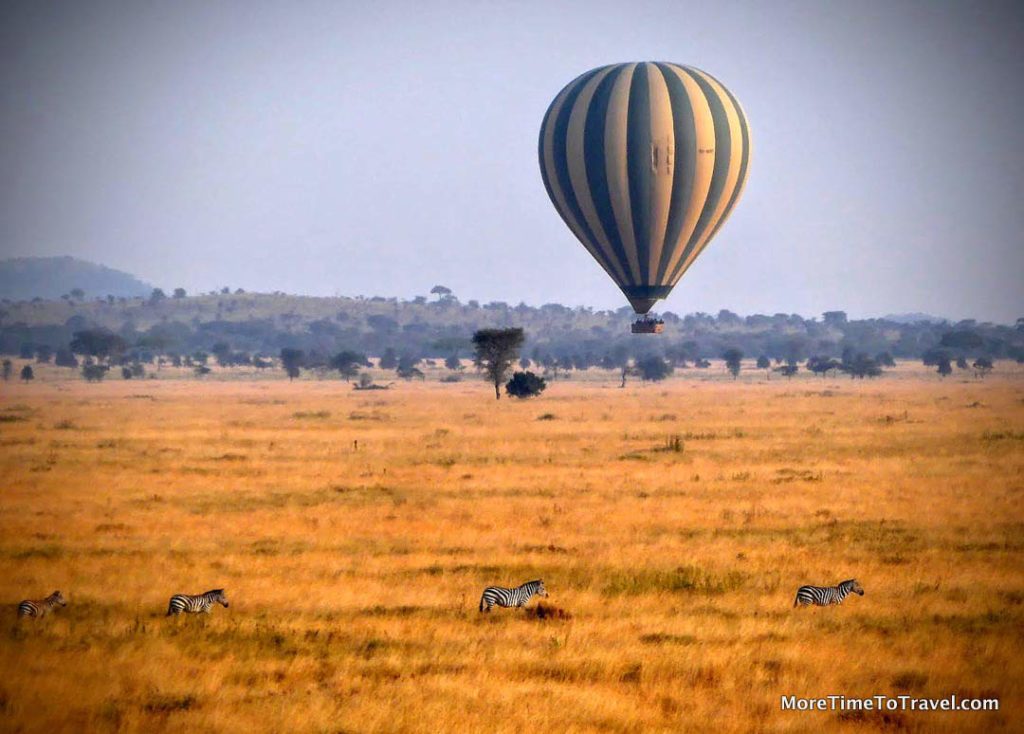 Trekking Maputo Elephant Reserve in Mozambique
Trekking and experiencing the Maputo Elephant Reserve in Southern Mozambique was a highlight of all of our time in Africa. The reserve is beautiful, untouched, and has virtually no tourist around. Trekking through the jungles can be difficult, but it provides fantastic views of the Indian Ocean once you reach the coast.
Trekking Mountain Gorillas in Rwanda
from The Travel Sisters
Trekking mountain gorillas in Volcanoes National Park, Rwanda is an unforgettable outdoor adventure for any wildlife enthusiast.  The gorillas can be found in Rwanda, Uganda and Democratic Republic of Congo but Rwanda is the most accessible.  Lucky visitors trek anywhere from one to five hours depending on fitness level to view the gentle giants.  For one hour (time is strictly regulated) trekkers get an up close view of a gorilla family, including the Susa group made famous by Dian Fossey.  With fewer than 1000 mountain gorillas left in the world and only 8 visitors allowed per family each day, the entire experience is a privilege.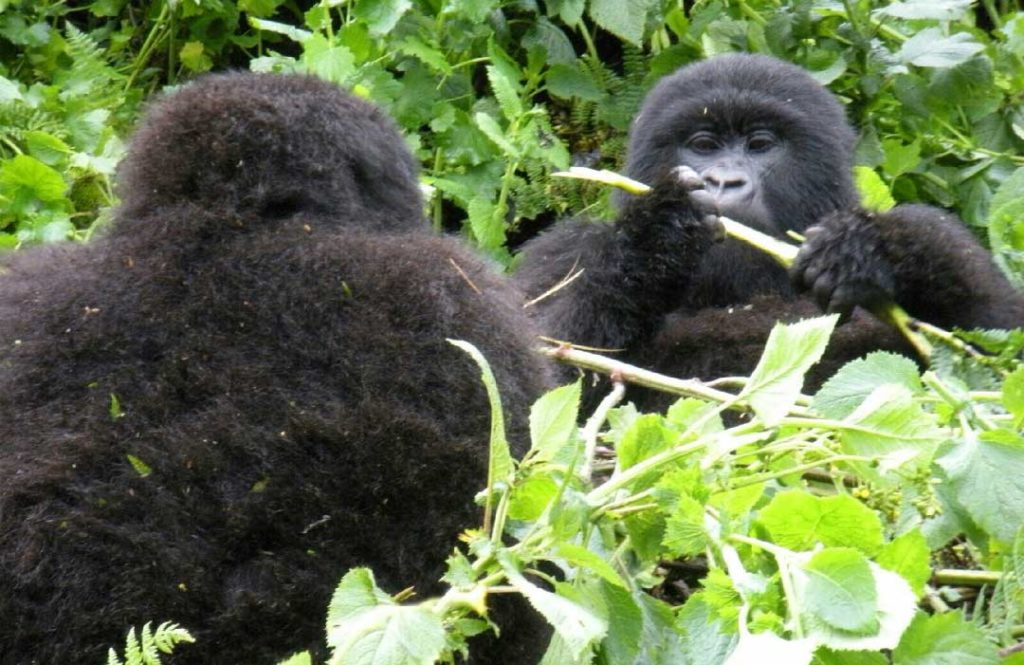 These are 9 Best Outdoor Adventures in Africa, that our travel writers have nominated.
What other outdoor activities would you add to this?