It is not often that you get to travel from the Indian Ocean in Western Australia, straight across this vast continent of Australia to the Pacific Ocean in Sydney, but that is what we experienced on this epic Indian Pacific rail journey.  This is one of the world's Great Train Journeys around the world that you can experience, and you just must add it to your list of things to achieve.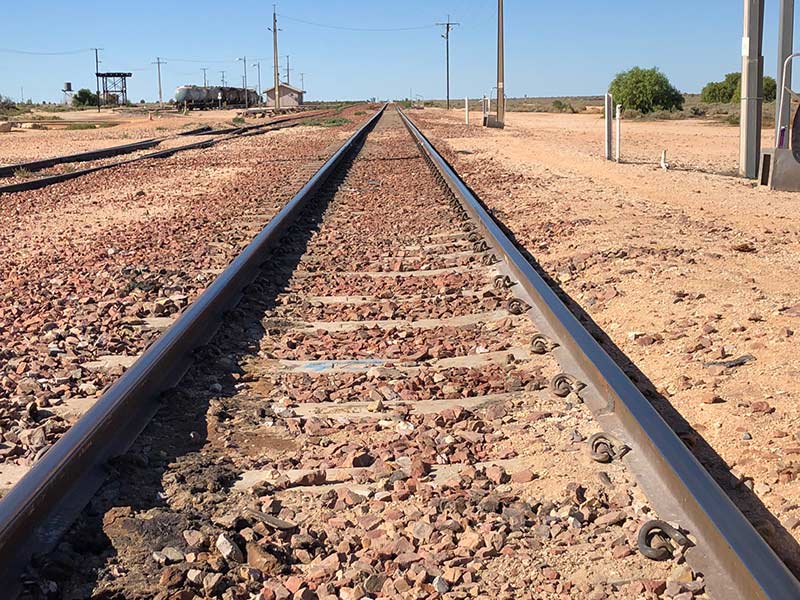 Great Train Journeys around the World
One of the most convenient ways to experience the world is by train, and Rail Plus offers Great Train Journeys in many countries, like Canada, Americas, China/Russia/Asia, Africa, Europe/UK, India, Middle East, New Zealand and of course Australia. To see if this style of travel suits you, why not experience a train trip in Australia. We can tell you it is a very convenient and enjoyable way to see many places, and that after our trip on the Indian Pacific we certainly are considering another.
Perhaps the Maharajas' Express, a luxury train in India, offering 5 fascinating journeys crisscrossing some of India's most vibrant destinations. Or then again, we have always wanted to experience the Rocky Mountains of Canada and what better way then by a Great Train Journey. The penultimate would be the Trans-Siberian Express onboard The Golden Eagle
One of the Great Train Journeys, the Indian Pacific, Australia
The train also goes from Sydney to Perth but is still called the Indian Pacific. Go Figure. It is offered by Rail Plus,who also do The Ghan which traverses from Adelaide to Darwin, and vice versa; another Great Train Journey, and The Overlander which runs between the two cities of Melbourne and Adelaide. For a top recommendation of where to stay before your epic train trip, we recommend Sebel East Perth, which we will chat about later … a hidden gem.
The Indian Pacific Rail Journey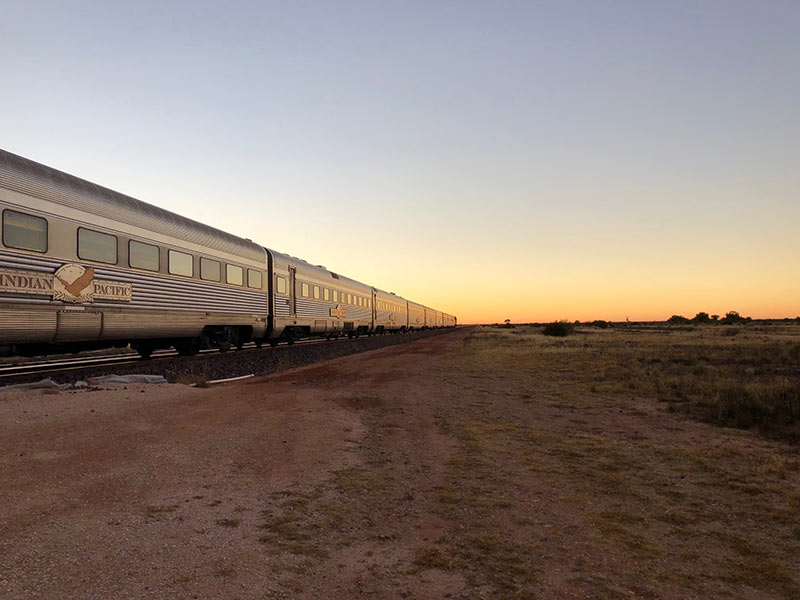 This transcontinental train journey is totally unique, as you cross some of the most remote areas in the world, including the Nullarbor Plains,  Australia's quintessential Outback for example, towards the mining towns of Kalgoorlie and Broken Hill, to the breathtaking Blue Mountains of NSW, and through landscapes, as varied as they are interesting.
It is hard to fathom the 4,352km or 2704-mile train trip taking three nights, and four days, and even we, as Australians, realising just how damn big, diverse and intriguing our country is.
This is an all-inclusive train journey meaning your food, drinks, off train excursions are all covered with your initial fare. Once you get on the Indian Pacific, you do not worry about anything as the staff are amazing at taking care of all your needs. It really is the penultimate once in a lifetime experience to traverse the continent of Australia in totally luxury, and to experience exactly how distinctive Australia is as a country and a continent.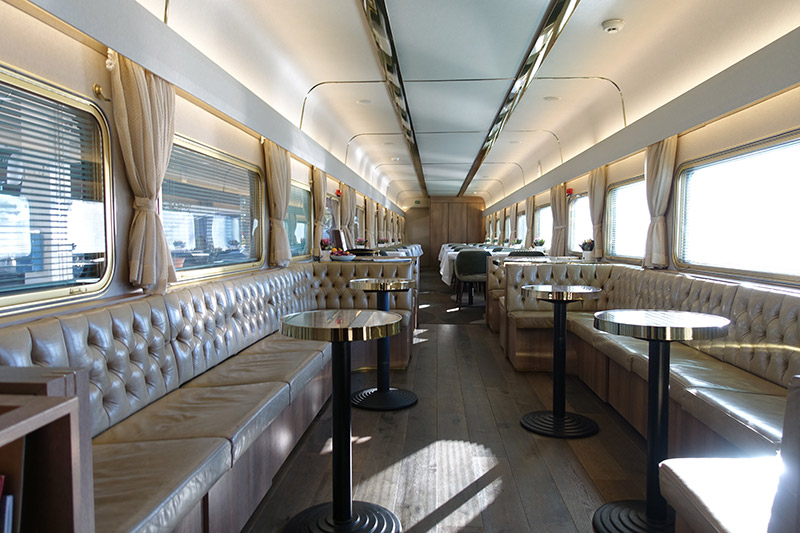 An experience like no other
I cannot imagine a better way for local and international travellers to experience our country. It confounded me. Suddenly I was in the thriving city of Perth in Western Australia, and then I was in the middle of the outback of Australia; witnessing and experiencing places like the Nullarbor Plains, meaning nullus, "no", and arbor, "tree" – ergo, no trees, and as flat as the eye can see.  This was and is one of those Great Train Journey's that no-one should miss.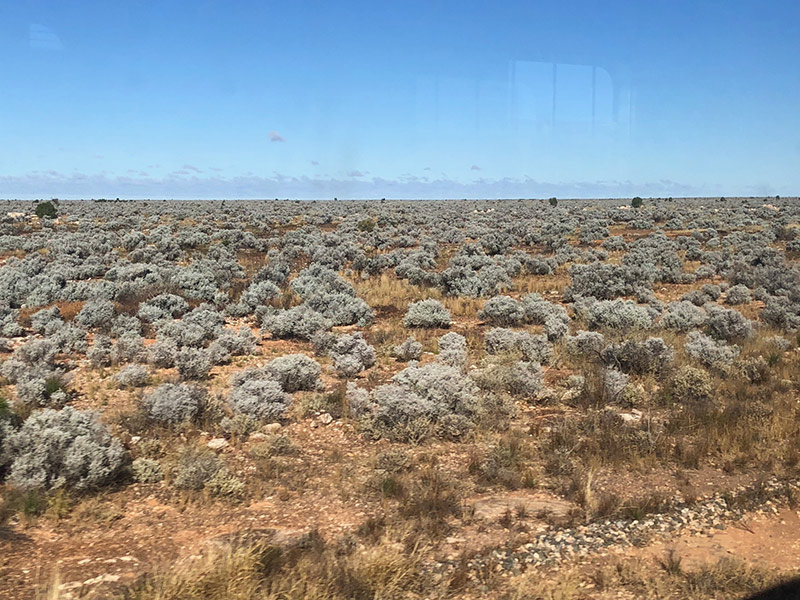 The train driver did tell us a that a feral herd of camels were on the line early in the morning, and he did have to do some light shining to move them on. Did you know that there are more camels in Australia than other country in the world? This is something I did know, but still, find so interesting. Who would have thought Australia had more camels than Middle Eastern countries?
"From the 1840s until the early 1900s, camels were imported into Australia principally for transportation purposes in the country's hot, arid deserts. (sic) "Camels in Australia are feral, not wild. Feral animals are domesticated animals living in the wild after escaping domestication or captivity" so know you know, the most camels in the world were in Australia. There has to be something in that for all of us.
History of the Indian Pacific
As the different colonies in Australia were headed towards Federation at the end of the 19th century, Western Australia was persuaded to join this new nation by promise of a transcontinental railway linking this isolated western region with the rest of the eastern colonies.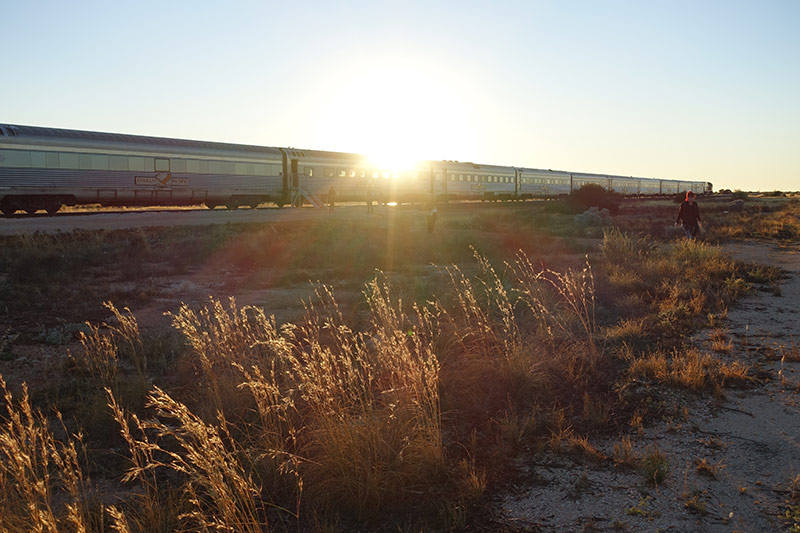 It was not until 1969 that an uninterrupted rail link from the Indian Ocean in the west to the Pacific Ocean in the east existed. The newly-named Indian Pacific train embarked on its inaugural transcontinental journey on 23 February 1970, arriving in Perth to a crowd of more than 10,000 well-wishers.
Life on board to Indian Pacific, the Great Train Journey
As previously mentioned, once you are on board you have nothing else to worry about, it is all inclusive. There are two categories of cabins, Platinum, and Gold – Platinum being slightly larger than Gold where we were.  It depends on which price point you choose to make this journey.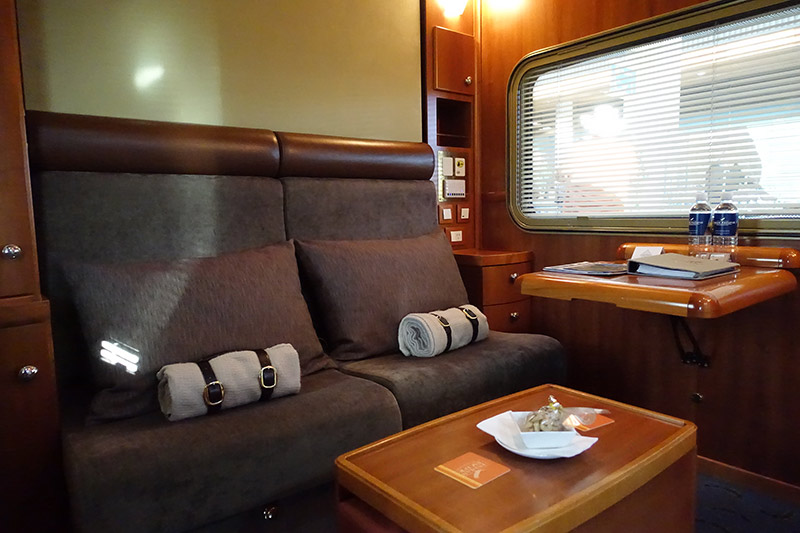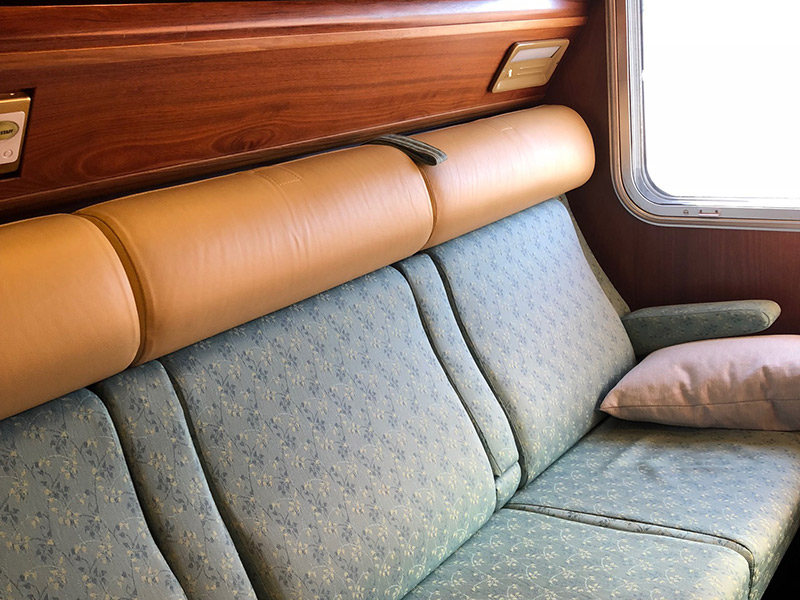 What we all got was A+ attention. The Indian Pacific train trip prides itself on service, and they win in this area. Nothing is too much trouble for them to know you. From early door knock wake ups (should you choose), to knowing the wine you want at the bar, to the open and very friendly lounge areas where you just get to know other guests, because it is a convivial environment, to the Bloody Mary at breakfast, just because you can …. to not leaving you in Cook, the town with a population of 4, and in the middle of freaking nowhere, the staff are all over caring for you.
PS. Thank you for not leaving me in Cook; I am such an urban chick.
What's the food like on the Indian Pacific train trip?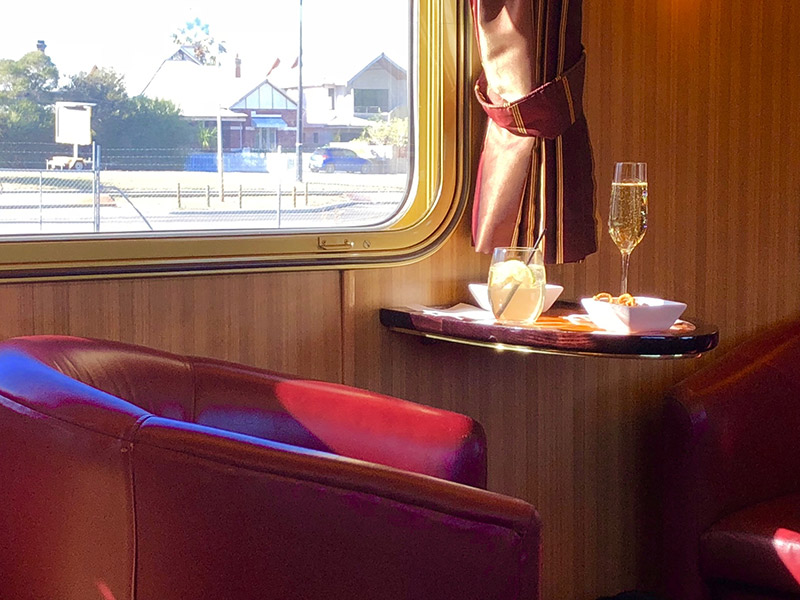 As to be expected on a luxury train trip, you have nothing to complain about with the food and the drinks. We had off train excursions daily, which were so interesting, but we spent a lot of time eating, drinking, sleeping, chatting and it all worked well. All palates were well catered for, right down to camel tagine and other local produce, should you really want to get your outback experience complete.
Entertainment on board
On board entertainment, and in fact at the exits and returns from off train excursions, always had some music from the young man on the train, employed to entertain us. It worked well. It gave that 'I'm in the Australian bush" type of experience. Most of the entertainment in reality, is with mixing with other people.
Off Train Excursions on the Indian Pacific
The wild wild west of Kalgoorlie, Western Australia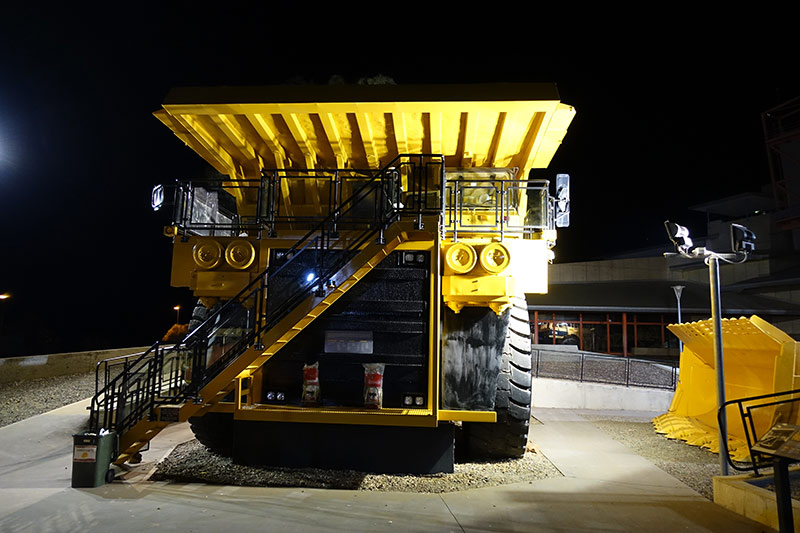 The Indian Pacific train trip was broken up by Off Train Excursions. The first was Kalgoorlie, an old gold mining town renowned for pubs, brothels and general mayhem. This was a place I was excited to visit. Unfortunately, as we arrived late at night, and were escorted, we were treated to a sanitized, yet dramatic rendition of the history of this very enigmatic wild west town. We did, however, get to see the massive machinery that this mining town is renowned for. They do it big in Kalgoorlie.
Rawlinna, Western Australia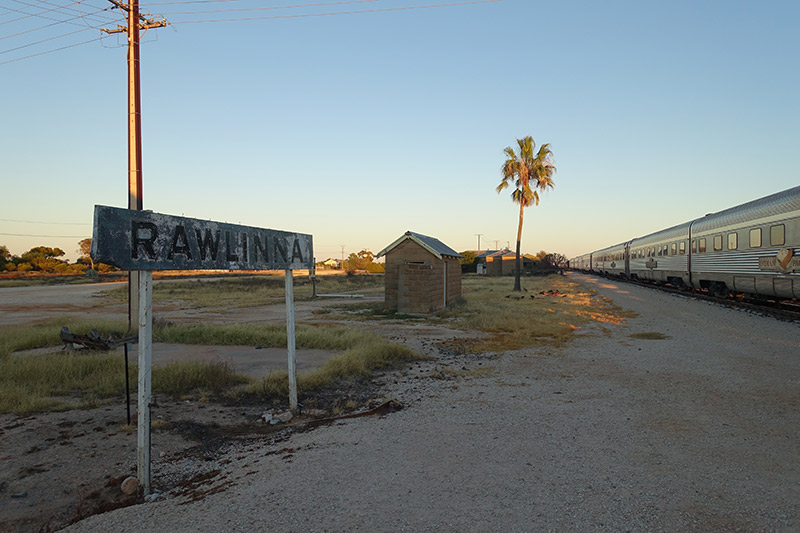 Described as a "little outpost on the Nullarbor Plain," there really is little here.  On the trip from Sydney to Perth, you stop at Rawlinna, Western Australia for dinner under the magnificent stars of the great Southern lights. For us coming from Perth to Sydney, we stopped at 6.30am to be feted by clear skies, crisp weather, bacon and egg sliders, vegemite scrolls, Aussie music … and you know what? It worked beautifully. What can be more iconic than the Australian outback than this? Definitely fond memories for me.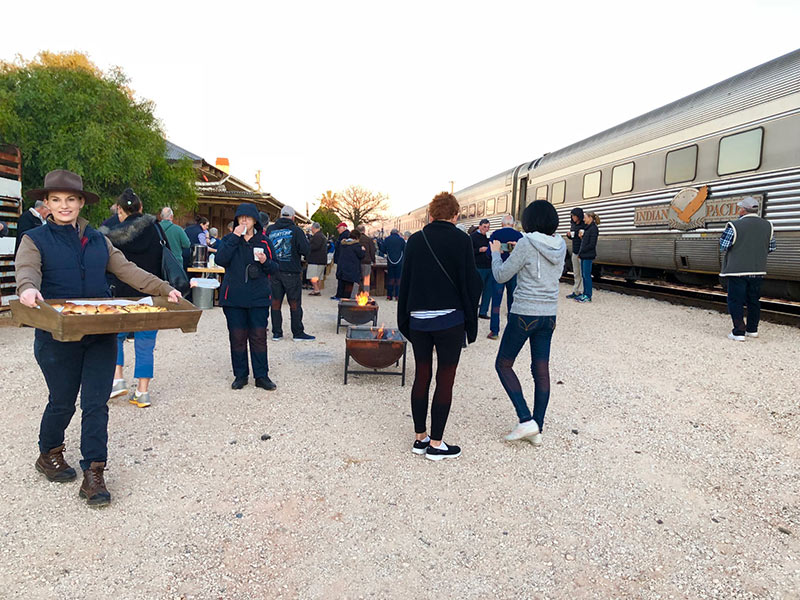 Cook, South Australia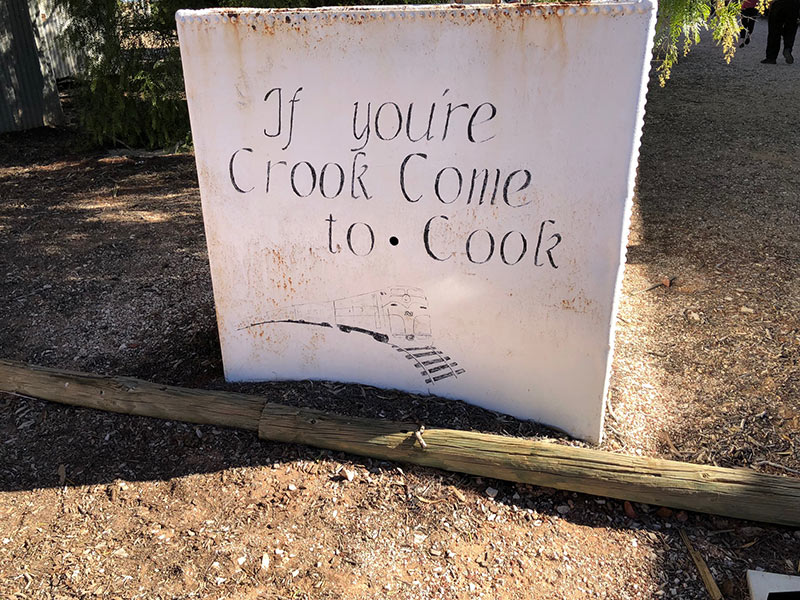 Ok, we crossed the border during the night from the vast state of Western Australia to South Australia and the little town of Cook, population 4, where I lived in dread of being left behind, though undoubtedly the locals would have cared for me.
The local swimming pool looks more like a garden, yet this was once a thriving railway community, which had a sense of humour. Once this was the only hospital  for hundreds of miles, hence their sign  "If you're crook, come to Cook"; "our hospital needs your help, Get sick." Now the Outback relies on the Royal Flying Doctor Service of Outback Australia. The train did not abandon me …because the Indian Pacific are like to fairy godmothers to all passengers.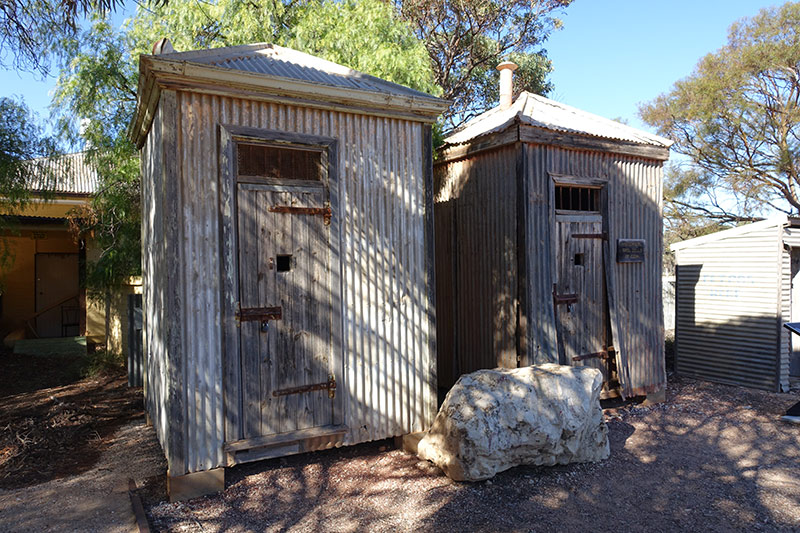 Next stop … Adelaide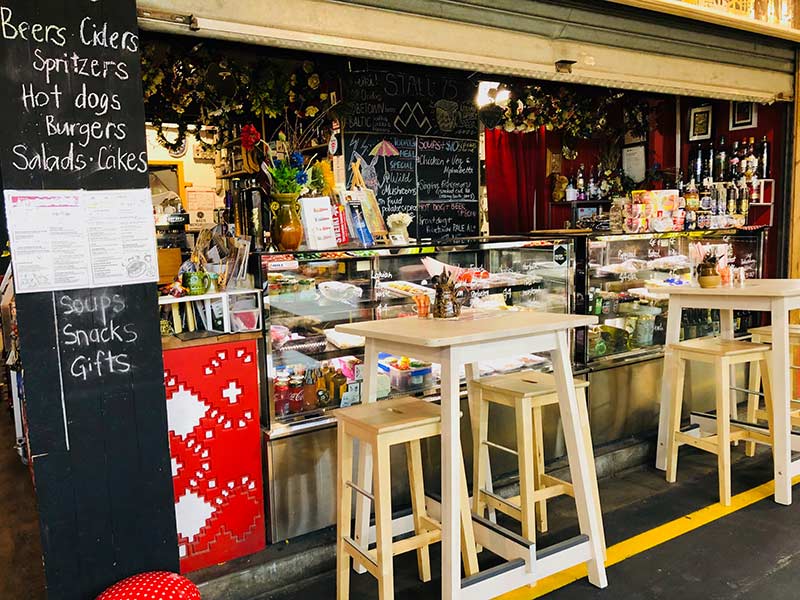 As the capital city of the state of South Australia, there is a lot that is appealing about Adelaide, not mentioning the fact that is that gateway to the wine growing areas of the Barossa and Clare Valleys. Here we had choices. Cricket tragics could go the Adelaide Oval, others went some other places, and we went on the Central Adelaide Food Markets tour, because food rules. South Australia is well known as a food and wine destination, and with good reason. It was not our first time here but experiencing it with a local guide makes everything more enjoyable. We ate, we ate, we ate …. and we ate some more. What an enjoyable experience in Adelaide.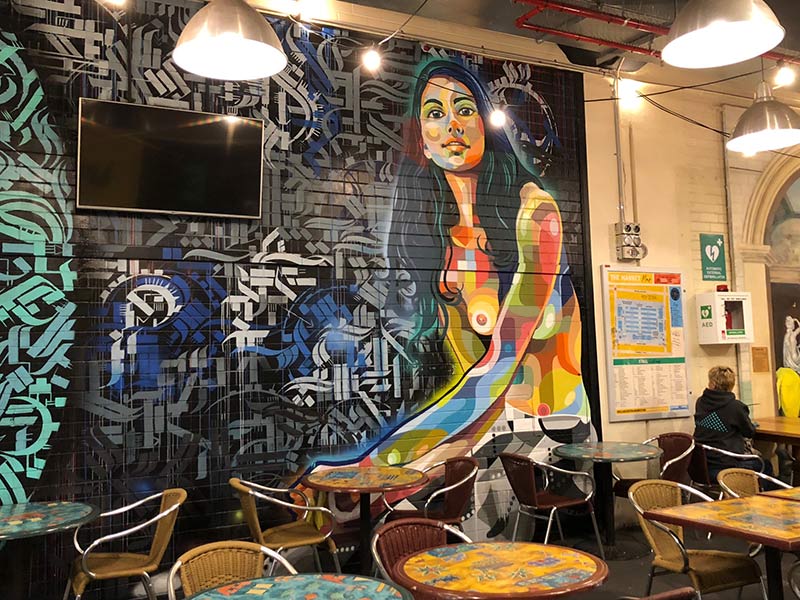 Broken Hill, NSW …Broken Heel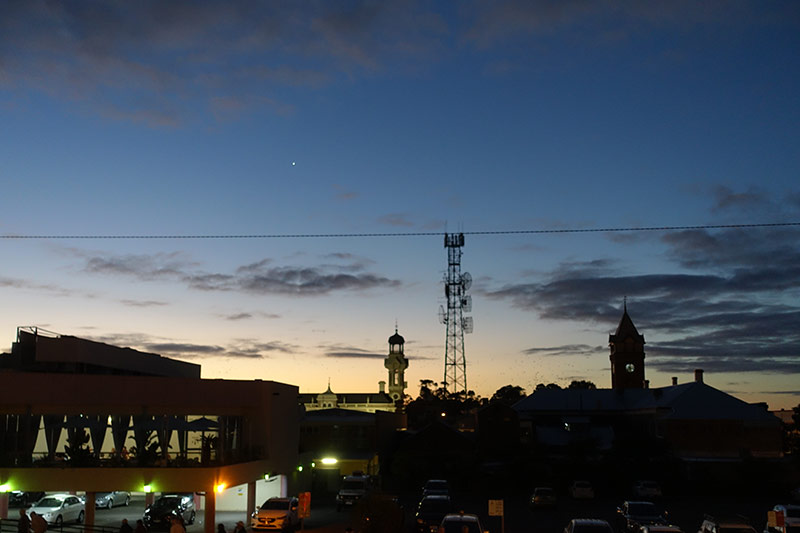 Yes, we covered some ground on this trip. To date, we had been in Western Australia, South Australia and back to our state of New South Wales, and to Broken Hill, a frontier mining town in the far far west of New South Wales, in the Australian outback. I had been to Broken Hill years ago. It is a town that has suffered from the mining slump.
Well, clever Broken Hill. The most amazing movie Priscilla Queen of the Desert, and an on stage musical sensation depicted 3 drag queens on a journey from Sydney to Alice Springs, in the middle of the Northern Territory. On the way, they stop at Broken Hill, who were so not ready for drag queens.
While we had choices in Broken Hill and trust me the art of Pro Hart was close, but, we could not miss the opportunity to see the Main Drag and the drag show at The Palace Hotel in Broken Hill, with its iconic murals which adorn its interiors. Yes, we were treated to a Priscilla inspired drag show (photo is evidence).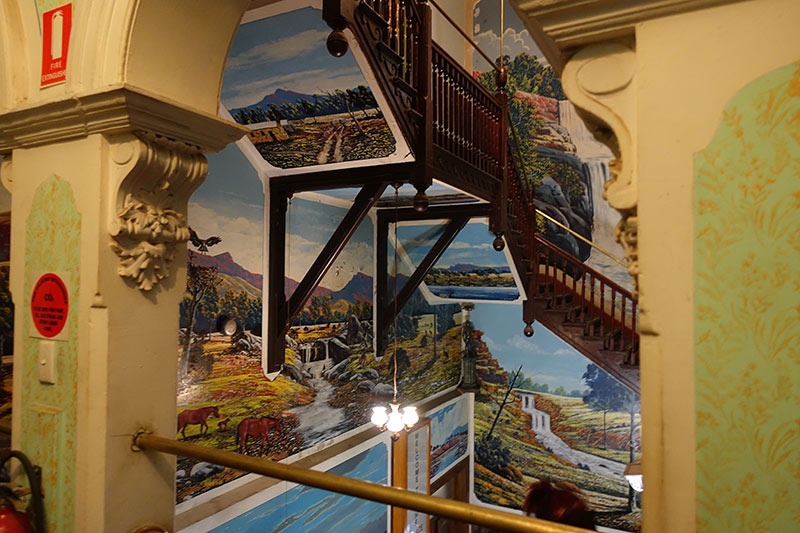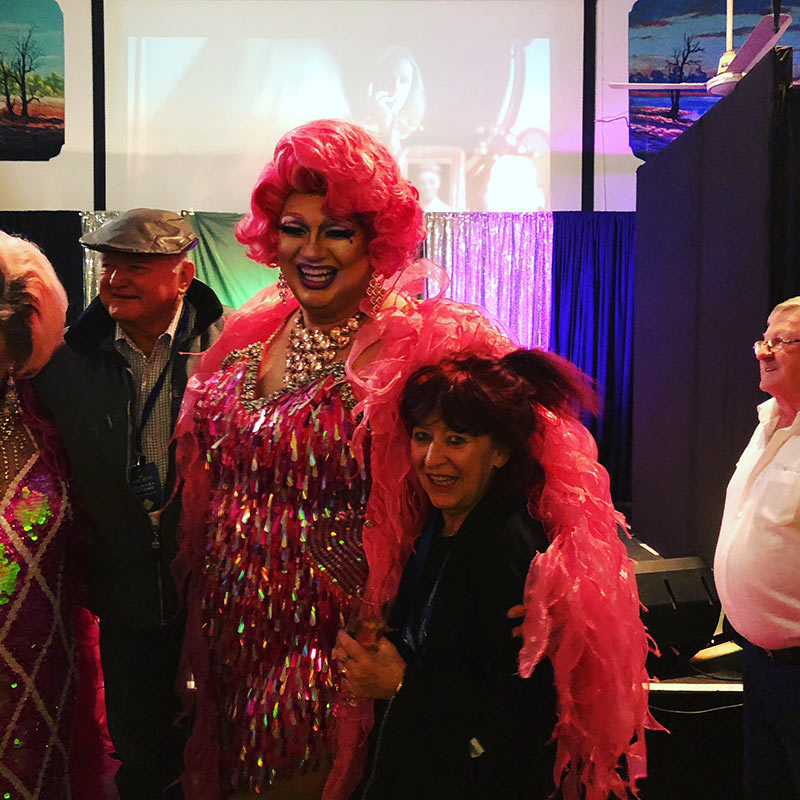 What I admire so much about this outback town is that have reinvented themselves, quite ironically, based on the movie.  There is now the Broken Heel Festival where you have desert, divas, disco and plenty more to do darlings …as an aside. It so popular, you need to book early and why not stay at the Palace hotel, and shake your groove thing. Did I love the off train excursion at Broken Hill? Well, "I love the nightlife." 
The Blue Mountains of NSW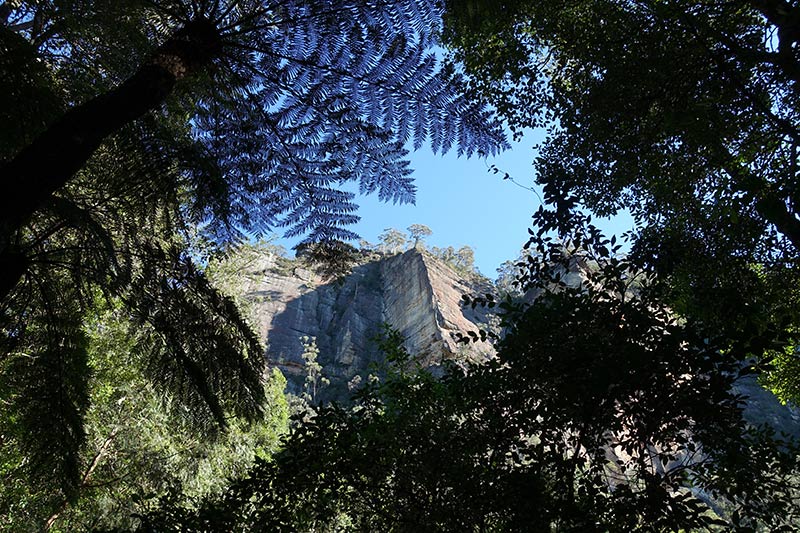 Yes, we were edging our way back to home, with an amazing stop in Katoomba and at Scenic World Blue Mountains Australia, which has the steepest railway 'in the world' (true),  a cable car ride through the canopy of trees in the Jamison Valley, a bushwalk, a scenic skyway on a glass bottomed thing, and another bushwalk to the Echo Point lookout with a vista over to the  iconic Three Sisters of the Blue Mountains, and where some dumb bitch face-planted on the walk. However, champagne awaited us because the Indian Pacific knows how to look after it, guests, and where I licked my sorrowed wounds…and also had some very good food. It helped…a lot. Read more about the Blue Mountains of NSW, Australia.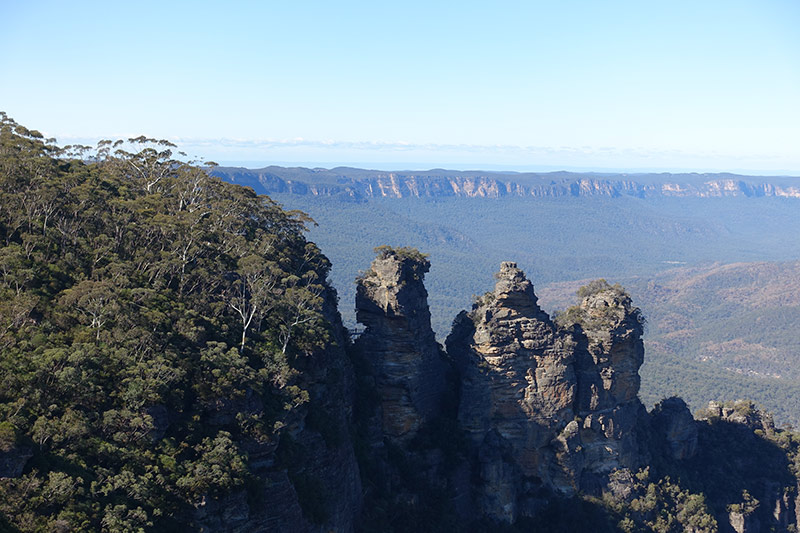 Where to Stay before your  Great Train Journey
The Sebel East Perth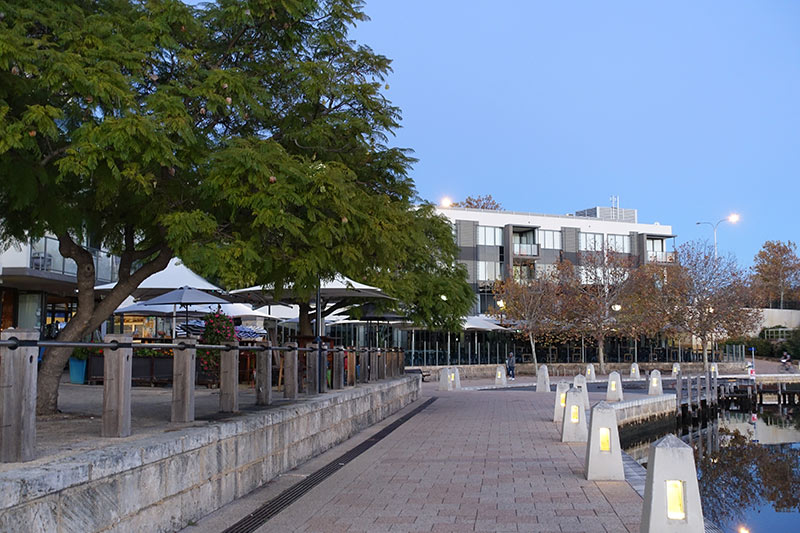 East Perth is cool. Full stop. The Sebel East Perth riverside property is cool. Full stop. You open your windows to the views of Claisebrook Cove and the Swan River. Not only is the accommodation beautiful, but underneath you have some of the most amazing cafes and restaurants lining the river, which in itself is a lovely walk.  We cannot recommend it highly enough. Latest prices and reviews from Trip Advisor are here. Also, it is a short 5 minute (max) taxi trip to join the Indian Pacific train.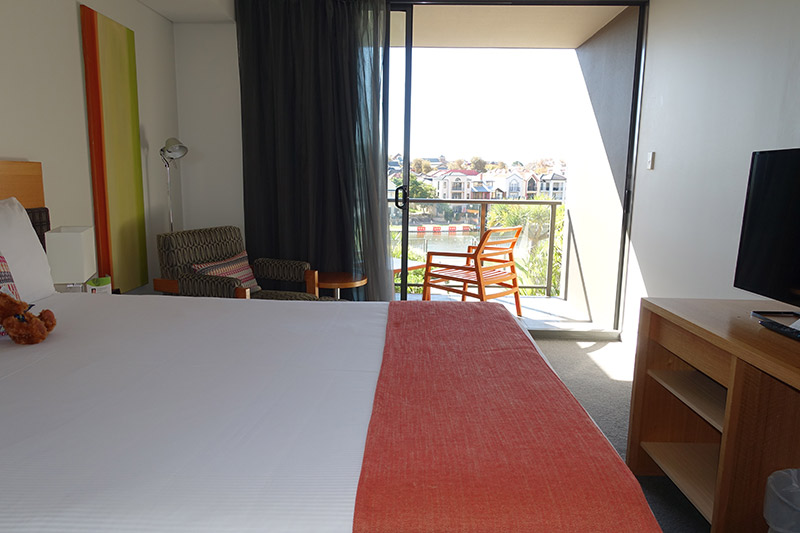 Do we recommend the Once in a Lifetime Experience on the Indian Pacific Rail Journey? One of the Great Train Journey's in the world? Most definitely. It is totally unique, fun and what a way to see the diversity that is Australia, while being pampered and cared for.
The writers were the guests of Rail Plus, and all opinions are our own.
What's the next Great Train Journey we do? Stay posted.