This week we look at Antigua, Guatemala in our Outside my Front Door series of posts by fellow travel bloggers.
Karina Noriega and April Beresford sold their worldly possessions and abandoned the corporate world in May 2014 to leave their country (Canada) with nothing but a backpack and a desire to learn. They blog, make films and share with their readers the most fascinating, extraordinary places, people and events they have encountered to date.
Make sure to read about their adventures on their travel site Karina's Extraordinary Life 
Ready for a night on the town 
Where We Are Now
Since Karina and I substituted security for adventure by going nomad, we never know where we will sleep from one day to the next. We ended up in Guatemala after our 6 month road-trip across the USA and we absolutely fell in love with Antigua. So for now, this beautiful colonial city is our home. We enjoy traveling like a local so we can tell stories that connect with local cultures, customs. Whenever possible we couch surf with locals who can tell us all the best places to eat, explore and learn about Guatemalan traditions.
What's Outside My Front Door?
Antigua is located 45 minutes outside of Guatemala City. Since our arrival here we have kept busy with a full range of activities that will suit all types of travelers; from the laid back wanderer looking to relax on a terrace sipping top quality coffee or the adventurous type looking to learn salsa after summiting an active volcano.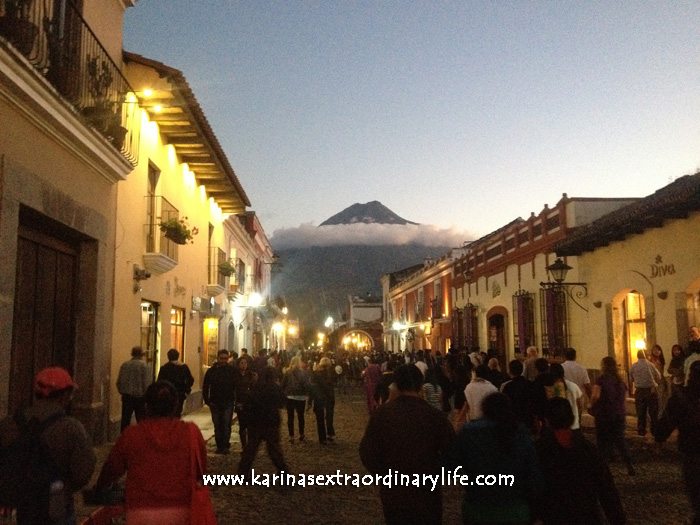 Evening Volcano Shot
The architecture in this city is something to marvel at. The iconic Santa Catalina Arch for example, was built in the 17th century and it is a very notable landmark that Antigua is known for. The arch was built to enable nuns who lived in the convent on one side of the street, to walk over to the convent on the other side, without ever walking on the street.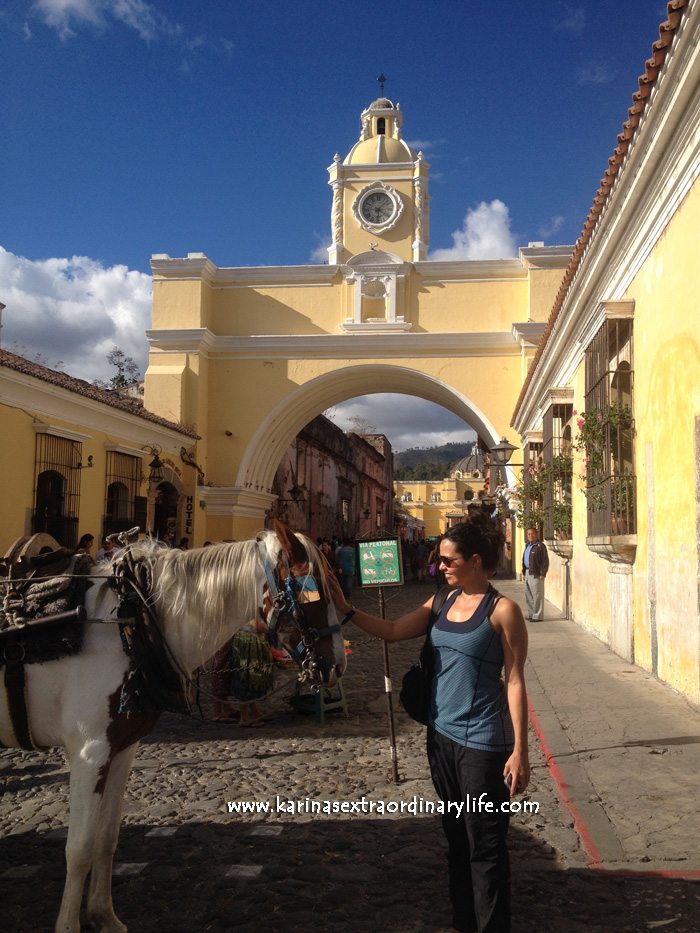 Photo of Arco de Santa Catalina
Given that we are highly motivated to learn about local traditions, this city has proven itself to be wildly interesting, as it has a rich history of Mayan tradition mixed with Spanish Catholic influence from the conquistadors. We were lucky enough to be in town for Holy Week (Semana Santa), so we had the opportunity to experience and document the tradition of alfombra-making (flower carpets) and other fascinating elements of Guatemalan Easter tradition.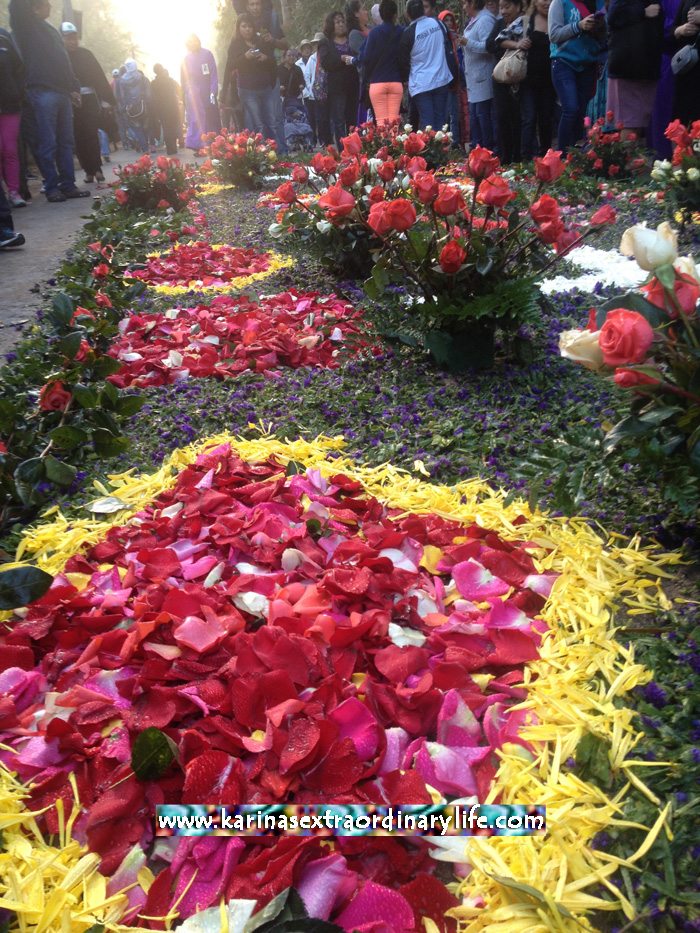 Flower Carpet 
Local street vendors can be found lining the streets of Antigua which certainly adds to the charisma of this beautiful city. Women are often selling healthy snacks chopped up pieces of mango with papaya or you'll find them marketing textiles outside of old ruined buildings built by the Spanish conquistadors. This culture is so filled with vibrant colour, it would make anyone who just planned to pass on through, to consider staying for good.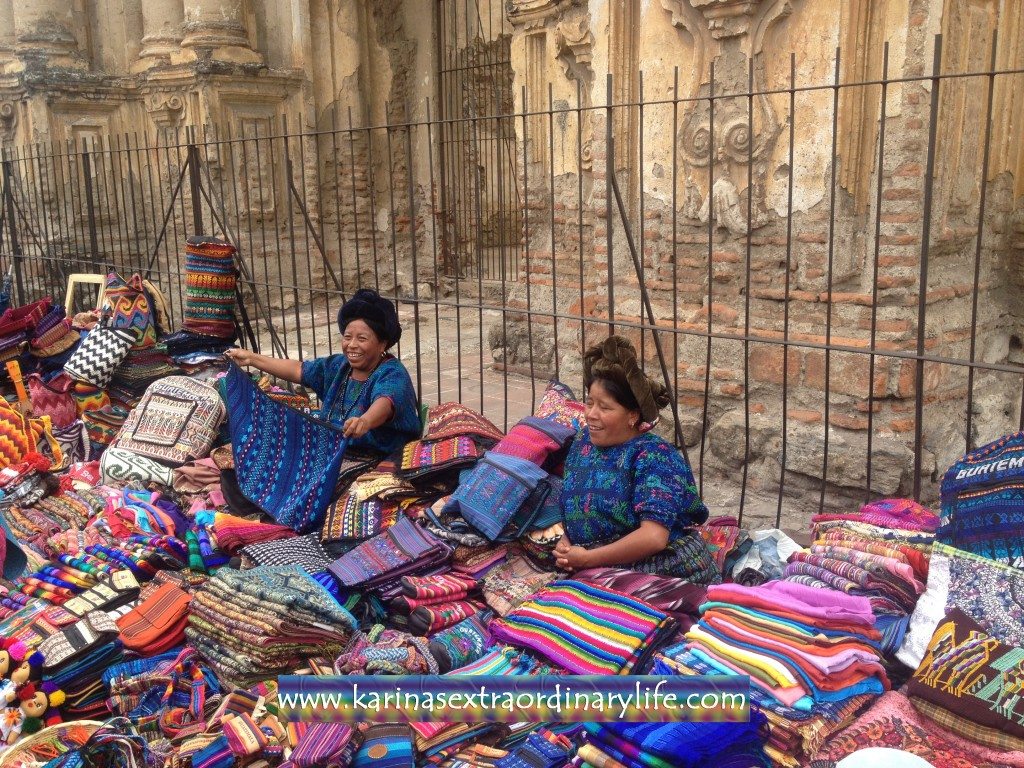 Beautiful textiles in Antigua, Guatemala
Since our arrival in December, 2014, every single day has been beautiful. The dry season in this country runs from December until May which has provided us with consistent fun in the sun through the winter months. The buildings in this country are often designed with an open garden space in the middle of the structure, creating a bright and welcoming atmosphere everywhere you go. We have spent a large portion of our time in Antigua staying in hostels and even low-cost lodgings such as these provide a beautiful, quiet environment.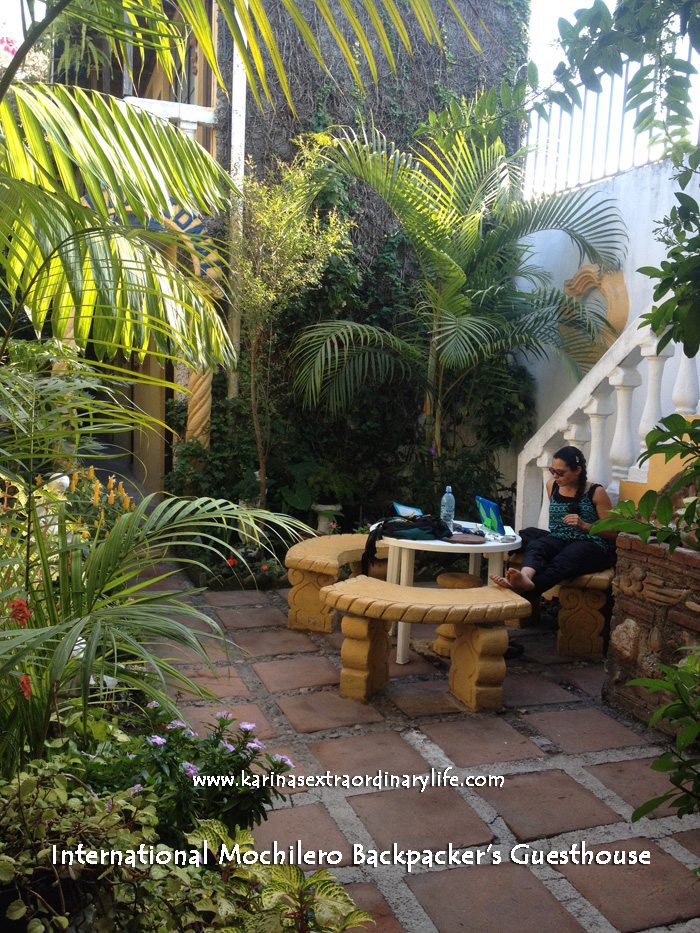 Karina at Backpacker hostel 
The city has a rich history, having been the former capital of the Kingdom of Guatemala. After several major earthquakes wreaked havoc on the city, the capital was relocated to Guatemala City but this charming colonial city still remains Guatemala's top visitor destination.
Below is a photo of Catedral de San Jose, the famous Roman Catholic Church located in the Parque Central (in the center of the city). I can't see this beautiful structure from my front door, but I am proud to say that it is a mere 5 minute walk from where I live.
Cathedral at the Parque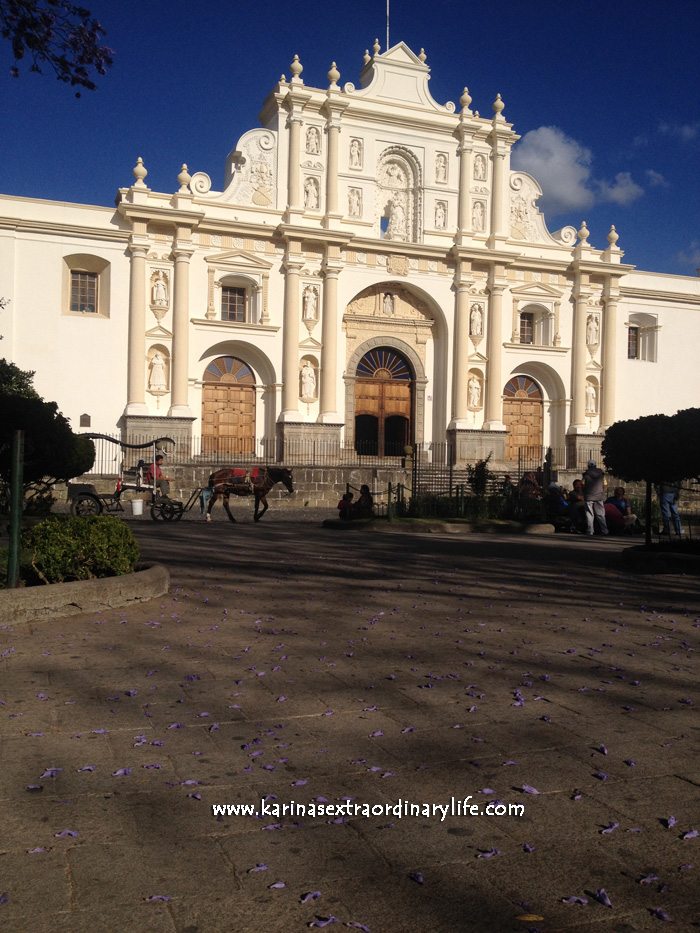 There is always an adventure in waiting in Antigua, for a curious mind!
For more on our extraordinary lives, check out www.karinasextraordinarylife.com and follow Karina and April's travels on Twitter 
Read more of our Outside my Front Door series right here