This is A Beginner's Guide to Copenhagen, written by a man who has lived in this amazing city for quite a while. As the capital city of Denmark, Copenhagen is a popular choice with travellers. Check out this travel guide infographic about Copenhagen, as a handy reference to this delightful city.
This is an article by Dane of Holiday from Where.
A Beginners Guide to Copenhagen
When you research Copenhagen, you will get a lot of information about Nyhavn and Tivol. While these are beautiful places, there is so much more of Copenhagen besides just these. I have had the privilege of living on and off in Copenhagen for the last few years, and as such, it has allowed me to explore outside of the typical tourist areas. One thing I found is there are so many amazingly beautiful places not on the tourist track that so many people miss out on, or never hear about.
Despite Copenhagen being a small city, there is so much here. Ancient buildings, colorful streets, modern architecture, Christania – a weird squatted castle full of hippies where marijuana is pseudo-legal, if that's your thing, nature, and even beaches.
Another beautiful thing about Copenhagen is it has four completely different seasons so almost no matter what time of year you are visiting, you will either see beautiful Autumn or Spring colors or have the beautiful summer vibe that Copenhagen is famous for. If you are lucky, enough you will get to see the city covered in snow, so you will find that there are many things to do in Copenhagen in Winter.
For an affordable 3 day itinerary in Copenhagen check this article.
Exploring Copenhagen by Bike
Copenhagen is also one of the easiest cities in the world to explore. It is the most bike friendly city on the planet. Some argue that Amsterdam is the more bike friendly, but I have spent time in both, and it's just a little more pleasant in Copenhagen. One of the benefits these days is they have these city bikes set up with pick up and drop off points all over the city and built in screens and GPS showing you not only the city but the closest drop off points to return the bikes. They are also motorized making it incredibly easy to bike all day and not be tired.
Copenhagen is a small city to explore
Another beautiful thing about Copenhagen is that it is tiny. The furthest you will ever have to ride in any direction will be about 10 kilometers, which will take you from one end of the city limits to the other. You just need to sign up quickly for the bikes, which you can do at the pickup stations, and you are on your way. Despite Copenhagen being super bike friendly, there is a lot to think about when riding a bike here so just be careful and on the lookout. Everyone here is used to the daily pace and if you are not paying attention crashes can happen quite easily, although quite rarely despite the amount of bike traffic.
Østerbro
Now depending on what you are looking for there are multiple different areas. If you are after cute buildings and colorful streets one area you might want to check out is Østerbro (East Bridge). As the name suggests, it is east of the city center, but if you are on foot, it is a beautiful walk along the lakes in the center to the quite mum and dad part of town. Also located in this area is the Little Mermaid. Depending on what time of year you are there taking a walk around the area the Little Mermaid is in is highly recommended. In spring time it is surrounded with cherry blossoms and an incredibly beautiful site. One street, in particular, you may want to check out is Olufsvej.
Nørrebro
The next area to check out is Nørrebro or North bridge. It is more the arty hipster area of the city, and there are many nice cafes and restaurants in the area. There is also an area in the north of this suburb called Super Kilen Park. It is a mix of different cultural elements from all over the world combined with one long park walk. It is photogenic and very interesting just to observe. Just a bit south of here, but also in the same area, there is a beautiful cemetery called Hans Tavsens Park. It is normal for people to bring food and blankets in summer and sit around and have lunch and enjoy the sun.
Bispebjerg Cemetery
Just outside of Nørrebro to the north is a place called Bispebjerg Cemetery. This is the most spectacular place to go and see the cherry blossoms if you are here in spring. However it can get a little crowded, but I have seen it without anyone, although rare. It is also a fantastic place to go and explore if you are fortunate enough to be here when it is snowing.
Architecture
Now if architecture is your thing, then there is so many amazing places and one of the best things to do just ride around and go down small streets everywhere, and you will find some amazing stuff. From modern to ancient architecture Copenhagen has it completely covered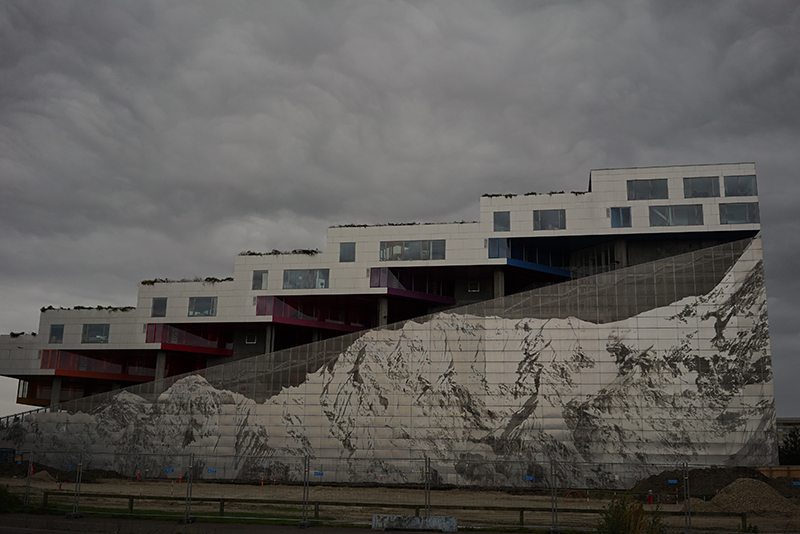 Vest Amager-Mountain Island
A few points of interest are scattered in a few different neighborhoods. One is located in Vest Amager. You can take the metro there and then get out and explore on foot. The whole area was designed by Bjarke Ingels to look like the only thing Copenhagen is missing which is a mountain range. The entire area is a concept area, but individual buildings are still really unique
Christania
Christania is known for its semi-legal weed trade, which is somewhat tolerated by the government. This was until just recently when there was some trouble inside, and the locals that live in there decided to close it down. Drugs were never my thing but it is an old castle that was squatted decades ago but a bunch of hippies, and they turned it into this fantastic place. If you want to get out of the main area and take a walk around the lake, you will see all these crazy self-made buildings that are just as eccentric as the people living in there themselves. Read more about Freetown Christiania – Copenhagen's Hippie Town
Tuborg Havn
Another one with a combination of modern and ancient architecture is Tuborg Havn in the north of Østerbro. It is on the water. It is a lovely area for boats also and a beautiful view of Sweden.
What to Eat in Copenhagen
Ok so this is maybe the most typical danish food you can get it is called smørrebrød I cant really translate that to english but the closest pronunciation I could give would maybe be smuurbro. It is hard to say with english vowels. 🙂 Read more about  the Street Food in Copenhagen at Papiroen by clicking here.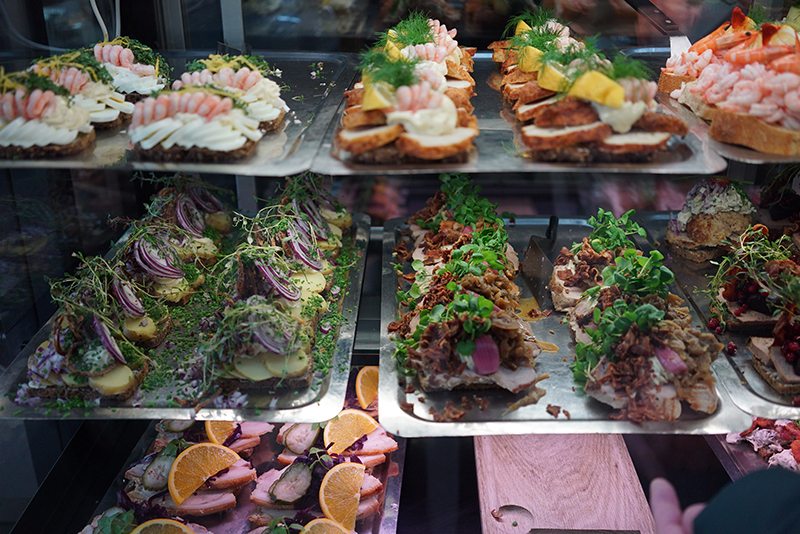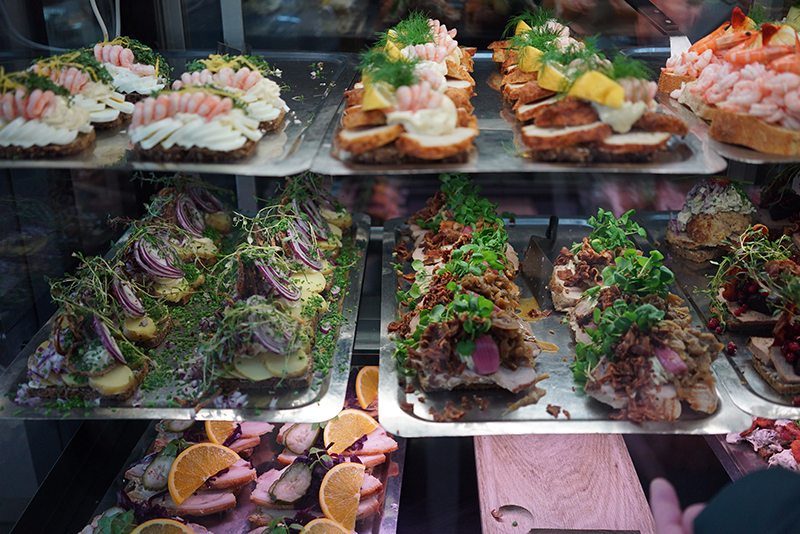 Where to Stay in Copenhagen
With the places to stay i would suggest Vesterbro or Nørrebro. Vesterbro is so central it is kind of perfect to get around there is a really nice hostel called Urban House one block from central station and it means you can get anywhere in about 10 minutes on bike or 30 minutes walking so it is perfect. Vesterbro is also the area where there are a lot of really nice restaurants popping up and a huge amount of nice bars, clubs and wine and cocktail bars so it has almost everything. Some luxury hotels to consider are Hotel d'Angleterre and Copenhagen Marriott Hotel
Like I said the best way to get around for all of this is by bike. Copenhagen is an amazing city with a lot to see and do. Photographers love it. Cyclists love it. People who love culture and exploring n places love Copenhagen.
Thank you Dane for sharing wonderful, wonderful Copenhagen with us. I had to say it. He can be followed  on his social media accounts Facebook, Instagram, Pinterest.