We participated in the Bite Around Berry – a Walking Food Trail on the South Coast of NSW, Australia and met food artisans. Our conclusion is that from the first place to the last, the people are all artisans. They are devoted to good food, sourced as locally as possible, and to helping one another to grow their already enviable reputation that the Shoalhaven Region is a food and wine haven.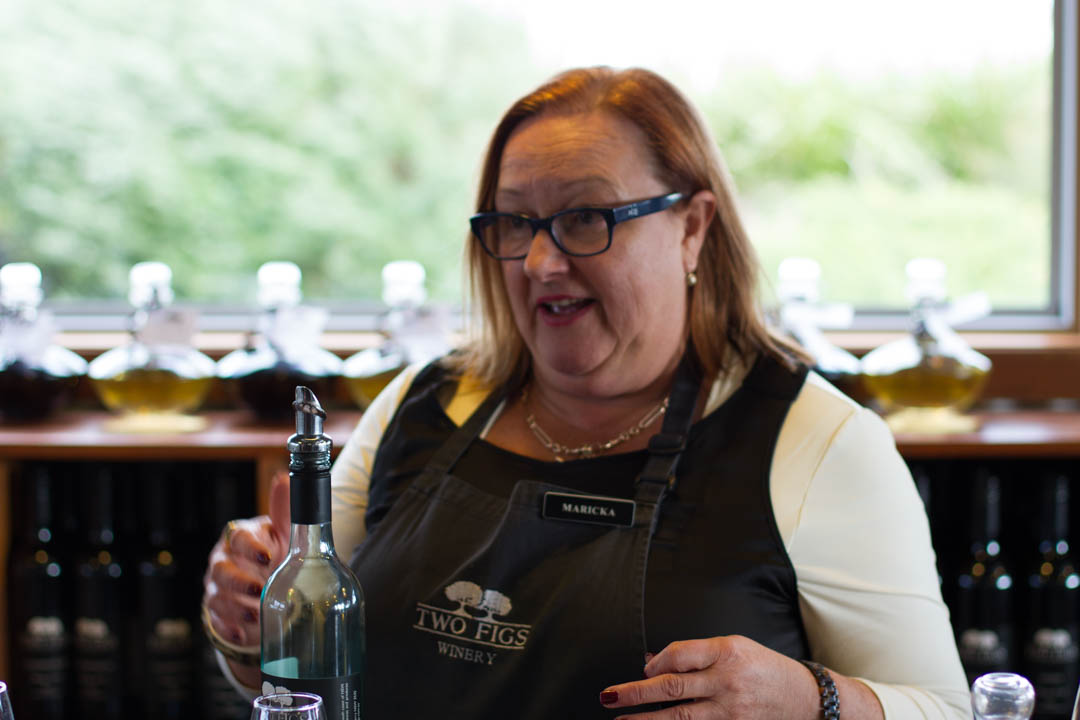 About the Town of Berry in the Shoalhaven Region of NSW.
Berry is the archetypal escape to the country retreat for people from the city, and many are in search of experiences. This is where Bite Around Berry, a Food Walking Trail comes in. Getting to know this quaint little village, and the people who have chosen to set up business here could be involved, as it is a very tight-knit community. However, this walking food tour is the perfect way to meet the locals and to see just what a progressive and special place it is.
Where is Berry?
Berry is located just 2 hours from Sydney, and 2 and a half hours from Canberra, and an hour, if that from our city of Wollongong, so we know Berry. However, we got to know Berry a lot better and to meet the people of Berry on the Bite of Berry tour. May I say right now, what a lovely and totally supportive people they are.
The Artisans of Berry
These people are the artisans of Berry, who support the gastronomic growth of their region – the Shoalhaven.
As Ben Wallis of Coolangatta Estate Winery says, " Why fight over a piece of pie, when you can all work together and make an even bigger pie".
The Shoalhaven Region is extensive and spreads from just outside the iconic Kiama, right down to Rick Stein at Bannisters in the delightful Mollymook, which from a marketing perspective has put the Shoalhaven right on the map.
Meet the Players on the Bite Around Berry, NSW – a Walking Food Trail
Meet Paulina (great name) and Cliff of The Berry Tea Shop
The Berry Tea Shop is an institution for people who visit Berry, and many come for the famous Berry Sunday markets. Others come for a weekend getaway, or even for a day trip because Berry is uber cool. The Berry Tea Shop has single origin tea, and tea blends, and some of the most gorgeous little teapots and accessories from all around the world.
Paulina and Cliff are just plain nice. They welcome us as friends, and we feel as if we are friends. I will add a rider here; this is the theme of our entire food walking tour. The people of Berry, when you get to meet them in this environment of a food walking tour, help to set up the situation to make it fun, amiable and you learn a lot.
The Berry Tea Shop is a shop devoted to tea, and they know their tea. The irony is that Paulina is Italian, and her brother is a coffee barista; such is to be expected if you are Italian. With their knowledge of teas, and Cliff hand making the cakes, they would have to be forgiven for going to the other side.
We started with a ginger and something refresher tea. Ok, I was too busy chatting with Paulina to take notes. We followed this with a beautiful Chai Assam blended tea made by Cliff, which had cardamom, cinnamon, star anise, black pepper and was sweetened with locally sourced honey.
FYI, The Berry Tea Shop runs different workshops. Craft-Tea is an evening of champagnes, teas, Cliffs' cakes, and learning crafts like crocheting or watercolour painting from fellow Berry residents.
Address: 1/66 Albert St, Berry NSW 2535
http://www.theberryteashop.com.au
Meet Sonya of The Berry Chocolatiers
Formerly known as Pompadour' Chocolate House, Sonya and her husband are the new owners of what is now called The Berry Chocolatiers. With a new name and a new approach to this very special chocolate house, you will be amazed at what they can, and do do, with cacao. We enjoyed a breakfast of different chocolates and chocolate products as we talked about the new direction of this business. The honeycomb chocolate uses locally sourced honey and is literally the best I have tried.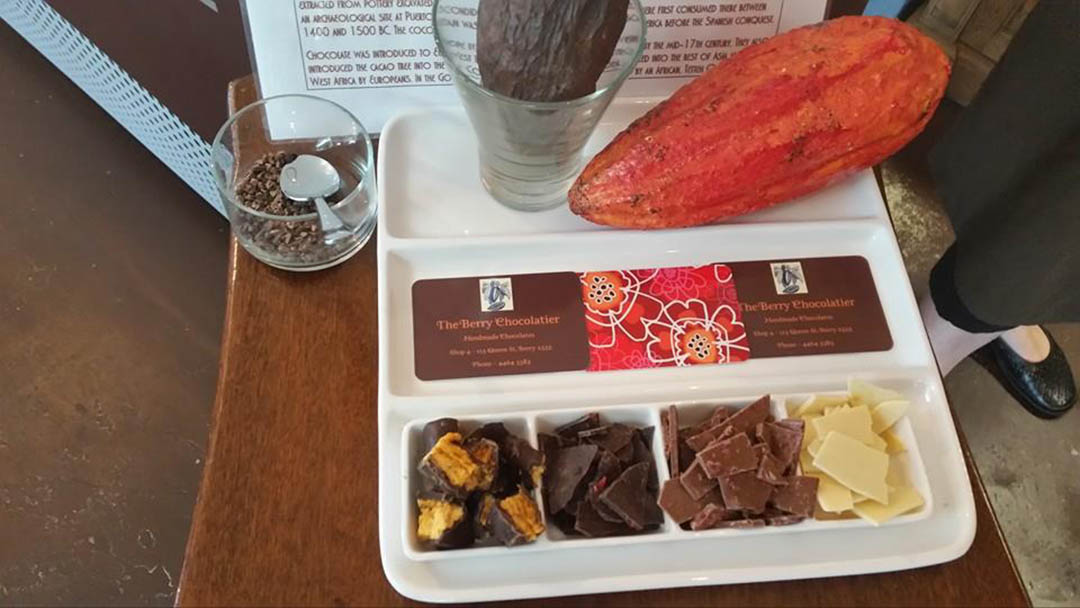 Address: 113 Queen St, Berry NSW 2535
Meet Justin Lill of the bespoke Justin Lill Wines
This is one super cool place, and a super cool dude, who tries every wine and beer before he 'allows' it into his shop, Justin Lill Wines. There are handwritten labels or explanations on all wines and beers, expressing his opinion of each. A man walks in while we are there. He is looking for wine. Justin asks him what he is having for dinner. The man says lamb, and whatever – he obviously knows the drill. Justin walks over to a wine and says this is it. This is the one that will work. The man accepts Justin's opinion, and it is a deal done.
I ask him the criteria for inclusion of wine and beer in his establishment. His reply, "they must all punch above their weight."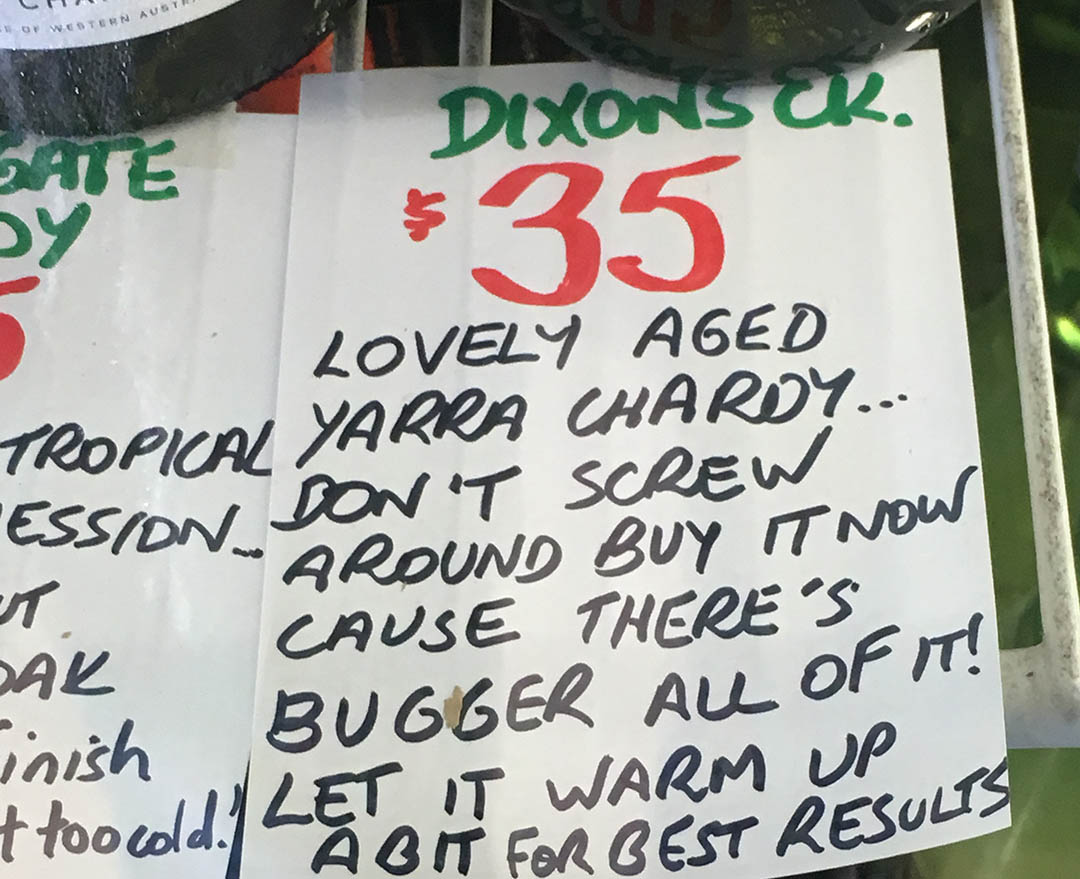 Address: 112A Queen St, Berry NSW 2535
Meet Damian of Il Locale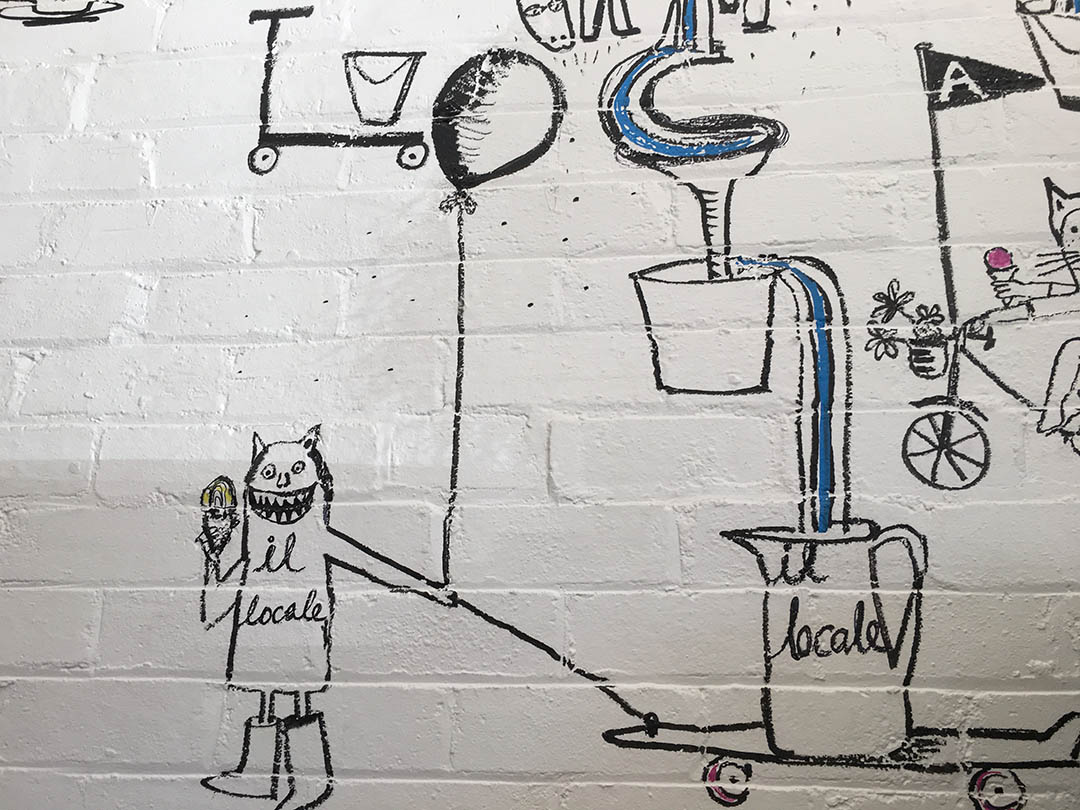 Recovering from an eye operation, Damian looked pretty frustrated about his eye issue, so we didn't stick a camera in his face. That did not stop him making us a kickass coffee, and sharing his ethos for using the locally sourced milk from The Pines Kiama. The jams for his gelato come from the lady across the road in Berry, and the honey is from the old fellow up the road – a beekeeper. He sources the figs for his gelato from a local source also. He does have an issue, though. Locals pull up across the road to go to the IGA – the independent grocery store. He starts their coffee as they get their groceries, and sometimes has to ring them as they drive off because they have forgotten to pop across the road to Il Locale to grab their to-go coffee.
Damien – Gordon and I will two flat whites, extra hot when you see us enter Berry and Il Locale.
With plans to expand the dining area, he has no problems with seating both the locals and the visitors.
Address: 114 Queen St, Berry NSW 2535
http://berry.org.au/shop/il-locale-gelato/
Meet Lynley of Flavours Shoalhaven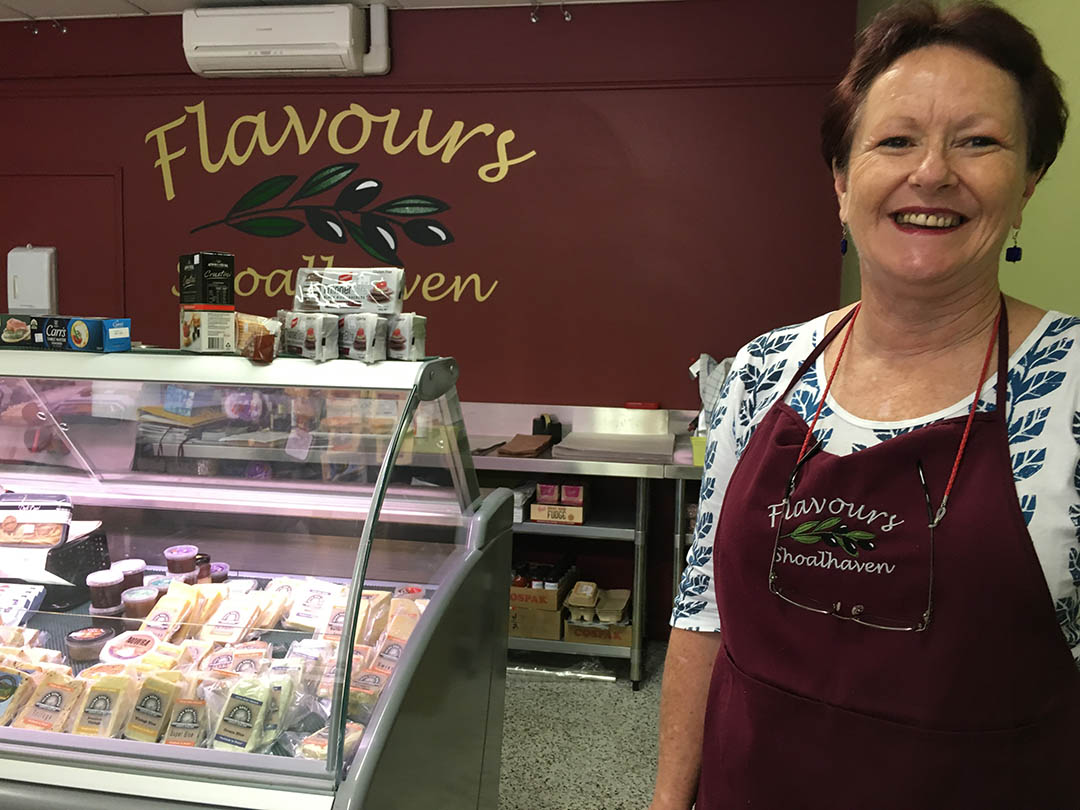 Midway through our discussion of the locally sourced foods with Lynley of Flavours Shoalhaven, a man walks in to get his freer, than free range eggs. He is curious as to why we are all huddled around a platter of smoked trout, chillied olives and a terrine made by Marco Pierre White' s go-to person – Julianne, of Julianne's Kitchen Terrines. He joins us because that is the way it is in Berry. It is a community-minded place, or we just got lucky with the people we met.
Due to an obsession with Spanish food that started on Lynley and husband John's honeymoon to Spain, they are now the elite stockists of a range of Spanish food products, from La Boqueria Smallgoods, developed by Spanish produce importer and proud Catalan, Emile Gomez.
Did we mention to Lynley that we had graduated from the Paella Academy in Valencia, Spain? Well, yes we did – and yes, we still have our diplomas stuck on our fridge, and now we have a go-to place, to get our paella supplies.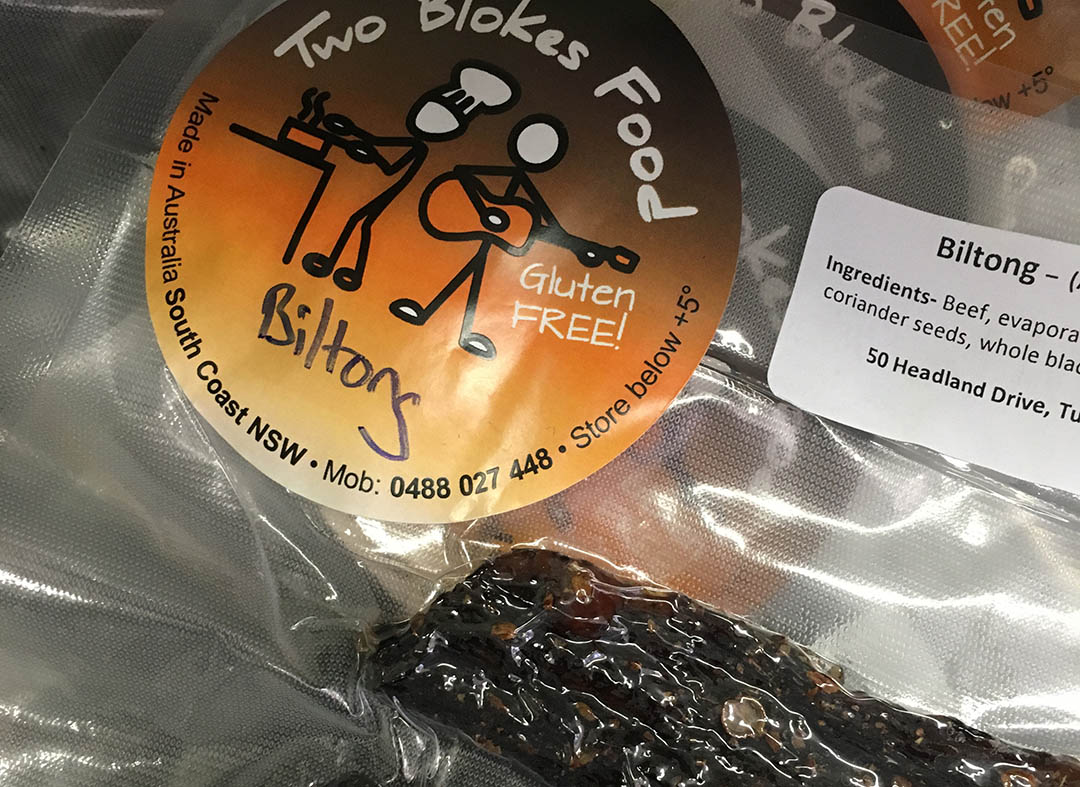 http://flavoursshoalhaven.com.au
Meet Wendy of Nourish Kitchen + Lifestyle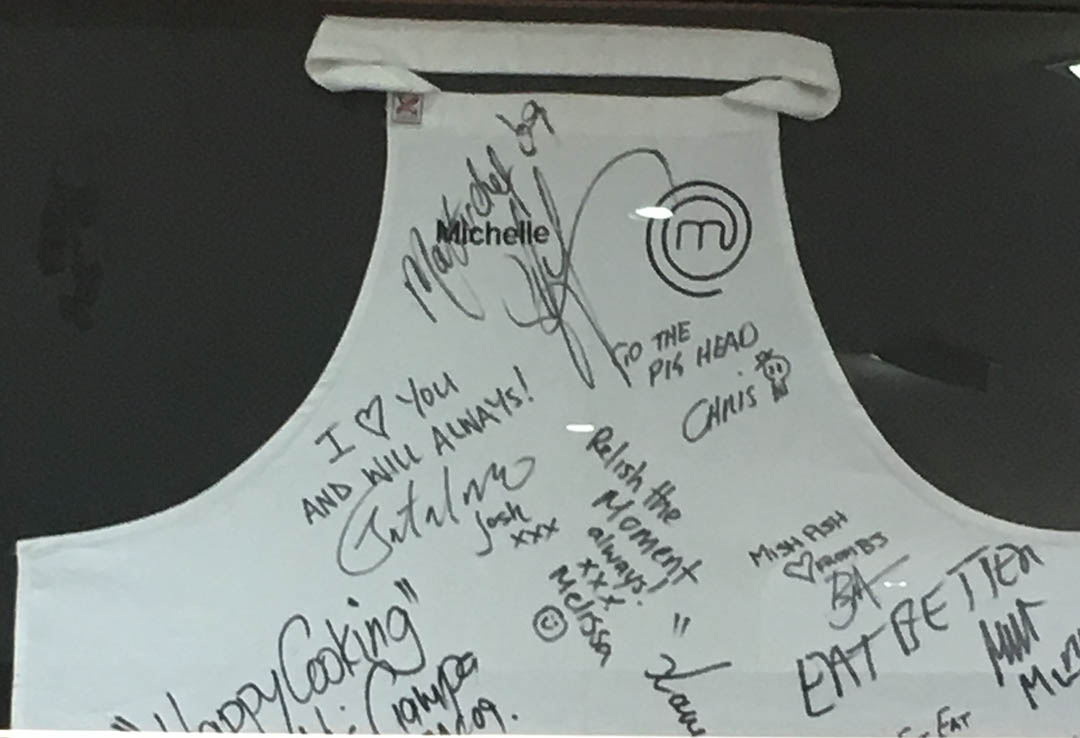 The owner is actually Michelle Darlington, from Season 1 of Masterchef Australia, and this is her beautiful specialist kitchen wares shop. Her philosophy sums up our Berry experience beautifully.
Our philosophy is simple, 'life is about sharing good food with good friends, sourced as locally and sustainably as possible, using the best kitchen equipment available'.
As she is away on our visit, we are greeted by Wendy, one of the most down to earth and delightful woman, who makes a fantastic coffee, and who we don't photograph because ..guess what…we were too busy enjoying her company. We get to sample Pearls. These are the things that Hester Blumenthal uses, as well a gold salt which I have never heard about. There is an amazing array of different flavoured salts, which are certainly on trend.
Wendy was delightful and is an avid walker, having done some of the most beautiful walks throughout the UK and Spain. Get her to make you a coffee, and shoot the breeze with this lovely lady of Berry, as she shows you some of the amazing goods and products in the shop.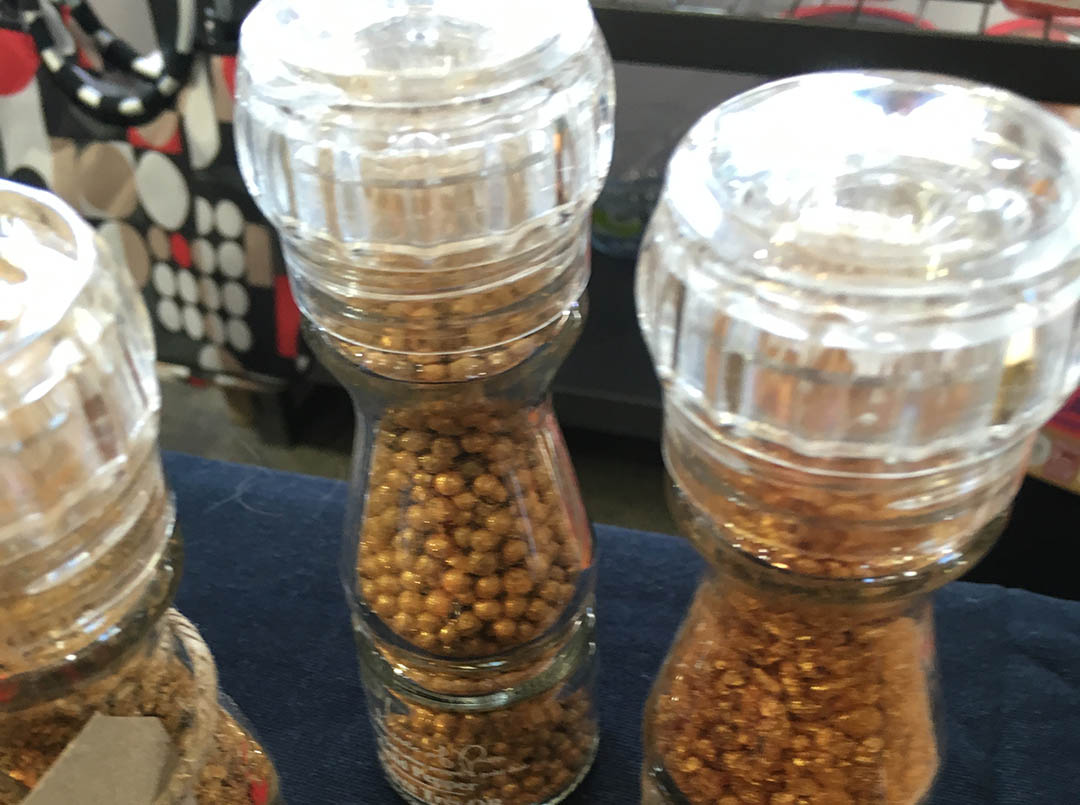 Address: 3/68 Albert St, Berry NSW 2535
http://nourishkitchen.com.au
Meet Julie the new owner of South Coast Providores.
Julie, her husband and their daughter who works with them occasionally, are the new owners of the very established South Coast Providores.
They have taken over from Carol and Ian, who needed a sea change from this thriving business. Julie is an experienced Sydney restaurateur, who also runs the Far Meadow Lodge in Berry and is renowned for her dukkha and the to-die-for baby marinated figs, which we had tried the day before at Two Figs Winery. Trust me; they are out-of-this-world-good. We also tried the equally wonderful home-made sausage rolls and Julie's tomato sauce and chutney.
Julie has an extensive menu of gluten-free cakes, pies, and being gluten intolerant herself, is aware that there should be no compromise on flavour and taste. For once, I did not notice any difference. Get yourself down to South Coast Providores, and stock your fridges full of delicious food – gluten free or not.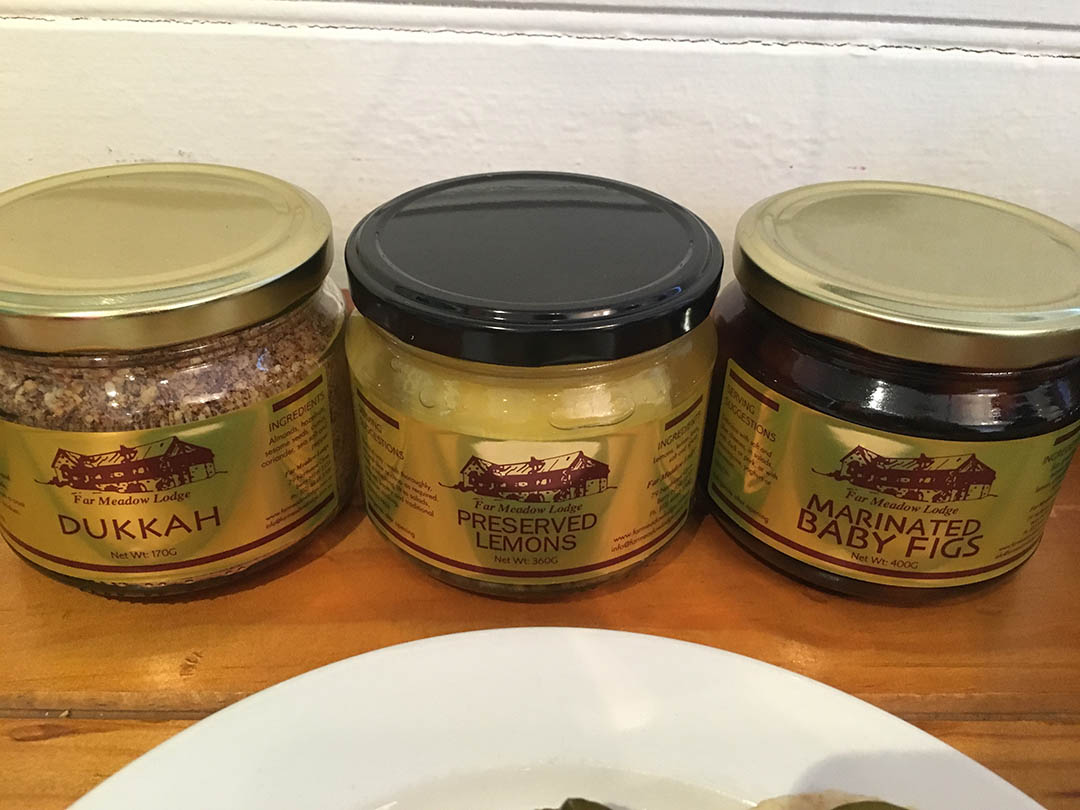 Address: 1/89 Queen St, Berry NSW 2535
https://www.facebook.com/pages/South-Coast-Providores-Far-Meadow-Lodge-Gourmet-Foods/990191044390702
http://www.farmeadowlodge.com.au
Meet Sarah of The Treat Factory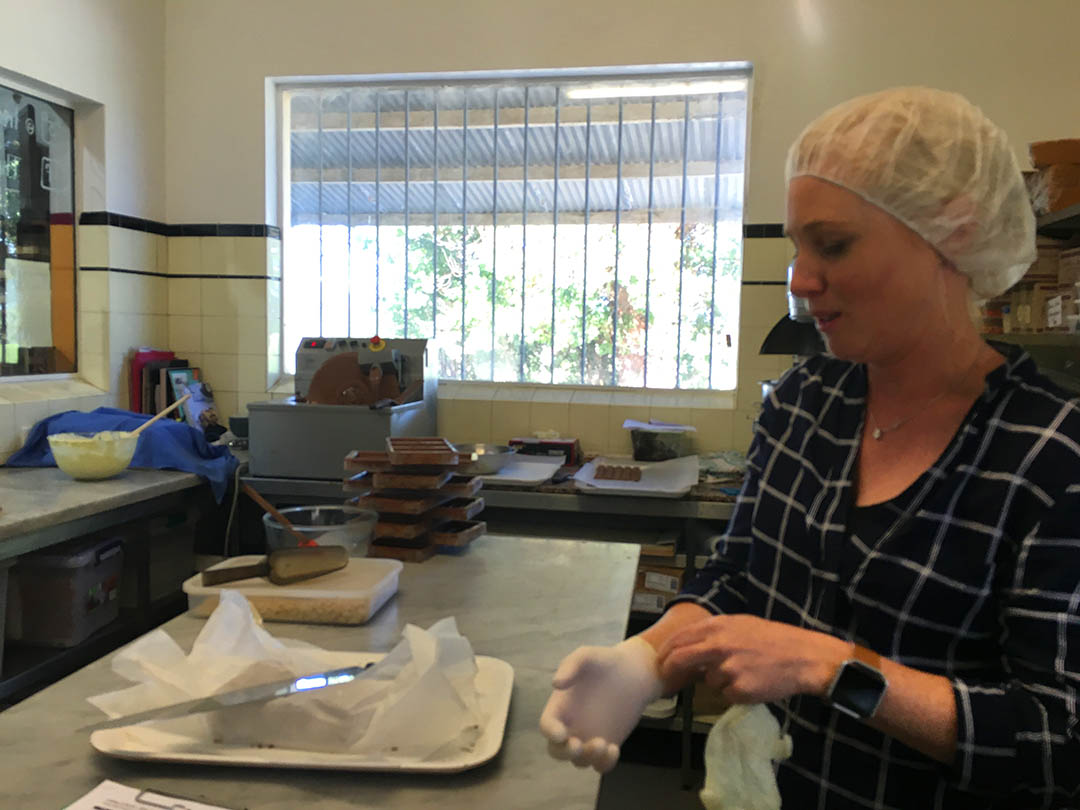 You would have seen the Maxwell products throughout Australia and beyond. This is a 4th generation business, that has been involved in the making of conserves, condiments and sauces. ..not to mention chocolates, fudges, and nougats. Sarah is the great grand-daughter of the founder of The Treat Factory, a well-established entity in Berry and beyond. We enjoyed watching the chocolate being tempered, and just maybe grazing on some home made rocky road. Sarah also runs classes with children, to help them understand that chocolate comes from the cacao tree, and not from the supermarket shelves.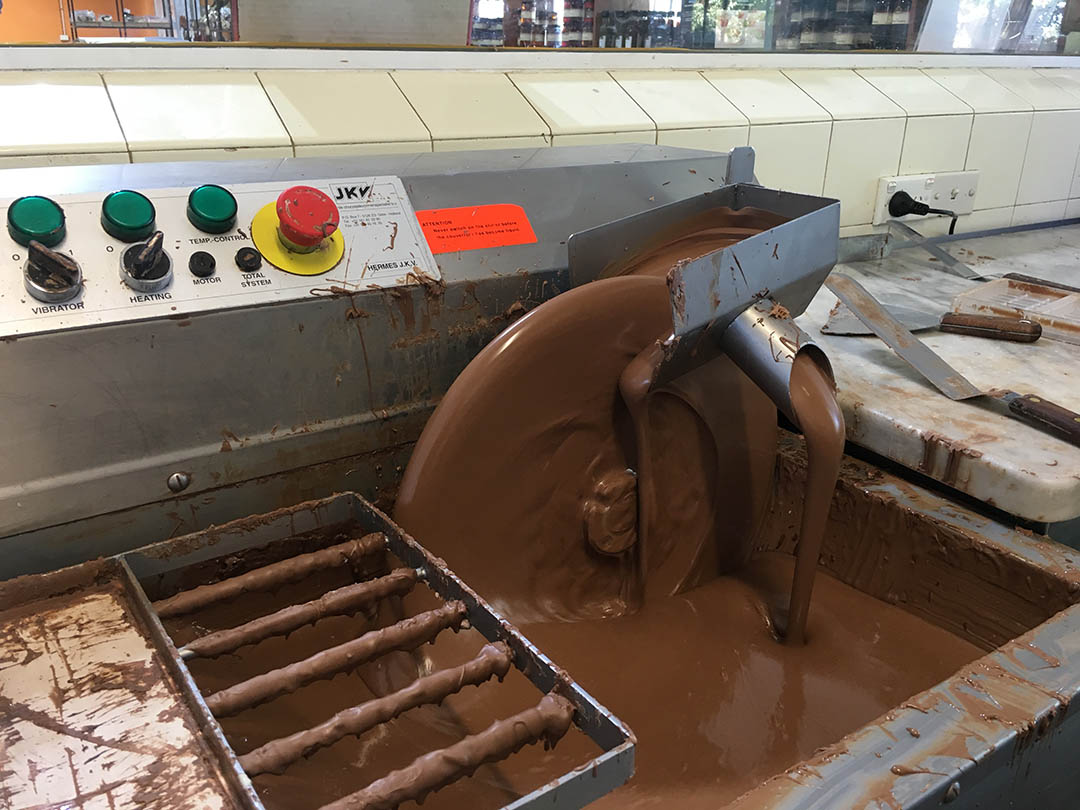 Address: LOT 1 Old Creamery Ln, Berry NSW 2535
http://www.treatfactory.com.au
Meet Cameron or Cam of Bite Around Berry

We met our guide, Cameron or Cam for the Bite Around Berry, NSW – a Walking Food Trail. He is the owner Foodscape Tours and a former chef who know his stuff. Immediately we were at ease with him, as we exchange a kiss. OK, I went for the double kiss, and he didn't, but he had it down pat by the end of the tour.
I mentioned earlier that Berry in the Shoalhaven is a favoured getaway for people from Sydney and Canberra. Many of these artisans have made the sea change, or is it the food change, to transfer their considerable corporate skills, to putting the Shoalhaven region and in this instance, the heritage village of Berry, well and truly on the gourmet map.
Contact : Foodscape Tours 
Phone 1300 502 100
Bite Around Berry, NSW – a Walking Food Trail showed us a lot more than what we expected. It showed a community who source as much as they can locally, who help one another out, and who exhibit that they are artisans of their craft. Great job Cam for recognising that this walking food tour is an exceptional experience, and way-to-go Berry artisans, and the Shoalhaven Region of the South Coast of NSW, Australia.
Gordon and I will be back.
The writers were the guests of Visit Shoalhaven  and LBPR, of course, all opinions are their own.