It's pretty tricky to know where to start with the community that is Mayfield Garden in NSW, Australia. .. but I will start with something that is dear to my heart. Education. Ok, regular readers will know I was a teacher for many years. Much as I ended up spending the last 16 years of my teaching career at an academically selective high school in Wollongong, I started it as a teacher in Tumut, a small town in the Riverina Region of NSW, Australia.
My job here was as a special education teacher for students with learning difficulties. My primary aim was to engage my students and help them to develop life skills.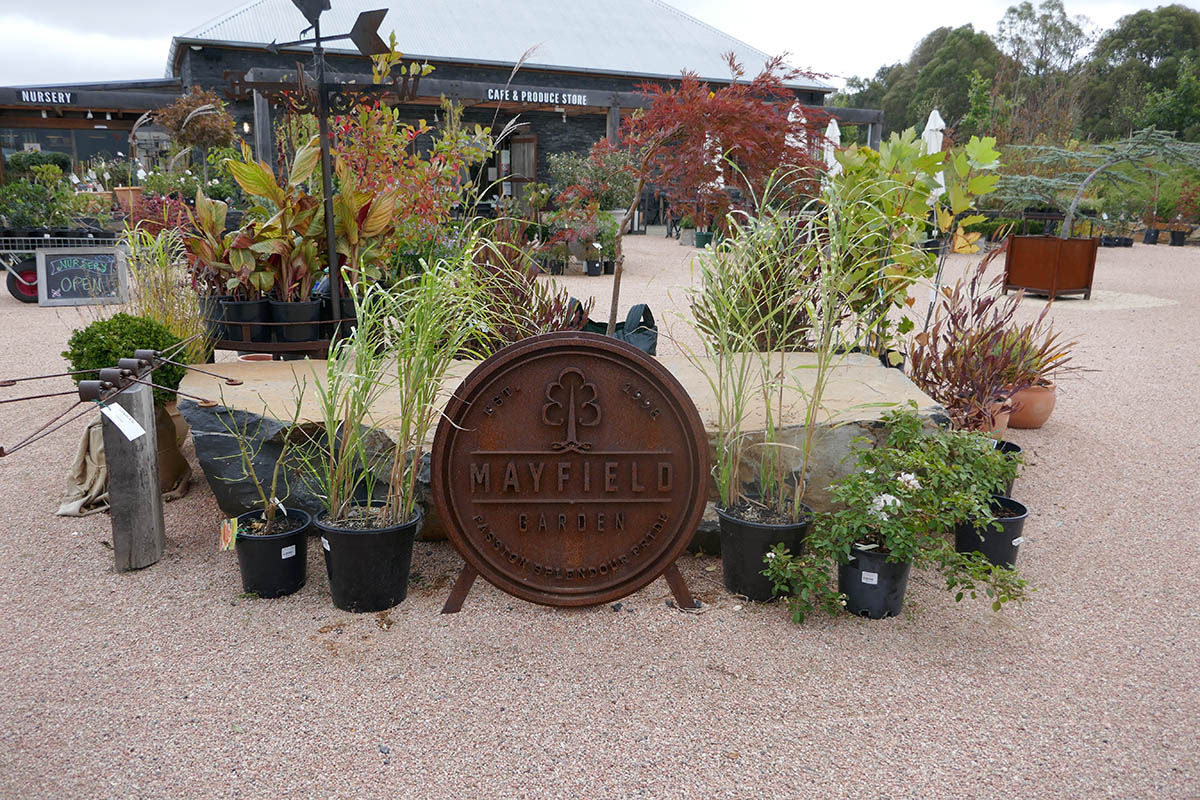 Working with Locals
While Mayfield Garden (it should be gardens) is phenomenal in its own right, it is their sense of community and embracing their own people that really resonated with me.
Kelso High School is in nearby Bathurst and is not a school of students with learning difficulties, but rather a school who gives their pupils opportunities. In fact, the assistant tour director from Bathurst Tours was a former student of the high school and a graduate of their amazingly progressive program called Circus Surreal ..yes, they knowingly adopted the play on iconic Cirque du Soleil. They were the players who showed us the magnificent gardens.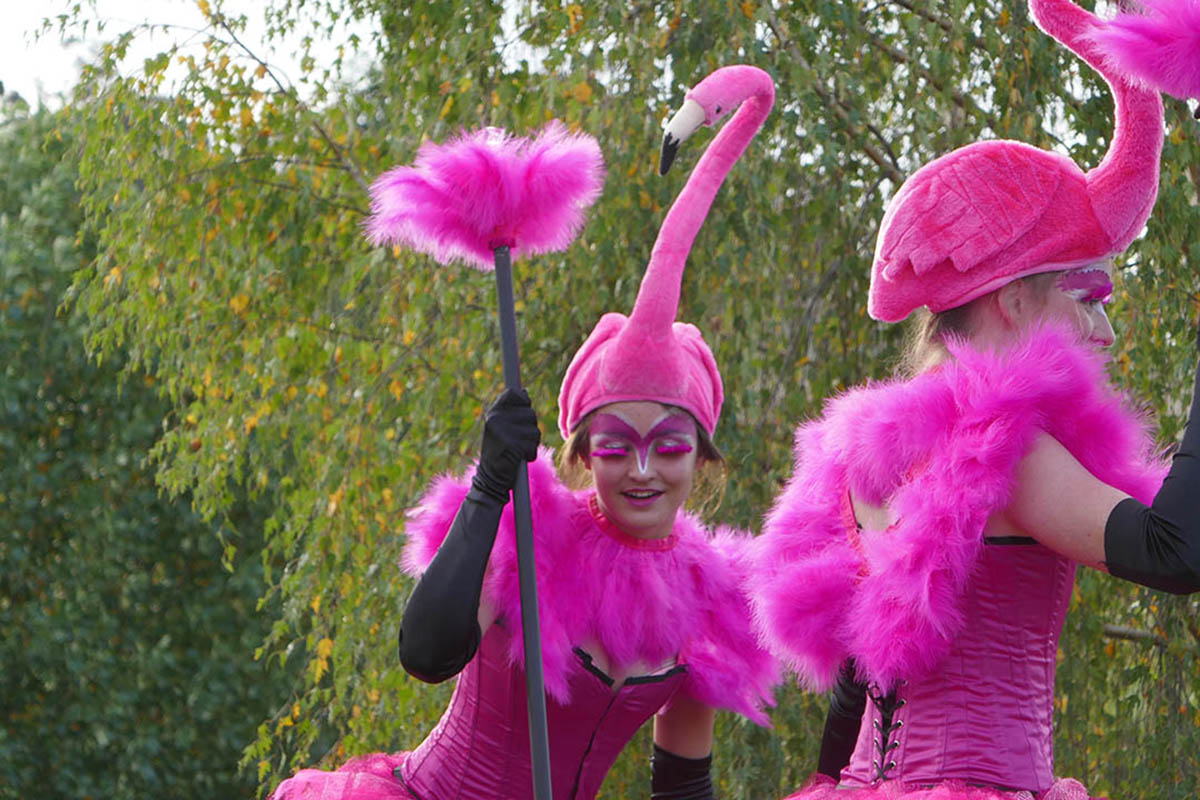 About Mayfield Garden in NSW
The fact that the very wealthy Garrick Hawkins owns one of largest privately owned cool-climate gardens in the world, and is backing a local school and a local schools avant-garde program, resonates with me. If he chooses to back a school with a program like the one we witnessed, well I am ok with this.
Garrick Hawkins purchased the 5000-acre farm in Oberon in 1984, where he runs cattle, and where he built a stunning weekender for his family. He started developing a garden. What was supposed to be a lovely garden for his family, is now an ever increasing events area for not just the local community but for domestic and international travellers also.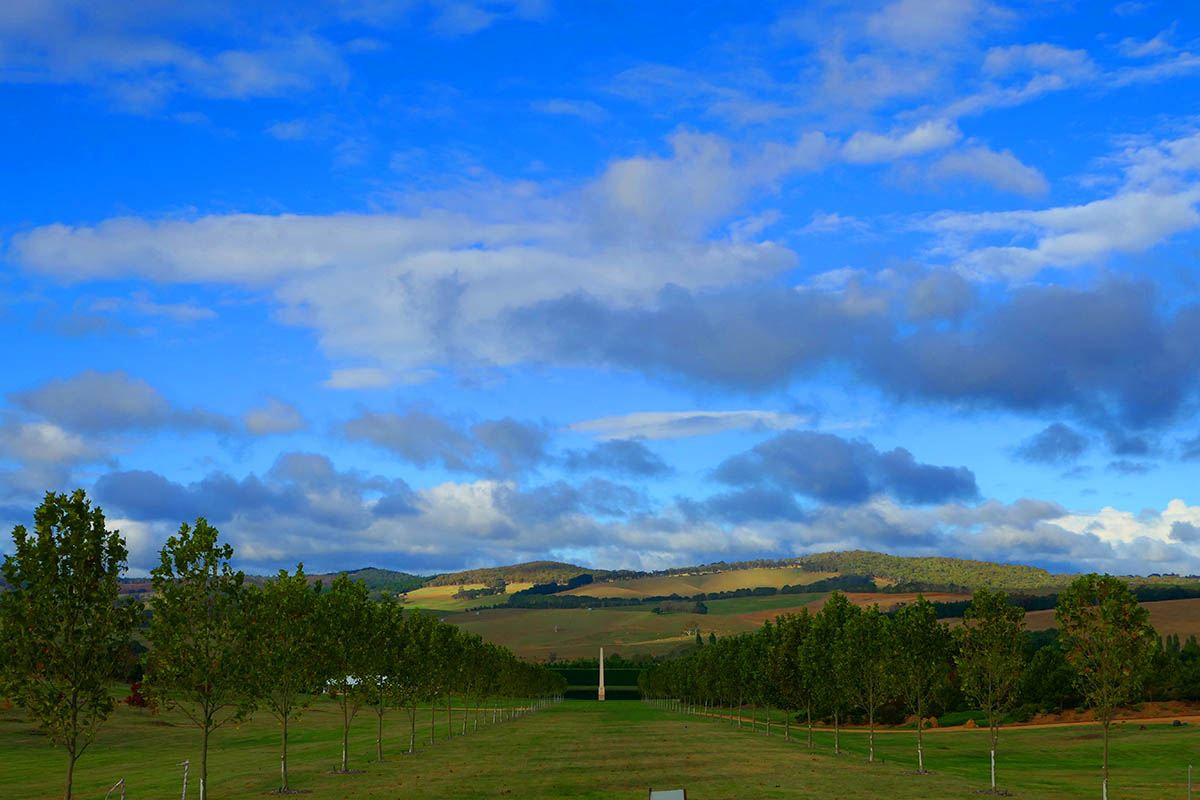 Alice in Wonderland at Mayfield Garden in NSW
So, what engaged me so much? The cool climate gardens are massive and yes they are on their way to being stunning. Our welcome to these gardens was an Alice in Wonderland experience. The players, if you will, were the students from Circus Surreal and ergo from Kelso High School; the local public school.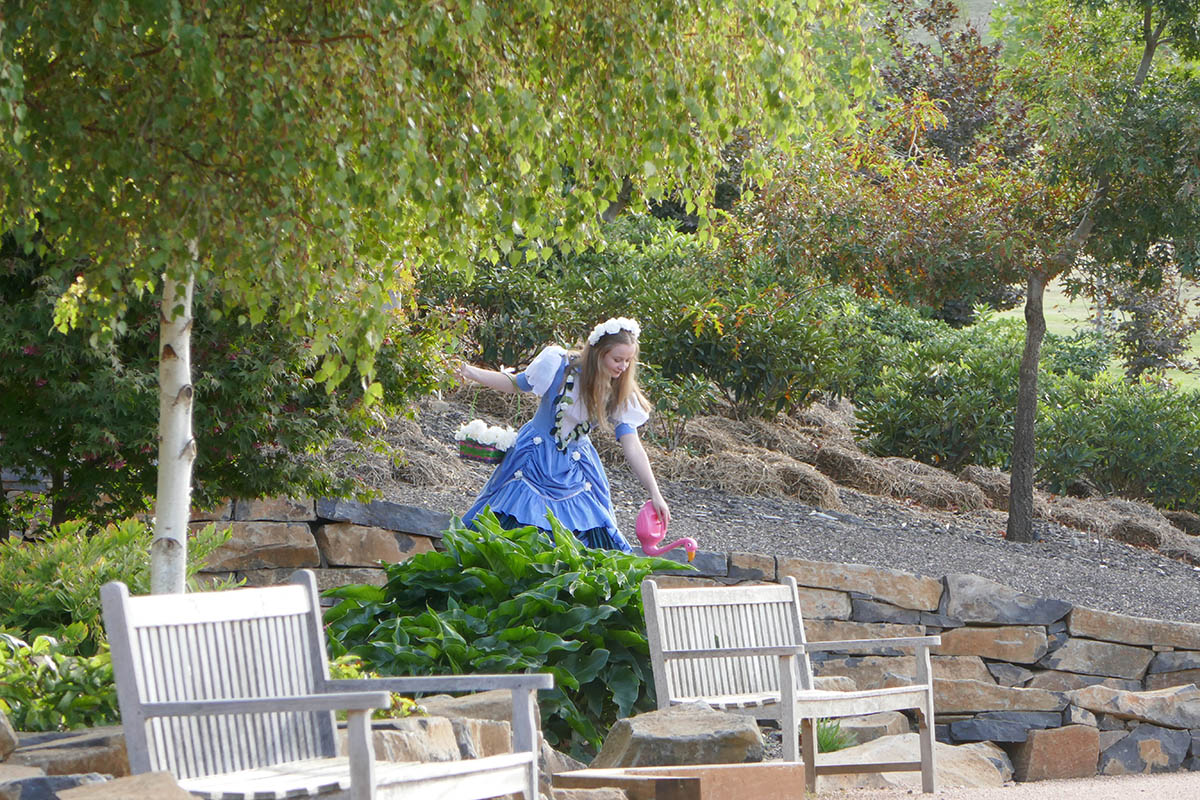 We wandered these expansive garden espying The White Rabbit, muttering "Oh dear! Oh dear! I shall be too late!" as he/she scuttled through the forests. We came across the beautiful Alice plucking flowers at the edge of a pond, seemingly oblivious to what was ahead. We found the Queen of Hearts stating "off with their heads" to everyone, and kudos to her as she never lost her resting bitch face throughout the tour. The pink flamingos stunned us as they ran through the gardens on their long, long legs, and then managed to play croquet with the other characters. I am pretty sure I saw a Cheshire Cat hanging around somewhere also. All the time we were seeing what a wonderland the garden actually is.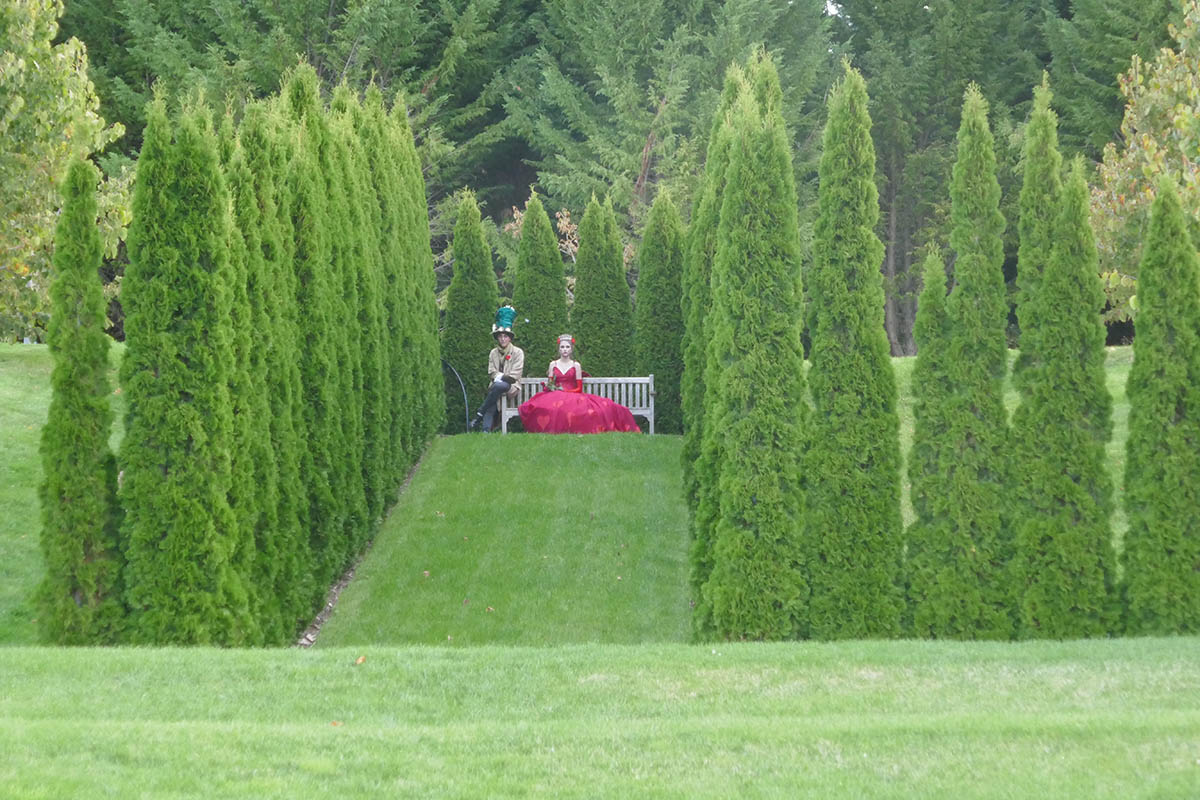 Mayfield Garden is set to become a major event space in Australia, and we were further entertained with performances in just one of the natural arenas that occur throughout the garden. We listened to the lovely harmonies of Smith and Jones and then were surprised when an opera singer appeared to serenade us. Next thing there was a soliloquy from Shakespeare from a feisty actress. I love theatre, and Mayfield Garden was made for all of these performances. The gardens themselves are theatre.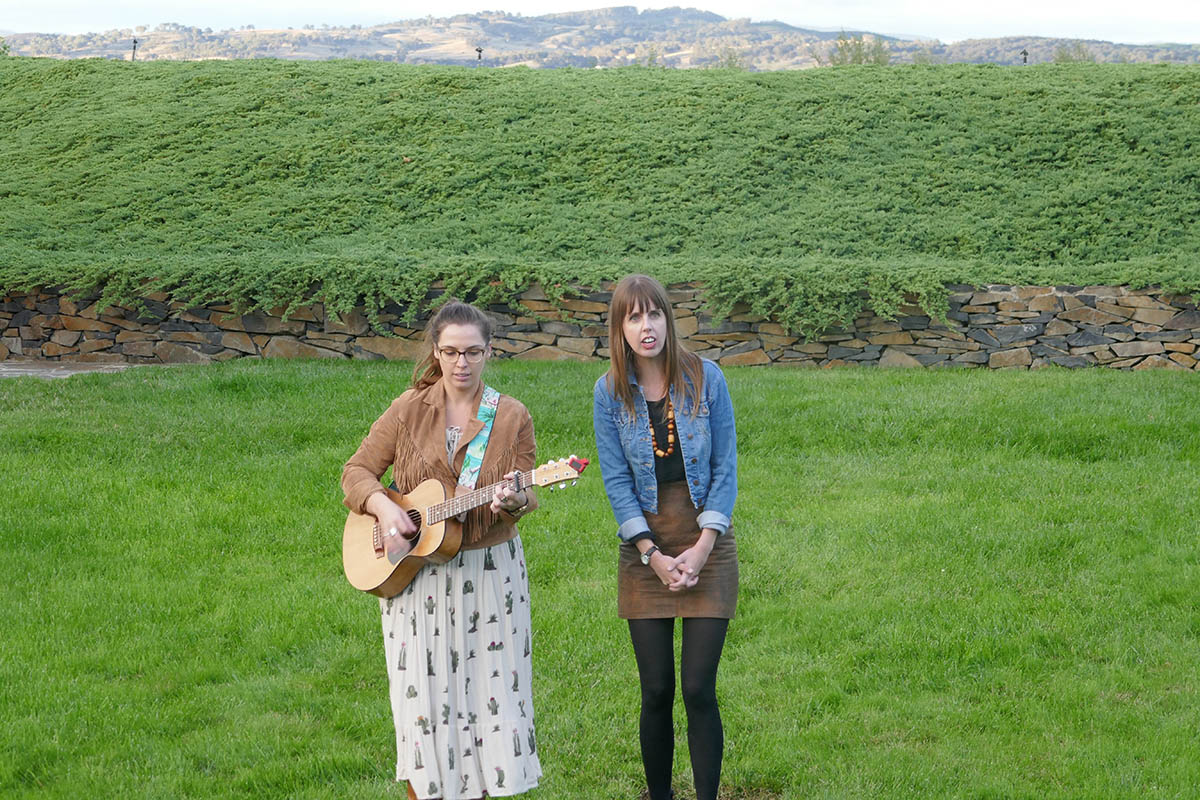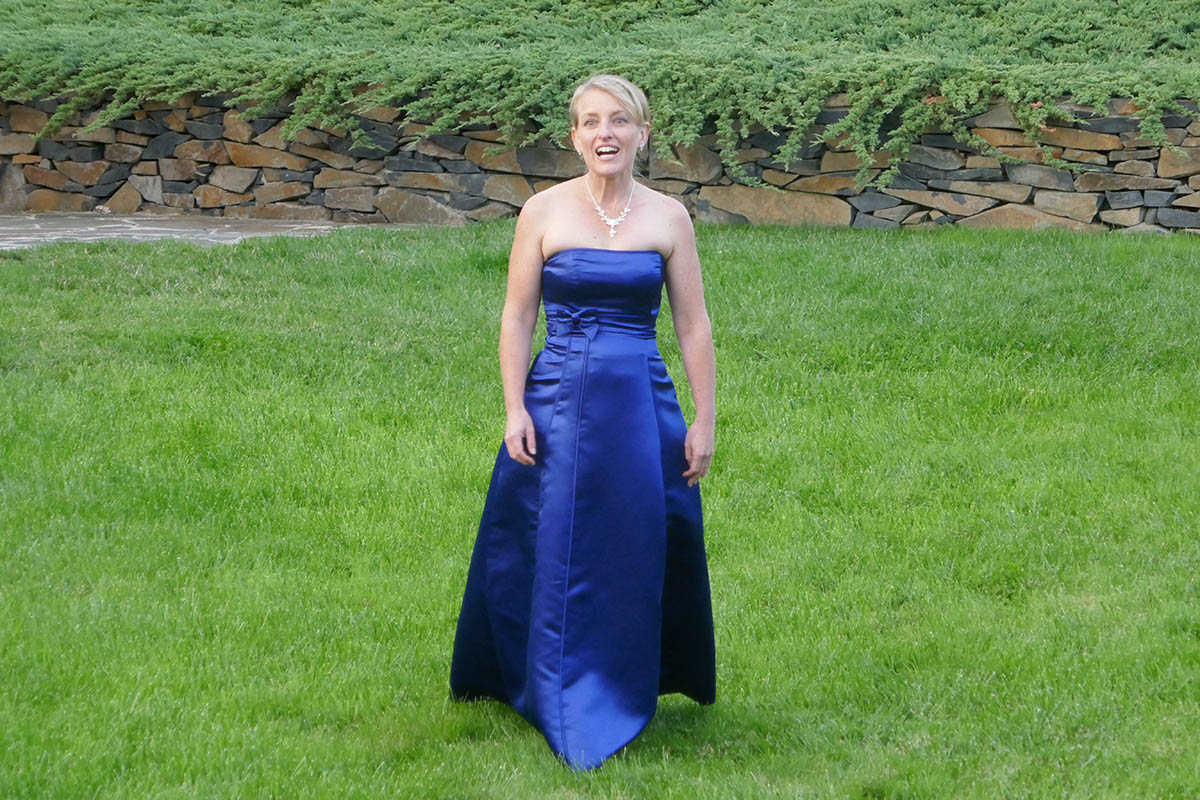 You can see that Mayfield Garden are getting their point across by working with the local community. and egaging them in their directions for the future.
Further testimony to their community mindedness, is that their employees, the horticulturalists and the chef and other workers at the Mayfield Garden Café are all local, and boy are they loyal. Head horticulturist Peter D' Arcy's daughter was indeed, Alice in Wonderland.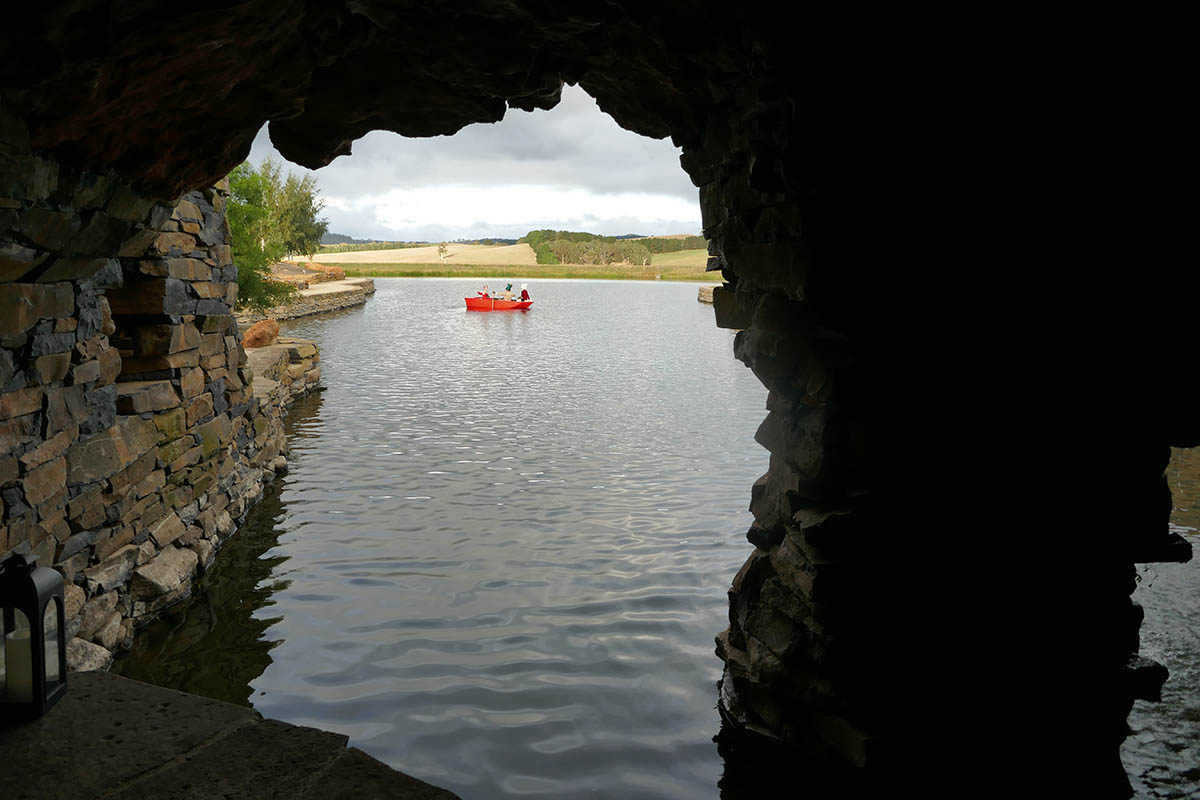 It stays local always, even at the croquet match
At just 40 minutes from the delightful city of Bathurst, home to more than just motor racing, and at just 3 hours from Sydney, this is an ideal weekend getaway. Make sure you stop at the Hydro Majestic in Medlow Bath for a high afternoon tea on the way and prepare to eat a lot of the Mayfield Garden Café, where all food is literally paddock to plate. With the surrounding kitchen gardeners, we saw them picking the fresh beetroot and herbs as we arrived. We then ate this at the croquet match with Alice, resting bitch face, the flamingos, and the Mad Hatter. We also were introduced to some delightful cold climate sparkling wines on our tours of the garden.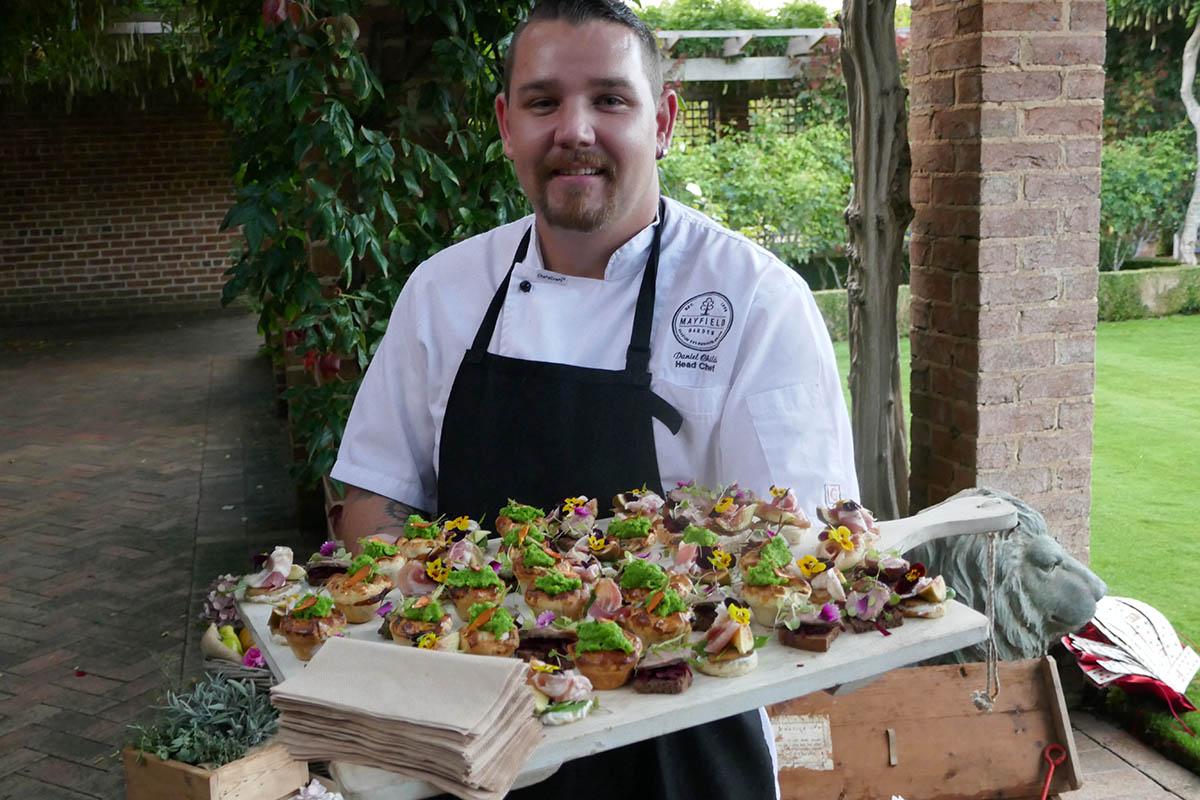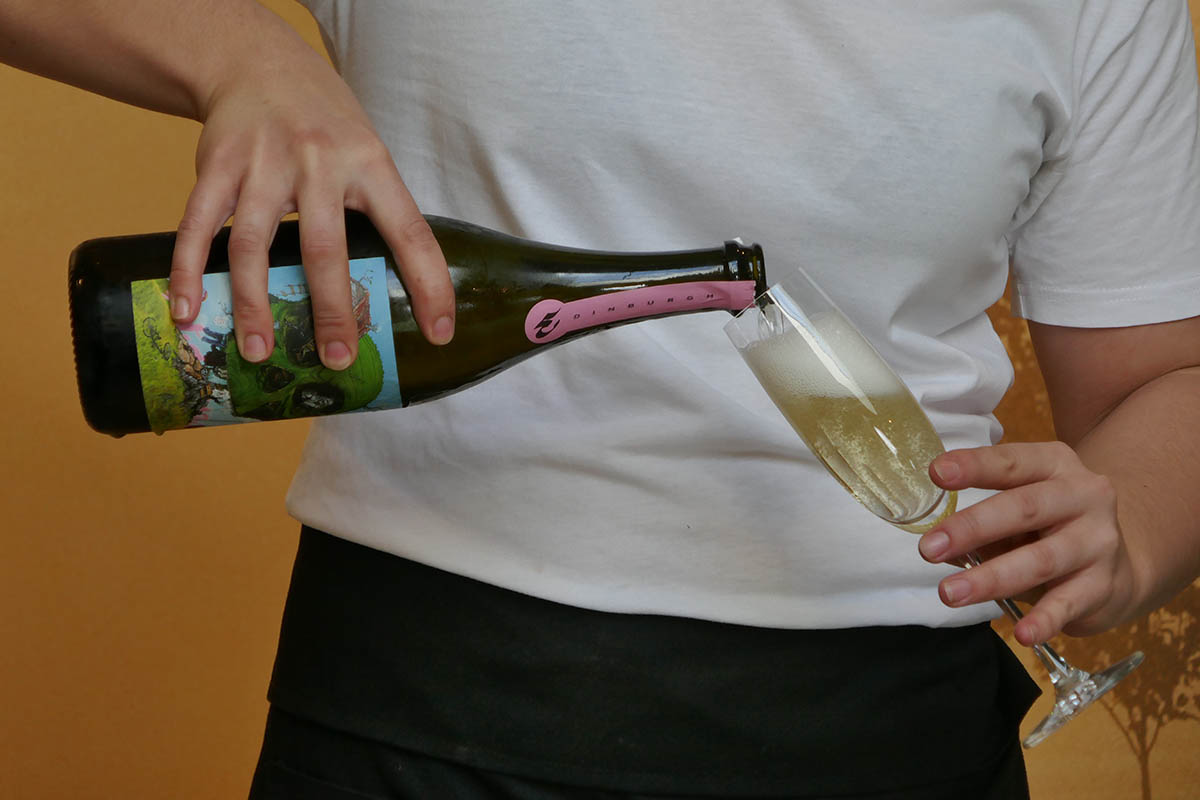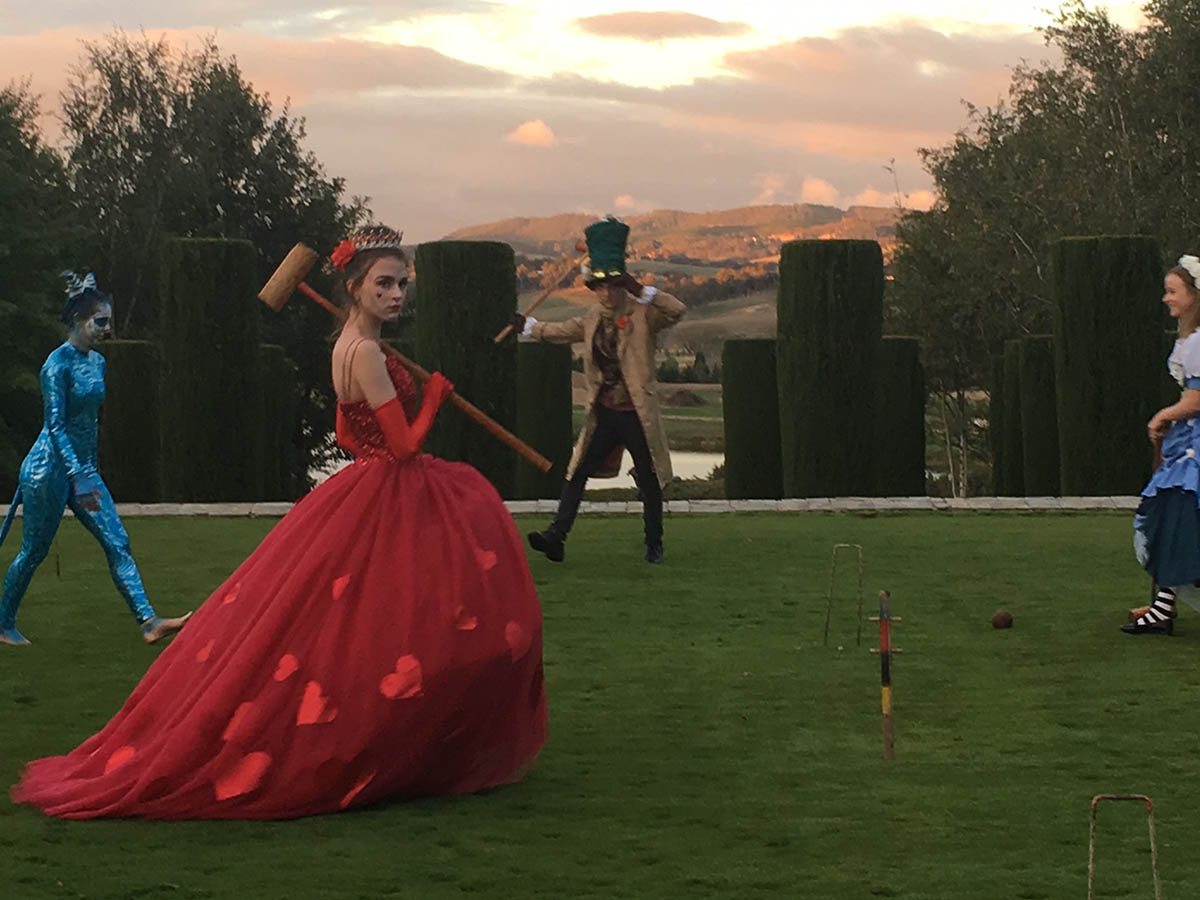 The aim for Mayfield Garden is to go big, and to go big as in Splendour on the Grass big, with major acts from around the world. This is under the enthusiastic direction of Hamish Keith, a local also, despite bring head hunted from New York to spearhead this new direction.
We had a fantastic day. We followed Alice, the White Rabbit, and friends to lakes, to caves, to the copper tree and throughout the vast Garden. Did we have fun? Judge for yourself from these photos. Do I like this community-minded company, that embraces local workers, local schools, and local everything? Well, yes I do. The Mayfield Garden has me ""Curiouser and curiouser!"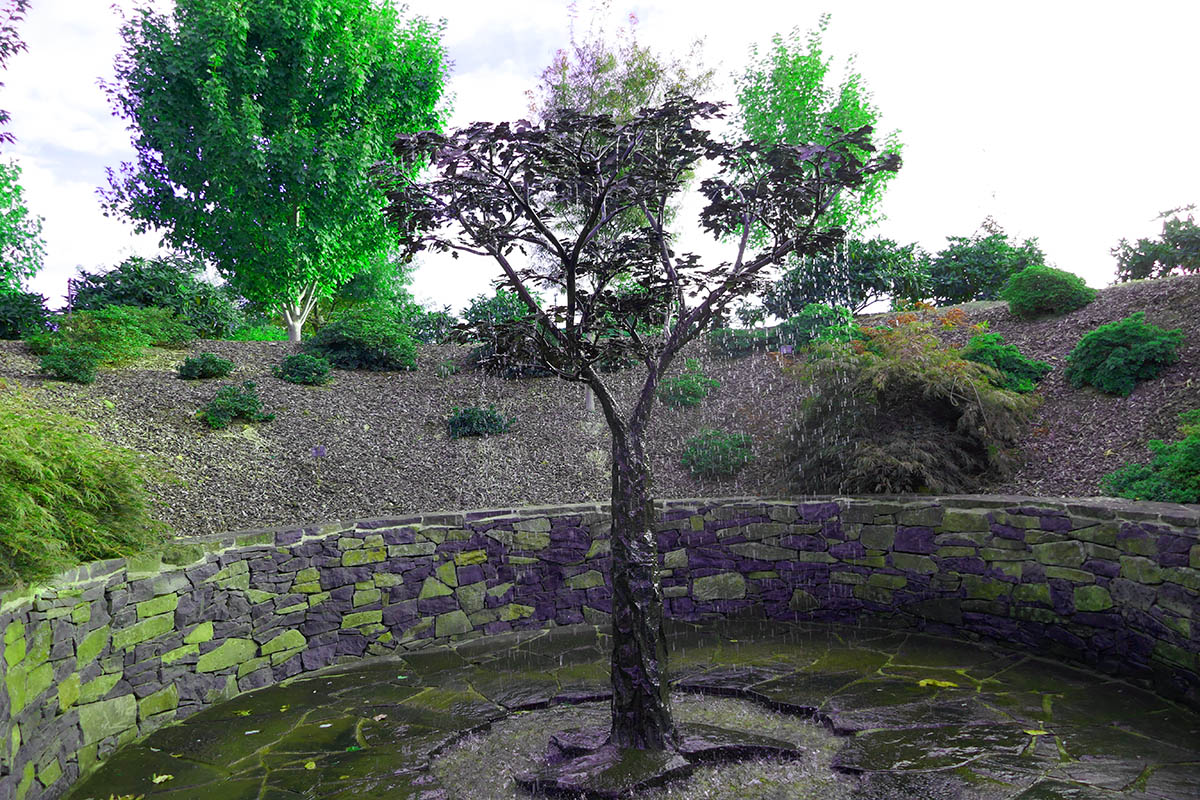 Mayfield Garden is just outside of the town of Oberon and a short drive to the community-minded city of Bathurst. It mjust be something about the Central West of New South Wales, I think. We recommend that you stay in Bathurst at the elegant and stunning, Bishops Court Estate, where Christine is your Maggie Beer of Bathurst.
http://\Mayfield Garden
530 Mayfield Road Oberon
Hours: Open daily (except Christmas Day and Boxing Day), 9am-4:30pm (last entry 3pm)
Prices: Adult $20, Concession $18, Child $10. Kids aged 7 and under free. During the garden festivals, Adult $30, Concession $27, Child $15
http://www.MayfieldGarden.com.au
Weekend Travel Inspiration
1 Join us and add your bog post to the blue button below.
2 Comments on others
3 Share on social media
Link up your travel inspiration using the blue button below. Remember to link back to the collection on your blog.
[inlinkz_linkup id=694291 mode=1]