You have made it to Tropical North Queensland, and to Cairns, so here are some ideas to explore the city of Cairns itself.
After you have been to the Great Barrier Reef, one of the seven wonders of the natural world and an Australian treasure, gone to the Daintree Rainforest, a UNESCO World Heritage site and explored the Village in the Rainforest, Kuranda, you will want to have some time to see what to explore in Cairns and what the city itself has to offer. There are many fantastic things to do in Cairns, and many Cairns tourist attractions to suit all ages. There are also lots of things to do in Cairns for free.
What to do in Cairns for 3 days
We explored Cairns for 3 days and have compiled these ideas for you. Before we get started, these are our observations about Cairns.
Cairns does things beautifully. The Esplanade is amazing, the streets are clean, and the Botanic Garden blows your mind. This is a multicultural city and the visitors are multicultural. There is a total mix of backpackers, families and older travelers. Cairns is touristy because it needs to be. Visitors want to buy souvenirs. They want to buy croc jerky, and fluffy koalas and there is nothing wrong with that. Cairns is geared to the tourist. There are so many tour agencies wanting to take you to the Great Barrier Reef, the Daintree and more. We have asked around, and have not heard of any definite don't touch with a barge pole companies. It would appear that like Cairns itself, everything is pretty slick.
I didn't expect that I would like Cairns as much as I did. By the 3rd day of this visit, I had developed a liking for this city, enough to want to return.

Getting to Cairns
Australia is not a cheap county, so getting to Cairns should be cost effective.
How to Get to Cairns

Fly Tigerair Australia from any capital city
.
Getting Around Cairns
All recommendations in this guide to CAIRNS CITY are designed to be able to be walked, with just one bus ride. Cairns is flat so if mobility is a problem it will be easier, and there are park benches everywhere to stop and have a break. There are also water fountains, and the water is safe to drink. All details for the bus ride to the Cairns Botanic Gardens are given later in this post.
Money
Australia dollar. Check currency exchange rates, and international tourists will be very happy. XE currency exchange.
Staying in Cairns
Depending in your style you will find a lot of options for your accommodation requirements. If you value space, location and luxury, then w recommend
Stay
 
Eating in Cairns
Breakfast
Innumerable breakfast places. We recommend the following two, based on personal experience.
Re:hab Soul Food Restaurant
Recommended: Coffee is amazing, beans are great
Located in: Boland's Centre
Address: 46 Lake St, Cairns City QLD 4870
Phone:0439 831 824
Hours: Open 7:00 am – 6:00 pm

Walk along In Graff Alley to Caffiend Café, Art, Music
Recommended: Menu is funky, so you can't go wrong
Address: 5/78 Grafton St, Cairns City QLD 4870
Phone:(07) 4051 5522
Hours: 7:30 am – 3:00 pm

.

Dinner
Cairns is full of eateries, and there are cafes and restaurants everywhere, particularly along The Esplanade, which is buzzing of an evening. The Night Markets also have some great food stalls
However, we are recommending a hole in the wall genuine Thai place, where you can eat outside or takeaway. Also, we recommend one of Cairns oldest Japanese Restaurants, who serve seafood with the typical Japanese attention to detail. We add in a restaurant because they are amazing views and have great food.
Phetyai Thai
‪35 Lake Street, Cairns, Queensland 4870, Australia‬

Cherry Blossom Japanese Restaurant
Cnr Spence & Lake Sts, Cairns (Upstairs)
(07) 40521050

Salt House
2 Pierpoint Road

.
Eat Ice Cream in Cairns
It is the tropics, and it would be hard not to have an ice cream. We felt obliged to try a few out to help you in this decision
All on or near the Esplanade

Gelocchio
Baskin-Robbins
Capriccio Italian Gelato.
Shopping in Cairns
From luxury to tacky souvenirs, you have it all.
What to See and Do in The City of Cairns
The Esplanade
This is "Cairns", everything happens at The Esplanade. Everyone ends up at the Esplanade, whether promenading, walking, sunbaking, listening to music, or having a swim at the Lagoon, because surprisingly Cairns has no beach. This is the place to walk from one end to the other and back again and you will never be disappointed at this water frontage attraction.
The Lagoon
As mentioned Cairns does not have a beach; these can be found slightly out of town. However, Cairns has a lagoon. This Lagoon is located at The Esplanade and it is a big attraction in this hot and tropical climate.
The Lagoon is 4800sq m salt water swimming facility that offers an all-year round, safe, swimming location without stingers and crocodiles. The Lagoon is filled with salt water from the Trinity Inlet, which is filtered through a state-of-the-art filtration system.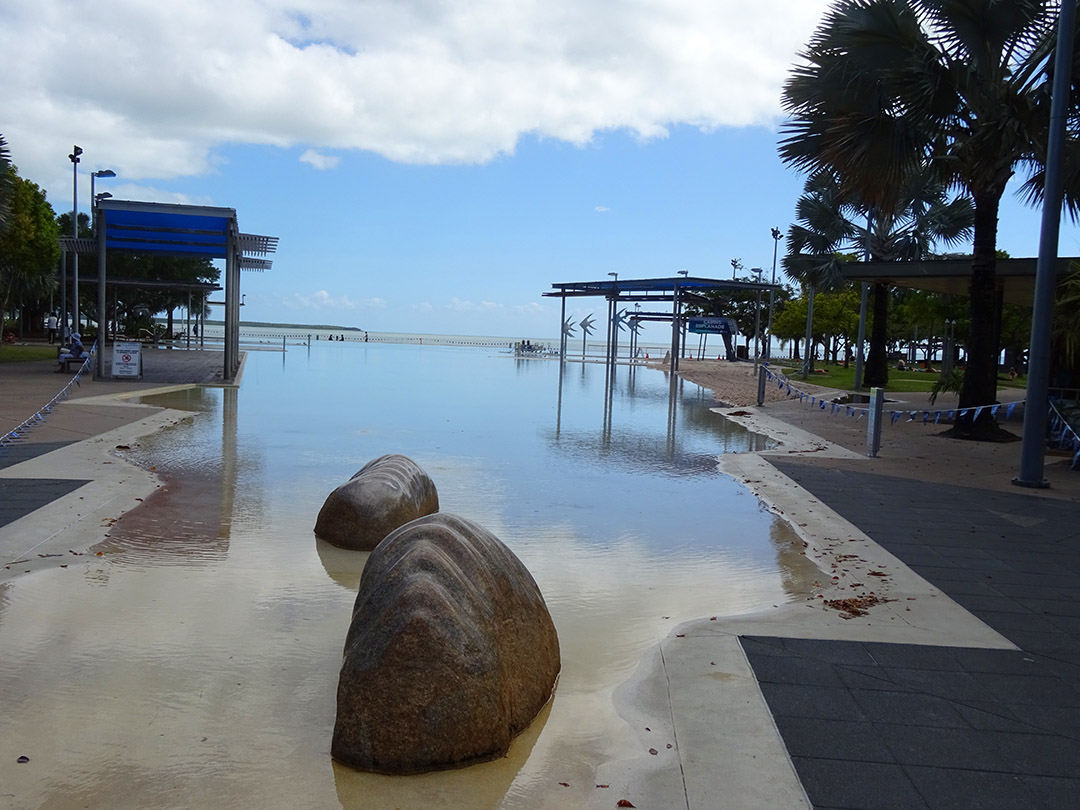 Muddy's Playground
We don't have kids, but if we did, we would take them to Muddy's Playground. Muddy's playground is themed "Life in Trinity Bay" and the playground includes water play areas plus a flying fox, sound chimes, track ride, rope bridge, slides, play houses, story telling areas, see-saw, trick track and puzzle games.
Cairns Regional Art Gallery
Housed in a landmark heritage building in the middle of the city, the Cairns Regional Art Gallery focuses on the unique cultural heritage of Far North Queensland. There are contemporary and traditional exhibitions.
Cairns Regional Gallery   





Address: 40 Abbott St, Cairns City QLD 4870
Phone:
Hours: · 9:00 am – 5:00 pm
.

Reef Hotel Casino
It's a casino.
Reef Hotel Casino
Address: 35-41 Wharf Street, Cairns City QLD 4870
Phone:(07) 4030 8888
.
Night Markets
This is the chance to see how multicultural Cairns is. This market starts when the sun goes down and each year 2.7million visitors go through the markets.
Cairns ZOOM & Wildlife Dome
The Cairns Wildlife Dome is a spectacular all-weather wildlife exhibit, encased by a 20-metre high glass dome on the rooftop of the prominent Reef Hotel Casino, right in the heart of Cairns.
The Cairns ZOOm takes this to a higher level by having where you experience a challenging Ropes Course at different heights within the Dome so that birds and tourists can interact, appreciate and be educated about our native fauna while having an exhilarating experience.
Cairns Zoom
Address: 35/41 Wharf St, Cairns City QLD 4870
Phone:(07) 4031 7250
Opening hours: 9am – 9pm
I am saving this until last because it is amazing.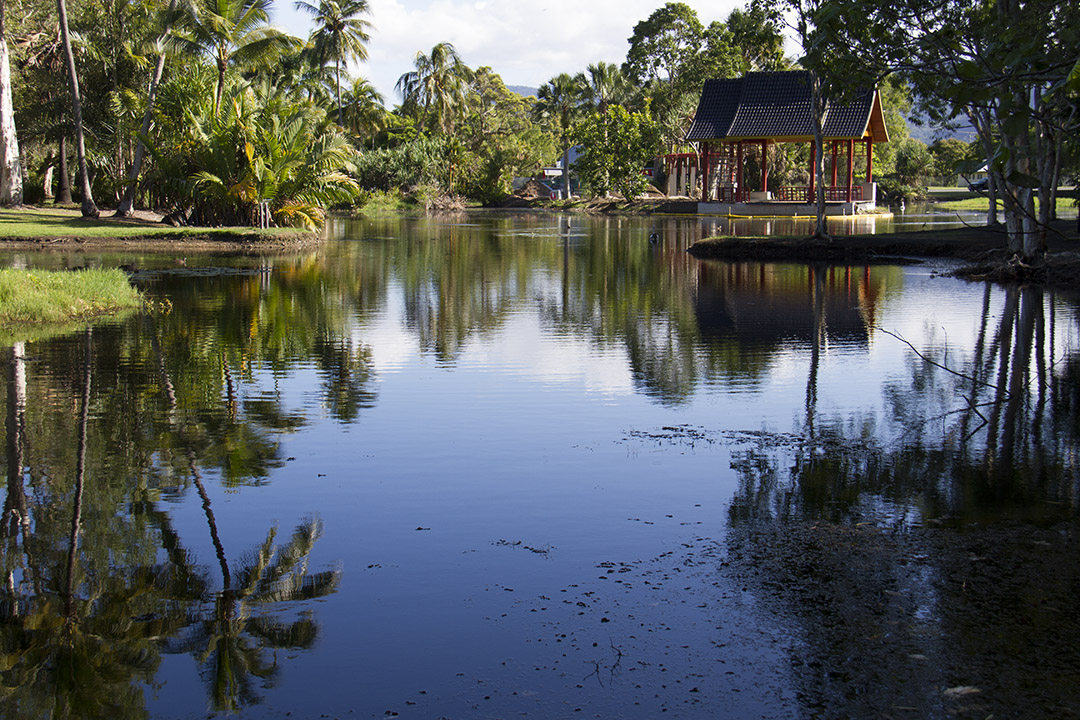 Cairns Botanic Gardens
This is a slightly longer walk, about 4kms from the Esplanade but totally achievable and worth it. However, I would advice taking the bus from the city center. Cairns is hot and humid and the walk is relatively long. Also, as the Cairns Botanic Gardens is set in 38 hectares, you will do enough walking when you get there.
The Cairns Botanic Gardens comprises the Flecker Garde, Centenary Lakes, Saltwater and Freshwater, The Rainforest Boardwalk, Mount Whitfield Conservation Park, and The Gondwanan Heritage Garden. We walked around all of it, and were totally amazed at the scope and variety of the garden.
Not only do you get the stunning, and they are world-class gardens, but you also get the Tank Arts Centre. In a previous life, these were "concrete fuel tanks, completed for the Royal Australian Navy in 1944, and carefully camouflaged under the rainforest shroud of Mount Whitfield to protect them from enemy eyes." See Reference here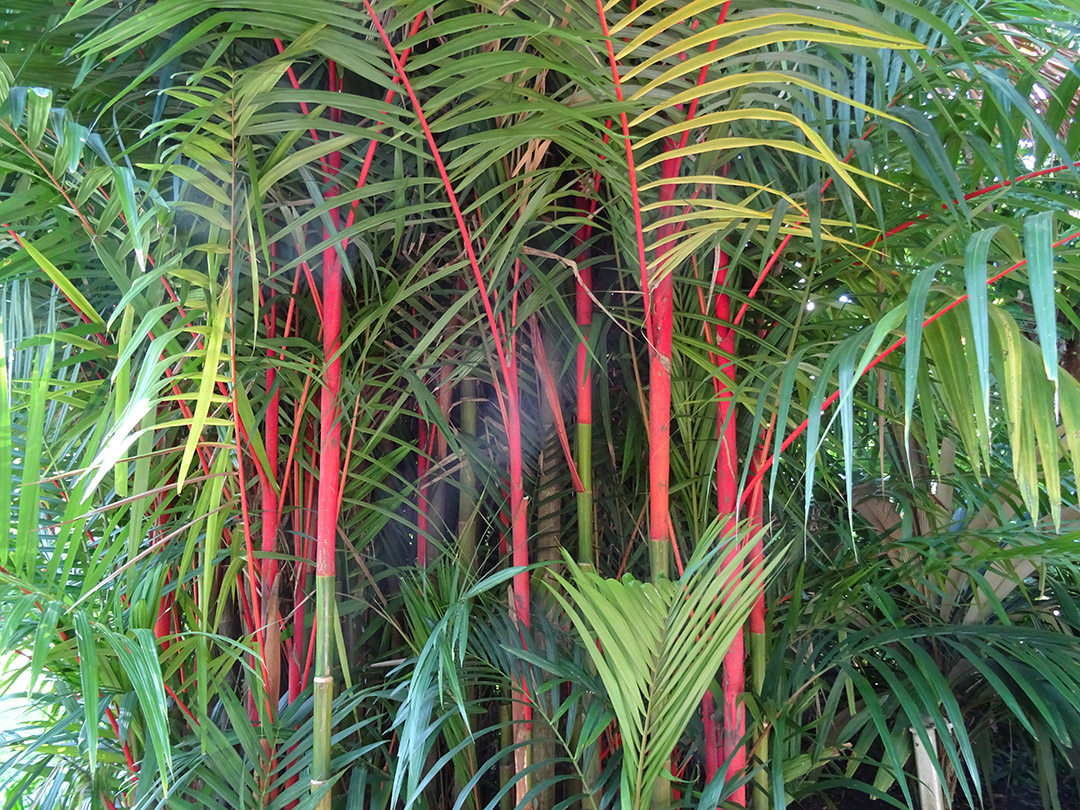 Cairns Botanic Garden 
Address: Collins Ave, Edge Hill QLD 4870
Phone:
Hours: 7:30 am – 5:30 pm

Bus Route and Information
Route 131 from city center
Mon – Fri 6.48am and then hourly until 9.48pm

Sat-Sun 6.44am then hourly until 9.44pm
.
Explore Cairns, Visit Cairns because Cairns is all right.
Do You know of other places we should have added?
Want to refer to this post later? Pin the image below to Pinterest!