Zermatt is in Switzerland and is nestled at the foot of the famous and magnificent Matterhorn at a height of 4,478 metres. Zermatt is a pretty sure bet with snow and therefore skiing is guaranteed for much of the year due to its high altitude. The winter season is one of the longest in Europe starting in early November and finishing in mid May. Zermatt is well known as a resort for people who enjoy the finer things in life and this is true. This is for everyone, just do some research.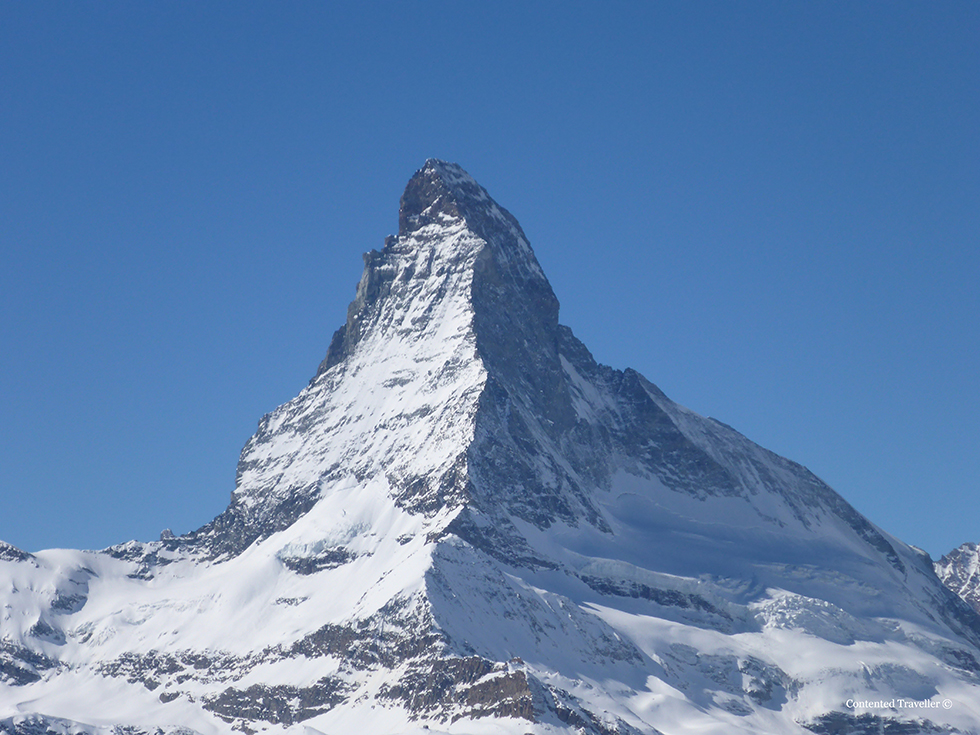 Zermatt turned the weather on for us on this beautiful spring day. While Gordon conquered the pistes of the very extensive terrains, I dominated the sun decks of the parts of the extensive mountains that we got to on this day. Our previous posts explain why I have joined the Stephen Fry School of non-skiers for the moment. It is a basic belief that "in Zermatt, après ski begins at noon". I just started a bit earlier.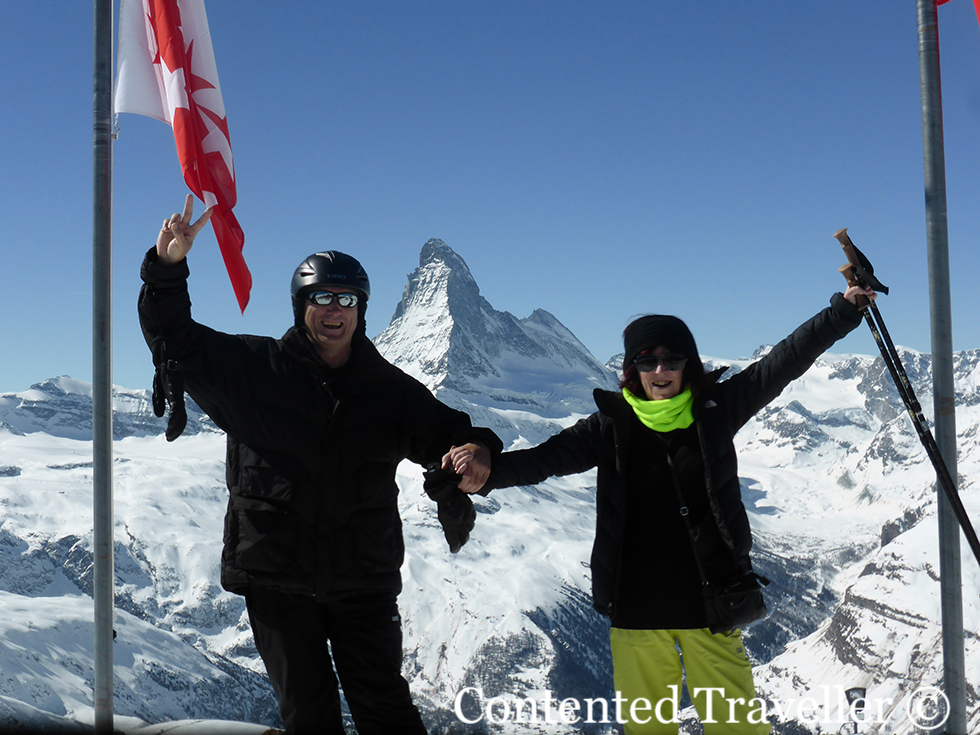 There are pleasing, high and extensive slopes in four varied areas over the mountains. Everywhere you look there is spectacular high mountain scenery, dominated by the mighty Matterhorn. It has seriously good mountain restaurants as well.
We worked it our perfectly so that we both had a really excellent day. We started from the village of Zermatt and took the underground funicular train to Sunnegga, which is 2288 metres above sea level. Here Gordon ran the various runs all around and I had my first hot chocolate marvelling at the Matterhorn and the surrounding mountains. I did a lot of people watching and Gordon did a lot of turns on the good quality snow.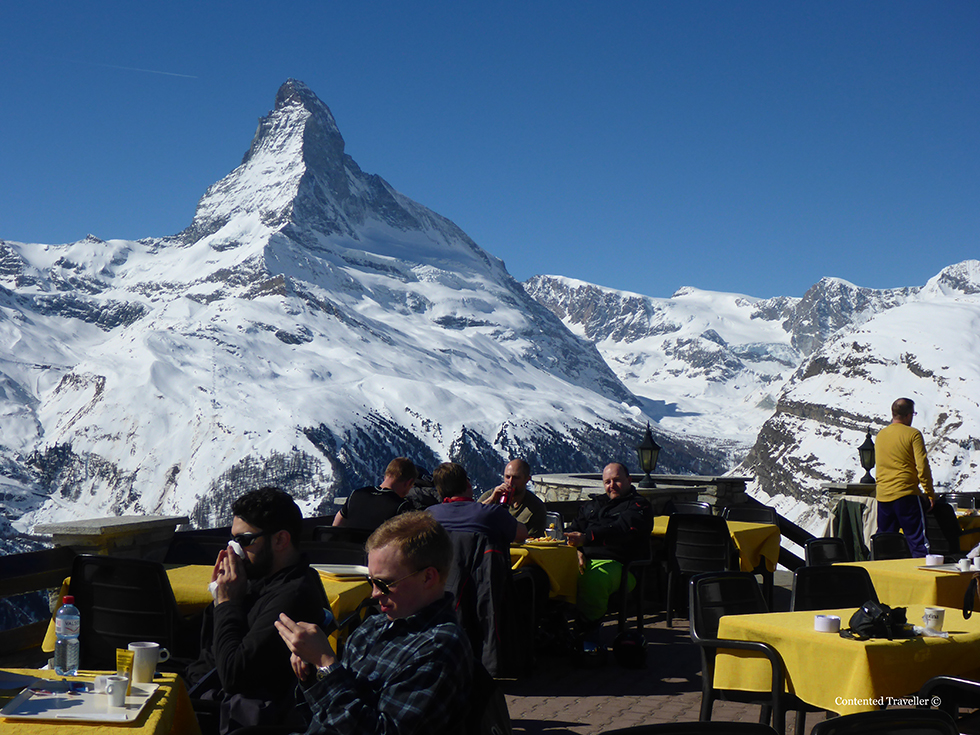 This whole area is also a mecca for walkers all year round, not to mention the sledders as well. I was not the only one soaking up the sun and enjoying the views from and on the sun decks. This is a very popular pastime in Switzerland so I did not feel out of place.
We then took the gondola to our next pit stop, the Blauherd that sits at 2571 metres. We had a coffee and Gordon took to the pistes while I listened to some really good music and chatted to some people.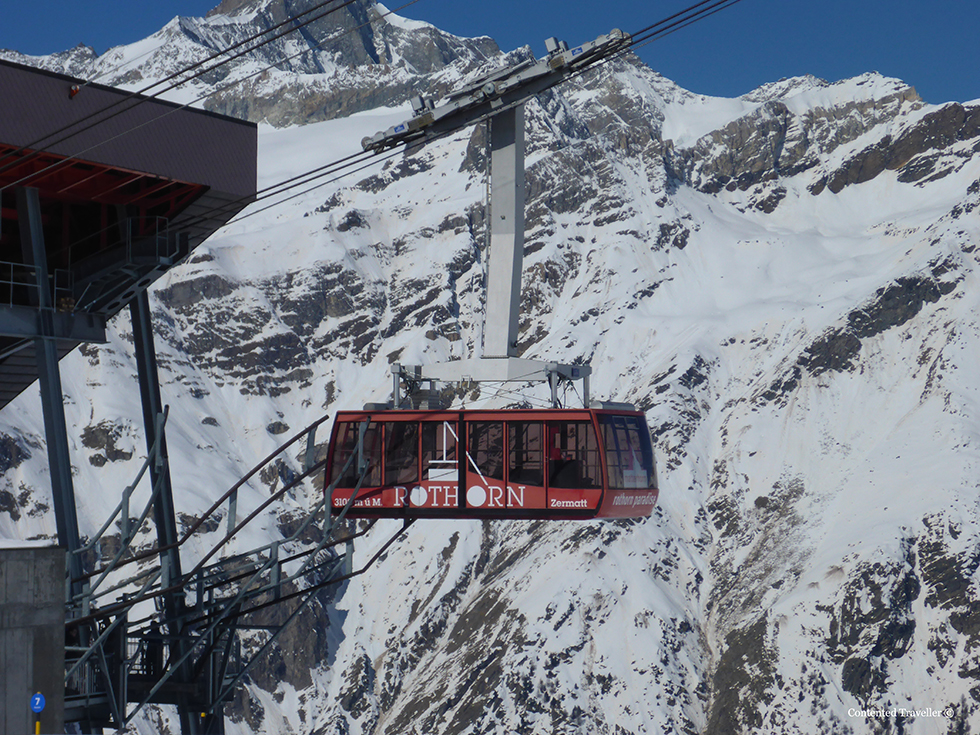 Later we took the big gondola to Rothorn, which sits at 3103 metres up in the Swiss Alps. Here we sat and admired the scenery and then parted ways. Gordon skied around while I went down the various gondolas and we met at Sunnegga again. Anyone who has read my posts knows that I am not a fan of heights at all, but for some unknown reason I feel comfortable in the gondolas by myself. Of course the thought crossed my mind that the cable might snap but so far so good.
From there we went down to the village of Zermatt and took the electric bus around to yet another gondola to go up to Riffleberg for a late lunch and a good rest on the sun decks of the mountains. The food was as good as we had been expecting and food in the mountains on snow on a clear blue day tastes even better still.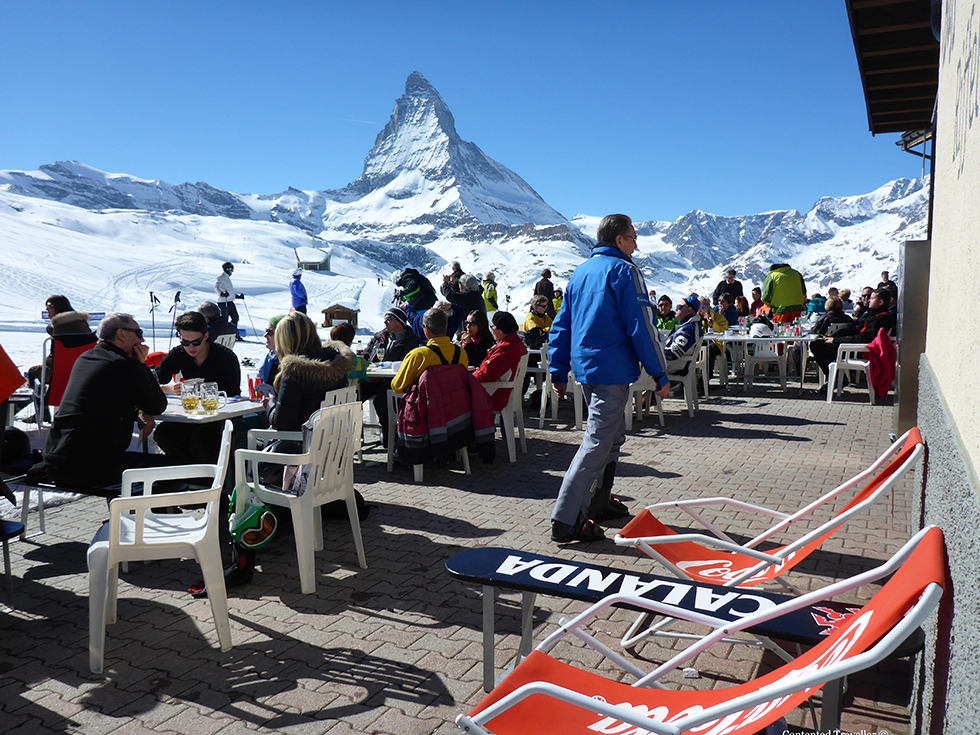 Gordon then skied up to Gornergrat, at an altitude of 3,089 m above sea level, and to the 2nd highest observatory in Europe. From here he was able to see the highest mountains in Switzerland, the Monte Rosa at 4,634 metres. The Gornergrat has been a top tourist destination in Switzerland for the last 111 years. Tomorrow I will take the train up to see it myself. Then we will conquer both slopes and sun decks in other parts of the vast ski fields of Zermatt.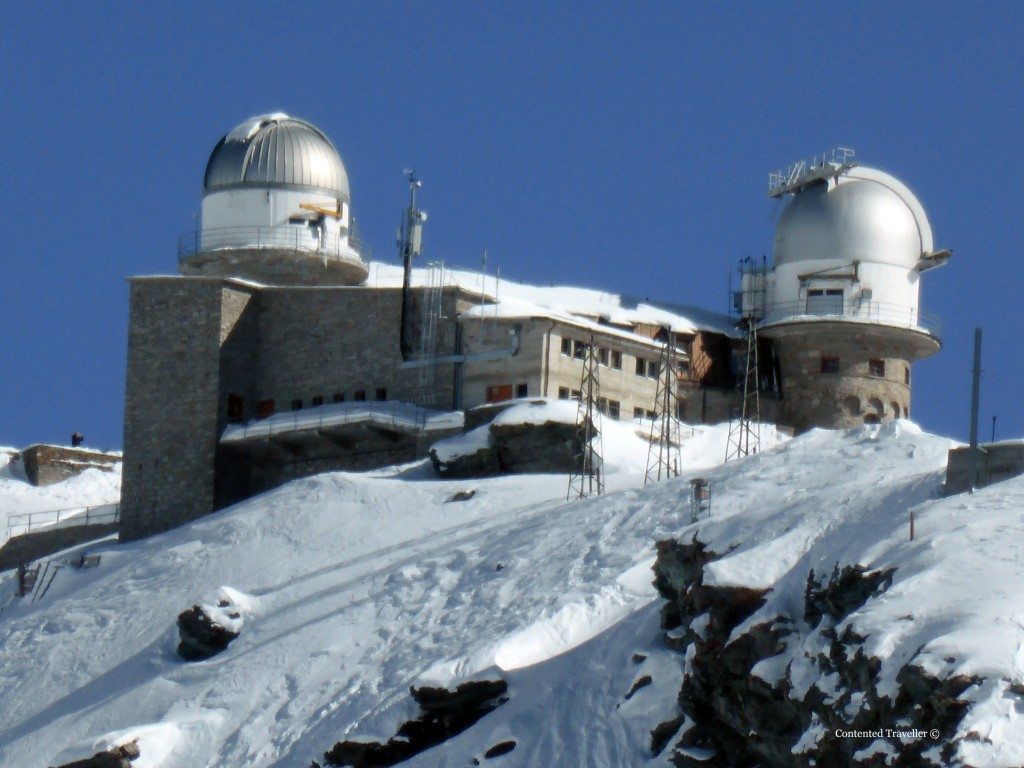 We have not even done a quarter of the mountains of Zermatt so there is so much more for Gordon to ski and so many more sun decks for me to enjoy. Perhaps he might even ski into Cervinia in Italy for lunch though as yet there doesn't seem a way for me to get there via gondolas. However, where there is a will there is a way.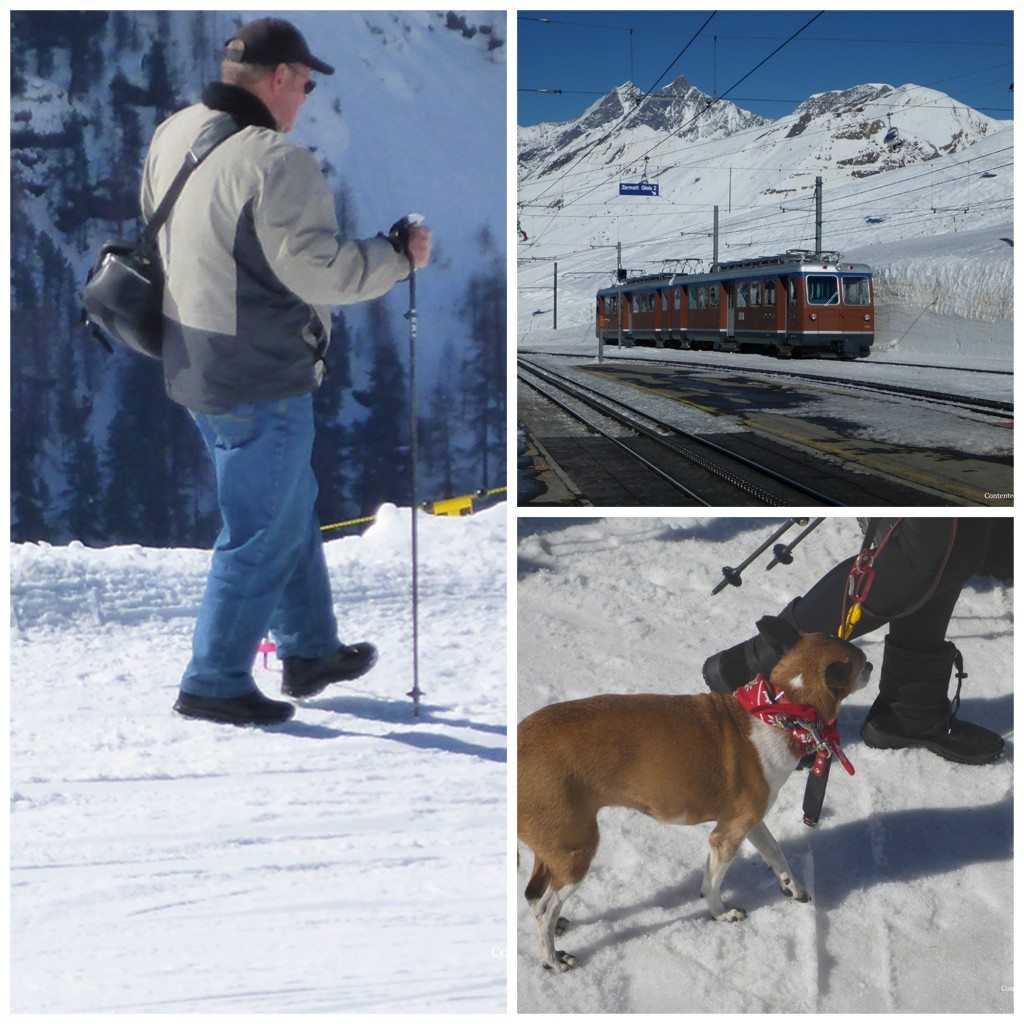 With thanks to Zermatt Tourism for introducing us to the fantastic ski fields and to the awesome sun decks of Zermatt.