If you have ever wondered What to do in Kotor in Montenegro for a day, we will share our experiences with you.  Kotor, in Montenegro, is known as the Bride of Adriatic and is ethereally beautiful from the moment you enter Boka Kotorska. Kotor was a city of traders and famous sailors, and many legends abound in this city, but now tourism drives its economy. Read more about the Bay of Kotor here.

Why were we visiting Kotor in Montenegro?
We woke very early on the day our cruise ship M.S Koningsdam was arriving in Kotor in Montenegro because we had been told that the passage into the city, through Boka Kotorska was one of the most spectacular vistas to witness. They were correct. We glided through staggeringly massive mountains with little villages hugging the shoreline. It was as if we were going through a fjord in Norway, or to Alaska. I was not quite expecting that Kotor in Montenegro would be so very stunning. Though I did have a small clue.
My knowledge of Montenegro was limited. I remember being made to watch the movie Casino Royale, and the final scene showed Daniel Craig overlooking what I considered to one of the most beautiful places I had seen. When I googled this, it turned out that is was ostensibly Montenegro, so this country immediately went on to my list. However, subsequent research says that it was not filmed in Montenegro at all. Director Martin Campbell later joked: "I have never been in Montenegro but I hope that now their tourism will erupt. If that happens I expect a reward."… and guess what, it is working.
Our arrival and subsequent exploration of Kotor confirmed that regardless of where the film was made (and I do now) that Kotor in Montenegro is indeed a beautiful place to visit.
Apparently, I am not the only one overwhelmed by the natural beauty of this country, as it is a part of the UNESCO World Heritage Site of the Natural and Cultural-Historical Region of Kotor.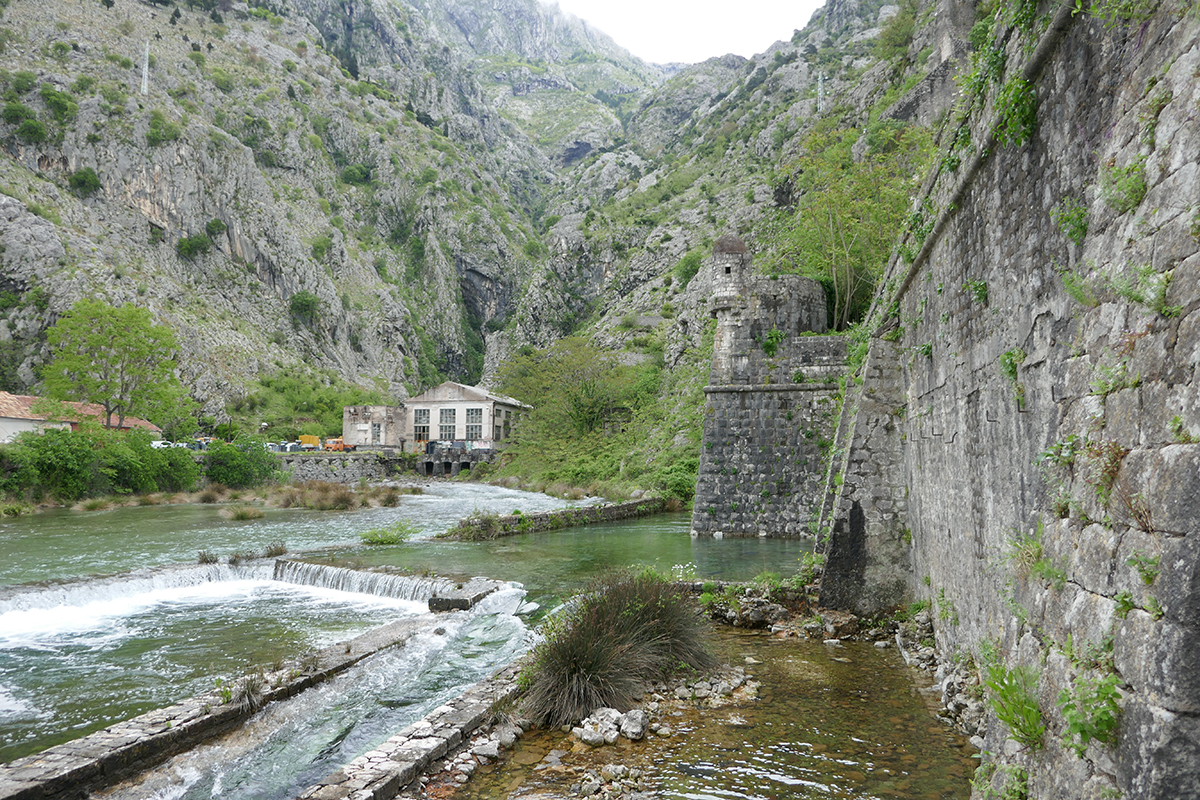 Where is Kotor in Montenegro?
Kotor is on an inlet of the Adriatic seas. The capital city of the Montenegro is Podgorica, which is about 85kms inland from Kotor.Kotor is south of the lovely country of Croatia, where we had spent the previous day exploring the Old Walled Town of Dubrovnik. The towering limestone mountains of Lovcen and Orjen greeted us as we glided into port.
The Legend of Kotor in Montenegro
Dobrota is just 5 minutes outside of the Old City of Kotor. Here is the legend of its foundation.
Source: http://www.visit-montenegro.com/main-cities/kotor/kotor-history/
Two travelers, who were traveling around the world, came to the grey sea. As they were already exhausted from the long trip, they sat on some kind of a rock to get some rest and to refresh themselves. One of them moved a little bit to the side and noticed a plaque with some inscription on it. The inscription said: "Measure 10 lengths dig and stop". When they read that, they wondered what could that be, so they started to guess together what that instruction could mean. At one moment they came to an idea to measure ten lengths with the plaque, and so they did. When they measured the required length, they started to dig a small hole in the ground, and they found some kind of a small chest.They tried to open it, but to their astonishment, the chest opened by itself.
At the bottom of the chest with golden letters, it was written: "this is everyone goodness." For a long time, they thought what they should do?! Whether to stay where they are or to continue their journey? Still, as the message was like some vow, they stayed in the place where they have found the message. At the same place they quickly made a cottage and went to sleep.
During the night something very strange happened. From the wooden chest, some new shiny letters glimmered. The new message said: "Wish whatever you want before sleep"!!! As both of the travelers from the beginning of the story were poor, they wished for nice stone houses and beautiful wives. When they woke up in the morning, they were speechless. They saw a white castle and a woman on the window looking towards the sea. They immediately moved into the new home and continued to live with ease. Since that, every night before they went to sleep they wished for another nice house, of which every morning one emerged."
That is how Dobrota and Kotor, were founded.
According to historical sources
The little city of Kotor in Montenegro was settled in 168.B.C during Ancient Roman times. Montenegro is a Balkan country with rugged mountains, medieval villages and a narrow strip of beaches along its Adriatic coastline. The modern history of this idyllic little country is well worth reading,
The ancient wall, which is a popular if rather steep walk, climbs the mountain and gives a beautiful view over the town and the Adriatic peninsula. The wall was built to protect the city by The Republic of Venice, though looking at these precarious mountains, it would seem difficult for anyone to attack from there. However, many tried because they wanted this very beautiful place for themselves.
The modern history of this idyllic little country is well worth reading. When Montenegro Split From Serbia, they effectively Redrew Europe's Map. Source: National Geographic
Arriving in Kotor in Montenegro
We glided past Boka Bay also known as Boka Kotorska
Here we saw Our Lady of the Rocks. Legend says that fishermen threw rocks into the water keeping up with an ancient oath, which was that every time they returned from a successful voyage, they laid a rock in the Bay. This island was therefore formed, and now has a small church and historical paintings.

Our approach from the cruise ship was by tendering – a term that as a novice cruiser I had not heard. This meant that we were shuttled by the lifeboats to the shore, which was only about a kilometer away. This is because the water at the wharf was not deep enough for the large ship to berth. It was a novel experience.
Montenegrins Are TALL
You will be greeted by many taxi and tour operators. This appears to be normal when you arrive by a cruise ship .. she says … as a virgin cruiser. Then I wonder why the men of Kotor in Montenegro are so tall … and they are. I am not so I notice these things.
So I Googled this, and it is true. "Montenegro comes in at the third spot in the list, (of Countries With The Tallest Average Heights)
"with its citizens' average heights being 5 feet, 9.25 inches across both genders. Montenegro is situated in the Dinaric Alps, which has great weather and clean mountain air. Children in Montenegro have good nutrition, and that partly explains the Montenegrin height advantage. Montenegro's cuisine has Italian, Turkish, and Hungarian flavors, which prove to have more than enough nutritional value. The Montenegrin gene pool, of course, is the major factor that gives its people an edge over other countries in maintaining its population's height increment." Source: World Atlas
What to do in Kotor in Montenegro for a day.
Walk the Wall
Climb the city walls of Kotor up to St. John's fortress. Due to the weather at the start of the day, it was too inclement for us to do this trek. However, we have been told that you should start the walk from near Kotor's North Gate and St Mary's Church. This is apparently a strenuous 4.5 km walk along the city walls which are a mix of ramparts, gates, churches and fortresses. Their construction started in the 9th century, and in the 15th century they finally formed a full loop up into the hillside. A good place to have a rest is at the Church of Our Lady of Remedy. The walk will give you incredible views of the city.
See The 3 Town Gates
– The Sea Gate
– The River Gate
– The Gurdic Gate
Do the Old City Walk
There are many places of interest, and getting a guide map will behelpful. Alternatively, just walk and explore the small walled city. Some of the places that you will see are as follows. Learn more about Kotor Old Town
Visit Grgurina Palace
Baroque Palace from the 18th century, with a maritime museum
Explore Drago Palace
Gothic palace decorated with dragons
Admire the Pima Palace
The Renaissance and Baroque palace, built after the 1667 earthquake is in the main
Check out St Tryphon
Romanesque and Gothic, the church was rebuilt after severe damage by an earthquake in 1667.
Try and visit Basilica of St Luke
This church has two altars – one Catholic and one Orthodox, but they were trying to charge 2 euro to look, and you shouldn't have to pay to visit a church!
Photograph Napoleon Theatre
Built in 1810 as a theater, and later the town hall.
*KOTOR stands for Knights of the Old Republic in Star Wars, not in Montenegro*
If you choose to stay in Montenegro, check out the latest prices here.
If you want to know What to do in Kotor in Montenegro for a day, other than marvel at how tall the men in particular are, then we hope this helps you explore this pretty little place.