We spent some time with Nuno, a local Lisbon man from Lisbon Riders, a tour company where we spent our day Learning about Lisbon from a local. There is nothing like spending a day with a person who was born and bred and adores his city. We were on a Spain and Portugal cruise.
Learning about Lisbon from a local
There are many day trips from Lisbon, and we spent some time visiting Pena Palace in Sintra in Portugal. Sintra is 37 km from the capital city of Lisbon. This gave us an opportunity to talk about life in Lisbon from a local person. While The Palacio Nacional da Pena or Pena Palace is one of the finest tourist attractions of Portugal; the downside is that you get the crowds of tourists who want to see this national monument. On the day, we went on our trip, which we booked through Trip Advisor, it was one of those days, when so many other people wanted to see this palace too. Be warned that Mondays should, where possible, be avoided to see the Palace on the top of the mountain, as this is the day that Sintra is open, but many museums in Lisbon are closed.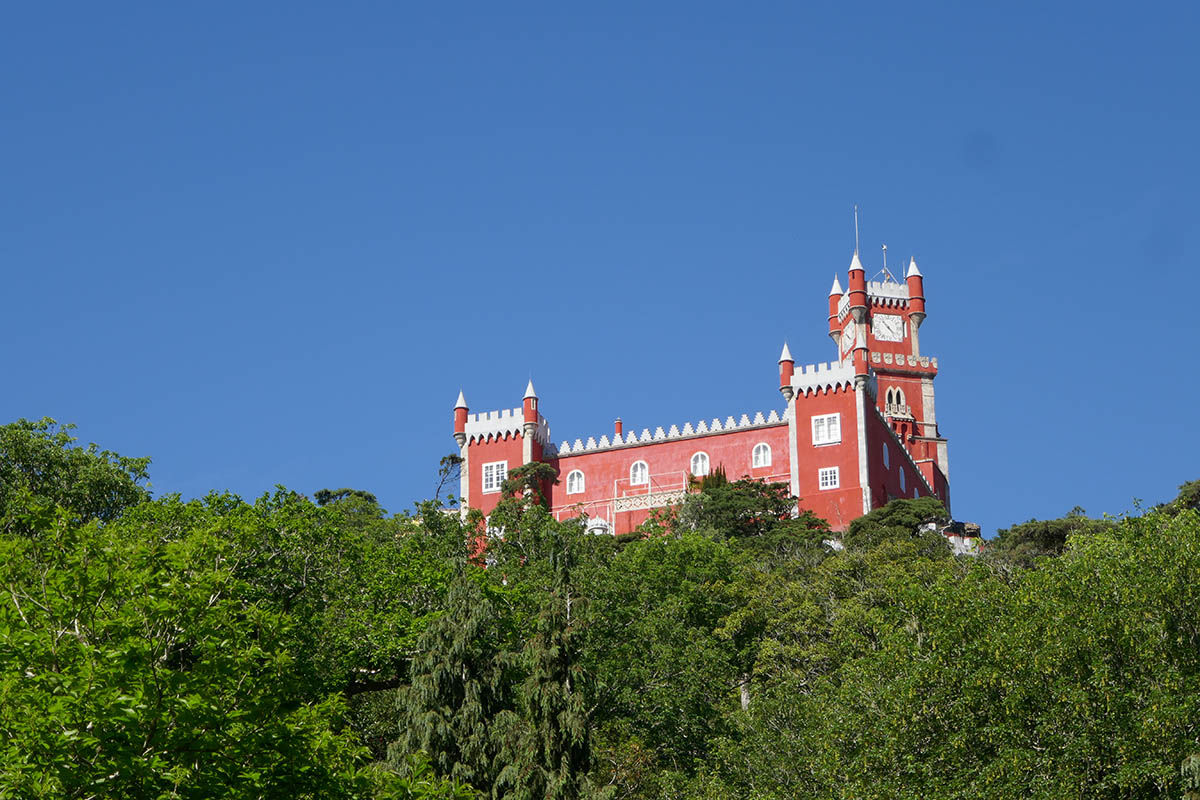 The People of Lisbon are always late
Regardless, it gave us time to talk with our tour guide.  We asked him why there was so much traffic going to Lisbon at 9.40am. He said they were on their way to work. We asked him what time work started for most people. He said 9 am. He then told us that the Portuguese people are never-ever on time. They are late for absolutely everything, and that works out well for them.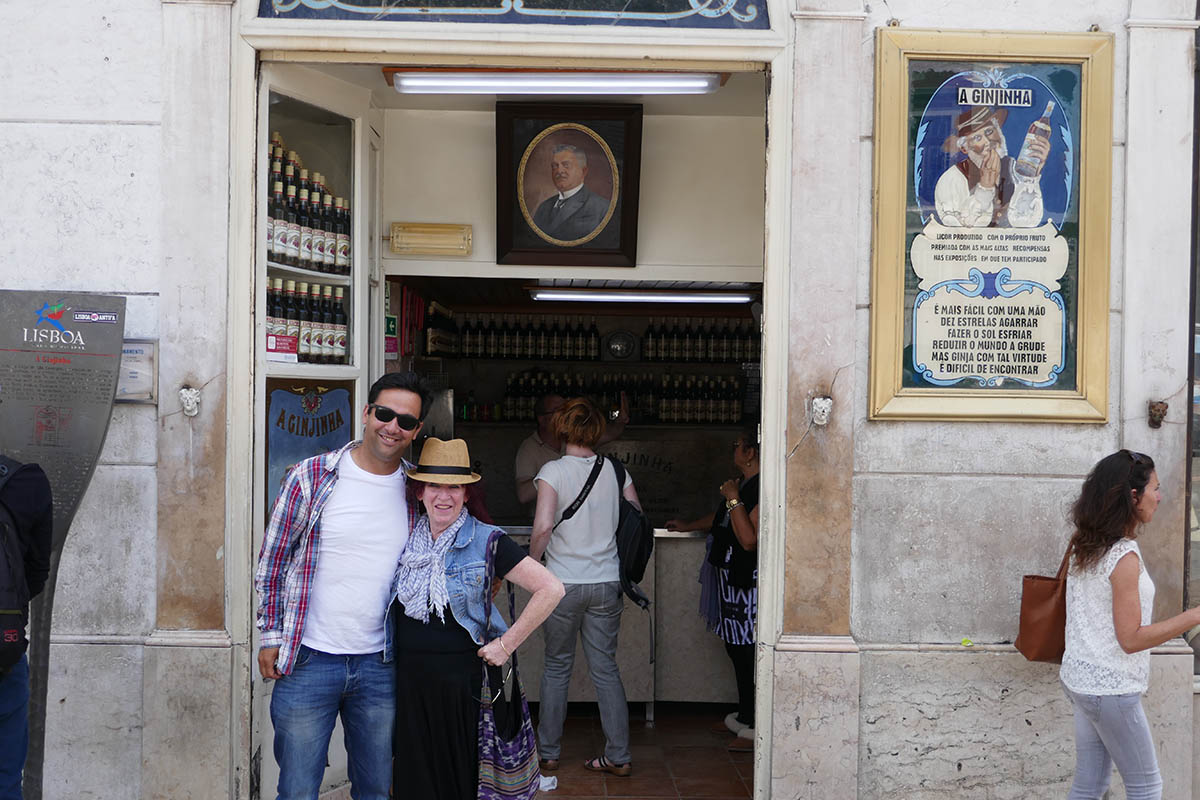 Why Lisbon looks as it does
He told us that Lisbon was struck by a terrible earthquake in 1775 and that much of the city needed to be rebuilt. While it was a long time ago, it is still something that he talked about. He tells us of the Moorish influences on Lisbon, and it is evident everywhere that you look, from the styles of architecture to the brightly colored tiles that adorn every building to the red roofs.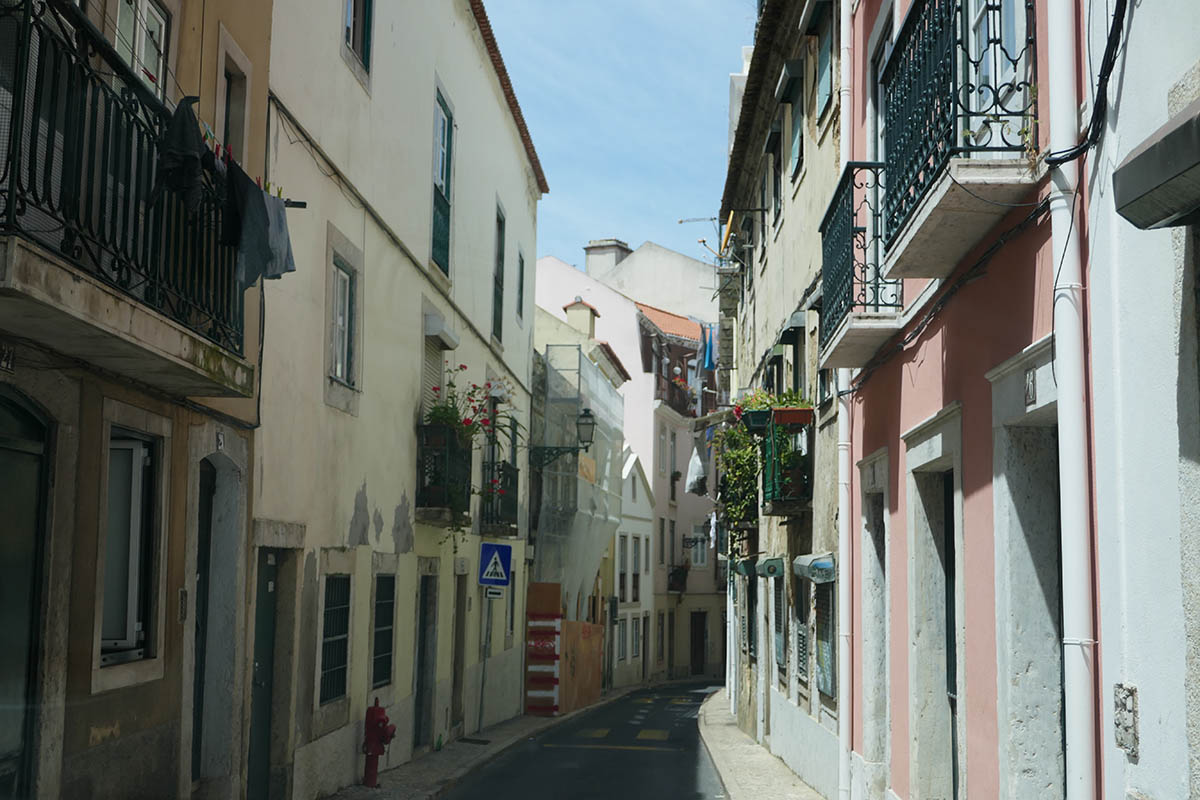 Sardines and Lisbon
We talk about a favorite subject of ours and his – food. This was when we knew we had made a friend. The people of Lisbon love to eat, as in 'love to eat.' The favorite foods are sardines. The people of Portugal and Lisbon only eat sardines in the months without an 'r' – so May, June, July, and August are when they consume copious amounts of them. He tells us that the smell of Lisbon in June is the smell of BBQ'd sardines that permeate the air of the city.
Lisbon and food
They are the 3rd biggest fish consumer next to Japan and Norway, which is something that we didn't know about Portugal. Next, to their beloved sardines, comes cod. However, the cod doesn't come from Portugal, it comes from Norway. Regardless, they eat a lot of both sardines and cod. The love wines and produce a lot of wine. In fact, wine is cheaper than water in Lisbon, and I think there is something in that for all of us. Green wine is a specialty of Portugal, and when we went for lunch with Nuno, I would have to agree that it is fresh and fragrant.
The Palacio Nacional da Pena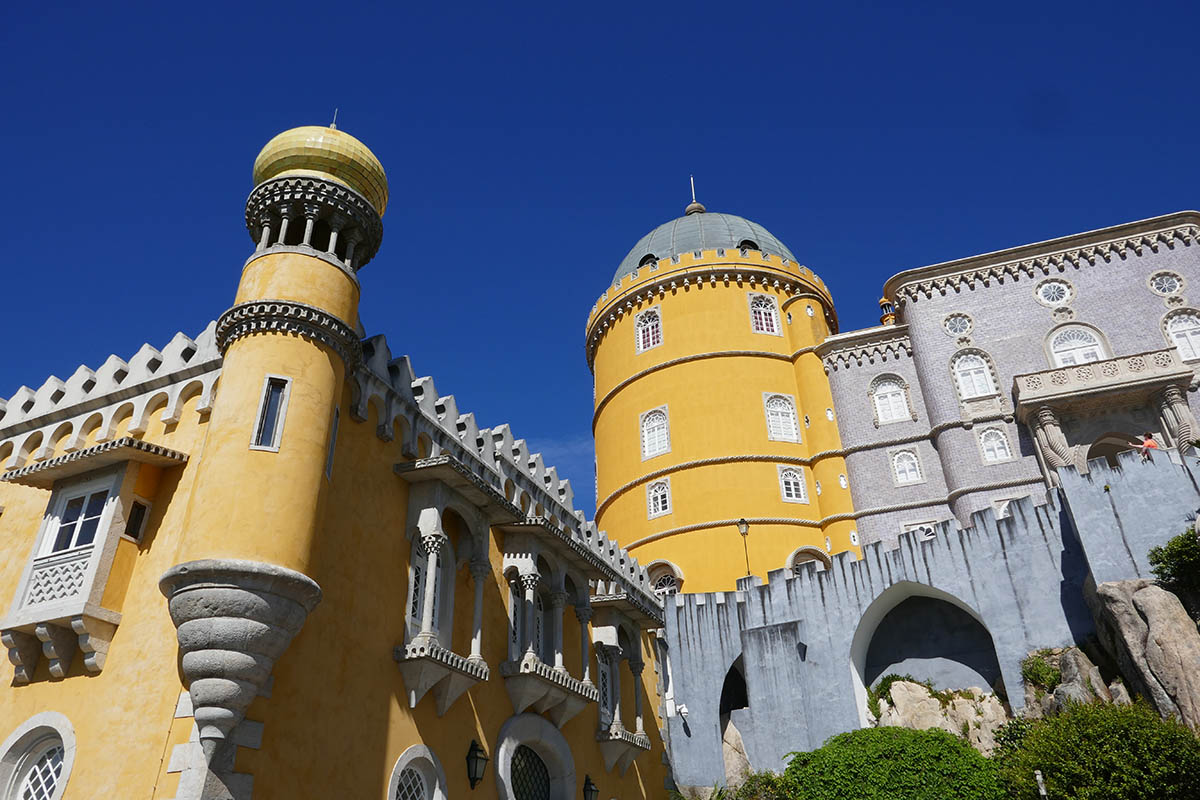 As we headed towards The Palacio Nacional da Pena, one of the finest tourist attractions of Portugal and a Unesco site, he explained the Portuguese language. If there is an 's' in the middle or at the end of a word, then it is pronounced like 'ch'.
We do arrive at The Palacio Nacional da Pena, the summer home of the royal family who used this place to escape the summer heat of Lisbon. The Palace is a 19th century Romanticism style of architecture. The palace is a hedonistic mix of vividly painted terraces, decorative battlements, and mythological statues, all of which stand in stark contrast to the lush greens of the forests that encircle Pena. The interior of the palace is equally as fascinating and is being restored to reflect the decor of 1910 when the Portuguese nobility fled to Brazil to escape the revolution.
The Palácio da Pena is a quite amazing, despite the relentless tourists including us, and a highlight of any visit to Sintra.
The love of pastries in Lisbon and Portugal
We then went into the little village of Sintra to sample a traditional Portuguese pastry, because of the Portuguese love their pastries. Gordon asked Nuno what young people of Lisbon would eat after a big night on the town. While Australian's will hit up a kebab shop at 3 am, Nuno tells us that they know all the bakeries that start work early, and will knock on the door to get their alcohol fuelled pastry hit. He says that they pay very little, but the bakers accept this knocking at the door.
We stop at the very famous Piriquita – meaning little woman – and on instruction from Nuno order a pillow of pastry, which is called travesseiro pastry filled with almond and egg.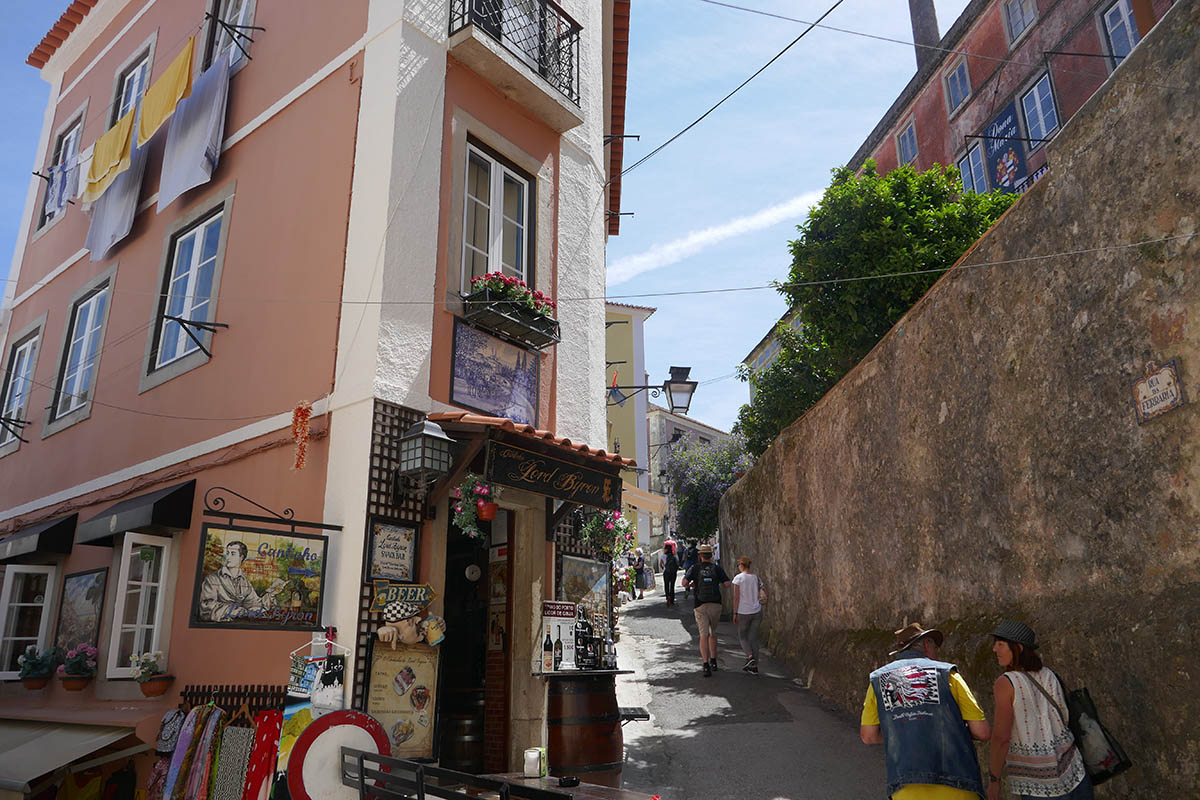 Learning about Lisbon from a local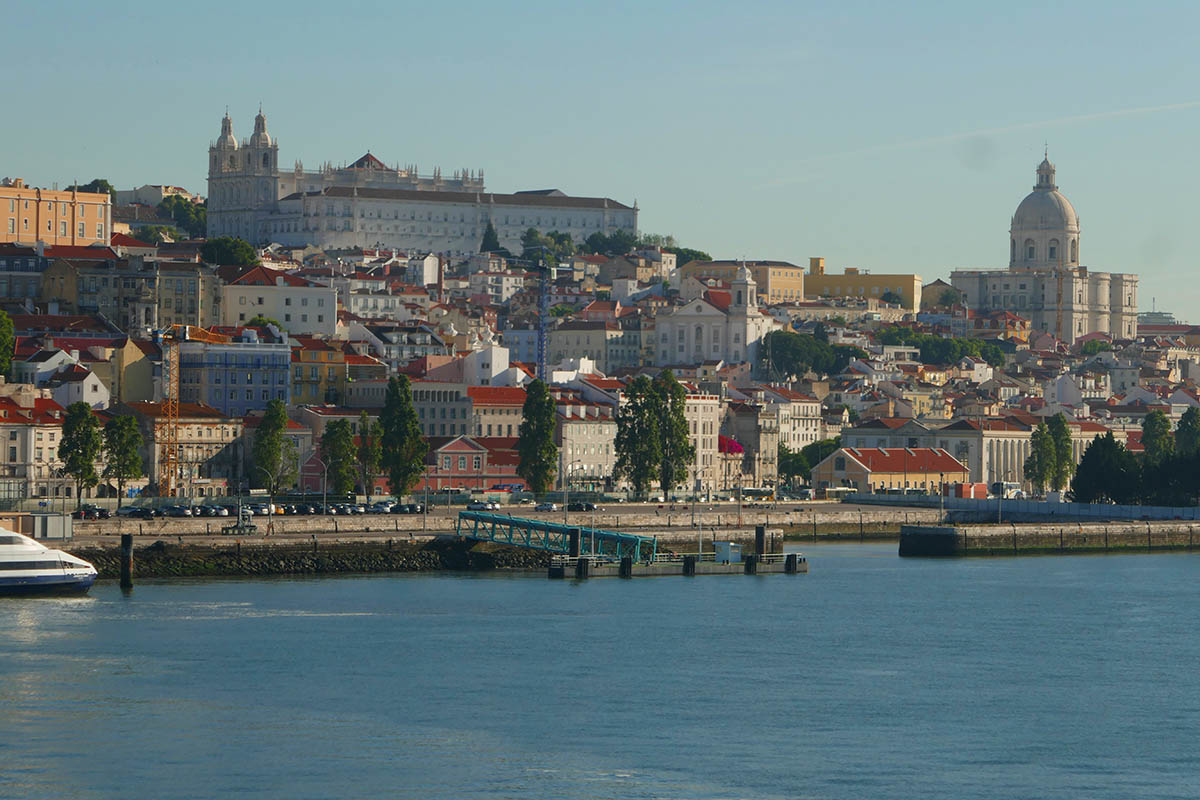 Our next stop was to what was once a secret location, but is no longer because of the tuk-tuk invasion. It is a stunning view over Lisbon, and to admire the very handsome red roofs of the city. Nuno tells us that the increase in popularity of Lisbon has been a double-edged sword. While the city struggled under one of the worst financial crises in the EU, and was certainly financially benefitting from the influx of tourists, much of due to Ryanair having an airport at Lisbon – the infrastructures of the city were having a hard time keeping up.
Lisbon is hilly. The streets are very narrow, and the increase in traffic has made life difficult. In one clever move, the tuk-tuks of Lisbon must all be electric with the next month to cut down on noise and pollution. The very popular tourist tram 28, makes the locals laugh as they say that the tourists all look like sardines crammed onto the tram, and in fact they are correct.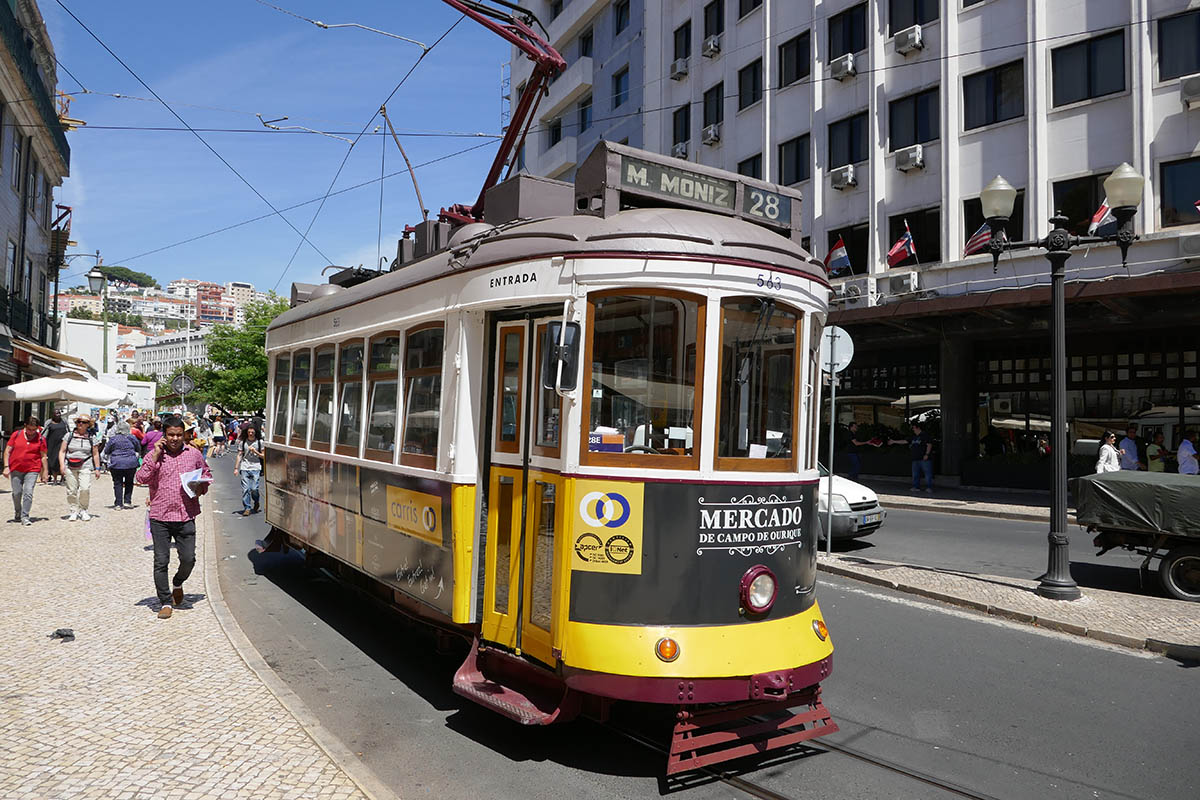 Drinking A Ginjinha in Lisbon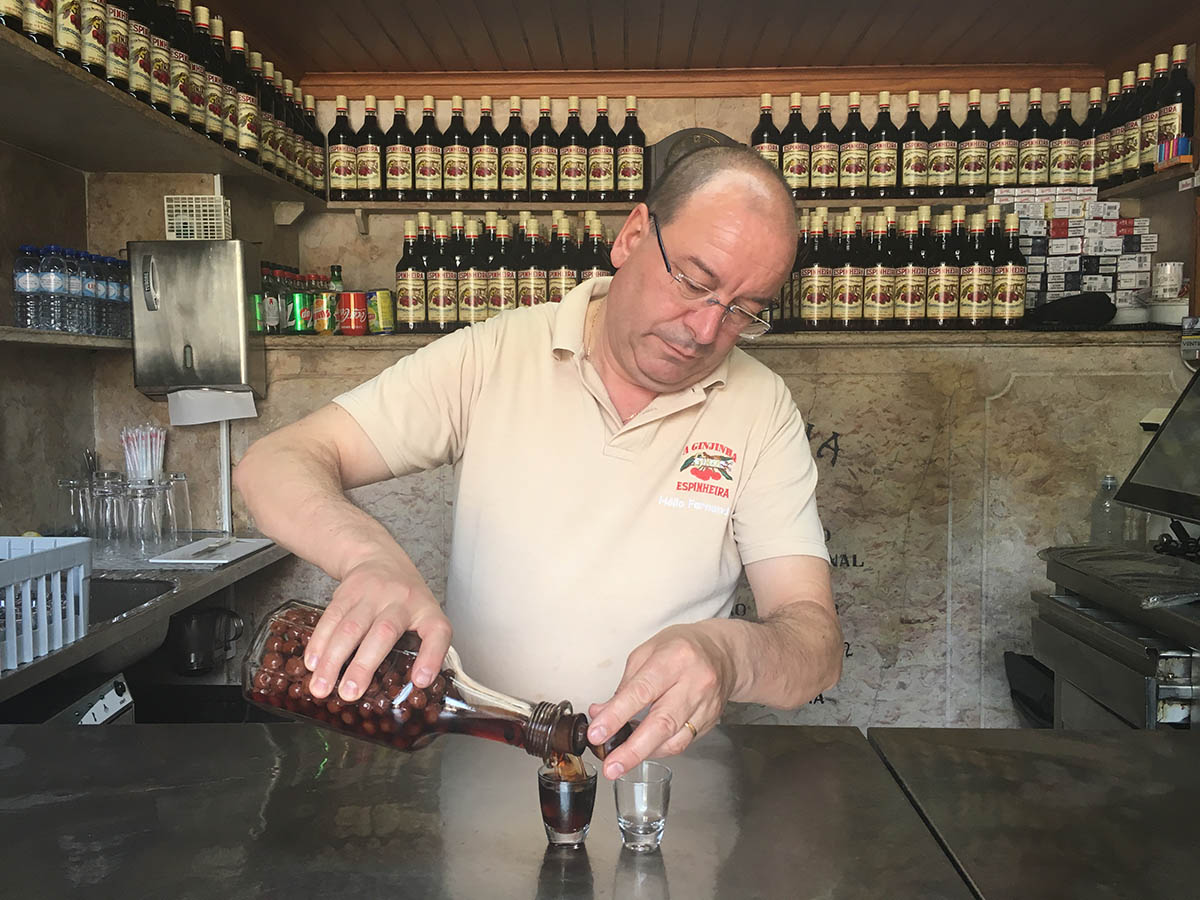 Our next stop was to try a local must. This is the A Ginjinha, the famous cherry liqueur which was drunk by the shotfull, by Anthony Bourdain when he filmed his television show, No Reservations in Lisbon. Bourdain has good taste, as these shots were amazing, and local people of Lisbon like to start out the evening in a happy place, by downing three shots.
Eating in Lisbon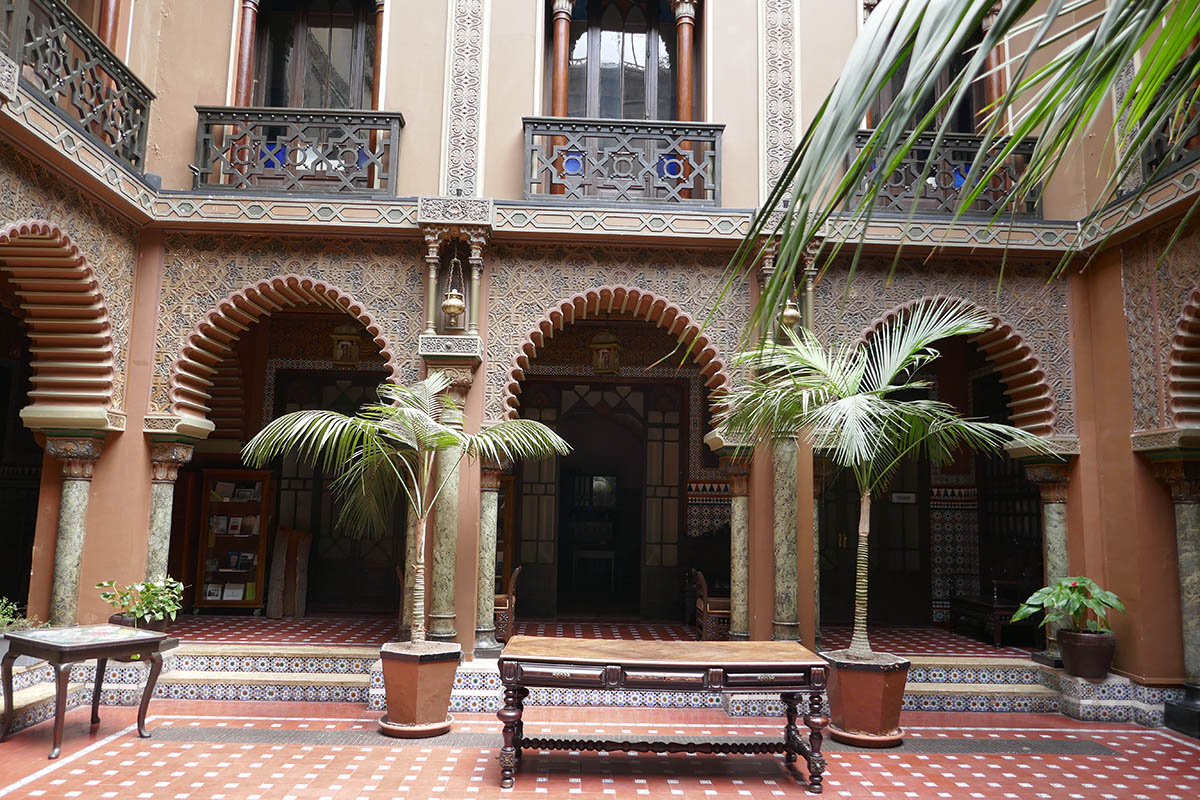 It was then onto lunch at a definitely secret place, because it looked like we were walking into a bank. In fact, we walked up the steps and into a Moorish atrium before heading to the rooftop café for our traditional and local Lisbon Lunch. The café is called Casa do Alentejo, located at das Portas de Santo Antão 58. Look for the Western Union sign and head through the doors and up the steps.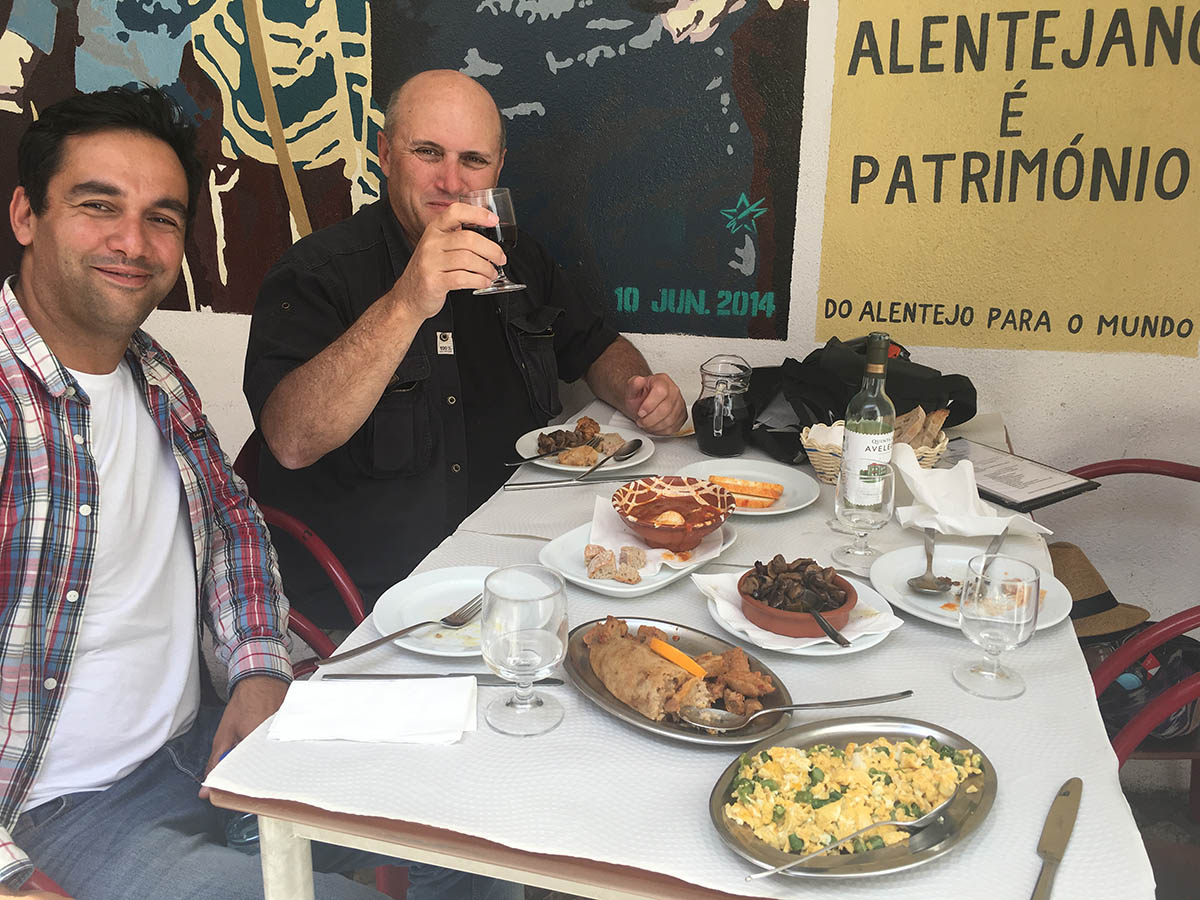 We asked Nuno to order for us, much as he would order for him and his friends. You can see the wonderful food we had in the photographs. We discuss more about A Local's Guide to Lisbon and talked about the relationship between Spain and Portugal while sipping on local red and green wine. Nuno explained that they were like brothers – they loved one another, but like brothers, they often fought. That made sense to us.
Portuguese Tarts in Lisbon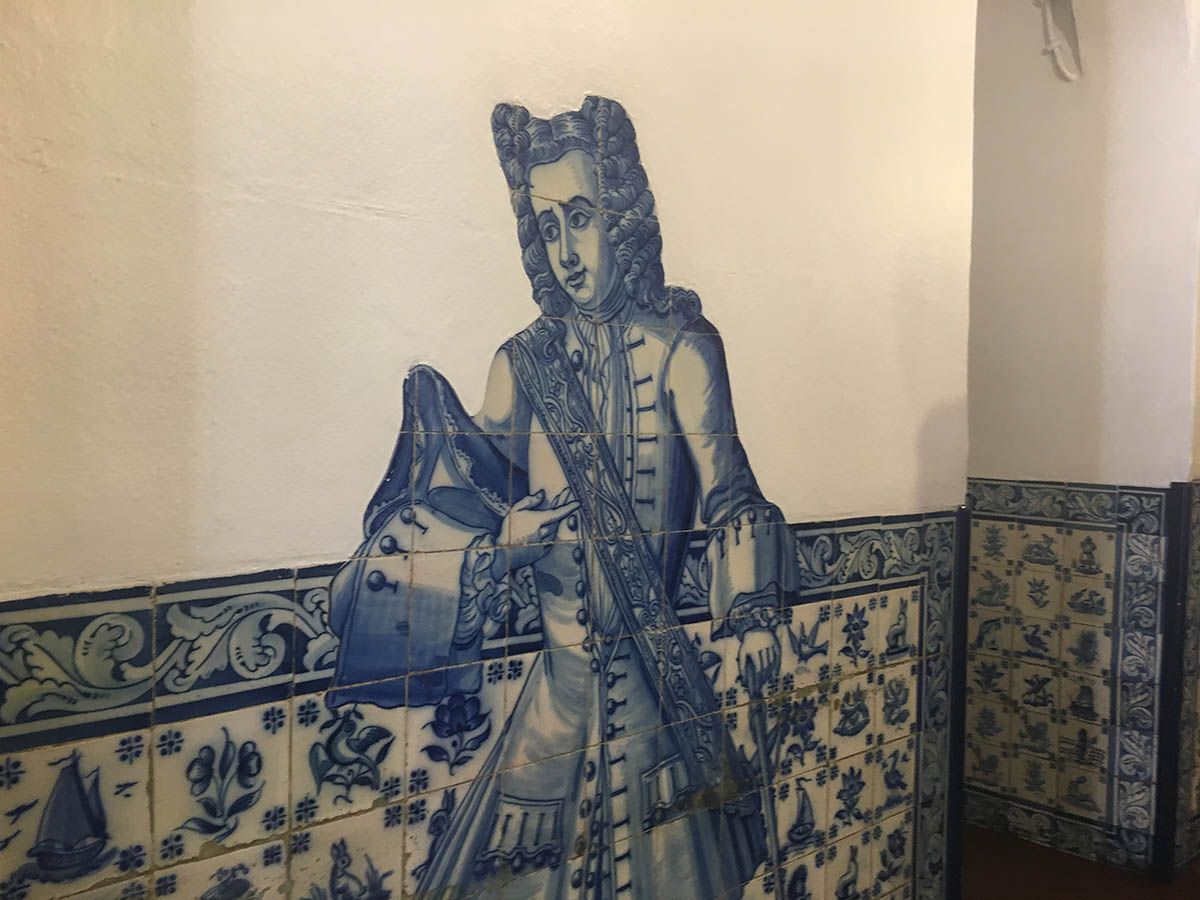 We concluded the afternoon by going to Belem for the ultimate food that must be tried when you visit Lisbon and Portugal – the Portuguese tart. Portugal is famous for Pastel de Nata. This original café is Pasteis de Belem established in 1837 and located at R. Belém 84-92. The history of this bakery is fascinating. Suffice to say that Portuguese tarts are 100% worth the great reputation that they have. To eat them like a local from Lisbon – liberally cover them with cinnamon. Insider hint. Trip Advisor has a lot of different trips to select from to see and explore the amazing city of Lisbon. Click here to check different things to see and do.
Learning about Lisbon from a local was the best thing we did. You just can't read these things in a guidebook.