Outside my Front Door is a series of posts by fellow travel bloggers who share what is … outside of their own front door
Newcastle, Australia – Outside my Front Door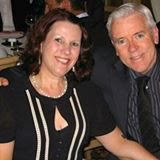 Ian and Sue Roberts are travel writers and photographers, who retired from their journalism and health industry jobs in Australia several years ago to set up the Memorable Destination brand, providing information, tips and reviews on travel, accommodation and independent holiday planning to seniors and fellow retirees – the "Grey Nomads" as Ian calls them.
Read Ian and Sue's account of their hometown of
After 20 years, it still astonishes us.
We live only 20 minutes from the centre of a big Australian regional city, but our front door looks onto farmland, rolling green hillsides, towering gum trees and astonishing bird life.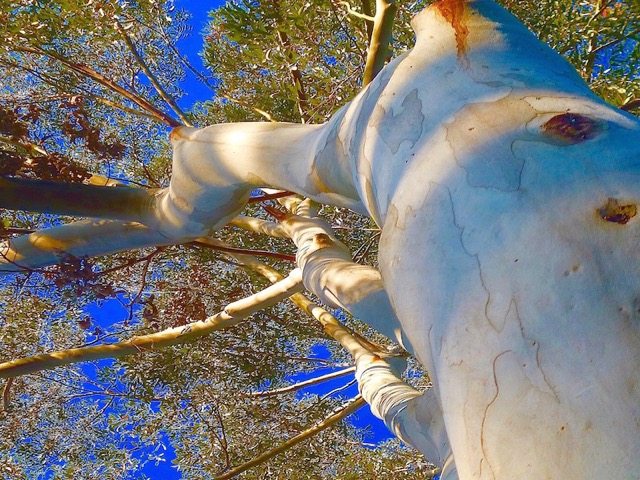 Newcastle is a bustling industrial city and tourism hub on Australia's eastern coastline, about two hours north of Sydney.
The second biggest city in the state of New South Wales, it sits around a busy working harbour and some exceptional river and beach scenery. In recent years, the city has re-developed from a centre of manufacturing to a resource transport port and a vibrant capital of the Hunter Region.
To the west and south, Newcastle is also framed by a screen of hills and Lake Macquarie, the largest saltwater coastal waterway in Australia.
When our neighbourhood was developed in the city suburb of New Lambton Heights, local authorities had the good sense to set aside a section of bushland and rainforest as a community park. Some landowners also actively preserved, to date, sweeping open areas of former farmland.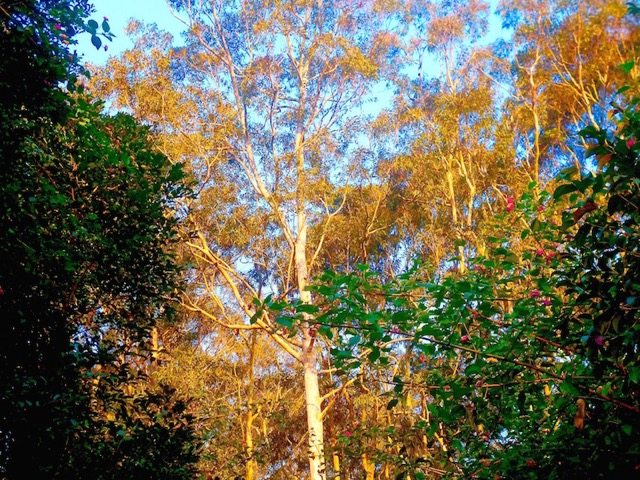 This sums up what is Outside our Front Door: a backdrop of towering gum trees, running streams and native birds mingling with the vibrant colours and scents of the many big gardens.
We look out on bushland from front and back and our street ends in fields and paddocks, creased by rocky outcrops and thick scrub.
It's an honour to live amongst such natural splendour and even more so because we can still enjoy the attractions of the city literally right at our doorstep.
But, it is the community park that really adds the icing to the cake.
A refuge from the heat of the Australian summer and an ideal place to walk the dog or kick a football with the grandchildren, this parkland is our own little Wonderland – something treasured by the neighbourhood.
There is an open grassed area containing a picnic table and swings for the children.
But, the formal park area is surrounded on three sides by a green wall of white 'ghost gums' pushing skyward; vines, creepers; and strips of rainforest so dense that you cannot see more than two metres into the bush.
The area is dissected by a small creek that bubbles past, also unseen but clearly audible amid the tangle of nature.
We often visit just before sunset when the final rays of the day streak down between the trees and the bush turkeys come to the fringe of the scrub to scratch for food.
It's a delight to sit quietly absorbing the beauty and solitude and listening to the chorus of birds farewelling the day.
Australia is truly blessed with natural birdlife and our backyard is fortunate to attract many species.
The 'ping' of Bellbirds; the chatter of finches, sparrows and honey eaters; and the coo of bush doves is ever present.
On most days, we catch sight of brightly coloured Rosellas and numerous species of bush parrots and, if we are lucky, there are also Kookaburras, whose distinctive laughter echoes back and forth through the area.
The area Outside our Front door also offers a superb front row seat to the legendary Australian sunsets, when the skies put on a show the equal of anywhere in the globe.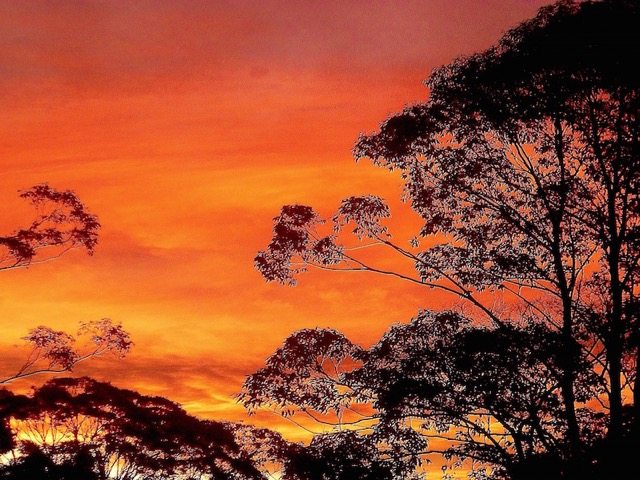 Forgive the flowery prose.
Outside our front door is special to us, but I doubt any words could adequately do it justice.
Read more of our Outside my Front Door series right here