We don't travel to escape life, we travel to experience it.  We're married travel bloggers who absolutely love to travel around the world, and getting to know the culture and the people who live there.  We are always up for laughter, a good adventure, and a bit of geocaching!
We enjoy sharing our travel experiences with others through our travel blog; hoping to inform, inspire, and entertain our readers.  We also strive to spread knowledge and cultural understanding that can help make the world a better place.
Touring the Historic Fox Theatre in Atlanta, Georgia!

While we love to travel all over the world and explore new cultures and scenery, we also love our home city of Atlanta, Georgia. No matter how many miles we travel and how many countries we visit, Atlanta will always be our home. It's where we first met, had our first home together, discovered our shared love for travel, and started our Peanuts or Pretzels – Travel Blog.
Many of us get so caught up in our daily lives that we can take our home city for granted, we are no different. However, we are lucky enough to live in a place where there really is so much to see and do with regard to culture and history! One place in particular that stands out in our mind is The Fox Theatre in midtown Atlanta.! !
We were given a behind the scenes tour of the fabulous Fox Theatre for a Christmas gift, and it worked out perfect because Liz had actually never been there! I (Josh) grew up in the Atlanta area and have visited The Fox many times over the years, witnessing some great music shows.
There have been so many big performances at The Fox, including Elvis Presley and even the Grateful Dead. Yet even I didn't know the entire history behind the theater, so this tour was a great way to learn all about this gem of a site in our home town.! !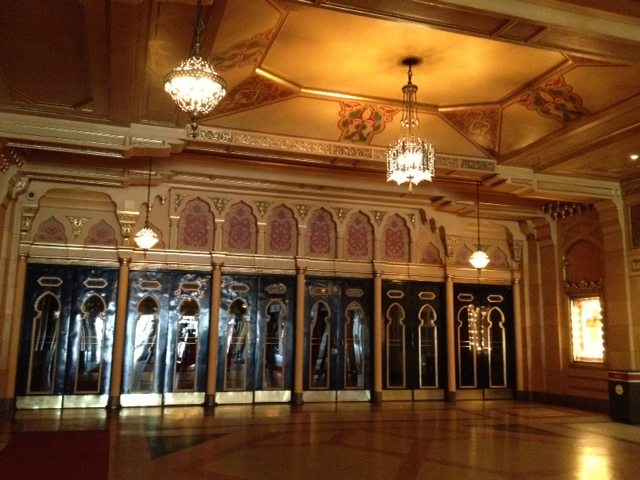 We learned from Gwen (our tour guide) that The Fox officially opened in 1929. As you walk in, the architecture of The Fox Theater is the first thing that you will notice when you enter; it is a Moorish design mixed with some Egyptian influences, particularly in the separate Egyptian ballroom. The initial intent was for this building to be a Yaarab Shrine Temple, the headquarters for 5,000 members of the Shriner's organization; however, their ambitions where bigger than their budget. ! !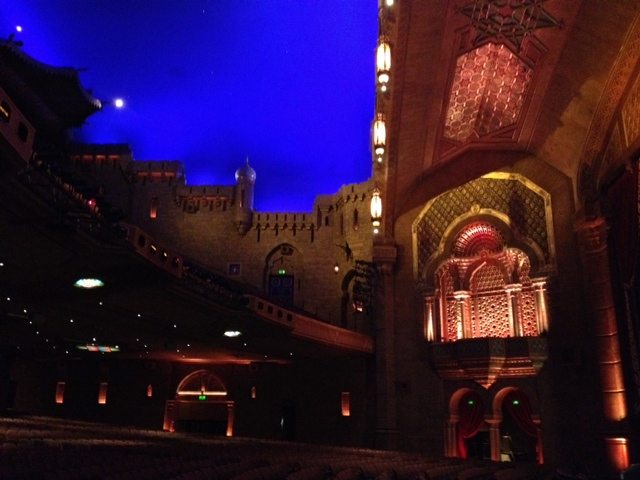 So they ended up partnering with movie mogul William Fox in order to complete the project. As a part of this deal, the venue's design was modified so it would mainly be a movie theater, with areas that the Shriner's could use for their offices and meetings. Nowdays, the theater is also home to live productions. Because it wasn't originally intended for live shows, the stage is smaller than most venues around the country, so shows have to tailor their set designs to ensure they will fit in The Fox.
! !!! The main auditorium seats just under 5,000 people, and it is designed to look as though you are in an outdoor Arabian courtyard. The iridescent blue painted sky sparkles with small star-lights, some of which even twinkle, and light clouds are projected onto the ceiling — which rotate across the sky slowly! It is an astoundingly beautiful scene, and adds a very special feel to seeing any kind of performance here. ! !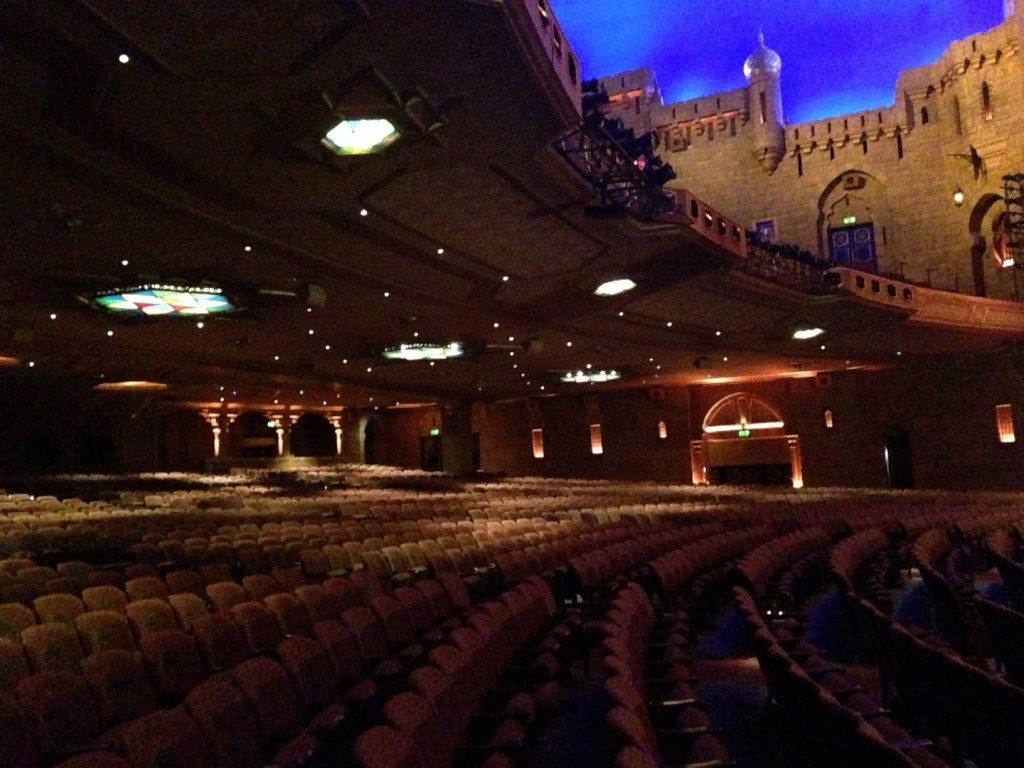 When the theater originally opened it was a grand affair, but it didn't last long. The timing was unfortunate due to the stock market crash and subsequent great depression. Soon after opening The Fox filed for bankruptcy and both William Fox and the Shriner's lost the theater.
The building eventually fell into poor condition, and some of the acts that performed in later years brought with them crowds who vandalized the once grand building. ! !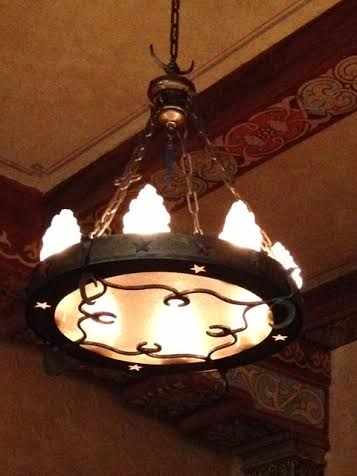 !!!! Finally in 1974, the building was listed on the National Register of Historic Places, thanks to a local group that formed in order to prevent the building from being torn down. With the help of old photographs & the original plans, a long and expensive restoration process moved ahead.
In great detail, The Fabulous Fox was put back into its original grandeur condition. Even details that were in the original plans but left out due to financial constraints, were added back in; so in a way The Fox looks better than it ever did!! !! If you are ever in Atlanta, we highly recommend that you spend an evening watching a show at
The Fox Theater. If you don't have time for a show, then at least take some time to go on one of the tours. You will be amazed at the history and beauty of this building.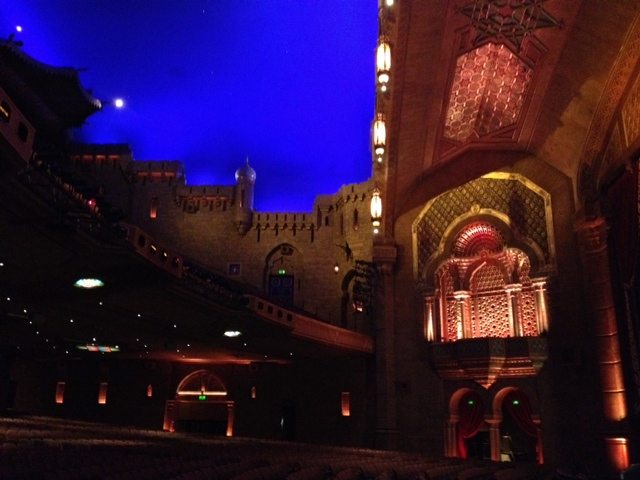 Our photographs here will never do it justice, this is something you really need to see for yourself. In fact, we were so excited after our visit that we found a number of upcoming shows that we can't wait to go see at
The Fabulous Fox.! !!!
Contact them via
Twitter @peanutsorpretzels
Facebook Peanuts or Pretzels
Google + Josh – Liz Wilson (Peanuts or Pretzels)
Thank you so much, it is always interesting to discover what is "Outside my Front Door" from fellow travellers. Regards, Paula and Gordon @gordyandpaula https://twitter.com/gordyandpaula