One of the first things people will ask when going to this stunning city in Vietnam is How to select the best tailor in Hoi An. You can read more about Hoi An here.
The beautiful town of Hoi An is known for many things, and one of those is tailoring. Nearly everyone who comes to this UNESCO town will have at least one item of clothing made. The biggest problem for visitors, however, is choosing who is a good tailor in Hoi An, and who offers excellent service, value, and product. In other words, how not to get scammed when visiting a tailor in Hoi An.
Many years ago when I first went to Hoi An, I bought a dress. I wore this dress to work a lot, as a school teacher, and I continue to wear it to this day. It is a simply lined dress and one that I love. It always reminds me of my first time in Hoi An, so I am fond of it and the city.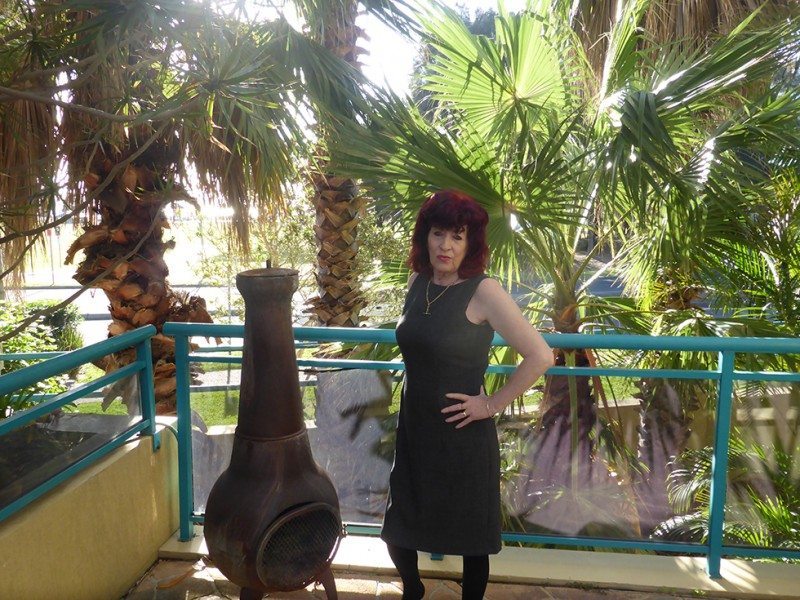 Do Your Research
We spent a lot of time researching this topic before we came to this yellow city of Hoi An. We spent a lot of time talking to people, who had previously had clothes made. Some of them had been scammed with poorly made garments, and others had been overcharged. Others still complained that sleeves ripped apart after one wearing because the thread was so awful. Others, however, had very good stories, and I was one of those.
I had read an article How to get a bespoke suit in South East Asia without getting scammed in Hoi An, by respected travel writer Raphael Alexander Zoren. This, along with many excellent reviews and a 5-star rating on Trip Advisor, made our decision to visit Vanda Tailors easy.
I contacted Vanda Tailors before our trip to organize a visit and to see where and how the clothes were made so that we could share this with you. Eric, the partner of owner Kieu Nguyen, spent many many hours with us explaining the business, nad showing us the work rooms, and to be quite honest, it was a fascinating experience. He also happens to be a very nice man and has a very good business head. We got to know his staff also, and they were not only knowledgeable but very meticulous, as you will see.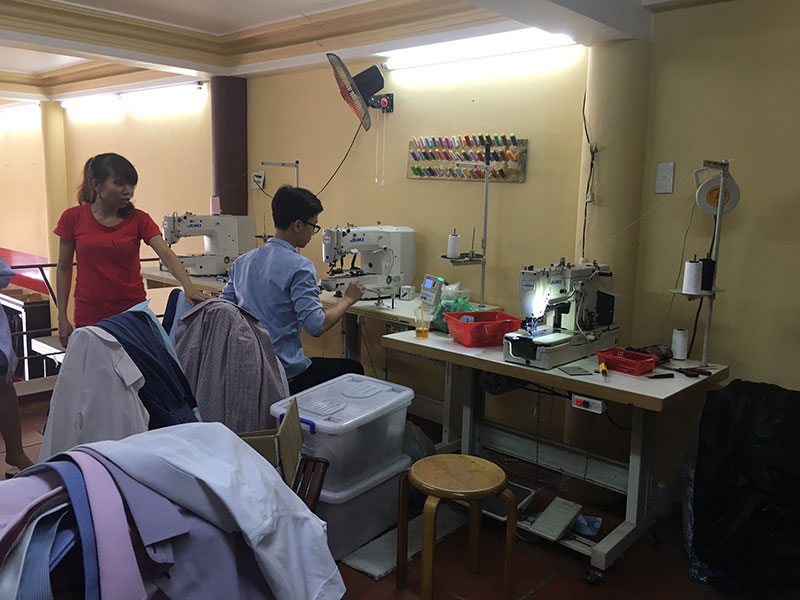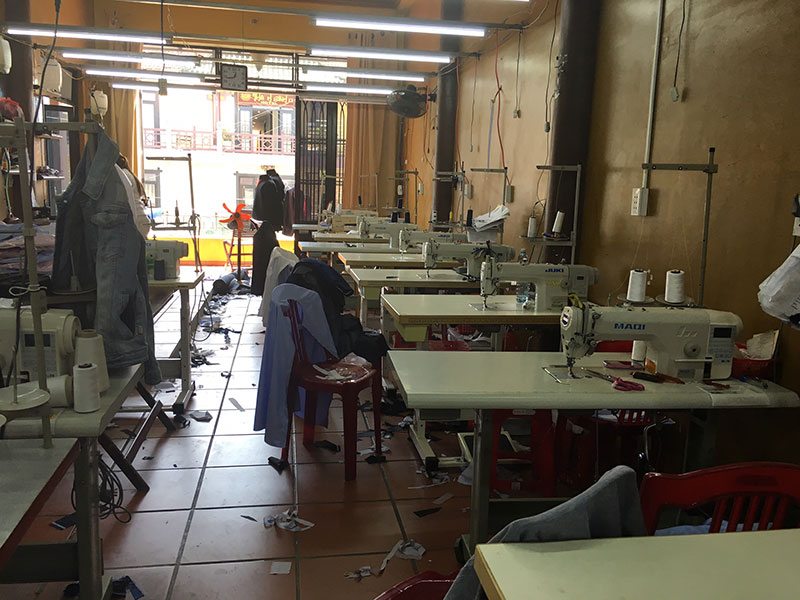 Vanda Tailors are predominantly a men's wear specialist, and so it was Gordon's time in the sun to have some shirts and pants made.
I will try and explain the steps involved. Because these are professional tailors, so expect that it will take some time, so sit back and relax and be guided by the staff.
First Visit to the Best Tailor in Hoi An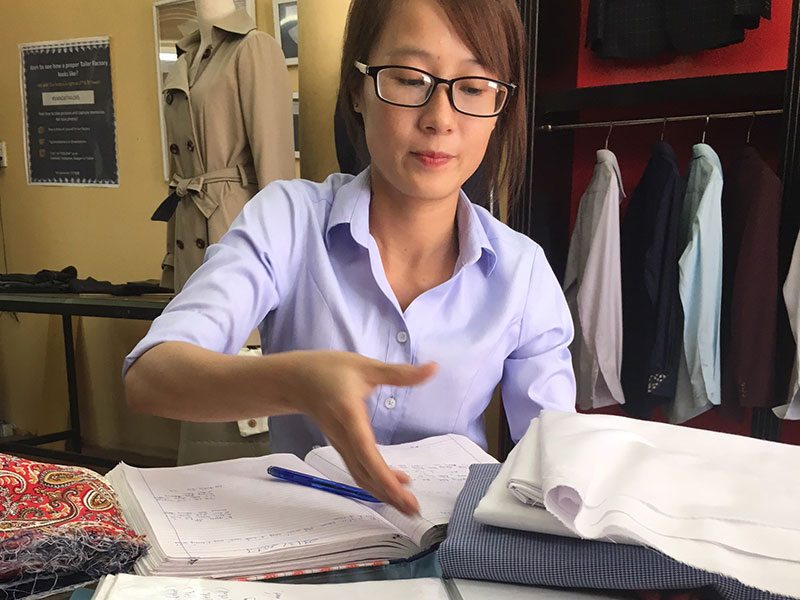 1. Selection of fabric. Ok, that was not too bad. We are going on a 29-day cruise in April, our first cruise ever, so it was timely to get some new outfits. The pants fabric was easy, but the three shirts took some time.
2. One of the choices for one of the shirts was to include a different fabric on the inside of the cuffs and collars. That was a harder selection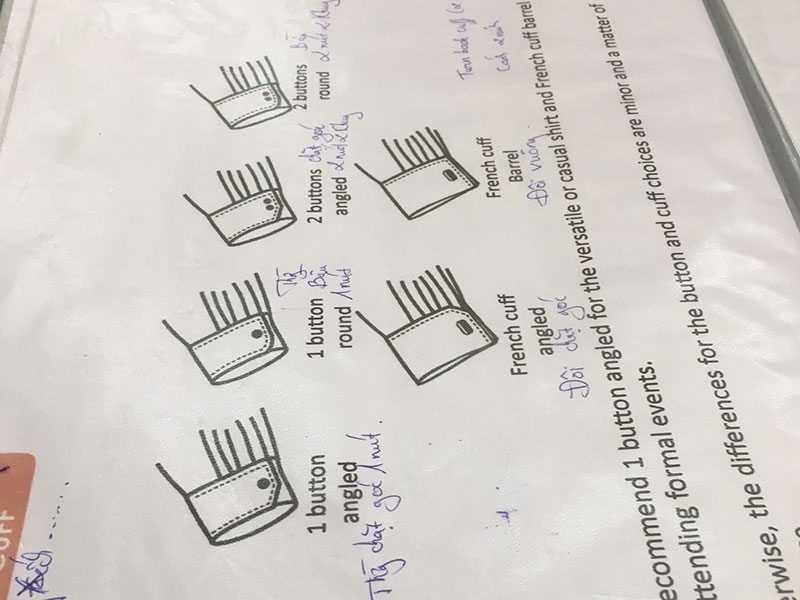 3. Choose the placket ..yep, we had never heard of it either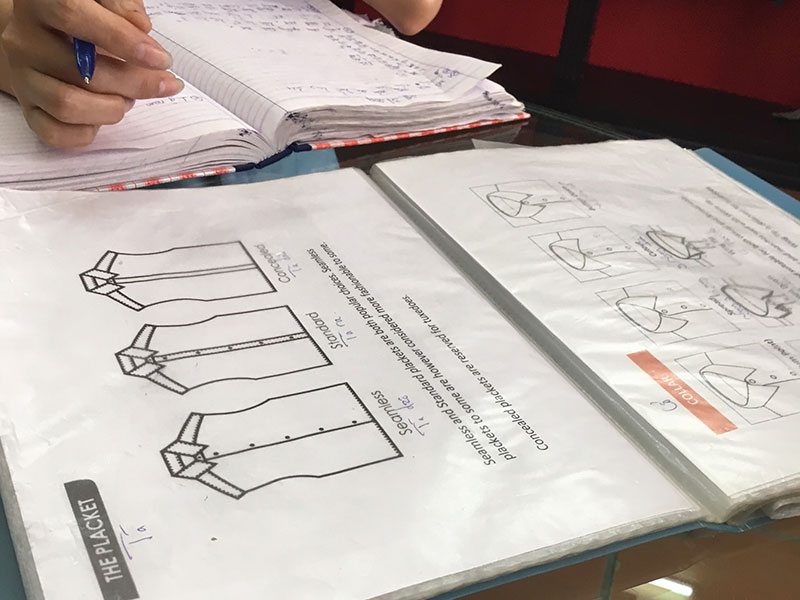 5. Select the collar style – who knew there were so many
6. Select the cuffs – 1 button angled, one button round, two buttons angled, two buttons round, French Cuff angled, French Cuff barrel … and this is what sets Vanda Tailors apart from the rest. This attention to detail.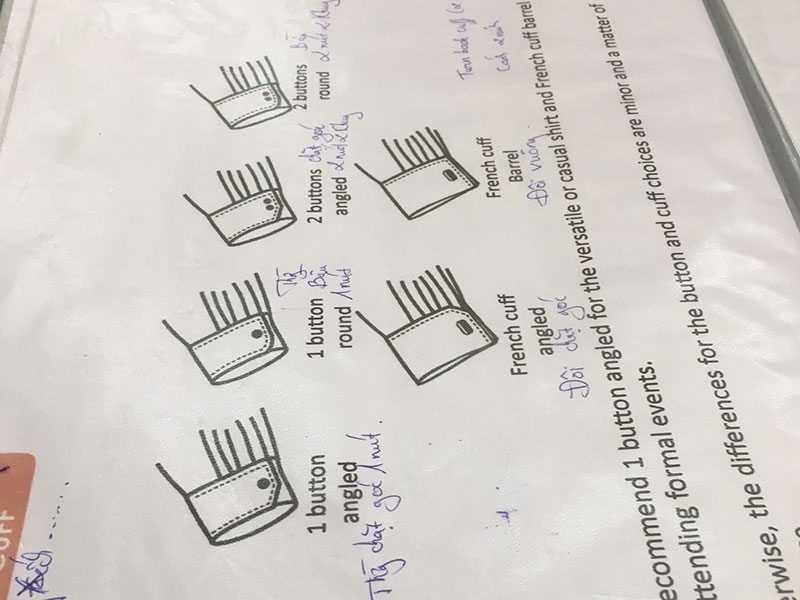 7. Pocket on the front or not? Yes, one. Where? Left. Style? Square, Angled, Round or Pointed …thank goodness the young girl Hue who was looking after us was helping with these decisions, and Eric was not going to escape without his input also.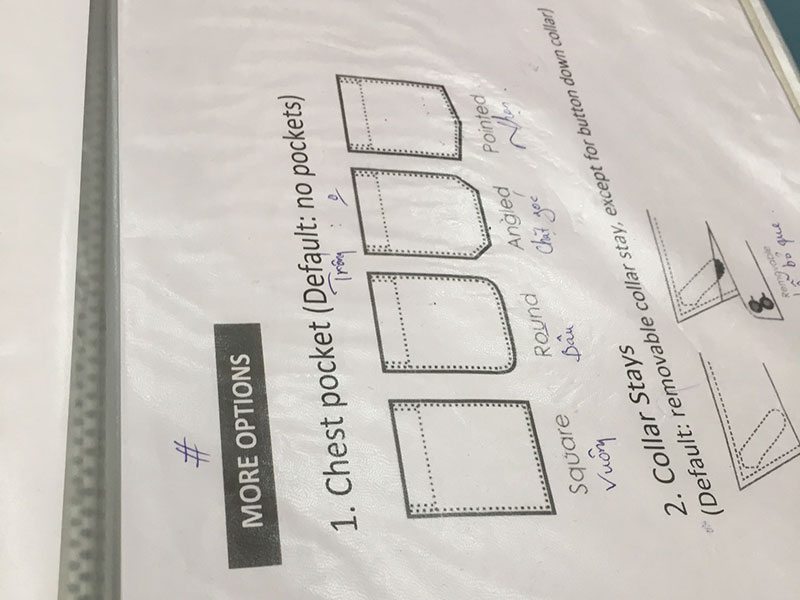 8. Then it was time to measure Gordon. I have never seen so much measuring ..every inch of him was measured…and then they took his photos as well, to make sure they knew his look.
We were pleasantly asked to return the next day at 12 pm.
It was high time for a beer and Bahn mi, the most amazing Vietnamese sandwich. Trust me; I enjoyed them a lot. The difference between Vanda tailors and other tailors we saw, is that it is for particular customers. They don't hawk out on the street because they don't need to, and that is why they can take their time with each person.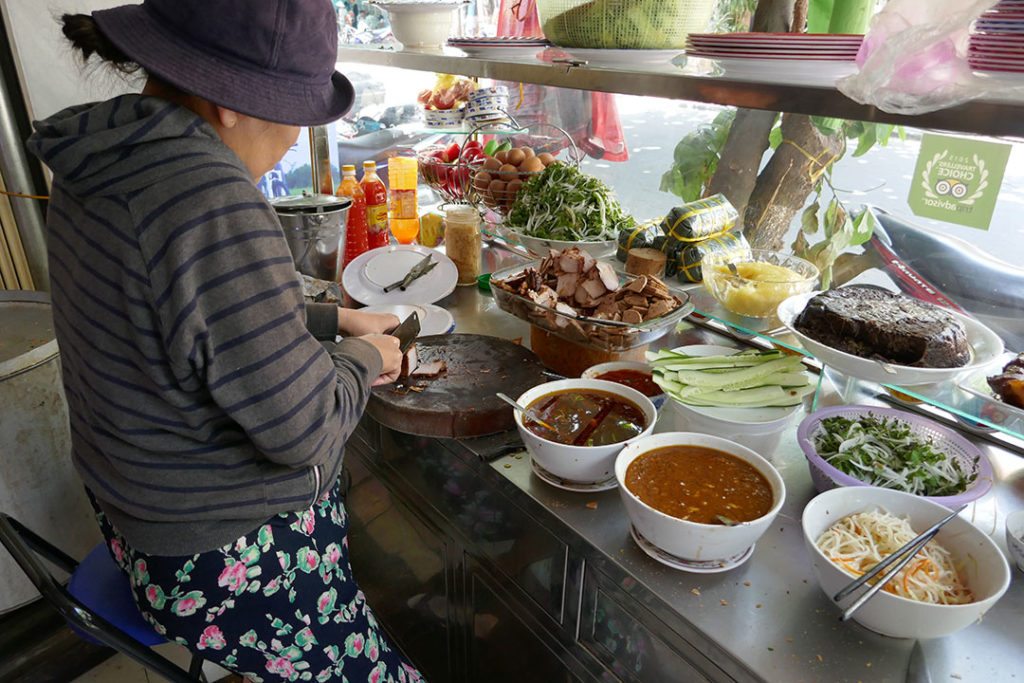 I received an email from Eric that night, with a list of the best street food in Hoi An, and also for Hanoi because he knew we were going there. Pretty cool, I think
Second Visit to Vanda Tailors
Gordon tried on his shirts and trousers. Our young assistant Hue felt that the pants had a little too much material on the leg and could be taken in a little at the waist. Gordon agreed.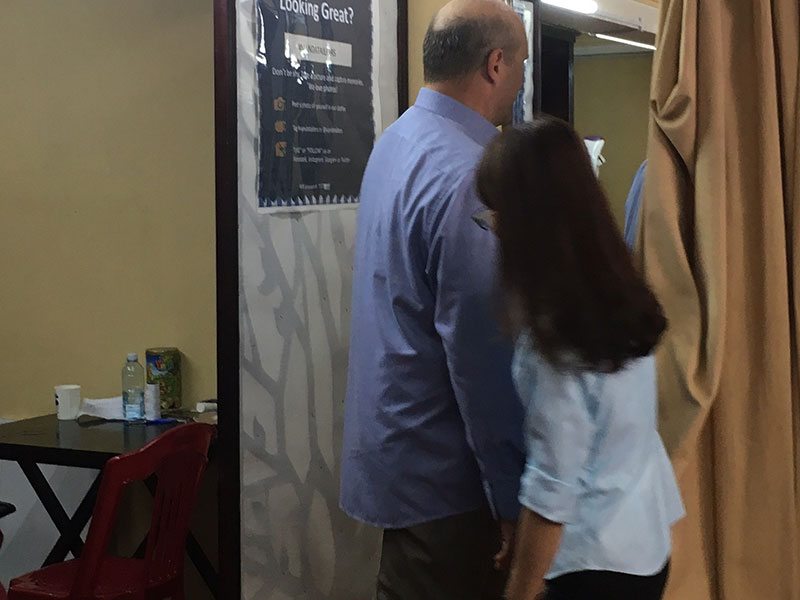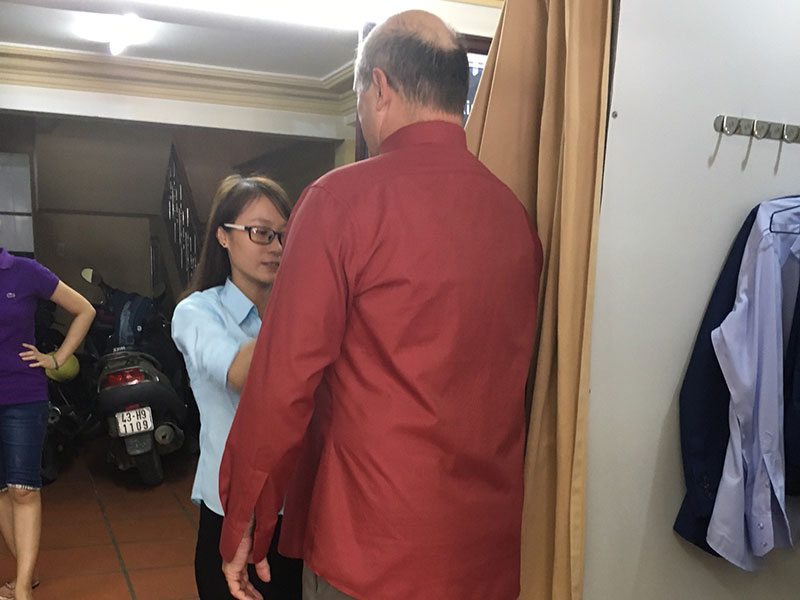 The shirts were perfect, and she put the pins in for where the button holes would go. She then asked us to sit .. for button selection. So we spent time selecting the buttons for each shirt. We were invited to come back at 5 pm.
Eric suggested we all go for a coffee to his favourite coffee place in Hoi An, and we did, and the coffee was great. One of the very best parts of this experience was learning more about not only tailoring globally but also more about the peccadillos of the city.
For your information, here is the name and address.
Moc Da Coffee
35A Ly Thai To
Hoi An
Get a green Grab taxi, and have them take you there, they are everywhere and super cheap.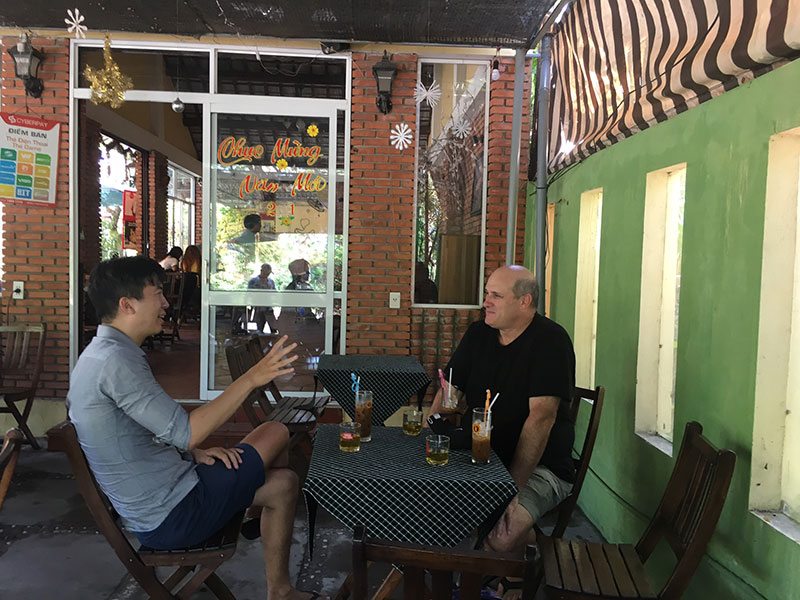 Final Visit
Hue insisted Gordon try everything on again. She tweaked and checked and seemed satisfied until she started to professionally fold one of the shirts. One of the buttons was slightly in the wrong place. She took it straight up to the in-house tailors and had it fixed there and then …on the spot. That is professionalism and attention to detail.
How to select the best tailor in Hoi An, Vietnam
These are the 4 essential factors that you need to be aware of when getting a good suit in Hoi An, as written by owner Kieu Nguyen on Quora
1. In-House Tailors Good tailors shops do have their own tailors working in the shop so that they can control the consistency of quality and workmanship. Make sure you physically see tailors working within the shop compound. Otherwise, the shop is just a store front that outsources to sweatshop where the owner is just a salesperson and have no concept of tailoring
2. Construction components This is the BIGGEST difference between a good tailor and a poor one. Do ask for and check personally the components like shoulder pads, canvas, Bemberg lining, etc. Many tailors actually charge cheap prices by saving on these components as most customers cannot tell. You can check the link below about how to check:
3. Fabrics If you are looking for pure wool, always conduct the burn test. There should not be any plastic smell, and the residue should be powdery for pure wool. Most importantly though is that you must like the texture and look for the fabric. If you like what you wear, confidence will come naturally!
4. Service Make sure the tailor is somebody who seems like they care about return business. If the tailor cares, choosing the right style and getting the perfect fit can be a breeze.
We started out to discover How to select the best tailor in Hoi An, Vietnam, and we did with Vanda Tailors, but we also got to know a lot more about the industry, more about the town and met a lovely man in the process.