This is A Guide for First Time Visitors to Hoi An, Vietnam. Hoi An is beautiful to look at, and it is well known for it's yellow UNESCO Ancient Town, the lanterns that adorn the streets, the kickass food, the tailoring, and the fact that it is so cheap it will make you blush when you hand over less than a dollar for your beer. I like Hoi An a lot. Make sure to read this guide to Vietnam, before visiting this incredible country.
If you want to know what to do in in Hoi An, what to see in Hoi An, what to eat in Hoi An, where to stay in Hoi An, and where to shop in Hoi An then this guide has you covered.
Updated November, 2018
Why Do I love Hoi An?
Call me romantic but Hoi An is a city that I love, and this hasn't changed since I was here 13 years ago. It is something about its appearance, its attitude and its friendliness that will draw me back again and again. Despite the fact that the city is growing in popularity, this is with good reason.
Hoi An is more touristy, but not unreasonably so
While I had heard from friends that Hoi An had become very touristy, and they were correct, this UNESCO Heritage site is still the same city I fell in love with. Hoi An is beautiful. That is it. It is a spectacularly charming place with the yellow glow from the buildings overlooking the river, and the bright and colourful lanterns fluttering in the breeze throughout the city. You can get your own Hoi An lanterns here.
Hoi An consists of both the World Heritage Ancient Town and the rest of the city, and it is all the complete package. Each is as appealing. I cannot recommend highly enough that you pack your bags and visit Hoi An in Vietnam. There is magic in the air here.
The day tourists will arrive in busloads, and I seriously mean busloads, from 4 pm, and then they will depart at 8 pm. Most of them stay in nearby Da Nang, where there are a lot of casinos. Are they obtrusive? Not at all. It is quite fun to watch the routine parade of cyclos around the Ancient Town of Hoi An.
Describing the city of Hoi An, Vietnam to You
Hoi An Ancient Town is a UNESCO World Heritage Centre
Hoi An is the city of lanterns in Vietnam
Hoi An is the 'Yellow City' of Vietnam
Hoi An is the Tailor Capital of Vietnam
Hoi An is an outstanding food destination
Read more about the Yellow City of Hoi An, Vietnam
Where is Hoi An?
Hoi An is located in central Vietnam, in the Quang Nam province. It is easily accessible from Ho Chi Minh and Hanoi (each an hour flight). It is 30 kilometers south of Da Nang, the international airport and gateway to the city. It is also adjacent to some amazing beaches.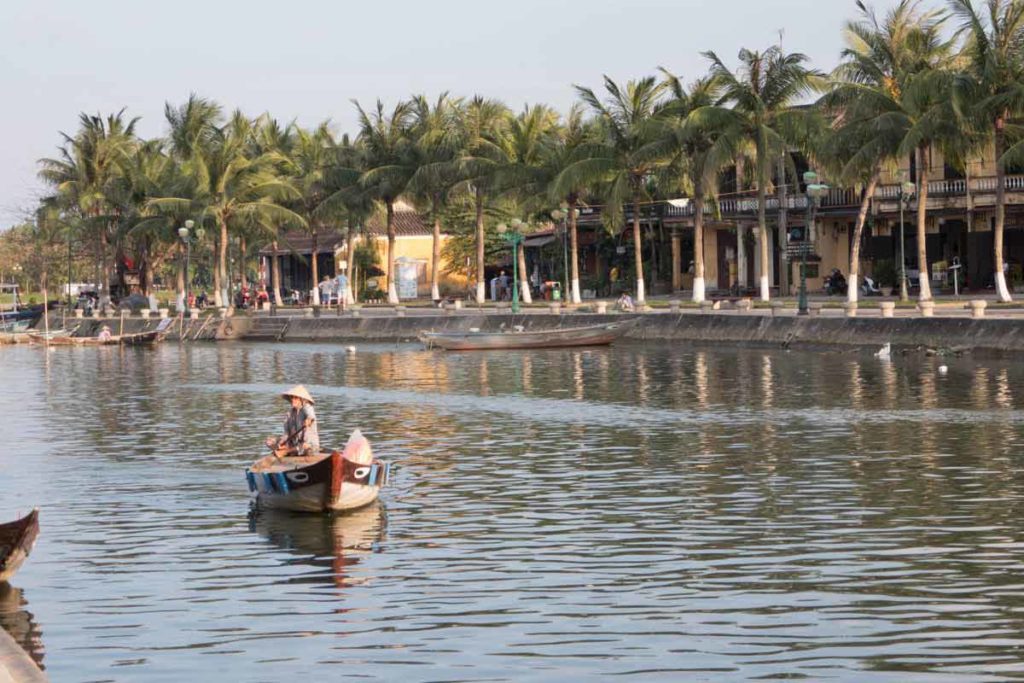 Getting to Hoi An
It should cost you no more than $12-15US by taxi to get to Hoi An. Many times your hotel will offer you a car, but if it costs more than this, then get a taxi or a Grab Taxi, a Uber type experience popular in many Asian cities. Make sure you establish the price first. Vinasun Taxi company have a good reputation.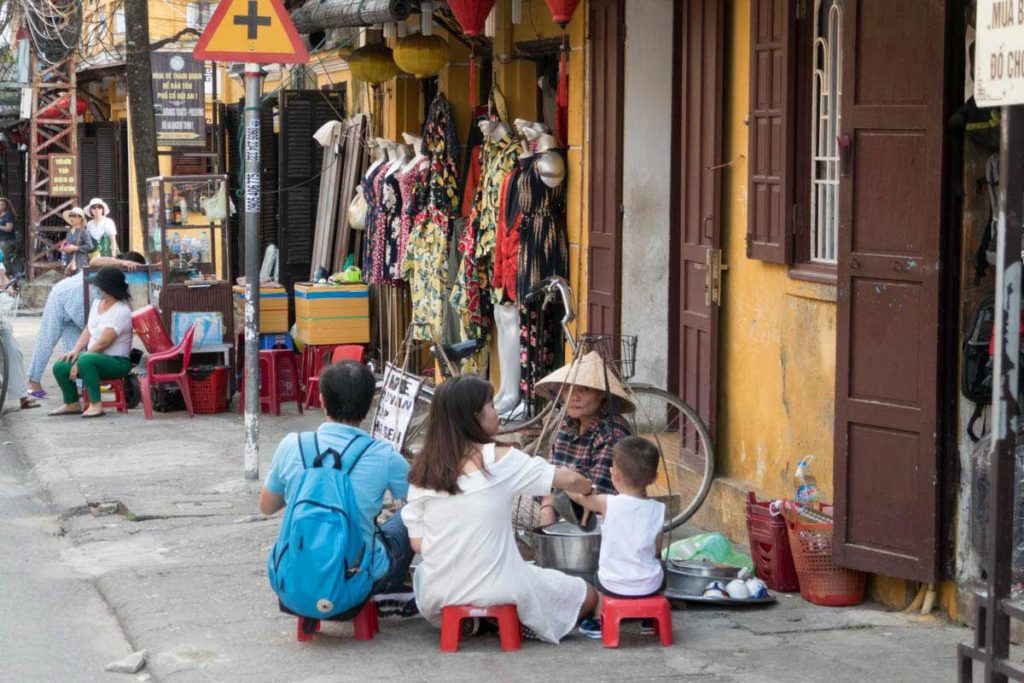 Where to Stay in Hoi An?
There are a plethora of places from budget to 5 stars, which some Vietnam accommodation recommendations here.It is not difficult to find any style of accommodation. Always pick somewhere central to make it easier to get around. Find the best deal, compare prices, and read what other travelers have to say at TripAdvisor 
We have stayed at Golden River Hotel Hoi An, and loved it … pho was to die for; clean, great location…and cheap.
About Hoi An
Hoi An was a major Southeast Asian trading post in the 16th and 17th centuries, where many Chinese and Japanese immigrants settled. This can be seen in the many heritage buildings in the ancient town, including the wooden shop-houses, the French-colonial houses, Chinese temples and pagodas, and the famous Japanese-designed bridge.
Hoi An was declared a UNESCO World Heritage in December 1999, as it "reflects a fusion of indigenous and foreign cultures (principally Chinese and Japanese with later European influences)"
Hoi An is the only town in Vietnam that remained largely untouched during the Vietnam-American War. This UNESCO World Heritage Site has been described as the place "where time stood still."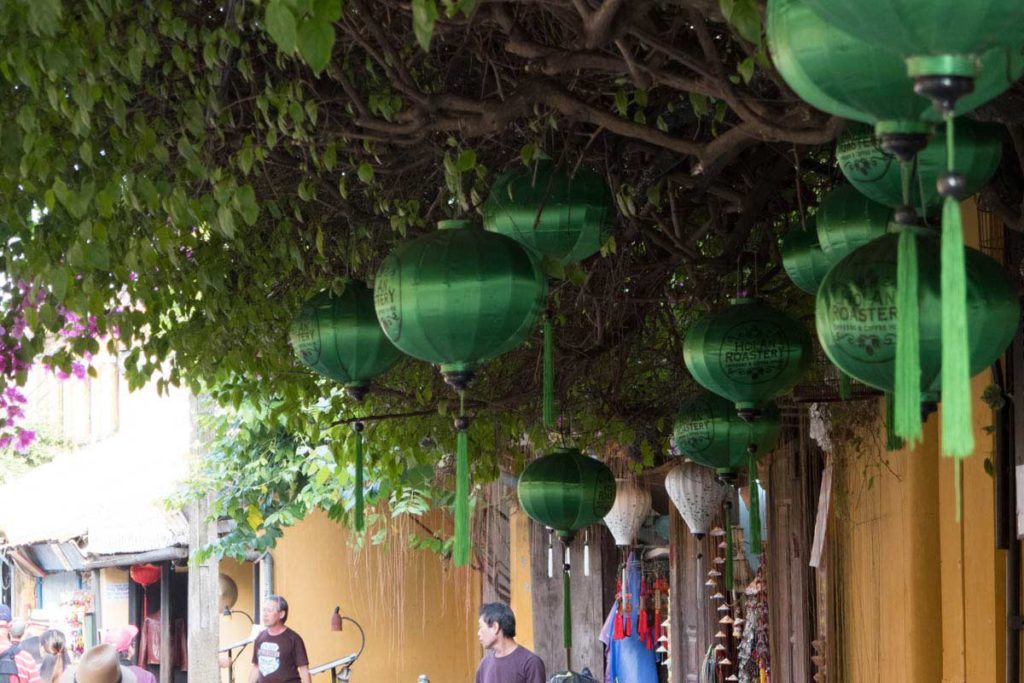 Some of the Essential Reasons to Visit Hoi An
1. Explore The Ancient Town of Hoi An
The Ancient Town was granted UNESCO status and is essentially a living museum. It has not changed much since its heyday as a trading port. Ok, the tourism board might spruce up the yellow paint, and be adding a lot more lanterns, because you know what? It works. The town is charming,
In The Ancient Town of Hoi An, make sure you get a map and explore the:
– 17th-century Tan Ky House, with fascinating architectural and decorative elements.
-Hoi An's primary symbol, the Japanese Bridge at the western end of Tran Phu Street
– the Museums of Hội An, the Trade Ceramics, and Sa Huỳnh Culture, and Folk Culture.
– the ancient tombs of Japanese traders: Mr. Gu Sokukun, Mr. Tani Yajirobei, Mr. Banjiro.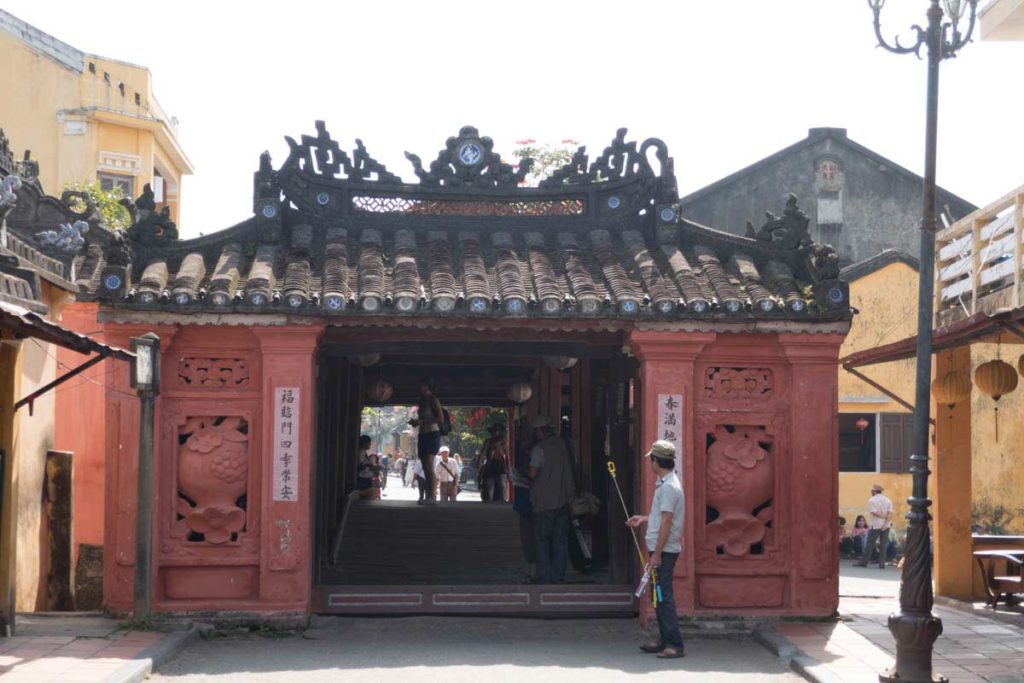 2. Explore the Riverside at dusk and in the evening
This is an enchanting experience exploring the riverside at dusk and into the early evening. One of the sides of the river is a little more theme park than the other, but there is often entertainment, and therefore worth exploring. Hoi An is very proactive in promoting their charming town.
The other side is just beautiful and my favorite. Regardless, you cannot go wrong anywhere you go in this city. Ho An is a photographers dream with the colorful wooden boats and the glow of the buildings. You will get asked by locals whether you want a half hour trip on a boat on the river, and as the cost is negligible ..why not?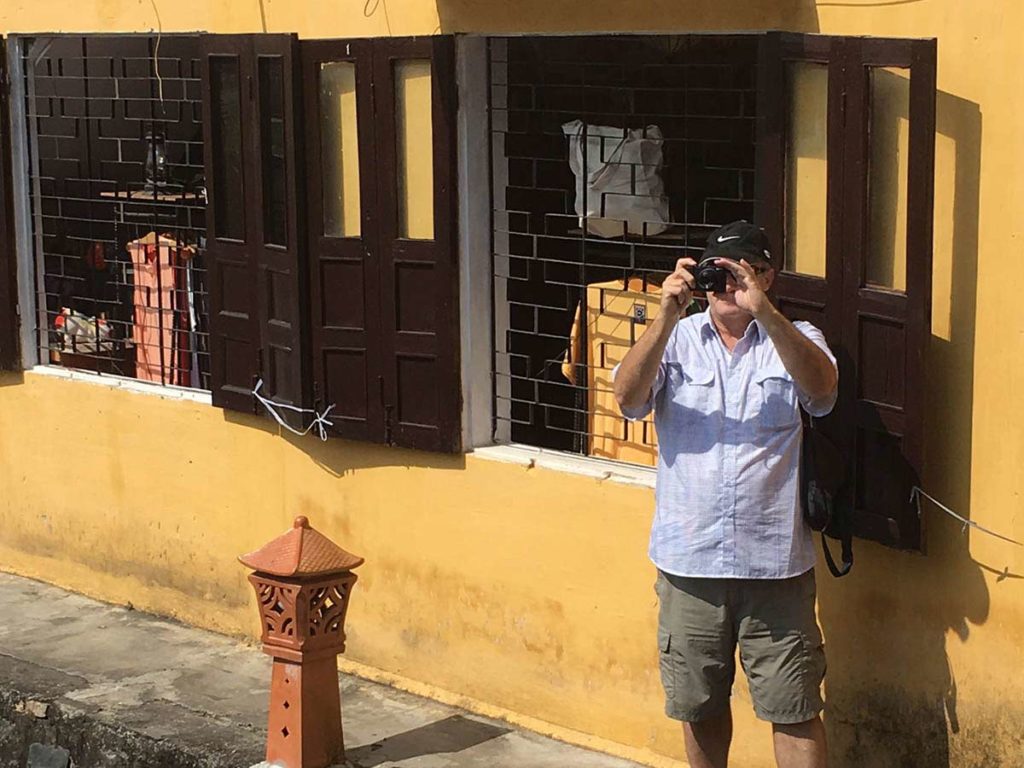 As a point of interest, the hawkers of Vietnam do not hassle very much in comparison to Bali, Thailand, etc. They are quite laid back. A courteous 'no thanks' is all it takes.
3. Explore the nearby beaches
The main tourist beach near Hoi An is called Cua Dai and is about five kilometers from the Ancient Town. The most popular way to get there is by bicycle and expect to see a steady stream of tourists doing this run day and night. You can get a taxi or Grab taxi very cheaply… again, lock in the price. Often the hotels will provide free beach shuttles. Cua Dai isn't a surfing beach, but it is fun to chill out and enjoy the scenery, not to mention some epic sunsets.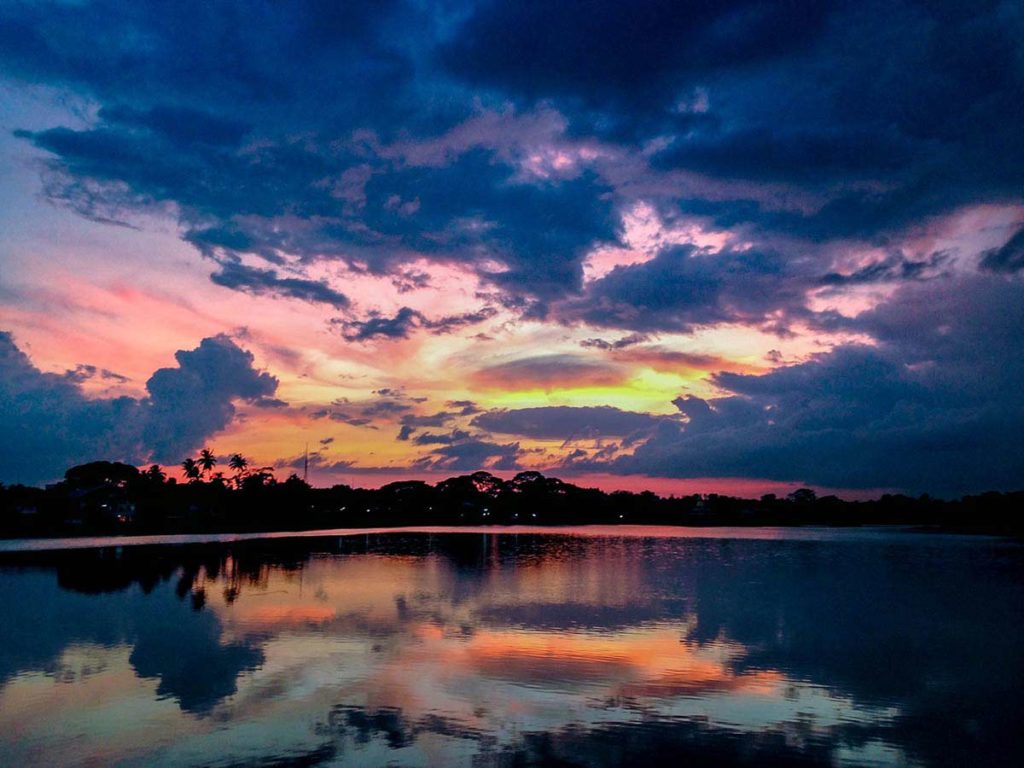 4. Eat Great Food
Vietnam has great food, and that is it. The local people eat all day long. They cannot help but cook fantastic food, as this is second nature to any Vietnamese.
Fruit is available from fruit vendors along the street, and it is fresh, and it is good. Vietnam is a very fertile country, and they live on fresh produce, and not imported stuff. Don't give her 5 dong and tell her to go away …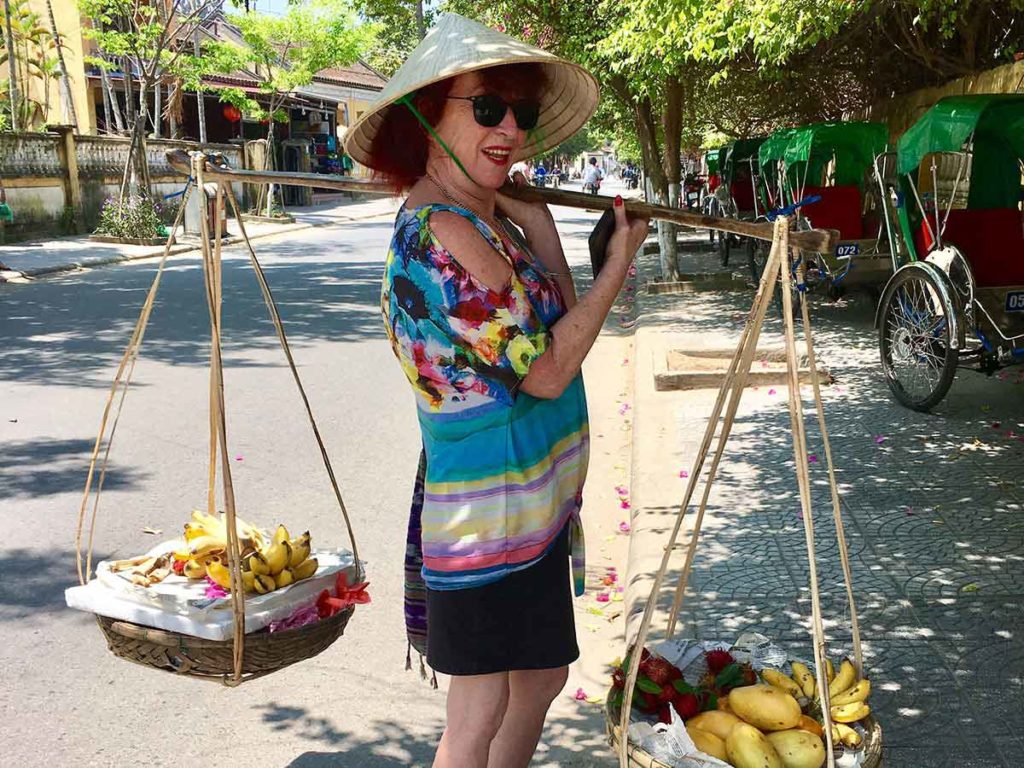 Hoi An is no different, and there is nothing more pleasant than starting the day with a phở (pronounced fur or fff) made of vermicelli noodle, or Bún (pronounced "boon") made of the thin white noodles made from rice. Miến (pronounced 'my") made of glass noodles is also popular. All are based on the broth, and the second word will indicate the meat being used; e.g., Bún cha is a pork based dish.
For lunch, it is Bánh Mì, the globally popular Vietnamese sandwich. We had what we consider to be the very best Bánh Mì in Hoi An, and you can read about it here. We will be writing about more great food to eat in Hanoi, and also Saigon (Ho Chi Minh City).
Cao Lau is Hoi An's signature dish. This is made with Cao Lau a pork broth, noodles, and vegetables. A good place to try this dish is Thanh Cao Lau, 24 Thai Phien St. It will cost you 25,000 VND, $1US, or $1.43AU, add a beer or two, and you might spend $2.
You can also visit the White Rose Restaurant, at 533 Hai Bà Trưng, which only serves two dishes – deep-fried wonton and white rose dumplings, called Banh bao vac, which are hand made on the premises. It is very popular with good reason.
5. Get clothes made by skilled tailors
Hoi An is renowned for tailoring, and nearly everyone who comes to the city will get something made because frankly, it is so cheap. But choosing the correct tailor is not that easy. I have an article coming out very shortly about how not to be scammed in this city that is famous for its tailoring, as well as excellent advice on where to go and what to look for. (Spoiler Alert: Vanda Tailor). Read more about get clothes made in Hoi An here.


6. Take a Cooking Class in Hoi An
You have to take a cooking class in Hoi An. Lonely Planet claims it is one of the Top 10 Iconic Travel Experiences …ever. We didn't do one this time, though I had the previous visit, next time we will, for sure. There are a plethora to choose from so make sure you choose well. There was the Hoi An International Food Festival while we were visiting, with chefs from different countries of the world. This is a recognised foodie city.
7. Get A Temple Hit .. it pays off in the long run …karma and all that
No matter where you walk, you will see temples, pagodas, and shrines. Check out Ong Pagoda at 24 Tran Phu Street and the 17th century Phuc Kien Assembly Hall at 46 Tran Phu Street).
8. Visit Cam Nam Village.
Just across one of the bridges from the old town, is a circular paved route that is very popular with cyclists and gives a glimpse into traditional rural Vietnamese life. You can see the colorful boats being made here.
9. No Massage … No Holiday
Massages are very cheap in Hoi An, and since you are on holidays, and it helps the local economy, you should aim for a daily massage, if only your feet. We had a 2 hour massage, and local food was delivered to us to eat at a table on the street, after we had been pummelled and beaten in the most amazing way.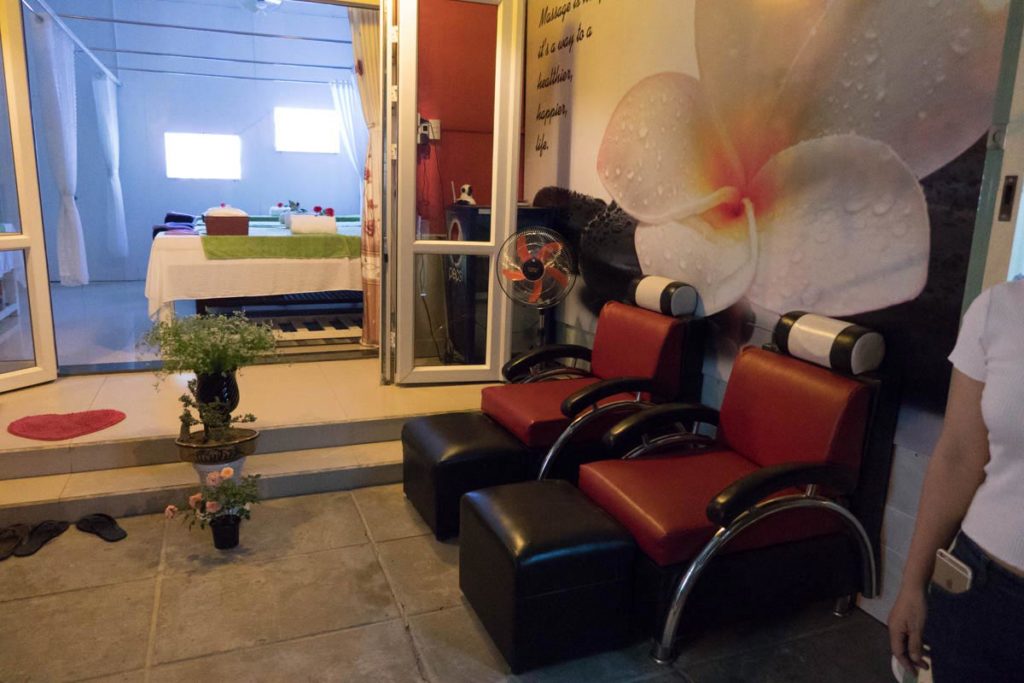 Entrance Fee to the Ancient Town of Hoi An
Tourists now pay an entry fee to enter the Ancient Town of Hoi An, which has caused some controversy and now has become a game with some people trying to avoid the gatekeepers; but .. considering some tourists, I can see the greater issue.
It costs 120,000 VND ($5US, or $6.80) per ticket for international visitors and 80,000 VND per ticket for domestic tourists. Getting your ticket is a great contribution to the restoration of the world cultural heritage of Hoi An Ancient Town – more than 85% of ticket fee is used for the restoration and upkeep of the ancient town. It is a ticket to enter 5 of the 21 sites.
A Little controversy around the Entrance Fee to the Ancient Town of Hoi An
Paying this fee daily if you are staying longer than the one-day bus trippers is an issue for many travelers. People have suggested that for long term visitors that this is included in their accommodation payment which does seem a good compromise. To be quite honest, we only paid once. It wasn't that we were avoiding the gatekeeper, we just didn't see them or must have entered from different routes.
Best Time to Go to Hoi An
The best time to travel in Hoi An is from December to April. The weather is cooler, though we were there in March, and it was hot and humid, but not unbearably so. Apparently, June and July are very hot months.
Getting Around Hoi An as A Guide for First Time Visitors to Hoi An
Walk. Everything is walkable, and the city is safe as far as we were concerned. Obviously, exercise precaution as you would wherever you travel.
Hoi An is easy in comparison to the death defying crossing the road experiences in Saigon and Hanoi.
Cycling is a very popular way to get around Hoi An, and particularly to the beaches. I must learn to ride a bike .. with confidence…or not.
Grab Taxi or Taxi
When you have picked up your tailored goods, you may not want to carry them home. We used Grab Taxi's, and only once did the driver try to scam us. We knew the price from a previous trip with a local. I just said stop the car, and we will get out now. He ended up at the correct price; BUT, we should have settled it before we got in the cab. It seems petty as it was the difference of about .30cents.
Note that motorized vehicles are prohibited from entering Hoi An Ancient Town for several hours every evening, and it is a pleasant reprieve from negotiating crossing the road. Though if you have come from Ho Chi Minh (Saigon) or Hanoi, you would be very used to the death-defying skills involved in crossing a road in Vietnam.
Currency
The currency in Vietnam is Dong. I spent a lot of time on XE.com trying to figure it out. Eg, 200,000 dong is about $11AU, and about $8.70US, at the time of writing.
The Internet in Hoi An and Vietnam?
Vietnam is not too bad for internet usage. We did buy a SIM card at the airport, so I could bug everyone on our social media platforms with what a fabulous time we were having in Hoi An and Vietnam. It obviously worked. We didn't work with the company, and it cost us 200,000VND or $11.49AUD or $8.79USD, for unlimited data for the time of our stay, and you can read more about it here.
Why is yellow so popular in Hoi An?
I hope that you found A Guide for First Time Visitors to Hoi An, Vietnam useful. Let me know of any questions you might have.