St. Johnsbury Vermont is the largest town by population in the Northeast Kingdom of Vermont, an area known for its natural beauty and lack of tourists. We discovered this charming town with more churches than we could fathom, and a typical Main Street brimming with different shops and cafes.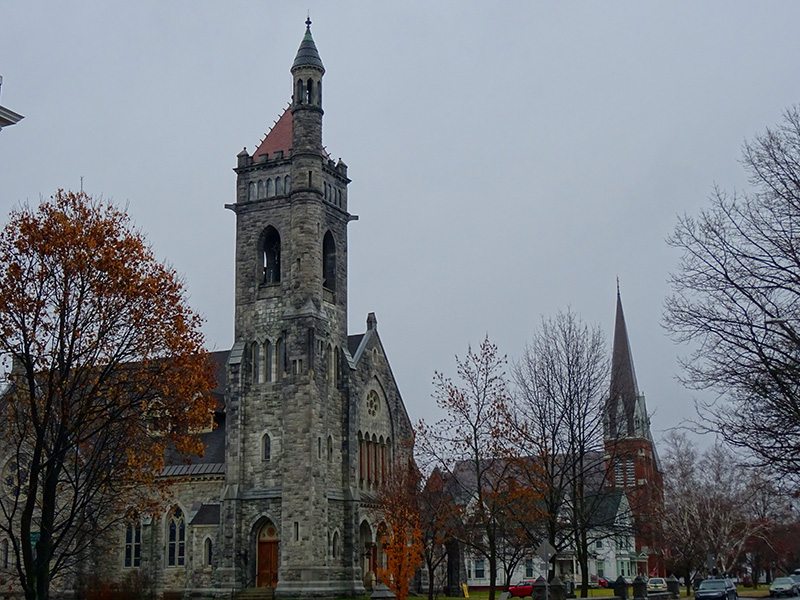 We arrived to see all of the parking meters had been covered over, in a gesture of goodwill as it's Christmas, and parking is free. That's nice.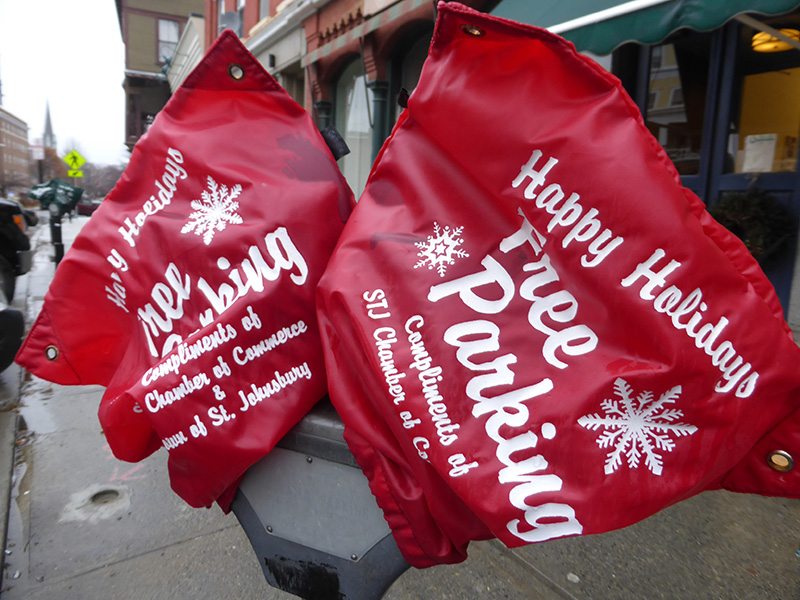 A Bit of a Map of the Town
St. Johnsbury's is easy to walk around, and it is also worth walking through some of the streets further from Main Street to see some of the very elegant houses. The Historic District stretches from St. Johnsbury Academy campus to the elegant homes clustered around Arnold Park. You will not miss the six churches, harking back to its puritanical past, the St. Johnsbury Athenaeum, the Fairbanks Museum & Planetarium, and many quirky little shops.
Why here?
Like many of the historic towns in this area, St. Johnsbury was positioned at an ideal geographical position for growth. It was on a major trade route; at the confluence of the Passumpsic, Moose and Sleepers rivers. This eventually saw the railway come and then the freeways.
The Fairbanks Influence
St. Johnsbury prospered when Thaddeus and Erastus Fairbanks lived here and Thaddeus invented the platform scale, allowing the weighing of large objects accurately. These are the scales that you often see on railway platforms and are called the Fairbanks Scales.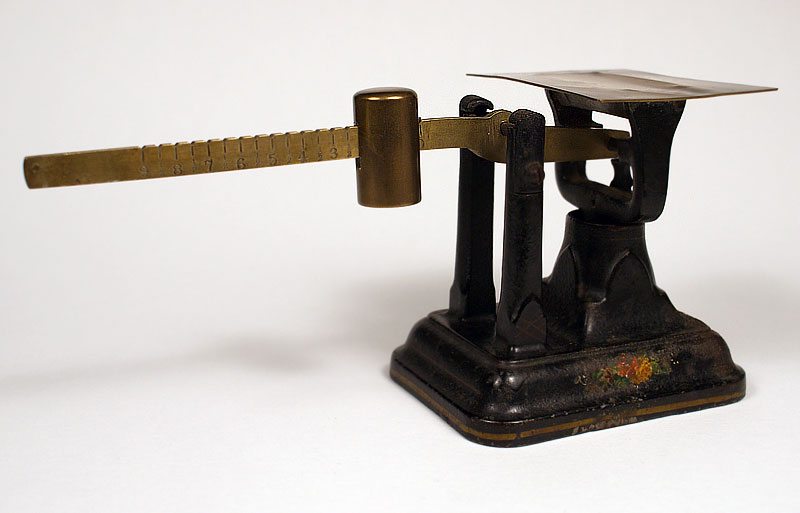 Thanks to Systems at Work for the image 
Dog Mountain and Dog Chapel
People come from all corners of the world to visit Dog Mountain and Dog Chapel, and they all have one thing in common. They LOVE dogs, and they love their own dogs. The Innkeepers at Rabbit Hill Inn where we stayed told us that they have people from Brazil and other places around the globe who have one goal in mind. To visit Dog Mounatina and Dog Chapel and to honour their best friends.
Dog Mountain is set on 150 acres on a private mountaintop spot in St. Johnsbury Vermont. The grounds are always open to people and their dogs. Stephen Huneck and his wife, Gwen, bought the property in 1995. The Dog Chapel soon followed, after an inspirational incident for Stephen.
The Dog Chapel opened its doors Memorial Day weekend of 2000 and has been a draw card ever since. There are hiking trails and dog ponds.
There is no leash law on Dog Mountain. Dogs are not just welcome here; they are cherished! Dogs are free to run, play, swim and best of all meet other dogs! It's great to hear from tourists and local residents alike how much Dog Mountain means to them and their dogs.

Fairbanks Museum of St. Johnsbury Vermont
We had the pleasure of a personal tour of this museum with the Curator Adam Kane. The building is an amazing piece of architecture both inside and out. Fairbanks, of the Fairbanks scales fame was an avid collector, and he endowed his collection for the establishment of the museum. Other people have continued to add to the collection and the museum enjoys an excellent relationship with other museums around the country, currently showing a dinosaur exhibition from NYC.
The Fairbanks Musuem works closely with neighboring schools, and we could hear the oohs and ahhs of the children as they were being taught and shown different things in the museum. Of course, the interactive planetarium was a big hit, and the school kids enjoyed it too after I got off.
The museum has mounted birds and animals, including very big moose and bears. There are many Native American stone tools and Civil War memorabilia. There was a unique butterfly collection that a private collectors son had donated to the museum.
Address: 
1302 Main St, St Johnsbury, VT 05819
Official Website: http://www.fairbanksmuseum.org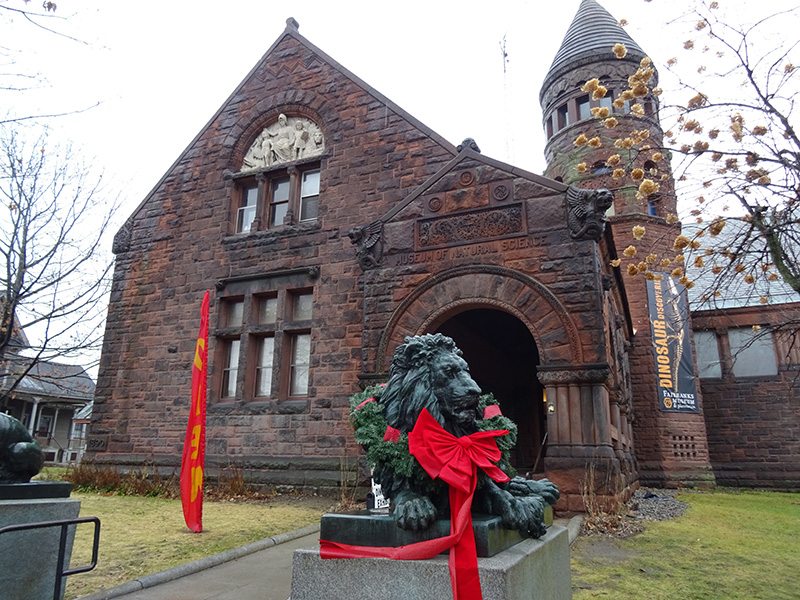 St. Johnsbury Athenaeum
St. Johnsbury Athenaeum, has an Art Gallery, which was added in 1873, making it the oldest art gallery in the United States still in its original form. The collection features American and European artists from the late 18th- to mid-19th century. The Athenaeum is another beautiful building. The Athenaeum is a legacy of the Fairbanks Family of St. Johnsbury and a tribute to the Northeast Kingdom of Vermont.
Address: 1302 Main Street, St. Johnsbury
Official site: www.fairbanksmuseum.org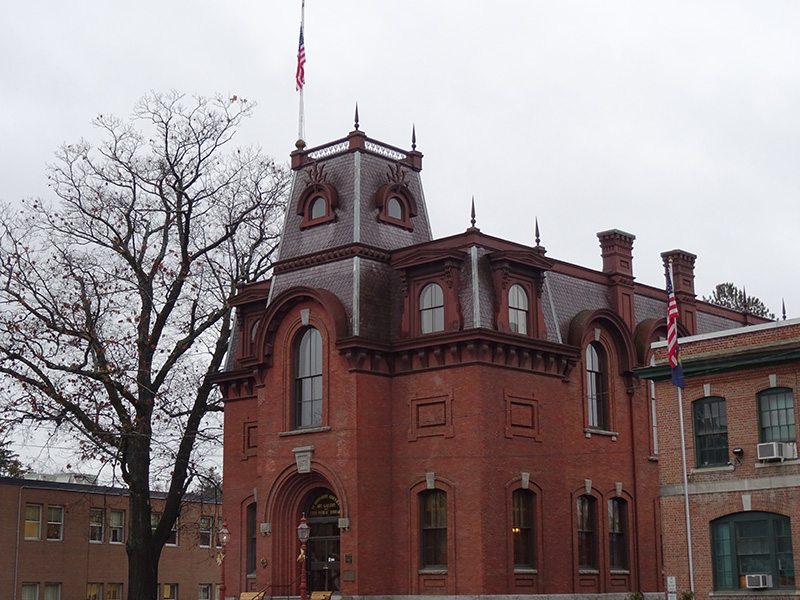 Must-See Buildings
Caledonia County Courthouse of St. Johnsbury Vermont.
The Courthouse is large, imposing and beautiful. We actually thought hat this might have been the museum. It is right next to a small park with a Civil War monument made by Vermont sculptor Larkin Mead. The bandstand is host to the St. Johnsbury Town Band, the third oldest in the United States.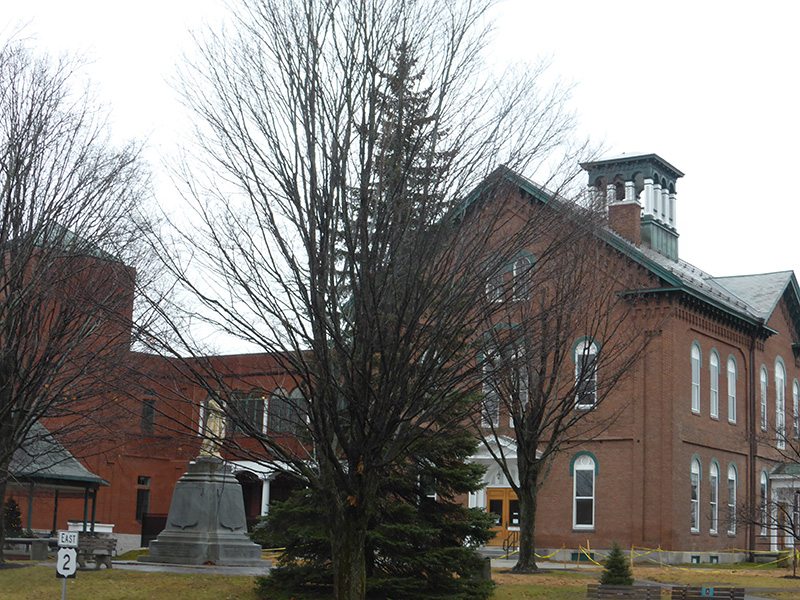 The Fairbanks Block (1892)
This was designed as the company store by Lambert Packard in the Richardson Romanesque style. There 11 levels of indentation or reveals in the brickwork, which highlight the five-bay colonnade on the street level and the two-story Romanesque arched windows above. St. Johnsbury is one of the few cities outside Boston with so many buildings in the Richardsonian Romanesque style.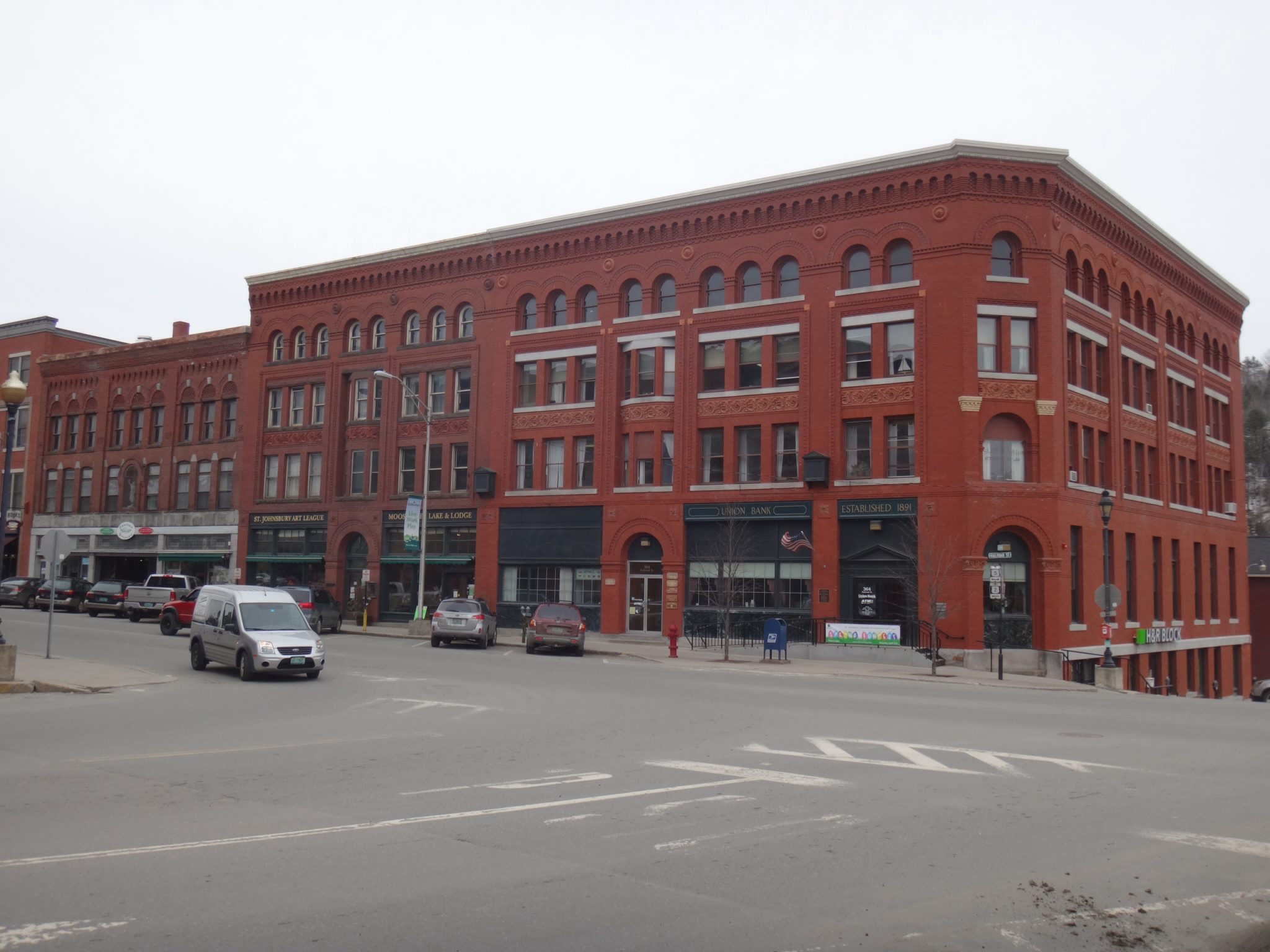 The St. Johnsbury House, (1850).
This is a lovely North Country hotel that has housed Presidents and other notables. Paired Doric columns frame the two-story portico, which is a major architectural feature of Main Street since it can be seen from both ends of the curved street. It is now home to senior housing and the Good Living Senior Center.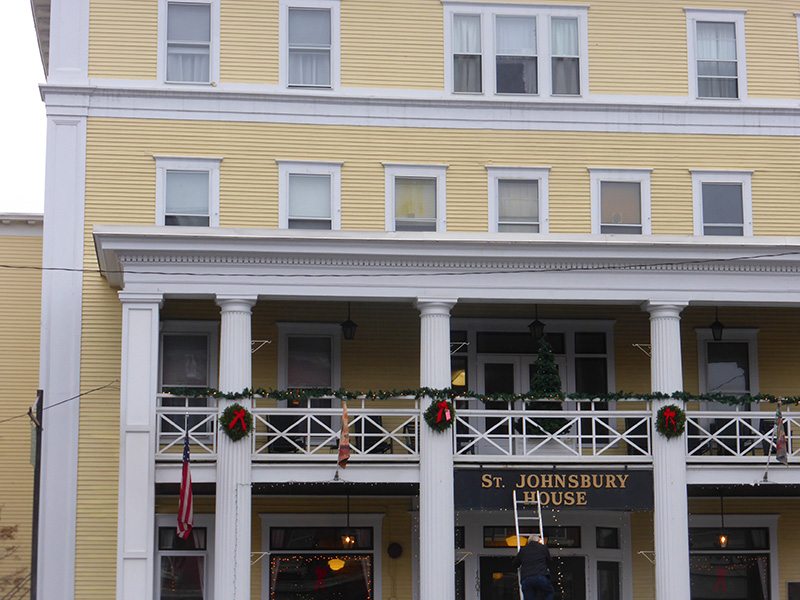 Brantview or High View, (1883)
This is a Queen-Anne style chateau designed by local architect, Lambert Packard for William P. Fairbanks. It has a 60-foot center hall, grand staircase, painted ceilings and fine woodwork. It is now a dormitory for the Academy. Its carriage barn (in back) also serves as a dormitory.
The Tower House, (1871), is one of two houses in St. Johnsbury reputed to have a ghost. Here, the alleged ghost is that of H. N. Turner, the house's second owner. Turner was a long-time manager of the Fairbanks factory. If ou want to find out more about Haunted House in Vermont or anywhere in the USA, check out site this out.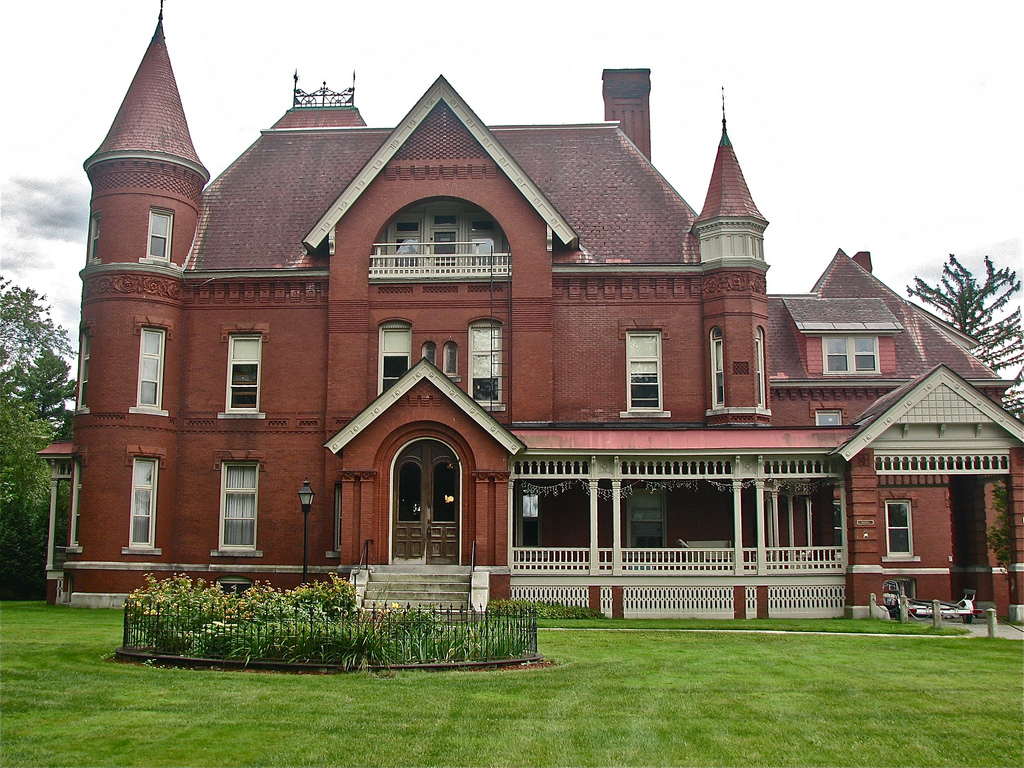 After all of this culture, there are some great cafes and coffee shops to choose from in St. Johnsbury Vermont. A little retail therapy in some of the cute and very untouristy prices and this is a lovely place to put definitely on your list. Visiting the Northeast Kingdom of Vermont is a must.