We were looking forward to visiting Newport, Rhode Island and staying at the Cliffside Inn Newport. It was a little bittersweet, however, as this was our last of the 12 Distinctive Inns of New England. This has been an epic tour, with us staying for two nights at each of the inns, in all of the six states that make up the New England area of the USA. We have experienced such diversity in the inns, in their locations and their signatures. Cliffside Inn is no exception and is a beautiful Inn in every way.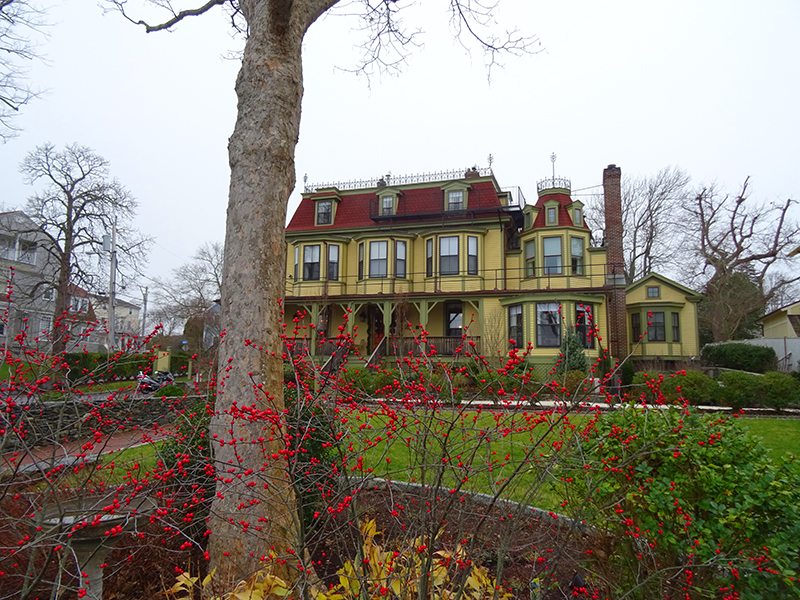 I have attached a link to each of the articles at the bottom of this so you can see the experiences that we have had and that you can also have as all inns are geographically located to make it easy to get from one to the next.
And a Quick Mention of the America's Cup
We were also looking forward to visiting Newport as Australians. Despite being a long time ago, Australia had won the America's Cup in 1983 in this very place with the revolutionary and controversial winged keel. It was the day that our illustrious Prime Minister, who had been celebrating all night, said, [clickToTweet tweet="'Any boss who sacks anyone for not turning up today is a bum'. #NewPort #Australia #Travel" quote="'Any boss who sacks anyone for not turning up today is a bum'." theme="style3″] So you can understand that Australia was a very proud nation when we won the America's Cup. Maybe not of the Prime Minister's statement, but we all knew about Newport, Rhode Island. I just had to add that one.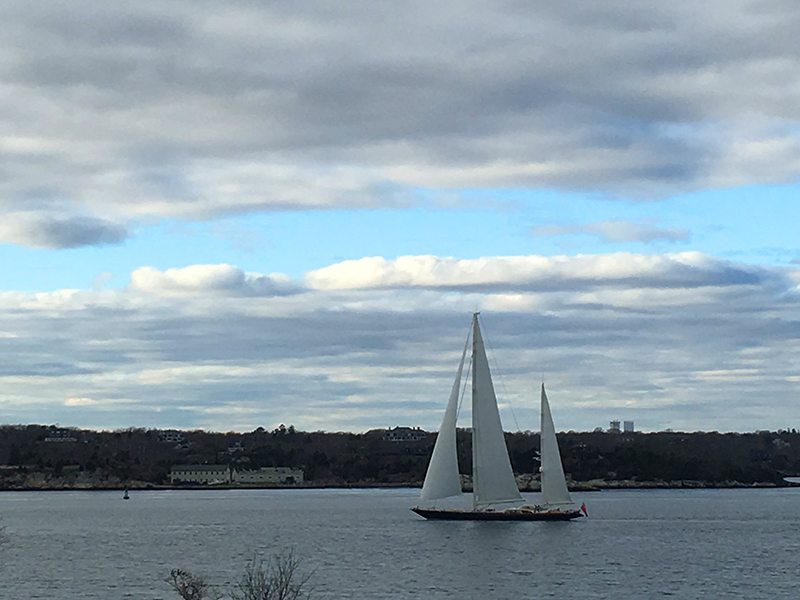 About Newport, Rhode Island
Newport is a city in the New England state of Rhode Island. It is 33 miles from Providence, 1.30hrs from Boston, and 3.30hrs from NYC. It is the largest city on Aquidneck Island in Narragansett Bay.
Newport is a city known for its Gilded Age mansions, colonial homes, and affinity with the sea and a great lifestyle.
Cliffside Inn Newport
The Cliffside Inn is nestled in the heart of the historic district, and just steps from the famous historic Cliff Walk, an easy and very pleasurable walk. It is close to the beaches and not far from the restaurants and shopping districts of Newport.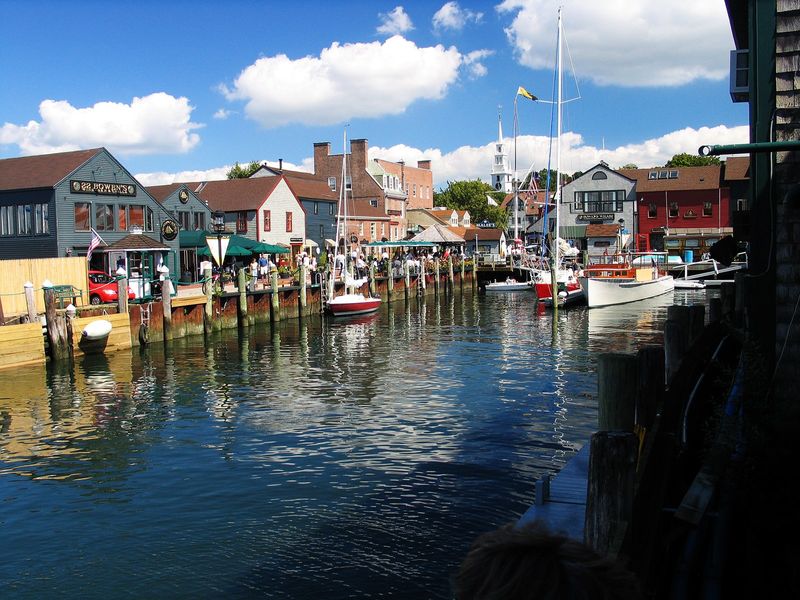 Arriving at the Inn
Walking into the Cliffside Inn, Newport, Rhode Island, you can tell immediately that someone has a superb eye for design, and has excellent taste. This someone is innkeeper Bill. He and his wife, Nancy have renovated this entire property since taking ownership five years ago. Nancy and Bill are delightful people and so is all of their staff, where nothing is too much effort, and they are a great support to the innkeepers and we guests The wrap-around porch, gardens and the romantic outdoor firepit make this a very inviting place.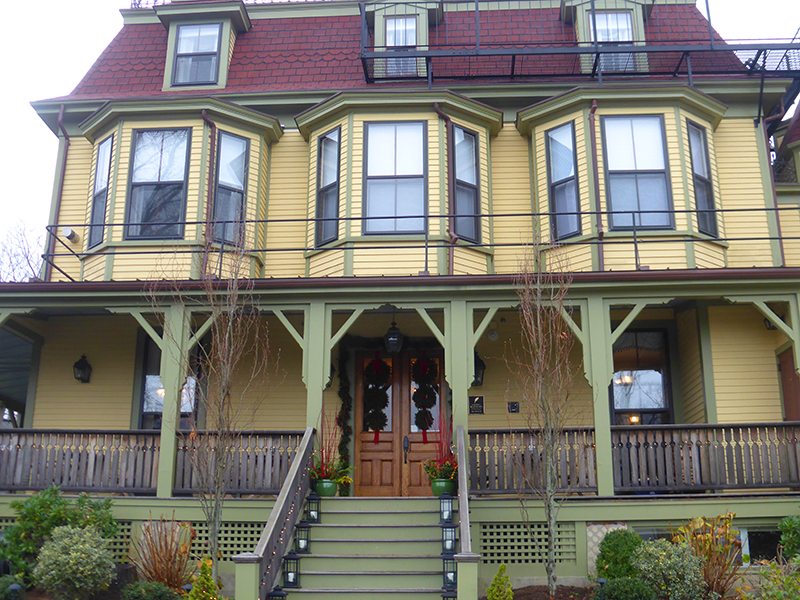 Authenticity and History of Cliffside Inn
The Cliffside Inn is an authentically restored Second Empire Victorian Manor House. If you have read about Newport, then you know that it is mansion nirvana. Not all of the mansions in this most beautiful town have been done with taste and class, which we will talk about later in this article, but The Cliffside Inn has.
The inn was originally built in c1876 by Maryland Governor Thomas Swann and was known as Swann Villa. The villa became a prep school, until 1907 when it became a family residence again and artist Beatrice Turner, grew up here, and many of her artworks adorn the inn because this is an inn that is done authentically and with a lot of style. It became an inn in 1970 and then Bill and Nancy, purchased this stately Victorian mansion in 2010. They spent a year renovating it and paying a lot of attention to the authenticity of the restoration and the maintenance thereof.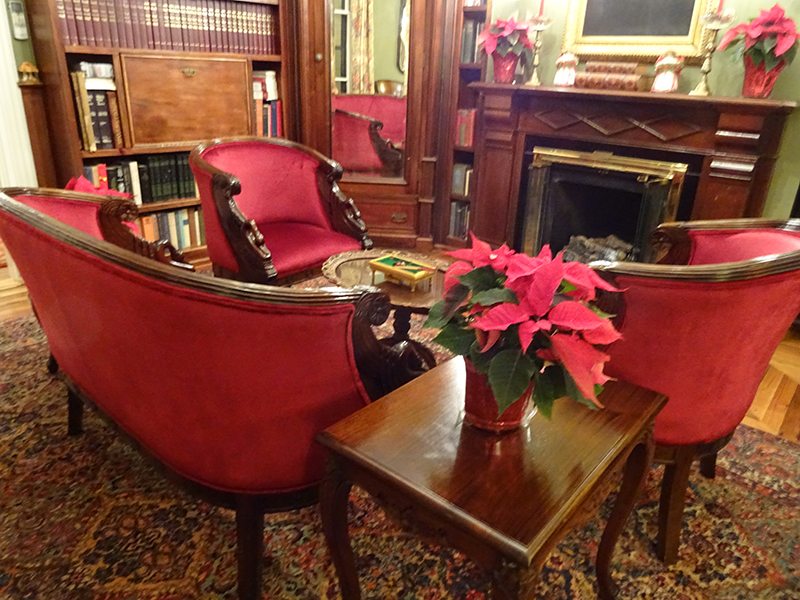 The Unique Crapper
[clickToTweet tweet="It was Gordon who spotted the Crapper toilet in the downstairs entry hall. #Newport #travel" quote="It was Gordon who spotted the Crapper toilet in the downstairs entry hall." theme="style3″] This is the original deal made by the factory in England, and from the factory that Thomas Crapper founded, It is more than just a toilet; it is a testament to the detail that the innkeepers have gone to in renovating the Cliffside Inn in the correct and at times amusing ways. Look for The Venerable branding within the cistern.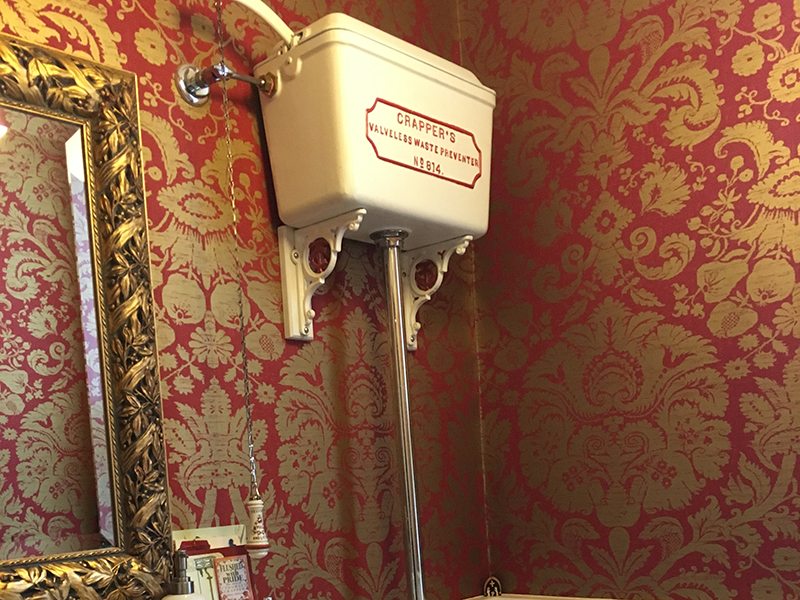 More About the Property
This is a magnificent property with 13 rooms in the main house. The Seaview Cottage has three luxurious suites. We are staying in the Victorian style Carriage House, with our private courtyard entrance, and views overlooking both gardens and the fire pit, and over the ocean. It is special and like the Crapper, there is this attention to detail and design that we love. There is a bead board wainscoting, and a sliding barn door leading to a large marble whirlpool bath, an antique double bowl pedestal sink, and antique heart pine flooring.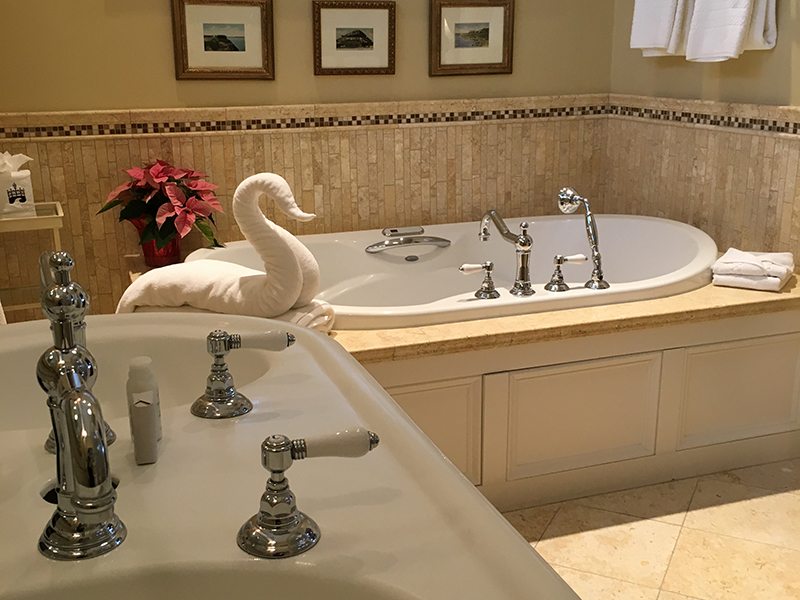 There is a lovely Oriental rug, four poster queen bed, vintage furniture and a cozy window seat, and seriously who can go past a nook to snuggle in.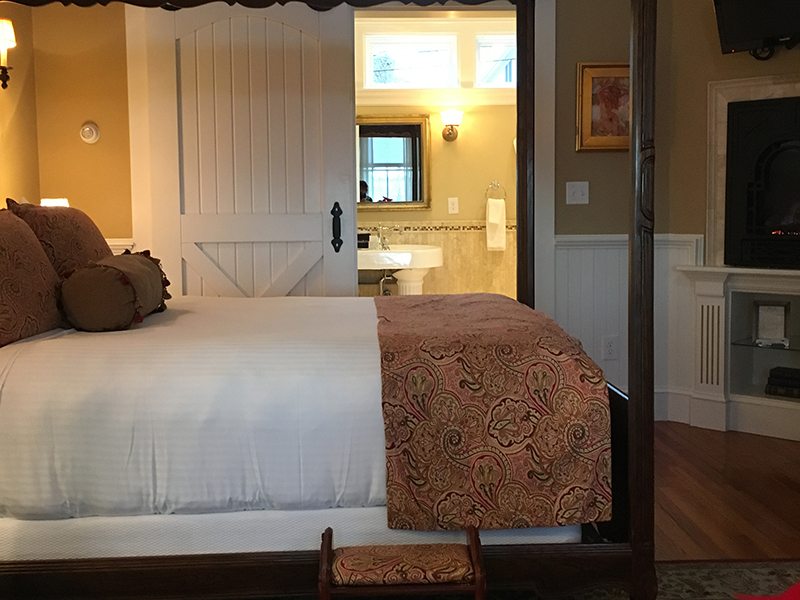 After we had settled into our Carriage House, we retired to the parlour for hours-oeuvres and wine with our lovely innkeepers and other guests each evening. Outside we could see the firepit and the flames dancing around. The parlor was immaculately dressed for Christmas though we did notice in the entry hall where the stockings hung, that Bill seemed to have quite a few with his name on it.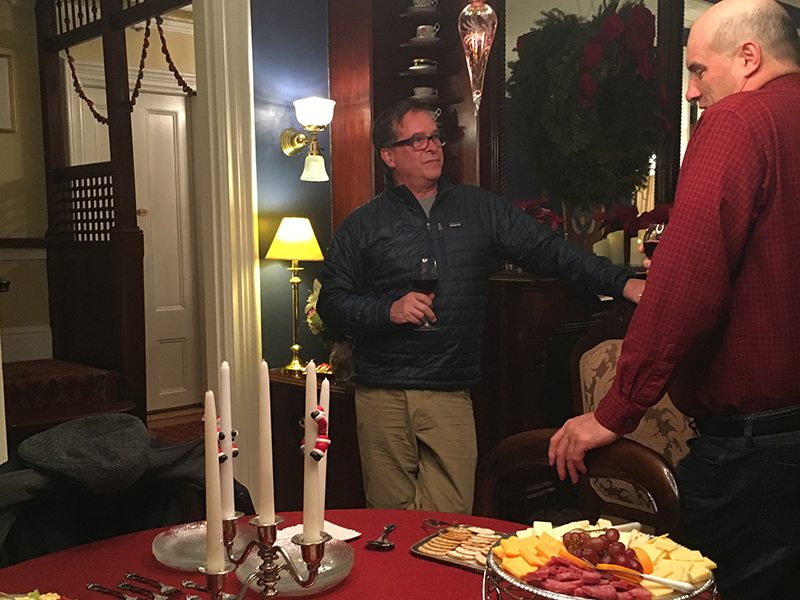 Meeting the local Newport People
On Bill and Nancy's recommendation, we went to Malt, a gastro pub on Broadway and had the best night. This is a town where the locals do welcome you as friends. They talk about their town. They say they try to leave, and on occasion do, but that Newport continually beckons them back. We learn lots of things as we eat and drink.
"Keeping up with the Joneses" originated in Newport."
[clickToTweet tweet="Did you know? The expression 'Keeping up with the Joneses' originated in Newport, Rhode Island " quote="Did you know? The expression 'Keeping up with the Joneses' originated in Newport, Rhode Island " theme="style3″]and relates to the ostentatious displays of wealth in the mansions of the Gilded Age, 1885–1914. The Jones family actually existed and were the first afnily, we belive to have a car.
This is the age when there were ridiculous and ostentatious displays of wealth and where they were all trying to outdo one another. Think the Vanderbilts and Astors for a start. We visited two of the mansions, Marble House and The OTT The Breakers. These mansions were built as summer cottages by wealthy industrialists like the Vanderbilts, and southern plantation owners.
I walked in ready to condemn these flamboyant displays of wealth, and in some cases I did. However, there was something about the Breakers – the showiest of them all, that sort of mellowed me.
The Breakers, Newport
The Breakers was built by Cornelius Vanderbilt in 1895, who built his wealth in railroads and shipping. If you think that you know wealth, then this will shock you to the core. This Italian Renaissance summer cottage has 70 rooms, including a grand three-story dining room. The Vanderbilts intended for it to be big and ornate, but from our visit we hear that is was first and foremost a family home. The children would slide down the bannisters of the trays of the butlers. Ok, wealth requires a huge amount of servants. However, and this is the slightly mellowing part, Vanderbilt worked so hard, and I guess that much of America may well owe a debt to him for the railways and steamships, which eventually improved and increased trade among other things. This house was his hobby, albeit an extravagant one, to get away from the all-consuming business side of his life. The fact that he was a philanthropist as well means that I did cut The Breakers some slack.
Address: 44 Ochre Point Ave, Newport, RI 02840
Marble House
Marble House was built in 1892, and the architect went on to design The Breakers. It was given as a birthday gift by William K. Vanderbilt to his wife Alva, who kept it after divorcing him. This was the Gilded era and everyone who could flaunted their own wealth by building bigger and better homes, wearing the latest fashions, driving the latest cars and anything that would make them appear to be at the top tier of wealth, but perhaps not class. This woman, however, has some history worth looking at, particularly her role in the suffragette movement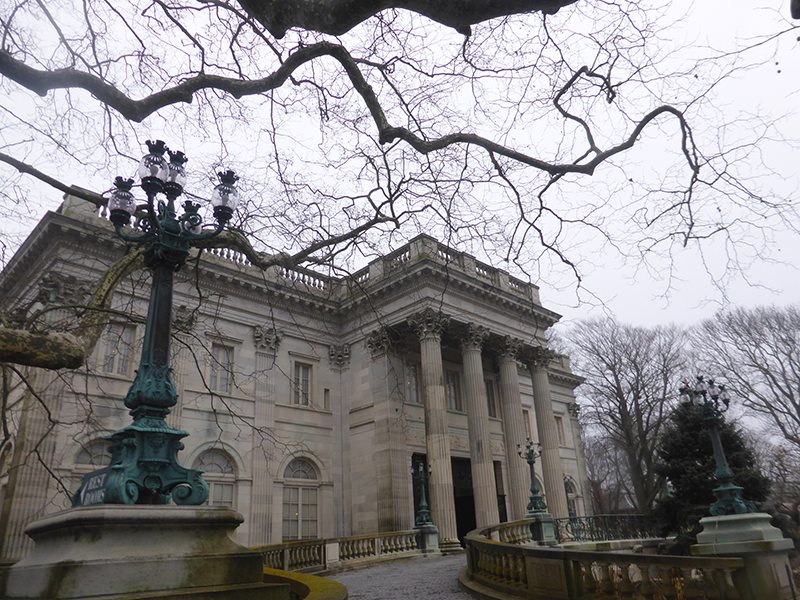 Rosecliff has the Best Story
Tessie Oelrichs, the owner of this mansion that is by no, means the best of the poor taste other mansions, in Newport. However, she ruled the societal roost. Getting an invitation to dine or even have afternoon tea with Tessie was the thing that all of the Newport society strove for. She ran The Great Gatsby-style parties. She was a hard task master, however. A story told to us by a Newport local, is that one of her wealthy neighbours tried in vain for a long time to get this prestigious invite. One day she did invite him to be assessed for suitability. She deemed him too ugly to fit her parties so told him that he would never make it onto the list. To spite her, he cast his face on all of the boundary fences so that she would see his face at all times. Now Gordon and I searched and searched for this but couldn't find it. That is not to say that it isn't true because it has a lot of credibility…considering the time.
Address: 44 Ochre Point Avenue, Newport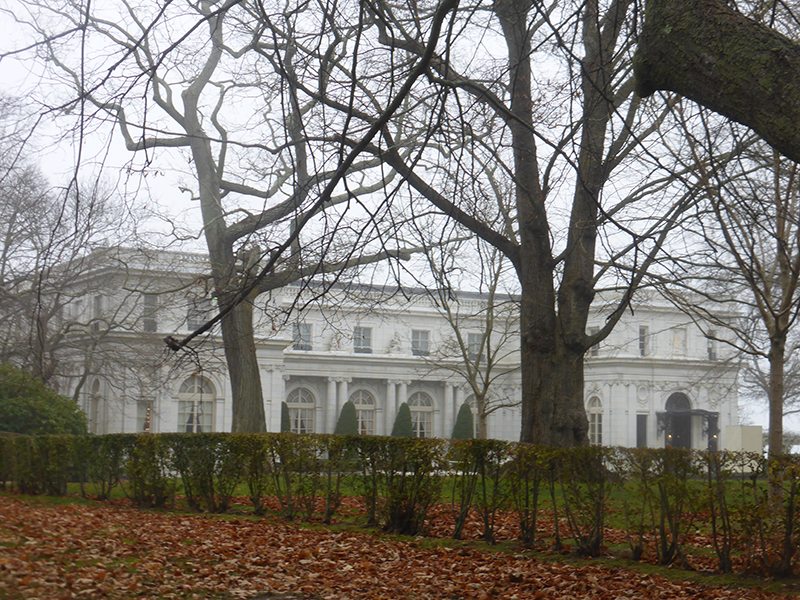 Cliff Walk, Newport, Rhode Island
Cliffside Inn, is just steps away from Newport's most scenic and beautiful walks, the Cliff Walk. This is an easy walk and takes you along the famed sea and behind the mansions. We had a very enjoyable and long walk because it is such a pleasant way to see the famed Rhode Island Sound and to walk off the delicious breakfast. Look for the the 40 Steps, which used to be one of the most popular recreation spots for the servants who worked at the Newport mansions during the Gilded Age. What are the names on each of these steps? Not sure.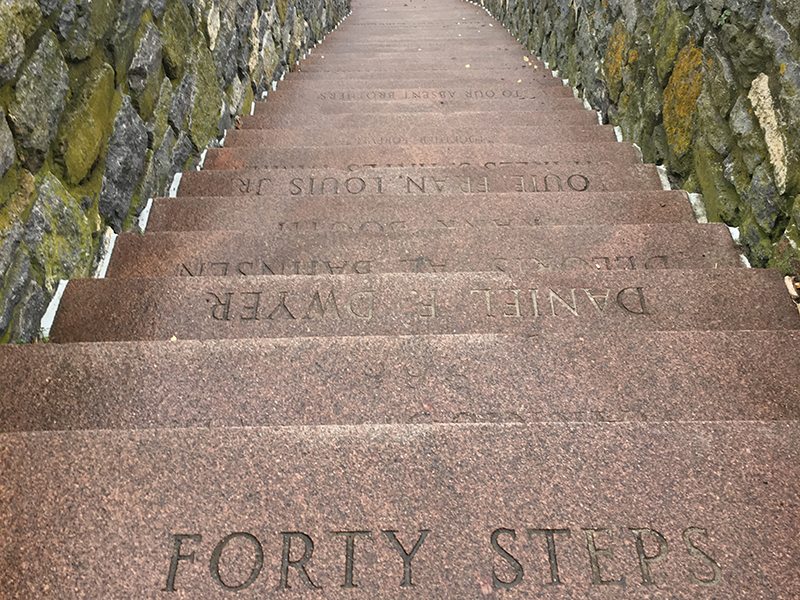 What else can you do in Newport?
Visit the Touro Synagogue
Touro Synagogue was dedicated in 1763 and is the oldest synagogue in the United States and the only one to survive from the colonial era.
This National Historic Site also includes a historic Jewish cemetery dating to 1677.
Address: 85 Touro Street, Newport
Official site: www.tourosynagogue.org
 International Tennis Hall of Fame & Museum.
It is not just about the mansions and the sea in Newport, as this Rhode Island city is home to the International Tennis Hall of Fame & Museum
Address: 194 Bellevue Ave, Newport, RI 02840
Explore Fort Adams
See Fort Adams, a large coastal fortification that was active from 1841 through the first half of the 20th century. Look for the tunnels underneath.
Oficial Site: http://www.riparks.com/History/HistoryFortAdams.html
Meet the Fish Whisperer at Newport
Reade about Fluke Wine, Bar & Kitchen right here.
Promenade Bellevue Avenue, Brick Market Place Thames Street
There are a lot of things to do in Newport in any season. Walk don't drive, as there are more Stop signs in Newport than I have ever seen anywhere. Hang out in the precincts of Thames Street, Bellevue Rd, Brick Market Place and Newport's downtown and waterfront area, like Bowen's Wharf and Bannister's Wharf.
We were at an advantage to get to meet a lot of lovely Newport locals and to start to see why Newport is so special to them. This friendliness and hospitality started with Bill, Nancy and their staff at Cliffside Inn Newport
Cliffside Inn Newport
2 Seaview Avenue 
Newport, RI 02840
The writers were the guests of Cliffside Inn, Distinctive Inns of New England,  Newport Mansions: The Preservation Society of Newport, Fluke Wine Bar & Kitchen. Thanks  to our new friends at Malt, you tell the best tales and you love your city.