Sun Island Boutique Villas and Spa – Seminyak, Bali
Choosing a villa rather than a hotel is becoming a very popular trend in Bali. Getting a villa in the very heart of the trendy and bustling Seminyak and  an easy walk to the famous Double Six beaches, is a definite find. This is where we have been fortunate with Sun Island Boutique Villas and Spa – Seminyak, Bali. More importantly this is a company that we are very impressed with. They are on point in providing excellent service, beautiful villas and making sure that the customer is always #1. It is done seamlessly and we are fans, staying at 3 of their listings, which we will review in upcoming articles.
What we like about Sun Island Boutique Villas and Spa – Seminyak, Bali
– location
– peace
– gardens
– service
– plunge pool
– great decor
– a very on task company
– we are right in the middle of the action, yet in a peaceful  oasis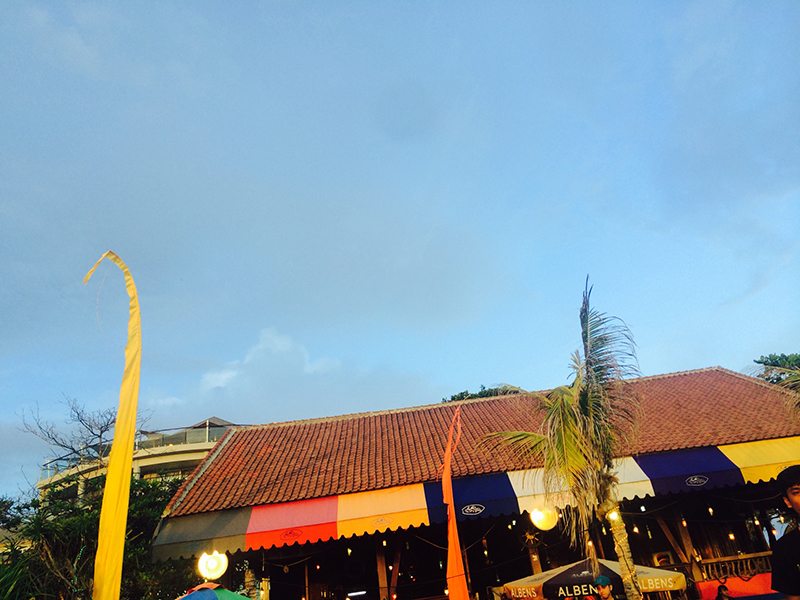 About Seminyak
Seminyak is north of Kuta and Legian. It is a trendy and very popular area because of its amazing sunset beaches, great shopping, and excellent food. It is also close to Pura Petitenget where a line of temples is found going right up to Tanah Lot. It is common to be able to see the blessings and ceremonies occur that Bali is so famous for.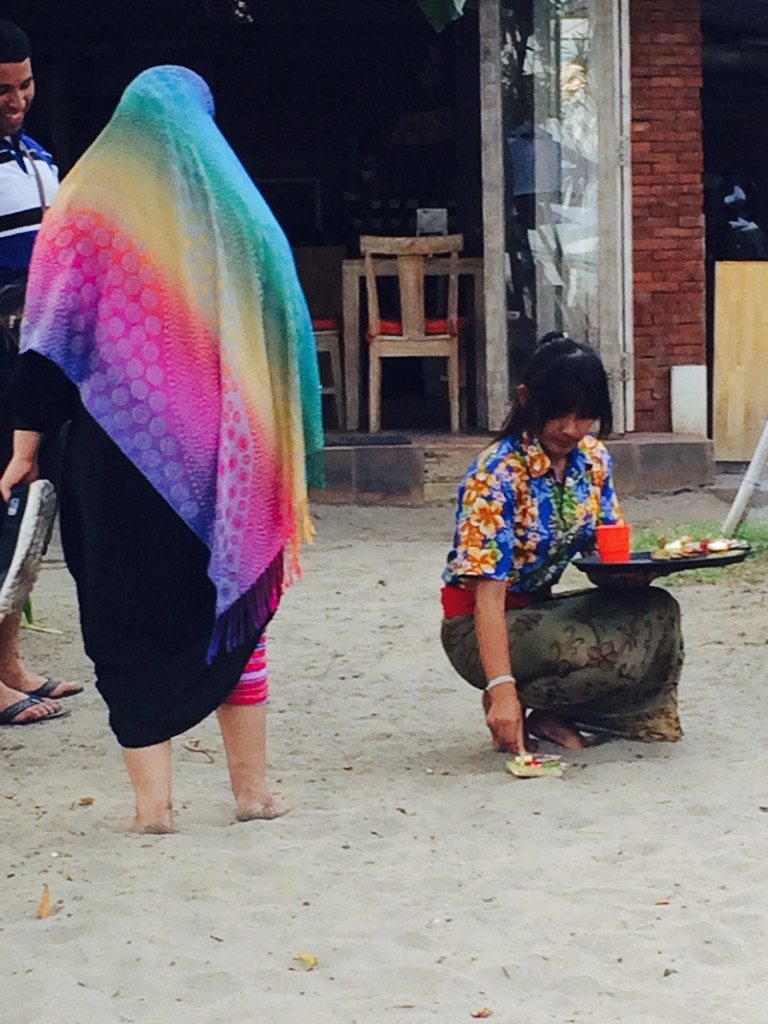 Sun Island Villas, Seminyak
These are luxury villas set amidst lush gardens lovingly maintained by a large staff. This boutique resort has 23 private villas with private pools for a carefree midnight dip. There is a common swimming pool and café and adjoining Spa to wile away the days and meet other guests, should you choose.
The Sun Island Villas have found their niche with people wanting to be a part of the action, yet wanting that peacefulness that comes from being in a stunning and peaceful haven.
Location and a haven of peace is a winning formula.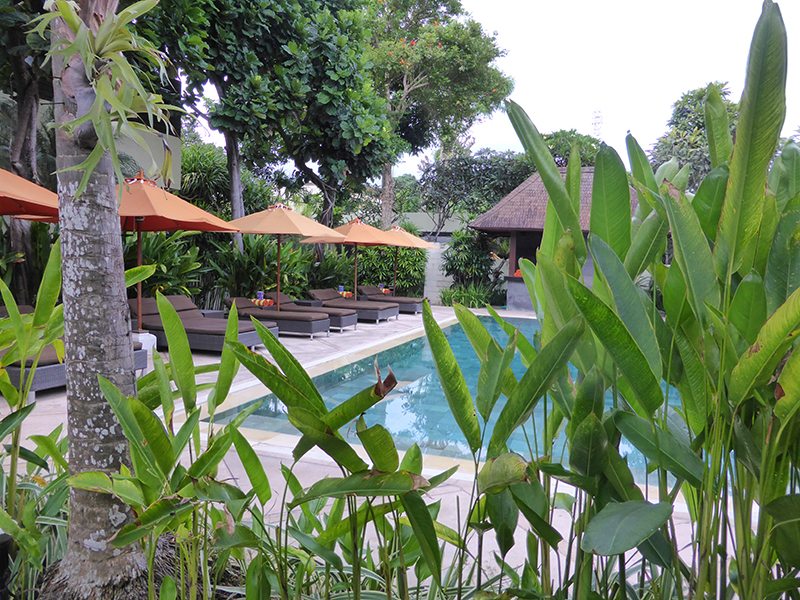 What we Discovered at Sun Island Villas, Seminyak
You drive along the busy JL Seminyak or the main road, and turn into the villas. It is when you go through the doors that you are amazed by the lush and peaceful gardens after the manic traffic outside. Welcoming bright orange umbrellas and sun lounges surround the main pool .Weary travellers can soak up the sun while reading the complimentary magazines and having a cocktail. It is here that you find the Sun Café, in the signature colors of black and orange against the backdrop of all of the greenery and some beautiful flowers. Frangipanis are everywhere.

You are then taken down a gardened bath to your villa. Ours is a deluxe suite, and as the door is opened to our home we experience more of the wow factor, starting with our own plunge pool with recliners next to it. On the outdoor verandah are chairs and a table, ideal for outdoor dining or working, even if you are traveling. On the other side of the veranda is a kitchenette. I don't have any intention of cooking here, as the surrounding cafes are so very good. However, if I choose to have a cooking class, a chef will come to our villa and do a demonstration of n Indonesian dish of our choosing. Pretty clever. It would, of course, also suit people who want to buy some of the amazing produce available in Seminyak and to cook up a storm or have a romantic dinner.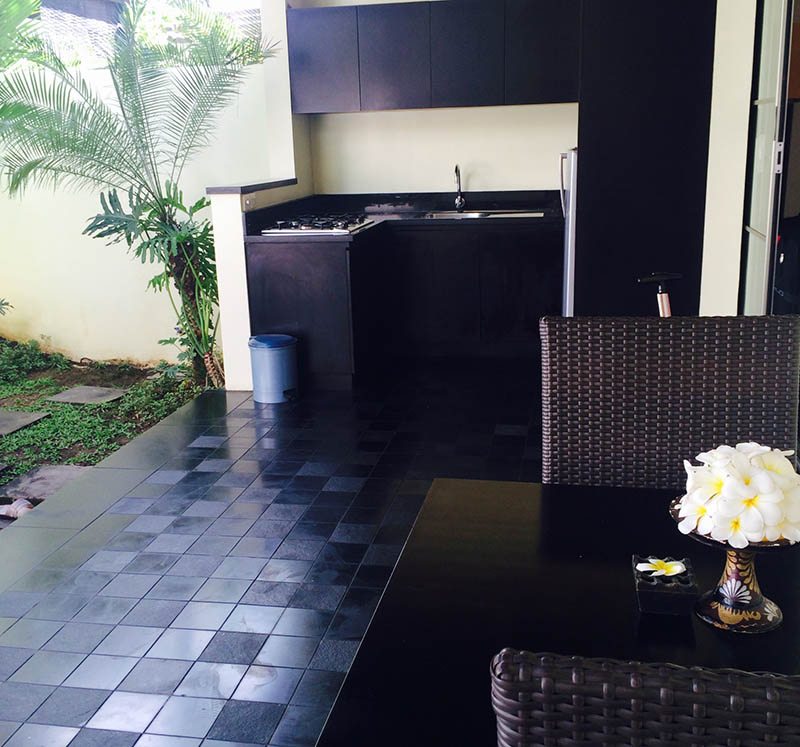 On entering our villa, we are met by black shiny tiles floors and an ultra white large bed. Here sits a dog made of towels that has frangipanis woven through it. Cute factor. We are in Bali. The smoky glass panel behind our bed gives way to a sumptuous spa bath that looks out onto the garden and the plunge pool with its trickling water feature. There is an enormous rain head shower, and again the décor stays true to the chic designing of the villa. Black tiling with crisp white towels and frangipanis – everywhere. There is a separate toilet here as well.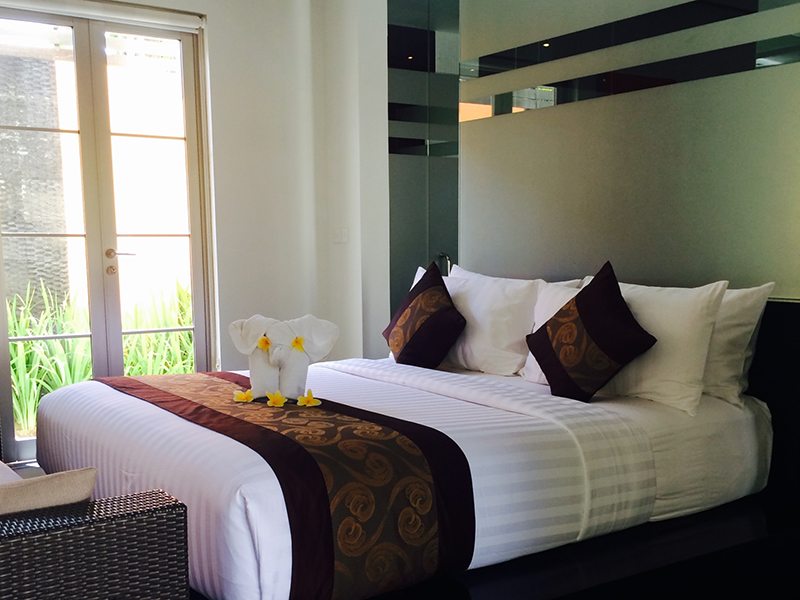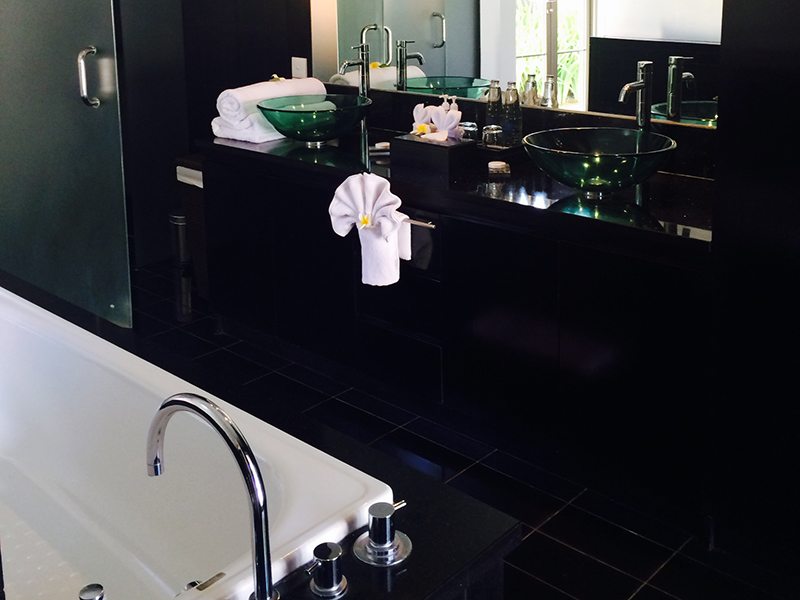 Back in our bedroom there are floor length windows that look onto a stylish little garden that maintains the privacy, with ochre and black wall for privacy. The entire villa is private, meaning swimwear is totally optional here in your own little oasis.
In the bedroom is a large working desk, a flat-screen TV, and a courtesy bowl of fruit and yes, more frangipanis. Our villa is large and measures 130 to 150 square meters, making it significantly bigger than a hotel room, and the cost is more than reasonable. See Sun Island Villas, Seminyak for the latest rates.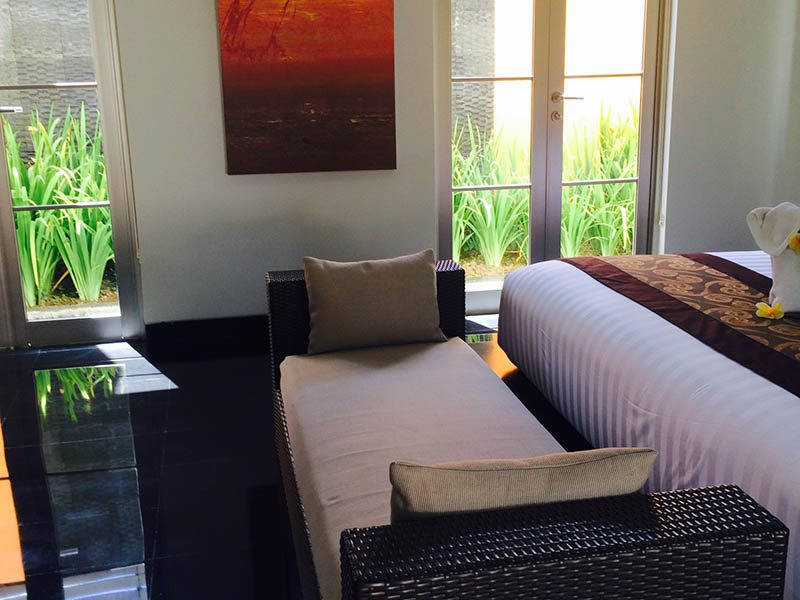 Other Sun Island Villas in Bali
Sun Island Villas also have other villas, specially selected to give people that little piece of paradise in popular areas. There are villas in Kuta, Jimbaran/Nusa Dua, and Legian. Each is bespoke designed to ensure that you have access to everything that you want, while being in the middle of the Balinese lifestyle that you have come to the country to enjoy.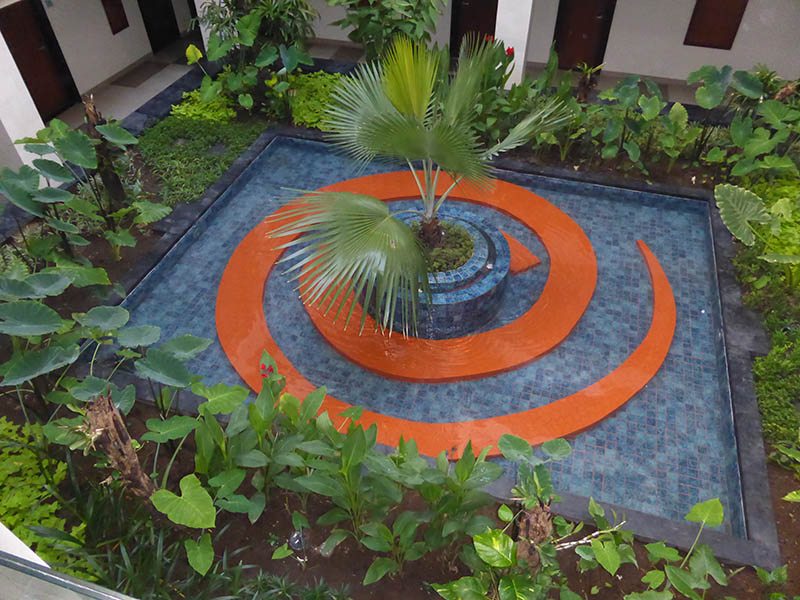 Services
The key to a good place to stay is that you wake up knowing where you are not that you could be anywhere in the world. The Sun Island Villas, Seminyak lets you know that you are in Bali immediately. The staff and friendly and helpful as the Balinese people are. The décor and the gardens say Bali.
Should we require a coffee or hot chocolate or a snack at anytime of the day or night, the butler service brings this to your villa. Alternatively you can wander up to the Sun Café and have it there as it opens until 11pm. This is a nice way to end the night's explorations of the funky Seminyak.
The Sun Café is also where there is a complimentary afternoon tea each day as well as where the international and personalized breakfast is served. You also have the option of having your breakfast brought to your room. Sun Island Villas want you to relax and not to worry about a thing.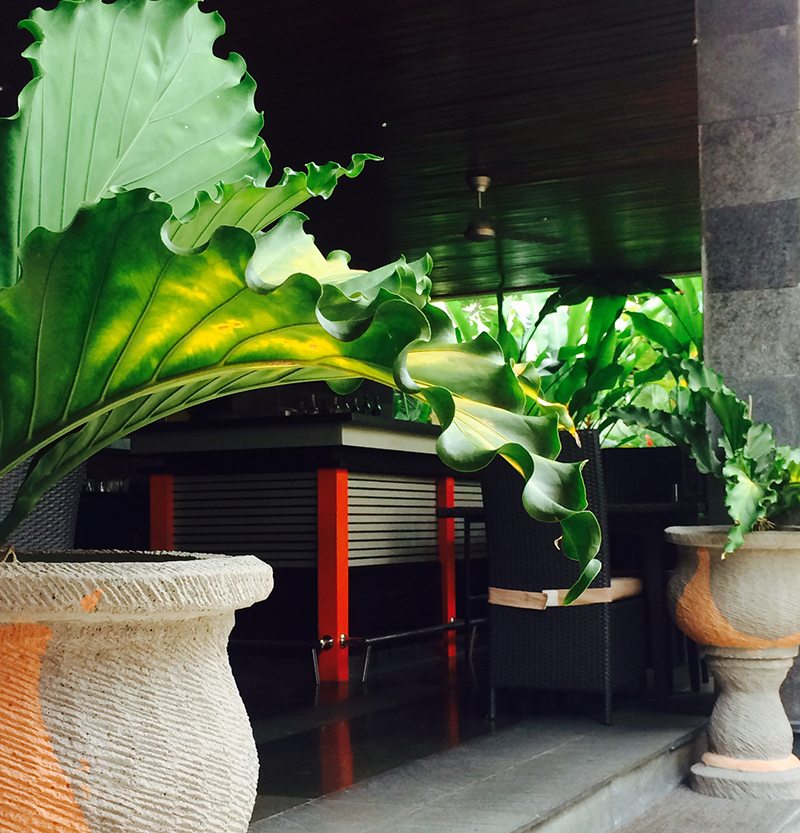 Sun Island Villas also have spa facilities , called Island Spa on site. They offer many traditional and unique services to help you to relax even more after a day of exploring the enticing Seminyak.
Location
Sun Island Boutique Villas and Spa, is located right in the heart of Seminyak, Bali at Jl. Raya Seminyak No.188, Seminyak – Bali. It is only a 15 minutes drive from Ngurah Rai International Airport and within easy walking distance to the famous Double Six Beach, classy boutiques, and cafes.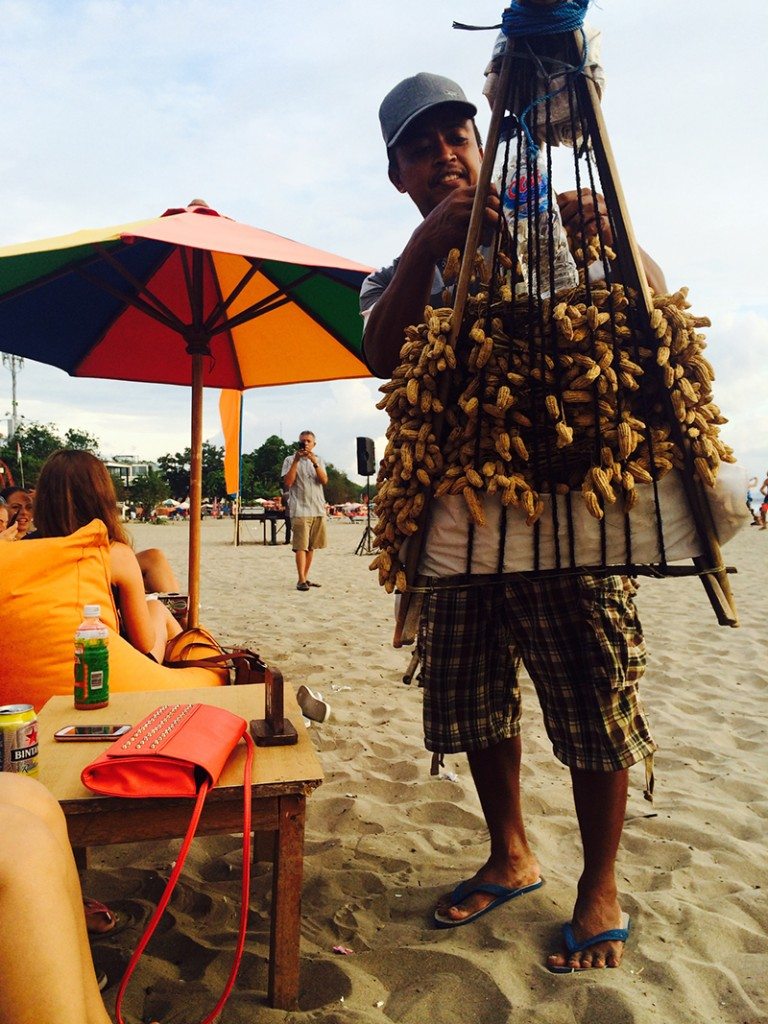 The Internet.
If you are reliant on this, as we are, then this is excellent and better than many places that we have stayed on the island of Bali.
Sun Island Villas, Seminyak is an oasis in this very trendy and busy area. It is definitely worth considering Sun Island Villas, Seminyak rather than a ubiquitous hotel room, where the service is personalized….just for you.
We were the guests of Sun Island Boutique Villas and Spa, Seminyak and all views are our own.