One of the things that we noticed while wandering the very appealing streets of Montreal, Quebec were the outdoor staircases. They are crazily steep and quite a conundrum in a city that obviously gets very cold in the winter. It was November, and I was standing on the cobblestoned street outside of our hotel, Le Saint-Sulpice Hotel Montreal catching little snowflakes on my tongue, so I can only imagine what it is like in the full-on snow months.
These outdoor staircases, are architecturally very attractive and piqued our interest as to why. Why would someone risk life and limb to climb up or down ice covered stairs, that a little harrowing on a good day? We made it our mission to go and find some more examples of these outdoor staircases, and when we went to Little Italy, we were greeted with streets and streets of them. As we explored other areas of Montreal, we found more and more of them, each unique and each different. It was a great way to explore the city, albeit odd. Wait to read about my fixation with the fire escapes in San Francisco. It must be an architectural type of thing.
The arrangement of these apartments themselves is also a curious thing. In searching for this buy cialis thailand information, we found a great article that explained that the apartments are based on the plex model, which is prominent in Montreal.
"The term "plex" is a ubiquitous word in the city's housing scene; a plex is a squat three to four storied building with different apartments stacked upon one another", says Nick Corroon, who writes a very interesting article on the history and heritage of the plexes and the outdoor staircases in Montreal, that is well worth reading.
Why are there so many external stairs in Montreal?
However, a response when I posted a photo on Instagram says that they had to build the homes farther from the sidewalk so falling ice wouldn't hit pedestrians walking by, so thank you to The Restless Worker for sharing this information.
These outdoor staircases have become cultural icons in this very likeable city. I am guessing that the responsibility for keeping these stairs clear of ice and snow rests with the tenants, being as we saw snow shovels hanging on some walls at the top of the stairs.
Have a look at the photos of these The Outdoor Staircases of Montreal, Quebec.
Would you like to climb these stairs when they are covered in snow – see the last photo?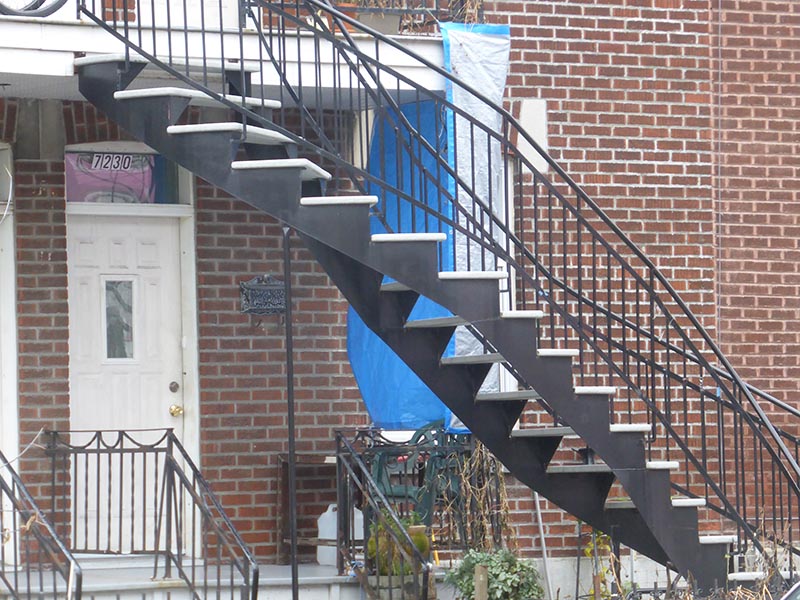 Snow Covered Outdoor Staircases of Montreal, Quebec by Bruno Adams