It seems that Ubud, Bali has become even more globally recognized since the publication of Elizabeth Gilbert's Eat, Pray, Love. I am pleased to say that we discovered it well before this having been there on a few previous occasions. I was wondering what changes may have occurred and whether it would still be that special place we discovered years ago.
I will put the spoiler up front now – I still love Ubud. It has changed but not nearly enough for me not to still find it a fascinating place.
I will also admit that I have not read the book, and I hadn't seen the movie until after we left Ubud and thank goodness I hadn't. The movie gave no real idea of the Ubud, or the Ubud that I have come to know well. Yet, it seems to have resonated with many people.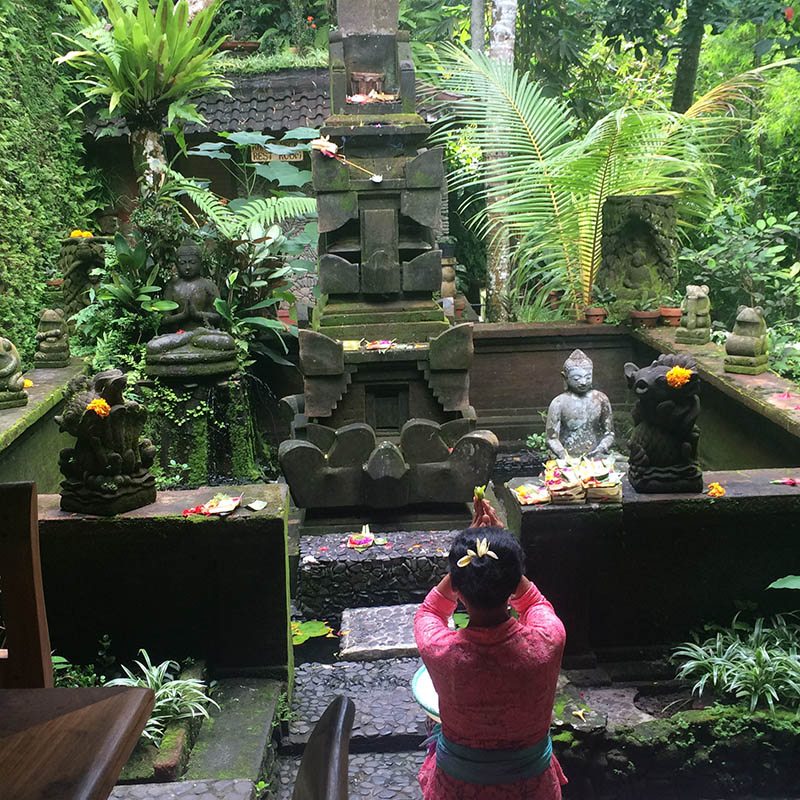 Spiritual Ubud
Ubud is a very spiritual center of Bali, not just for the visitors who come here to find their inner whatever, but also for the local people. It is here where you see a lot more of the devotion of the Balinese people to their practice of their unique Hinduism. It is here that you see that the people and their religion are one and the same and that the family unit is all important. It is a definite place to go if you really want to understand more about the people of this island. A visit to the Sacred Monkey Forest is totally warranted as this is sacred for a reason. This is a jungle with some simply dreadful monkeys called Balinese macaques, who serve a purpose – to keep the demons at bay, and steal anything that they can.  Yes, Ubud has become quite a touristy place but that is with good reason.
Religious Ubud
It is in Ubud that you are likely to see one of the many ceremonies associated with the Balinese religion. This can be a cleansing ceremony that we had the privilege to watch in a huge downpour; so mission was accomplished even for us who got right into it. Even a cremation, which is a sign of celebration for the Balinese, is a source of wonder and amazement to us as visitors. At any time of the day or night, you will hear drums or some other musical instrument as some other religious observance occurs. It is nice.
Physical Ubud
Ubud is set in the mountains and is set amongst some of the lushest vegetation and is surrounded by verdant rice fields, hanging banyan trees and yellow striped bamboo. Physically, I for one, find it to be a beautiful parts of Bali – humidity and downpours aside.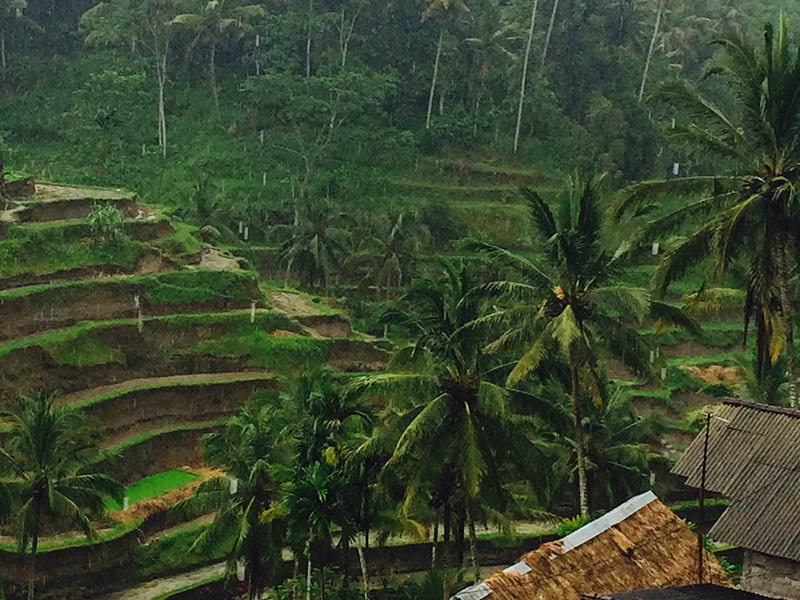 it was raining ..
Arty Ubud
Ubud has a vibrant art and literary scene. This existed well before the ex-pats, and the festivals moved in because Ubud is an artistic center. Generations of families pass down their skills in the arts. There are dedicated villages to woodworking, to silver and gold work, to painting and even to exquisite kite making.
The inherent artisticness of the Balinese people can be seen in everything. The house compounds are decorated, the temples are decorated, and the people dress in beautiful sarongs and lace blouses for ceremonies. The men dress in their Balinese clothes when they go to the temples at least once a day. There are decorated statues and gateways. The Royal Palace is in the main street, and you can see the traditional Legong dance at various venues.
We asked one of the men in a woodworking village what happened if a child had no artistic ability. He told us simply that the child would become a master sander.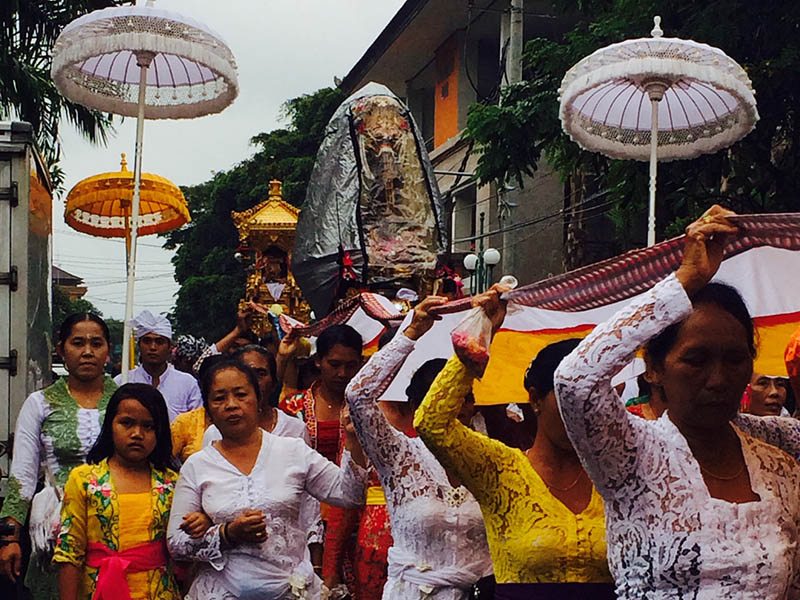 Hungry Ubud
There are traditional warungs serving very simple and excellent Balinese cuisines, right up to yuppy, vegan, and organic cafes and coffee shops. There is also Ubud's signature dish, suckling pig, or Babi Guling, and one that the people of Ubud and Bali are very proud of it. It is a pig stuffed with a mix of spices like turmeric, coriander seeds, lemongrass, black pepper and garlic, and traditionally spit-roasted.
Wellness Ubud
Ubud is a spiritual place and mystical place. Ubud does attract visitors seeking anything and everything spiritually. I have never seen so many ramrod straight yoga backs in my life, nor more green juices but that's ok. Ubud can cope with this. It is here that you can see a healer, even the one in the movie, but book way in advance because he is that popular. There is a tangible feeling of mysticism about Ubud. It is not hard to understand why is has become an epicenter for yoga and balancing your chakras and whatever else you can think of. I even had my tarot cards read and yes I will share this in a later post. Here in Ubud, you can see and join in any wellness or spiritual activity.
You can discover your inner goddess, and even learn how to get your yoni's (vaginas) to sing and to speak their mysteries to you. (I can't hear you!)
Stay Ubud
There are many accommodation options in Ubud, with home stays on the rise, according to the ladies where we stayed. We chose a traditional Balinese place set in a compound that we found through Flip Key, and we will write about this as it was a great stay with local Balinese women taking very good care of us.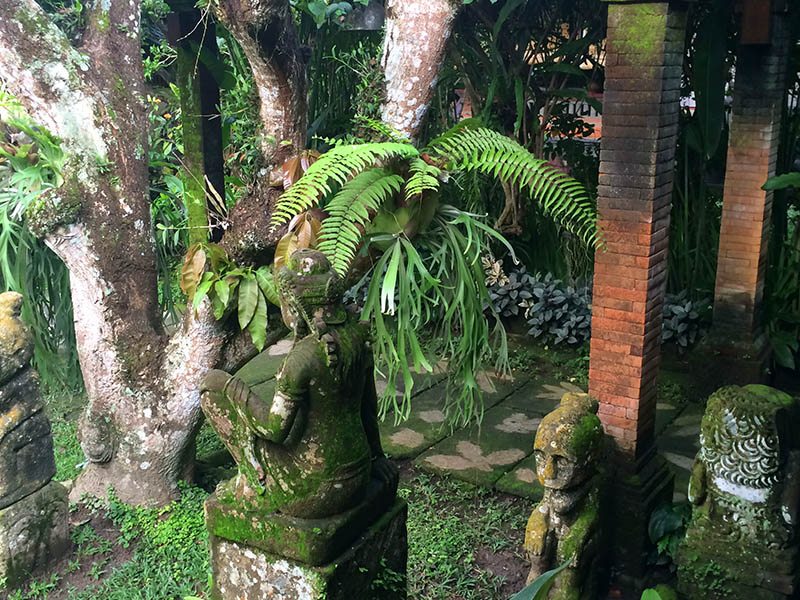 Bad Ubud
Ubud has some bad points, of course. The streets have improved, but .. there are still open drains, and you can expect to walk up and down along the footpaths…up and down, up and down. The gutters are very high because when it rains, it really rains. And then the sun comes out, and the inevitable humidity becomes even denser.
The traffic is heavy at certain times of the day but nothing that you won't get used to. Worry more if you see a foreigner driving a motorbike, as they are not as adept at avoiding we pedestrians.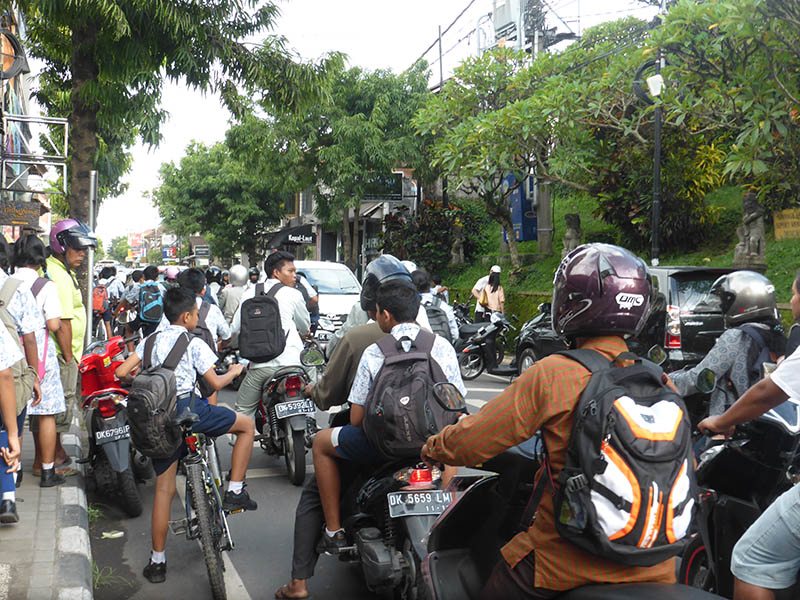 People Ubud
Yes, everyone owns a taxi and everyone wants you to take you somewhere. It is a simple 'no thank you' and that is it. I saw some rude tourists who couldn't even sum up the courtesy to say no thank you. It may be a bit irritating, but bad manners is a lot worse. You should hear how you sound and see what type of impression you give to others when you are rude ..or worse – arrogant.
To the woman who snapped her fingers at the lady in the warung to remove a dirty plate – you are rude and I have not finished with you yet. You know who you are.
The people of Ubud are nice. They love their city, their religion, their family and yes they even love you.
If you say that you like Bali or Ubud, you will receive a heartfelt 'Thank you'; they are so pleased that you like their home.
They like to talk and will freely tell you about how they live and what they believe in. The women cook all of the food in the morning at 6am for the day; they worship and make offerings to their ancestors, the gods and to keep the demons pacified throughout the day. That is how it is, and this is their entire life. Religion. The school children are always immaculately dressed for school, and you hear them laughing and see them praying, playing and eating – so some things are just global.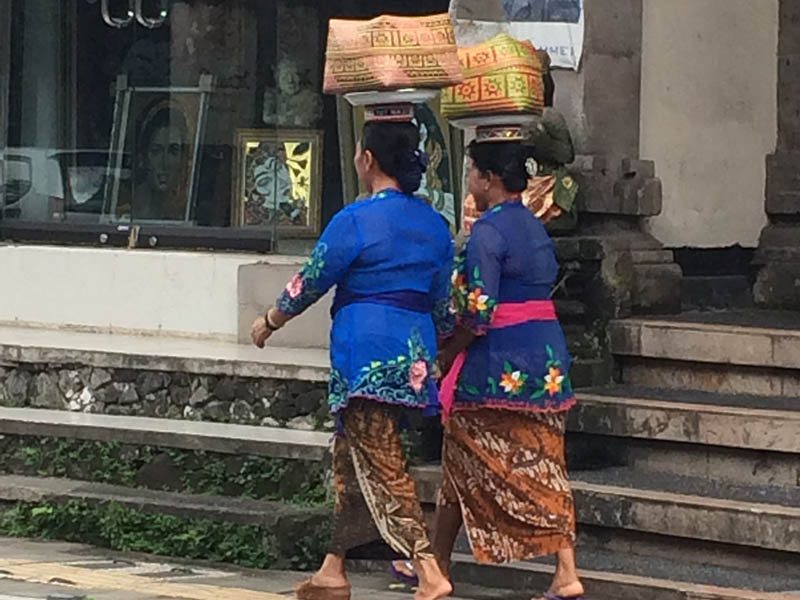 Has Ubud Bali changed since That Book and That Movie? No, I don't think so. Yes, there are more of the busloads of people coming here, and I can understand why. Ubud is a place that needs to be on everyone's agenda. It takes no time before you can be wandering by yourself through some lush rainforests to a village that few people go to…even to a cockfighting village as we did on a previous visit. The food is still amazing, the people are just as friendly, and really the amount of people 'discovering themselves' makes it even more interesting for people watching…and listening to some ladies describing themselves as goddesses as the play with their crystals and this all brings a new level to an already enticing place.