Watching the San Francisco 49ers Game live, was an experience that is quintessentially American. The match was the San Francisco 49ers vs. Atlanta Falcons, and a spoiler alert is that the team we wanted to win, did win.This is a sport that we do not know a lot about, but that does not detract from getting immersed in the entire production that goes into American football. It was exciting from the crowds, the food, the color and the entertainment.
So, Who are the San Francisco 49ers?
The San Francisco 49ers are a professional American football team located in the San Francisco Bay Area. The name 49ers name came from the tough as guts mining prospectors who arrived in Northern California in the 1849 Gold Rush. When the first Northern California football team was founded in 1946, the name 49ers was selected.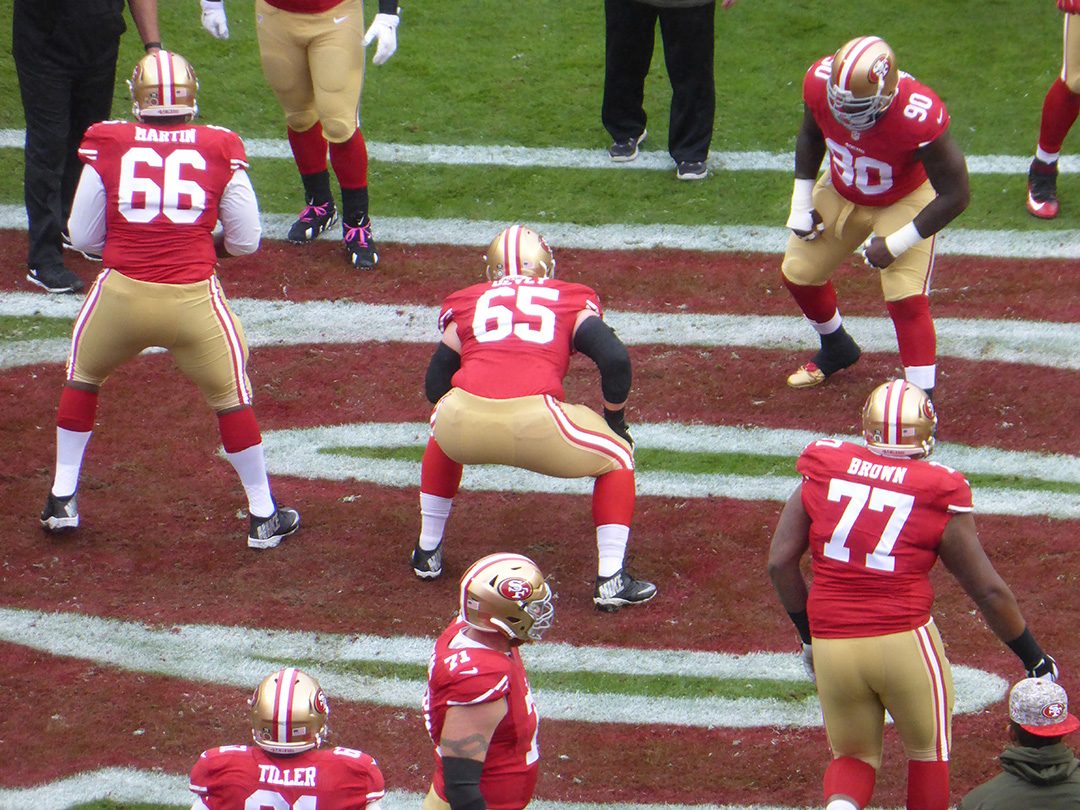 American Football in Australia
American Football is not hugely watched in Australia, as we have our own codes of football. However, we all did start to watch the San Francisco 49ers, when an Australian was chosen in the team.
Getting to Levi's® Stadium
There appear to be many ways to get to the new stadium, which replaced Candlestick Park, where the Beatle performed their final concert, which was closer to the city of San Francisco. The San Francisco 49ers now play their home games at Levi's® Stadium, in Santa Clara, 45 minutes from San Francisco.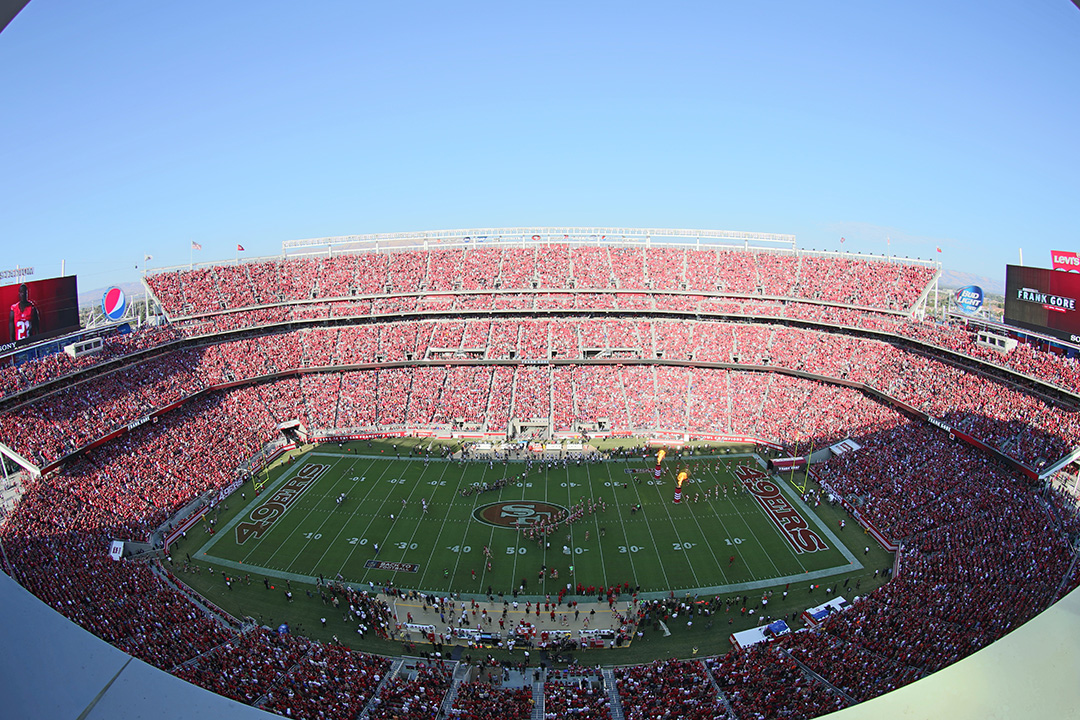 Rally Bus
Each person we asked and each site we sourced had different information. None of it was wrong, but a lot seemed convoluted and confusing. We ended up selecting the Rally Bus, which was $50pp round trip on a supporters bus. We were picked up at Fishermans Wharf, and this is what we would recommend. It gets you there and back, without worrying about the time spent on the trains or the traffic on the road.
This is a national company that takes you to events, performances, etc. We were not sponsored to say this. We just found them totally convenient.
Book Online
Rally Bus
The Red Zone Rally
We walked through the tailgate parties taking place in the car parks and for us, this was a novelty as we don't have this in Australia.
We then headed to the Red Zone Rally. This is a co-venture with Great America, a theme park. The Red Zone Rally is for pass-holders to enjoy a catered tailgate party inside a private, air-conditioned space featuring ALL of the early NFL action. There are 15 screens showing every game. There is every manner of food and beverage that you can think of, and a lot of red 49ers gear being worn. It was a blaze of color and noise and fun. There is a band playing, mascots and cheerleaders roaming around. There is also free access to ride the Flight Deck roller coaster before each game, which I didn't partake of. Too fast and too scary.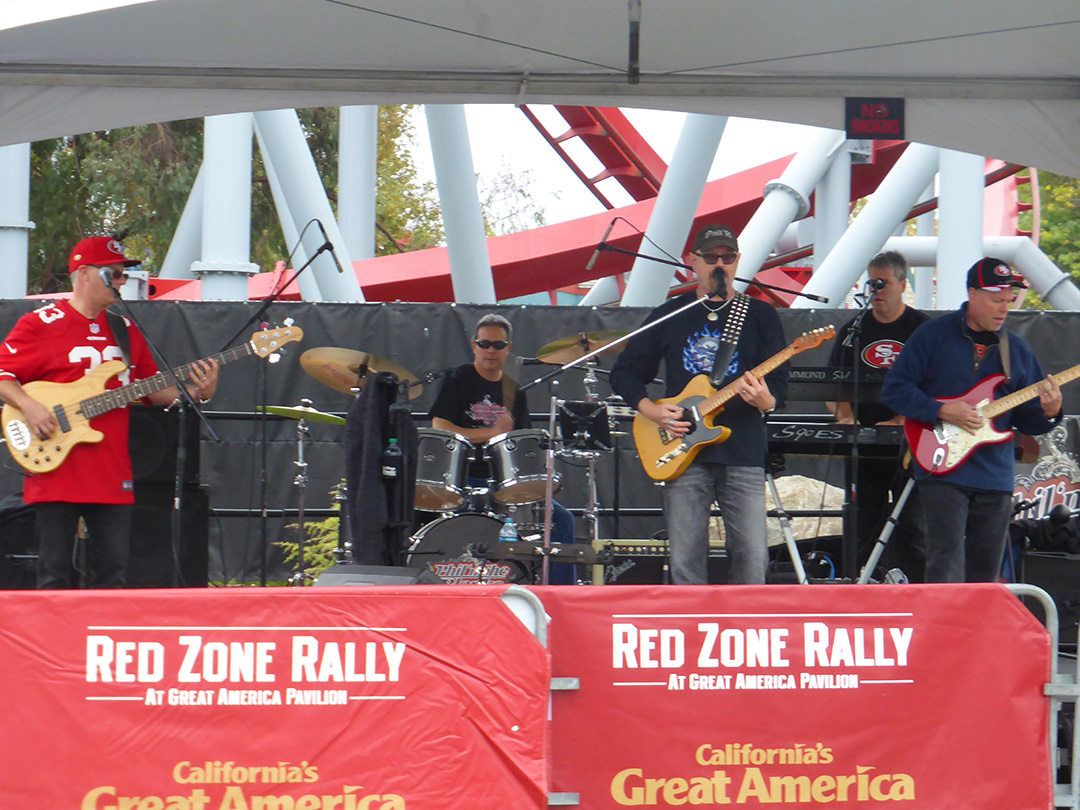 Levi's® Stadium
Levi's® Stadium is incredible. Levi's® Stadium is considered to be the most high-tech stadium in the world, and so it should be as it is located in Silicon Valley. It was officially recognized as the Sports Facility of the Year by Sports Business Journal in May of 2015 and has also been named as Venue of Year by The Stadium Business Awards in Barcelona, Spain.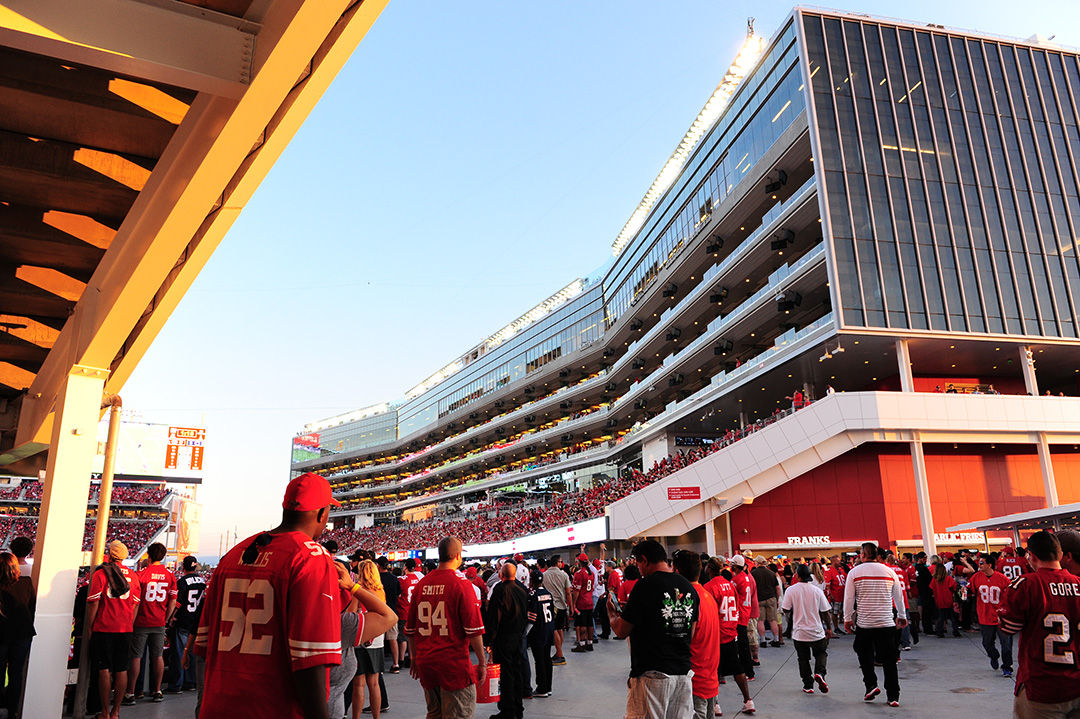 We had downloaded the Levi Stadium app, though the people are all so friendly it was easier to ask a question than use the app.
People are friendly here as they are in San Francisco, something we have noticed in the few days we have been here. They are not just friendly but super polite. Just wanted to say that, because this has given us a great start to our big trip to the US and Canada.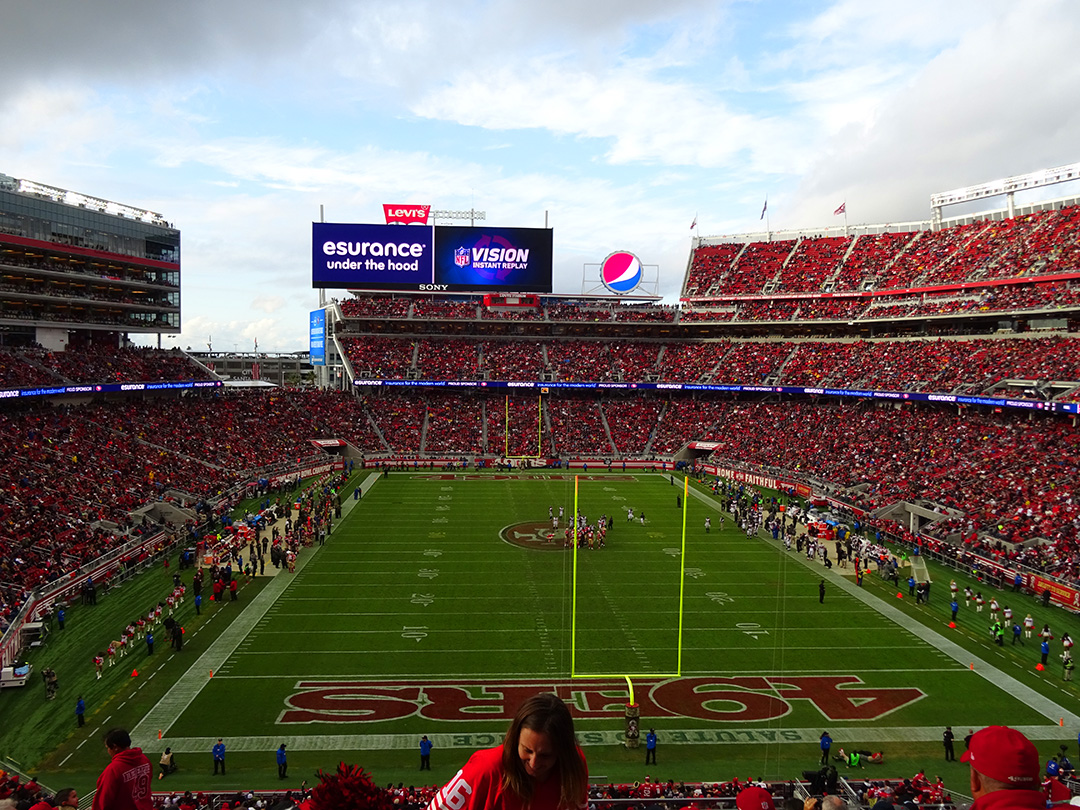 Pre-Match
This was full on. There were so many meaningful and entertaining things happening. Of a lot of significances was the Salute to Service campaign in honour of Military Appreciation Month, where the 49ers and the fans honored the military personnel at the game.
The National Anthem was sung by Navy Petty Officer First Class Steven D. Powell, who performed during the 2014 World Series, opening for R&B artist Montel Jordan.
There were 150 Service Men and Women who did the pregame American Flag presentation and halftime concert on the field.The colors were presented by The Joint Armed Forces Color Guard.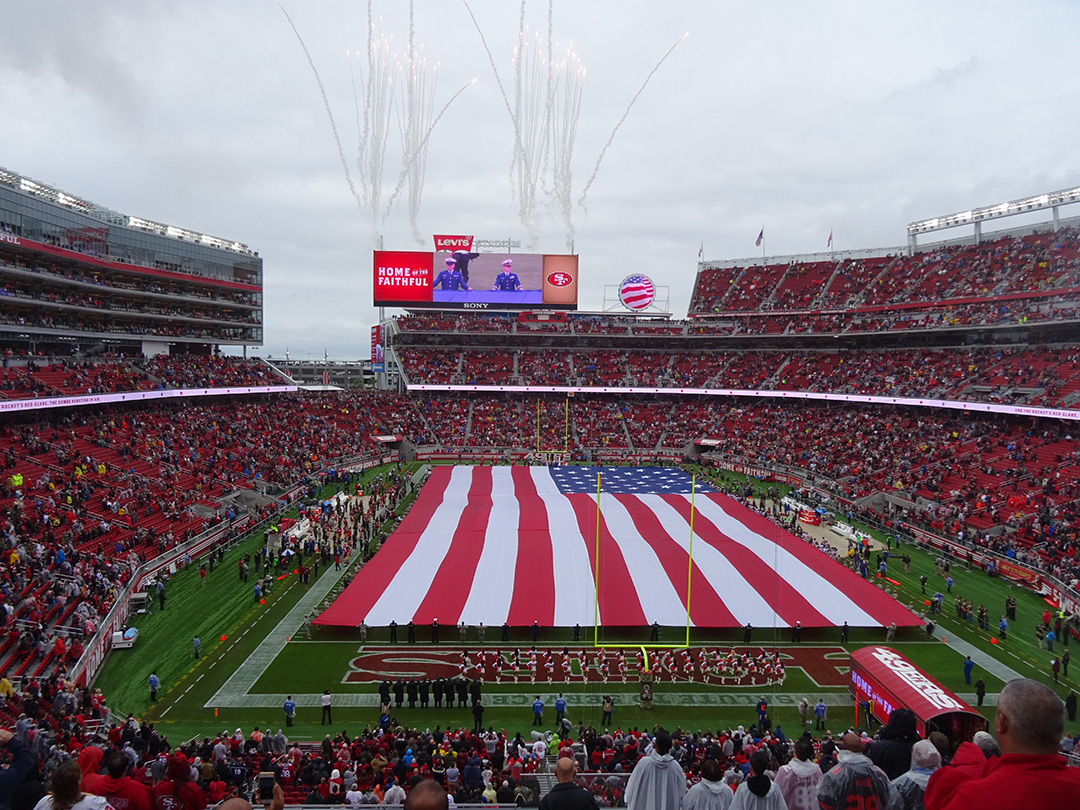 The Airmen from the 60th Air Mobility Wing representing the 6th and 9th Air Refueling Squadrons flew a KC-10 Extender over Levi's® Stadium just before kick-off.
As part of the San Francisco 49ers Alumni Weekend there was the honoring of the 50th anniversary of the 1965 team. And then they came and sat near us, but we didn't know who they were though people around us sure did.
There were drummers and cheerleaders, fireworks, a DJ keeping us all pumped up and a big board telling us to 'make some noise.' Ok, I still don't get it but we had a lot of fun.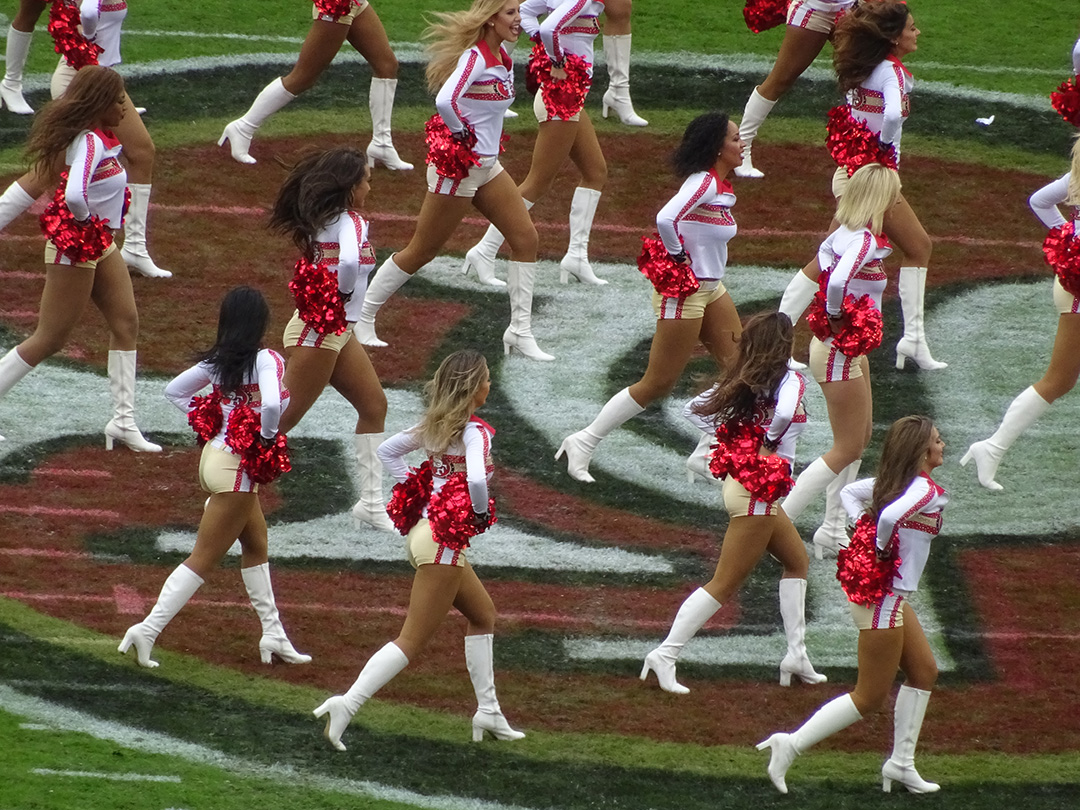 The Game
Gordon has a much better handle on it than I did, and we were fortunate that there were people around us to answer questions. When I asked my new American friends sitting behind us, 'was that good?', They would tell me. Eventually, they started tapping me to say, applaud. People high-fived us when good things happened.
We did a lot of high-fiving because the San Francisco 49ers won. We also won because we had a new experience, and one we would highly recommend that you all do.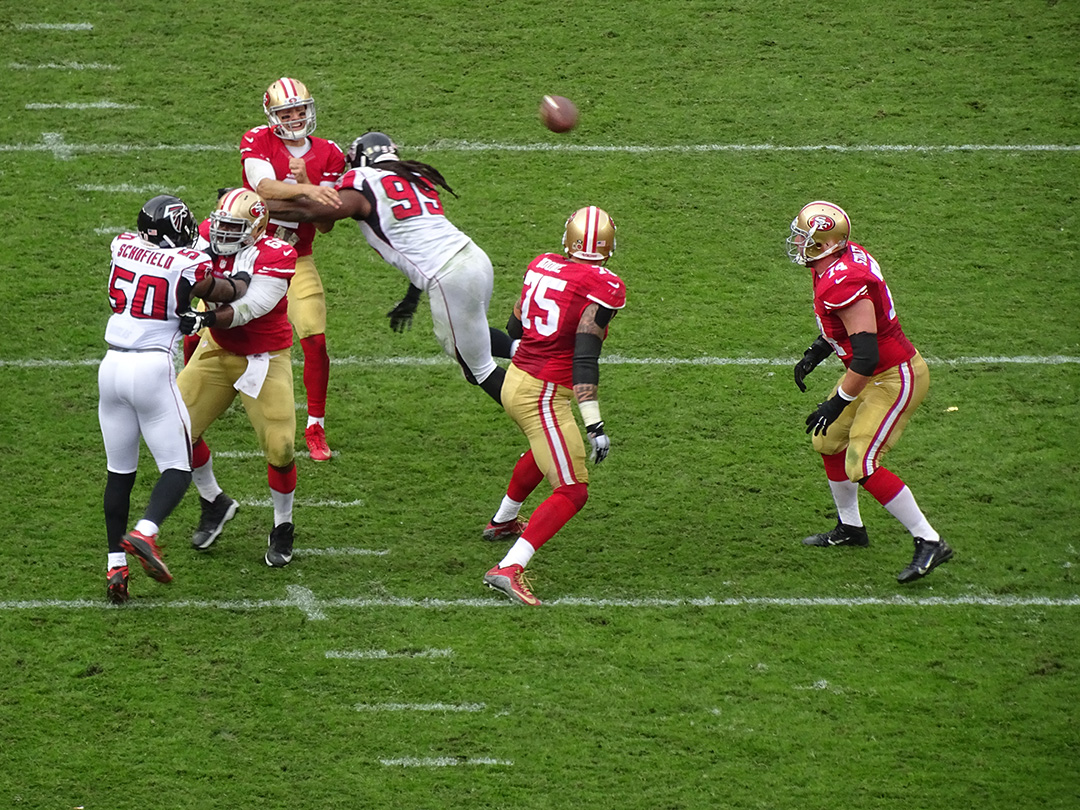 Trivia
Why does Levi have their name on Levi's® Stadium
Levi Strauss & Co. purchased the naming rights to the new stadium, in, 2013. The deal calls for Levi's to pay $220.3 million to the city of Santa Clara and the 49ers over 20 years, with an option to extend the deal for another five years for around $75 million.
Who is Sourdough Sam?
The team's mascot is a gold miner named Sourdough Sam and he wears Levi's.
How to get tickets to watch the 49ers play?
Thank you to the San Francisco 49ers for sponsoring us. All views are our own, but you could probably tell that already.
Have you seen an American Football Game?
What do you like about it the most?
Do you have a favourite team?