Economy Plus at United Airlines is precisely where the trending market is.
Of course, we all want to fly first class, but let's face it, without winning the lottery, for the majority of us, this isn't going to happen.
This is a mere dream for mere mortals but Economy Plus seating is not. There is flying cheaply as possible and flying sensibly to make sure that you arrive and return without severe spinal injuries. Economy Plus gives you that extra space that makes an immense difference.
People travel long distances and know that long haul flights are not the most pleasant experiences. To upgrade to economy plus is a big consideration, that many passengers are not just considering but are opting for.
Economy Plus at United Airlines is where the market is
Pitching economy plus is actually quite a savvy move from the United Airlines. They know that more and more people are traveling and that they want to travel in as much comfort as they possibly can. So the push from the airlines is not in tempting travelers with business or first class, it is with tempting us with very reasonable prices to purchase economy plus.
The Plane
Boeing 777-200. This plane, smaller than its predecessor 747s, features eight First Class seats, 40 seats in Business (front and rear facing), 108 in economy and 110 Economy Plus. United has realized travel trend and potential market and is unique in offering more of the upgraded economy class offerings.
Economy Plus
[clickToTweet tweet="Economy plus seating provides you with five inches of extra legroom #travel #traveltips #United" quote="Economy plus seating provides you with five inches (12.7 centimetres) of extra legroom" theme="style3″] and is located at the front of the economy cabin, which makes the flight a lot more comfortable. The seats are the same width (18 inches or 45.7 centimetres) as the standard economy. It is just that bit easier to move out of the seat without bumping others so much. Who would have thought that five inches would be so enjoyable?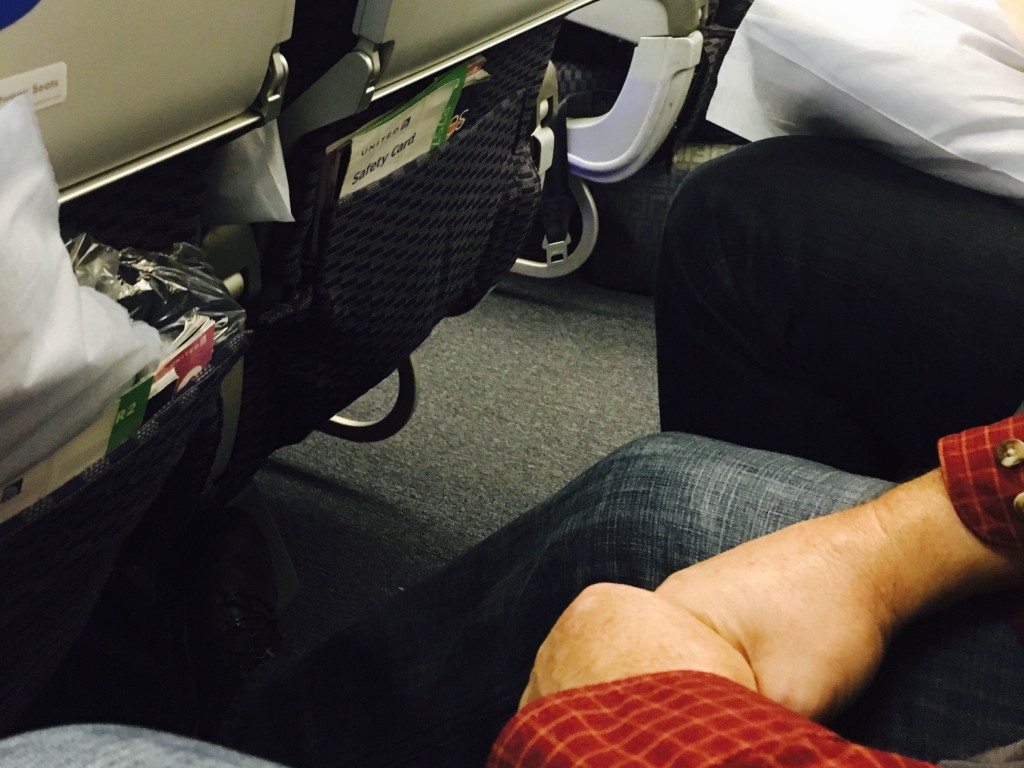 Our experience
We flew with United Airlines on two long haul flights from Sydney to San Francisco (14+hours), and Los Angeles to Sydney (14+ hours) , and to domestic flights, San Francisco to New York, and New York to Los Angeles (6 hours each). On all legs we were in the economy plus section, and very pleased we were, so I think we can speak about economy plus with some confidence.
The amount of extra room is significant. Take this example. Me, small at five ft 2 is on the window seat. Husband is big at nearly 6ft and in the middle seat. Another man who is taller still is on the aisle seat. I need to go to the bathroom. Both men, just swing their legs to the side for me to walk past rather than having to stand up and move into the aisles. Win, win., and I bet they wished I didn't drink so much water.
What does it cost?
For the Los Angeles to Sydney leg of the flight, a grueling 15+ hours, an upgrade to Economy Plus was being offered at $250 and people were buying it.
Economy Plus is based on the legs per journey. As this is a long flight, there are more legs. Contact United to get the exact price.
Check out the Frequently Asked Questions
on United Airlines site, by clicking here.
Is it worth it?
The advantages are that you are in a smaller section of the plane, between economy and business class, so it is a lot less-crowded section of the plane.
Even if there are economy plus seats free, it will be rare for an airline to upgrade an economy passenger to this class, and thus, we did see empty seats in economy plus. It is probably to make passengers think ..next time, we will just book this empty seat. You do have the chance to upgrade on the plane if the thought of this extra space is enticing.
You are seated closer to the exit doors, and can exit the plane easier at your destination and more quickly and after a long haul flight you seriously just want to get off the plane.
I hate it when the seat in front of me reclines into my lap, or worse reclines as I am about to eat my dinner, spilling it over me. Yes, it has happened but on a different airline and a different continent. For that alone, it is worth it.
You can bend down and access your bag under the seat in front without being a contortionist and for a person always trying to get things from my bag this is great that I can do so without bothering anyone…or hurting myself.
Economy Plus at United Airlines subscription
Economy Plus can be bought on a one-time basis, or a one-year subscription, for those who often fly and with United Airlines.
United Airlines now offers annual Economy Plus packages, which get you unlimited upgrades for a year. The domestic subscription, which starts at $499, can easily pay for itself in just three transcontinental trips. (Global packages start at $699.)
Verdict
There is no going back. I must say we were both very surprised at how much difference an extra 5 inches does give. The marketing by United Ailines is very well considered. Economy passengers are prepared to pay for that little bit extra for room and convenience but are not prepared to fork out the huge amount needed for the other classes above. We would rather spend our money on the ground at our destinations.
As an aside.
United Airlines have a seriously ingenious safety demonstration. This again shows that they are thinking very cleverly about their product and marketing it very intelligently. I know that as a regular flyer, I barely lift my head for the demonstration and yes …my bad. However, United Airlines have a very witty, funny and informative safety video, as well as live demo, and we were all watching the safety movie. This is the first time that we actually saw how to unwrap the safety vest that is stored underneath the seat. Kudos to United for getting smarter and making people want to watch and learn from the safety information. Check out youtube to see this