Are you hungry?
Well I can guarantee you will be as some of the best Travel Writers bring you their favourite 50 must Try Foods from Around the World.  Food and travel, travel and food are one and the same for us, and for many other travellers. It is one of the most satisfying aspects to taste the foods of the country you are visiting, and to experience what the local people eat. Food tours are a very popular way to experience a regions culinary delights.
Let's take a culinary journey around the world and see what our travel writers have selected as their favourite dishes.
FOODS AROUND THE WORLD – ASIA
Mohingha from Myanmar
Khao Soi from Thailand
Goi cuon – Fresh Spring Rolls from Vietnam
From A Mary Road
You will be surprised how much products Vietnam can make out of rice, one of those is the popular Goi Cuon or fresh spring rolls.
Goi Cuon or Fresh Spring Rolls is made out of vegetables (carrots, coriander, lettuce, or anything else you want to add) and meat (fish, shrimp, pork, chicken or beef).  If you are vegan or vegetarian, you can easily forget about the meat and make it all vegetables. All the ingredients will be wrapped by rice paper whilst the dipping is sweet peanut sauce, sweetened vinegar is a common option too. This is serves as a starter, snack or even main dish.
This dish could be found in any Vietnamese restaurant, either local or luxurious one, it is also an everyday dish in the local Vietnamese house. It is a must try when you visit Vietnam.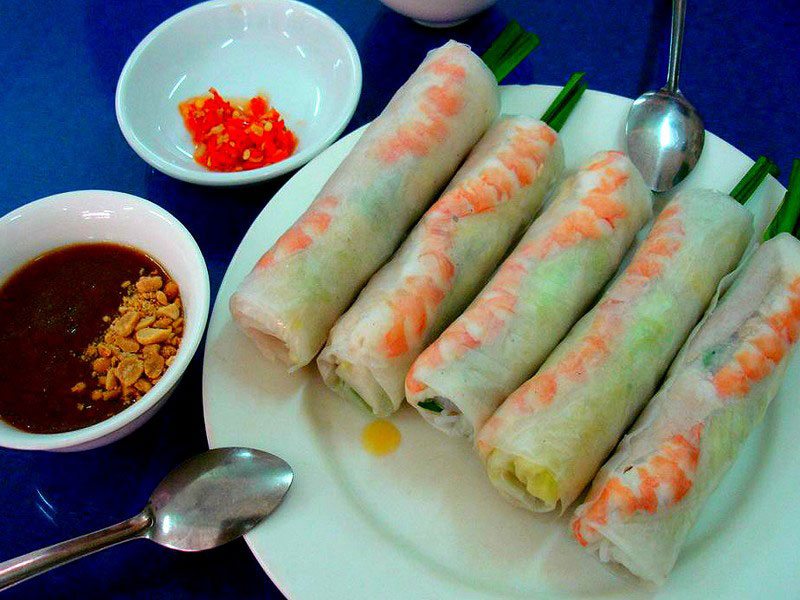 Chicken Curry from SRI LANKA 
Having just spent a month in Sri Lanka, I'd have to say that the Chicken Curry there is easily one of my favorite meals in the world.  It's large, filling, and absolutely delicious.  I'll never forget the first time I ordered it — I was actually juat expecting a bowl of chicken in a curry gravy, and some steamed rice alongside it.  Wow, I could not have been more wrong.
When you order any curry dish in Sri Lanka, it comes with heaps of sides!  The extras vary on the place, but most of the time you'll have some type dhal curry, mango chutney, various spices, and papadums.  When you combine it all on your plate, you're in for a real special treat.  One last important tip — don't forget to eat it with your hands!
Penang Curry from Thailand
from Getting Stamped
In the past 3 years, I've traveled to 64 countries and I can still remember that amazing bowl of Penang curry in Koh Lipe Thailand. I love all Thai food but there is something extra special about the curry with all the flavors, textures, and you can't forget the spice. I typically go for a green chicken curry but this Penang curry from Sunrise Beach Restaurant in Koh Lipe knocked it out of the park. No joke I was there on day 1 on the island I had the curry for breakfast & dinner (shake for lunch) on a daily basis, I literally couldn't get enough of it. Plus look at this view, nothing beats a tasty bowl of curry with your toes in the sand staring off into the ocean.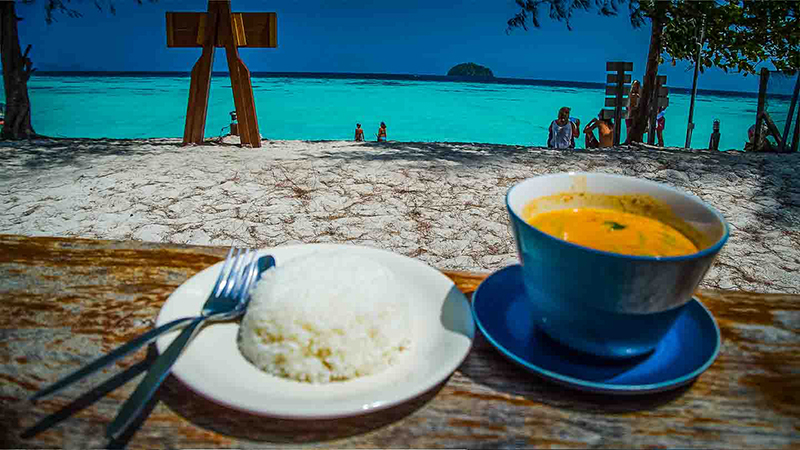 White Roses in Vietnam
from Every Steph
I arrived in Vietnam after a month around Thailand. Which is, a month of pad thai, papaya salad, and massaman curry…amazing food. Everyone had told me I would fall even more in love with the vietnamese cuisine, but after a few days in "the land of the dragon" I was starting to doubt it. Pho bo, one of the vietnamese specialties, wasn't my favourite, but in Hoi An everything changed. Hoi An has a special, regional cuisine, and one of the specialties the town can boast is the white roses. These are dumplings made from translucent rice dough and filled with shrimps and meat, served with fried onions and a creamy sauce. Absolutely mouthwatering!
You will find the dumplings in most restaurants in town, but only one place knows the original, secret recipe – guess how it's called? White Rose restaurant!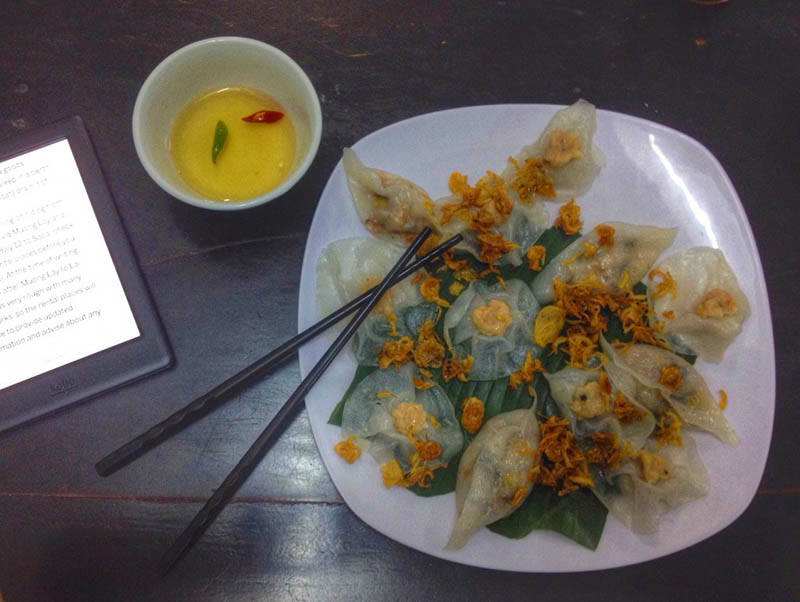 Pad Thai from Thailand
from Pretty Wild World
Pad Thai is one if the many foods that are widely served, with a slight difference, all over Thailand and is also a popular dish word wide. Before my visit to Bangkok I've only eaten Pad Thai from mock up Thai restaurants here in Finland and I was not impressed. However, during my week long visit to Bangkok in 2013 I gave this traditional dish yet another try and I was taken aback by its simplicity! It is simple yet full of flavor, and I would never see Pad Thai as it used to be ever again! To be honest, this dish is very easy to make, and in fact, I make this dish rather often at home and even though it is a far cry from what I've tasted from the streets of Bangkok, it is far better than the Pad Thai's served in the restaurants here in Finland.
Dim Sum From Hong Kong
from Mum on the Move
Dim Sum is the Hong Kong locals' favourite way to enjoy a leisurely breakfast or lunch with family and friends. This Cantonese specialty consists of several traditional snack-type dishes, including steamed or fried dumplings, buns and pastries, all served in small bamboo steamers or plates. Each serving is small, just three or four pieces, and so ideally a selection of dishes are shared amongst friends. Dim Sum is traditionally washed down with copious amounts of Chinese tea, hence the alternative name for eating Dim Sum "yum cha" (literally "drink tea").
The most famous place for Dim Sum in Hong Kong is Maxim's Palace at City Hall, where it is still served the traditional way – from steaming carts piled high with bamboo baskets. For something more salubrious, book a table at Lung King Heen at the Four Seasons hotel, the world's first Chinese restaurant to be awarded the coveted Michelin three-star rating.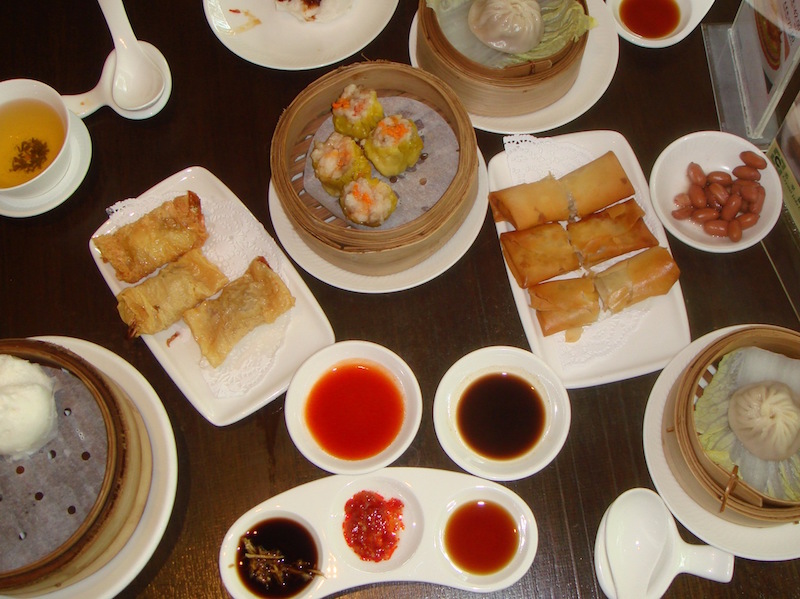 FOODS AROUND THE WORLD- EUROPE
Vienna Schnitzel from Austria 
Confit de Canard from France
I love everything about France.   The beauty of its cities and villages, the romantic nature of the language and of course, the food.  Simple, elegant and always using the best of their seasonal produce, I love to eat it, and cook it.  
My favourite French dish is Confit de Canard, or duck confit to non-Francophiles.  Cooked slowly for many hours in its own fat, the end result is soft, moist and incredibly tasty duck.  Not a culture known for worrying about using too much fat or butter, the duck is usually served with duck fat potatoes and a salad. It is considered one of the best dishes in all of France, and I most certainly am a fan.
Lumachelle from Italy
From A Cook Not Mad
Translated, lumachelle means snail, the symbol of slow food and slow travel, two of our absolute favourite things in life.
In Orvieto, a designated slow food city, they bake an Umbrian bread called lumachelle, a delicious savoury bun rolled like a snail with bits of pancetta and Pecorino cheese kneaded into the dough. Many recipes will have pepperoncino or a good dose of fresh ground pepper in them to spice things up and you will also find vegetarian versions.
If cinnamon buns have a savoury cousin, lumachelle are it and fresh from the oven they disappear quickly with a cold glass of Orvieto Classico or Peroni. Many bakeries in Umbria sell them in different sizes, small for eating with an aperitivo and larger to accompany a meal, whatever size you make them it's truly a great taste of Italy.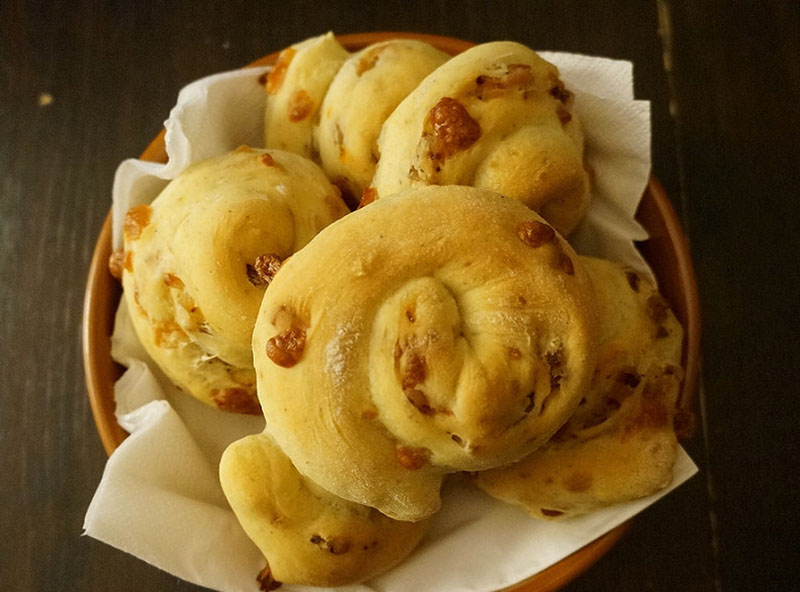 Mortadella de Bologna from Emilia Romagna, Italy
from MoreTimeToTravel
Mortadella de Bologna is so closely associated with one Italian city that Americans have adopted the slang term "baloney" for this smoked, cylindrical, pink, thinly-sliced sausage (and its wannabes). Under European law, authentic Mortadella can only be called that if produced in Bologna, other areas of Emilia Romagna, or in neighboring regions. Eaten at its source, this delicacy has no additives or preservatives, and contains small, white cubes of mostly unsaturated fat. Once you taste it, it's easy to become a convert.
Burek from Bosnia and Herzegovina
pa amb tomaquet from Barcelona, Spain
Pa amb tomaquet or bread with tomato must be one of the best contributions from Catalan cuisine to the world. Although the dish looks and is really simple to prepare, what makes this something I can only enjoy back home is the type of tomatoes and olive oil it needs to be drenched in – and the bread, actually. The best bread with tomato is made with a specific type of tomatoes that are only found in Catalunya and are very hard to come by these days. they are very soft, silky almost, and not juicy at all and they are planted and grown by farmers in the countryside. As someone who grew up in one of such farms, I used to simply go down to the basement to pick a tomato for the bread. In shops, these tomatoes are hard to find because they are soft and delicate. My dad picks them when they are ripe and hangs them in string in the open, drizzled with organic powder that keeps them from going bad and from pests. Hanging there, they last for months so we pick them in the summer and keep them for the rest of the year. The finishing touch? A generous serving of extra virgin olive oil, the type that can only be bought directly from the grove owners and, if you are lucky as I am, from my family's olive groves. Nothing beat this very simple yet fabulous taste! Add jabugo ham for a luscious fatty and flavourful meal.
Skyr from Iceland
Coming back from Iceland, I went through Skyr with withdrawal.  During my three weeks in Iceland, I had Skyr at least twice a day.  Skyr is a unique Icelandic yogurt.  There are a couple of manufactures of Skyr but I loved the brand that is called Skyr.  It is made from skimmed milk produced by local family run dairy farms.  It takes 3 to 4 times as much milk to make one thing of Skyr when compared to regular yogurt.  It is made using traditional Original Icelandic Skyr Cultures.  Skyr is a rich and creamy yogurt whose texture is more like sour cream than a normal American yogurt.  Skyr is only slightly sweet and comes in vanilla, strawberry, blueberry, and plain.  My personal favorite is the vanilla. I am so much in love with this yogurt about once a month I make the 45 min drive to the nearest Whole Food to buy a weeks supply.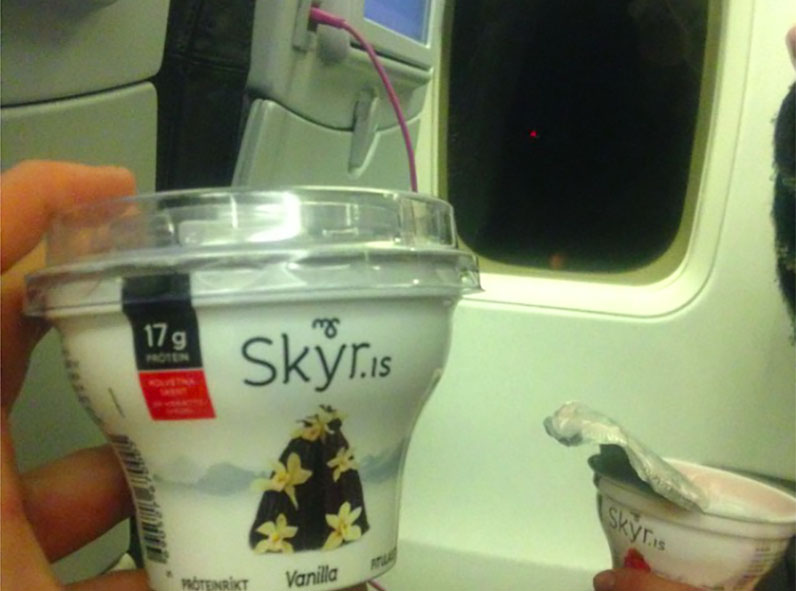 Traditional BBQ from Holland
from WanderWithJo.com
Let me start by saying I absolutely love the food in Holland. Be it Stroopwafles, raw herrings or the delicious croquettes, there is so much to tantalize your taste buds. If you count the variety of cheese available in the local farmers markets in Holland, you will go "ga-ga" over the array of options available. However, nothing can beat a traditional BBQ.
My Dutch friend invited me for a home BBQ organised in her sister's backyard. We traveled from Den Haag to Rotterdam and enjoyed the most delightful BBQ ever. Backyard BBQ's are the best and I feel enjoying local delights with locals just enhances the flavor of the food somehow. From chicken legs to beef patties we had it all. Couple it up with some beers and interesting conversations and this will pretty much make your day.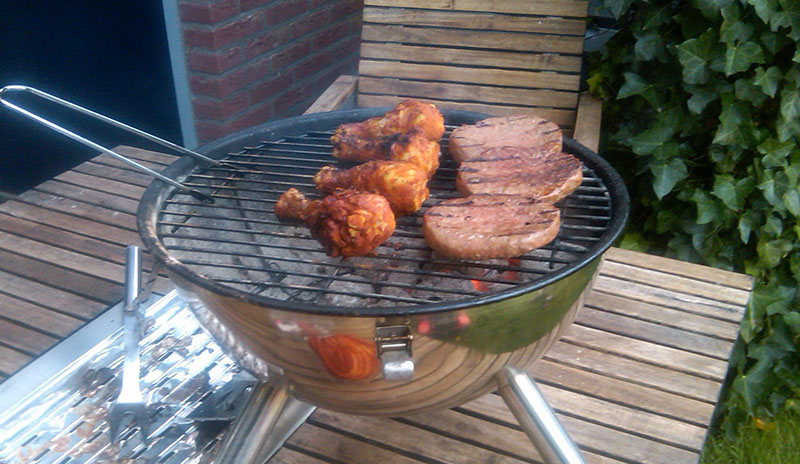 Surströmming from Sweden
From Chronic Wanderlust
Together with Swedish tunnbröd, potatoes, sour cream, tomatoes and onions, Surströmming makes a popular sandwich in northern Sweden.
The German food critic and author Wolfgang Fassbender wrote that "the biggest challenge when eating surströmming is to vomit only after the first bite, as opposed to before". You may ask yourself why he said that, now let me explain:
Surströmming (Swedish for "sour herring") is fermented Baltic Sea herring and has been part of the northern Swedish cuisine for centuries. The herring is caught around April each year, put into wooden barrels, soaked in brine and left to ferment for half a year to a year. After the fermentation process is finished the fish are filled into cans and ready to be sold.
Still doesn't sound too bad? Well the fish stinks. Imagine rotten eggs, a baby diaper, gas and you'll get an idea of what it smells like.
TIP: Eat the sandwich OUTSIDE and do not breathe through your nose 😉 Enjoy!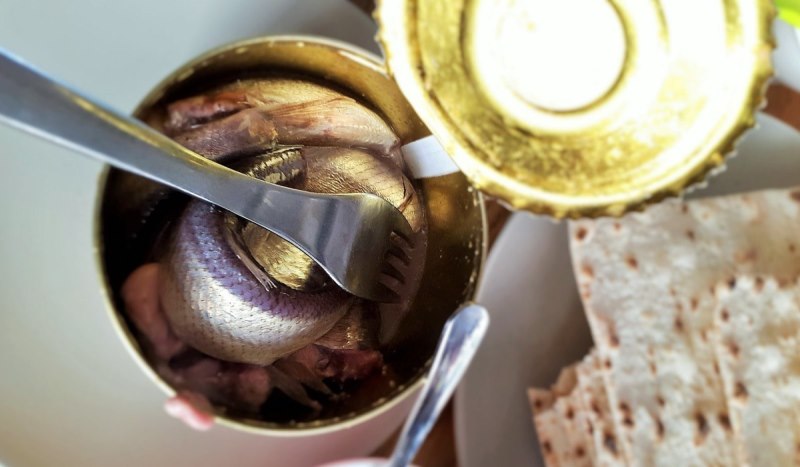 Cinnamon-Sprinkled Custard Tart from Lisbon, Portugal
To my wife's defense, we figured that the waters and the shrimp that swam in it were to be different from that of home. We were in the town of Vernazza, in the Cinque Terre, where the sea was as blue as the sky above.
The white wine was crisp, the fishermen were bringing their small boats to shore after a morning of fishing, and the tables filled with happy holidayers ready for a good meal. As an homage to this scene, Brenda decided to risk life for her favorite seaside dish, Frito Misto di Mare. A combination of seafood, including shrimp, lightly battered and flash fried. It was the best she had ever tasted, and the last. For now…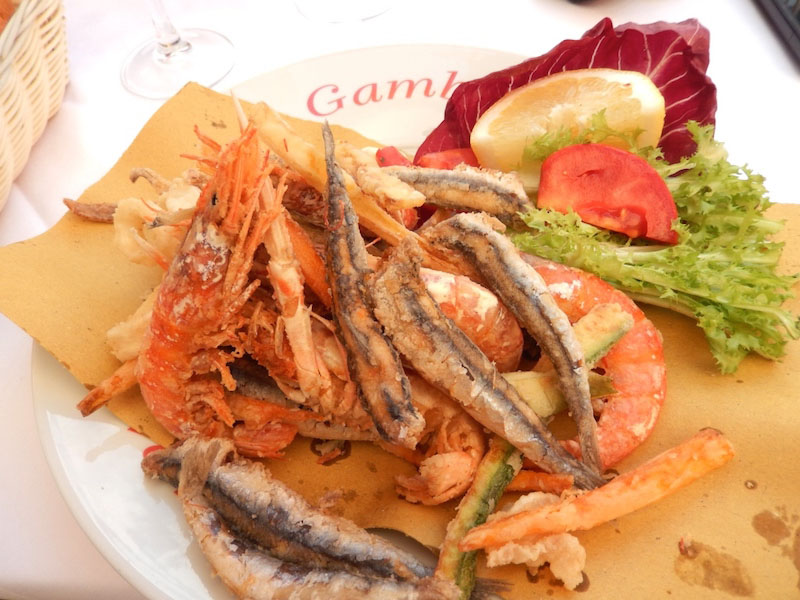 Lardo from Italy
from Pygmy-Elephant
Quintessentially a working man's meat, made by curing strips of pork fatback with rosemary and other herbs, Lardo is a favorite of the locals that live in Colonnata in North-West italy. Colonnata is famous for two things, the marble quarries that loom above it, and for Lardo, which provides the fuel for miners to wrench out chunks of the highly prized rock. The same rock, actually, that Michelangelo used to carve out David and Pieta. You can find Lardo all over Italy, but eating this delicate, buttery and slightly stringy meat is best done without another tourist in sight – in the town of Colonnata with a view on the small piazza below. Afterwards, a tour of the still working mines is possible, where you can get a feeling of the enormous depth and scale of the marble still present in the hills that produced some of Italy's finest masterpieces.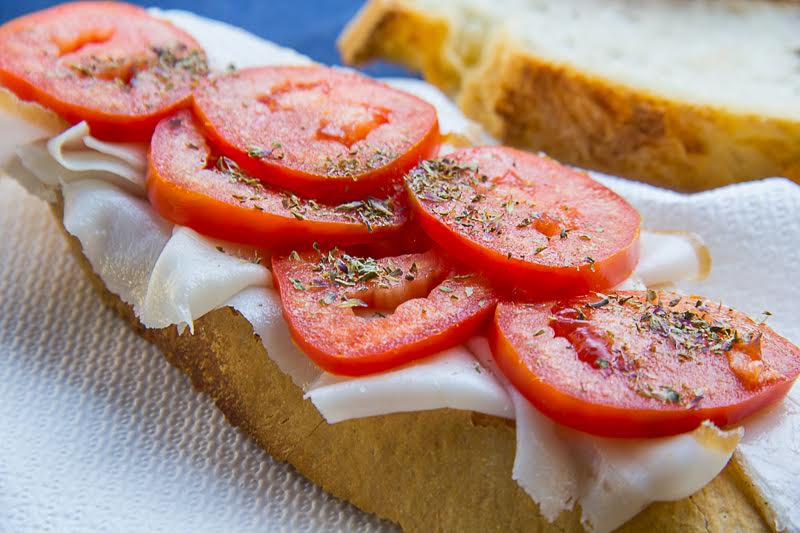 Käse Spätzle from Germany
from Food Travelist
It's no secret that I adore German food. I grew up eating much of it at home in Chicago. What I hadn't experienced until I traveled to Munich was käse spätzle. It's  the Germany equivalent to mac and cheese. Egg noodles mixed with a variety of cheeses – swiss, emmanthaler or gouda. Topped with crunchy fried onions. It's often served with a simple side salad presumably to make it just a touch healthy.  It quickly became my favorite treat in Germany.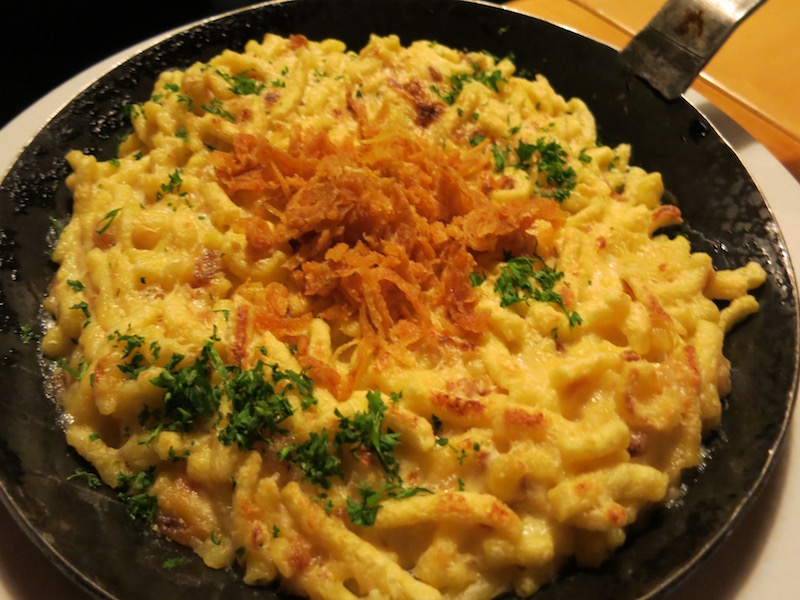 cim i tomba from Catalonia, Spain
 Syltede Agurker from Copenhagen, Denmark
From Hej Doll
During my trip to Copenhagen we experienced many things from bikes to boats to beaches, but my favorite was the food. We spent quite a bit of time eating at various restaurants and having more traditional meals with my Danish family. We even enjoyed quite a few Danish street hot dogs (a must!) Between the Rød Pølse and traditional Danish food with my family it became very evident that the Danish love their syltede agurker, which is a type of cucumber salad. It is mild and semi-sweet in flavor, used in place of pickles or relish on dogs, but can also be served as a side with a meal. I loved it so much and my Danish cousins were nice enough to share the family recipe with me. It is very simple to make and involves only a few ingredients and a few minutes of your time.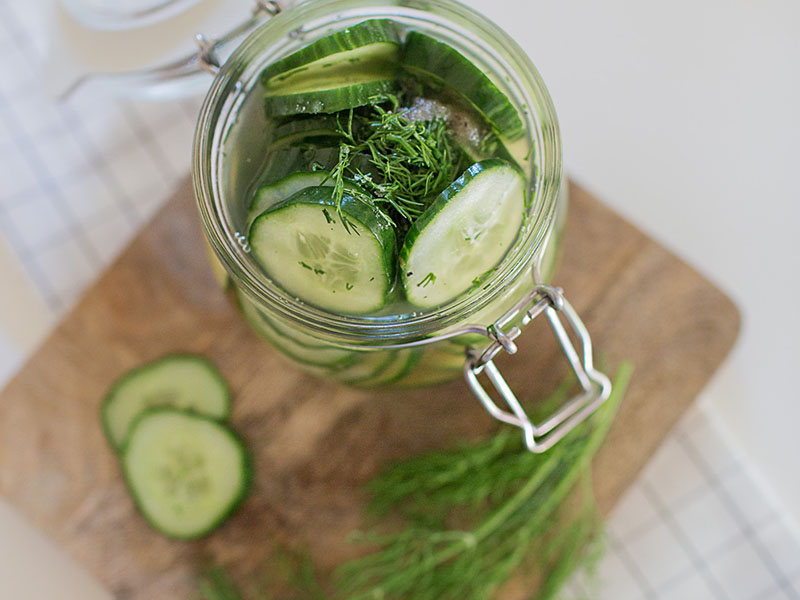 Loukoumades from Greece
from Explore with Erin
Greece is the ultimate foodie destination. And while Greek salad, souvlaki's and fried cheese make a magnificent meal, we all know the best part of any meal has to be the dessert! 
Loukoumades is basically like a Greek fried donut ball soaked in honey or syrup and sprinkled with cinnamon. They are soft, warm and mouth-wateringly good. Similar to an Indian Gulab jamun (dumplings in rosewater syrup). 
You can find them served with icing sugar in Greek restaurants in San Francisco, served to go style in Israel, but nothing beats the original and the best on a warm day in the Mediterranean seated beach side on a Greek Island. 
FOODS AROUND THE WORLD – AMERICA'S
Cioppino from San Francisco
A favorite San Francisco dish, which is always popular during crab season is Cioppino which originated from the city. Developed by Italian immigrants that eventually settled in the North Beach district of San Francisco, Cioppino is typical in many Italian and seafood restaurants throughout the city. The main ingredients include fresh Dungeness crab, clams, shrimp and fish, it is a tomato rich stew and one worth ordering on the menu and savoring.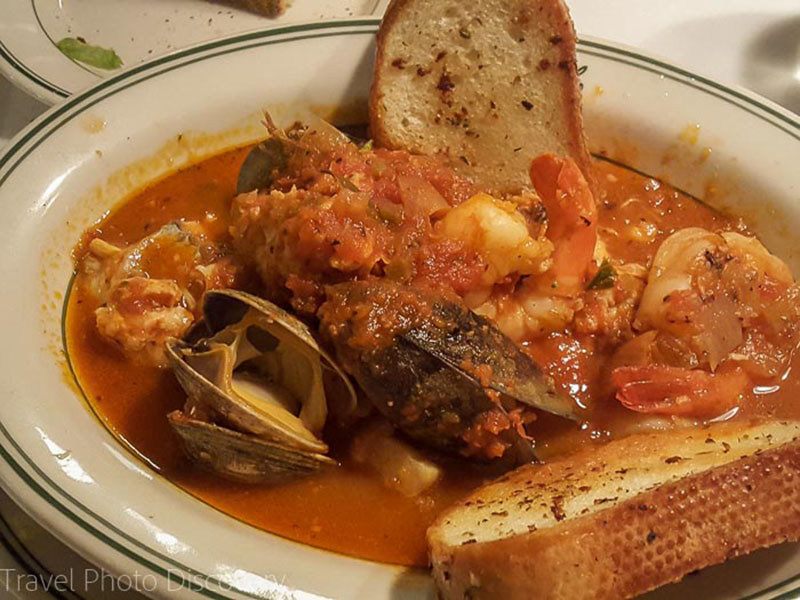 Chicken and Waffles – an American Classic
From Calculated Traveller
As a Canadian traveller, whenever I venture south to our neighbouring USA I eagerly look for some good home Southern Chicken and Waffles on restaurant menus. There is something about the crispy fried savoury / sweet taste of the chicken on top of a Belgian waffle all covered with maple syrup that screams America to me.
This photo from Bay Local Virginia Beach, Virginia, shows fried chicken and waffles in its most classic form. But don't be surprised to see variations of this comforting dish on fancier menus too — In Dallas, Texas, I dined on chicken fried quail and waffles with bourbon maple syrup and jalapeno gravy — both were delicious!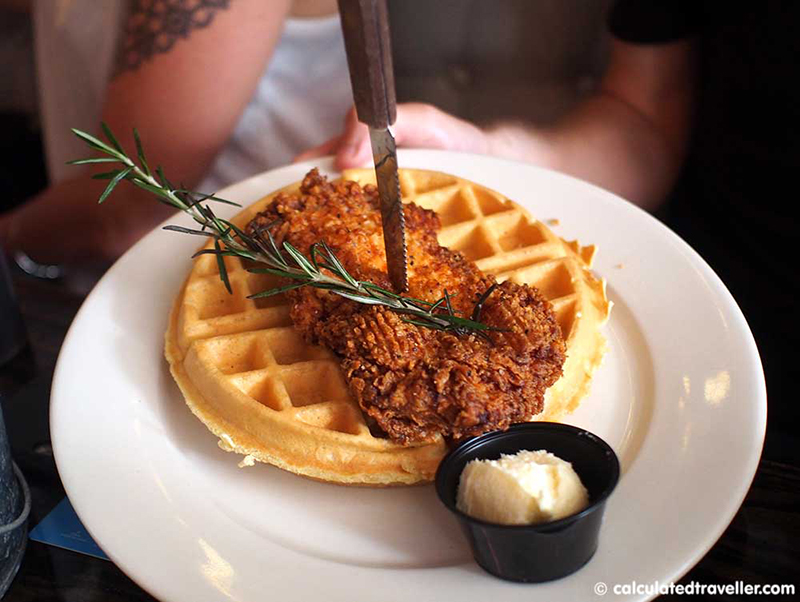 Muffulettas from New Orleans, USA
from The GypsyNesters
New Orleans legend has it that Lupo Salvadore started making muffulettas for the dock workers on the mighty Mississippi soon after he opened Central Grocery back in 1906.
Lupo stumbled upon two secrets that make his original sandwich almost impossible to duplicate. The bread, a round loaf of Italian, that somehow seems impossible to bake outside the city limits of the Big Easy, and the olive salad spread, which no one has ever managed to match. Without these a muffuletta is merely a salami, Italian ham and provolone cheese sandwich.
With them—and we're not exaggerating—this truly is the best sandwich ever in the entire history of the known universe… and the unknown as well. When God wants a sandwich, this is where he comes to get it.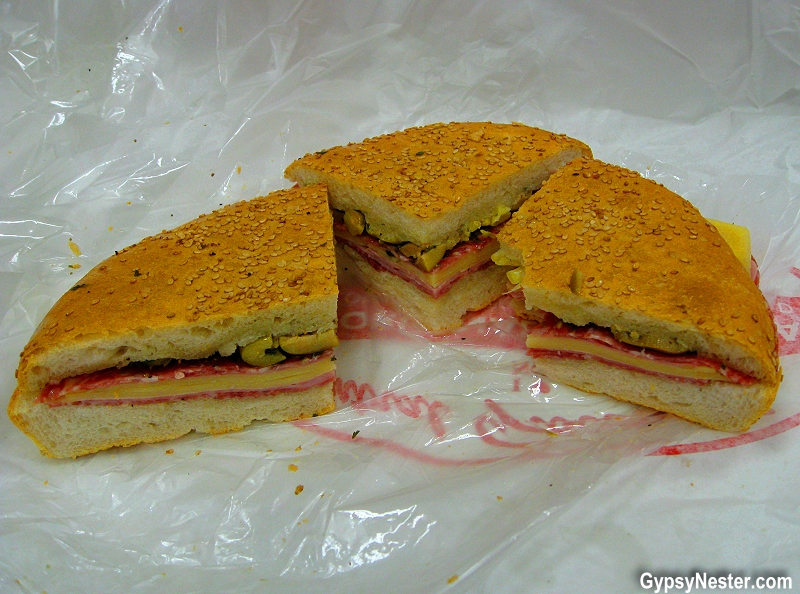 Grits from the USA
From The Island Drum
Nothing beats a steamy bowl of buttery grits. Grits are one of the few American foods, which actually originated in 'the Americas'. North America to be more precise. Native Americans introduced grits in North America to the arriving colonists of Jamestown, Virginia in the 15th century. They called their ground corn mash rockahomine, which the colonists shortened to hominy. Hominy (corn) eventually became a year round staple for the arriving immigrants and was ground at stone mills for grit meal or just plain 'grits'.
Growing up in the Deep South I had always assumed grits were some southerner's brilliant idea, especially since grits are usually equated to southern drawls, banjo music and moonshine. But grits have their place on the other side of the tracks as well.
Outside of the United States, it's a rare sighting to find grits available at overseas super markets, but I have on occasion seen them in Singapore. Polenta is usually the 'close enough' alternative for die-hard grit lovers. So if you love grits, and have plans to become an expatriate somewhere else on the planet, be sure to bring your own grits!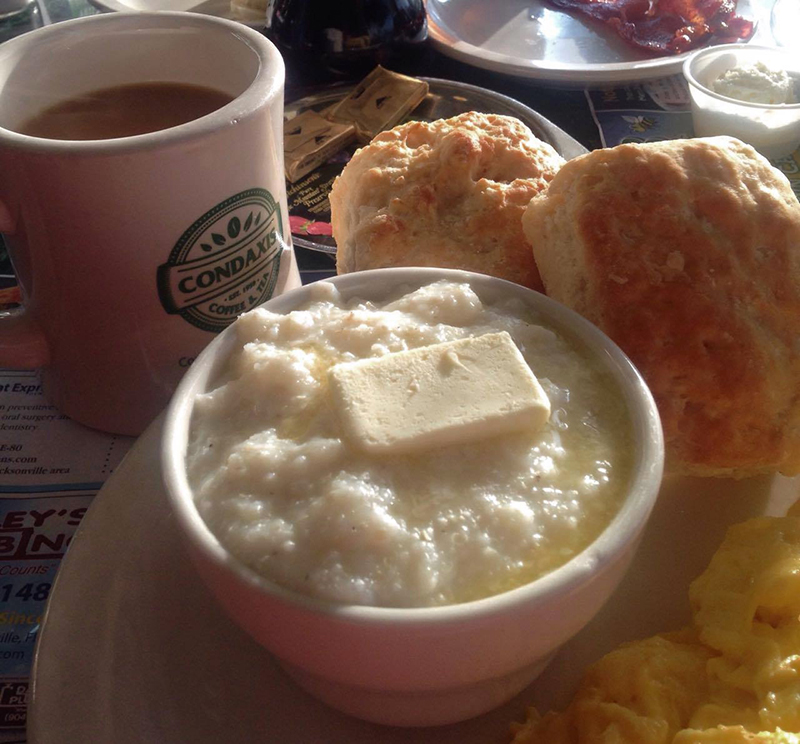 Oysters in Prince Edward Island, Canada
Cipaille from Quebec, Canada
from frugal first class travel
My introduction to cipaille was a truly Quebequois experience.  We wandered into an old fashioned diner down in the old port of Quebec City.  I don't think either the diner, the staff or the clientele had changed much since the 1950s.  There was not a word of English on the blackboard menu, or to be heard in the lunchtime hubbub.
We were there to try typical Quebec food, and cipaille was my choice.  It was described to me as being a bit like a shepherd's pie.  But what a surprise! Layers of different meats, with slices of potato layered between each layer of meat.  With a rich meaty sauce.  It was tasty.  It was filling and it was hearty and generous just like the Quebequois themselves.  Served in typical diner style with an accompanying cup of coffee, it was a meal and a dining experience that was uniquely Quebec. Definitely my favorite type of dining experience when I travel.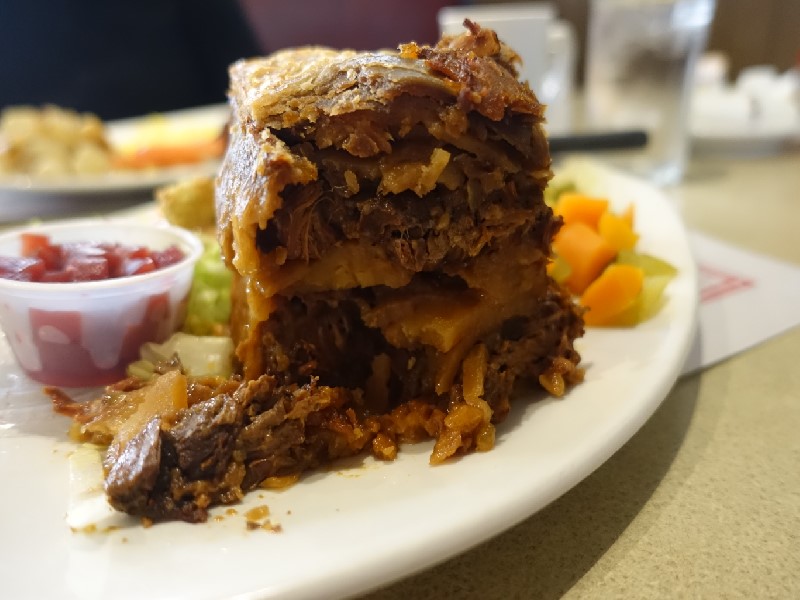 Poutine from CANADA
From  Pretraveller
I recently visited Canada for the first time and a definite must on my 'food to try list' for while I was in Ottawa was poutine – a curious mix of chips, gravy and cheese curds.  As an Australian this just sounds wrong, but when I actually tried it I was pleasantly surprised.  Good chips and gravy are definitely a classic combination, but the addition of the cheese curds gives the dish a lovely additional smooth texture and it just works perfectly.
My tour guide Paul Proulx from Tours Expedition Ottawa included fresh cheese curds as part of our picnic lunch the day after I tried poutine, and explained that the fresh cheese curds are squeaky for the first 1-2 days and need to be kept out of the fridge otherwise they harden. I can confirm that fresh cheese curds are also delicious!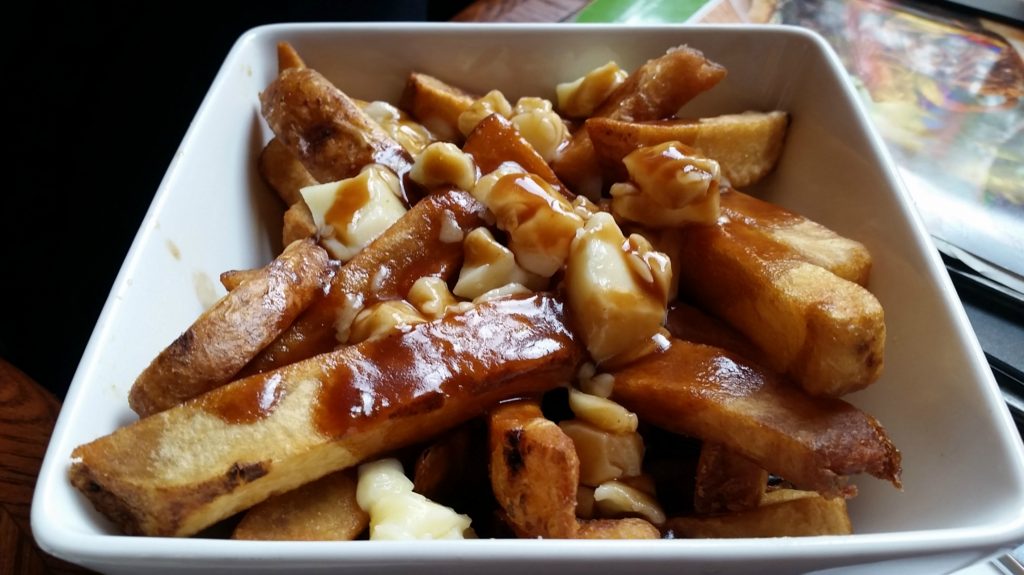 Pupusas from El Salvadore
from Road Affair
El Salvador's national dish, Pupusa will have you wondering how is it even possible to eat the same thing everyday and not hate it. With Pupusas you actually fall in love over and over again with each bite you take. What are Pupusas? Well, they are delicious handmade corn tortillas filled with countless ingredients like cheese, jalapeños, refried beans, fried pork skins or even flowers.  It's like an inverted awesome pizza made of corn served with curtido (cabbage relish) and watery tomato salsa. Pupusas are the type of street food where ordering just one is an insult to your taste buds. It will have you licking your fingers and wondering how did you devour it so fast. They're addicting! And of course our addiction has nothing to do with the fact that Pupusas are dirt cheap (US$0.25 – 0.50) or that it could be found just about everywhere in El Salvador and parts of Guatemala. If you ever get a chance to bite into one of these bad boys, DON'T pass it up, it would be like passing up a free ticket into heaven!
Locro de papa from ECUADOR
Fish Tacos from Puerto Escondido, Oaxaca, Mexico
from A Taste for Travel
Tucked on Mexico's southern Pacific coast, the beach town of Puerto Escondido is home to fishermen, surfers and expats drawn to the region's epic wave breaks, rich fishing grounds and palm-tree fringed bays. Set against the backdrop of Oaxaca's Sierra Madre Sur Mountains with miles of golden sand beaches, Puerto Escondido is also a mecca for adventurous foodies. The magical mix of indigenous heritage, bounty of fresh seafood and bustling mercado makes dining here a true culinary journey. A must-try for lunch is Dan's Café Deluxe, a breezy corner eatery, where a trio fish tacos comes served Baja-style — featuring perfectly battered fish and shredded coleslaw–on Fridays and Saturdays. Topped with guacamole, creamy chipotle sauce and pico de gallo, these are fish tacos at their tastiest. At under 100 MXN pesos (around $5 USD) for three, they're also a bargain. Watch surfing videos and pick-up surfer lingo from the sporty crowd while you eat.
Street Taco's from Mexico
from Santa Fe Travels
We love tacos and headed to a recommended San Miguel de Allende street stand on a Saturday night. At 9:30pm the place at Insurgentes and Hildago was rocking with no place to sit so we got our tacos to go. I ordered two tacos al pastor (slow-cooked pork) and Steve ordered one pork and one chorizo. The pork was better! The meat — sliced off a big hunk cooking on a rotisserie at the front of the stall. We ate the juicy tacos sitting on a step outside a nearby bar. Still hungry we went back for more. This time there were two vacant stools at the counter; we grabbed them.  This time the tacos came with grilled onion bulbs on the plates and there was salsa. The grand total for seven tacos was 70 pesos- a bit under $6 US. We went off into the chaos that's a Saturday night in Mexico sated and happy.
photo Steve Collins
Flying Fox from Vanuatu
Vanuatu is a relatively isolated island so most of the foods you find are locally sourced although quite a few also come from Australia or New Zealand. One of the longest-standing and most historically important restaurant in the main island of Efate is L'Houstalet.This French-Melanesian restaurant run by Clement Martinez has been open for over four decades and it was the place where Vanuatu's Constitution was signed in the 70s. Arriving from France in 1969 Clement opened L'Houstalet to offer a series of french favourites with a Pacific twist. The restaurant is famous for wild pigeon, coconut crab and flying fox, which is served stuffed with its own guts.
BBQ from Australia
Chicken Tagine with Preserved Lemon and Olives from Marrakesh, Morocco
From Venturists 
When we first made plans to visit Marrakesh, Morocco we couldn't wait to try the food there. I had seen the beautiful pots (or tagines) with cone shaped lids and was curious to find out what exotic foods we'd discover inside.  We learned that most traditional cooking method is to set the tagine on top of a base heated with wood coals. The meat, vegetables and herbs are then slow cooked to perfection. We tried tagine dishes with meatballs and eggs cooked in a spicy tomato sauce and sweeter dishes with lamb and dried fruit. But our favorite was the chicken tagine, slow cooked together with preserved lemons, olives, garlic, onion and a blend of Moroccan spices including cumin, turmeric and ginger. It's served with a side with fresh baked bread to soak up the juices and, since we love a little extra spice – a dollop of harissa (fresh chili paste). It doesn't get much better than that.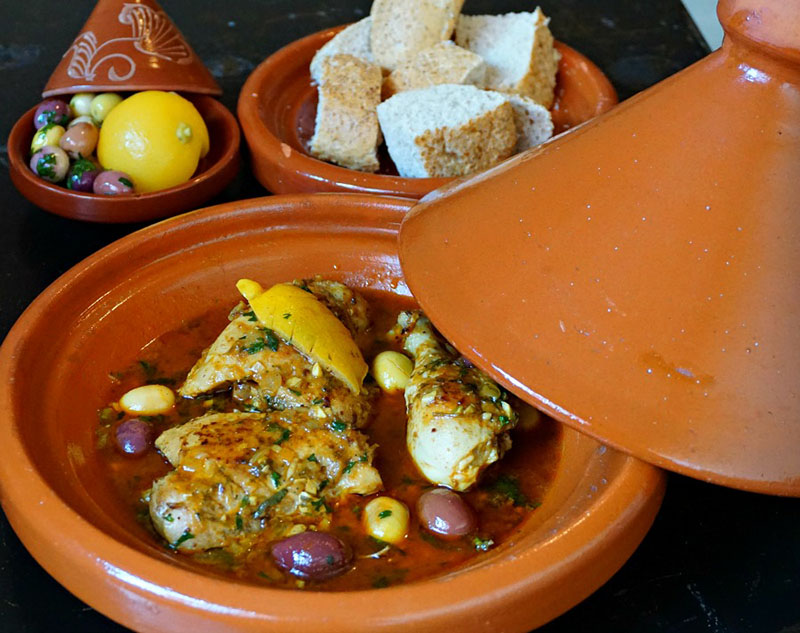 Did you enjoy these 50 Must Try Foods from Around the World? Let us know, and if you want to find out more, just join us on Facebook to see what else we are up to.
Thank you to all of the wonderful travel writer's from around the world for you contributions to this epic post
WEEKEND TRAVEL INSPIRATION
Add a post to this blue button, comment on some other posts and share some great weekend inspiration
[inlinkz_linkup id=623033 mode=1]