We had decided to experience an array of accommodation options while traveling throughout Turkey – from a communist style hotel in the capital Ankara, a cave house in Goreme in the Cappadoia's, a ship captains' lodge in Kushadasi and a private pensione in Istanbul.
Our option in Antalya was perfect – an old restored Ottoman House, replete with gold leaf and Turkish carpets according to the web site, and a convenient location to experience our first ever solar eclipse.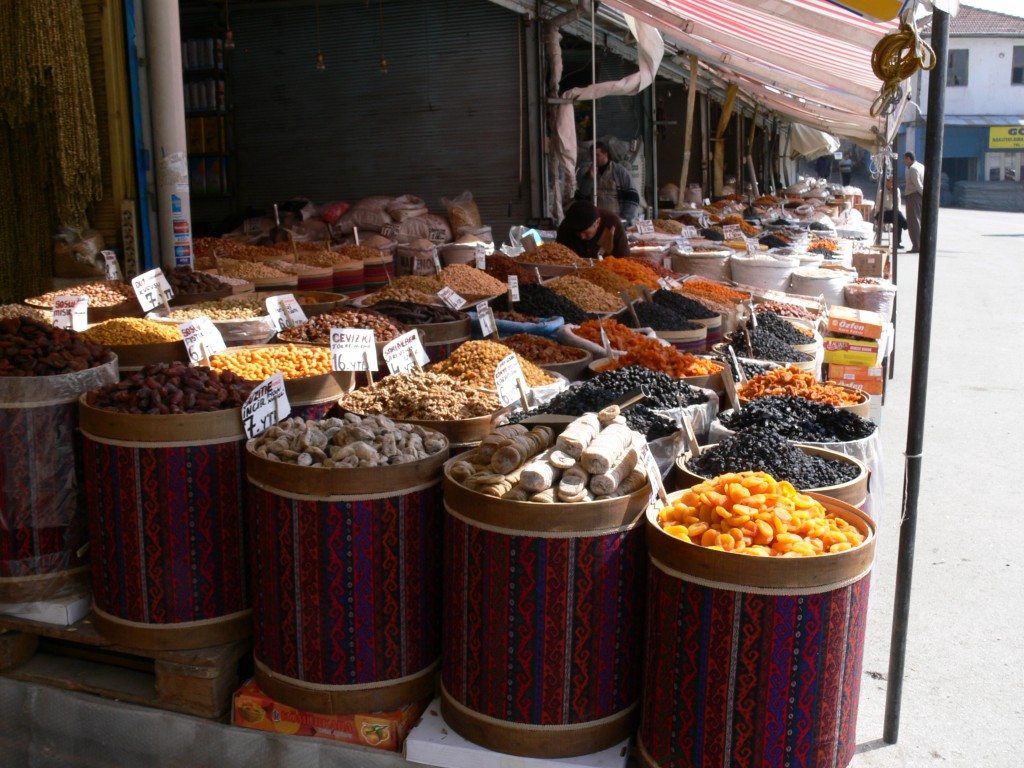 Arriving in what is called the Turkish Riviera after a 9 hour bus trip, Antalya certainly appeared to be charming with majestic mountains, blue green seas, and a juxtaposition of modern buildings, palm lined streets, mosques, minarets, and cobbled snaking lanes. With the sights, the smells and the sounds it really is a very lovely town. The call to prayer that reverberates throughout Turkey appears a competition between each mosque – each starting just after another.
Our hotel was located inside the ramparts of the old city walls, in the historic Kaleici district on a cliff overlooking a beautiful marina and the Mediterranean Sea. Couldn't be more idyllic.  On arrival we were told our room wasn't ready yet and he (Basil)  appeared very busy dealing with a German couple seeking accommodation.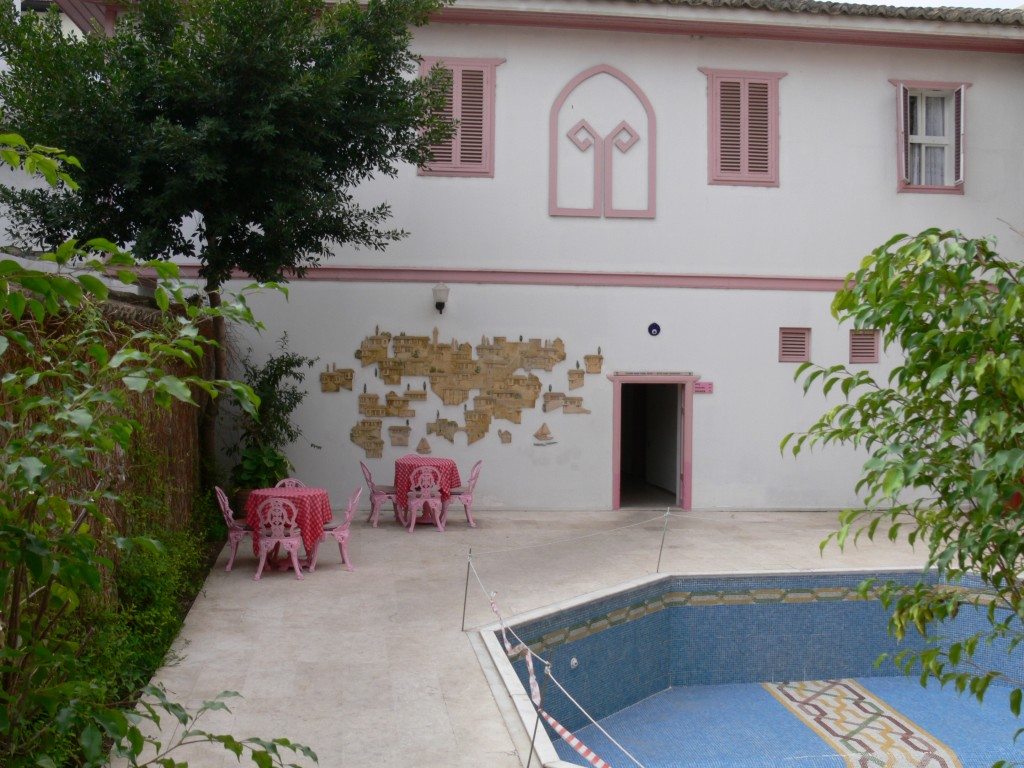 Our accommodation in Antalya, Turkey was more like Fawlty Towers
So we went for a walk then back to Fawlty Towers. Our room was now ready. I had booked it 6 months in advance because of the Solar Eclipse and the scarcity of accommodation due to this event. We now meet Manuel who carried our bags through two Ottoman houses to ours – the third, and up 3 flights of stairs. He appeared highly flustered and very tired and bothered. We felt awful that he had taken the bags.
The room we were taken to however was certainly not what I had booked. It was lucky to be 3 metres by 3 metres with 2 single beds and a shower over the toilet. Now I don't do single beds at all, and my partner is a very large man, and he did not even fit into the bathroom – which is a massive exaggeration as it was a closet at best. I did get upset, as I was tired after an over night bus trip and despite hating to complain (quite seriously) I told Manuel that this was not our room.
Manuel's English was lacking or convenient (as I later discovered) so I went to Basil (sorry) the manager. I said this is not the room that I booked 6 months ago and I would like the room that we did book and have booked for an entire week. No No, you must be wrong, this is the room. I had my voucher with me, and despite his protestations I held ground. He would not concede. It finally hit me. You sold our room to the German couple who were here when we arrived didn't you. Bingo – I hit the mark. Basil says, Your room will be ready tomorrow morning. No I want it now. Finally I had no choice but to wait till the next morning. A very stiff drink was called for and we went to the terrace to overlook the sea and calm down.
Manuel does it tough at Antalya, Turkey
An unexpected pleasure was that half board means breakfast and dinner were included in what was an extremely moderately priced room. That night we met Manuel again, this time  as the waiter and barman for the entire restaurant of some 60 people. Manuel was again struggling to not only serve the set 3 course meals as ours were, but to deal with a la carte orders and drinks orders as well as cutlery. He was not coping. I wanted to help but it was quite funny to watch the poor man until Basil turned up and did not help but watched and glared.
Poor old Manuel really did not cope and was sweating more than when he had dragged our bags. The meal was beautiful, the evening was idiosyncratic – a most beautiful restaurant set into the cliffs overlooking a marina and sea with towering mountains and a comedy routine to entertain us.
We did get the room the next morning as I had ordered it, with delightful shuttered windows where I could lean out and watch the passing pedestrian traffic and the vendors hawking their wares. There was just a small problem of which I nearly lost it. No electricity. That was it; Basil was really going to hear about this. My partner, a much calmer man said he had seen a fuse box in the parlor outside the room. Lo and behold a fuse was sitting idly outside of its connection. He plugged it in and yes we now had power. No more getting cranky on holidays I vowed and did keep.
Basil unmasked at Antalya, Turkey
After a particularly busy day savoring the sights and sounds of the place and eating and eating we returned to the room to refresh before starting out again. I was sitting in the parlor that was common to the four rooms on that floor when a German man approached me. You are living in that room he asked, to which I agreed. We had that room but they had to move us as there was an electrical problem and we had no power and they were not able to fix it for a week. This was interesting I thought. I told him of our problems with a room mix up and also of my partner fixing the electrical problem.
The German man assured us he was not angry with us, but Basil certainly heard this conversation, as did all 3 houses and most of Kaleici. I thought this summed up Basils' approach to hotel management quite well, he tried but he just didn't quite get away with this one.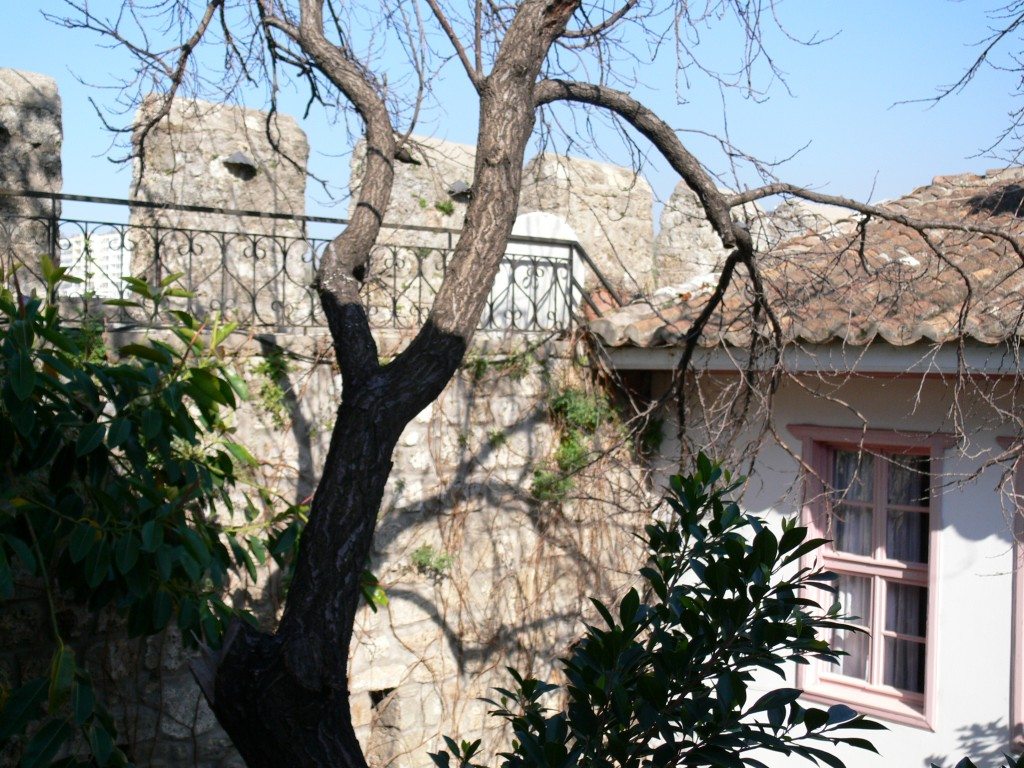 Would we stay at Fawlty Towers again in Antalya, Turkey
.. absolutely.  Why? For the sheer enjoyment (in the end) of the many lurks, scams, breakfast mix ups, location – location, character of some if not all of the people, meeting the myriad of 'friends and relatives' so willing to assist at a cost; ambience, centrality and the feeling we were actually getting a real Turkish experience. Serendipity. Things just happen, so embrace them.
Like all of Turkey, Antalya has had a chequered history from Roman to Byzantine,  Seljuk to Ottoman – and I wonder if this adds to the character of its people.
Where is Antalya…

Antalya is a town situated on the south coast of Turkey – it lies at the innermost point of the Gulf of Antalya. The town itself is built on a limestone terrace which drops sharply in a 75ft cliff below which is situated the old harbour.
A major tourist attraction of Antalya is the beach of Konyaati which lies between the town and a high ridge of hills to the west. Adding to the attraction of this wide sweeping beach is the climate of this area – Antalya enjoys sub-tropical weather and the bathing season lasts from early April until the end of October.