Staying in a cave house in Turkey is something that should be experienced, particularly if you are in an area that is renowned for them. The Cappadocia region of Turkey is such a place, and the village of Goreme is predominantly a village of cave houses.
Staying in a cave house in Turkey
We have been asked many questions about what is was like to stay in a cave house, and we will share these with you.
Cappadocia is renowned for its cave houses. It was erosion that caused this lunar-like landscape in the Goreme valley, and then the people began creating their caves into the soft rock. This Escher-like landscape with fairy chimney formations is honeycombed with countless caves. These were and are used by the people to not only live in but as churches and also where trade took and takes place. The cave structures were such that entire cities were built underground, some going down eight stories, and there are innumerable tunnels crisscrossing the region.
These people know how to create caves to survive, and they know how to live in them. While you are there, make sure to take a hot air balloon ride to marvel at this spectacle.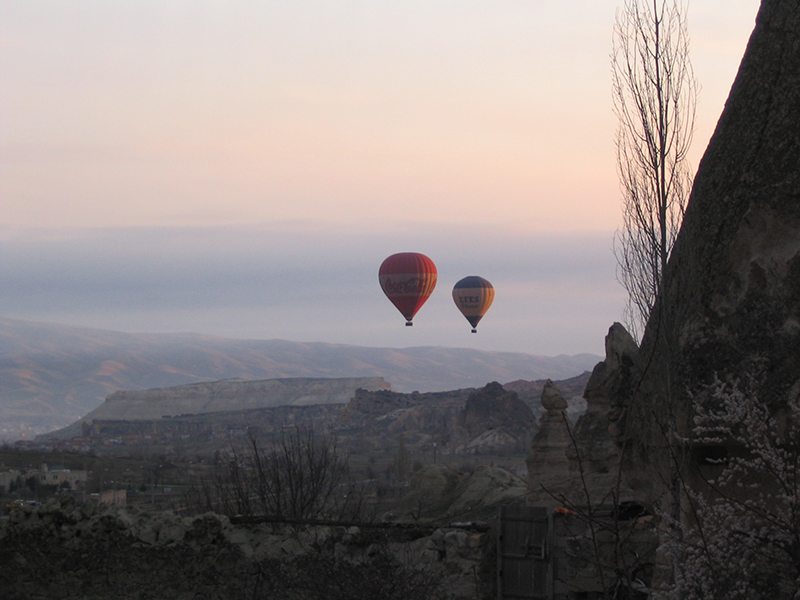 Your questions answered about Staying in a cave house in Turkey
Staying in a cave house was an obvious choice when we visited the region. We didn't give a lot of thought to what it would be like; we just booked it because it was indicative of the area. However, these have been questions that we have been subsequently asked. Note – we picked just a reasonably priced one, not a top of the range where I know that there are more trappings. Just check that you are getting yourself a 'real' cave and not just an add-on, albeit luxurious one, outside of an actual cave itself if you want to stay in a cave house.
Can you breathe in a cave house or is it claustrophobic?
Ventilation is very good. Remember the people of the Cappadocia region have lived in cave houses forever and did not choke from asphyxiation, so they must know what they are doing. Non smart arse answer is, there are some front facing little windows and a door should you wish to leave it open. Though in saying that, if you do suffer claustrophobia just make sure that your cave room does have windows, as some don't.
Does a cave house have electricity?
They do though I know that we did experience a temperamental power system. Funny that as we also had erratic power in Florence, and somewhere else in Turkey.
Is there hot water in a cave house?
Yes, a good cave house has been designed so that there are plumbing things in place.
Do I need to light my own fire for warmth?
Well, if you are just choosing an abandoned cave room in the middle of no-where then probably yes. If however, you do a little bit of research you will find that they are also quite adept at the heating aspects, and the caves do naturally cool in the hot weather.
Does a cave room musty smell?
Not really – a little I guess, but we opened the door at night also.
What star rating are the cave houses?
Ours was pretty basic yet very quaint and comfortable though I am sure that there are ones that are more done up than ours. Ours had all that we needed, and we slept well… and it was a real cave house.
Do they have a shower and toilet?
Yes to both, though the shower is pretty basic, and we heard this from people who were staying at higher end ones than ours also. There is a curtain across space, and, to be honest, I think Gordon had to put a foot into the toilet to get in.
Is there Wi-Fi in a cave house?
Yes and no. It was pretty antsy.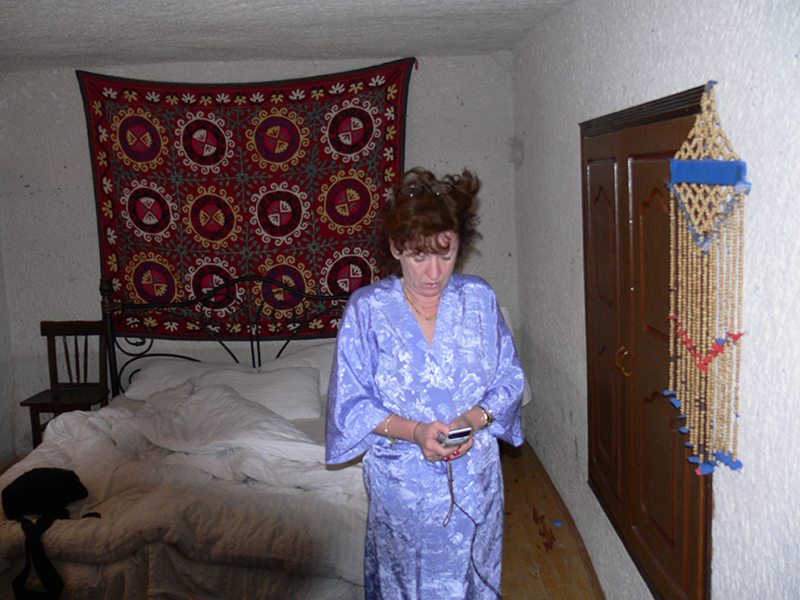 Are they comfortable?
We felt cocooned in a good way in the little cave room
Would you stay in a cave house again?
Absolutely yes. We would feel fraudulent going to such an area like the Cappadocia's, where it is – in effect – a troglodyte town, and NOT staying in a cave house.