The Changing of the Guard, London
This is one of those must see events if you go to London. While we often advocate that you don't have to see everything at a destination, I think that you will find that this is one of those very colourful and amazing sites, that really is worth the effort.
Don't be deterred by the crowds, as it looks worse than it actually is. It is all very well to see the pomp and pageantry, hear the band and admire their uniforms but if you don't actually know what it all means, then you are doing a disservice to yourself.
We had accidentally come across the changing of the guard a few days ago when we were wandering aimlessly around, and thought it spectacular but .. we didn't know anything .. like why their uniform's where different, how you become a guard in the first place, what were their duties etc.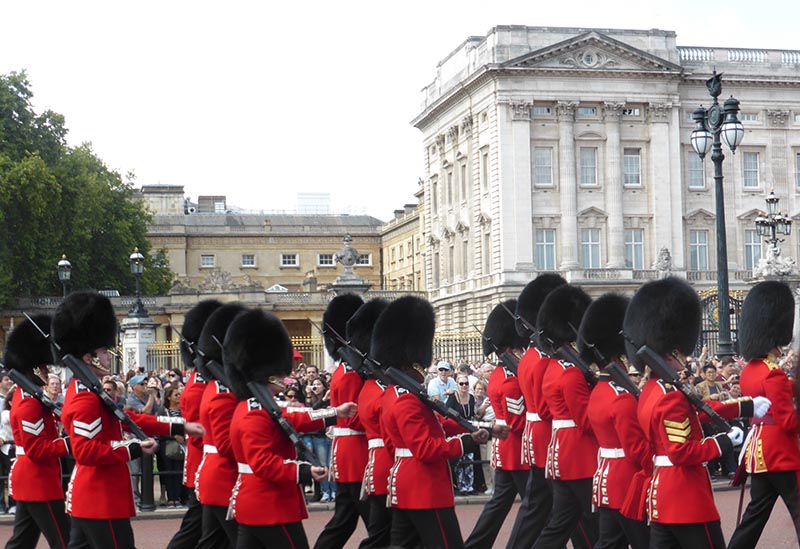 So we decided that we wanted to see it properly and with someone who 'knew' what they were talking about. We checked the innumerable guides that offer this service but settled on a small group run by a man named Matt who has his own one-man show. The reviews on him and his Fun Tours London were all totally consistent in their praise for him as a guide and for his knowledge base and that he 'was in the know' with where to see each of the stages of this elaborate ceremony. The other thing we liked is that all said that he was fun and not OTT as many others are.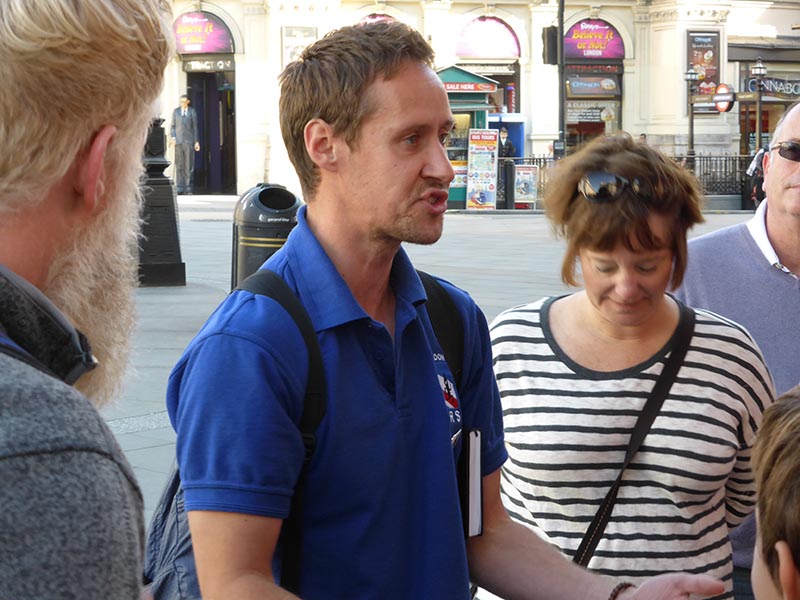 We met Matt and our group in Piccadilly and made our way towards St James where the guards emerge. Along the pleasant walked we stopped to hear some interesting information on London and even got a rendition of "my old man's a dustman" by Matt – but I pressed the wrong button to YouTube him, mores the pity – it would have gone viral.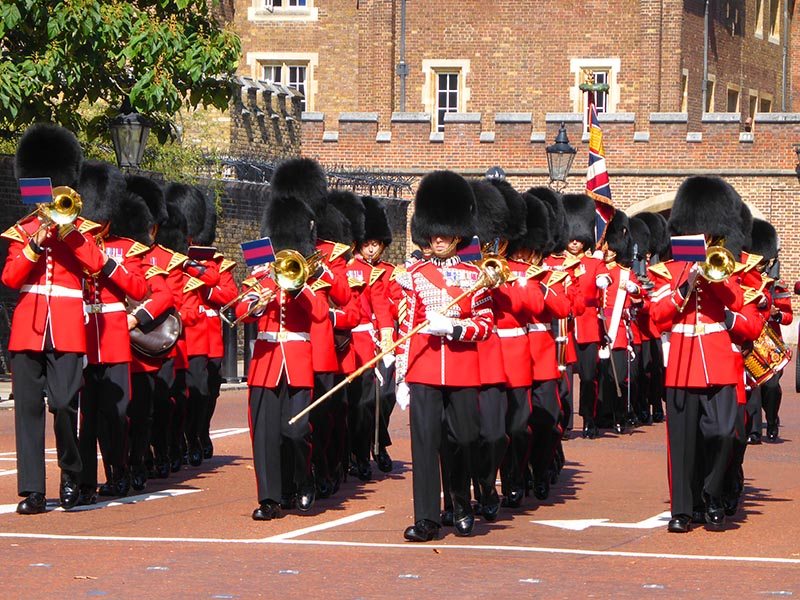 The first thing is, The Changing of the Guard, London is not put on for tourists, it is a job and a very real and serious job. The guards carry real and very serious machine guns, and many have recently retuned from active service in Iraq, Palestine, etc. Each uniform is different and denotes where and what the guard does and is from. Their hats are different and one thing we never would have picked up is the buttons on the uniforms. Matt, luckily made a game of it which made it easier for us to identify who did what.
We also learnt of the significance of St James where all marriages and important royal family occasions are announced. Then the police came out and then the guards.
They played a song that had us all laughing. Recently they came out and played the Game of Thrones theme song to the massive delight of the crowd. As they started to march from St James, our group made a dash to get just ahead of them and see them coming at head and us down the Mall to Buckingham Palace.
As they got into the Mall we marched with them down the Mall to our next vantage point at Buckingham Palace, which Matt knew would afford us a great view. You can hear him move us to great spot on this video.
We then headed back to Clarence House, hoping to get a view of Prince Harry but instead saw the smaller changing of the guards here and also the parade of the horse guards.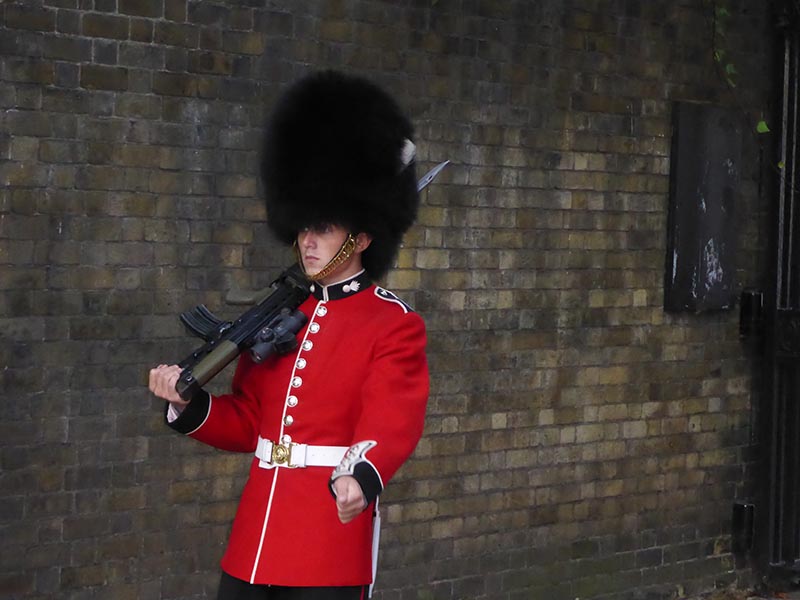 Monarchist, royalist or neither – this is a ceremony that is just incredible and to do it with Fun London Tours, made it well – informative and entertaining. Matt is a great bloke who knows what he is talking about. He also does other tours and one that has piqued our interest is "Liar, Liar" which is a treasure hunt come mystery discovery tour of London. All of his details are on his site, as highlighted above.
Seeing the Changing of the Guard, London should definitely be on your list.