With winter fast approaching and people starting to book their ski holidays, if they haven't already (we have) this is a checklist of your essential ski gear list.
In no particular order:
Helmet – essential ski gear
A helmet is essential full stop. Regardless of recent news of people sustaining serious injuries whilst wearing a helmet, it is a very good insurance policy .. just in case.
Good boots
Ski boots are not known for their comfort factor for a start. A pair that have been selected and fitted for your own very strange foot is essential. If you are renting, as we are now due to travelling all over the place, find out the very best place to outfit you. A place that knows exactly what they are doing and are not just a factory hiring out ill-fitting boots is critical. Particularly crucial is that the bindings are set correctly. Mine were not last year and I got a broken leg when the binding did not come undone and dragged my leg way past its physical limit. Boots are definitely part of your essential ski gear list.

 Appropriate skis
Again make sure the skis suit your ability and the amazing feats that you intend to perform with them. The sheer variety is overwhelming so again seek really really good advice about those in the know who 'should' talk to you about your level and your intentions and then should recommend what works best for you as an individual – not as a group effort.
A locker close to the gondola
There is nothing worse than dragging your gear around town after a day on the slopes. Try to organize a locker at the base of the mountain and if you have selected a good ski hire place they will tend to let you leave your stuff there. It is totally worth it. Or, maybe I am precious
Though not strictly to do with skiing there is so much snow walking that these warrant a mention. This is not daggy at all, but in fact gives you not just the insurance of being on 4 legs in effect, in snowy and icy conditions, but is also good for your posture and in particular your knees. Read more about this when I expound the virtues of the walking poles both for in the snow and indeed in general to ward against cracked pavements found all over any city in the world. These are definitely considerations for your essential ski gear list
An instructor
Coming to new terrain to ski can be a little mystifying. Get a mountain guide or instructor who knows the lay of the land and can also give you some pointers. Again ask around and 'interview' the person. If you think that they are a drop kick straight away, get rid of them and ask for someone that you can comfortably spend an enjoyable day with.
Water, water, water
The biggest cause of illness in high altitude areas, aka ski fields for example is DEHYDRATION. Drink, drink, drink as much water as your bladder can hold, and then fill it up again. This is critical. This is most definitely part of your essential ski gear list.
Proper clothes
You don't want to be cold and nor do you want to boil as you could on the blue bird days we are currently experiencing. Merinos and layering are important. A good jacket is a must. Pants are necessary, perhaps, but mainly to match said jacket. Gloves or mitten (your choice) are also important. Make sure that they attack to your jacket or pants so you don't drop them and I am talking from experience here.
Another thing you will need in these cold conditions is the best travel hair dryer, to get your hair dry as soon as possible, and not catch a chill.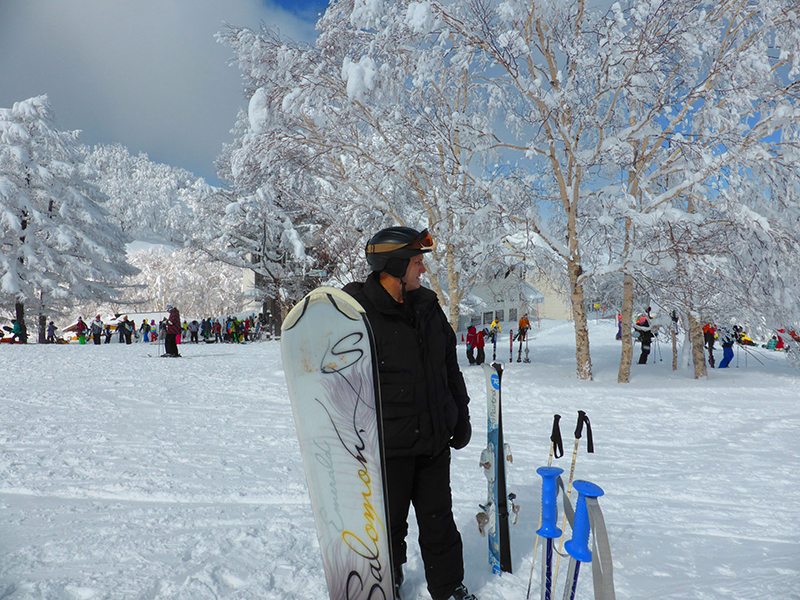 Backpack
A small soft backpack can be useful for putting in 'said' bottle of water, some chocolate as a source of extra energy and also for your phone which should double as a point of contact as well as a camera.
 An awareness of the weather
Check out the weather before you go. Ask locals or check your internet so you can determine the type of conditions that you will be dealing with. Personally I think that the locals are more reliable. They know the signs.
Sun cream and lip balm
Don't get burnt as light reflecting off the snow can burn you quickly. Wind and flying down the pistes will crack your lips quickly. Keep them in your soft backpack and make your self kissable that night.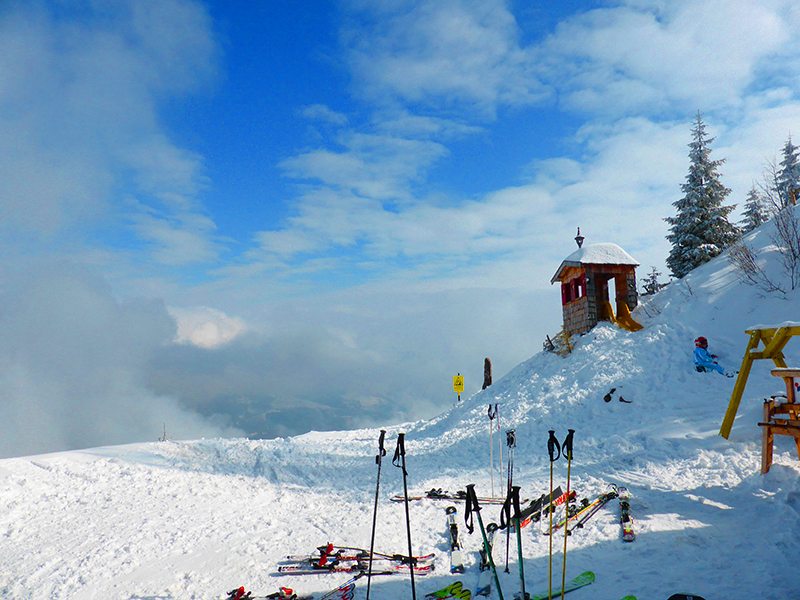 Who to deal with
Our recommendations for ski hire in venues that we have been to.   If you are in Kitzbuhel go to Element 3 hire for people who know what they are talking about with boots and skis and who know the mountains intimately. Thomas and Bill know exactly what they are talking about so you know that you can get the insider trading information on where to ski, to eat, the weather etc. Bonus is that you can leave your stuff there overnight and it is right near the gondola. Element 3 also has awesome ski instructors and mountain guides.
If you are in Zermatt it is very competitive in the ski hire business so it is really important to go with professionalism. Gordon has a real issue with ski boots but due to the nature of our travels it was too difficult to bring his own.
Bayard Ski Hire took note of his weird feet and fitted him well and it worked for most of the 1st day but started niggling a bit at the end. It was not a problem for them to figure out the issue and change his boots to a perfect match. He was happy with the skis, as well as being able to leave his gear in the locker right near to the gondola. They were extremely good and we would/will use them again.
If you are in Nozawa Onsen, Japan talk to the people at Nozawa Holidays, who know everything. They are your best ally in pointing you in the right direction for everything from gear hire, to the best tracks not to mention in the know food places. Plus they can tell you how to get naked and have an onsen, ridding your body of all of the pain of the days skiing.
Cotswold Outdoor is your one stop shop for all of the gear you might possible need.
Gordy has added that a ski pass, a trail map and a lovely wife are part of your essential ski gear list.