We met Sascha today. He is our ski instructor in Kitzbuhel but as the day is a little cloudy we opted to chat over coffee instead and wait for the predicted snow before we hit the slopes tomorrow. This was a most informative and interesting chat with a really nice man who we are looking forward to spending more time with.
Sascha and skiing
Sascha learnt to ski at the age of 2 on plastic skis that his father had given him. Apparently he wouldn't take them off so he graduated to his first set of real skis at the age of 4. Again he was addicted and used to ski down the ramp that the farmers of the Carinthian area of Austria used, to get their bales of hay into the storehouse.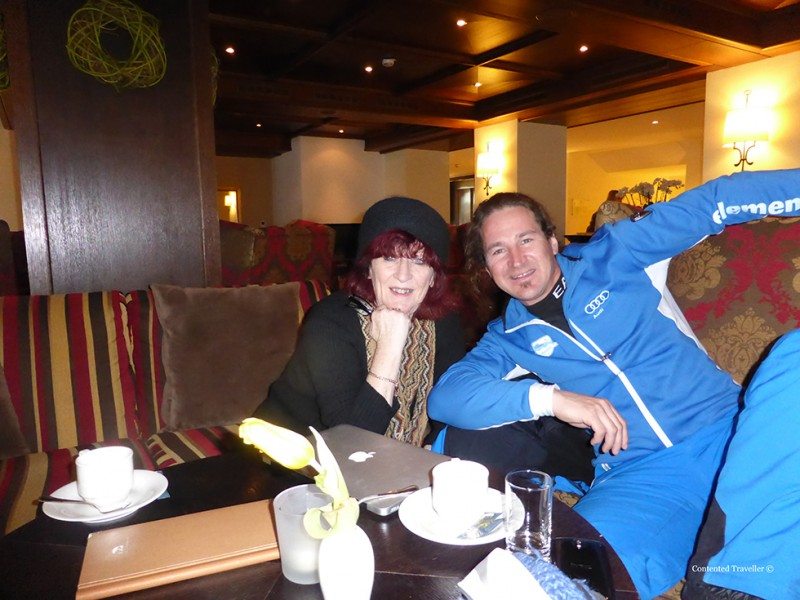 He has spent 19 years as an instructor and has reached the highest level of achievement in Europe so he is very accomplished and obviously very sought after. He mainly worked in the Obergurgl Hochgurgl area but in the last 4 years has chosen to work at Kitzbuhel, which is closer to home for him.
Despite trying snowboarding he remains a dedicated skier. He works for Element3 ski school which pride themselves on only employing the best instructors and where they believe that service is the key to success and that looking after the children in small groups ensures the future of skiing.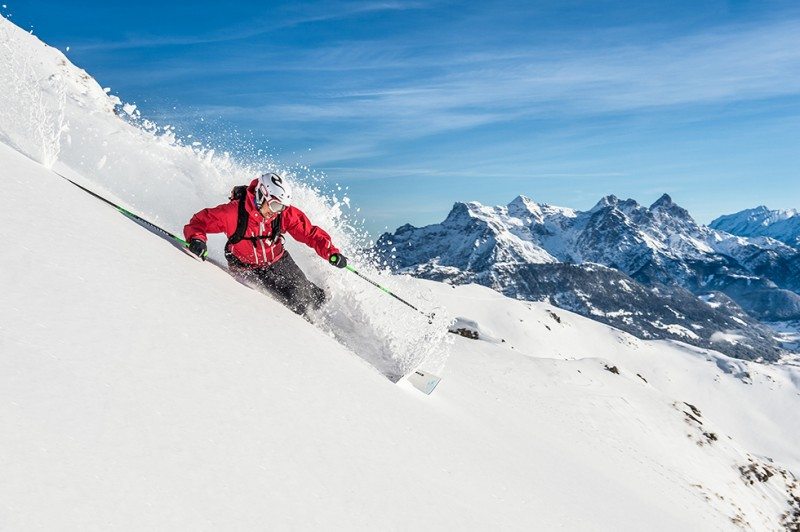 About the Hahnenkamm ski race by our ski instructor in Kitzbuhel
We spoke to him about the Hahnenkamm ski race, the international downhill ski race where competitors race a track called the "Strief" which starts at 1655m, finishes at 805m and is 3.312m in length.  The average gradient is 27% but at one point is descends at an 85 degree angle. He has skied this himself but told us that the track for the competition is actually specially prepared and is in effect an ice track. It is watered to ensure that the entire course is much like an ice skating rink. Skis are especially made for this event to cope with the nature of the course. They are hand prepared, particularly the edges, to achieve this total skating effect.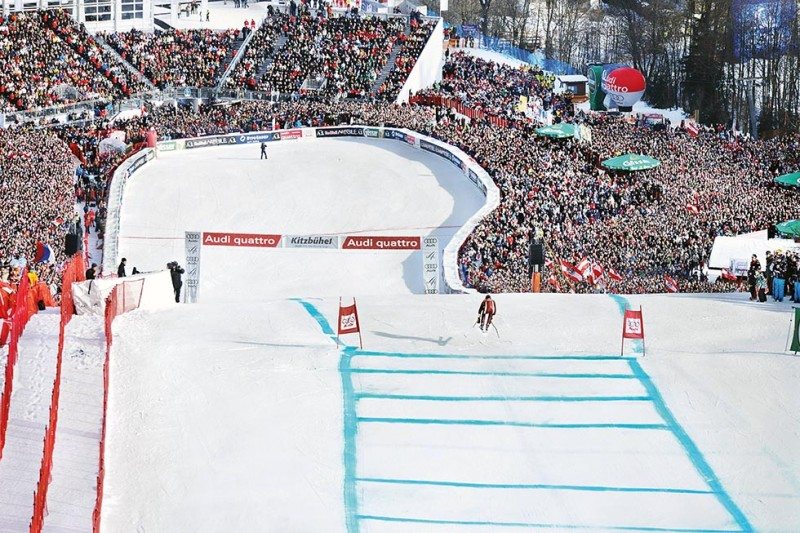 The population in Kitzbuhel swells to some 50,000 people when the Hahnenkamm ski race is on and the town celebrates in a big way. He told us about another popular event, the 'vertical up' where competitors race 'up' the Streif using whatever methods they can, to reach the top. These include using nails through the boots or mountain climbing clamps. The best time to date is 32 minutes. Again a much celebrated event in Kitzbuhel. I asked him about the International snow polo but he indicated that this was a much more exclusive event held just outside of Kitzbuhel.
Skiing in Kitzbuhel
Sascha told us that many people come to ski in Kitzbuhel because of the superior lift system and that there were barely any queues as seen in many other European ski resorts.
We asked him about the clientele at Kitzbuhel and whether it was just a super chic resort town. Sascha felt that yes there were people who liked to flaunt their wealth with very expensive cars, fur coats and jewelry and many flew in their own private butlers and chefs. However he has dealt with people of many different cultures and backgrounds. Our experience has been, and he agreed, that it is indeed a very diverse mix of people. Despite its reputation Kitzbuhel is not particularly expensive to ski, stay or dine. It really is a town for everyone.
Many of the people come from Germany because of it proximity, from Switzerland because it is cheaper and in reality from all over the world to this delightful city/village to enjoy all that it has to offer.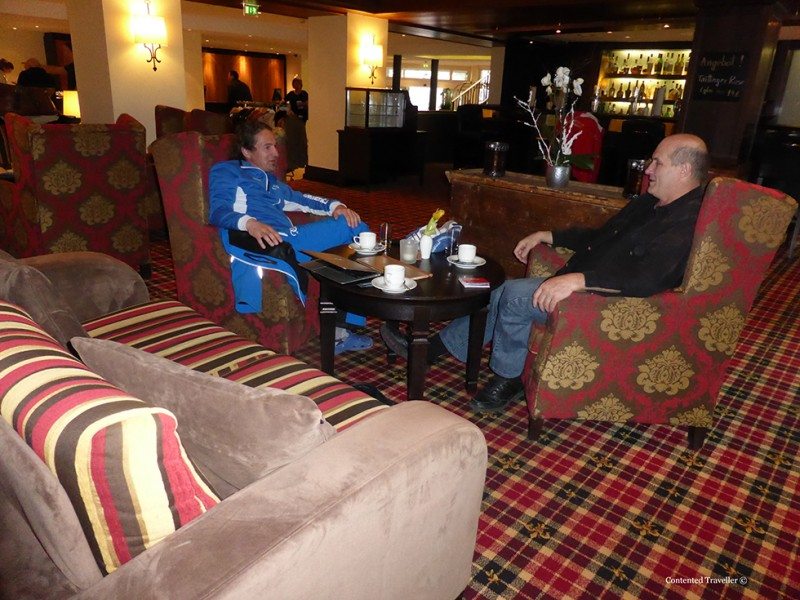 We asked him about the European approach to skiing as we had noticed that it seemed more laid back than both Australia and Japan. He explained that skiing should be about fun, fitness and food. To this end we have a wonderful list of local restaurants that the local people of Kitzbuhel dine at and also a written list of what to order.
It just goes to show that meeting local people like our new friend Sascha is worth everything when travelling. We are looking forward to a cruisy day tomorrow with him. Gordon and he will ski while I will stay in one of the mountain huts, which is local lingo for a great little café on the slopes.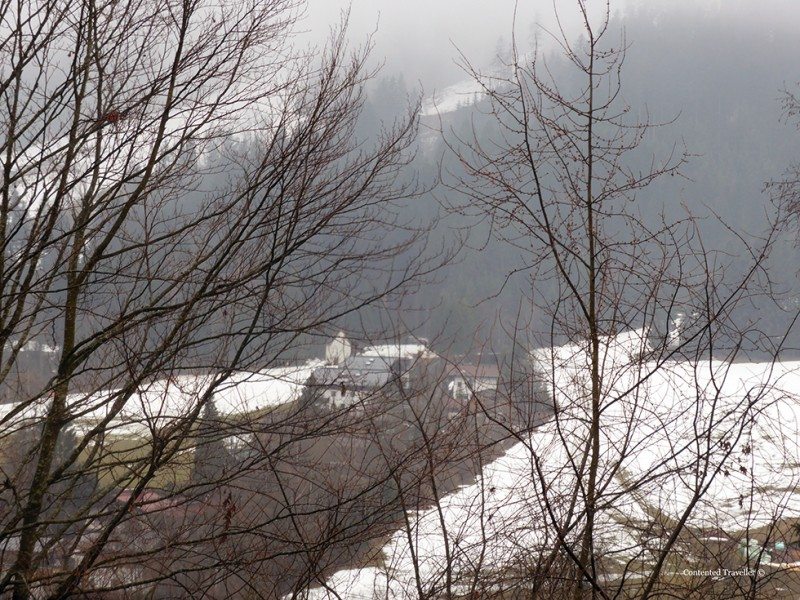 Thank you to Kitzbuhel Tourismus for our ski passes and our wonderful instructor Sascha from Element3 Ski School in Kitzbuhel. Our opinions our own own of course.