Kuta has a bad reputation and one I don't think that it deserves.
Kuta is what it is. Yes you will get asked if you want to buy the day old newspaper from your country of origin, and you will also be offered valium and Viagra to have while you are reading said paper. It is what it is.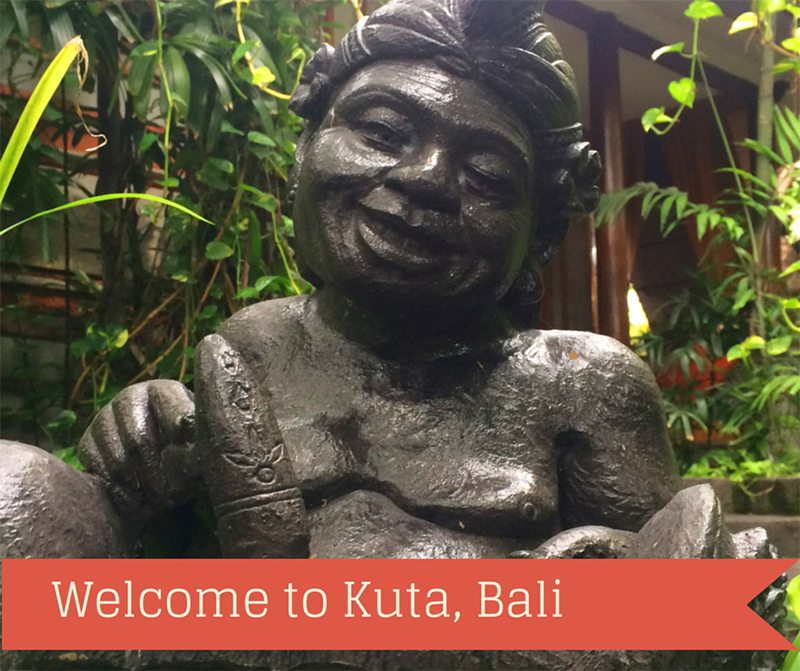 KUTA BEACH
Kuta Beach in the monsoon season is filthy. What people don't realize is that this is because of the tides and rubbish that are coming from other islands in the Indonesian archipelago. I don't doubt looking at the sides of the roads in Bali that this is all of the winds and the currents fault. I lasted about 10 seconds in it, as I couldn't stand the filth. At other times of the year, it is totally clean. Join or support the BALI BEACH CLEAN UP 2015 where there is a massive clean up of the beaches, and each and every morning you hear the announcements to help clean the beach. They want them to be clean; they need them to be clean … for us. I know all of the hotels that we are working with are involved in this clean-up. They need to be. This is a community, and Bali is a community that helps one another.
Go down to Kuta Beach and pick a favorite beach bar and make it your local. The beach boys and girls love this loyalty, and you will find a chair waiting for you and a Bintang or juice every day after so that you can watch the magnificent sunset. Lilic rents and works 12 hours a day at the beach bar we went to, and gets to see here family in Kintamani, near the volcano only once a year. She is a hard working and generous person who sends money back to her family. We paid $2.50 for a beer. Have a massage or one strand of hair braided, just the once, and then the ladies on the beach will be happy, and isn't that a good thing?
Learn to surf; trust me you will learn quickly in the monsoon season, as you won't want to be in the water. That is for a couple of months a year only.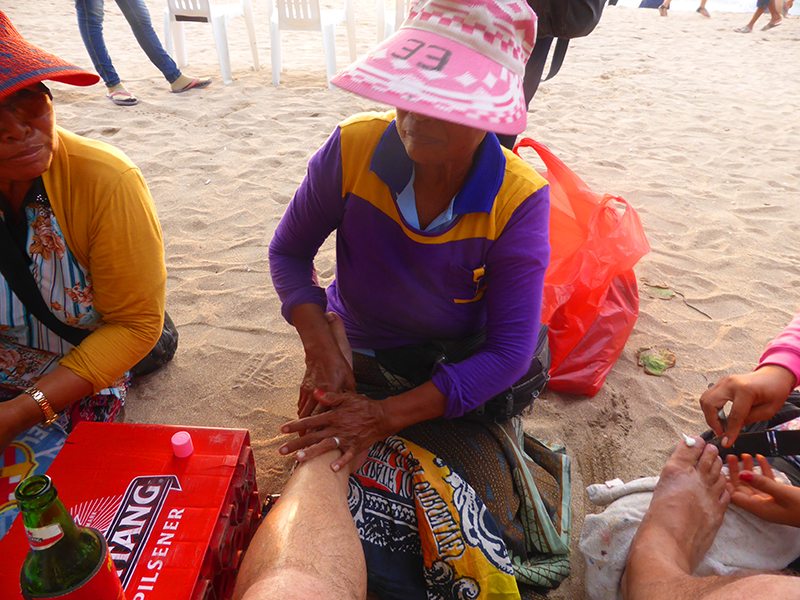 KUTA NEEDS TOURISM
Kuta and Bali rely on tourism. We are their source of income.
When you barter with the touts in the shops, think about what you earn in comparison to what the Balinese earn, which is approx. $180 (US) a month and the fact that rain, hail, or shine they work 12 hour days. I realize that it is relative but .. a cup of coffee for us equates to a days wage for the average Balinese worker.
The new airport, Ngurah Rai International Airport and the new Bali motorway, Mandara are all aimed at making our lives easier. Notice the cars of anyone who operates in the tourism industry, and that is pretty much everyone on the island, and you will see that they all drive new and ultra clean cars. That is because the Indonesian government has made it compulsory, because we tourists are so precious, that we need to be transported in such cars.
KUTA AS A PARTY ZONE
Kuta is a party capital for young people with loud music and night clubs that go until the early morning. This is true. What did you do when you were young? Stay away from these if they don't appeal. There are some beautiful hotels and unique lodgings, and they will easily offer you the serenity you seek, while being in the middle of the action.
I have not doubt that when schoolies is on, which is when young Australian adults celebrate finishing school, Kuta might become a bit full on. You know what? Don't go there at that time.
People walk around drinking Bintang Beer, particularly loud Australians. Yes, they do because the beer is cold and Kuta and Bali are hot. Interestingly we found that loud as Australians may be; they were the one's more like to say 'no, thank you, to hawkers wanting to sell a t-shirt, offering a taxi ride, or for a massage. Some tourists from other countries were just bloody rude. If you are polite then so are they; but in reality expect to say 'no, thank you' every couple of steps. It is what it is.
KUTA TODAY
We also noticed that it is quieter in Kuta and in all of Bali than what it was 10 years ago when we were here. This means that we can talk to the local people because they are in fact worried about the downturn in tourism and that they might not have pleased the gods enough. They are a very spiritual and kind people.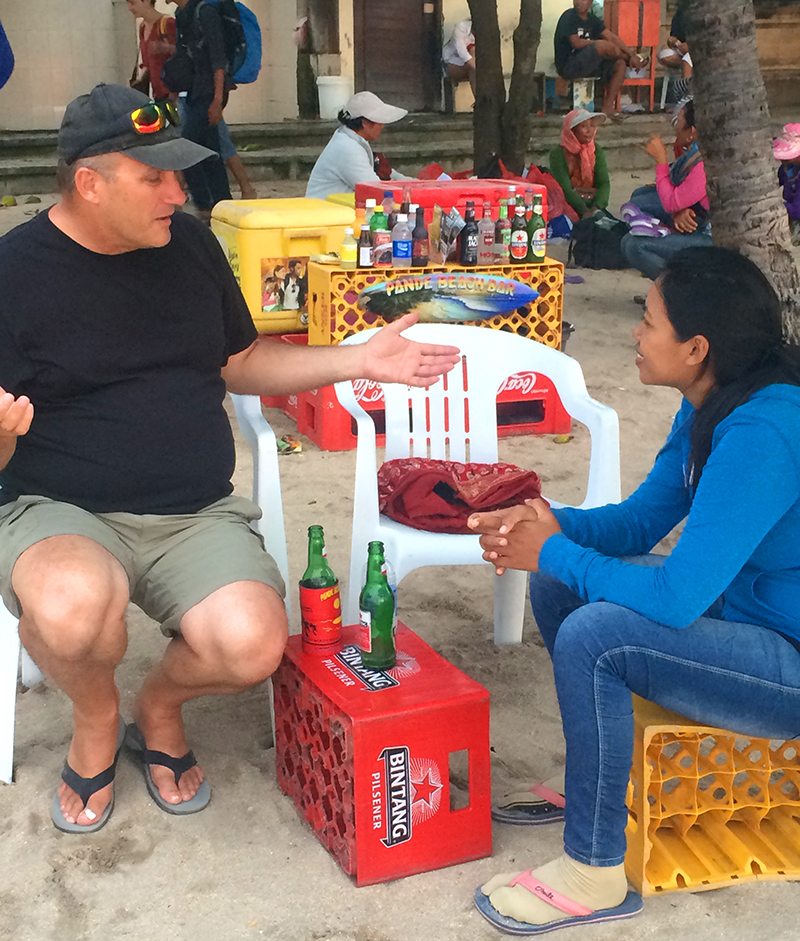 SHOPPING IN KUTA
You can still buy, should you choose, some quite offensive and other very amusing t-shirts or you can just laugh at the humor of them as the Balinese do, or take the moral high ground about it. Why? If you want to buy a penis bottle opener, knock yourself out.
If shopping malls are more your thing, then Kuta has some brand new ones, like Discovery and Beachwalk Malls. Do some shopping; it is fun and good for you and good for the Balinese economy. Go to the movies in the middle of the day when only mad dogs and Englishmen would go out in the midday sun. This is an experience as you lounge in leather recliner seats in air-conditioned comfort, are served a meal and drinks while watching a terrible movie, and all at $10 a head.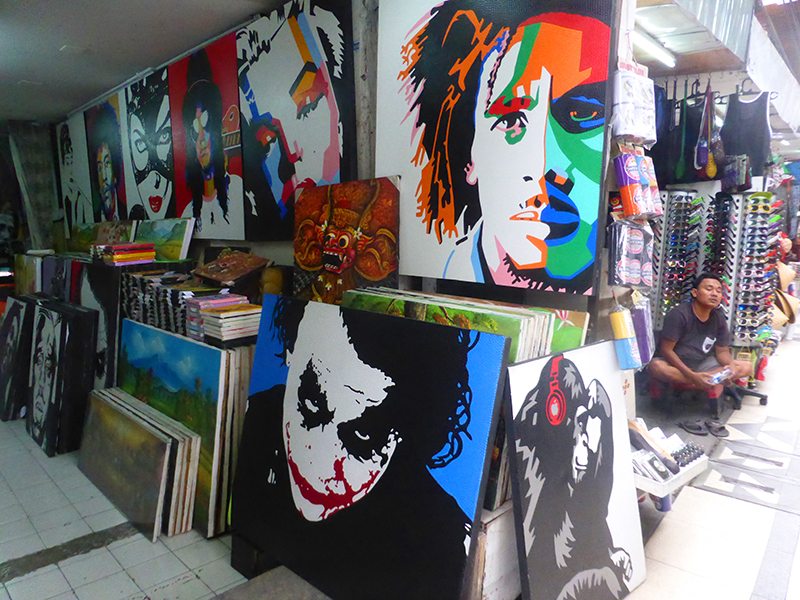 EATING IN KUTA
If you want to eat really excellent food, and trust me the food in Kuta has improved dramatically, then stop at a warung or go to the big meeting place, the Kuta Market Brunch. In fact the diversity and quality of food here is staggering.There are more cafes than ever, most with free and very good Wi-Fi, and the standard has gone through the roof.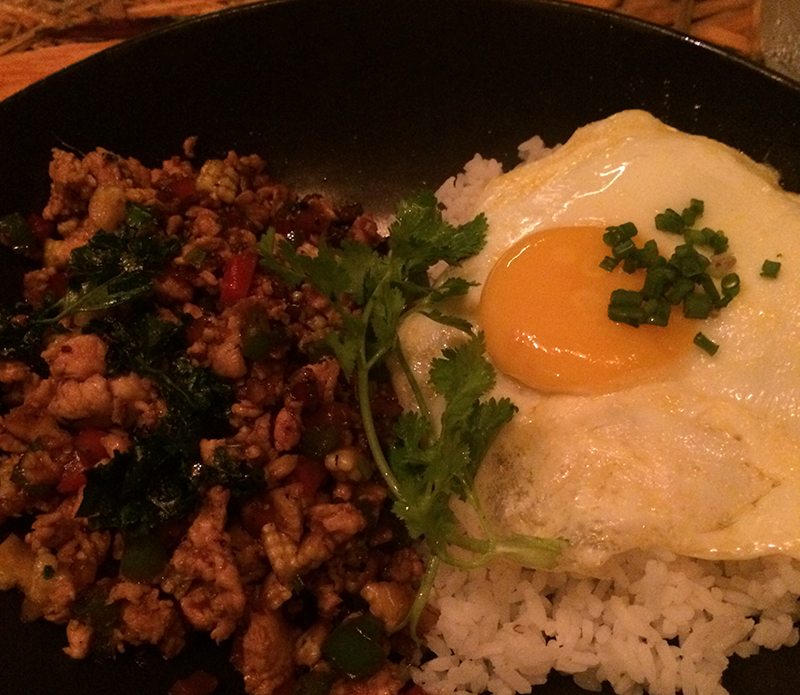 A MASSAGE IN KUTA
Have a massage at any one of the places that will offer you their services. Balinese are actually very good at massages, and it is relaxing.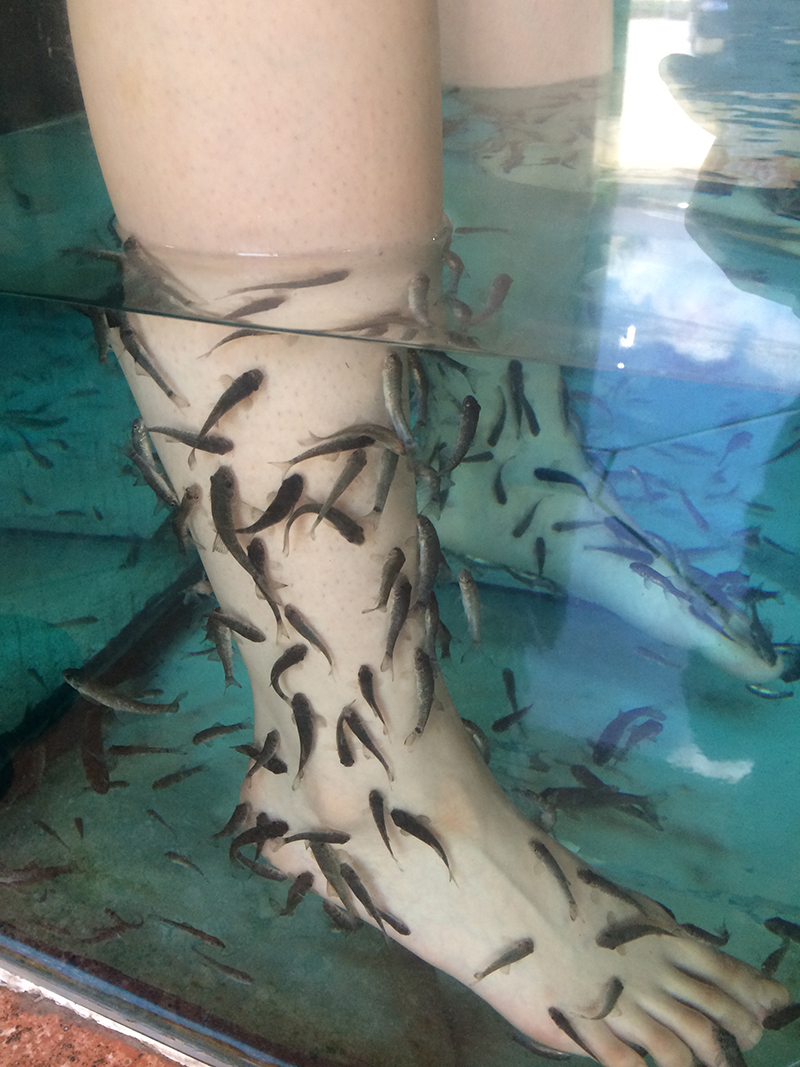 TRANSPORT IN KUTA
Hire a motorbike and join everyone else as you get from point A to point B, or just to explore more of Kuta and Bali. Alternatively, take pride that you can cross the road without being killed. Ii is not the Balinese you need to worry about, but tourists not equipped to the conditions. Take a taxi, they are dirt cheap.
TURTLES IN KUTA
We were walking along the beach one day, and one of the beach boys, the people who sell the Bintang beer on the beach each and every day, went into the water. He came out gently carrying a dead turtle. His friends came down, and they built a grave and buried it with great respect. Balinese people. The KUTA BEACH BALI SEA TURTLE PROGRAM aims to help save the sea turtles and their habitat and again is integral to cleaning up the waters of Kuta Beach.
WATCH A MAGNIFICENT SUNSET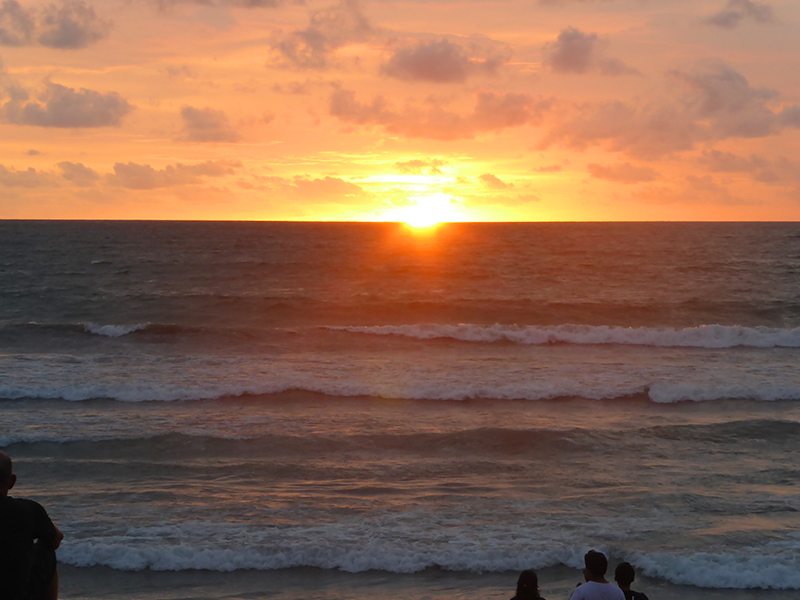 THE PEOPLE OF KUTA
Kuta and the rest of Bali are deeply spiritual. Not all people who work in Kuta are Balinese as many are from the rest of Indonesia so it is a cultural melting pot.The Balinese believe that it is necessary to make offerings every morning and through the day and you will see these everywhere you go ..even on the beach.
Meet local Balinese. They are seriously the most polite and friendliest people. Discover a little more about their way of life and their belief systems. It is fascinating and humbling at the same time.
I like Kuta. It is what it is. I liked it the previous 2 times that we came here, and I like it even more now, as it is developing quickly into a vibrant place with some really great initiatives going on.
I am not saying it is my favorite place in Bali, but in defense of Kuta, I am expressing my opinions.
I like all of Bali because I like their culture, and I like the people.