Exploring Raja Ampat is a voyage of discovery. One of the most intriguing islands we stopped at in Raja Ampat, was on the island of Mansuar where Yenbuba village beckoned us. Yenbuba can only be reached by boat which is the only form of transport around the 1500 islands of the archipelago of Raja Ampat anyhow. Read more about Raja Ampat here.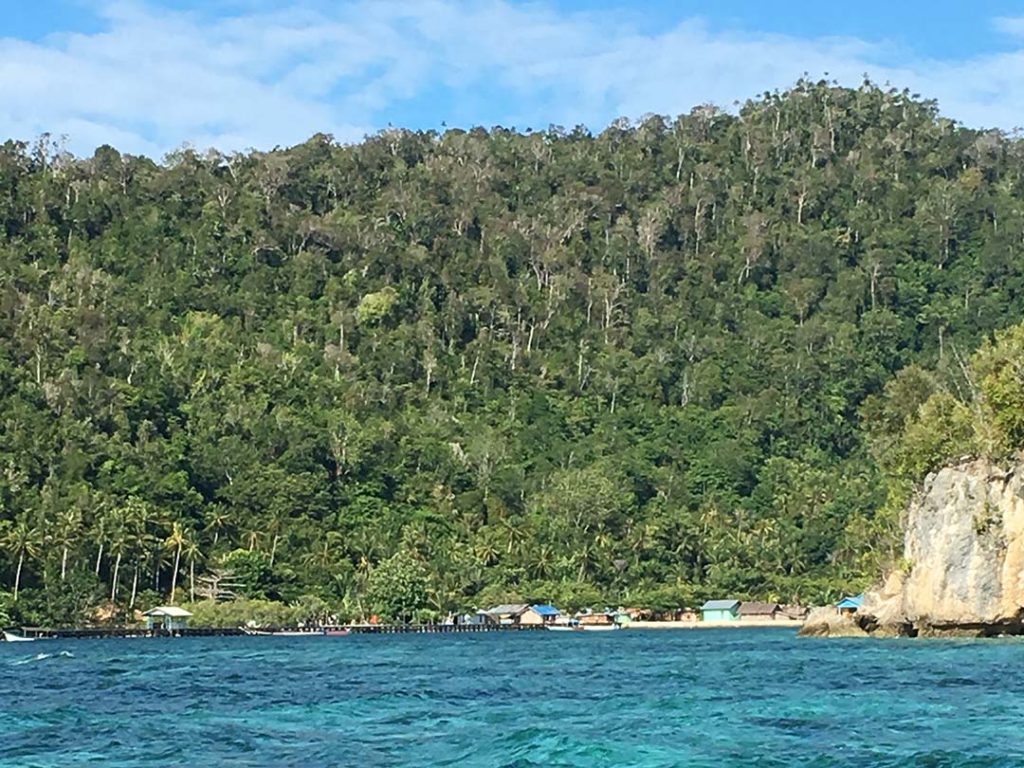 Pristine Yenbuba Village
We were excited to see a very long pier jutting out into the pristine waters of the ocean. If I say pristine a lot when discussing Raja Ampat, this is because this quite undiscovered part of West Papua, Indonesia is exactly that – untouched and unspoiled. I guess this is what Fiji and Bali would have been like 30-40 years ago before mass tourism engulfed them. And that is not necessarily a bad thing. However to come to areas as virtual pioneers – well that is special no matter which way you look at it.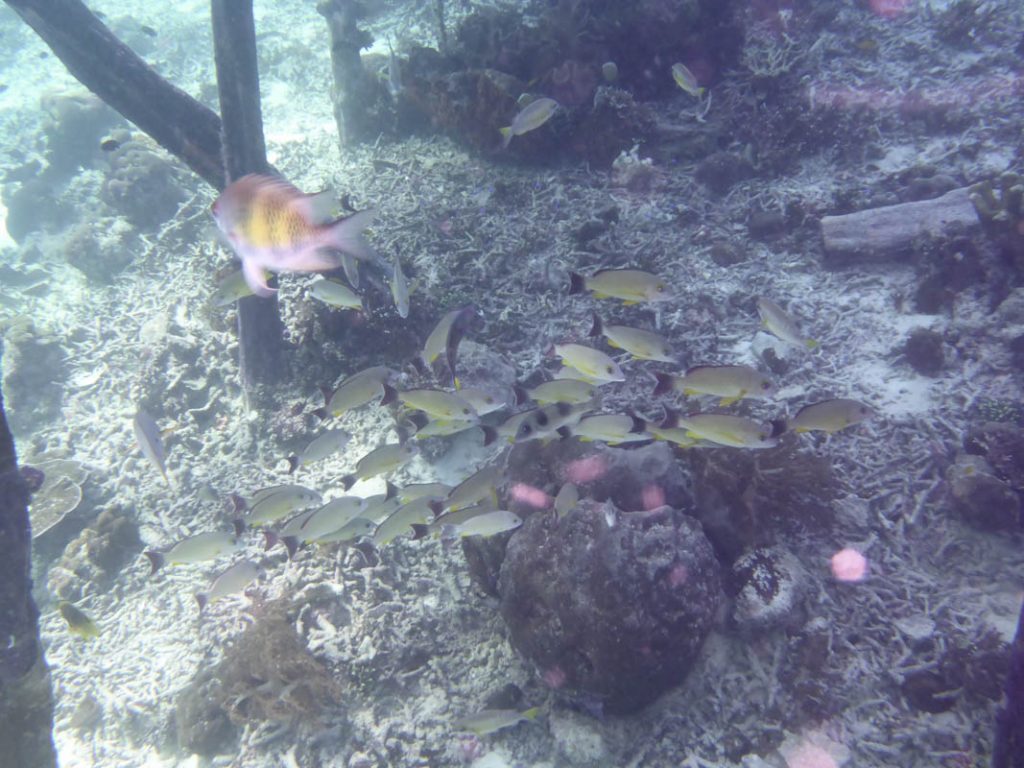 We could see a pretty little village at the end of the jetty and could hear singing whispering through the air. When you are exploring Raja Ampat, you have no idea what day it is and nor do you care. As it turned out it was Sunday, and church day for the people of Yenbuba and their surrounding neighbors.
The Religions of Raja Ampat, and Indonesia
The people of Yenbuba and much of Raja Ampat are Christian, despite Indonesia being predominantly Muslim. What we saw through many trips to different parts of Indonesia is that both religions can co-exist harmoniously. I think we saw this particularly in Manado in Northern Sulawesi, and again in Ambon.
The Spice Islands, as to be expected, have an interesting religious history. Saparua, however, had an interesting story. The two religions did not see eye to eye, to say the least, but over time have learned to live together. In Saparua you see a mosque next to a church. We asked about this and were told that mobile phones had made tensions easier to control. Rather than the grapevine of gossip conflagrating a situation, you could now pick up the phone, and ask "did someone say or do this?" and sort it out quickly. However, these conflicts in Maluku were, and possibly remain raw.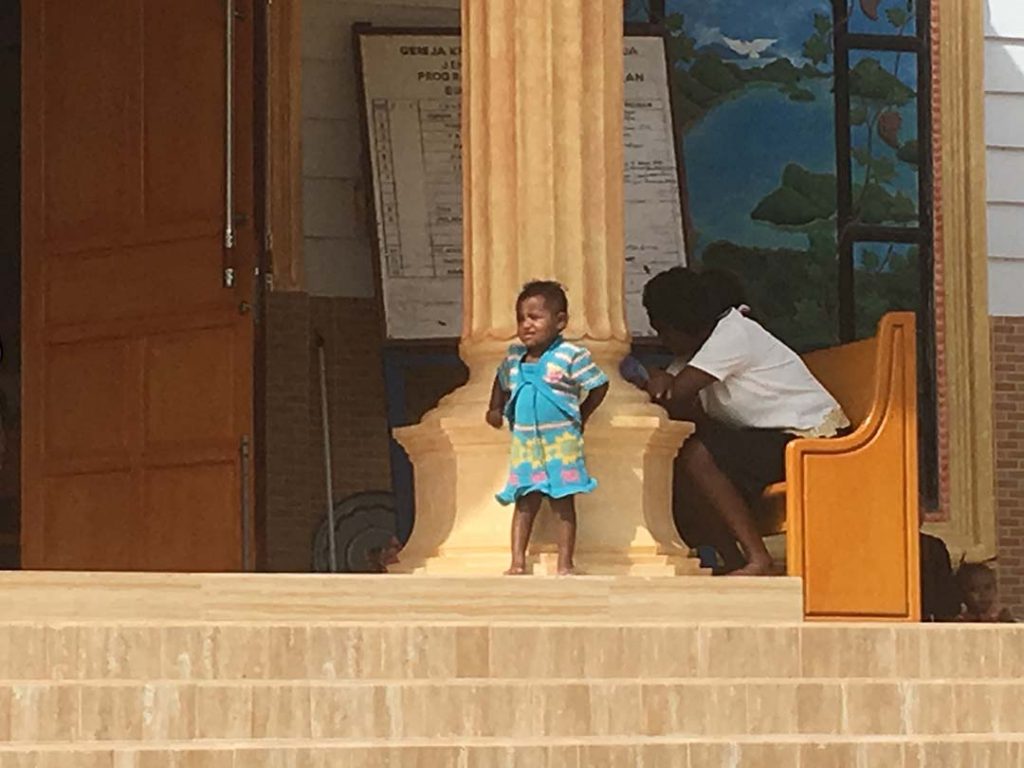 Snorkeling Yenbuba Village
But back to Yenbuba. Yenbuba and the island of Mansuar are popular with divers, who avail themselves of the homestays, and the nearby reefs at Kri. We did go snorkeling beneath the pier first, and if you have read that this is a world class snorkeling and diving destination, then you would be correct. We saw with such clarity many varieties of marine life. It was yet another incredible experience in Raja Ampat.
The Village of Yenbuba
It was then time to dry off and make ourselves decent before entering the village. It is expected, and rightly so that you cover up before entering a traditional village, and on a Sunday this was even more important.
We walked the long pier – and it is long – over clear waters and brightly colored fishing boats. The singing was getting clearer and clearer. We walked through immaculate yet deserted streets. Dogs occasionally ambled past, and we could see the houses and the little shops that only service the people of the village, and surrounds. Bouganvilleas cascaded down the pastel colored houses with their tin roofs, and we etched ever closer to the source of the singing.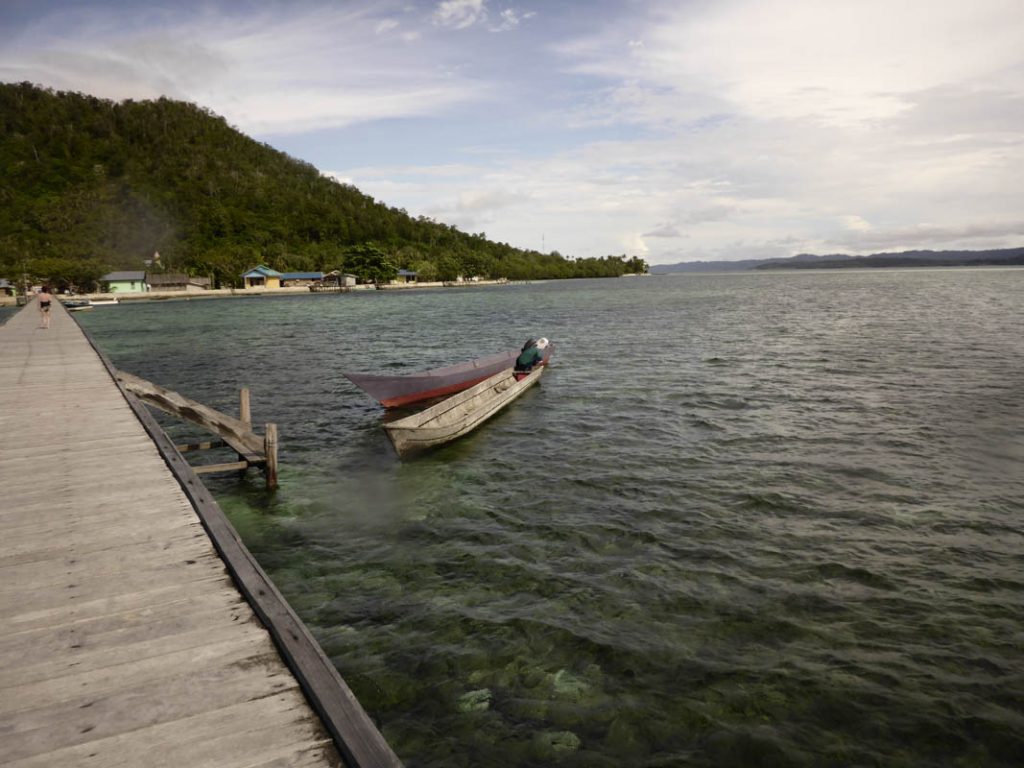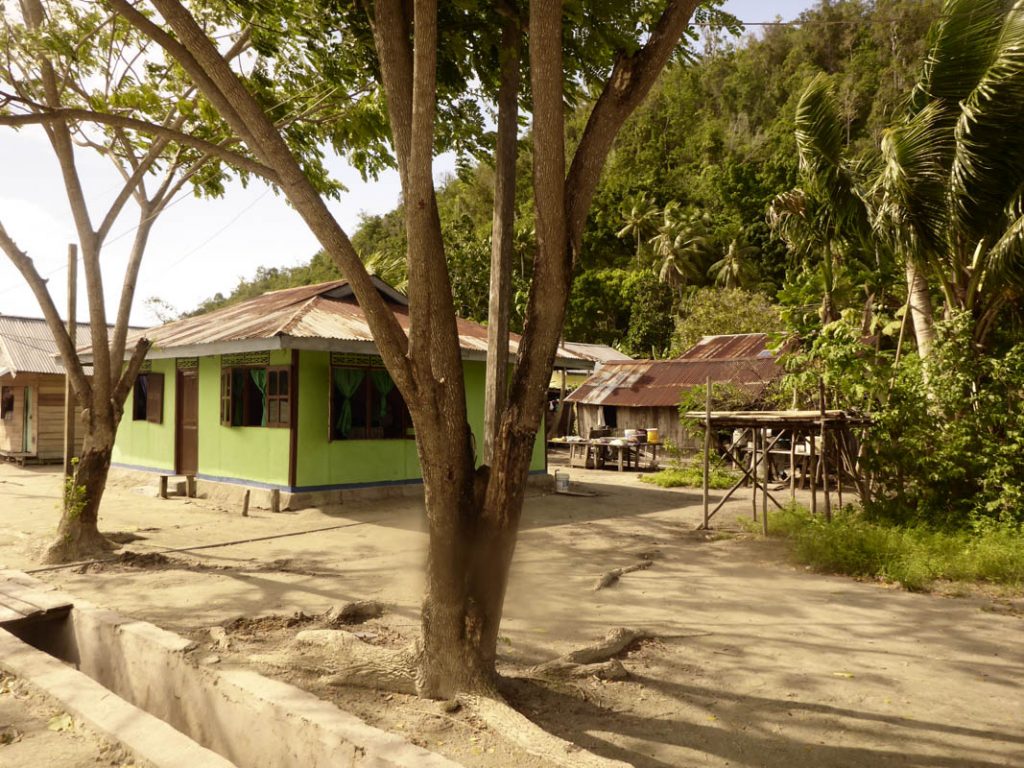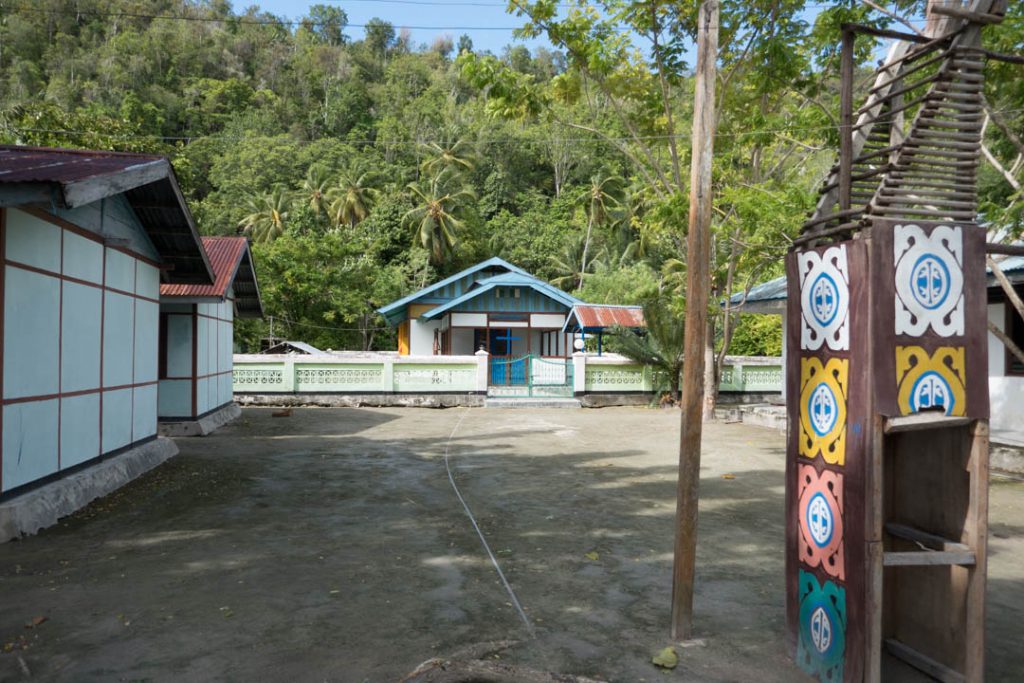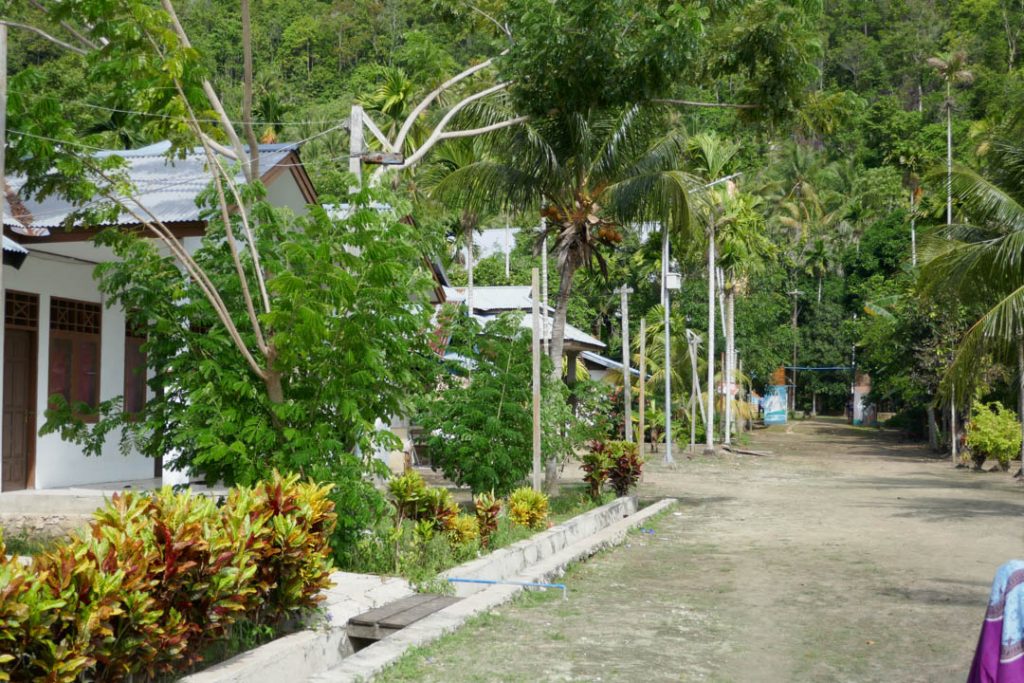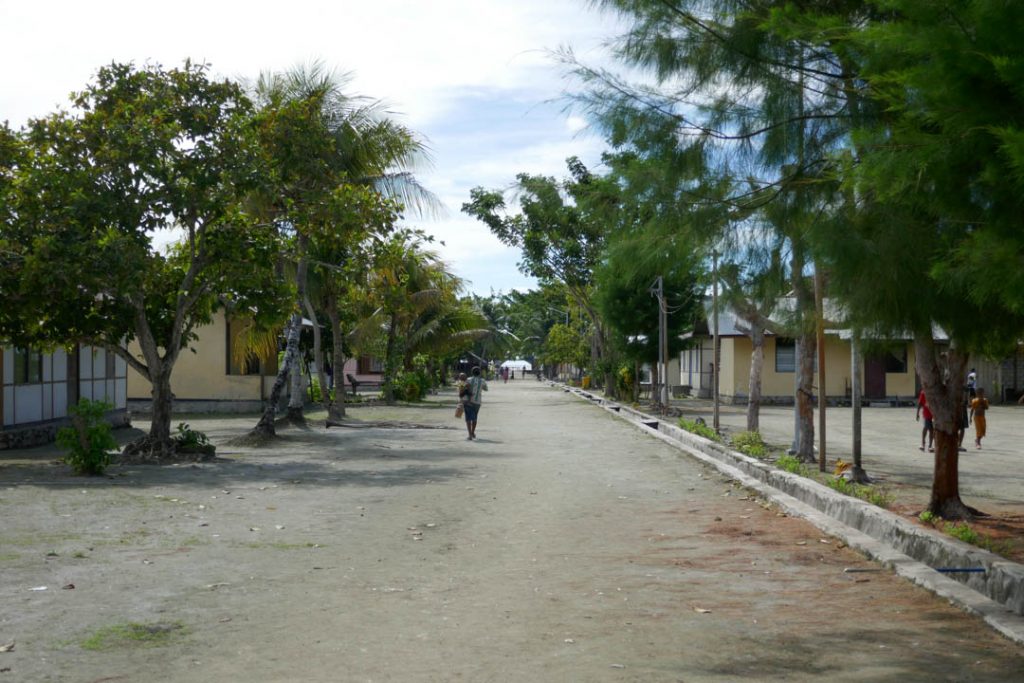 We Go to Church, sort of, in the middle of nowhere
That is when we got a shock. We saw a huge and beautifully colored church – in the middle of nowhere in effect. There were people both inside and outside the church dressed in their finery. We had already received permission from the village elder to look at the church from the outside but to respect the people and their faith, by not entering the church.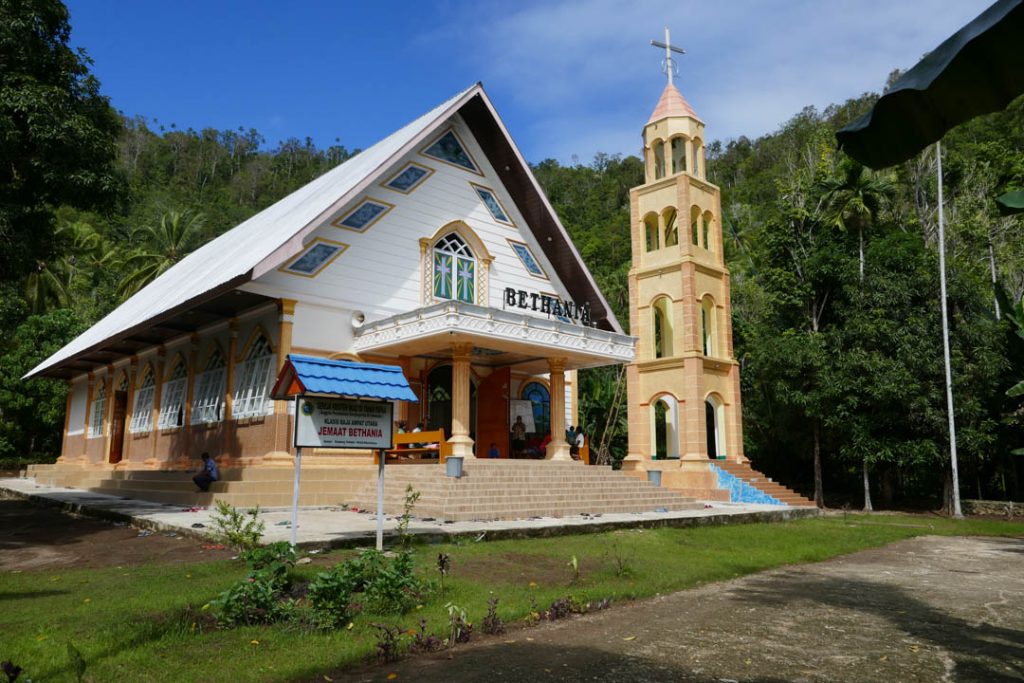 It was an amazing experience to marvel at this structure, and to marvel at the passionate voices coming from within. We could see quite clearly what was going on as the doors were flung wide open to encourage the breeze to go through.
An enormous painting of Jesus scared the bejesus out of me…even though he had shell beads on …or looked like it from my angle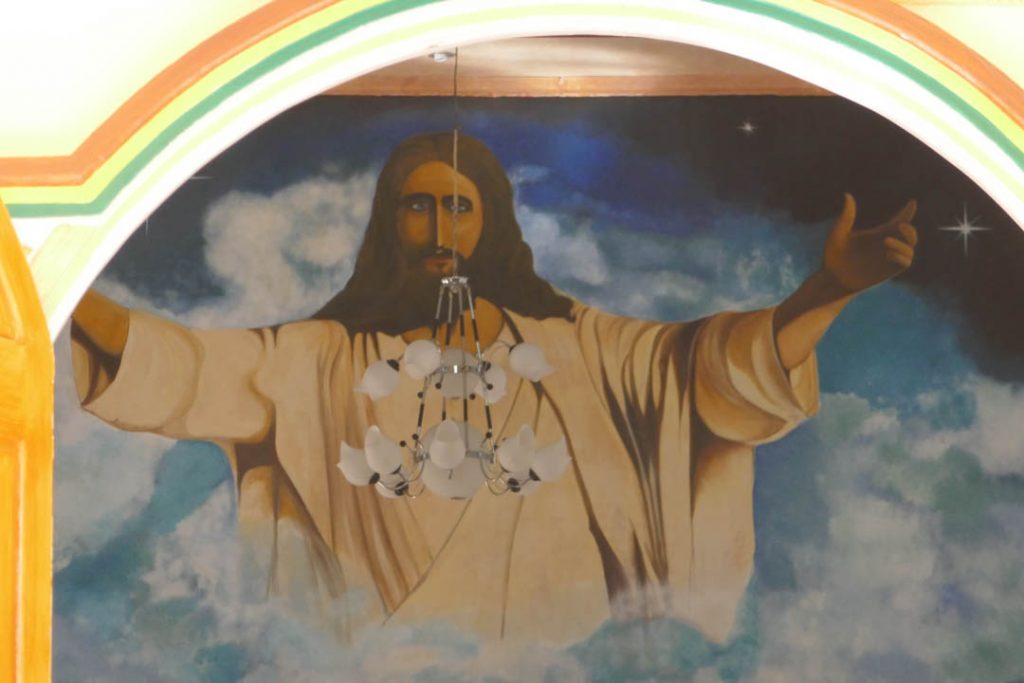 From what we were told the local people had built this stunning Church in the last couple of years, all by hand. They named it Jemaat Bethania. This translate to The Congregation of Bethania. I am guessing that Bethania is a reference to Bethany in biblical terms, but correct me if I am wrong. From what I gather from talking to the local guide, this is an evangelical Christian church and a central gathering point for those from Yenbuba and the island of Mansuar. Like all churches, many decisions would be made here.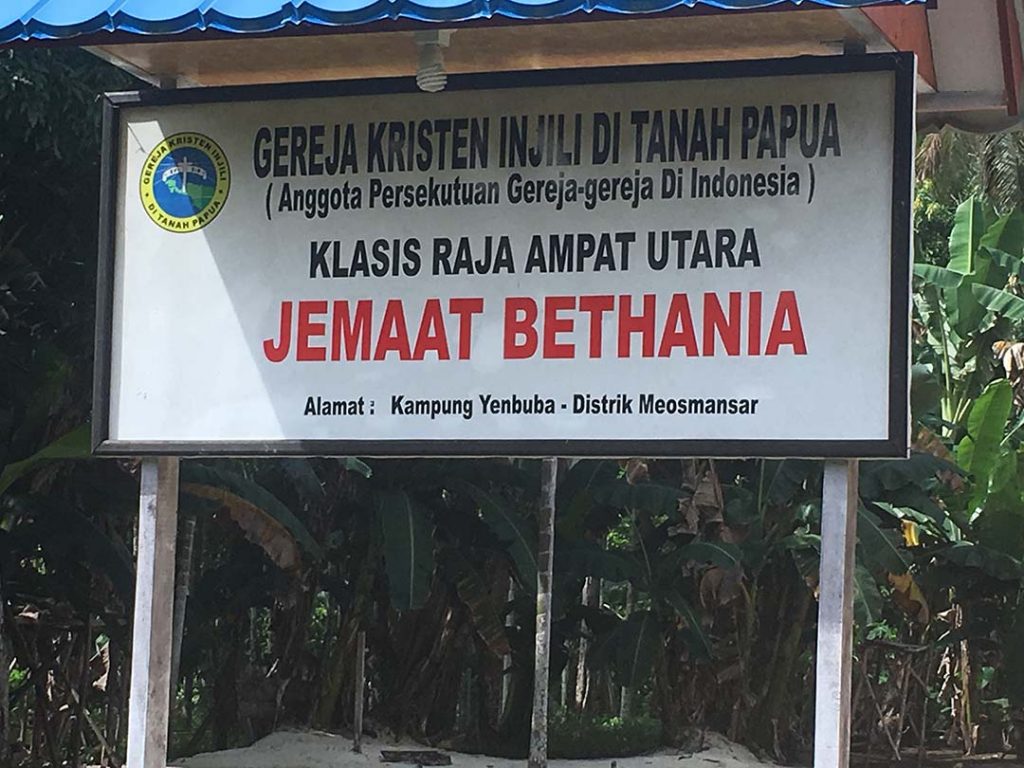 Are all divers missionaries, or all missionaries divers?
What it did say to me was that not just divers had discovered the bounties of this area, but missionaries also had made the discovery as they seem so prone to do. Unless of course, my logic is flawed.
Maybe all divers are missionaries or are all missionaries divers. Food for thought?

Sunday Special
Our Sunday at Yenbuba was special. Not only did we snorkel some of the most pristine waters, but we got to see a well established and very well maintained village, with a full-on church, in the midst of the remote and difficult to reach Raja Ampat.
This is why I love traveling. People live in such interesting places in the world, some accessible and some not so much. I guess what I take away from these experiences, is that there are so many similarities and yet so many differences in our lives.