Floating Forest in Sydney Australia
How much more unique can you get than the Floating Forest in Sydney?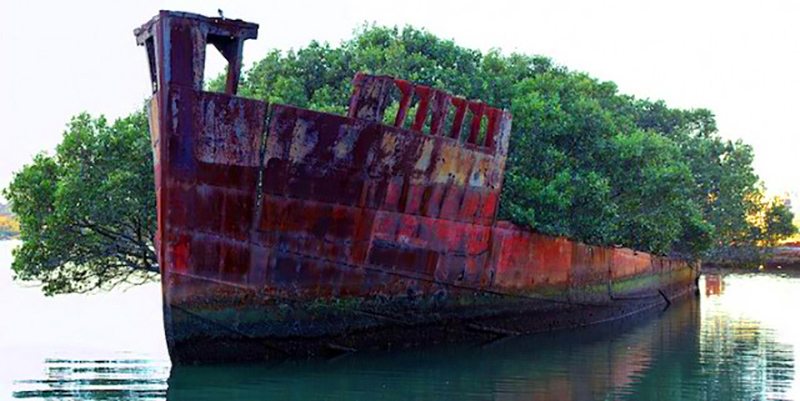 Sydney has its own floating forest in a derelict old ship and nothing could be more spectacular in appearance and uniqueness value. While technically it is not floating as it is firmly stuck in the mud, it still has the appearance of floating during various tides.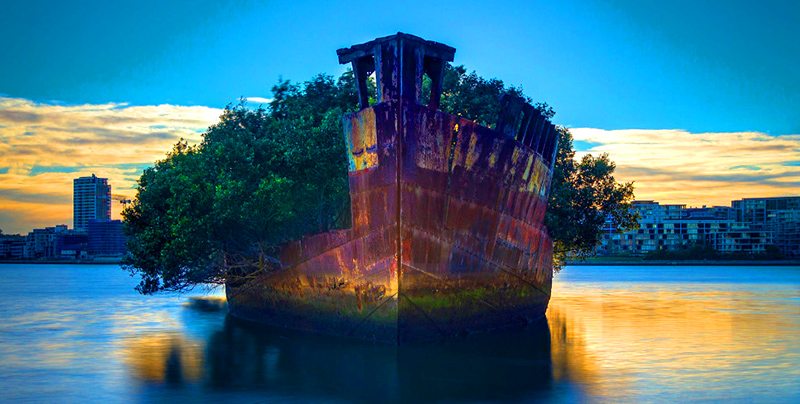 Situated at Homebush Bay, in Wangal Centenary Bushland Reserve and near where the Sydney Olympic Games were held, the area used to be a ship-breaking yard that dismantled warships that served Australia in World War 2.
The SS Ayrfield, previously called the Corrimal, is one of these ships. It is a steel-hulled, steam collier ship that used to do a coal run between Sydney and Newcastle and then was deployed for war time activities.
The SS Ayrfield was built in the United Kingdom in 1911 and registered in Sydney in 1912 – and later was used as a transport ship in World War 2.
The ship was decommissioned in 1972 it and was brought to Homebush Bay to be dismantled. The loyal ship was not longer suitable for hard work. However before the ship could be totally stripped, the shipyard closed down.
It is now a full on floating forest right in the stunning Sydney Harbour. The fully-grown mangrove trees earned this 102-year-old, 1,140-tonne ship the Floating Forest name among the locals.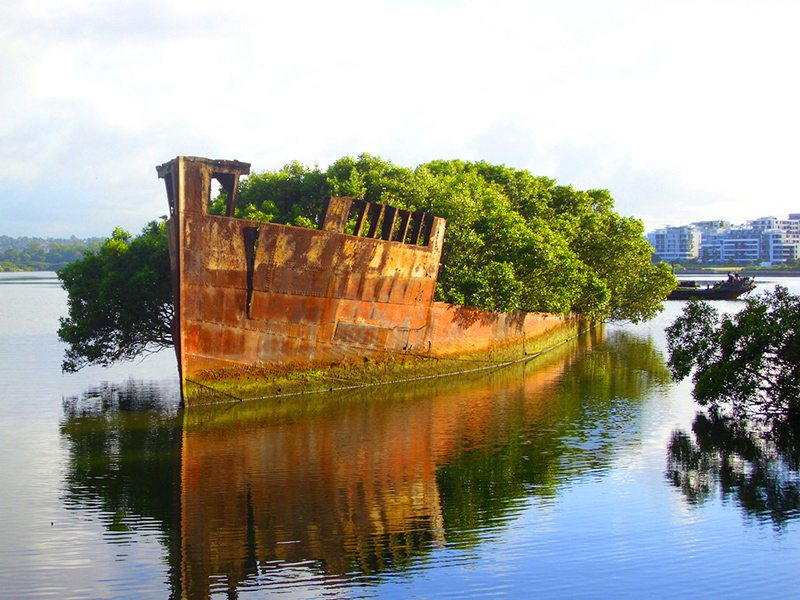 The ship was left abandoned by people, but not by nature. The trees saw something in the old ship and became permanent residents. The Floating Forest in Sydney, Australia is made up of an old ship with great history and mangrove trees. I think that the irony of the relationship between man and nature is most evident in this surrealistic setting.
Walking around in Sydney can produce some stunning finds, and the floating forest is certainly one.
Directions to the Floating Forest in Sydney, Australia
It is just across from the Archery Centre at Olympic Park, Homebush, Sydeny. There is a free car park there on Bennelong Parkway. Cross over the road and there is a footpath through to the end of Amalfi Drive. It's right there on the waterfront.
It is also clearly visible from Google maps – search for Sydney Olympic Park Archery Centre, NSW, then switch to "Satellite" mode and look just off the coast.
The Floating Forest in Sydney, Australia is urban art and is also very good example of man and nature becoming one.