We have been to see the 49ers play AND win in San Francisco, so here is a guide on getting to the Super Bowl at Levi's® Stadium, SF. The Super Bowl 50 will be hosted in the San Francisco Bay Area on  Feb. 7, 2016, at Levi's Stadium in Santa Clara, California.
For us in Australia, Monday 8th at 1030am.
The Denver Broncos and Carolina Panthers will meet for this year's NFL championship.
Getting to the Super Bowl at Levi's® Stadium
There appear to be many ways to get to the new stadium, which replaced Candlestick Park, where the Beatle performed their final concert, which was closer to the city of San Francisco. The San Francisco 49ers now play their home games at Levi's® Stadium, in Santa Clara, 45 minutes from San Francisco.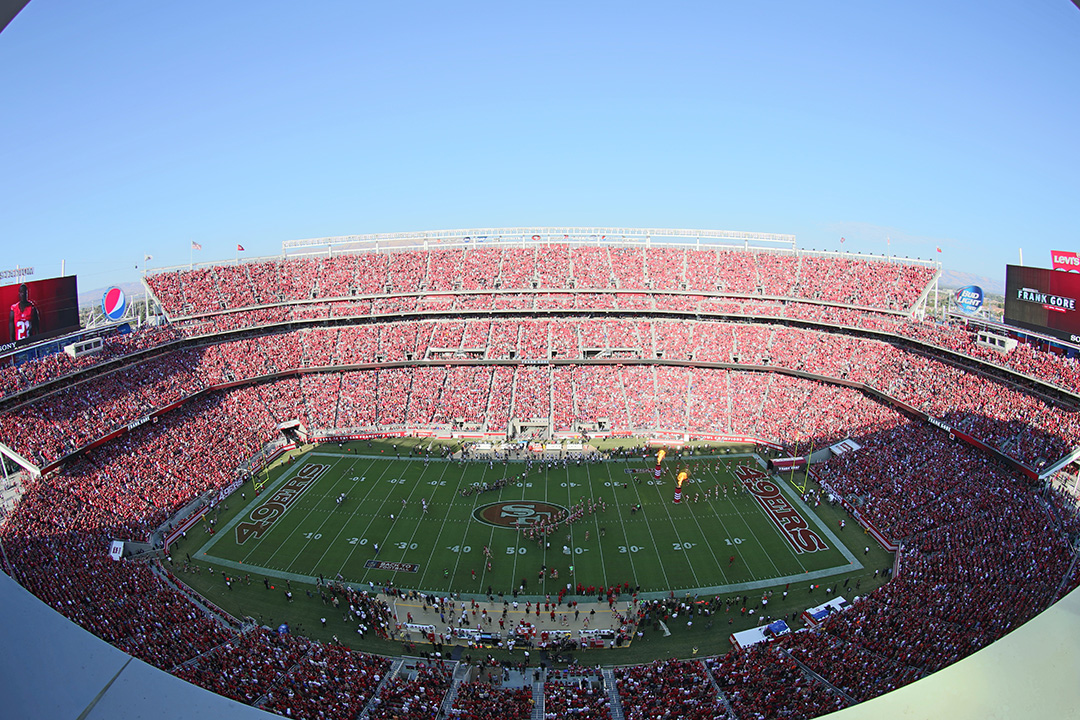 Rally Bus
Each person we asked and each site we sourced had different information. None of it was wrong, but a lot seemed convoluted and confusing. We ended up selecting the Rally Bus, which was $50pp round trip on a supporters bus. We were picked up at Fishermans Wharf, and this is what we would recommend. It gets you there and back, without worrying about the time spent on the trains or the traffic on the road.
This is a national company that takes you to events, performances, etc. We are not sponsored to say this. We just found them totally convenient.
Book Online
Rally Bus
[clickToTweet tweet="How to get to the Super Bowl at Levi's Stadium #Travel #SuperBowl #SanFranscisco" quote="How to get to the Super Bowl at Levi's Stadium" theme="style3″]
Levi's® Stadium
Levi's® Stadium is incredible. Levi's® Stadium is considered to be the most high-tech stadium in the world, and so it should be as it is located in Silicon Valley. It was officially recognized as the Sports Facility of the Year by Sports Business Journal in May of 2015 and has also been named as Venue of Year by The Stadium Business Awards in Barcelona, Spain.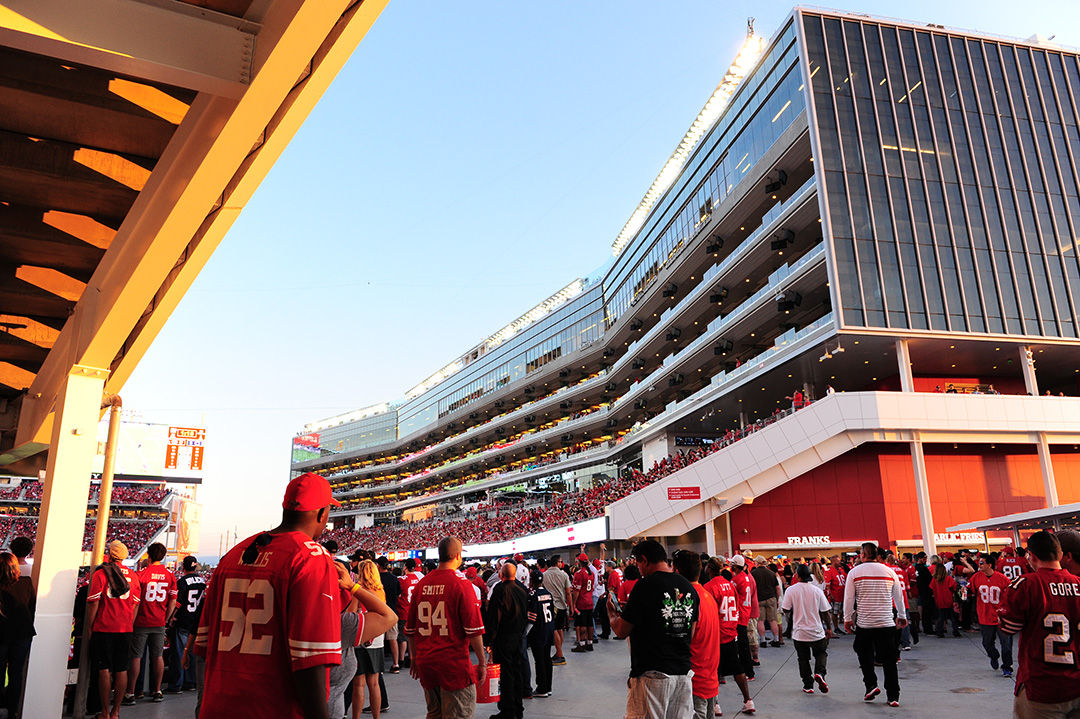 We had downloaded the Levi Stadium app, and I suggest that you do to if you go to the Super Bowl, though the people are all so friendly it was easier to ask a question than use the app.
People are friendly here as they are in San Francisco, something we have noticed in the few days we have been here. They are not just friendly but super polite.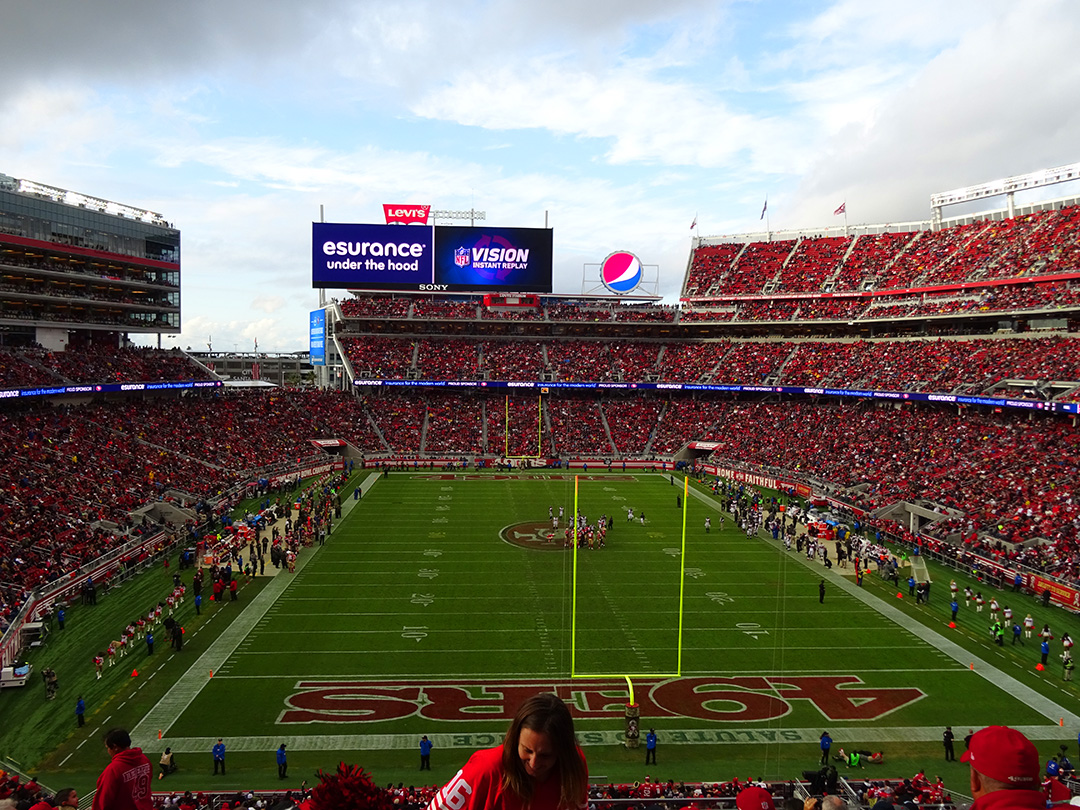 Trivia
Why does Levi have their name on Levi's® Stadium
Levi Strauss & Co. purchased the naming rights to the new stadium, in, 2013. The deal calls for Levi's to pay $220.3 million to the city of Santa Clara and the 49ers over 20 years, with an option to extend the deal for another five years for around $75 million.
Who is Sourdough Sam?
The team's mascot is a gold miner named Sourdough Sam and he wears Levi's.
Enjoy and I hope this helps you in Getting to the Super Bowl