Ghent in Belgium is a quirky little place. Our B&B was quirky. Our fabulous hostess was quirky. Ghent is a quirky place for a number of reasons. For a guide to visiting Ghent, read this.
Where is Ghent?
Ghent is a fiercely independent city in Belgium. They are proud to flaunt their individuality and really love their quirky little city, and with good reason. I don't know that they necessarily see themselves as part of Belgium at all. We chose to stay here for a week, as it is the epicenter with Brussels, Antwerp and Bruges each just 30 minutes away.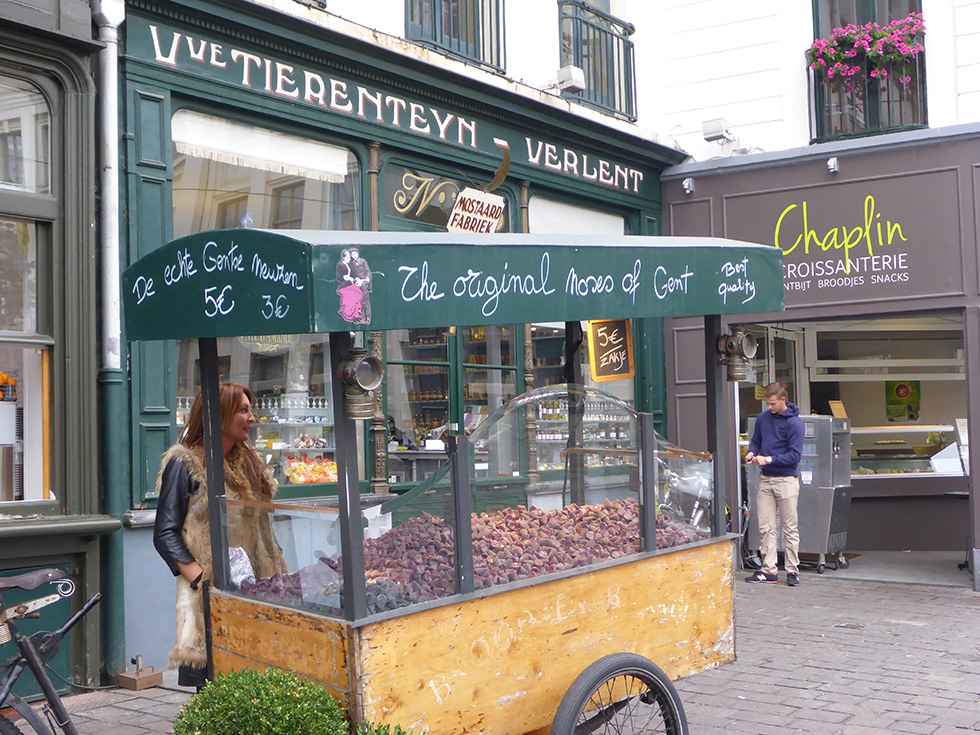 The History of Ghent
The Ghent people's stalwart attitude has always been the case throughout its quite flamboyant history. The history of Ghent shows that they have been marauded from every front, yet they seem to be quite the renegades. Apparently nearby Bruge often turned up to battle severely drunk or hung over, whereas Ghent got on with the job at hand. They don't seem to have taken too well to authority, however.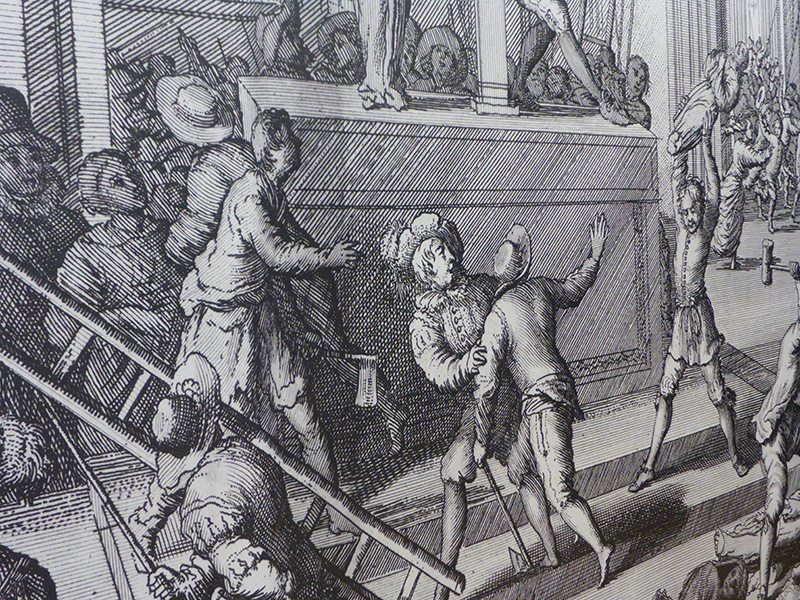 Charles V, who became Holy Roman Emperor and King of Spain, was a native of Ghent, yet he punished the city after the 1539 Revolt of Ghent, a revolt against the taxes imposed, and made the city's nobles walk around barefoot with a noose around their necks. Now the people of Ghent are called "Stroppendragers" (noose bearers), even by themselves. They actually celebrate this annually during the Ghent festival by wearing white shirts with a noose hung around the neck. Another paradox.

The irreverent and quirky attitude of the people of Ghent
The king and queen of Belgium came to town the other day as they visit each major city in Belgium, once a year. We saw a small crowd waving the Belgium flag and wandered over to be told of the visit. The King and Queen duly arrived at not much fanfare at all. Certainly not what I would expect if it were the Queen of England, the US President or even their neighbouring Dutch king. They were greeted by the most quirky band I have ever seen in my life. People of all ages made up the band, whose outfits seemed to be derived from serious acid overdoses. This again shows the paradox of this city. Royalty arrives to be greeted by very talented musicians dressed as bizarre street performers.
This is not a bad thing just a quandary. Are they French, Dutch, Flemish? No, they are the people of "Ghent". Our landlady from our B&B asked us if the people booed.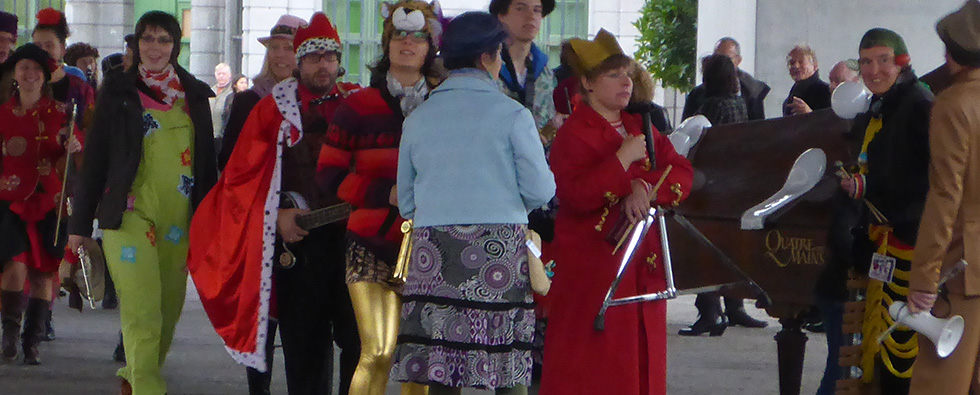 Ghent is Beautiful
I have to admit that Ghent/Gent/Gand has got me stumped. I seriously cannot get a grip on this place. Yes, it is very beautiful with stunning churches, canals, buildings and it's very own castle smack in the middle of town. It also has a lot of very lovely people, though I might make a personal observation and say quite quirky, and I mean that in a good way. They just seem to exist in a realm of their own and anything outside of Ghent is sniffed at.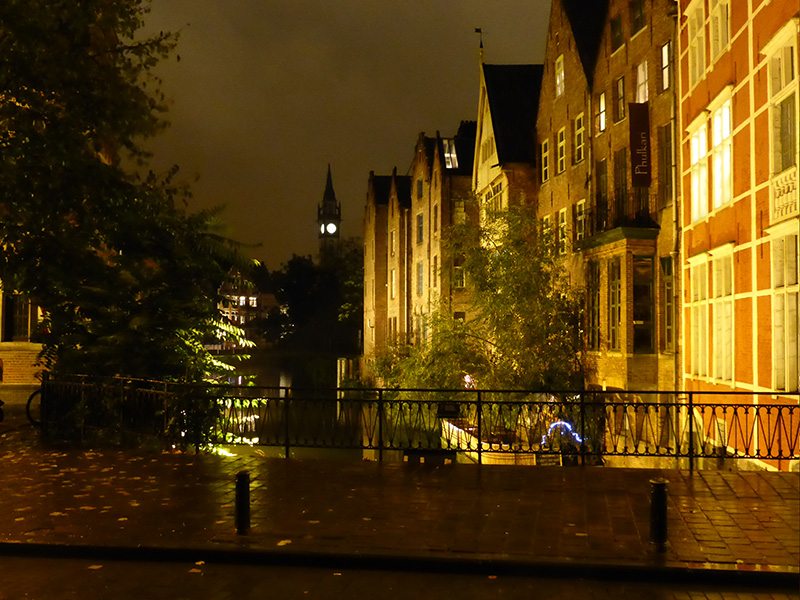 Many of the stunning churches and the grandiose post office are not open. Some are just shells, impressive ones at that, however. Behind other stunning old facades, you will find a brand spanking new state of the art hotel. A little of the smoke and mirrors effect?
Undoubtedly any restoration is expensive, and Ghent would need to raise taxes to fix this. But the history of tax collection is not a pretty one here in Ghent. Failure to pay taxes used to result in death, and your head being hung on a stick over the bridge for all to see. Of interest is that the rich tax evaders were beheaded whereas the poorer people were hanged. Apparently it was less painful to be beheaded. Who was the test case?
The Castle of the Counts (Gravensteen)
The Castle of the Counts (Gravensteen) is striking and imposing and literally in the middle of the town, but when the restoration was required the spiral staircase was put on the wrong way. Apparently when going down, defenders or attackers needed to use their right hand to flail their weapons. Instead, they put the spirals the wrong way round. Now how would I know that? Well, a husband well versed in military and medieval warfare picked it up, and this was confirmed by the people at the information desk at the castle. They made an error and were hoping that not many people picked it up.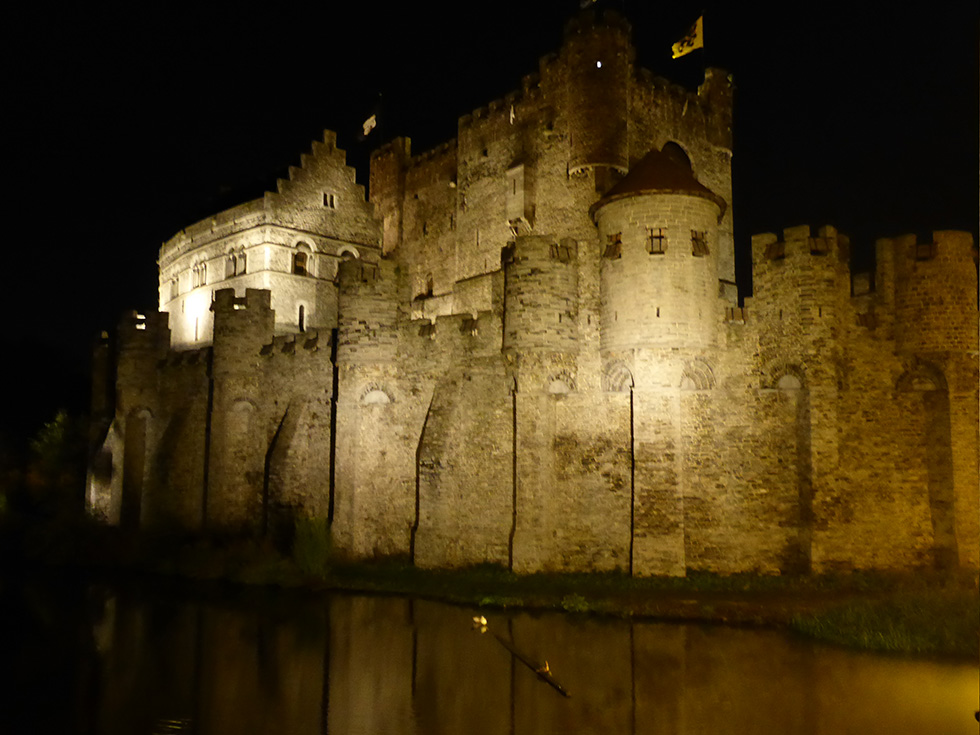 Life in Ghent
The music on the radio is 70's, pure and simple with a bit of 60's and even Elvis gets a fair bit of airplay. The older people dress up in hats, gloves, stockings and or suits to "go" to town. This is juxtaposed with the crazily attired university students that abound in this city.
I had heard that English was quite widely spoken here, but not nearly as widely spoken as other places that we have been to. It appears to be a hybrid of Dutch, French and Flemish if that exists. According to our B&B landlady, it is a Flemish form of language. She looks after us well and spoils us.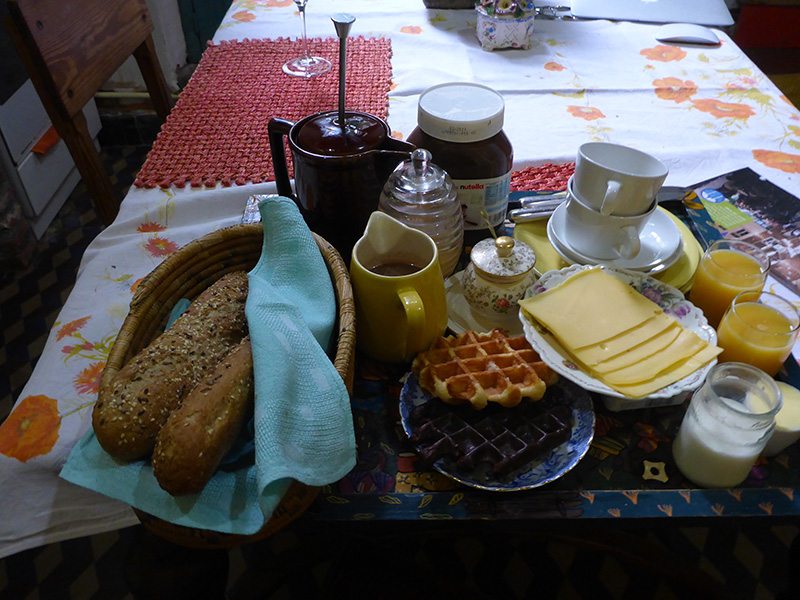 The People of Ghent
She has sent us to many Ghent places that tourists don't get to see, and where English is not spoken at all. This is a good thing. The first place we walked in and sat down. It was full of locals. Next thing a bowl of soup was put in front of us, nothing was said. Then a beer and a plate of steak, potatoes and brussel sprouts was laid in front. We ate, we paid, we left. Deal done. The food was fabulous. The food in Ghent is good all over. Another quirky thing of Ghent is their confectionary know and Gent 'noses' sold from a vendor on the street.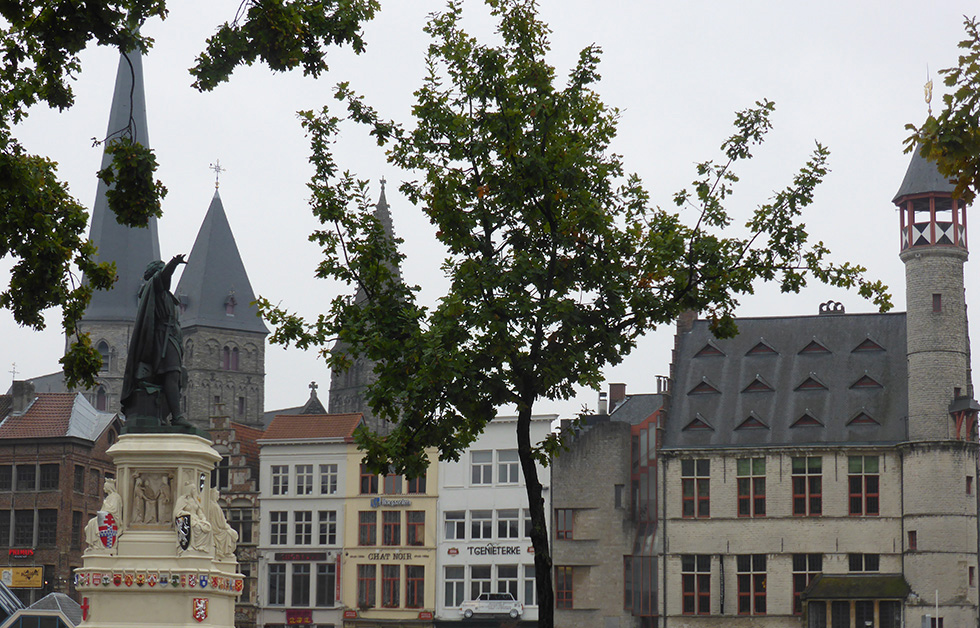 Ghent's Belfry is a UNESCO World heritage attraction in Ghent. The Belfort  is a UNESCO World Heritage site in Ghent that dates back to early 14th century. This is a 91 metre tall belfry, the tallest of the three you can see here in the city centre along with those at St. Bavo's Cathedral and St. Nicholas' Church. Opening Hours 10am to 6pm daily. Read more about the Unesco Belfries of Belgium and France.
The people from Ghent do not like a lot of people. This has come from some sources. They do not like the French. At all. Having met some French people, this seems to be mutual. They do not like the Turkish people nor those from Poland. But luckily for us they seemed to like Australians. As for religion, that is a very hot topic to touch. For instance, we were told that when growing up, our landlady hostess was told that if she didn't eat here vegetables, the Catholics would get her.
Wandering Around Ghent
The stunning Graslei, a riverside street, has many of the old guild houses, and each has their unique history. This tells us about Ghent in the Middle Ages. Again on the other side, the Korenlei has the stunning facades and not much if anything, behind them. There are boundless museums and art galleries, which show the appreciation of both classical and contemporary art.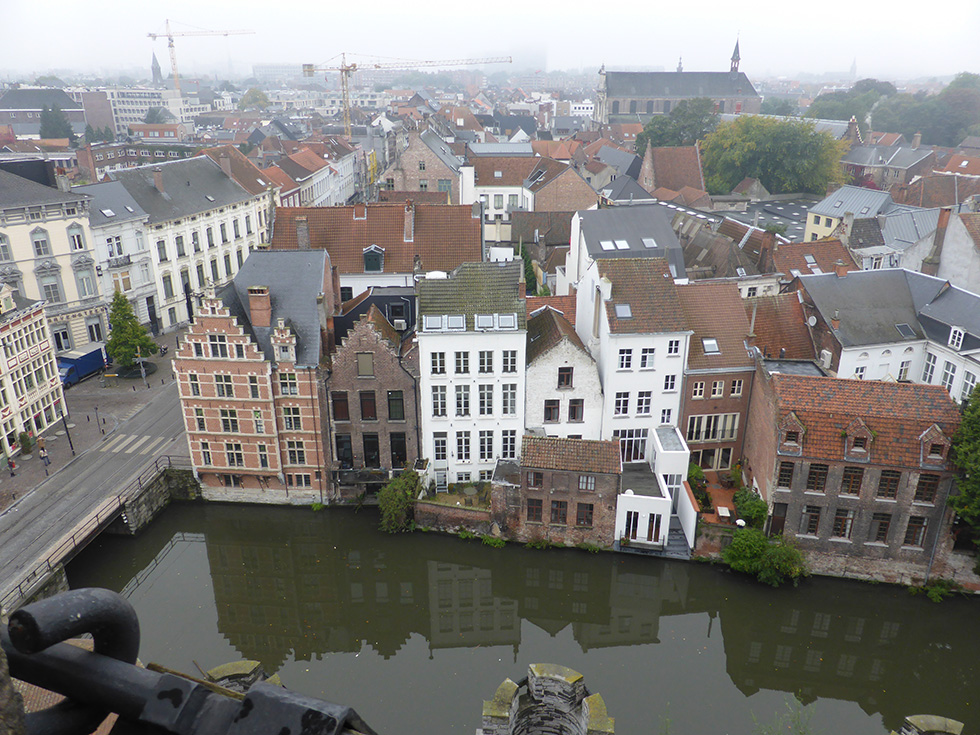 We took a tram to the end of the track. From historical beauty to an industralised housing estate. What a mix. But this is a working city, not just a tourist playground.
It is architecturally stunning and yet quirky, but there is something more. Ghent has become a serious contender to nearby Bruge, which despite its undeniable beauty, may well be suffering from the Disney land effect.
Ghent has a sense of humour
Ghent has seriously the best visitors guide I have yet to see on my travels. It is humorous, self deprecating and, perhaps informative. It makes other cities look decidedly puerile. But … it may well be smoke and mirrors again. Just an example of the recommendations for a days activities and this is what it says:
9am – switch off the snooze button, jump out of the warm bed, have a quick shower.
10am Start your day (with champagne!) in one of the many cosy breakfast parlours in the city centre. Time for some more sparkling plans!
And so on
6pm Back to hotel to try on new outfit! It looks great (your partner agrees). The right ingredients for a romantic dinner.
11.30pm A little tipsy? That's OK. On the way back to your hotel enjoy the beautifully lit buildings in the city centre. Not to mention each other's company.

Ghent is an enigma
Yes, it all sets a perfect scene for a stunning romantic place, but it does not quite work as well as the words. There is not a lot open for breakfast for a start, and things close relatively early during the week. The city though is definitely magnificently lit having won awards for its lighting. It does have stunning cobble stoned streets that meander every which way. But it is a quirky little city that makes you want to stay and to chat more, even just with your hands.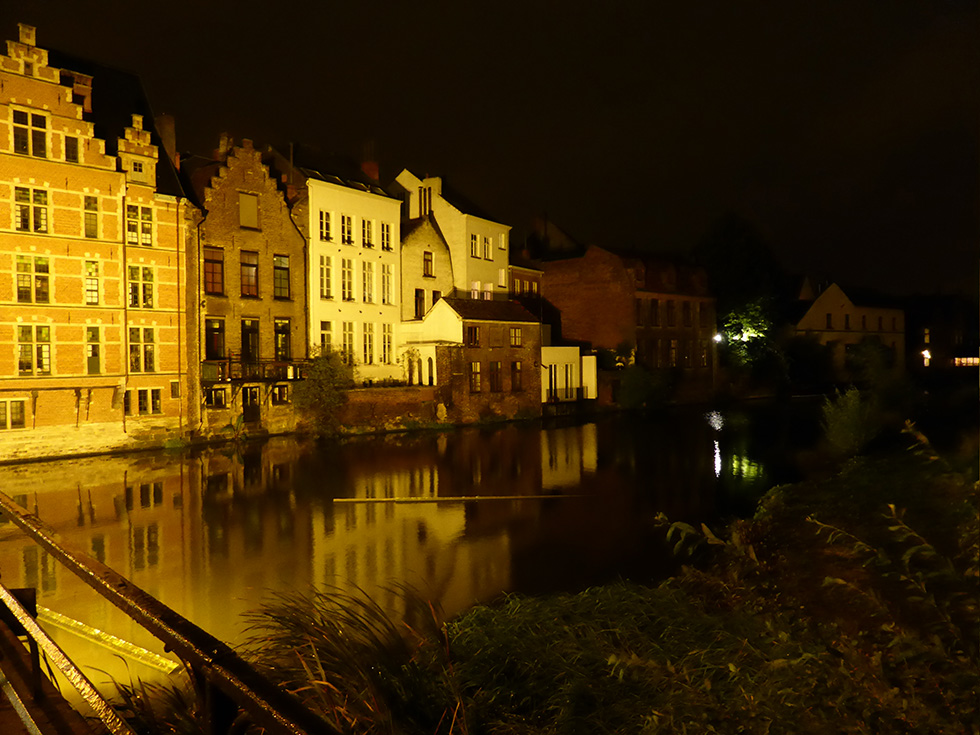 Is Ghent all smoke and mirrors?
paradoxical or do I just not quite get quirky independent Ghent? Who cares, we both loved it and all of the curious characters that we met.