Good morning Sydney Harbour Bridge!
The Sydney Harbour Bridge as seen in all of its glory on a crisp cool sunny morning. Sydney Harbour Bridge is an architectural triumph, and a visual delight and for us it is a symbol of home. The Sydney Harbour Bridge looks different from many angles and directions. It looks different throughout the day and the night and also on the type of day it is. This morning as we wandered around the harbour foreshore and it put on an excellent show. Sydney Harbour Bridge is worth putting on your list as is Sydney.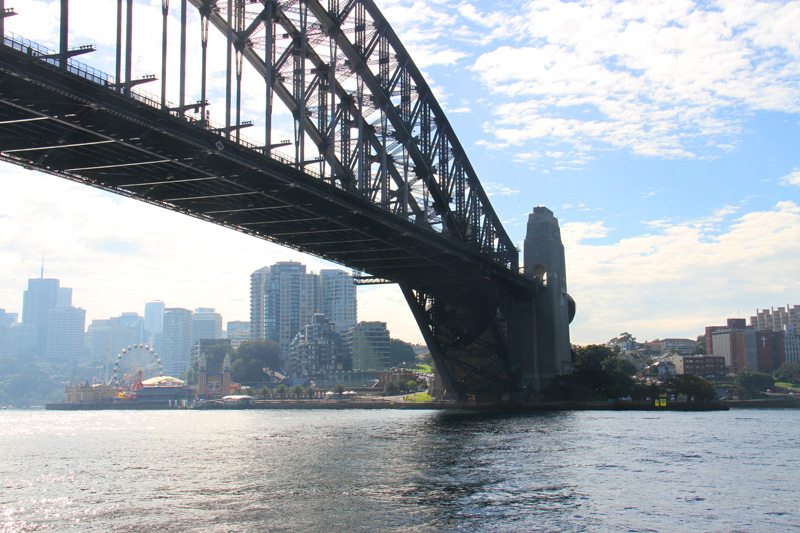 About the Sydney Harbour Bridge
The Sydney Harbour Bridge is one of Australia's most well known and photographed landmarks. It is the world's largest, but not the longest steel arch bridge with the top of the bridge standing 134 metres above the harbour. It is fondly known as the Coathanger because of its arch-based design.
The Interesting History of the Sydney Harbour Bridge
The first English settlement and penal colony in Australia was established at Sydney Cove, a small bay located on the southern shore of Port Jackson, in 1788. As the settlement grew it was evident that there needed to be a way to connect the two sides of the harbour.
In 1912, plans by Dr. John Bradfield, an engineer from the New South Wales Department of Public Works, were accepted. However, the plans were placed on hold with the interruption of the First World War.
It was in 1923 that construction commenced to the great interest of the entire country.
The Controversial Opening of the Sydney Harbour Bridge
The Sydney Harbour Bridge was officially opened on 19 March 1932 in front of three-quarters of a million people. It was a day of huge celebration yet there had been a lot of political tension and a political group called the New Guard, which had formed in Sydney in 1931, had been plotting to use the opening of the Bridge to publicly make a political statement against New South Wales Premier, Jack Lang.
What happened was  that one of their member, Captain Francis de Groot upstaged Premier Lang, who was set to officially open the Bridge, by riding in on horseback and slashing the ribbon with his sword.
Many Australians found this to be amusing while others were less than impressed.
Climbing the Sydney Harbour Bridge
This has become a very popular way to see the beauty of Sydney, and for those who like an adrenaline rush, climbing the Coathangar is a worth while experience.
Bridge Climb operates all year round and it pays to get your tickets early for this ultimate thrill and view.